At a Glance
Expert's Rating
Our Verdict
The Pixel Stand unlocks a few cool features on the Pixel 3 but they probably shouldn't have been locked in the first place.
Best Prices Today: Google Pixel Stand
Cases aside, the Pixel Stand is the first accessory that Google has made exclusively for Pixel phones. Last year's Pixel Buds worked with all Android phones, the Daydream View headset works with a number of Samsung, Moto, and LG phones, and even the lower-latency USB-C to 3.5mm adapter is compatible with any phone running Android Pi.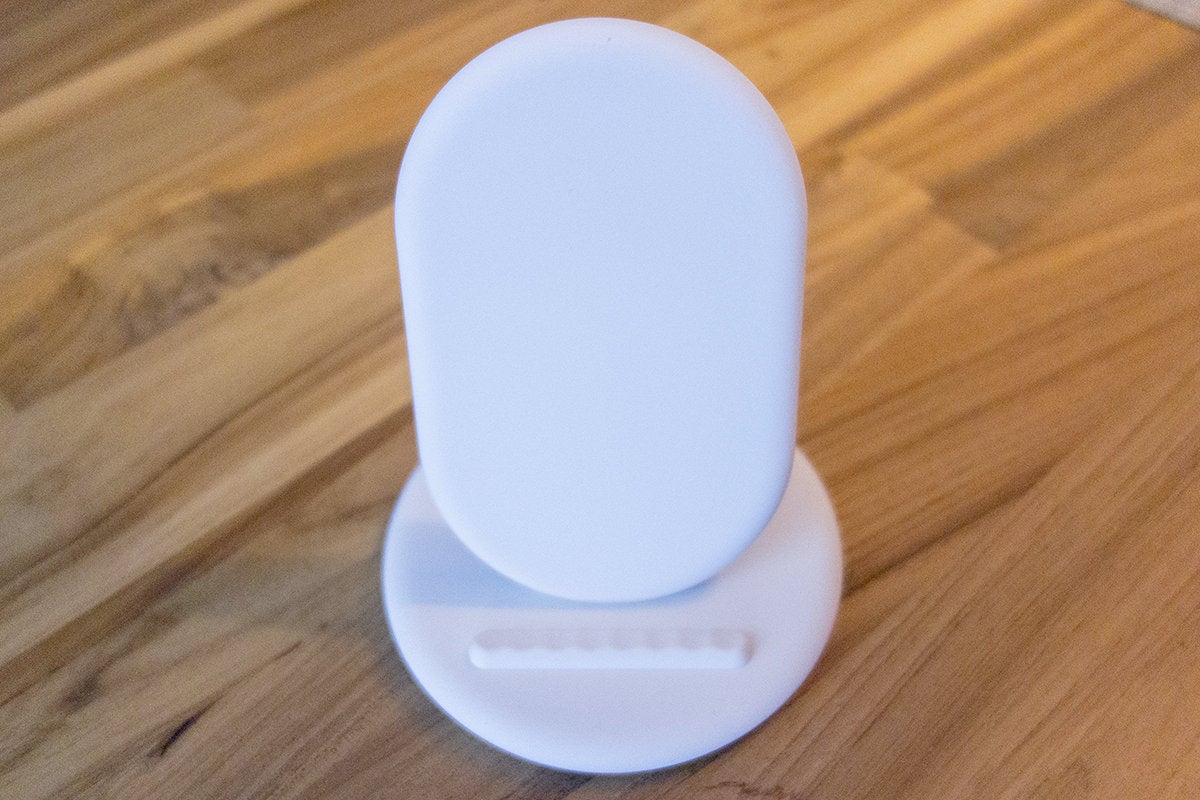 To be clear, the Pixel Stand will work with other Qi-enabled phones. It just won't work nearly as well. With a standard Android phone, the Pixel Stand is basically an overpriced wireless charger. Set a Pixel 3 on it and it truly comes alive, with fast(er) charging and innovative Assistant integration.
But the Pixel Stand's strengths are also its weaknesses. While the features it adds to the Pixel 3 are certainly intriguing, it also adds a frustrating level of proprietary persnicketiness that I expect more from Apple than Google. And if you're going to make a high-priced accessory that's built for a single phone, it needs to be great, even perfect. And well, the Pixel Stand is far from it.
Flat design
True to its name, one thing the Pixel Stand has going for it is it's actually a stand. Where most other wireless chargers—including Apple's missing-in-action AirPower—require the phone to lie flat, making it difficult to use, Google's props the phone upright as it charges, letting you see the screen and tap to use it.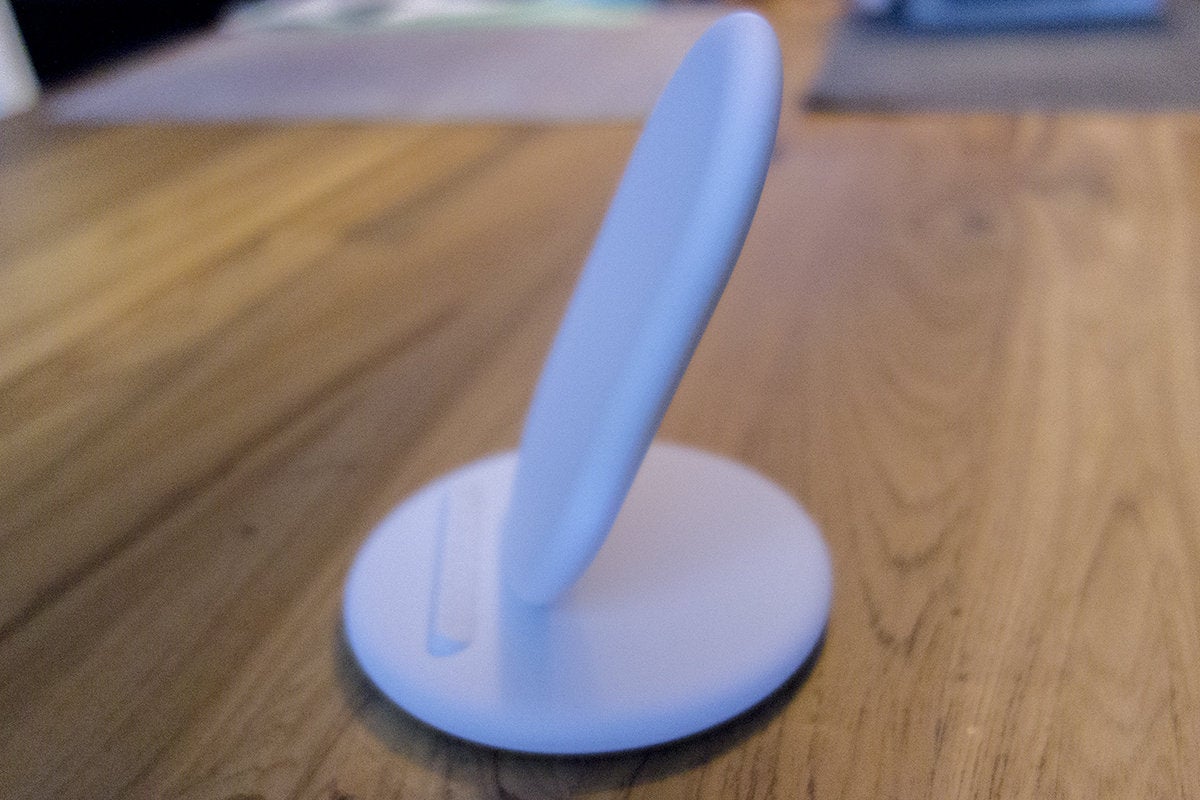 But otherwise, the Pixel Stand is extremely pedestrian. Bland, really. It's made of plastic wrapped in white silicone, and it feels cheap. The oval-shaped stand portion is attached to the circular base as if they don't really belong together, and you can't adjust the angle of the phone. Also, it only comes in white, even though the Pixel 3 is available in black and pink as well. A variety of colors to match the phone would have been a nice touch.
The pad itself it a bit slicker than on most other chargers I've used, but it's unlikely the phone will slip off. Even though the Pixel Stand has an extremely short lip to stop the phone from sliding forward, I had a hard time forcing the phone off the charger. With a case on, it's even trickier. Still, you'll need to pay attention to how you place your phone on the Pixel Stand more than you would on a flat pad. Also, while its "sweet spot" is a bit more generous than that of other phones I tried, several times my Pixel 3 didn't start charging until I lifted it off and put it back on the stand.
An assistant for Assistant
Google is billing its Pixel Stand as more than a charger, and to wit, it's loaded with Assistant capabilities. Pop a Pixel 3 on the stand, and your always-on display screen becomes a quasi-smart display, with on-screen shortcuts to Assistant actions and exclusive routines.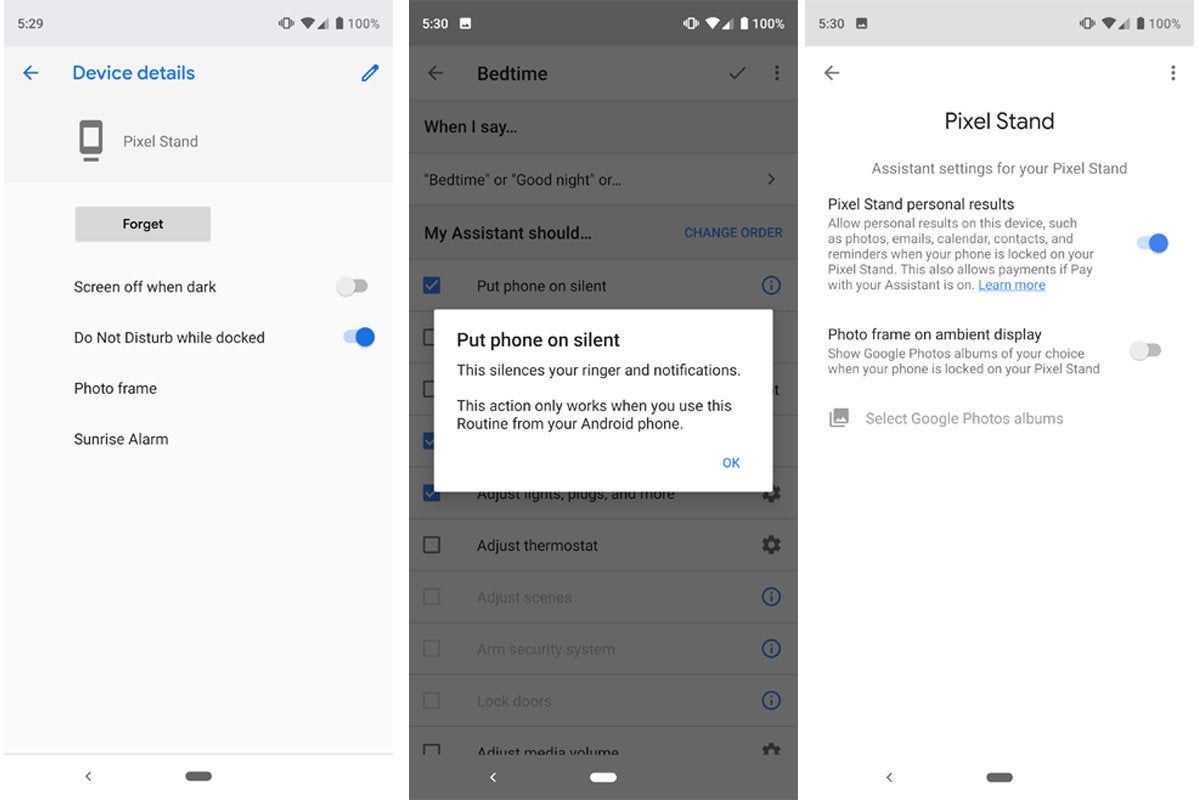 Because Google expects the Pixel Stand to live on your nightstand, the best things it does are mostly geared toward nighttime and morning activities. For example, you can set it to put your phone on silent automatically or turn on Do Not Disturb, turn the screen off completely in the dark, display a Photos album, or gradually brighten the screen before the alarm rings. They're all good features that go a long way toward making the Pixel 3 + Pixel Stand worth the price of admission, but getting it all set up the way you want is a little wonky due to a variety of settings.
First, there's a dedicated Pixel Stand settings menu, but to get to it you'll need to go either to the Previously connected devices tab in the Bluetooth settings or tap the screen to make the gear icon appear in the top right. In here you'll find toggles for the Photo Frame, Sunrise Alarm, Do Not Disturb, and screen-off options. There are also additional stand settings in the Home app, inside the Phone section under Assistant devices.
If you want to set up a routine, however, you'll need to go to Google Assistant settings, which you'll find by either tapping the compass icon on the Google Assistant screen and tapping Settings in the menu, or by going to the Account tab in the Home app and selecting Routines under Assistant in Settings. Assistant offers some prompts to help you set up alarms and news, but you'll want to visit these settings to fine-tune things, and Google should make them easier to find.
Once it's all set up to your liking, however, the Pixel Stand is a great companion for your phone. Some things will still require unlocking if you have security settings turned on, I also found the "OK Google" recognition to be lacking as compared to Google Home's. It's not quite as capable as a Google Home either—and in fact, it will still randomly relay questions to your Google Home to answer, which can get annoying—but the Pixel Stand is certainly a cool concept that should improve as Google rolls out updates.
Charging inconsistencies
As a charger, the Pixel Stand is great—as long as you have a Pixel 3. Google is using some kind of a "secure handshake" between the Pixel 3 and the Pixel Stand to enable 10W fast wireless charging, so for now, it's the best way to charge the Pixel 3 wirelessly. Even though your Pixel will say "Charging rapidly" on other stands, rest assured, it will take hours longer for the phone to fill up.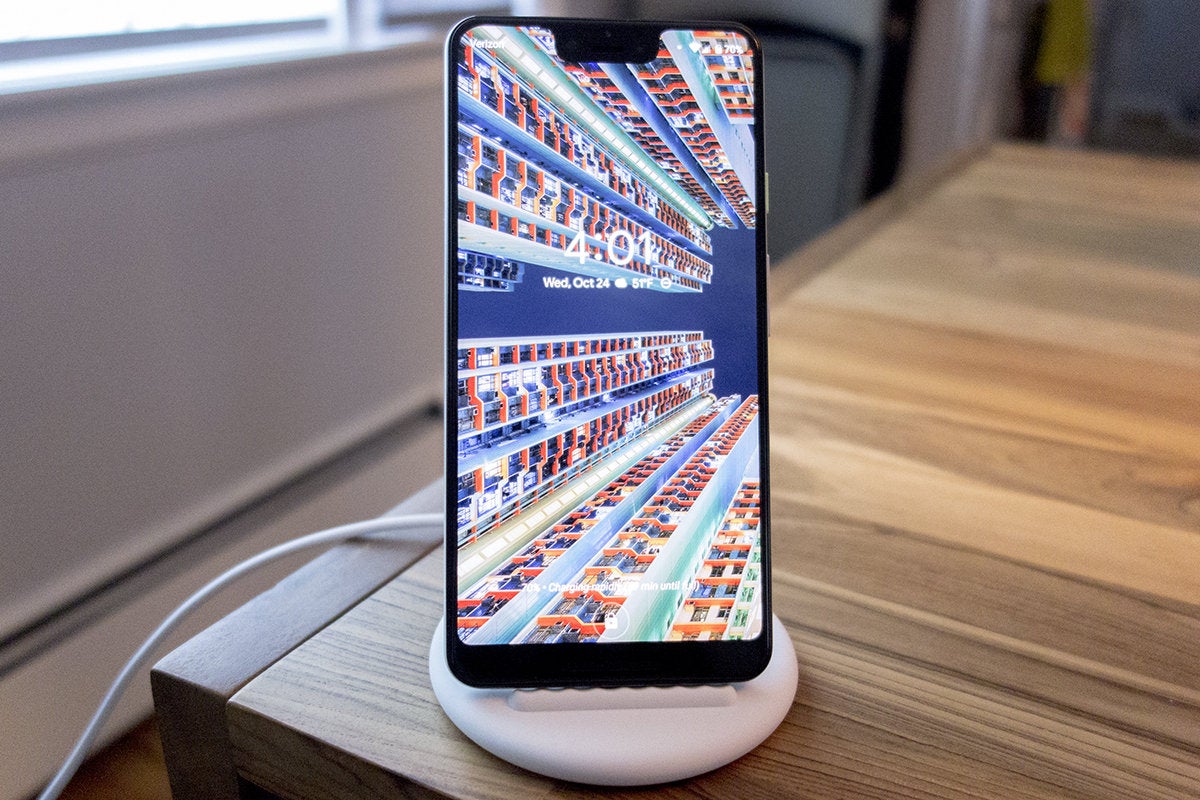 There will be a certification program for third-party chargers. They will likely all be priced in the same high-end range, and there's no sign that they'll be getting any of the Assistant features. For example, this bare-bones Belkin wireless charging pad is $60 and doesn't mention anything about Assistant. That's a far cry from the $20 10W pads you can get all over Amazon.
Strangely, the Pixel Stand doesn't fast-charge other phones, either. I ran a bunch of tests with other phones to compare the Pixel Stand against Samsung's Wireless Charger Duo, which is rated only for 7.5W charging. The Pixel Stand clearly charged every phone much slower:
Pixel stand, one hour of charging
Galaxy Note 9: 30 percent Galaxy S8+: 27 percent LG G7: 17 percent LG V30: 21 percent
Wireless Charger Duo, one hour of charging
Galaxy Note 9: 42 percent Galaxy S8+: 38 percent LG G7: 36 percent LG V30: 48 percent
With the Pixel 3, however, it's the opposite story. When on the Pixel Stand, an hour of charging delivered 46 percent of a charge, while the same time on the Charger Duo filled up only 18 percent of the battery. Confusing things even more: Both chargers said the Pixel was "Charging rapidly," when that clearly wasn't the case.
Should you buy a Pixel Stand?
If you don't have a Pixel 3, then the answer to this question is easy: No. Even if Google somehow added the Assistant features to other Android phones, the charging speeds and design aren't really worth the high price tag. And even if you do own a new Pixel, it's not an immediate yes. On the one hand, the Pixel Stand is a one-of-a-kind wireless charger that unlocks all sorts of cool features on the Pixel 3, not the least of which is true fast wireless charging. But on the other, it's overpriced, a little buggy, and kind of ugly.
Even if you have a Pixel 3, the Pixel Stand might not be the best way to spend $80. The Assistant capabilities are nice and all, but you can set up similar routines on the cheaper Google Home Mini. Design-wise, it's nothing special, and there are enough interface and performance quirks to consider other options. Basically, it's Made by Google Apple-style, but worse.
Best Prices Today: Google Pixel Stand