At a Glance
Expert's Rating
Pros
Great video, front and rear
Very affordable for a dual-camera setup
Integrated GPS
Cons
Cable to rear camera is thick and somewhat unwieldy
AV output but no cable
Our Verdict
The Viofo A129 Duo dual-camera system produces high-quality day, night, and low-light video from both its front and rear cameras, and it does so for a good price. Better still, its supercapacitor will take video for 2-3 seconds after a power failure. Aside from an overly thick cable to the rear camera, we have no complaints.
We expected a lot from Viofo's A129 Duo dash cam, and it delivered. Its forbear, the A119 dash cam, is a longtime favorite of ours, simply because it was one of the first in its price range to produce decent night video. Similarly, the A129 Duo has won its own place in our hearts as the first affordable dual-channel setup to offer superior 1080p day and night video from both the front and rear cameras.
The A129 Duo has other selling points: integrated GPS, and a supercapacitor that will actually keep the camera alive for a couple of seconds after power is removed. There are a couple of exceedingly minor caveats, but overall, the A129 is a very sweet deal.
Note: This review is part of our ongoing roundup of the best dash cams. Go there for information on competing products and how we tested.
Design and features
Both cameras in the A129 Duo system use an IMX291 Sony STARVIS sensor, which is capable of capturing 1080p video at 30 frames per second. Both attach to their respective windows using semi-permanent mounts with a lens that pivots vertically, but not horizontally. Use a level when you affix them to the windows to make sure you have the mounts parallel with the horizon.
The way the front camera mounts, flush to the windshield with the 2-inch color display tilted somewhat away from you, makes the display a bit harder to read compared to the screens on free-floating dash cams, though it's still doable. The buttons and on-screen menus are easy enough to learn and use.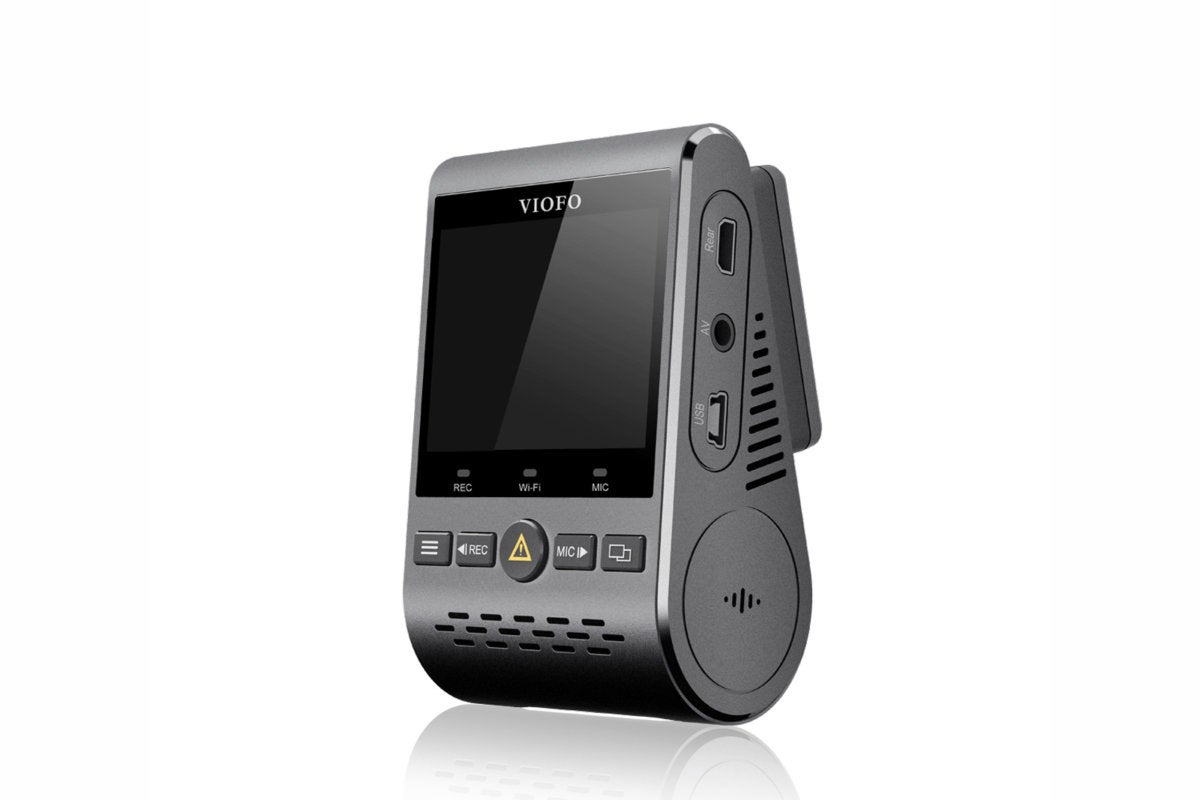 The ports on the front camera are two mini-USB types, one for power and the other to connect with the rear camera; a 3.5 mm jack for the AV output (breakout cable not included); an SD card slot; and a tiny recessed reset button. The rear camera has only the mini-USB port to connect with the front camera, which brings me to one of my minor complaints about the A129 system—the overly thick USB cable used to connect the cameras. It's workable (most will be hidden behind interior trim pieces), but a bit unwieldy and obvious.
Not to fall behind the times, the A129 Duo also sports Wi-Fi, which you can use to connect to and share videos via your phone using the Viofo app. Woohoo!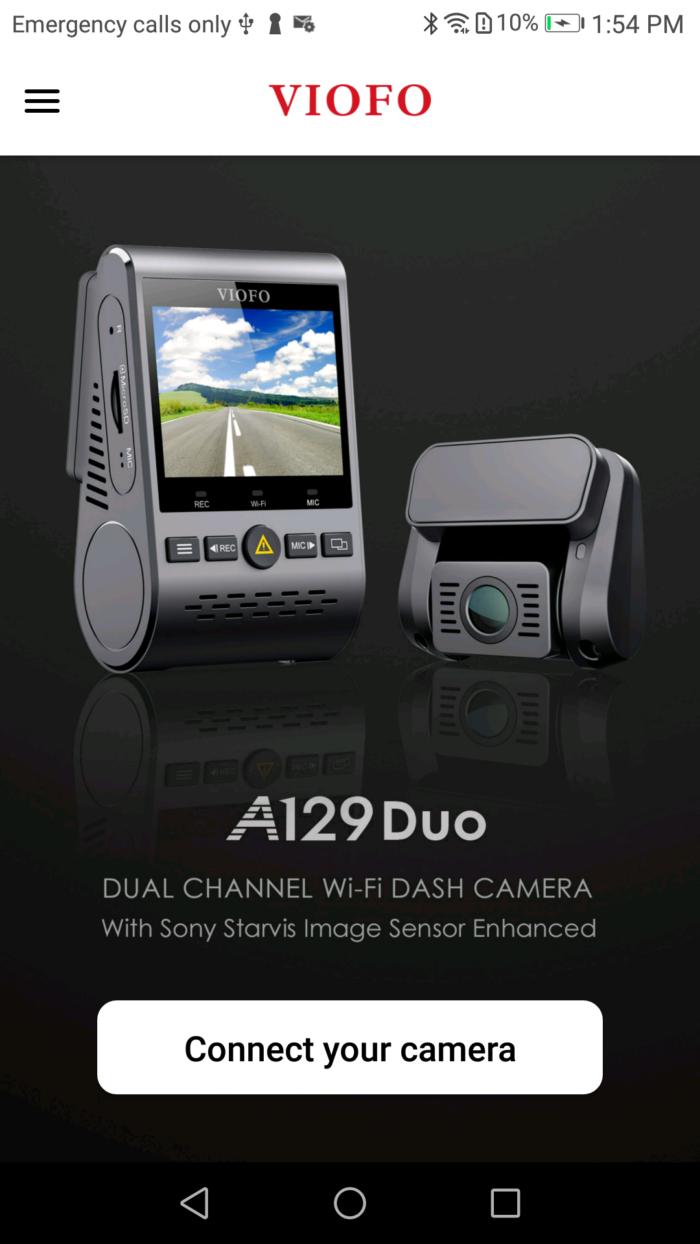 Viofo also sent along a polarizing filter (about $20 on AmazonRemove non-product link). You can see the results both with and without it in the performance section.
I have two other mild complaints. It took more force than I anticipated to attach the rear camera to its mount. As the plastic bent a bit, it became easier, but it was a little nerve-wracking. Lastly, Viofo doesn't supply a cable for the AV output. That won't affect everyone, but maybe Viofo could make the rear camera cable thinner and use the savings to provide an AV cable. Just saying.
Performance
Owing to previous experience with budget dual-camera systems, I wasn't expecting the great day, night, and low-light video provided by both the A129 Duo's front and rear cameras. Our former budget dual-camera pick, Cobra's CDR895D, offers decent video from its rear camera, but it's not in the same class as the A129 Duo.
As you can see below, the front camera's day video was top-notch What you can't see is that the image stabilization was quite good on the bumpy local roads. Poor image stabilization is my major complaint about Garmin's otherwise excellent compact models. There is some moire at times from the A129 Duo, but generally the video captures are quite nice.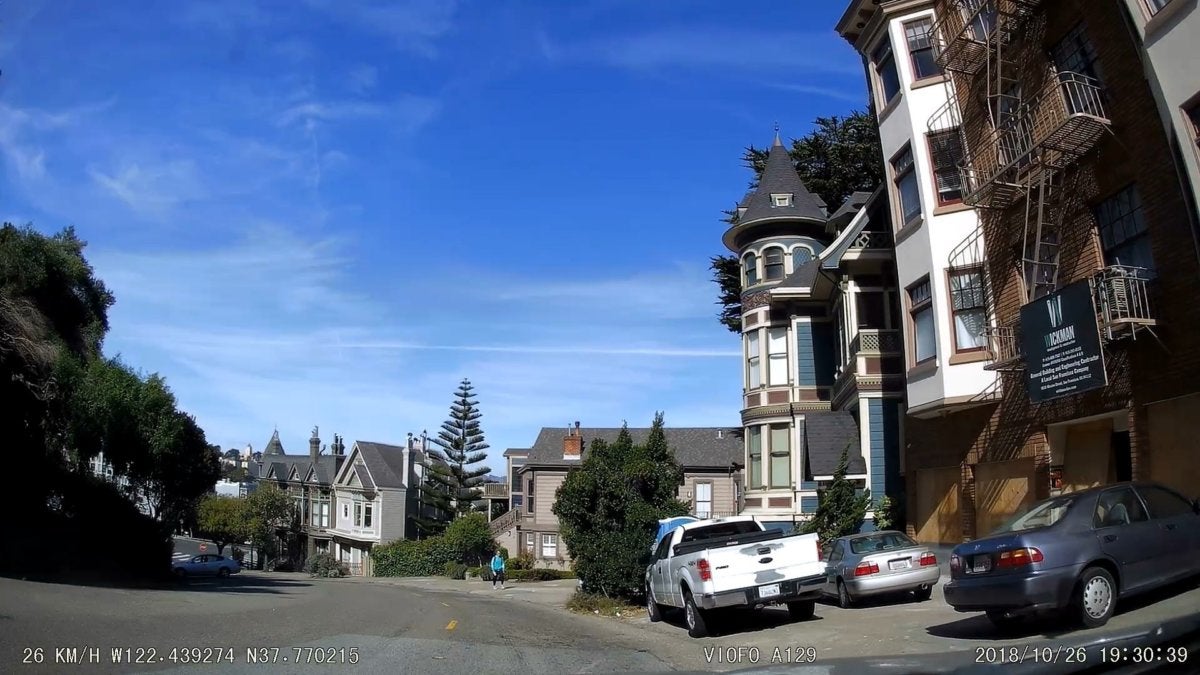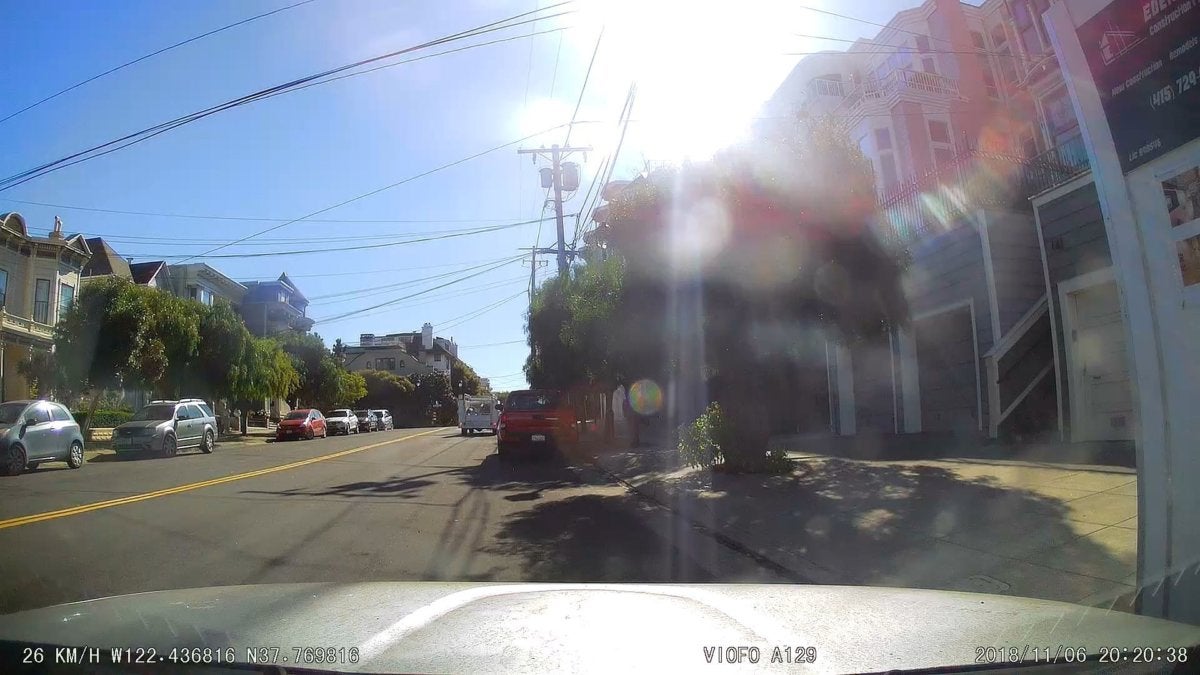 Night video (shown below) reveal lots of detail with the headlights on or off.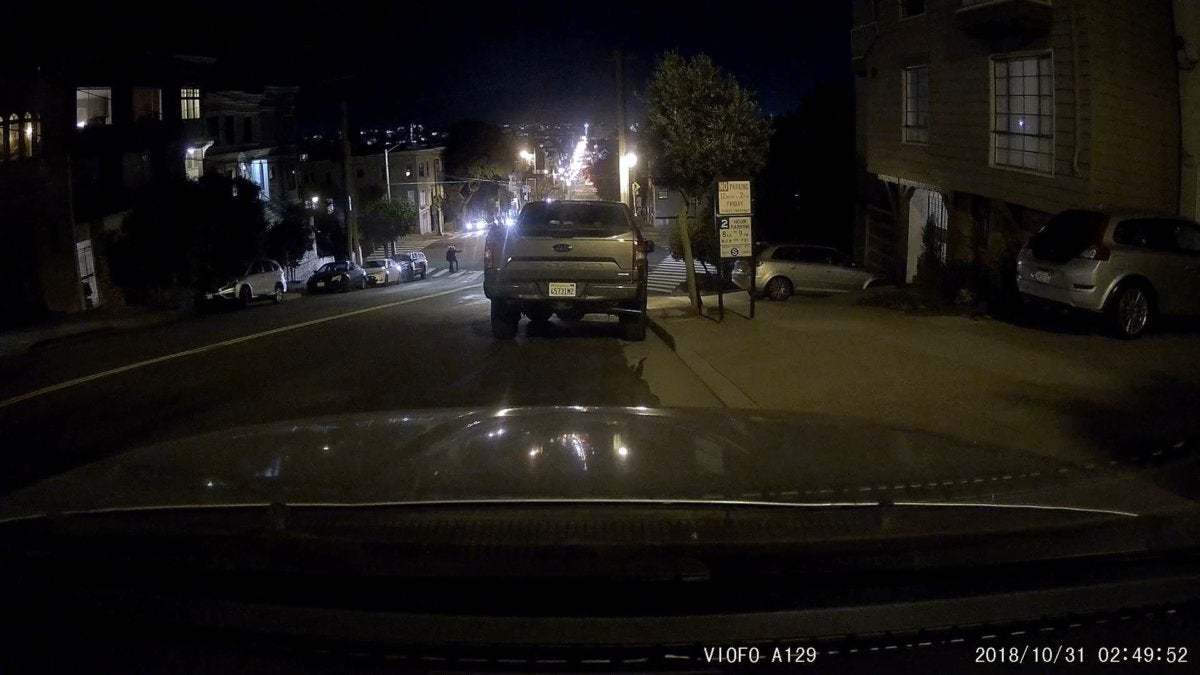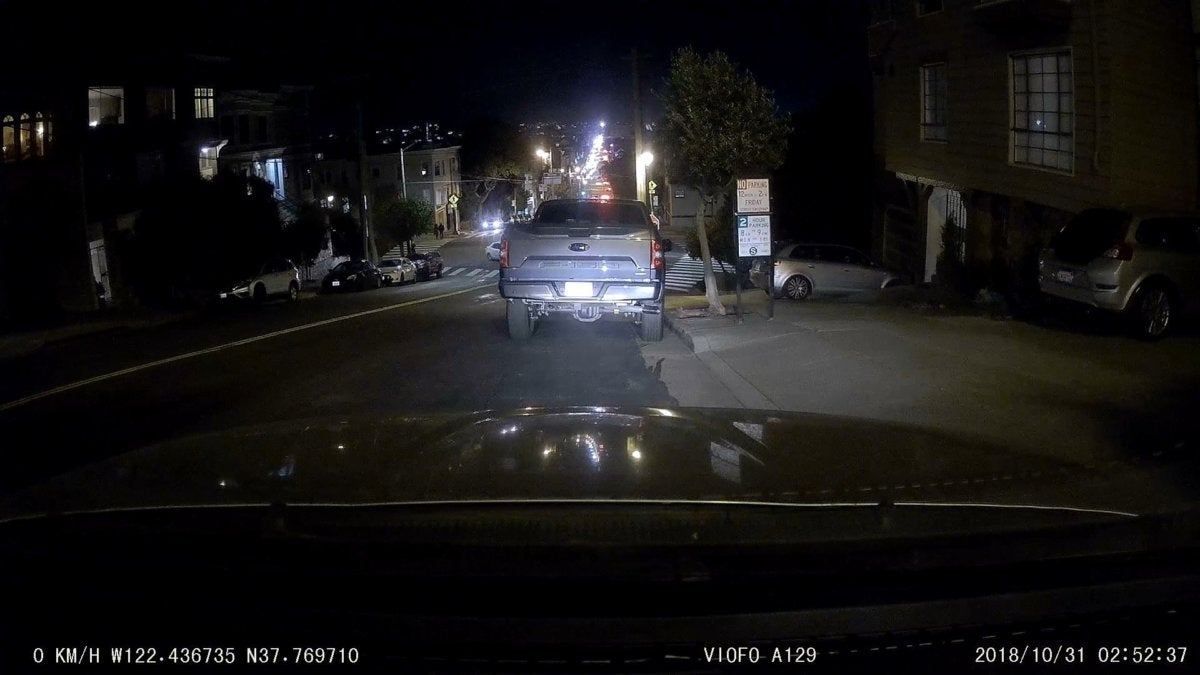 The video from the rear camera is just as nice as that from the front camera, even at night. That red glow is from my backup lights as I maneuvered into a parking spot.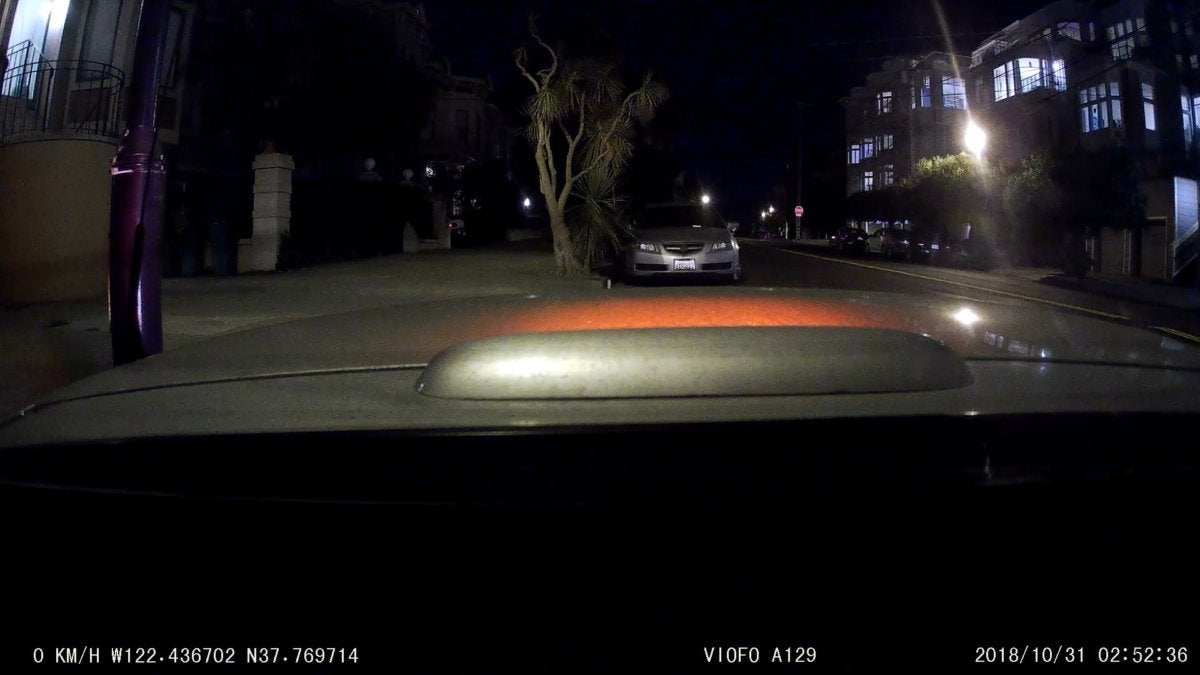 Increase the brightness in post-production, and you'll see lots of detail in the surrounding areas which makes the duo more than suitable for surveillance. You'll need to hard-wire the camera though, as the A129 Duo doesn't have the heavy-duty battery used in the Vava Dashcam and some others.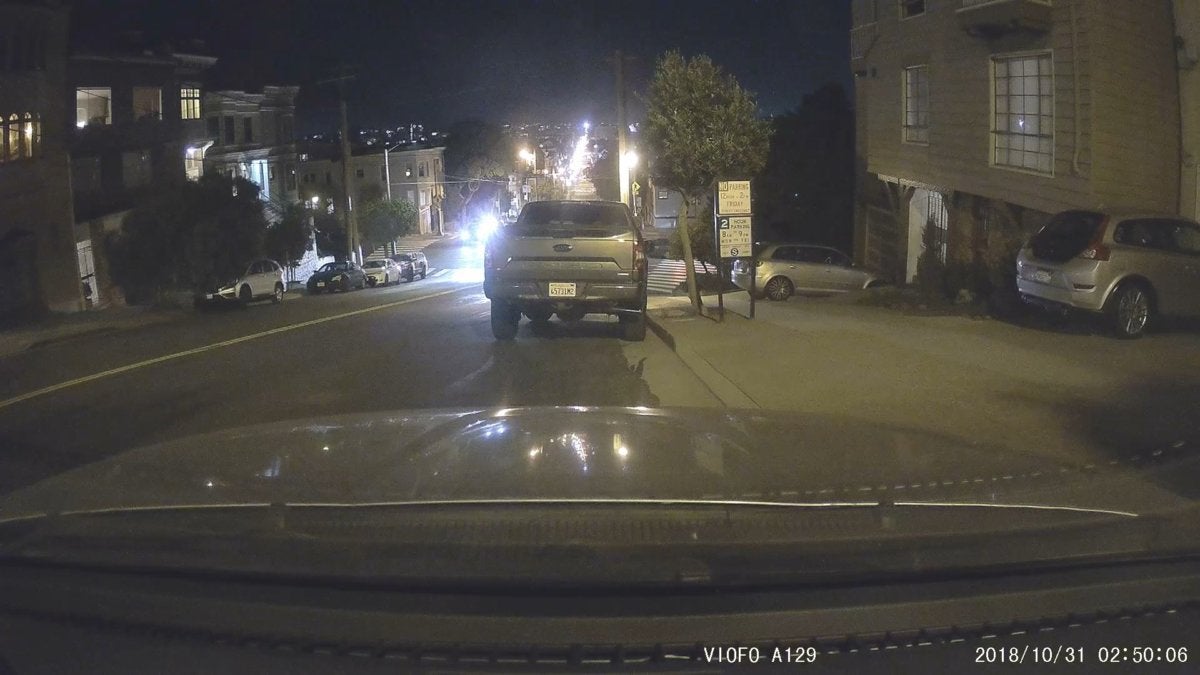 Instead of a battery, the A129 Duo uses a supercapacitor. That said, unlike with some cameras I've seen recently, it's large enough to power recordings for a couple of seconds after the 12-volt is pulled or fails. Those few seconds are probably all you need to capture all of an event, though ideally we'd like to see 5 to 10 seconds.
The upsides to supercapacitors are that they can be cycled far more times that a battery and can operate is a wider range of temperatures—Viofo claims from 14 degrees Fahrenheit to 149 degrees. That bottom temperature boundary seems a bit high, but 149 degrees is significantly hotter than most dash cams are rated for.
Conclusion
Viofo has done it again. The A129 Duo is easily our favorite budget dual-camera dash cam, and it holds its own against far more expensive duos from Thinkware and Blackvue. Aside from the somewhat unwieldy rear cam cable, it's all goodness, all the time.
Best Prices TodayViofo A129 Duo