At a Glance
Expert's Rating
Pros
Bright and eye-catching
Titan switch feels like a crisp Cherry MX Brown
Emulates some of the Roccat Horde's Surface Dial functionality
Cons
Chintzy wrist rest
No dedicated media keys
Ergonomics take some getting used to
Our Verdict
Roccat's Vulcan 120 Aimo finally does right by Cherry-style RGB switches, with half-height keycaps exposing the translucent chassis underneath and giving the keyboard a vibrant, eye-catching look. There are still some improvements to be made though.
Best Prices Today: Roccat Vulcan 120
Cherry's RGB switch design has felt like a compromise from the start. In order to keep the cross-shaped "stem" that Cherry switches are known for, the RGB LED had to be displaced towards the top of each key. Then the light was refracted through a transparent plastic chassis, as if to make up for the unbalanced look.
But Roccat has finally made good on the design with its new Vulcan 120 Aimo keyboard ($160 at Best Buy). For the first time, the Cherry RGB switch feels like a conscious aesthetic choice and not an accident of circumstance. It's not a perfect keyboard by any means, but I expect we'll see a lot of imitators in the near future.
A light in the dark
What makes the Vulcan 120 Aimo different? Half-height keycaps. It should be obvious what I mean as soon as you look at a picture of the Vulcan 120 Aimo, but let's get into it anyway.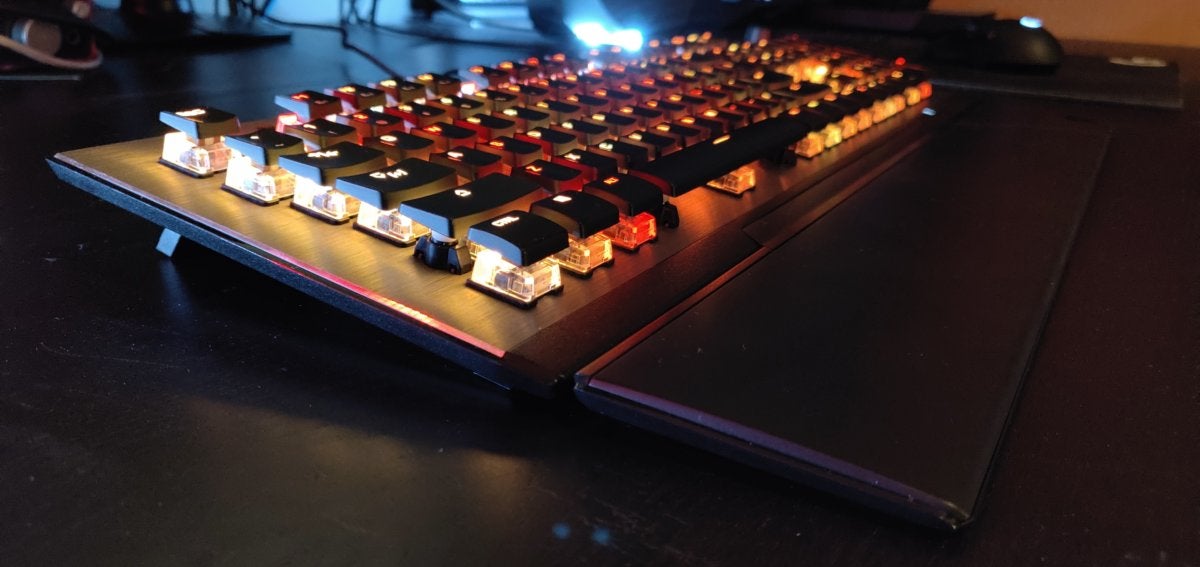 Your basic keycap hasn't changed since, I don't know, maybe the days of typewriters. It's a three-dimensional trapezoid shape, about two-thirds of an inch tall. The sides hang down over the switch mechanism, and in most modern keyboards will make contact with the backplate when a key is fully depressed.
That's how it works on most desktop keyboards anyway—even cheap rubber-dome keyboards. Laptops have their own design, commonly called "chiclet" keys because of their flattened shape.
The Vulcan 120 Aimo sits somewhere between these two extremes. You can either look at it as sporting standard desktop keycaps with the sides sheered off, or as chiclet keycaps propped on top of Cherry-style switches.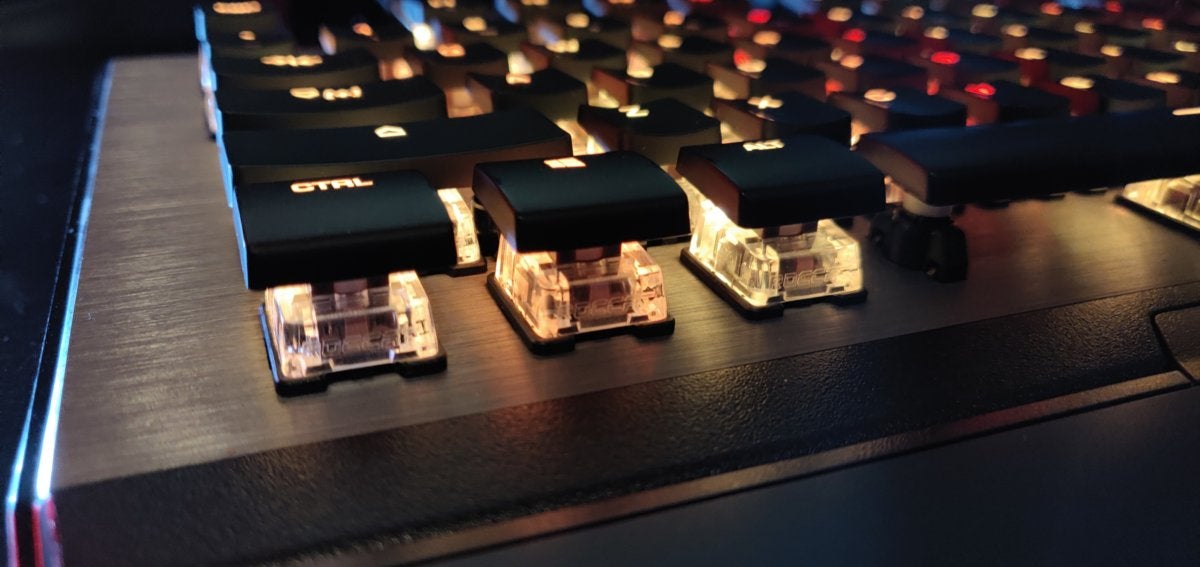 Either way, it's going to feel weird at first. It's truly a hybrid, picking and choosing from both desktop and laptop designs to create some third category. For instance there are gaps between the keys, like a desktop keyboard, but no vertical shifts like you'd usually see between rows. Instead the rows are slightly angled towards the user, but flattened like a laptop keyboard. Keycaps also wiggle around more, with no side-panels to stabilize them—and yet there's no plastic to slam into the backplate, which means a gentler typing experience.
Give and take.
After three weeks though, I generally enjoy the Vulcan 120 Aimo. My biggest complaint: Most of the keys are slightly concave, as you'd expect, but the bottom row is convex. While that's standard for the Space Bar, it makes other keys (Ctrl, Alt, Windows key) feel unstable, especially while gaming.
It's a minor complaint though, and the Vulcan 120 Aimo is otherwise comfortable to type on. In some ways it's a better typing experience, as with the softer "bottoming out" impact.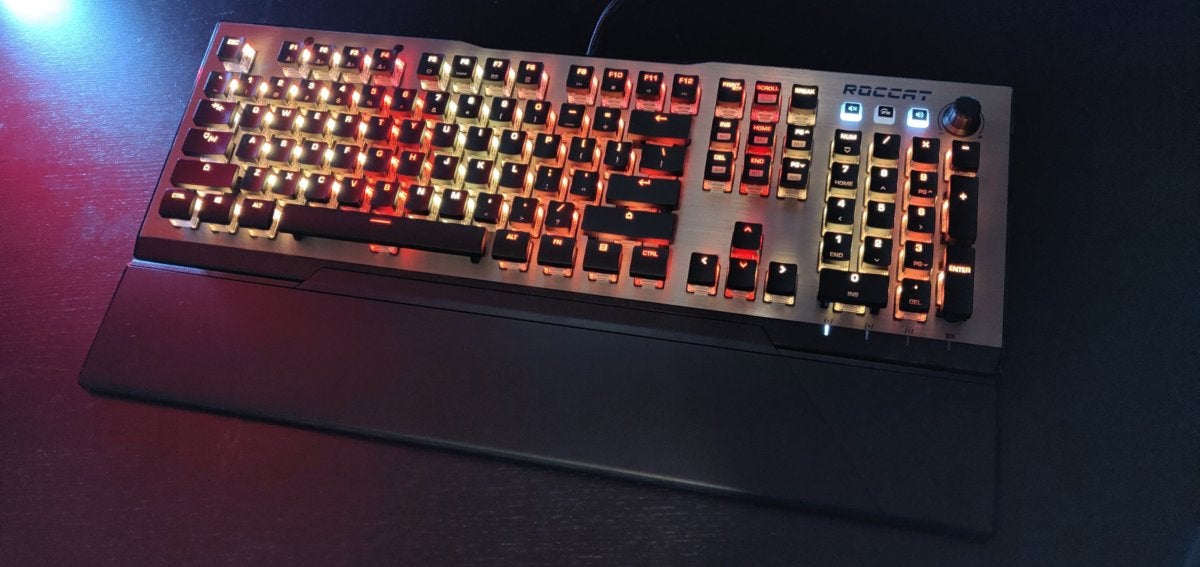 But mostly it's a matter of aesthetics. We've seen a move towards exposed backplates the past few years, as on Razer's BlackWidow X Chroma. The reason? It allows Cherry-style switches to bounce backlighting out the bottom of each key.
The Vulcan 120 Aimo takes this to the logical next step. Why bounce light off the backplate if you can just rip the sides right off each key? With these new half-height keycaps, each transparent switch housing is fully exposed, sending light in all directions. It's a compromise born out of the limitations of Cherry-style RGB switches, but it's a good compromise. Eye-catching, at the very least.
Which switch?
You'll notice I keep saying Cherry-style switches, and for good reason. Roccat's gone the way of proprietary tech, designing its own "Titan" switch in collaboration with TTC.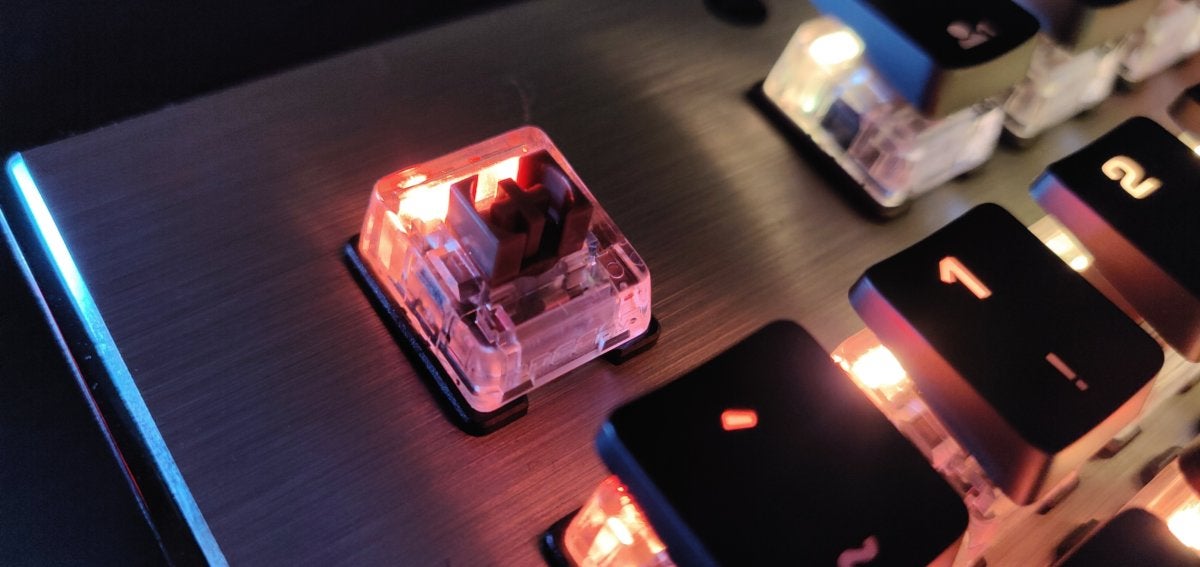 Surprise: It still looks like a Cherry MX switch, though the usual stem is supplemented by two reinforced bits of plastic on the outer edge. The closest equivalent is the Cherry MX Brown, with a tactile bump at the actuation point—though the Titan's travel distance of 3.6mm and actuation of 1.8mm are slightly shorter.
You'd be hard-pressed to notice the difference though. As with most of the in-house Cherry knockoffs (e.g., Razer, SteelSeries, and now Roccat) the goal seems to be to mimic Cherry's feel as closely as possible. The half-height keycaps make a much larger difference than the actual switches, in this case.
So yeah, for the most part I think the Vulcan 120 Aimo is a successful experiment. It's easily my favorite design from Roccat, a company that has (in my opinion) struggled to make much of a dent in the mechanical keyboard market thus far. Typing on the Vulcan 120 Aimo takes some getting used to, but after a few weeks I'm pretty enamored.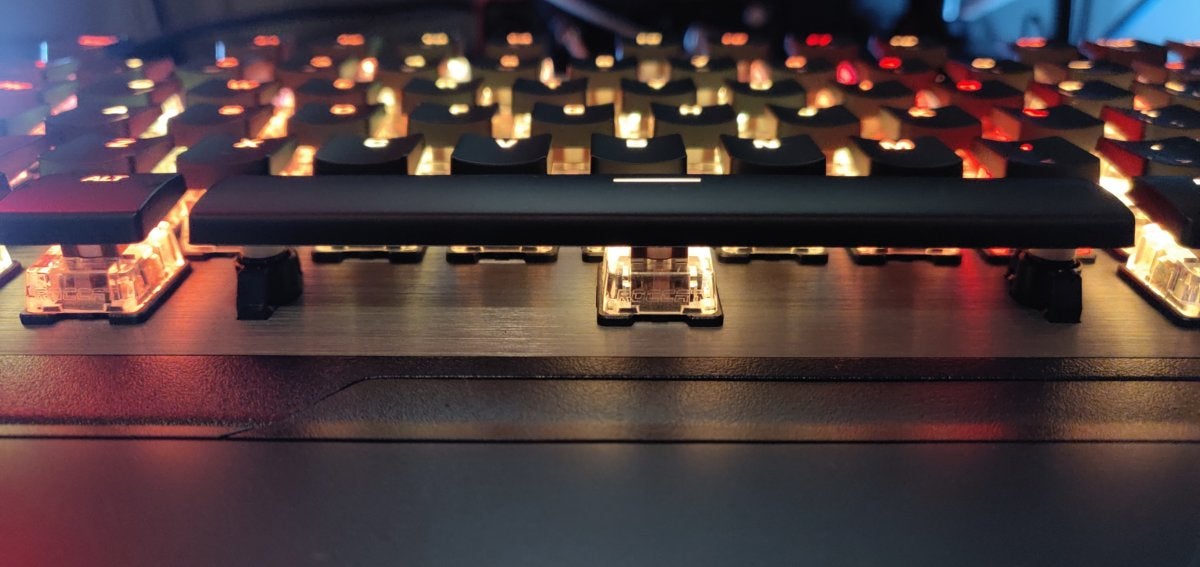 It's the extraneous features—those outside the core typing experience—that are a let-down. Take the wrist rest, for example. It's the primary distinction between the $150 Vulcan 100 and this $160 Vulcan 120. Notice how it's only a $10 price difference? Yeah, you can tell. The Vulcan 120's wrist rest attaches to the keyboard magnetically, but that's where the high-end feeling stops. It's just a chintzy piece of plastic, which would've been fine two years ago but is increasingly unsatisfying given the plush wrist rests coming from Logitech and Razer nowadays.
[Note: The other difference between the 120 and 100 is that the 120 is a Best Buy exclusive.]
The media keys, or lack thereof, are most frustrating though—especially for a keyboard in the $160 range. There are a handful of controls in the top-left, but only for mute/unmute, two programmable functions, and then a large dial at the end.
Some might remember Roccat's Horde Aimo keyboard from earlier this year, which built Microsoft's Surface Dial tech into the keyboard. The Vulcan 120 Aimo's two-buttons-and-a-dial design is a shallower version of this idea, defaulting to Volume and "Fx." I pretty much left it on Volume and forgot about it, though even then the vertical grab-and-twist action required by the Vulcan 120 Aimo's dial is less pleasant than the horizontal rollers on say Corsair's keyboards.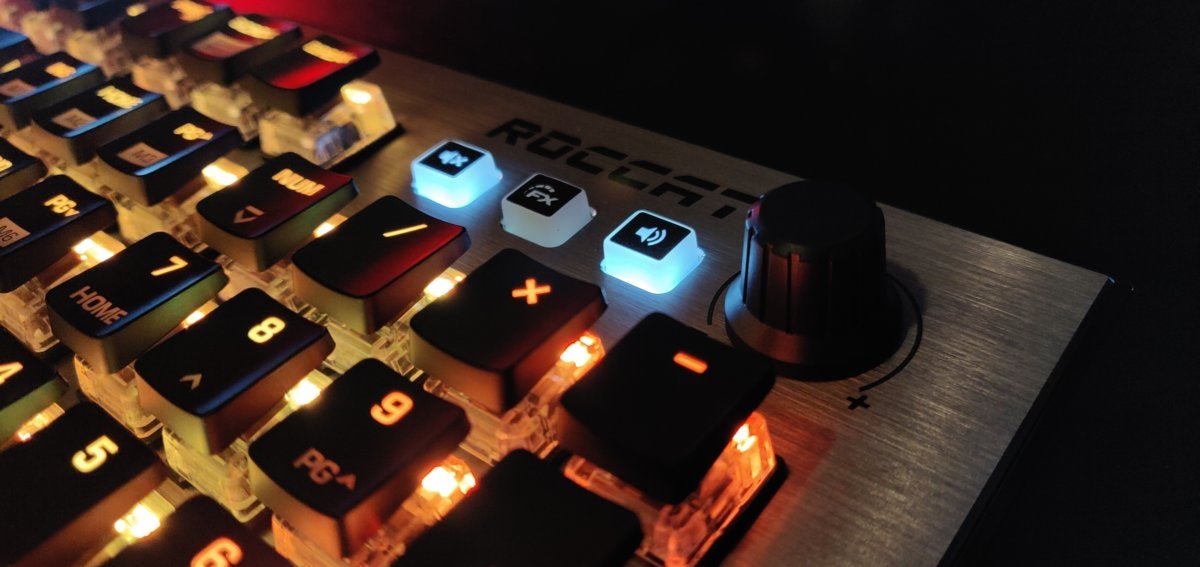 The rest of the media functions are mapped to Function shortcuts on F9 through F12. The Vulcan 120 Aimo also includes a lot of utterly bizarre shortcuts, like one to open your default browser window (F6), one to open your email program (F7), and one (F8) to open your…calculator?
F1 through F4 correspond to separate user profiles, which is more normal. There are also M1 to M6 macro listings on the Home block, though with Roccat's Swarm software you can technically program any key as a macro key.
Which, at last, brings us to Roccat's Swarm software. I don't need to spend much time on it. It's usable, fairly intuitive, and for the most part you'll just forget it exists. But I did encounter a problem where Swarm asked me to download the "Configuration Module" for the Vulcan 120 Aimo, then refused to actually download the damn thing when I went to the appropriate submenu. A minor quirk, and probably not one you'll encounter if you're installing Swarm from scratch—if this is your first Roccat peripheral, in other words.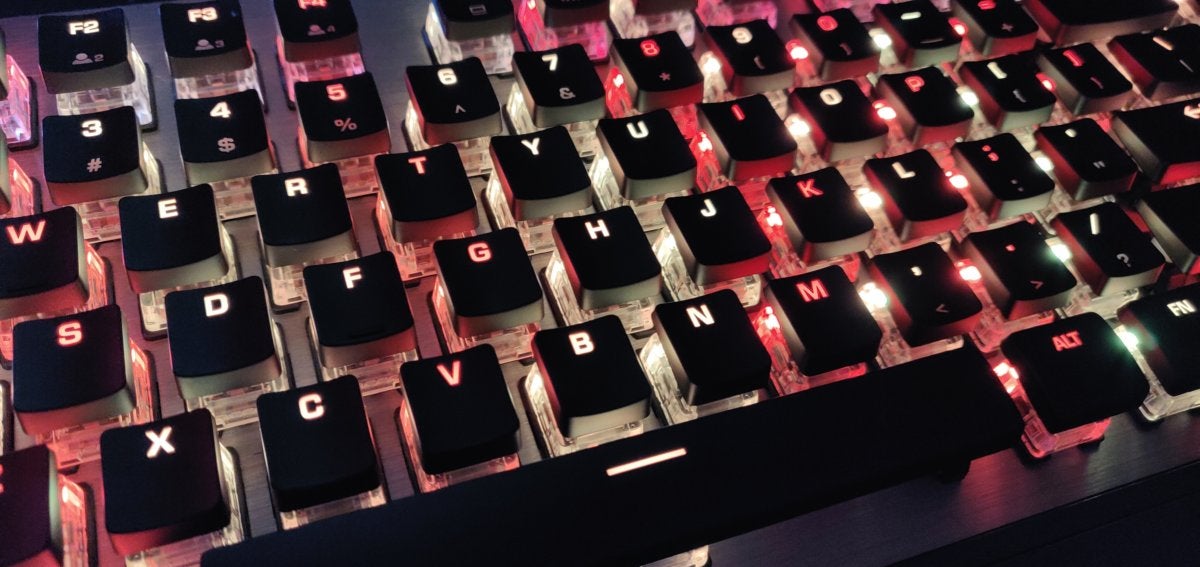 But it's 2018. Can't we get just one of these stupid software utilities to work as intended, all the time, without gobbling up system resources, randomly crashing, or bugging out between restarts? Apparently not. This isn't a Roccat problem, it's an industry-wide one and I've yet to see a company nail the software experience.
Bottom line
There are still improvements Roccat could make going forward, but the Titan switch and accompanying half-height keycaps are the Vulcan 120 Aimo's primary experiment, and that aspect is a resounding success. As I said, this is the first time the Cherry-style RGB switch and that weird translucent chassis has felt like a conscious design choice and not merely a concession.
I also think the Vulcan 120 Aimo is an interesting choice for those who want a chiclet-style keyboard for their desktop. This isn't your only option in that regard, but it's one of the best I've typed on, marrying the ergonomics of a laptop keyboard with additional tactile feedback.
It's an interesting design, all-around. I expect plenty of imitators—and indeed, Corsair's already announced its own version with the Low-Profile K70. Time to see where this trend leads.
Best Prices Today: Roccat Vulcan 120