At a Glance
Expert's Rating
Pros
Desktop program is very well designed
Good number of extra tools and utilities
Cons
Very expensive
Mixed results with the phishing detection feature
Our Verdict
Avast Premier is a well-respected antivirus suite with some highly rated protection. The suite is very well organized, easy to understand, and comes with a good number of extra features. It's really expensive, however, at $70 just to cover a single PC.
Best Prices Today: Avast Premier 2019
There are few mainstream antivirus suites that are as expensive as Avast Premier. Current pricing for this suite is $70 for a single PC for a year. For five PCs, that price jumps to $135. It's crazy expensive compared to Norton or McAfee, both of which cover 10 devices for about $30 less. On the other hand, you do get a solid suite for Avast's price, with a good number of extra tools and utilities.
Mentioned in this article
Norton Security Premium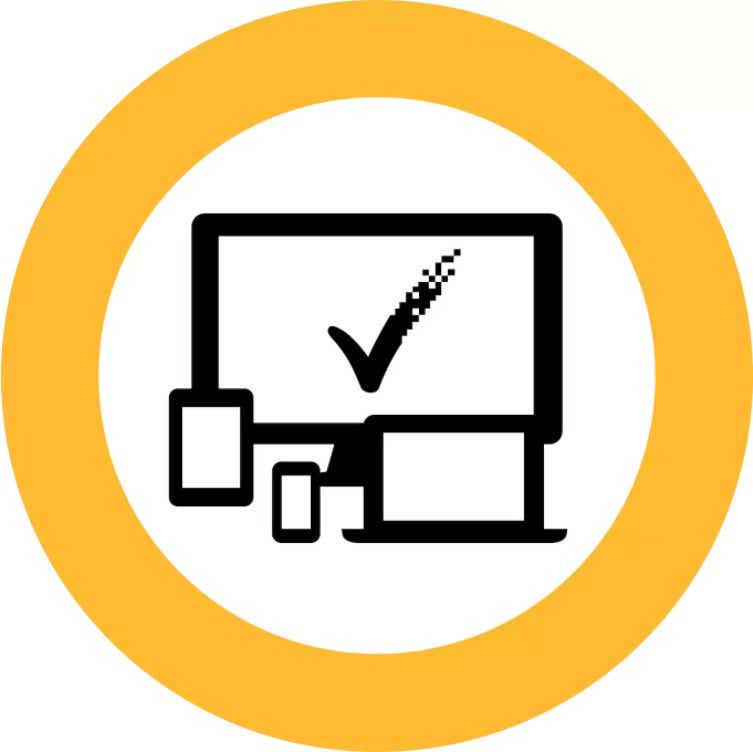 For 2019, Avast Premier isn't changing too much visually, but under the hood its bumping up the anti-phishing technology, offering an improved and renamed game mode that isn't just for games, and a better smart scan.
Note: This review is part of our best antivirus roundup. Go there for details about competing products and how we tested them.
What's new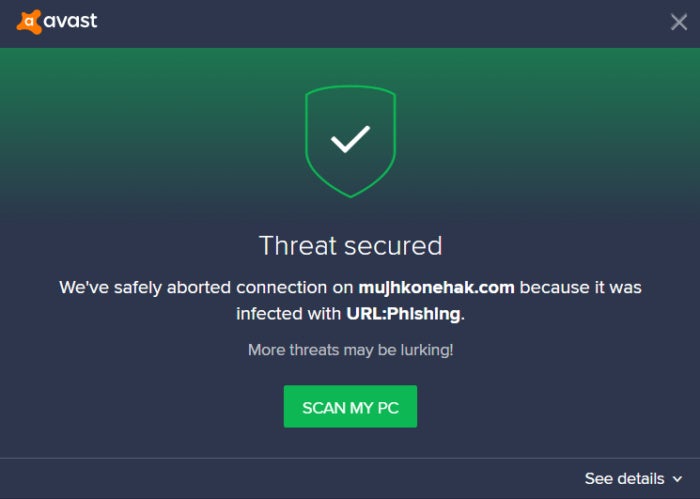 Anti-phishing technology is a mainstay in Avast's security suites, as it is in most security suites these days. But for 2019, Avast Premier can flag phishing sites without a browser extension. Typically, security suites install a browser extension in your default browser and flag suspicious sites that way. With Avast Premier, when a phishing site is detected the suite throws up a medium-sized alert window in the center of the screen. It informs you the site was blocked for potential phishing and then advises you to scan your PC, as pictured here.
Avast's approach analyzes various components of a site to detect nefarious behavior including a site's URL, domain meta information, and "the visual aspects of sites." Avast says this new approach allows it to "recognize new phishing sites in seconds," but I'm not so sure about that.
I didn't run a formal test of Avast's phishing capabilities but I did visit Comodo's PhishBank.org to find some current phishing sites so I could see the new feature in action. During my time trying out the new feature, it blocked a OneDrive phishing site almost right away, but then Avira didn't let out a peep when I landed on the login page for a phishing site posing as Blockchain.com, a popular trading and Bitcoin wallet service.
To be fair, Chrome also didn't throw up an alert for that site, and Chrome often catches known phishing sites. Still, the fact that Avast didn't block me from logging into a fake cryptocurrency site is concerning since phishing is an easy way that unsuspecting users can lose their digital coins.
Moving on to the new gaming mode, now known as Do Not Disturb, this feature is designed to stop alerts from Avast and other programs when you are running a program in fullscreen. This can be anything from a video game to a movie or a presentation. It's great to see Avast acknowledge that game mode can be used for more than just gaming, as some other suites do.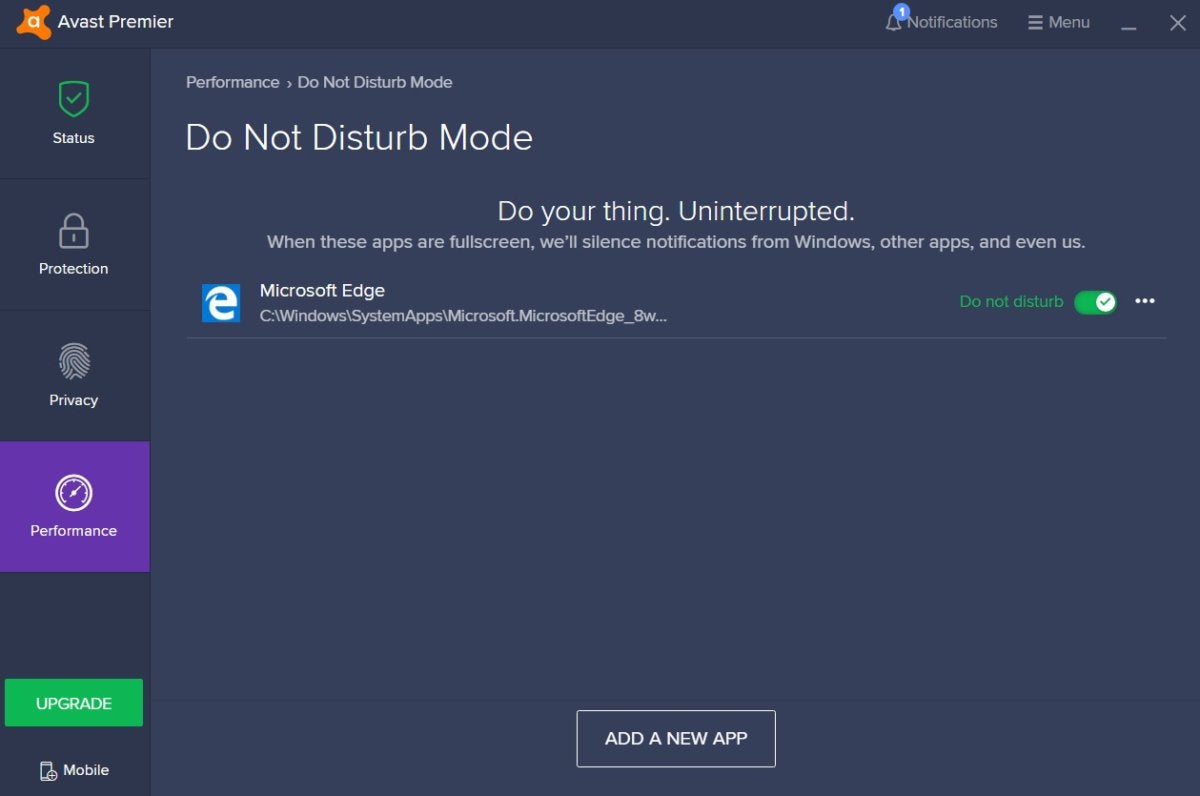 Do Not Disturb does its work automatically in the background so there's no need to activate the feature; however, you can also add programs manually to the Do Not Disturb list by going to Performance > Do Not Disturb Mode > Add A New App.
This list still requires that the listed apps are in fullscreen. If you need a quick do not disturb mode without a fullscreen app, right-click on the Avast symbol in the system tray and select Silent Mode. That won't silence third-party apps, but it will keep Avast itself from bothering you.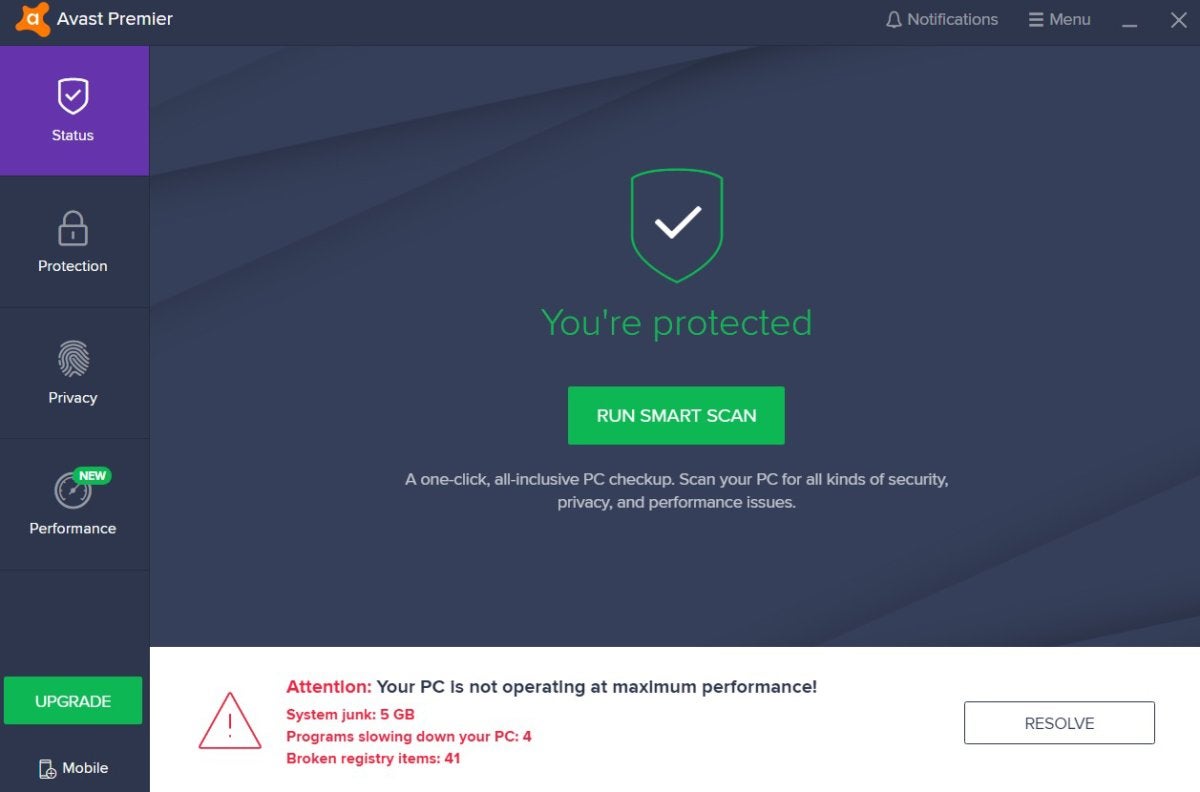 Looking at Avast Premier's interface, it's basically the same as we saw in 2018. The suite uses shades of blue and gray as the primary colors with purple used to help menu items stand out. On the left rail there are four options: Status, Protection, Privacy, and Performance.
Each one houses the major features of the suite that we've seen before. Under Protection you've got access to Avast's scan options, the firewall settings, Wi-Fi inspector, a ransomware shield, and a sandbox for running programs and viewing files that you're worried might be suspicious.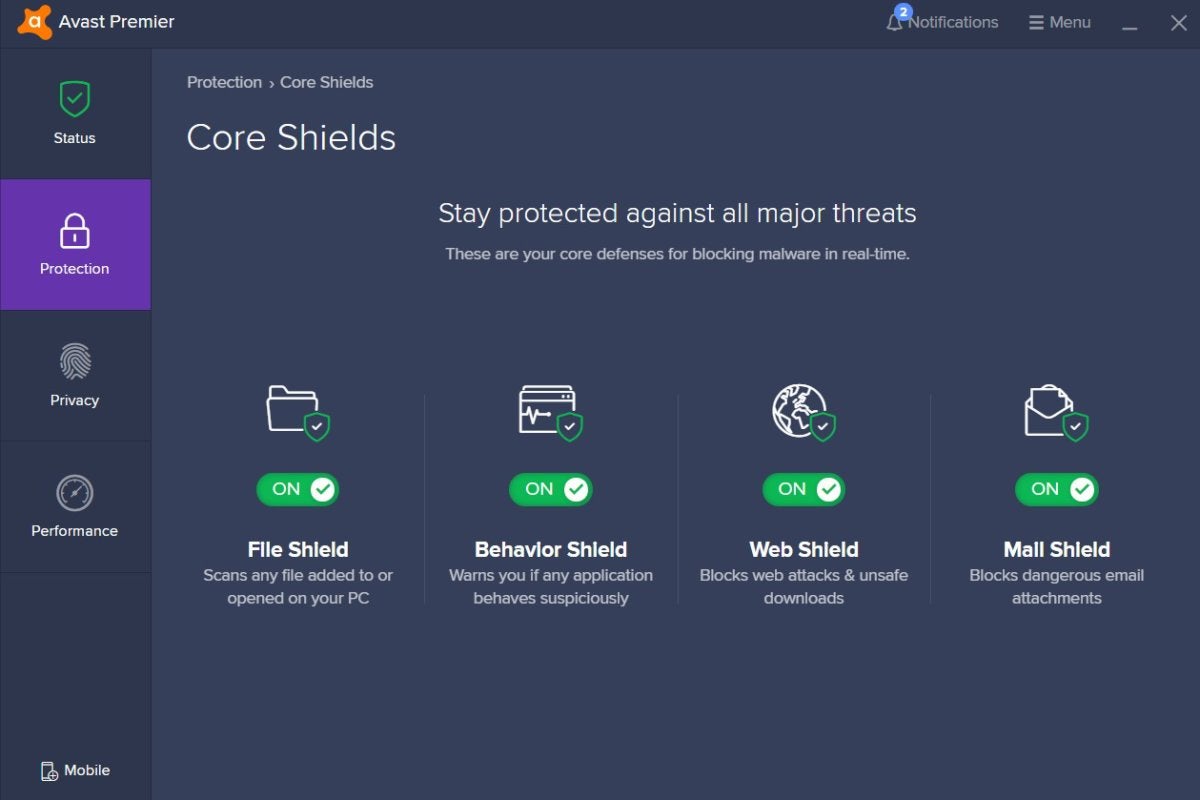 Two new additions to this section are Core Shields, which lets you turn on and off specific aspects of Avast's protection including file protection, behavioral analysis, protection from web threats, and mail scanning. The Virus Chest, meanwhile, is Avast Premier's version of the quarantine section.
Moving on to Privacy in the left-hand rail, you've got the Data Shredder, a built-in password manager, and SecureLine VPN, as usual. Note that SecureLine requires an extra subscription cost for Avast Premier users.
There's also now a Webcam Shield in this section that blocks the webcam from use by shady applications. You can set it to three different settings: Smart, Strict, and No Mercy. The first option allows trusted apps to use the webcam and everything else has to ask. Strict requires an app to ask your permission no matter what, and No Mercy locks the webcam down completely.
There's also a new anti-tracking feature in the Privacy section, but like the SecureLine VPN it costs extra.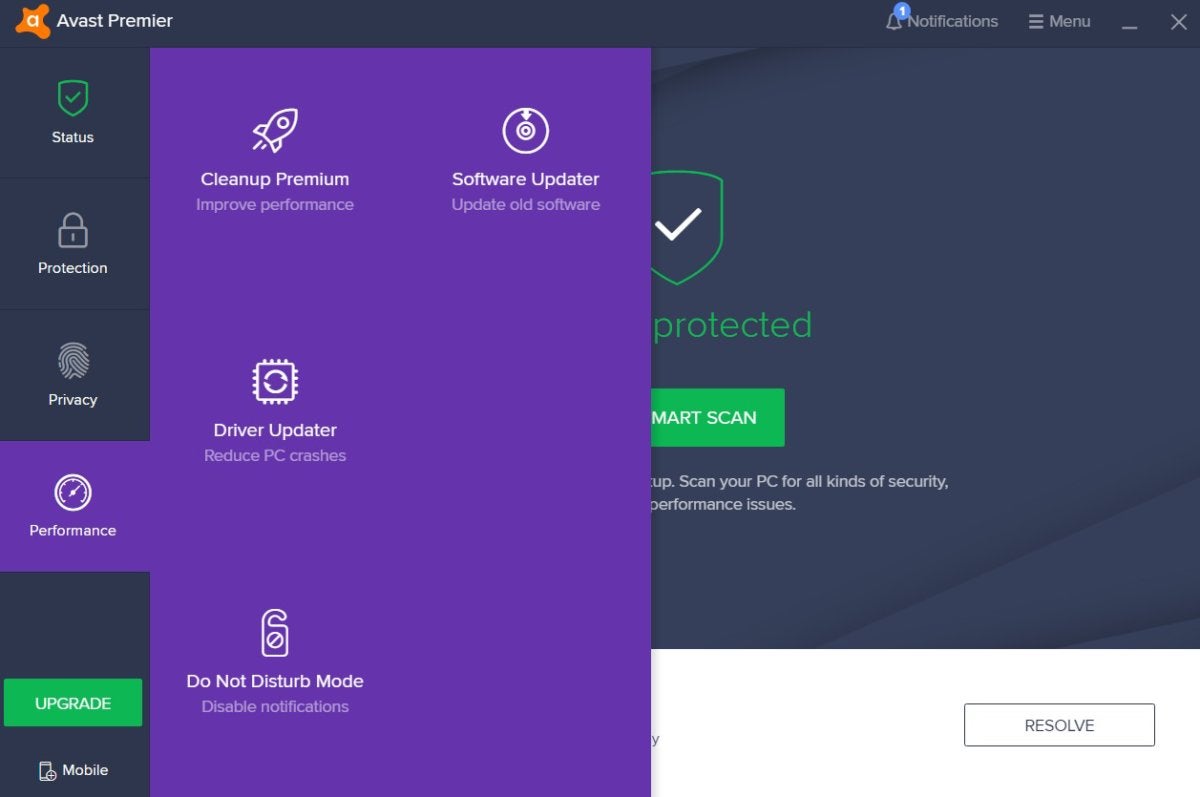 Finally, down in the Performance section, the options have been bumped up from two to four. The Cleanup Premium feature is still here that removes all your junk files automatically–again for an extra cost. The Software Updater, which used to live under Protection is now in the performance section and there's also a Driver Updater option to make sure your component firmware is up-to-date. Driver Updater requires an added installation and opens in a separate window.
Overall, Avast Premier's interface is as good as it was last time around. It's a reliable and excellent antivirus suite that keeps everything confined to one window and is very easy to understand.
Performance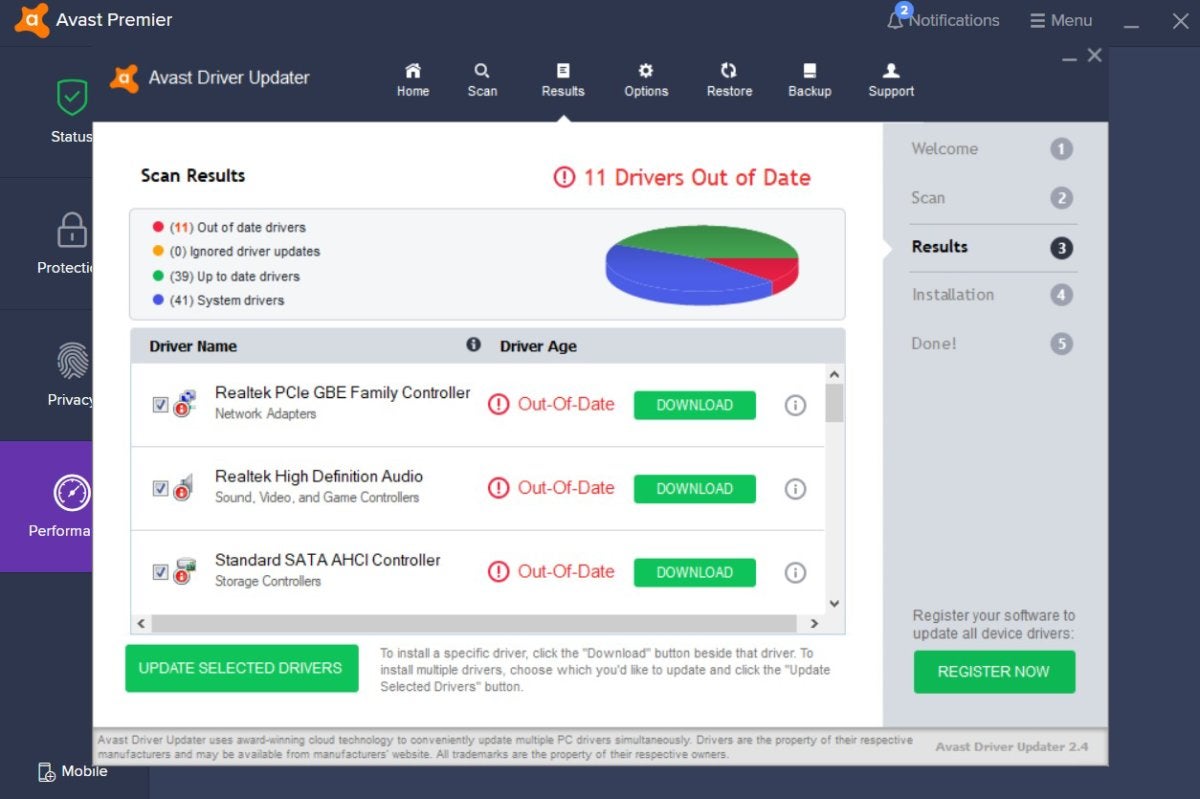 AV-Test's most recent look at Avast was in July and August when it analyzed Avast Free. During those tests, the protection against zero-day and web and email threats was 99.2 percent in July and 100 percent in August based on 275 samples. The larger "widepsread and prevalent malware" test with nearly 20,000 samples had a score of 99.9 and 100 percent in July and August, respectively.
These tests happened before Avast's 2019 products came out, and while they offer similar detection capabilities, some of the newer features are missing. We'll update this section once newer scores are made available.
AV-Comparatives offers more recent scores but still came out before Avast 2019's October release. In its real-world protection test for September 2018, Avast Free had a 100 percent block rate with no false positives, a fantastic score based on 197 test cases. For the larger malware protection test using nearly 12,000 test cases, Avast Free had a 99 percent offline and online detection rate, a 100 percent online protection rate, and five false alarms.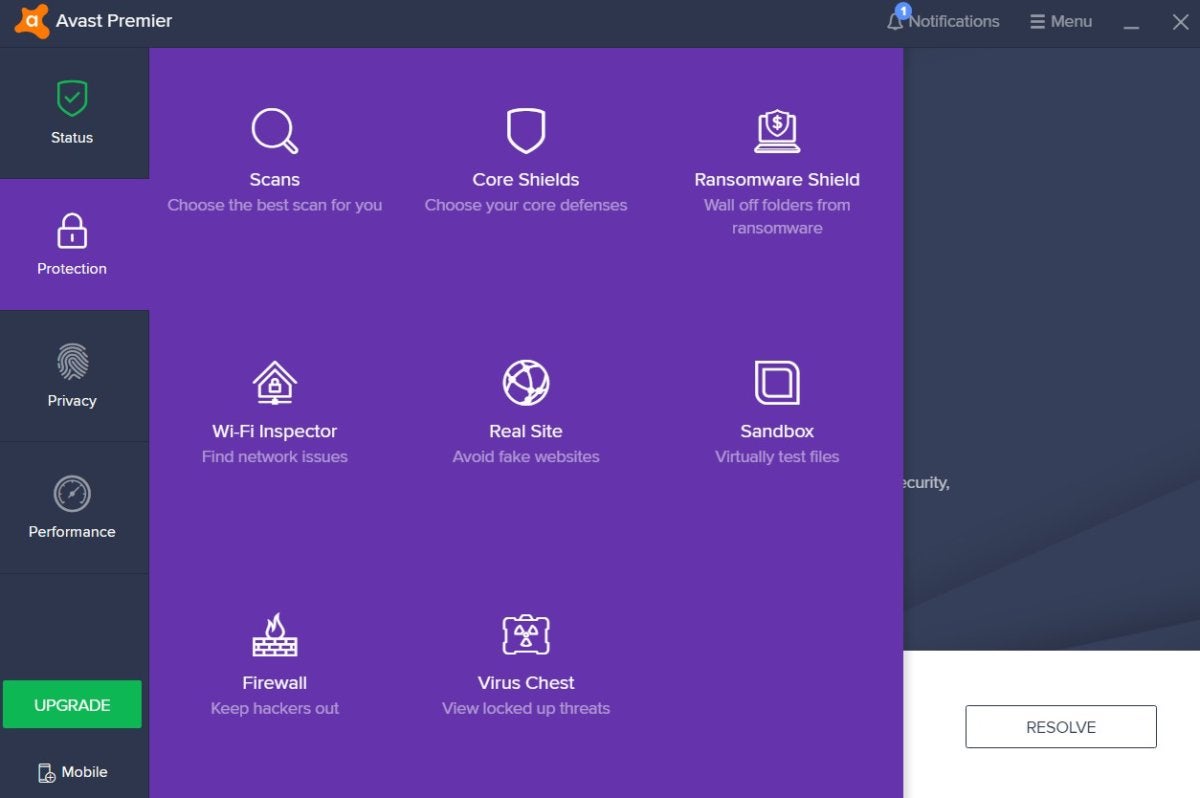 For our in-house performance tests, Avast remains an excellent choice when you're looking to avoid too much stress on system resources. Before Avast Premier was installed, the test PC using PC Mark 8 scored 2,436. With Avast Premier running and after a full system scan that number went up to 2,459. Bigger is better in this test and that's a pretty good improvement over a bare Windows 10 system—a common theme we've seen with these tests over the last year.
For the HandBrake test, without Avast Premier installed, the test PC completed the job of converting a 3.8GB 1080p MKV file to the Android preset in one hour and 15 minutes. With Avast Premier running, and after a full system scan, that time went up to one hour and 16 minutes. That's a slight uptick but nothing to get worried about except for maybe low-end PCs under very heavy loads.
Conclusion
Avast Premier 2019 is a solid security suite with some good extra features such as the webcam blocker and the improved Do Not Disturb mode. I'm not so sure the improved anti-phishing feature is as good as it should be, as its results were mixed in my brief experience with the feature. Still, the testing houses give Avast high marks and overall the company has a great reputation as a strong security product.
The bigger issue, then, is that price. So many other suites cover more devices for less. You can get Avira Prime, for example, for $130 to cover up to 25 devices with all the bells and whistles. A similarly priced plan for Avast Premier covers just five devices, and you'll still have to pay for some of the extra utilities on top of that.
Best Prices TodayAvast Premier 2019