If you've been wondering just how much performance Apple left on the table when it chose a dual-core, low-power CPU for its 2018 update to the MacBook Air, wonder no more.
In an apparent goof, someone ran the new MacBook Air on Geekbench 4.3 and then submitted the results to Geekbench's official browser database.
The results are both as bad as you'd expect, and actually not quite as bad. Although "leaked" numbers are always suspect, this one looks pretty legit. The CPU Apple chose was Intel's new Amber Lake Core i5-8210Y with Intel HD 617 graphics. It's basically what was formerly known as "Core M," and it has a TDP of 7 watts with a base clock of 1.6GHz and boost clock of 3.6GHz.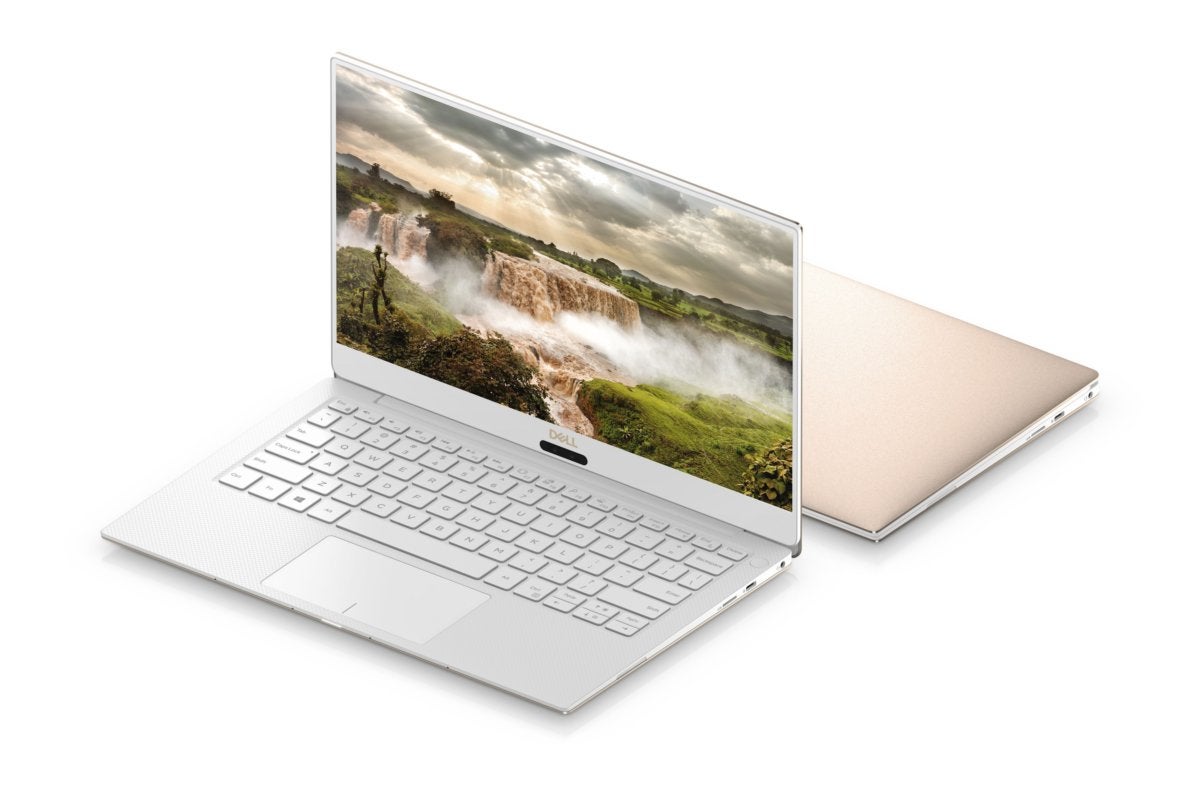 For kicks, we ran Geekbench 4.3 on a Dell XPS 13 9370 to see how a typical PC laptop would compare to the 2018 MacBook Air. First up is the high-level view of multi-core performance, which won't shock anyone: It's a blowout.
What you're seeing is an overall score by Geekbench, which runs about two dozen performance loops in different areas such as Ray Tracing, Gaussian Blur and PDF Rendering.
The Dell XPS 13 9370's score with its Core i5-8250U is about 70 percent faster than the leaked 2018 MacBook Air's score. Let's say that again: 70 percent faster.
Before Mac fans cry foul, note that the Dell XPS 13 we tested has 8GB of RAM, a 256GB SSD, a 13.3-inch 1920×1080 IPS screen and quad-core Core i5-8250U, and weighs about 2.7 pounds. Today, it costs $1,077.
We don't know which 2018 MacBook Air was used for the leaked result, but the base version has 8GB of RAM, a 128GB SSD, a 13.3-inch 2560×1600 screen, dual-core Core i5-8210Y, and weighs about 2.7 pounds. Today (on preorder), it costs $1,199.
So yeah, on price, the Dell XPS 13 is actually cheaper and has a larger SSD.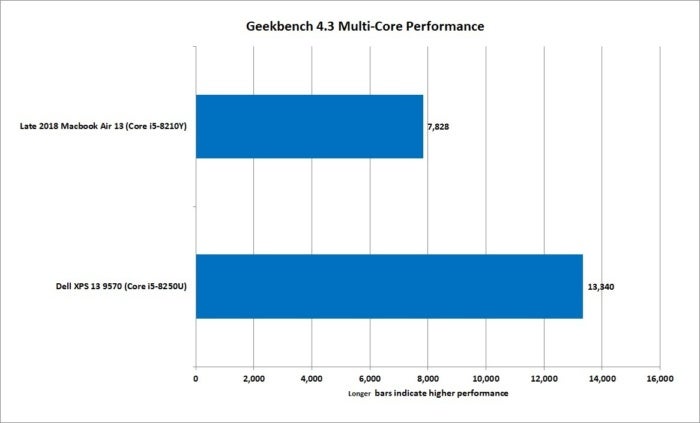 Just accept it: PC is faster than Mac
So just accept it, Mac fans: A quad-core Intel CPU is going to be faster than a dual-core Intel CPU in multi-core performance. Nothing you can say will make that change. End of story.
Where this gets really interesting is in single-core performance. Intel's new Amber Lake low-power chips actually tout fairly high clock speeds compared to previous low-power designs. in fact, the Turbo Boost of the dual-core Core i5 is 3.6GHz, vs. the quad-core Core i5's 3.4GHz. In theory, that should lead to a performance edge for the 2018 MacBook Air.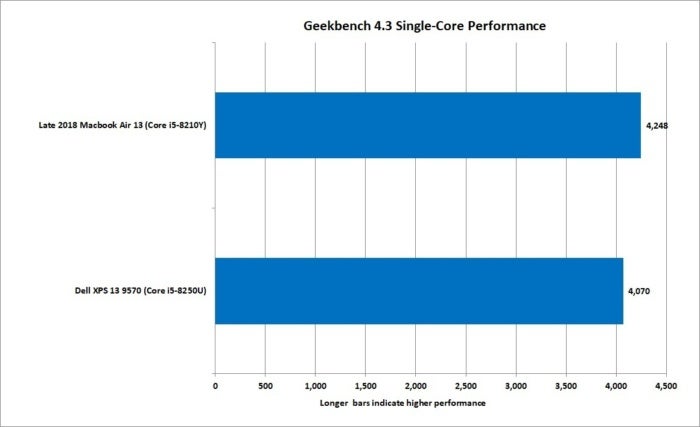 The leaked results seem to bear that out. With about a 5-percent clock advantage in single-threaded performance, the leaked Geekbench scores put the $1,200 MacBook Air 13 at about 5 percent faster than the $1,077 XPS 13. That all makes sense and honestly, we can accept the above performance without arguing about it.
However, when we looked at the subscores for Geekbench, some of the performance scores of the XPS 13 were quite a bit higher than the leaked scores of the MacBook Air. On other scores where the MacBook Air was faster, it didn't seem to match the fairly minor clock speed differences between the laptops.
For example, the AES cryptography performance is far higher on the XPS 13 than the MacBook Air. Meanwhile in Geekbench's PDF rendering test, the 2018 MacBook Air's score is far higher than expected given the minimal differences between the CPUs. We don't know whether these differences trace back to their respective operating systems, variations in benchmark implementation cache size, or some significant change between Amber Lake and Kaby Lake R.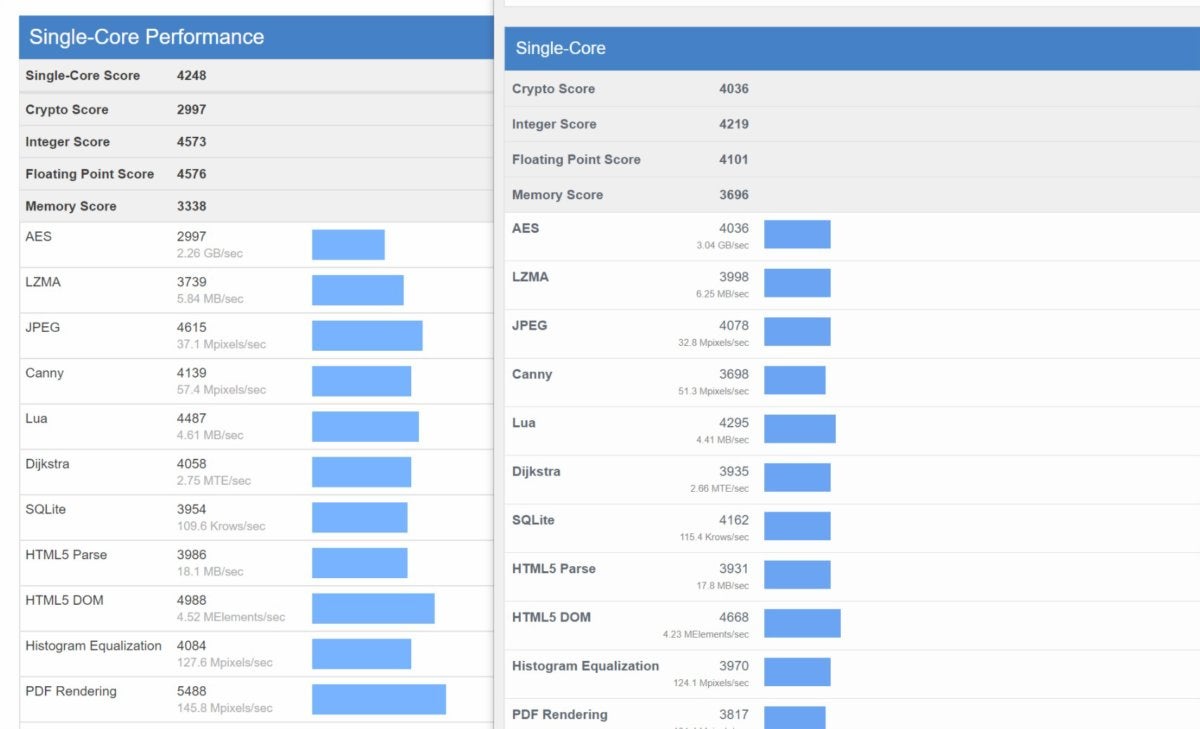 For now, we'll accept that the leaked numbers indicates a laptop that costs more and has half the SSD capacity is slightly faster in single-core performance but much, much slower in multi-core performance.