At a Glance
Expert's Rating
Pros
Great 1440p and entry-level 4K gaming performance
RT and tensor cores for ray tracing, DLSS, and more
Custom Windforce cooler is better than Nvidia's Founders Edition
Actually achieves $500 MSRP price
Similar performance to pricier RTX 2070 options
Cons
Ray tracing and DLSS not available in games yet
Plastic shroud and fans
Lacks fancy extra features
Our Verdict
With the Gigabyte RTX 2070 Windforce delivering such strong performance at $500, there's little reason to spend more on an RTX 2070 graphics card unless you're looking for specific features.
Best Prices Today: GeForce RTX 2070 Windforce
The Gigabyte RTX 2070 Windforce is a member of a small and exclusive club: A GeForce RTX graphics card that actually sells for Nvidia's MSRP!
Yes, Gigabyte's GPU costs $500 at Amazon, a full $100 less than Nvidia's own RTX 2070 Founders Edition. The card skips out on fancy touches to achieve its price point; You won't find fancy metal shrouds or factory overclocking here. But the Gigabyte RTX 2070 Windforce does offer performance roughly on a par with pricier RTX 2070 options, plus with a triple-fan cooler that's more effective than the cooling in Nvidia's Founders Edition, all delivered at a cost that actually makes the graphics card a compelling option versus the last-gen GTX 1080. Applying an overclock to get more performance couldn't be quicker or easier, either.
It's hard to call a $500 graphics card a good value, but when it comes to RTX 2070 options, Gigabyte's Windforce fits the bill. Let's dig in.
Gigabyte RTX 2070 Windforce specs, features, and price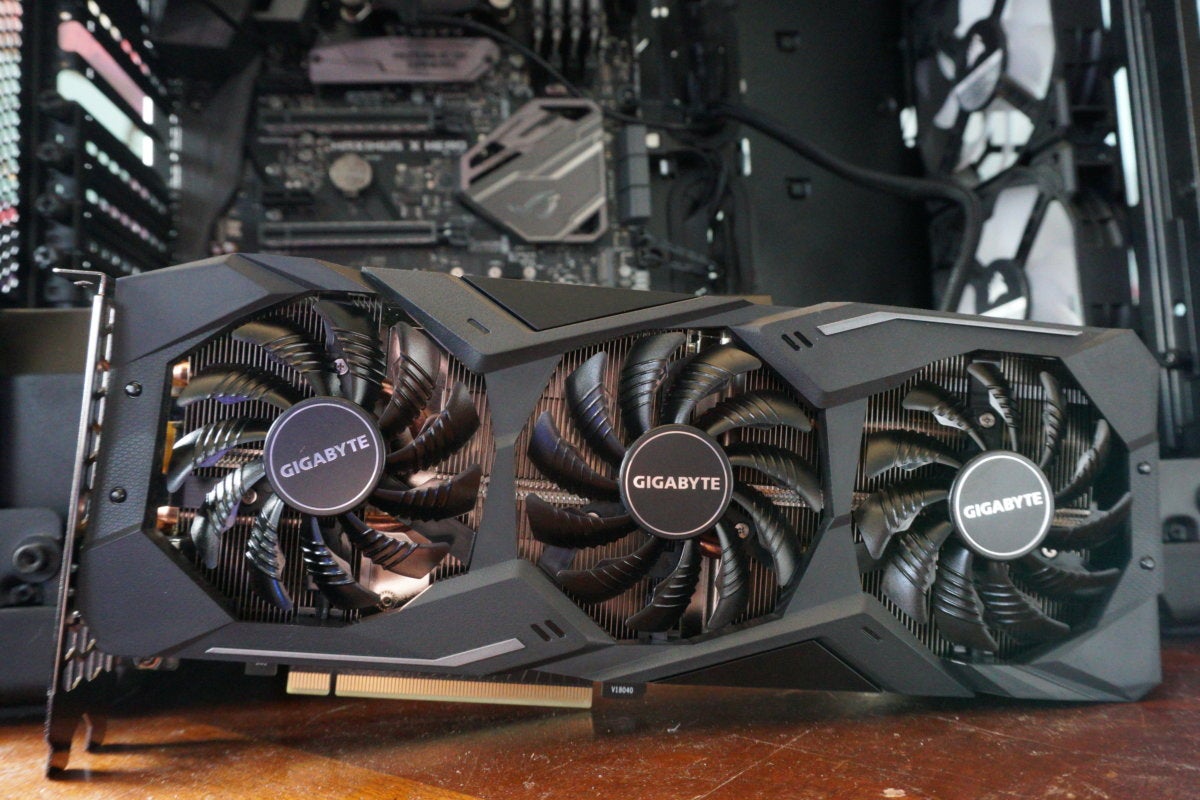 Unlike the $600 Nvidia RTX 2070 Founders Edition and EVGA's $550 RTX 2070 XC, the Gigabyte RTX 2070 Windforce doesn't ship with a factory overclock. Under the hood, this card sticks to the RTX 2070 GPU's reference specs:
CUDA cores: 2,304
Clock speed: 1,410MHz base, 1,620MHz boost
RT cores: 36
Tensor cores: 288
Texture units: 144
ROP units: 64
Memory capacity: 8GB GDDR6
Memory path: 256 bits
Memory bandwidth: 448GBps
Ports: 1x VirtualLink/USB-C, 3x DisplayPort 1.4, 1x HDMI 2.0b
Power: One 6-pin, one 8-pin, 550W+ power supply required
Price: $500
That level of hardware will get you excellent 1440p gaming performance, and even entry-level 4K gaming, as you'll see in our benchmarks later. But the big draw for Nvidia's RTX GPUs is the inclusion of dedicated RT and tensor core hardware for greatly enhanced performance in real-time ray tracing and machine learning-enhanced tasks such as Deep Level Super Sampling.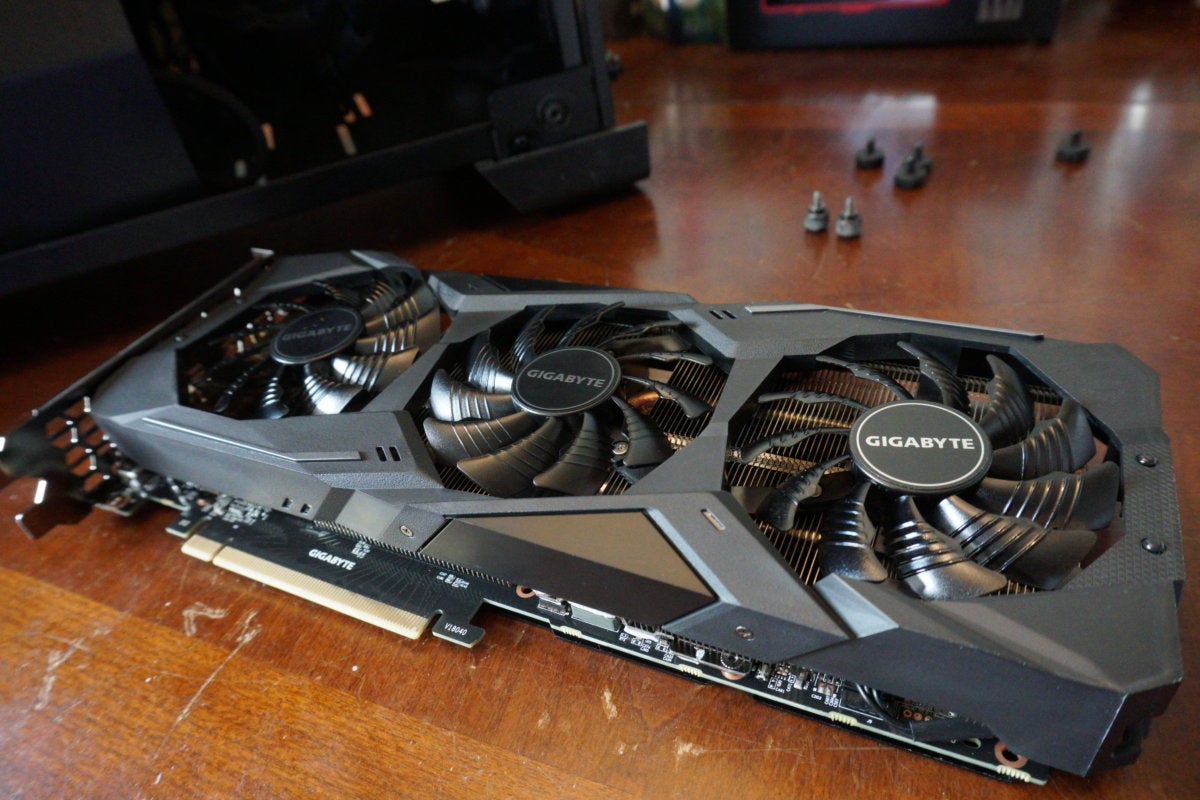 At least in theory. In reality, no ray traced or DLSS-enhanced games have hit the streets yet, even though the first RTX GPUs launched in mid-September. Dozens of games have pledged to support ray tracing or DLSS, but if you buy a RTX 2070 today, all you can do is hope that those features will prove as impressive as Nvidia's marketing claims. You can learn more about ray tracing and DLSS in our deep-dive into the Nvidia Turing GPU as well as the future tech section of our RTX 2080 and 2080 Ti review, where we examined some canned demoes provided by Nvidia.
Despite carrying a rock-bottom price tag, Gigabyte outfitted the RTX 2070 Windforce with a custom cooling solution that gives the card its name. Three fans sit atop the card's plastic shroud, with the middle fan spinning in the opposite direction of the outer blades to ostensibly create smoother airflow for better heat dissipation. The fan blades themselves are plastic and feel flimsy when prodded, though, especially compared to the hardened blades on the Nvidia Founders Edition and EVGA RTX 2070 XC. Those blades grind to a halt when you aren't gaming or otherwise stressing the GPU, running silent during traditional desktop use—always a much-appreciated feature, and one the Founders Edition sorely misses.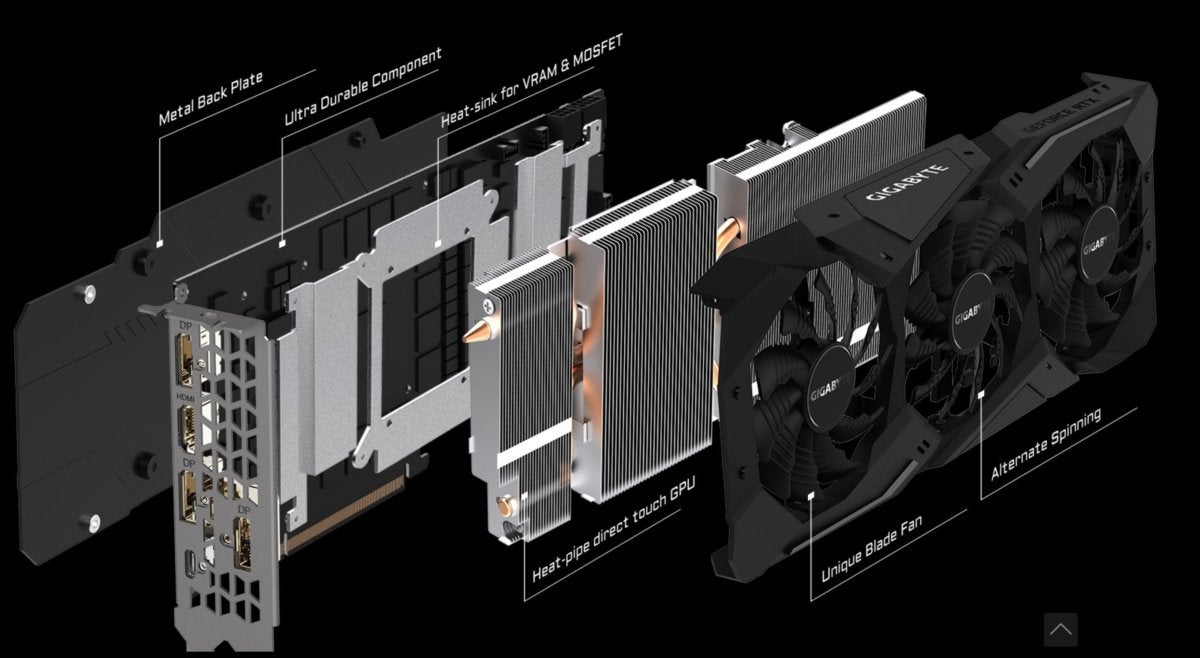 A full-length heat sink sits underneath the shroud, augmented by a pair of copper composite heat pipes that directly contact the GPU for better heat transfer. Underneath that, a large metal plate helps move heat away from the card's memory and MOSFETs, and Gigabyte tops the package off with a metal backplate emblazoned with the company's logo. You'll find another Gigabyte logo on the edge of the card, but that one's infused with RGB LED lights that you can customize with Gigabyte's Aorus Engine software.
It's a more effective cooling solution than the one in Nvidia's pricier RTX 2070 Founders Edition, as you'll see in our temperature benchmarks. Speaking of which, that's enough description. Let's head to the test bench!
Next page: Our test system.
Our test system
Our dedicated graphics card test system is with some of the fastest complementary components available to put any potential performance bottlenecks squarely on the GPU. Most of the hardware was provided by the manufacturers, but we purchased the cooler and storage ourselves.
We're comparing the Gigabyte RTX 2070 Windforce ($500 on Amazon) against the Nvidia GeForce RTX 2070 Founders Edition ($600 at Best Buy and GeForce.com) and EVGA RTX 2070 XC ($550 on Newegg). We're also showing how it compares against the step-up GeForce RTX 2080 Founders Edition ($799 at Best Buy or GeForce.com) and last generation's GeForce GTX 1070 Founders Edition, GeForce GTX 1080 Founders Edition, and PNY GeForce GTX 1080 Ti. We've also included results from the Radeon RX Vega 64 reference card, AMD's GTX 1080 rival.
A rival RTX 2070 mentioned in this article
GeForce RTX 2070 XC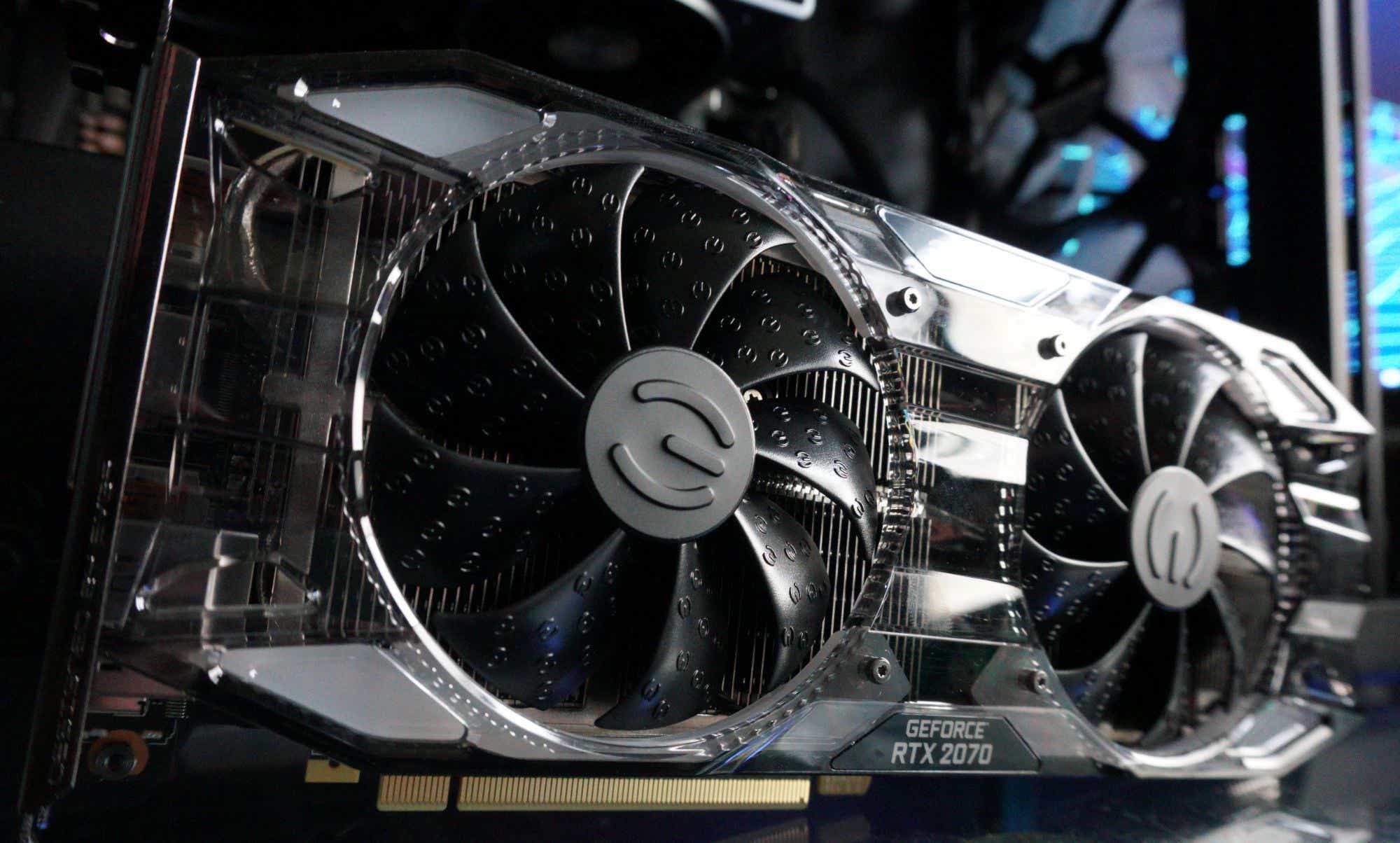 Each game is tested using its in-game benchmark at the highest possible graphics presets, with VSync, frame rate caps, and all GPU vendor-specific technologies—like AMD TressFX, Nvidia GameWorks options, and FreeSync/G-Sync—disabled, and temporal anti-aliasing (TAA) enabled to push these high-end cards to their limits. If anything differs from that, we'll mention it.
The RTX 2070's performance is firmly established at this point, and while the Gigabyte Windforce version isn't overclocked, it still hangs close to the Nvidia Founders Edition and EVGA RTX 2070 XC, even though they ship mildly faster from the factory. Because of that, we'll be showing our gaming benchmarks without any additional meta-commentary until the conclusion of this piece.
Gigabyte RTX 2070 Windforce performance benchmarks
Strange Brigade
Let's kick things off with Strange Brigade ($50 on Humble), a cooperative third-person shooter where a team of adventurers blast through hordes of mythological enemies. It's a technological showcase, built around the next-gen Vulkan and DirectX 12 technologies and infused with features like HDR support and the ability to toggle asynchronous compute on and off. It uses Rebellion's custom Azure engine. We test with async compute off.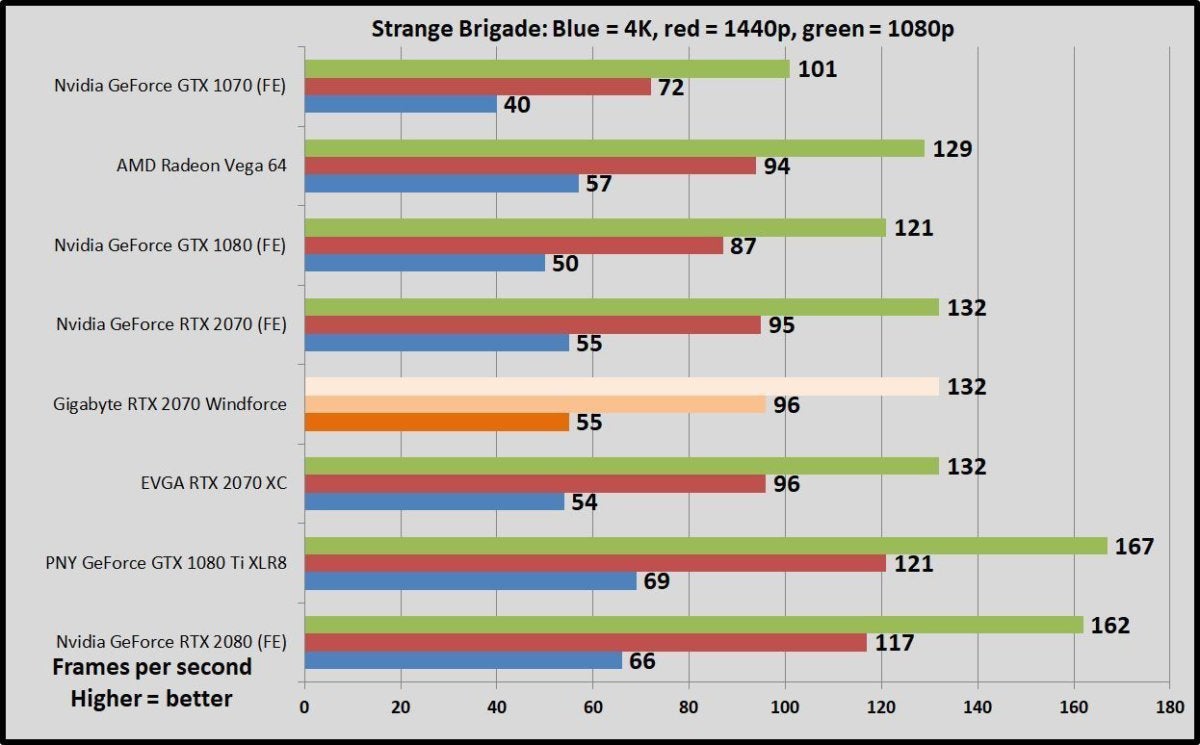 Shadow of the Tomb Raider
Shadow of the Tomb Raider ($60 on Humble) concludes the reboot trilogy, and it's utterly gorgeous—even the state-of-the-art GeForce RTX 2080 Ti barely manages to average 60 fps with all the bells and whistles turned on at 4K resolution. Square Enix optimized this game for DX12, and recommends DX11 only if you're using older hardware or Windows 7, so we test with that. Shadow of the Tomb Raider uses an enhanced version of the Foundation engine that also powered Rise of the Tomb Raider.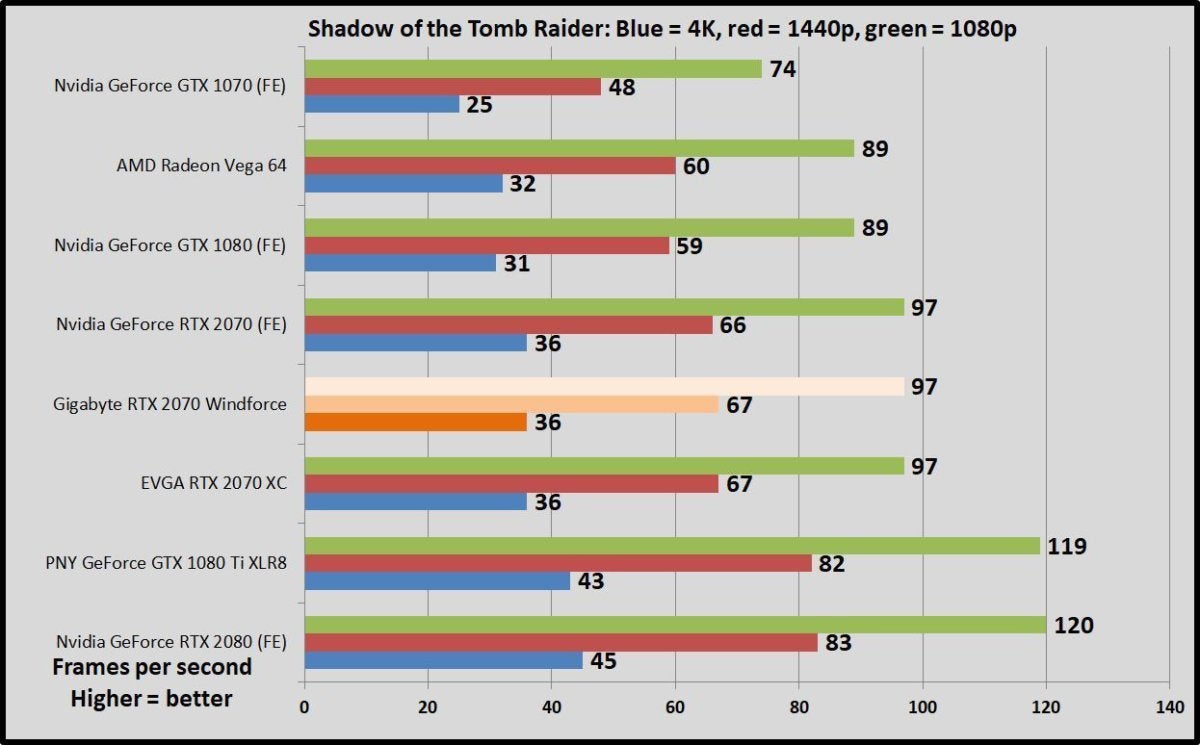 Far Cry 5
Finally, a DirectX 11 game! Far Cry 5 ($60 on Humble) is powered by Ubisoft's long-established Dunia engine. It's just as gorgeous as its predecessors, and even more fun.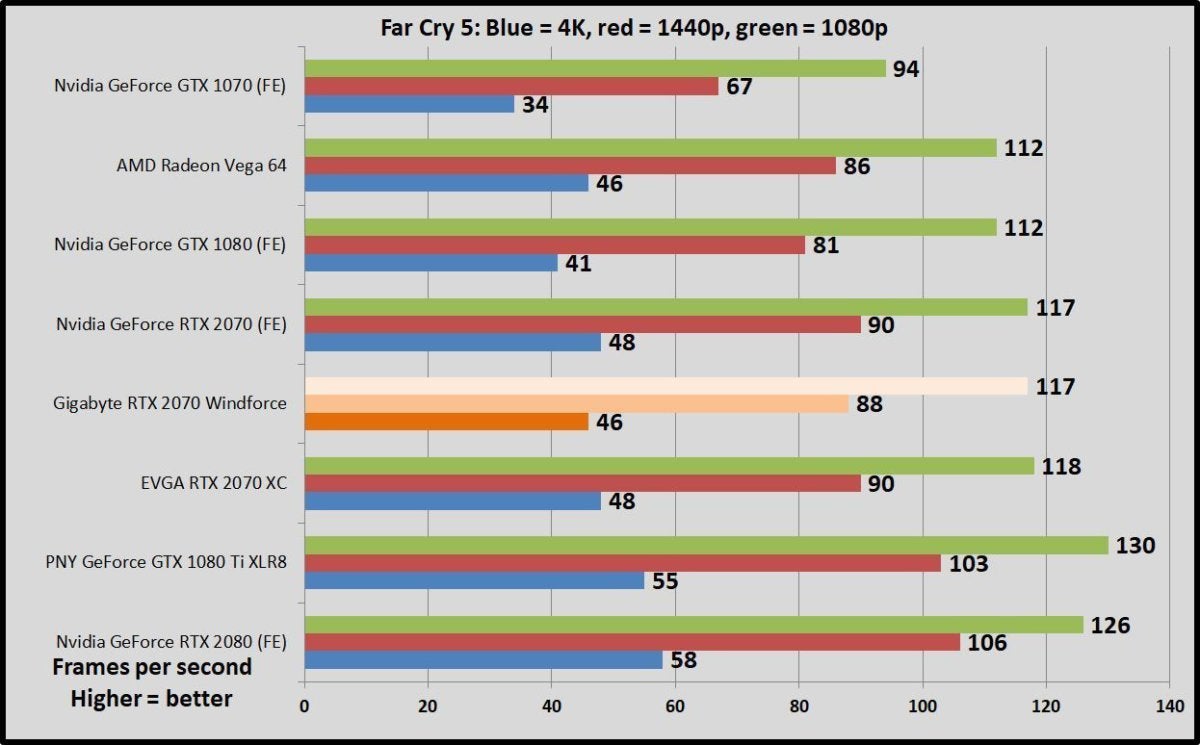 Next page: Gaming benchmarks continue
Ghost Recon Wildlands
Move over, Crysis. If you crank all the graphics options up to 11, like we do for these tests, Ghost Recon Wildlands ($50 on Humble) and its AnvilNext 2.0 engine absolutely melts GPUs.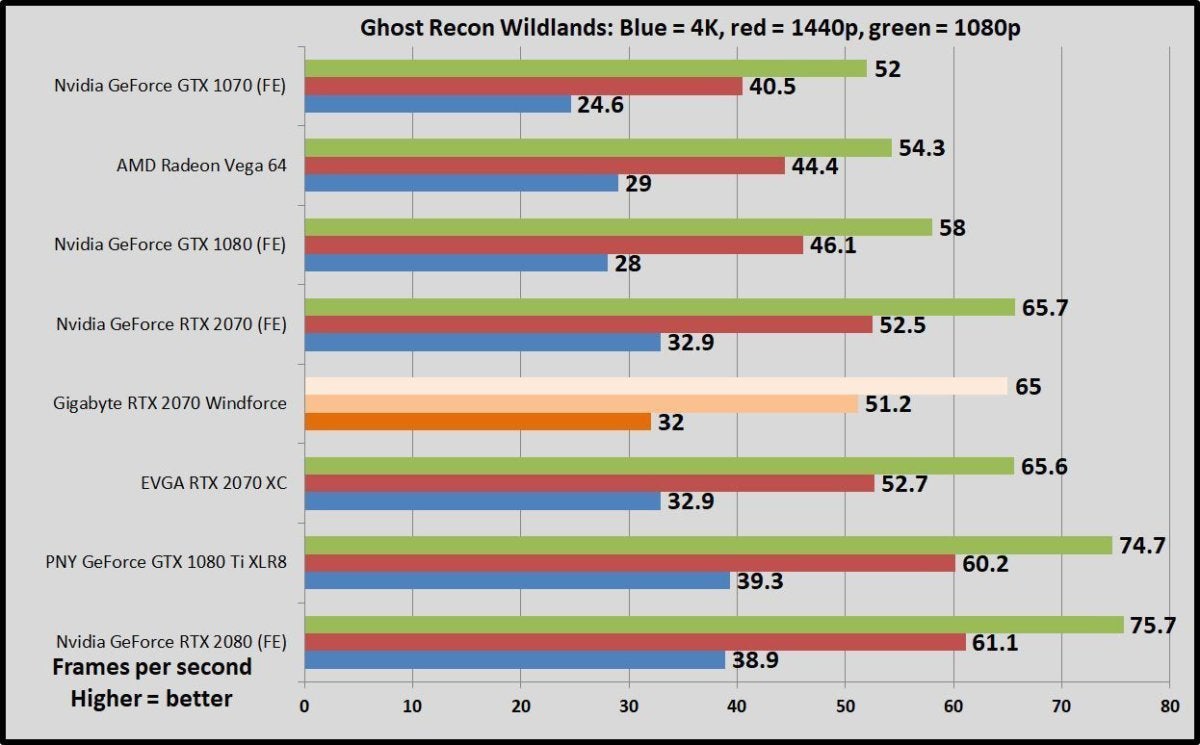 Middle-earth: Shadow of War
Middle-earth: Shadow of War ($50 on Humble) adds a strategic layer to the series' sublime core gameplay loop, adapting the Nemesis system to let you create an army of personalized Orc commanders. It plays like a champ on PC, too, thanks to Monolith's custom LithTech Firebird engine. We use the Ultra graphics preset but drop the Shadow Quality setting to High to avoid exceeding 8GB of VRAM usage.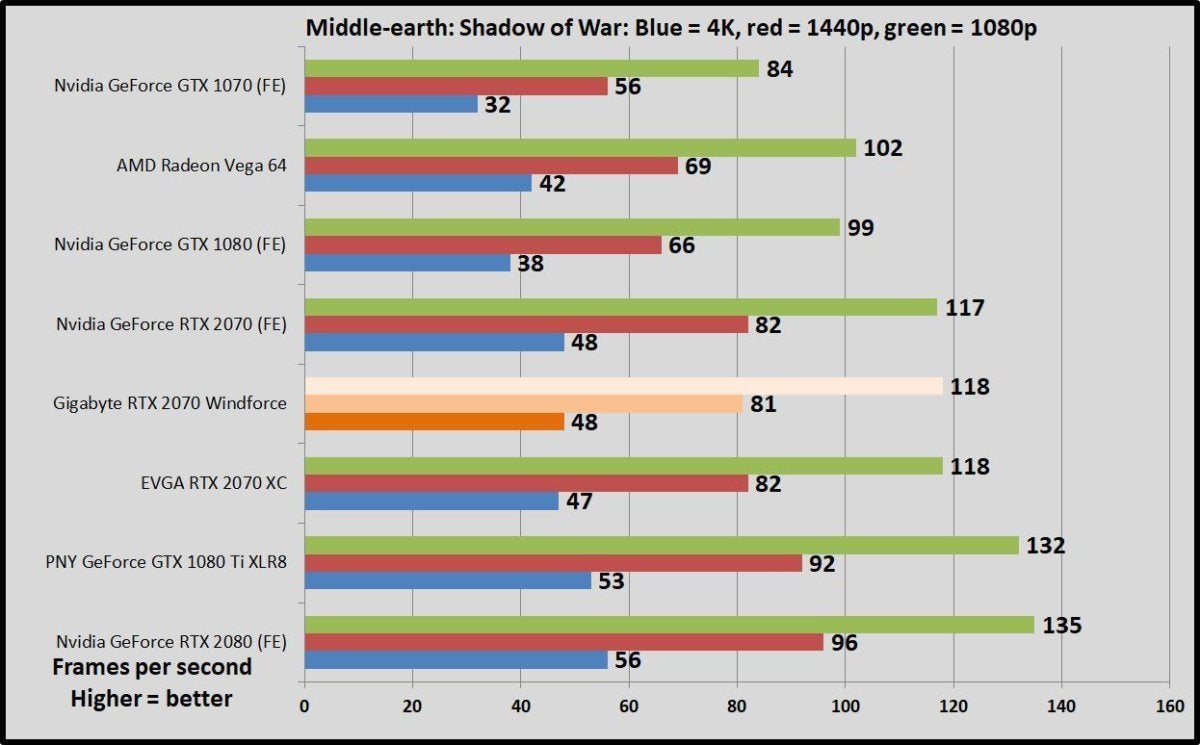 F1 2018
The latest in a long line of successful games, F1 2018 ($60 on Humble) is a benchmarking gem, supplying a wide array of both graphical and benchmarking options—making it a much more reliable measurement than the Forza series, which uses dynamic weather generation. It's built on the fourth version of Codemasters' buttery-smooth Ego game engine. We test two laps on the Australia course, with clear skies.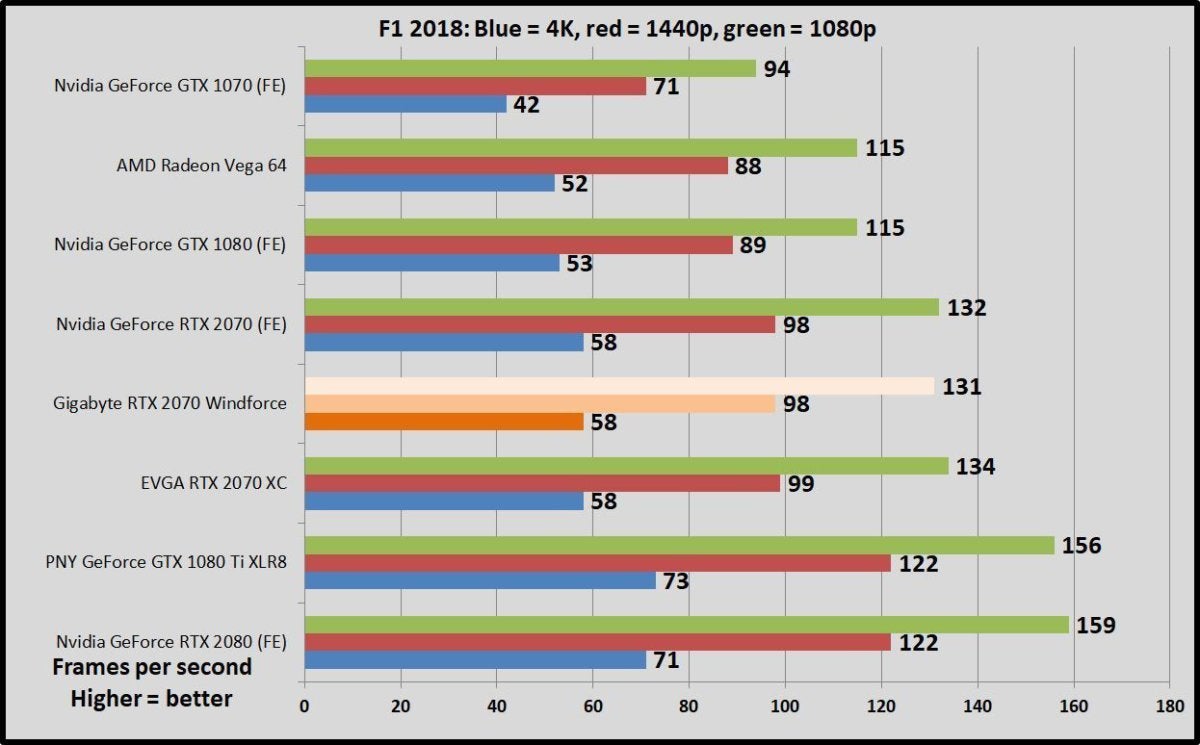 Ashes of the Singularity: Escalation
Ashes of the Singularity ($40 on Humble) was one of the very first DX12 games, and it remains a flag-bearer for the technology to this day thanks to the extreme scalability of Oxide Games' next-gen Nitrous engine. With hundreds of units onscreen simultaneously and some serious graphics effects in play, the Crazy preset can make graphics cards sweat. Ashes runs in both DX11 and DX12, but we only test in DX12, as it delivers the best results for both Nvidia and AMD GPUs.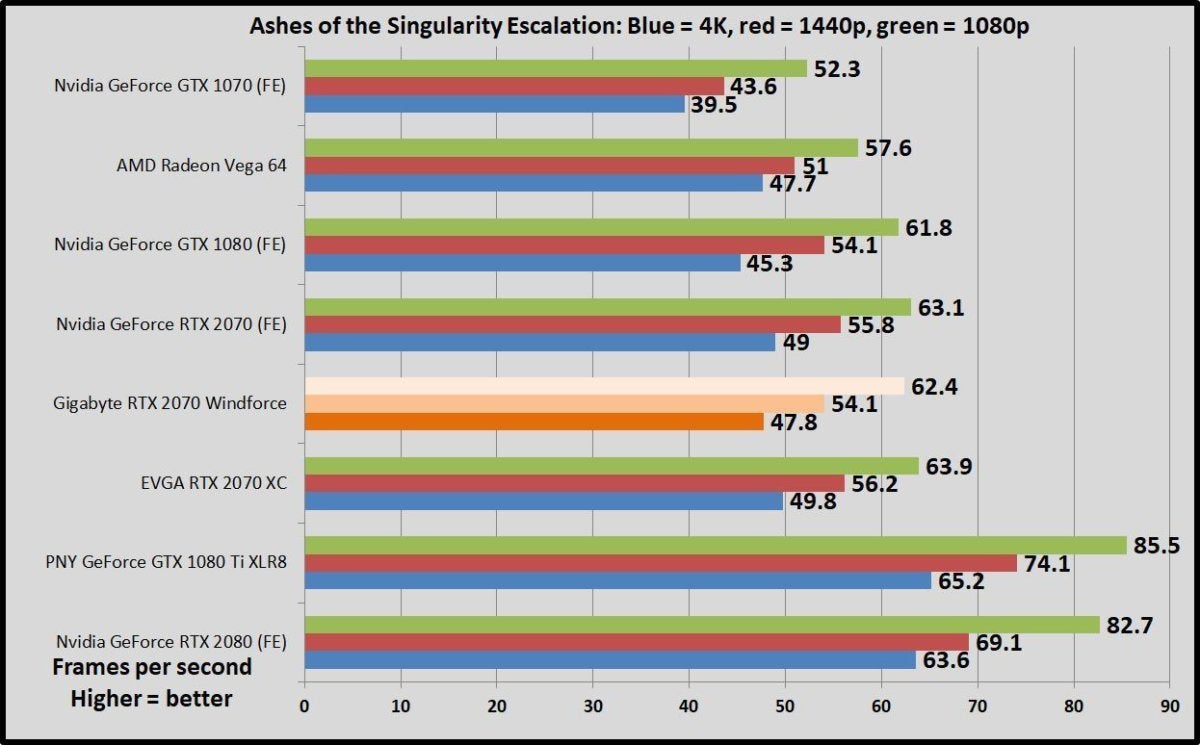 Rainbow Six Siege
Finally, let's take a peek at Rainbow Six Siege ($40 on Humble), a game whose audience just keeps on growing, and one that still feels like the only truly next-gen shooter after all these years. Like Ghost Recon Wildlands, this game runs on Ubisoft's AnvilNext 2.0 engine, but Rainbow Six Siege responds especially well to games that lean on async compute features.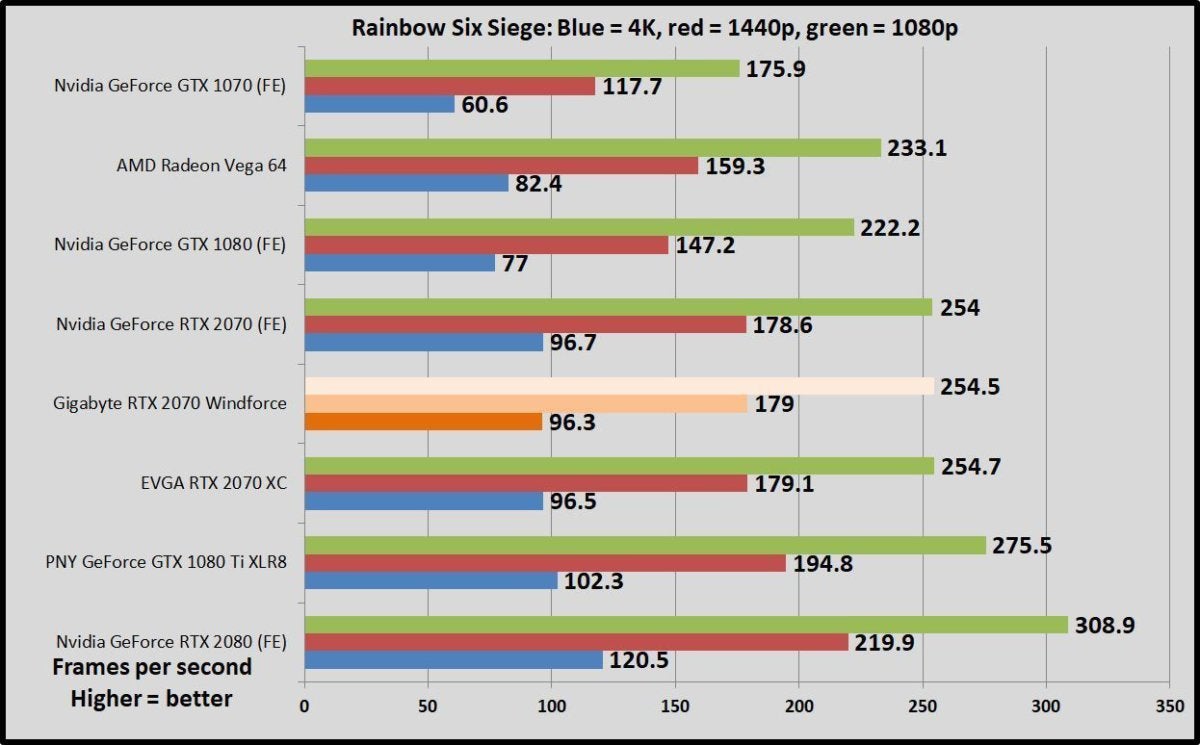 Next page: Synthetic benchmarks, power draw, thermals, overclocking
Fire Strike, power draw, thermals, and overclocking
We also tested the Gigabyte RTX 2070 Windforce using 3DMark's highly respected Fire Strike synthetic benchmark. Fire Strike runs at 1080p, Fire Strike Extreme runs at 1440p, and Fire Strike Ultra runs at 4K resolution. All render the same scene, but with more intense graphical effects as you move up the scale, so that Extreme and Ultra flavors stress GPUs even more. We record the graphics score to eliminate variance from the CPU.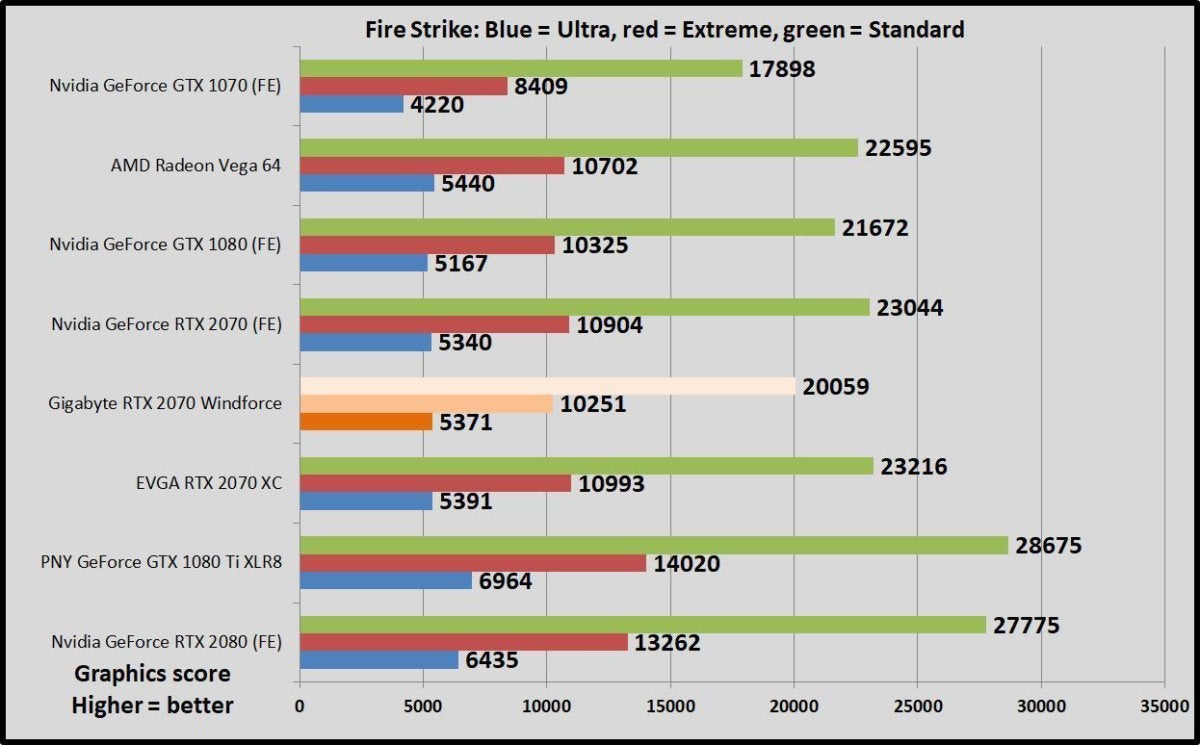 All three RTX 2070 options deliver broadly similar results. The Founders Edition lags slightly behind the Gigabyte Windforce in raw GPU score despite Nvidia's mild factory overclock. Maybe its less-potent cooling solution isn't able to hold clocks quite as high for quite as long?
We test power draw by looping the F1 2018 benchmark after we've benchmarked everything else with a card, and noting the highest reading on our Watts Up Pro meter. The initial part of the race, where all competing cars are onscreen simultaneously, tends to be the most demanding portion.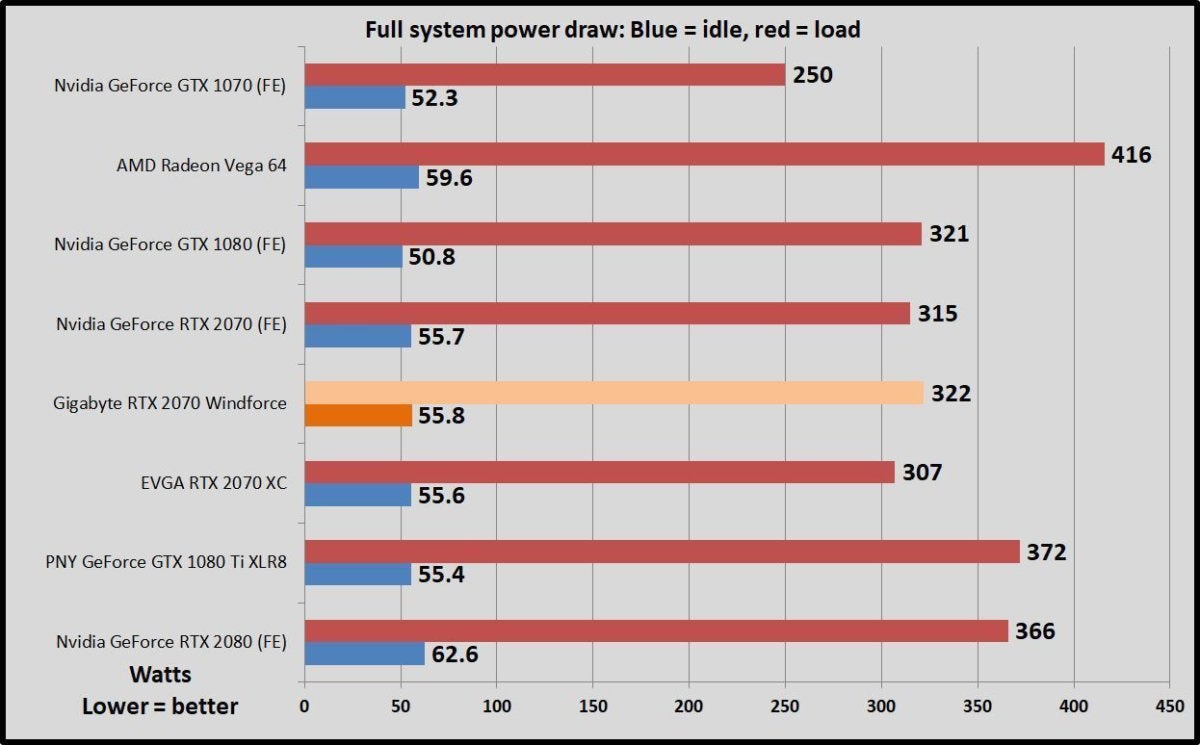 The Gigabyte RTX 2070 Windforce draws about the same amount of energy as its cousins. It actually draws slightly less power than the GTX 1080 despite being measurably faster, and much less power than AMD's hot-and-howling Radeon RX Vega 64 reference edition.
We test thermals by leaving EVGA's Precision X1 monitoring tool open during the F1 2018 5-lap power draw test, noting the highest maximum temperature at the end.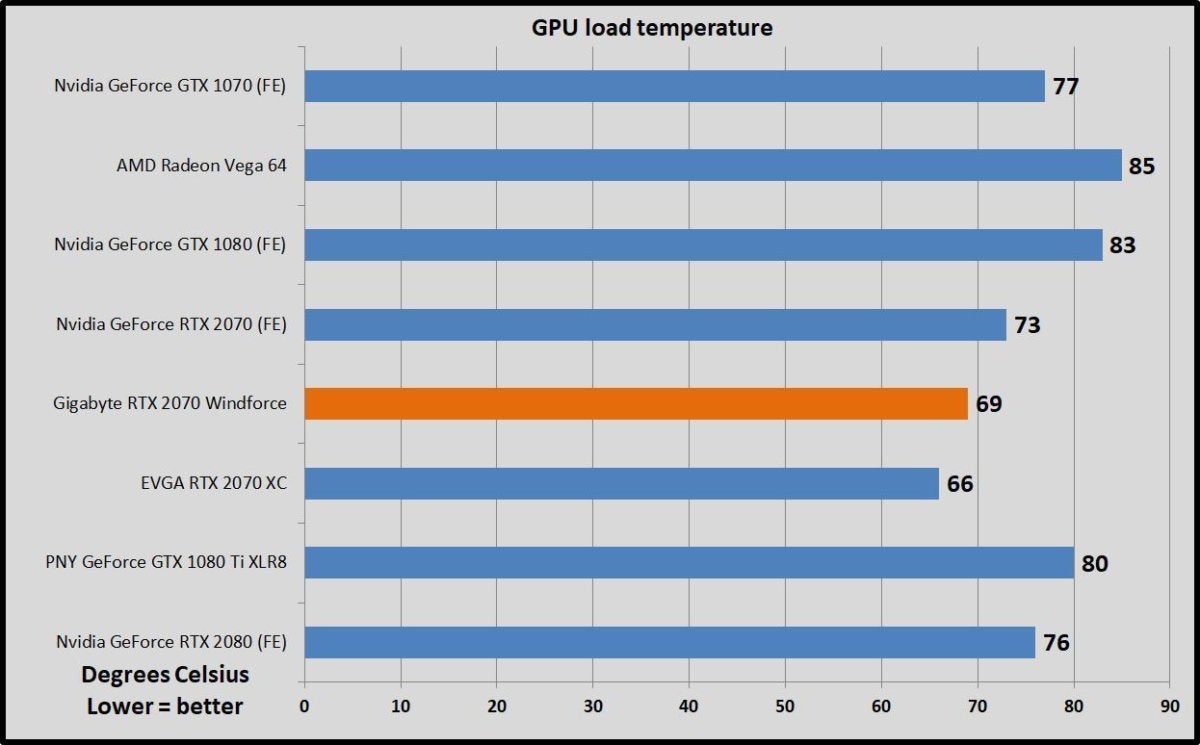 The custom, triple-fan Windforce cooler on Gigabyte's card runs slightly colder than the Founders Edition's dual-fan solution, though not quite as chilly as the ICX2 cooling in EVGA's RTX 2070 XC. All three deliver similar noise levels—you definitely know the card is running while you're gaming, but the sound isn't obnoxious or overly loud. Gigabyte's card holds an advantage when you're not gaming, because the RTX 2070 Windforce lets the fans go idle when the GPU isn't under load.
Next page: Overclocking, should you buy the Gigabyte RTX 2070 Windforce?
Overclocking
As with all RTX graphics card, overclocking the Gigabyte RTX 2070 is dead-simple thanks to the new one-click Nvidia Scanner API auto-overclocking tool. Despite hitting reference specs and an entry-level price tag, Gigabyte lets you increase the Windforce's power limit—the major factor holding back RTX performance this generation—up to 114 percent, or roughly as much as you can with Nvidia's Founders Edition. EVGA lets you crank the RTX 2070 XC up to a whopping 130 percent.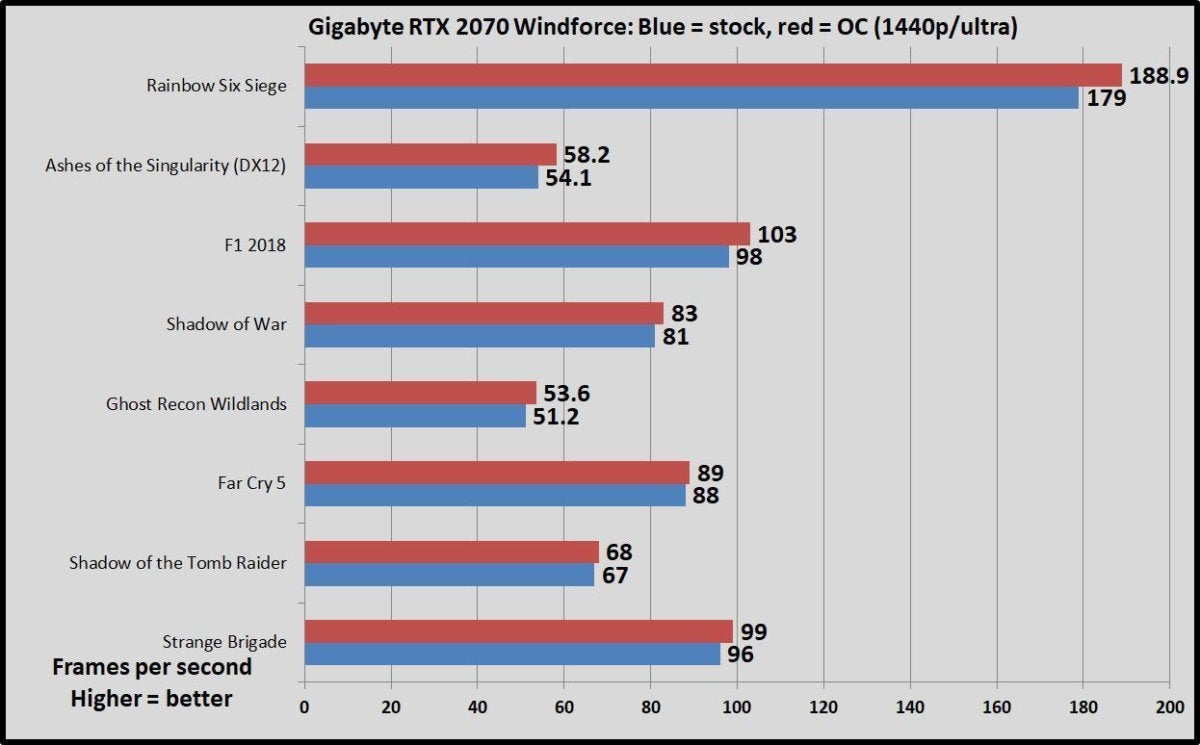 Once you've maxed out the power, GPU temperature, and voltage sliders and run the Scanner tool, however, we saw virtually identical overclocked performance out of all three of these RTX 2070 options. The Gigabyte Windforce's +202 score resulted in a real-world boost clock of 1,753MHz, up from the 1,620MHz reference spec. Nvidia's GPU boost technology lets RTX graphics cards far exceed rated boost clocks, though. Fully loaded, all three hit sustained clock speeds around the 2GHz mark in most gaming workloads—going just over in lighter scenes, and dipping just under in heavier scenes.
Should you buy the GeForce RTX 2070 Windforce?
Definitely, if you're in the market for a $500 graphics card.
The RTX 2070 dominates its $500 rivals, the GTX 1080 and Radeon RX Vega 64, delivering a double-digit averaged performance advantage against the last-gen GPUs, and over 20 percent more performance in games that leverage async compute capabilities. Plus, Nvidia's latest hardware grants access to the brave new worlds of ray tracing and AI-enhanced gaming. Because no real-world games incorporate those technologies yet, however, we can't measure how well the cut-down RTX 2070 performs in those tasks compared to more expensive RTX options.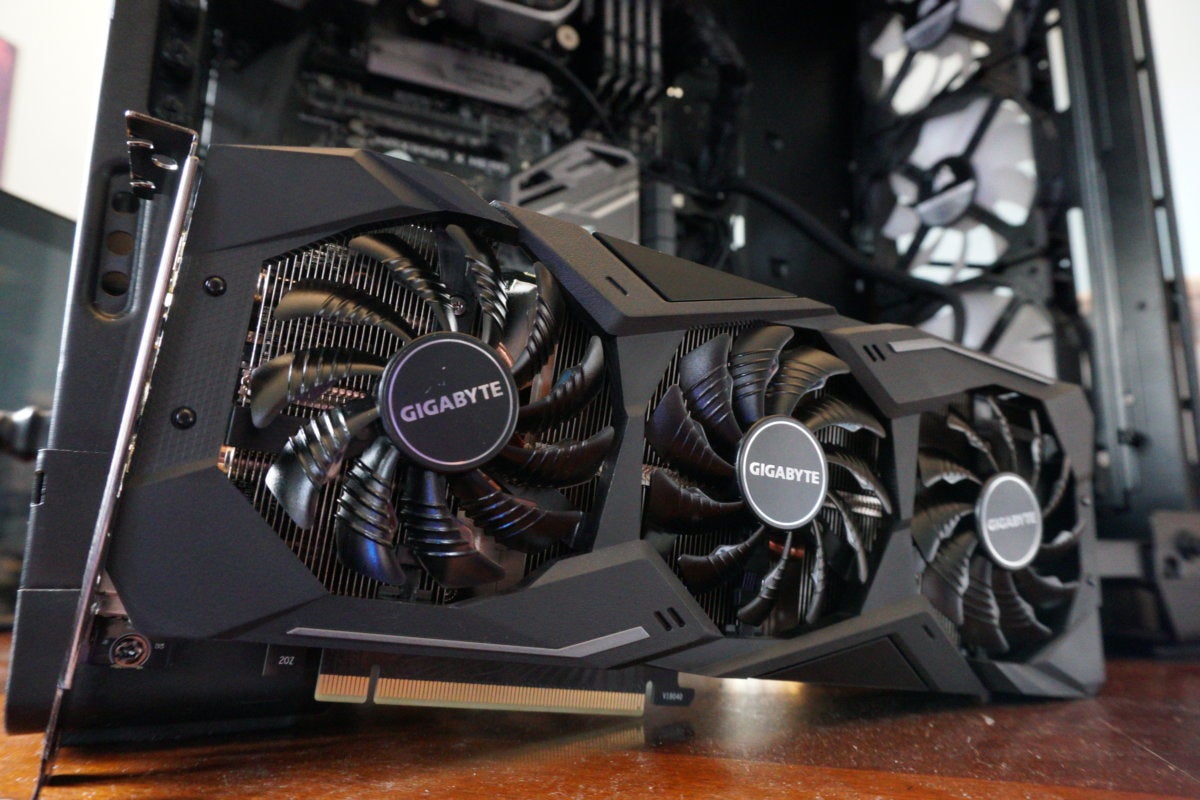 The Gigabyte RTX 2070 Windforce hangs with the overclocked $550 EVGA XC and $600 Nvidia Founders Edition performance-wise, despite sticking to stock speeds and a baseline price tag. Applying a quick and easy auto-overclock with Nvidia Scanner pushes the card's frame rates beyond those pricier options—though those can also be overclocked—and the triple-fan Windforce cooler runs slightly colder than Founders Edition solution.
Spending more would get you some nice extra features, like dual BIOSes and quieter cooling. Nevertheless at $500 on Amazon, the Gigabyte RTX 2070 Windforce is easy to recommend. Pick it up if you're looking for a great graphics card for high-refresh-rate 1440p gaming, or blazing-fast 1080p. It's also capable of entry-level 4K gaming if you're willing to turn some graphics options down to High. If you're just looking for 1440p gaming at 60 frames per second, though, and especially if you don't mind playing below Ultra graphics settings, you can save some scratch by opting for a last-gen GTX 1070 or GTX 1070 Ti instead.
Best Prices Today: GeForce RTX 2070 Windforce