A glitch with Microsoft's activation servers appears to be disrupting many users's PCs, as Windows 10 erroneously reports their systems as either un-activated or downgraded from Windows 10 Pro to Windows 10 Home.
Users are advised to ignore the Windows messages and wait for the problem to resolve itself, according to postings in Microsoft's support forums. If those forum postings are accurate, however, the problem could take a few days to resolve.
Microsoft has acknowledged the problem. "We're working to restore product activations for the limited number of affected Windows 10 Pro customers," Jeff Jones, a senior director at Microsoft, said in a statement.
At about 4:49 PM, Microsoft issued an update: "A limited number of customers experienced an activation issue that our engineers have now addressed. Affected customers will see resolution over the next 24 hours as the solution is applied automatically. In the meantime, they can continue to use Windows 10 Pro as usual."
According to users, the Windows activation troubleshooter may report that user PCs may be licensed for Windows 10 Home, even when a valid Windows 10 Pro license is tied to the account on the Windows 10 PC. Windows may also report that the PC's Windows license isn't valid at all, and needs to be activated within Windows. (The latter scenario is in place on the PC I'm using right now.)
What's going on?
"Sumit," a Windows Insider MVP, wrote that Microsoft Chat support had reported a widespread issue, via another user:
"Microsoft has just released an Emerging issue announcement about current activation issue related to Pro edition recently," according to the message. "This happens in Japan, Korea, American and many other countries. I am very sorry to inform you that there is a temporary issue with Microsoft's activation server at the moment and some customers might experience this issue where Windows is displayed as not activated. Our engineers are working tirelessly to resolve this issue and it is expected to be corrected within one to two business days."
The problem has prevented some users from upgrading from Windows 10 Home to Pro, and worried others that they may have involuntarily purchased a fraudulent license key. Microsoft's support forums are filled with complaints and concerns from users, without an official response from Microsoft.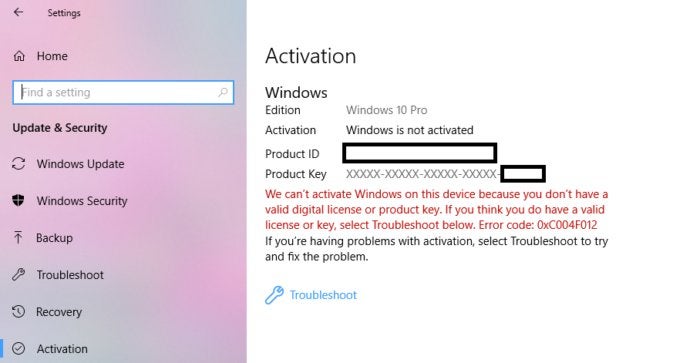 Microsoft does seem to be working on the problem, though. If you go to Settings > Update & Security > Activation, you'll see a blue Troubleshooter link at the bottom of the page. Click it, and Microsoft will attempt to discover the source of the problem. Fortunately, in my case, it worked—though there's no guarantee you'll have the same luck, unfortunately.
Why this matters: Although this may end up being all for naught, Microsoft certainly doesn't need any showstopping bugs right about now. Microsoft's Windows 10 October 2018 Update has yet to ship (it's now early November, of course) and the company has come under fire for shipping new features without ensuring they'll work correctly. Telling users that their PC is unlicensed, or that they can't get all the features of Windows 10 Pro that they paid for? Absolutely no one needs that stress right now.
Updated at 4:50 PM with additional comment from Microsoft.