In 2016 I defended the HTC Vive's hefty $800 price tag. Sure, it was $200 more than the Oculus Rift, but it was also the only virtual reality headset (at the time) to nail room-scale and hand-tracking. Then earlier this year I defended the Vive Pro's $1,100 price. Sure, it's outrageous and ostentatious and nobody should pay for it, but the Vive Pro is also the best VR headset on the market today, bar none.
But on Thursday HTC announced its standalone Vive Focus headset is coming stateside with a list price of $599, and well, that's pure hubris with slick standalone rival Oculus Quest ready to debut at $399 early next year.
Business time
After HTC's announcement Thursday I had the chance to put in some hands-on time with the Vive Focus at an event in San Francisco. There were two versions to test. The original model, released in China earlier this year, ships with a small pill-shaped controller that resembles the Oculus Go's. There's no hand-tracking on that model, however. The other, billed as a dev kit, adds two hand-tracking wands similar to the desktop Vive models.
I tested both, but it's hard to really know how the Vive Focus performs because HTC is positioning it, at least for now, as an enterprise-focused device. I can't blame them either. There's more money in that sector, and the audience is presumably less picky when it comes to visual fidelity, tracking hiccups, and so on.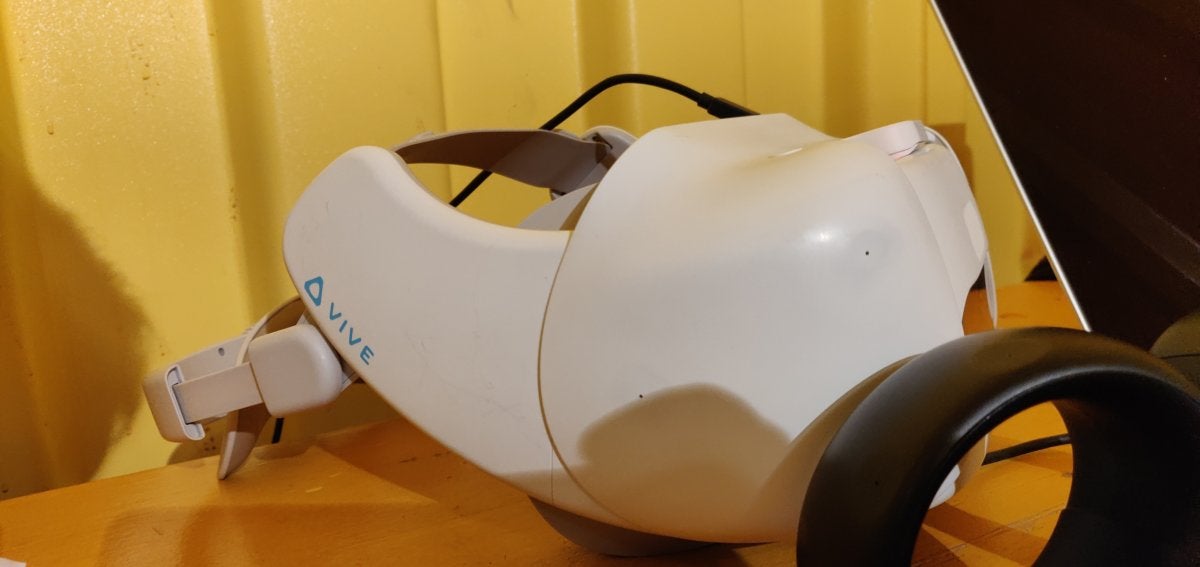 But it does make it a bit hard to demo the device when you've got the VR equivalent of Microsoft Office as a testing suite. On Thursday I sat through a training video for a medical procedure, played one extremely rudimentary "racing" game, and hung out in a virtual meeting room.
Not exactly Crysis territory.
Even then, the Vive Focus had trouble keeping up—and here's the hard part, determining whether it's the fault of poorly coded demos or actual hardware limitations. My gut tells me the latter, but without a standard benchmark (like the ever-present Superhot VR) it's almost impossible to tell.
The frame rate struggled to keep constant though, and in certain demos turning my head side-to-side resulted in flickering black areas as the headset rushed to draw in the missing information. This was definitely not the ultra-polished experience I had with the Oculus Quest in September.
That's a shame, because on paper Quest and Focus seem close to identical, at least in surface-level features. Both feature built-in audio solutions that pipe out of the straps. Both have the same 2,880×1,600 resolution. And while the Vive Focus currently ships with the non-tracked controller, a full "world-scale" version with hand tracking is planned.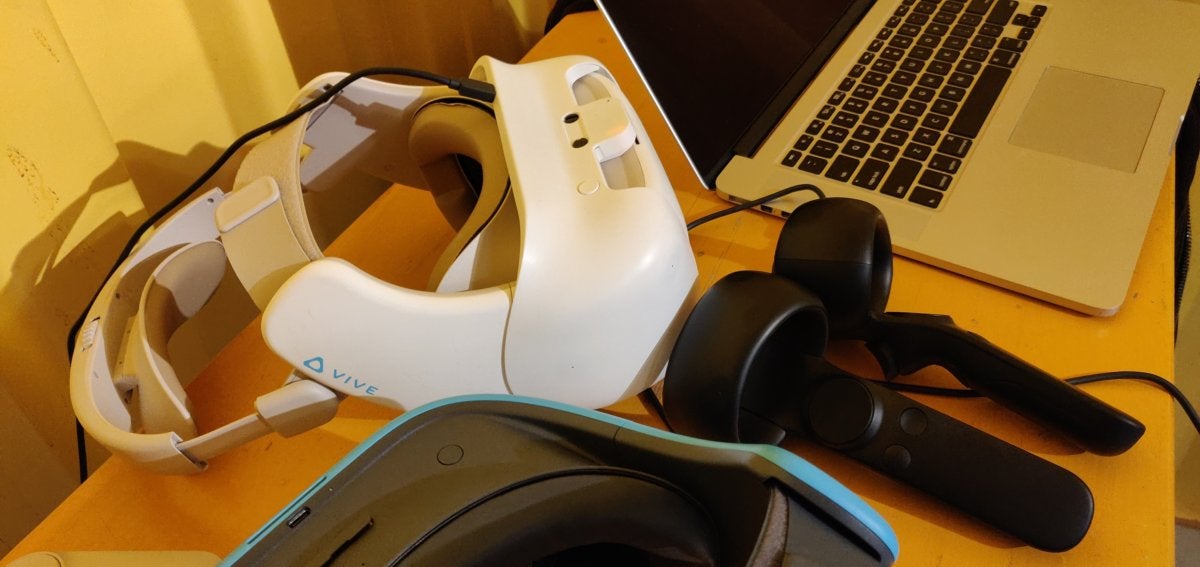 The Quest just does it all better, and I say that as someone who's ardently advocated for the Vive the past two years. (The Vive Pro is the best VR headset on the market at the moment.) Quest feels more powerful, its hardware is sleeker, the demos we saw were more polished, and at $399 it's a full $200 cheaper.
Mentioned in this article
HTC Vive
Price When Reviewed:
$800
Which is not to say the Vive Focus is irredeemable. I actually like the design quite a bit, even compared to the current Vive with the comfy Deluxe Audio Strap add-on. The Focus feels incredibly lightweight when positioned correctly, combining a rigid frame with a floating band design that reminds me of Sony's PlayStation VR. I could do without the Focus's off-white color, which reminds me of a mid-'90s desktop PC, but it's surprisingly comfortable.
The hand-tracking solution is also interesting. The Oculus Quest, like Microsoft's mixed reality headsets, uses internal cameras to map the room you're in and also keep track of your controllers. The Vive Focus's hand-tracking prototype triangulates using ultrasonic frequencies. That's cool! And I was curious to go hands-on, given the tracking problems I've encountered with Windows MR and Oculus Quest.
It's a give-and-take though. The Vive Focus's hand tracking does seem harder to fool. I put my hands behind my back multiple times, and while the system still became confused occasionally it wasn't nearly as common as Quest's tracking woes. That's the good news. The bad news is that latency is a lot higher, and controller position jittered a lot while moving, especially at high speeds. If I drew a straight line I'd often see jagged edges where the system tried to estimate my position and only kinda, sorta got it right.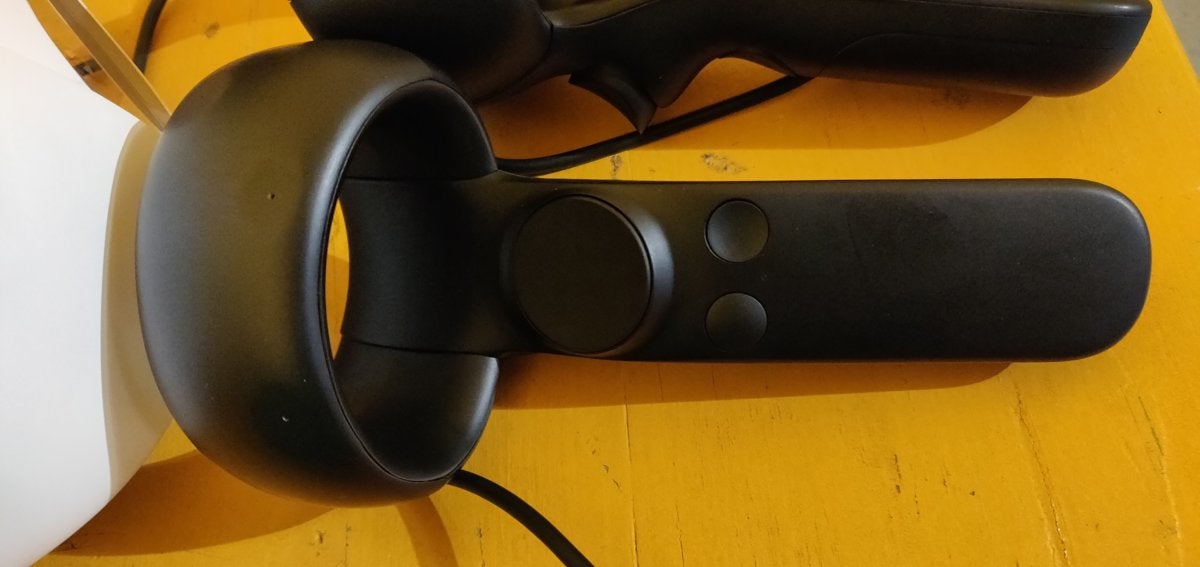 Does that matter for HTC's enterprise-focused customers? Eh, probably not. But it's another area where Focus falls behind Quest's performance—which, again, raises the question of why it costs so damn much.
Bottom line
That's the sticking point, for me. The HTC Vive Focus isn't a terrible device. It's not giving me the "Wow, this is the future" feelings that Quest did, but if I look at it as a competitor to an untethered Windows MR headset or the Oculus Go, it seems fine. Hell, with hand-tracked controllers it's one step up from Go.
But $599 is an outrageous price for this headset, especially in light of Quest's $399 listing. I'd be hard-pressed to argue the Vive Focus does anything better than Quest, certainly not enough to add up to $200 more—and that's without hand-tracking. The hand-tracking kit will presumably be sold as an add-on when it's finished, similar to the Deluxe Audio Strap, the Vive wireless adapter, and other modular add-ons to the original Vive. Factor in another $100 to $200 for that.
Maybe Oculus low-balled the Quest's price, but the fact remains that as of today, it's looking like both the better and the cheaper option. Of course, Quest won't release until sometime in 2019 at the earliest while Focus is available now. If it were me I'd wait though. There's not much to gain by being first out the gate this time around.