At a Glance
Expert's Rating
Pros
Precise geographic coordinates supposedly associated with your DNA
Cons
Amateur-looking report with not much detail
Questionable science and dubious results
Expensive, confusing pricing
Our Verdict
GPS Origins makes the incredible claim of finding highly specific regions your ancestors lived and migrated between. Unfortunately, the science behind the results is dubious, the test is overpriced, and the entire presentation is unpolished.
Best Prices Today: GPS Origins
For those interested in the more distant eras of their family's history, GPS Origins' DNA test kit might sound especially appealing. Not only does the company's reports show your ancestors migration patterns and how that movement led to your more recent relatives' origins, but they also go so far as to pinpoint precise geographic coordinates associated with your genes.
There's just one big problem with GPS Origins' approach: Genetics experts have major concerns about the accuracy of the test.
According to genetic genealogist Debbie Kennett, the test is based on questionable science that claims to pinpoint the village someone's DNA hailed from. That may sound amazing, but some people have been told they come from a village in the middle of the ocean. (You can read her full critique here.)
Archaeology professor Andrew Millard of Durham University also found fault with the research that GPS Origins is based on, concluding that "the mathematical methods described are incoherent, the supplementary data is not that used to create the figures or equations in the paper, and the supplementary code does not implement the methods described. The paper is methodologically unsound and not reproducible."
I decided to take the test myself to see firsthand what the results were like. What I received was lackluster, bizarre, and overpriced.
Note: This review is part of our best DNA test kit roundup. Go there for details about competing products and how we tested them.
DNA Collection
GPS Origins's kit uses mouth swabs to collect your DNA for testing. Here's what's in the box:
Four mouth swabs
DNA sample envelope
Prepaid business reply envelope
Instructions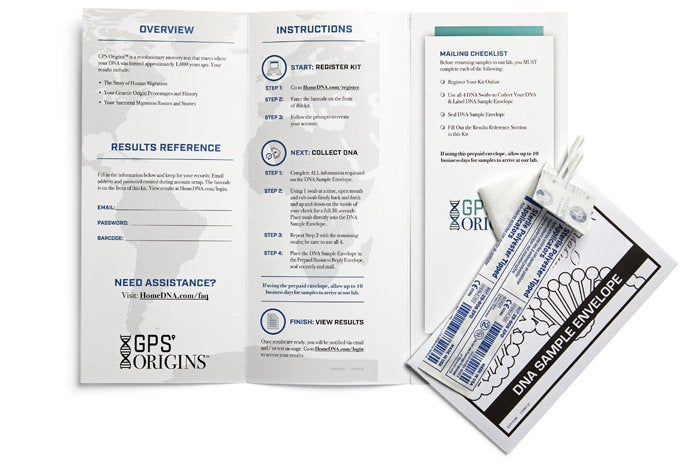 Of all the DNA tests I've taken so far, GPS Origins' packaging is the least impressive I've seen. Other tests provide one or two vials with preservation liquid for the DNA. GPS Origins just supplies a paper envelope to put the mouth swabs in–which, by the way, look like plain Q-Tips. The company also makes you take four different mouth swabs instead of the usual one or two.
Like other tests, you'll need to activate your kit online so you can receive your results. You can find the barcode to activate it on the envelope. Once the results are ready, you'll receive an email.
Speed
If you use its prepaid return mailer, GPS Origins asks that you wait up to ten business days for the sample to arrive at the lab. Then you'll have to wait another 4 to 6 weeks to receive your results.
Results
GPS Origins' results are far from comprehensive. When you log in, you'll see a single web page with two different maps and some written "historical context."
The first section, Gene Pool Percentage Results, presents a percentage breakdown of your estimated ethnic heritage. You can hover over your top three results to change the map highlights, or click on the ethnicities to learn more about them.
For the most part, this information is somewhat similar to that you'd get from competing services. But the whole design of the website looks dated and crams sometimes confusing information on a single page.
My results were also wild. Apparently I'm 9.8 percent Indian, 2.7 percent South American, and 2.1 percent Northwestern African. My top regions were Scandinavia at 20.1 percent, Southern France at 13.4 percent, and the Orkney Islands in Scotland at 13 percent. These results are a far cry from the information I've gotten from other tests.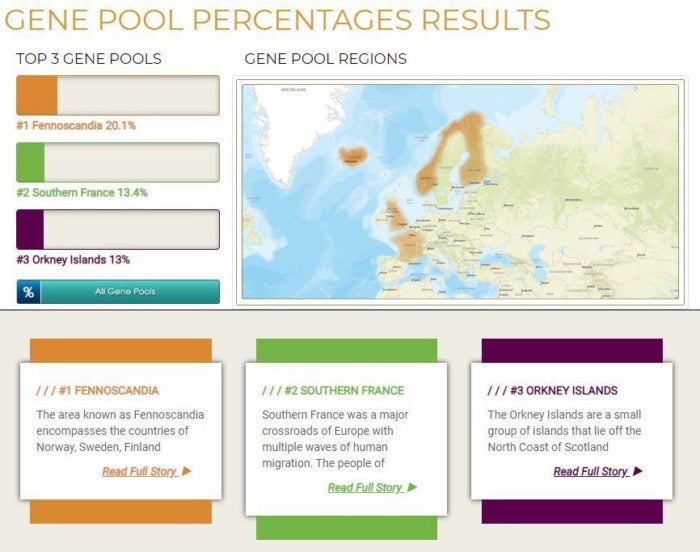 The second section, DNA Migration Routes, is GPS Origins' claim to fame. This is where you learn the geographic areas that your ancestors supposedly moved across. GPS Origins presents this information in a map with six points: three for your father, and three for your mother.
The results, however, don't tell you which points align with your father's side, and which is your mother's side. That's because GPS Origins only tests your autosomal DNA and not your father's yDNA or your mother's mtDNA.
You can learn more about the routes your ancestors took by clicking on each color-coded route. (No meaning is given for the colors used.) This updates the "migration story," which is told through text that shows up underneath the map.
GPS Origins doesn't allow you to do much else, though, at least you can download your raw DNA data and upload it to other services for processing.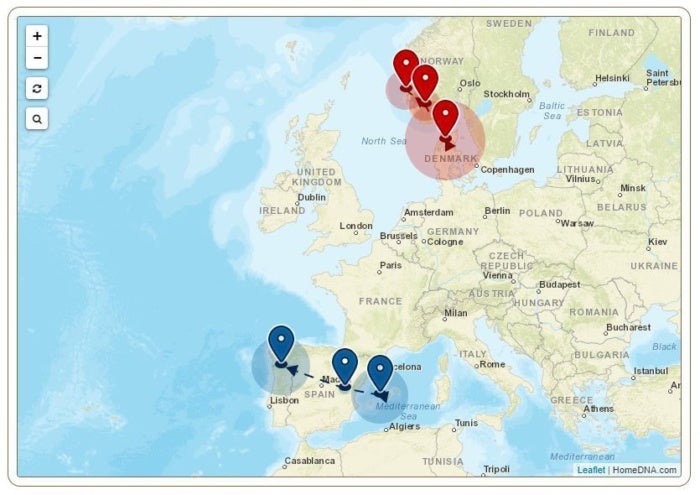 Privacy
GPS Origins is unique in that you can take their test through a number of resellers–so it's the reseller's privacy policy that you should pay attention to.
(In other words: How your DNA is protected can vary depending on who you take the GPS Origins test with.)
I took my test through HomeDNA. This particular reseller's privacy policy is airtight. HomeDNA only uses your testing information to "provide you the services you have requested, process your order, and respond to any order or billing related questions." The company says they will not share or sell any of your test data with third-parties. You can also request to have your data deleted and DNA sample destroyed anytime by emailing them.
Value
Because GPS Origins' test is resold by various companies, you can find the test for anywhere between $99 and $199.
The HomeDNA test I took costs $199, which makes GPS Origins' dubious results seem especially overpriced. Tests like 23andMe and Living DNA essentially provide what GPS Origins does and more for the same price without similar criticism from geneticists. If you're looking for a DNA test, then I can't recommend GPS Origins.
Editor's note: Because online services are often iterative, gaining new features and performance improvements over time, this review is subject to change in order to accurately reflect the current state of the service. Any changes to text or our final review verdict will be noted at the top of this article.
Best Prices Today: GPS Origins