At a Glance
Expert's Rating
Pros
Easy-to-use, fast web editor for creating your product.
Excellent photo print and book quality.
Cons
Forces you to have two blank pages at the end.
Logo can't be removed from inside back cover.
No gift box or gift wrapping options.
Our Verdict
Mixbook delivers exceptional photo reproduction; a premium, high-quality book; and an intuitive web editor that's easy to use while boasting advanced features.
Best Prices Today: Mixbook
In the wide world of online photo book services, Mixbook handily distinguishes itself as one of the best. One main reason is Mixbook's smooth, easy-to-use web editor which makes it a pleasure to assemble your creation. The resulting photo book was also quite good. Colors popped, quality was consistent throughout, and the book looked and felt like a coffee table book you could buy in a museum gift shop.
Mixbook offers three basic photo book types: landscape (starting at $15.99), square (starting at $19.99), and portrait (starting at $24.99). There are seven sizes to choose from, which go from as small as 8×6-inches to as large as 14×11-inches. You can also select from four different covers: softcover, glossy, matte, and leather. And the book's paper comes in various styles, including semi-gloss, pearl finish, and premium lay flat.
For this review, we created a 21-page 11×8.5-inch landscape book with a glossy hardcover and premium lay flat paper, which cost $81.28 excluding shipping. Our subject matter: A yearbook for PCWorld's "The Full Nerd" video show.
Editor's note: This review is part of our best photo book roundup. Go there for details about competing products and how we tested them
Creating the book
Mixbook has a great web-based editor. It offers a guided tour to familiarize you with how it works, but it's straightforward enough that you can get started right away. Overall, I found Mixbook's web experience to be the snappiest of all the online photo printing editors I've used.
You can choose from many pre-fab layouts and templates, or just drag and drop your photos onto a blank page. Once a photo is on the page, you can resize, rotate, or position it. The layouts provide cutouts where you can drag images so they automatically resize to fit the dimensions.
Selecting a photo brings up a range of other editing options, including borders, shadows, effects, color, exposure, and a tool for turning your photos into shapes like hearts. There's also a large library of backgrounds and clip art you can apply to any of the pages.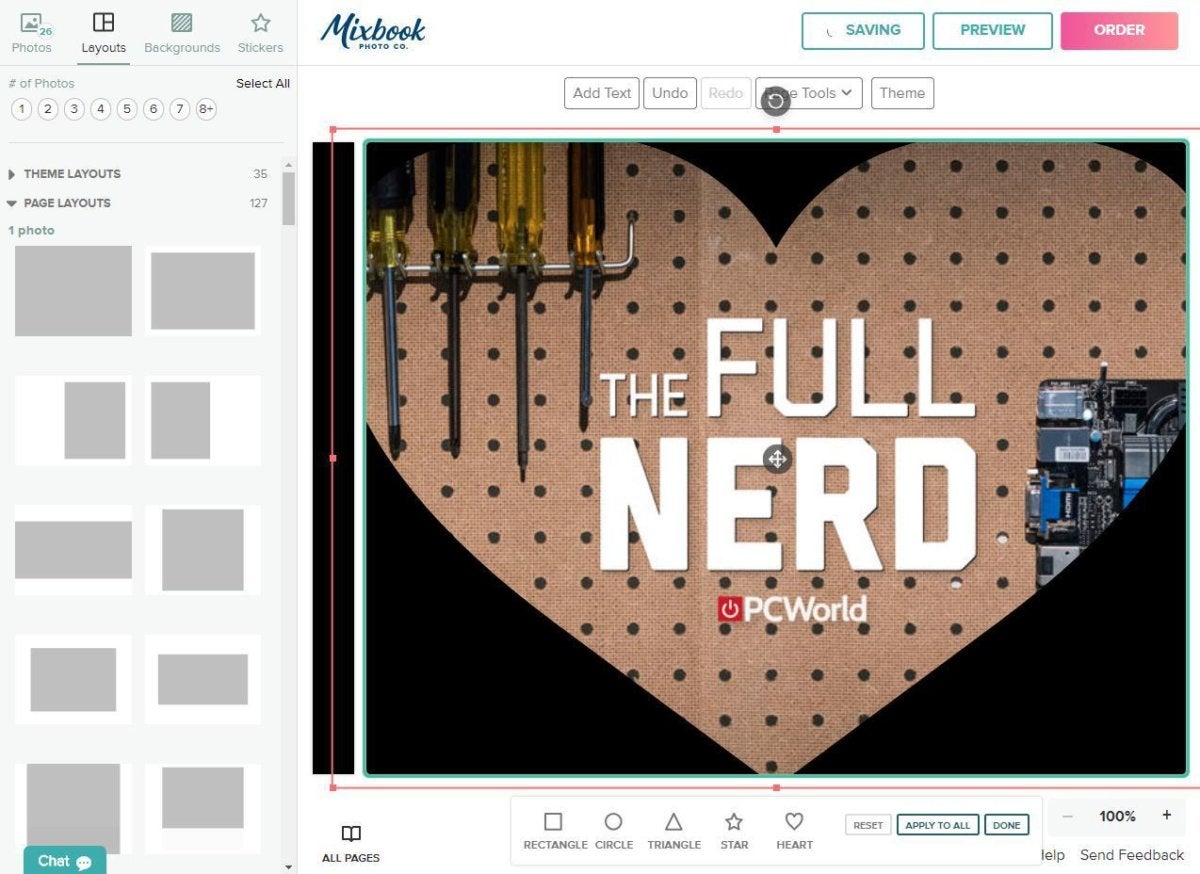 Adding text was much smoother than my often frustrating experiences with other editors. The text quickly updated to new formatting, and was easy to place precisely thanks to alignment lines.
I don't really have any complaints about Mixbook's editor. It's not extraordinary, but it does the job quickly, which more to say than its competition. Because of this, it took me the shortest amount of time to put together my photo book in Mixbook.
The final printed product
Mixbook's book came in cardboard packaging and wrapped in cellophane—nothing special, but the packaging definitely kept it protected in transit. Unfortunately, Mixbook doesn't offer any gift box options.
Mixbook's shipping varies depending on the type of book you order. Budget shipping takes 6 to 11 business days and starts at $2.99 but can go as high as $8.99. There's also an express shipping option, which can get your book to you within three business days. (Click here to see all of Mixbook's shipping options.)
Mixbook's premium lay-flat book impressed us more than we anticipated. The pages were thick and sturdy, making the book incredibly thick considering it was only 21 pages. And, yes, the book and its pages laid perfectly flat when opened.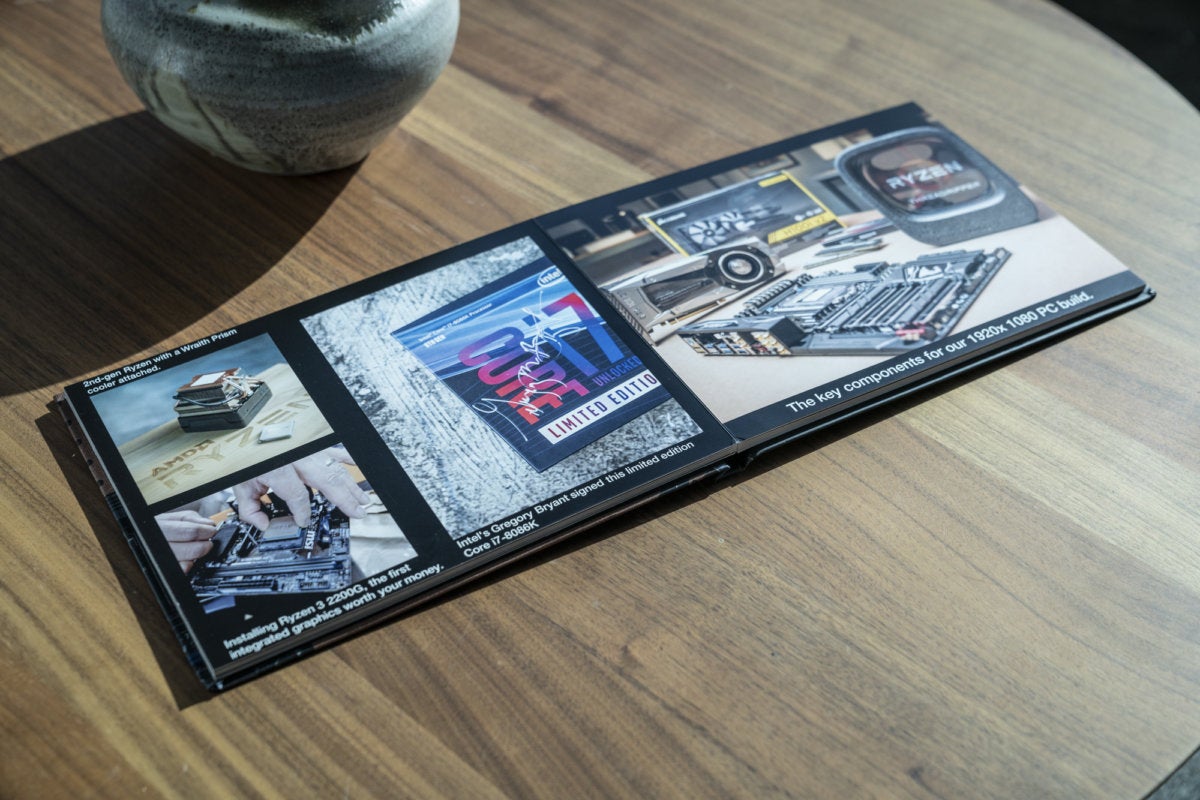 The only downside is that the front cover image came out darker than it did on other photo books, though this wasn't that troubling. Another annoyance is that the Mixbook logo can be found on the last page and there was no option to have it removed at checkout or in the editor. Mixbook also forces you to leave the last two pages before the back cover blank, unlike Picaboo which places your final images on the inside back cover.
But photo reproduction is what matters most, and Mixbook really wowed me in this department. You can easily see a difference in the quality of its photos compared to other services like Picaboo. For instance, one problem we encountered with other photo printing services were photos coming out too dark, discolored, or blurry. We can happily say we encountered none of these problems with Mixbook.
The photos were cheerful and bright but not overexposed. Colors popped off the page and none of the photos were blurry. Mixbook easily delivered one of the best, if not the best, photo print job we saw in our group test.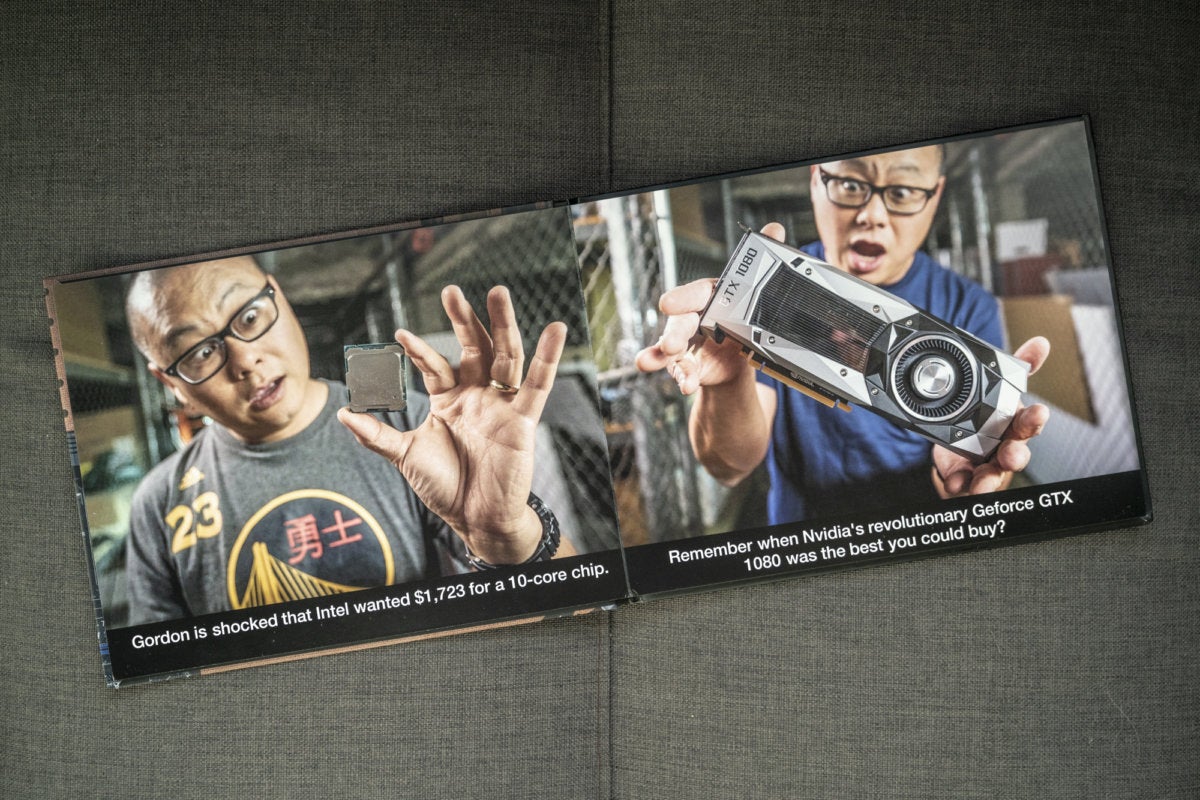 If it wasn't for the (admittedly) minor grievances regarding the darker cover photo and unremovable logo, I'd have no complaints with the photo book. Mixbook really does a great job at delivering a professional-grade book with stunning picture quality.
Bottom line
The book we ordered came to $88.27 with budget shipping. Mixbook charged an additional $40 for its premium lay-flat paper option, but the same hardcover book without it would've cost $41.28. Be warned: Mixbook includes 20 pages but charges an additional amount of up to $2.29 per page, depending on what kind of book you order.
But Mixbook's pricing is still in line with what you will find from other services. You'll be hard-pressed to have a photo book of the same quality costing considerably less than Mixbook. Overall, Mixbook lives up to its reputation with a high-quality photo book without overcharging.
Editor's note: Because online services are often iterative, gaining new features and performance improvements over time, this review is subject to change in order to accurately reflect the current state of the service. Any changes to text or our final review verdict will be noted at the top of this article.
Best Prices Today: Mixbook