Founded in 1999, Shutterfly has been in the online photo printing business the longest among all its DIY photo book competitors. It's very popular, with millions of customers ordering photo books, prints, cards, and other photo products every year.
When it comes to photo books, Shutterfly offers a sometimes frustrating web editor for creating the book, but somewhat makes up for this with a nice selection of creative features. The photos came out looking good, but we received a book with some trim issues that sliced into text placed near the edge of a page.
Shutterfly has three options for creating your photo book: Make My Book, Custom Path, and Simple Path. The Make My Book service is where Shutterfly's designers create your book for you. Custom Path has you make your book and arrange your photos. And Simple Path is where you make the book but the photos are automatically arranged for you.
The books come in six sizes (all measured in inches): 8×8 (starting at $19.99), 8×11 (starting at $24.99), 11×8 (starting at $24.99), 10×10 (starting at $29.99), 12×12 (starting at $69.99), and the new 11×14 (starting at $74.99). Various styles are available for additional costs, including hard or soft covers in leather and other materials, matte, glossy, and layflat pages, and more.
In our review, we made a Custom Path book with a matte hardcover and standard pages in the newest and largest 11×14 size. The book came to $102.37 excluding shipping. Our theme: a yearbook of PCWorld's "The Full Nerd" YouTube show.
Editor's note: This review is part of our best photo book roundup. Go there for details about competing products and how we tested them
Creating the book
Shutterfly's app was at times disorienting and cumbersome. But after playing with the photo book builder for 15 to 30 minutes or so, you should hopefully have the hang of it.
You can import images from your computer or social media platforms like Instagram. Yet once the images upload, you have to scroll through them via a tiny view space on the bottom that is far from user-friendly.
The same small scroll space also lets you view the pages, which makes re-ordering them equally annoying. Instead, hit the Arrange tab to more easily review and move pages around.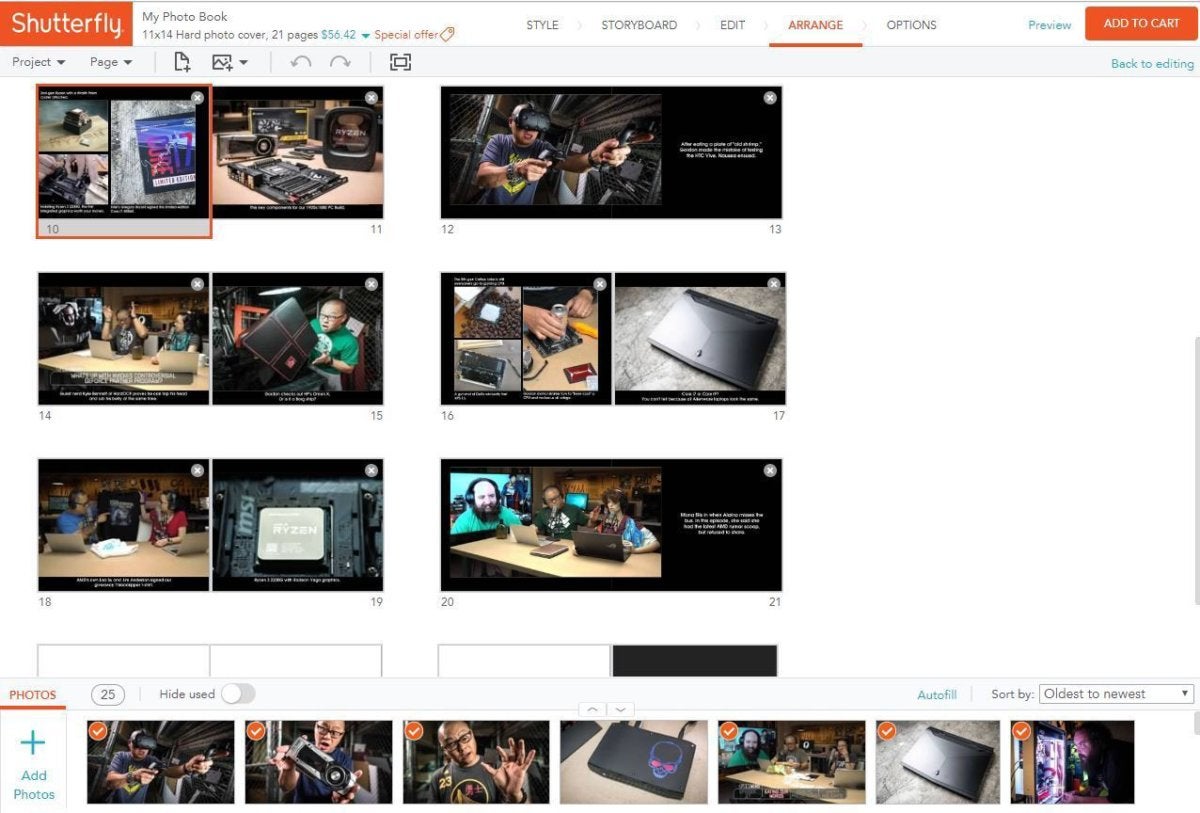 You can choose from more than 200 templates, including themes like Sesame Street and Star Wars. Templates generate a range of different page layouts into which you can drop photos inside frames.
But to get a most customized experience, you shouldn't rely on themes and instead use the Layouts tab. Here you can apply layouts for pages that contain as little as one image or more than five and even create two-page spreads. If you want even more control, you can hit the Add photo area button to choose and size areas where you place photos. Though most of the time the Layouts tab should do just fine for placing photos and text.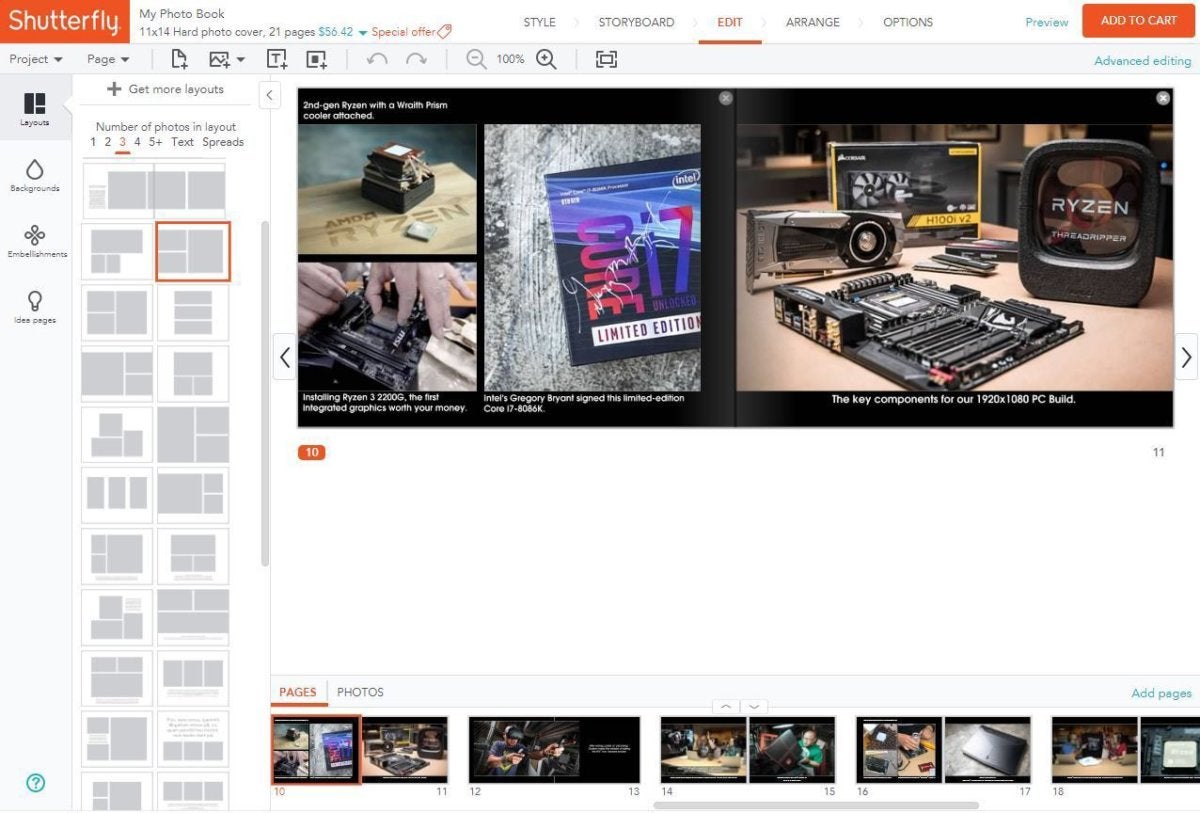 Speaking of text, Shutterfly's editor was terrible at handling it. Font selection was limited, special characters like em dashes weren't supported, and waiting for the font style to update felt like it took forever. There was also no easy way to copy the style from one text box to another.
If you want to make any major adjustments to your photo, just double-click on it to bring up an editing window. Here you can add eight different effects, or "filters," to your photos to enhance or diminish the colors. You can also correct red-eye, rotate the photo, and resize it.
Shutterfly warns you right away when it thinks a photo's resolution is too low. It does this with an exclamation point, which basically means you need to choose a new photo or resize it so it's smaller.
There's also a huge range of clip art you can put in the book under the Embellishments section. Finding clip art is easy thanks to the search bar—just type in what you're looking for to bring up stickers.
Shutterfly's editor has all the necessary features to get the job done. Unfortunately, it's slow and has a dated design and interface. We can't recommend enough for Shutterfly to upgrade its editor.
The final printed product
Shutterfly includes 6 to 10 business day economy shipping on all orders of $39 and more if you use the code "SHIP39" at checkout. Looking for something faster? You can even order 2 business day rush shipping for an additional cost. The price for faster shipping varies depending on the size of the book. (See all of Shutterfly's shipping options here.)
The photo book came in a branded, bright orange cardboard packaging that protected the book in transit. Like other photo books, it was wrapped in cellophane. But you can also choose to have your photo book sent in a gift box.
The first thing we noticed with Shutterfly's photo book is that it had no problem printing the same images we used for other photo books on its much larger 11×14-inch surface. It even was able to make two-page spreads out of a few. Other services warned us that the resolution of these photos was too low to print appropriately, but Shutterfly appeared to handle them quite well.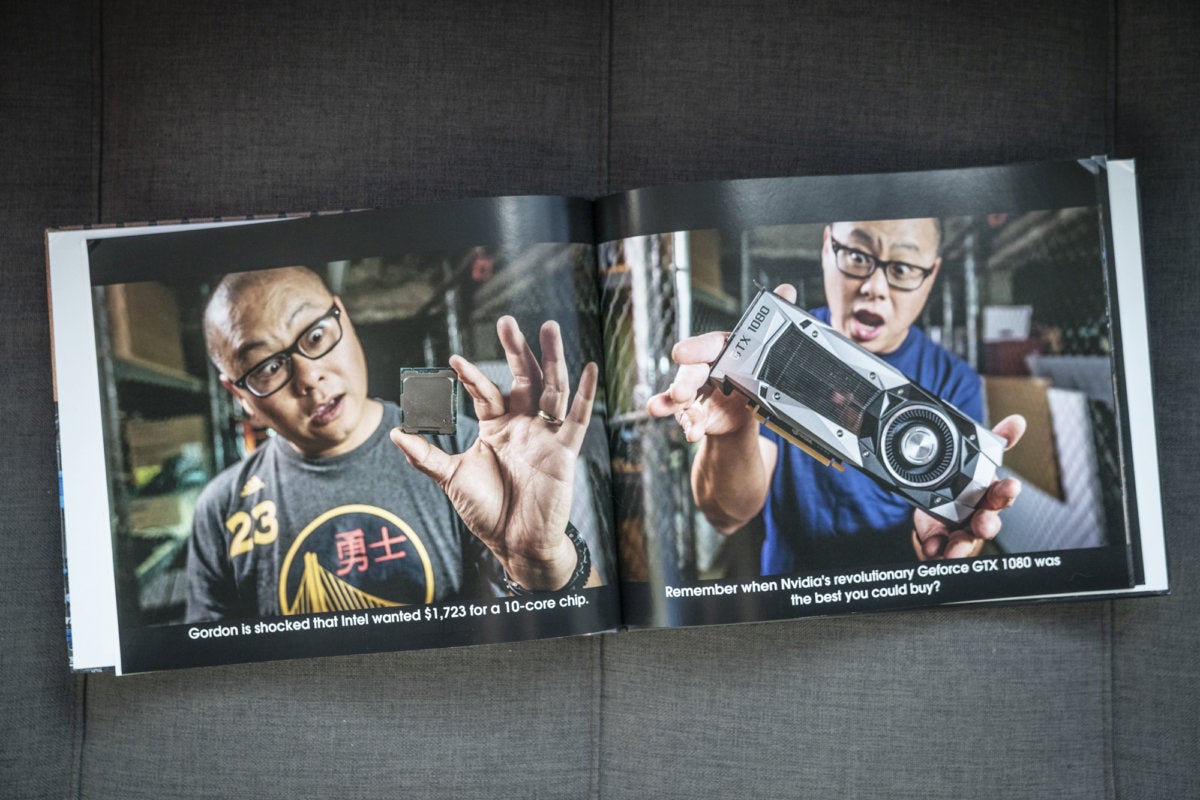 Photos were good quality, clear, and bright across all the glossy pages. Colors also came out well and we didn't notice any weird color shifts. Overall, the photo quality was superior to Picaboo and PrestoPhotos while on par with AdoramaPix and Mixbook.
The pages were fairly thin, though, because we didn't order the premium lay flat option. The front and back cover was also thinner than the other books we reviewed. And the blank white paper pages at the front and back of the book were somewhat flimsy and seem prone to tearing. The white pages don't share the same paper stock as the photo pages, and create a rather jarring disconnect for the book as a whole.
Probably the worst thing about Shutterfly's book is that some text was trimmed off the page. We didn't receive any warnings about the trimming risk in the editor, and by all accounts the text was correctly placed in the margins. This should be a major concern if you're working with text. The good news: You can request a refund or new book via Shutterfly's customer service for situations like this.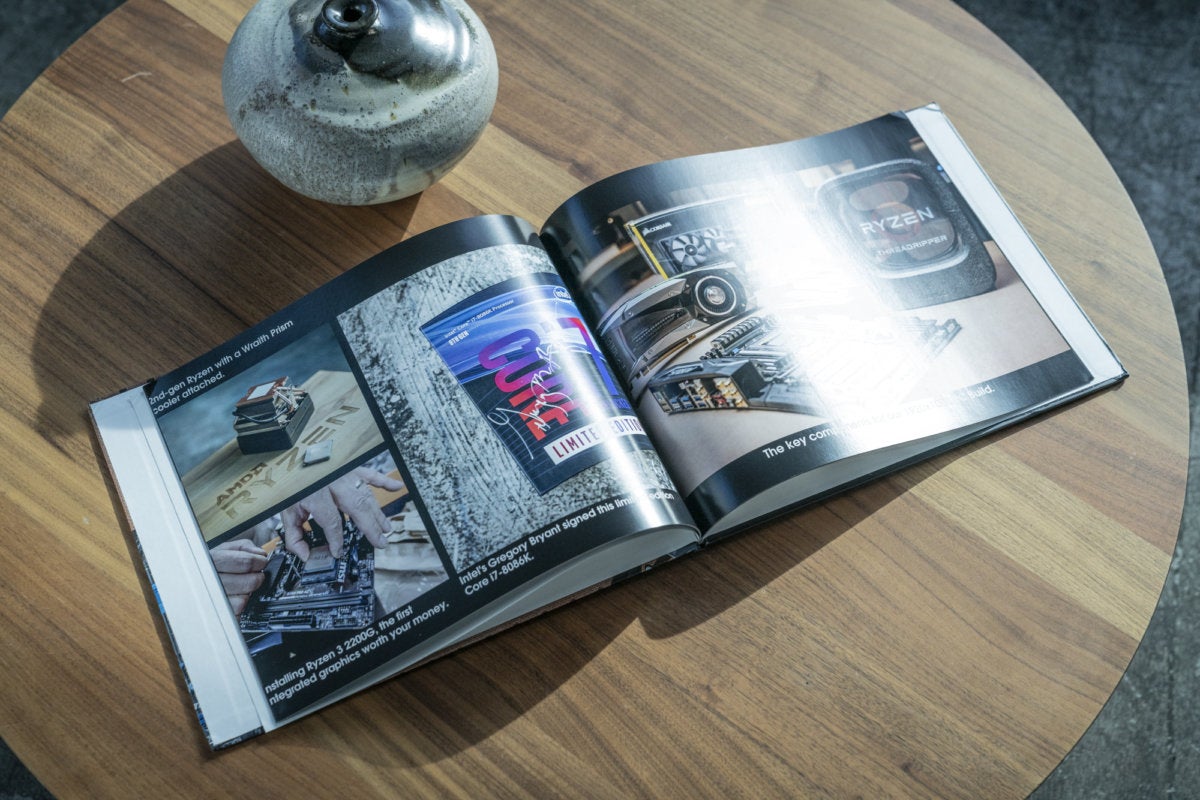 Another frustration is the white barcode in the bottom right of the outer and inner back cover. Shutterfly did charge us to remove its logo, but there was no option to get rid of this barcode. None of the four other services we reviewed print a barcode on the back. It just looks tacky.
In a statement to PCWorld, a Shutterfly spokesperson said, "The barcode enables our manufacturing facilities to track our customers' projects through the process to shipping." Makes sense, but other photo bookmakers have evidently found a way around this.
Bottom line
We ordered Shutterfly's largest available 11×14 photo book for $74.99, paid $9.99 to remove the logo on the back page, and paid $15.99 for the matte finish, totaling $102.37 with free economy shipping. Of course, we went with a very large size and there are definitely cheaper options out there for as low as $24.99 for an 11×8 book without customizations.
Still, we find Shutterfly pretty pricey considering we didn't even get the premium lay flat options or additional customizations. AdoramaPix makes a much thicker, sturdier 10×12.5 book with silk lay flat pages for $75.99 including shipping.
But if want a huge 11×14 photo book, Shutterfly is the way to go. No other services capable of printing high-quality photos on a photo book of this size are out there—yet.
Editor's note: Because online services are often iterative, gaining new features and performance improvements over time, this review is subject to change in order to accurately reflect the current state of the service. Any changes to text or our final review verdict will be noted at the top of this article.
Shutterfly
Shutterfly's web editor needs updating, but its core service gets the job done with a decent quality photo book, bright photos, and a ton of different options and styles to choose from.