At a Glance
Expert's Rating
Pros
Absolutely the best battery life we've seen, period
Re-engineered tablet chassis is on a par with competition
$999 price tag is very competitive, and includes keyboard and pen
Optional LTE gives you connectivity on the go
Cons
Low overall performance
Included apps aren't really necessary
Is this app going to work? There's always some doubt
Our Verdict
Samsung's latest 2-in-1 now looks much like the competition, but with a key change: it uses Qualcomm's latest Snapdragon processor, which delivers game-changing battery life but anemic performance.
Best Prices Today: Samsung Galaxy Book 2
Give Samsung credit: the Galaxy Book 2 boldly breaks from the first-generation Galaxy Book on both the inside and outside. The company's new 2-in-1 not only ditches its flimsy folding keyboard in favor of a more traditional tablet kickstand, but also joins the small ranks of PCs that have adopted a battery-sipping Qualcomm Snapdragon microprocessor. Performance suffers drastically, however, even as battery life soars to an unprecedented 18 hours.
The Galaxy Book 2 boasts Samsung's terrific AMOLED displays and rich sound, with LTE capability, a pen and a keyboard, all sold for a reasonable $999. Remove non-product link In addition to the CPU switch, though, the second generation makes some compromises. The built-in 4GB of memory and 128GB of storage is a bit skimpy, for instance, and the OS—Windows 10 Home in S Mode—might turn some off. For basic work on the road, the Galaxy Book 2 offers some compelling arguments. But the experience is still too bumpy to recommend to everyone.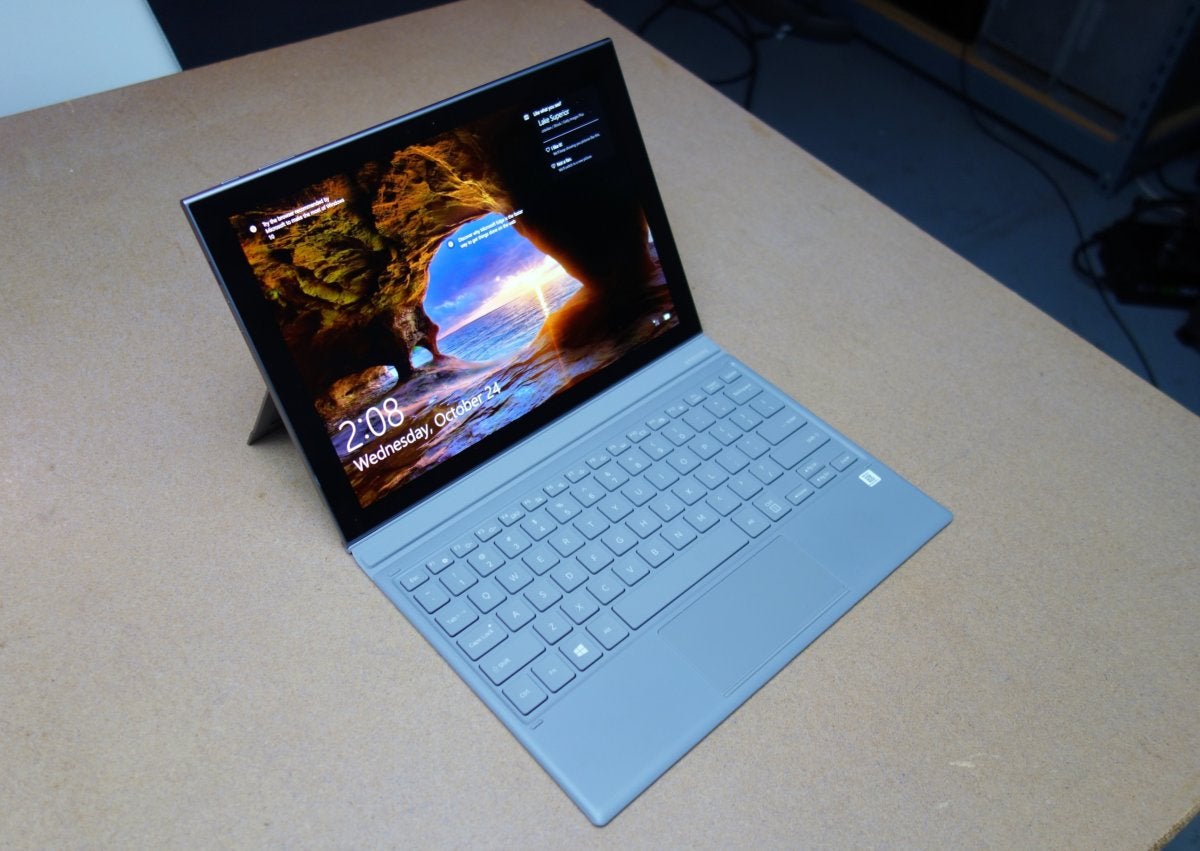 Galaxy Book 2: Basic specs
Display: 12.0-inch Samsung AMOLED (2160×1440)
Processor: Qualcomm 8-core Snapdragon 850 (4 cores @ 2.96GHz; 4 cores @ 1.7 GHz)
Graphics: Qualcomm Adreno 630 (integrated)
Memory: 4GB
Storage: 128GB SSD
Ports: 2 USB-C, microSD, headphone jack
Wireless: 802.11 a/b/g/n/ac VHT80 MIMO; Snapdragon X20 LTE Modem
Cameras: 5MP front, 8MP rear
Battery: 47Wh
Operating system: Windows 10 Home in S Mode (Windows 10 Home as tested)
Dimensions: 11.32 x 7.89 x 0.30 inches
Weights: 1.74 pounds (tablet), 2.42 pounds (tablet plus keyboard), 2.64 pounds (tablet, keyboard and charger), as measured
Price: $999

Remove non-product link

; S Pen and keyboard included
Galaxy Book 2: Build quality and ports
Physically, the Galaxy Book demonstrates that changing horses midstream sometimes necessitates a new harness and tack. The Galaxy Book 2 is a tad shorter, a bit wider, slightly thicker, and 0.08 pounds lighter than its predecessor. More importantly, it's now built like a traditional tablet, with a kickstand that nearly fully reclines, like a Microsoft Surface Pro 6. Adios, folding keyboard.
Mentioned in this article
Surface Pro 6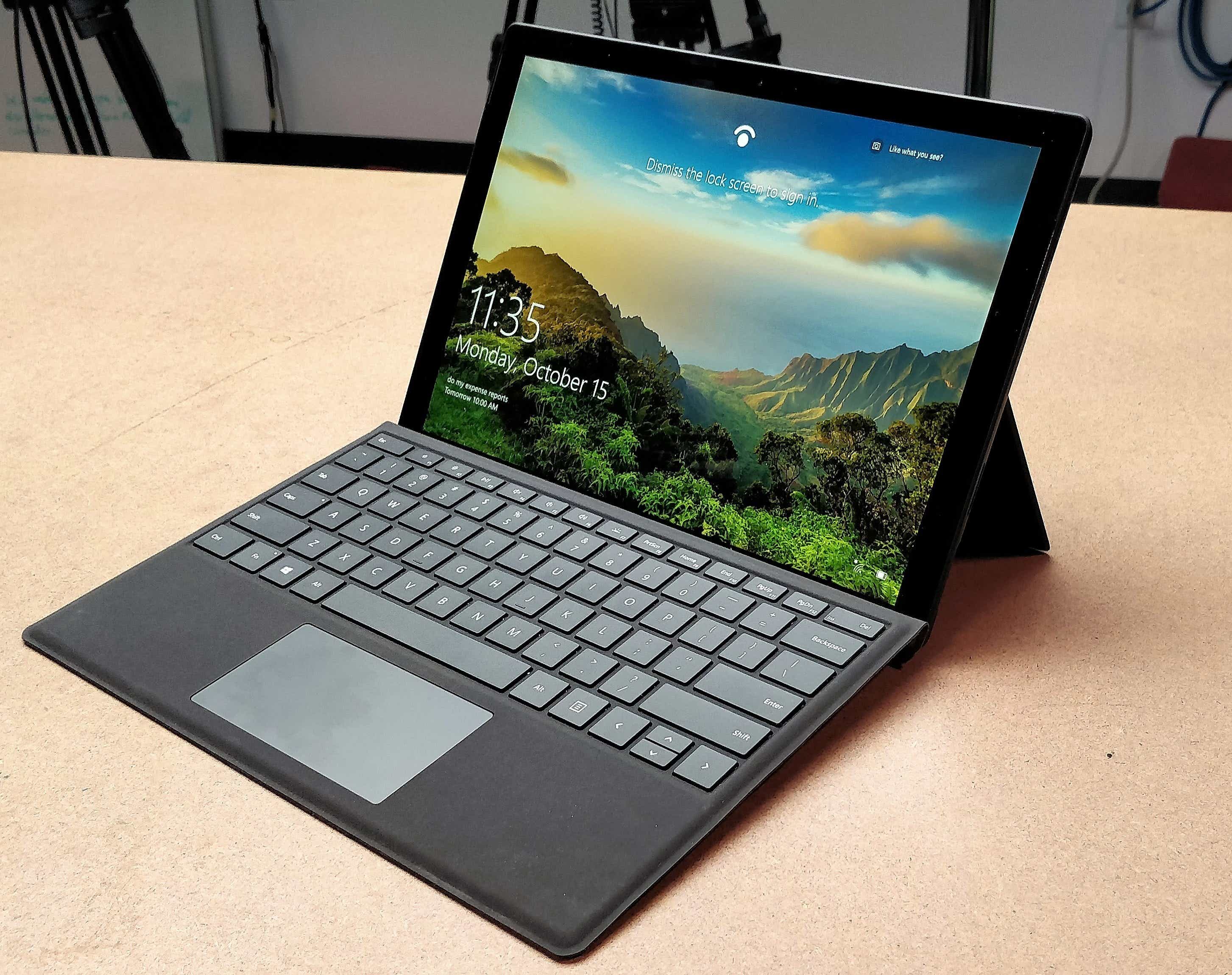 Price When Reviewed:
$1199
The first-generation Book sported a chunky bezel surrounding the screen, and I was hoping for something a bit leaner this time around. No luck. Fortunately, if you've seen a Samsung display before, you know what you get: deep, dark blacks and rich colors—though maybe not as rich or color-accurate as the displays on Microsoft's Surface Pro 6. The AMOLED touchscreen display pumps out a comfortable 329 nits of luminance, which will work well indoors and out. While the tablet isn't totally sealed—a couple of vents on either side seem like some sort of new, strange expansion port—it is fanless.
As for real expansion ports, Samsung leapt ahead to USB-C with the first Galaxy Book, and the second Galaxy Book 2 also sports a pair of USB-C ports. Unfortunately, Samsung wasn't as thoughtful as, say, the Huawei Matebook: You'll have to supply your own USB-A adapter if you want to connect to legacy devices. High-speed Thunderbolt connections aren't available, either.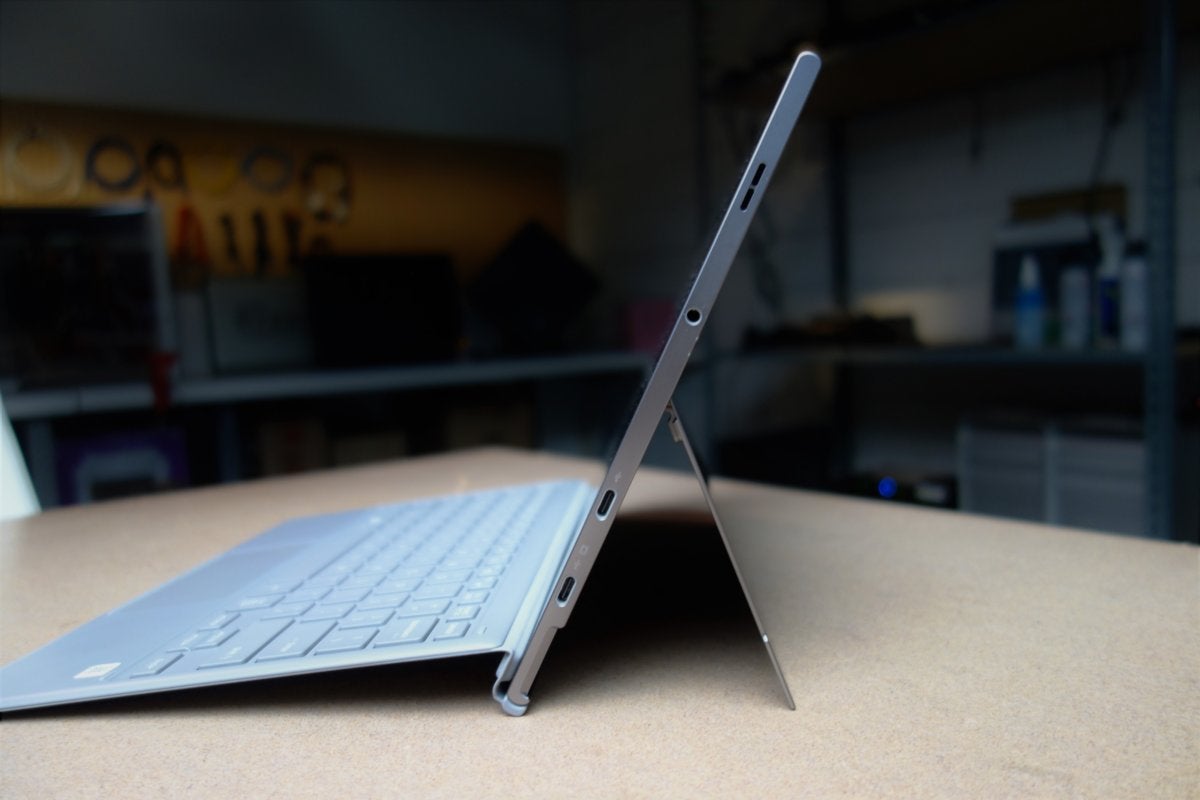 Keep in mind that the LTE slot also doubles as a microSD holder, though adding or subtracting either a SIM or microSD card requires one of those annoying smartphone poky SIM tools to slide the drawer out.
There's no Windows Hello-certified depth camera, though there's a fingerprint reader on the rear of the tablet, right next to the camera. It seemed to have some problems reading my finger during setup, and I'm not sure of the advisability of placing a fingerprint sensor next to a camera lens, which could be easily smudged. Otherwise, though, it works acceptably.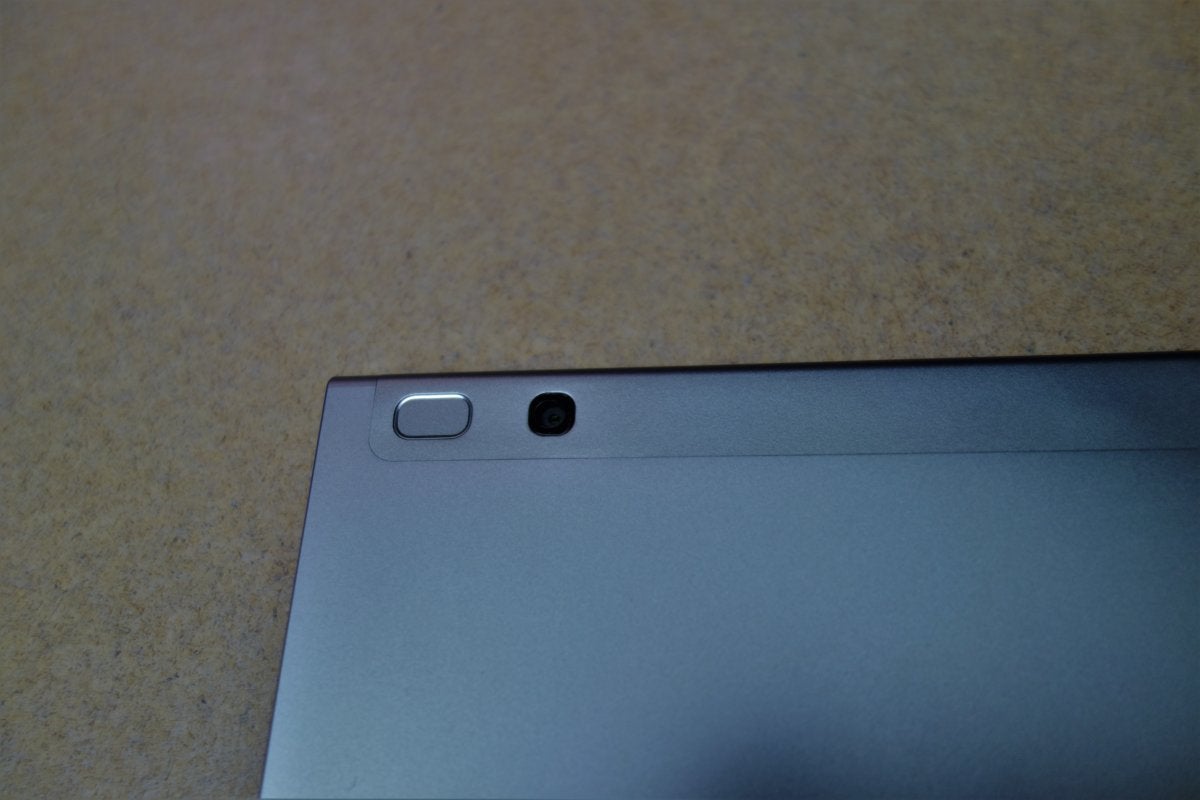 As for LTE, it's clearly one of the reasons for buying a device like the Galaxy Book 2. If you want to be always connected (and who doesn't?) a tablet like this will do the trick. A Verizon SIM was provided for review. I don't have a Verizon-powered smartphone for comparing reception, but the Book 2 seemed to pick up a signal everywhere a T-Mobile phone could, and then some. Remember that you'll be able to buy a Galaxy Book 2 from a Sprint, AT&T, or Verizon store, but you'll have to pay extra for a connection plan.
As noted elsewhere, though, Windows prioritized the LTE connection over my Wi-Fi connection. That's a problem for two reasons: First, not all cellular plans are unlimited; and a cellular connection was (fortunately) listed as "metered" by Windows. While that prevents multi-gigabyte updates from being downloaded, unnoticed, over your cellular connection, it also means that updates and OneDrive syncing can't take place without manual approval.
Finally, don't forget that the Samsung Galaxy Book 2 ships with Windows 10 in S Mode, which restricts apps to what's provided in the Microsoft Store. Do you prefer Google's Chrome browser? Sorry! Remember, switching from S Mode to the full-fledged Windows 10 Home is a pretty simple experience, and shouldn't cost you anything. It's a one-way switch, though.
The real problem is that we still ran into applications—specifically two of our benchmark applications—that flatly refused to run on our Galaxy Book 2, because of the way they were coded. That's a risk you'll have to take.
What about that keyboard? Keep reading to find out.
Galaxy Book 2 typing experience
Typing on the Galaxy Book 2's bundled keyboard is surprisingly decent. Each key offers a rather spacious landing pad for your fingers, with pleasing key travel and resiliency. (I wouldn't be surprised if the keyboard were simply a holdover from the first-generation Galaxy Book.) The keyboard does flex considerably, though the movement felt more akin to the springiness of an athletic shoe rather than the sag of an old bed.The trackpad is mediocre, however, and it feels small and somewhat unresponsive.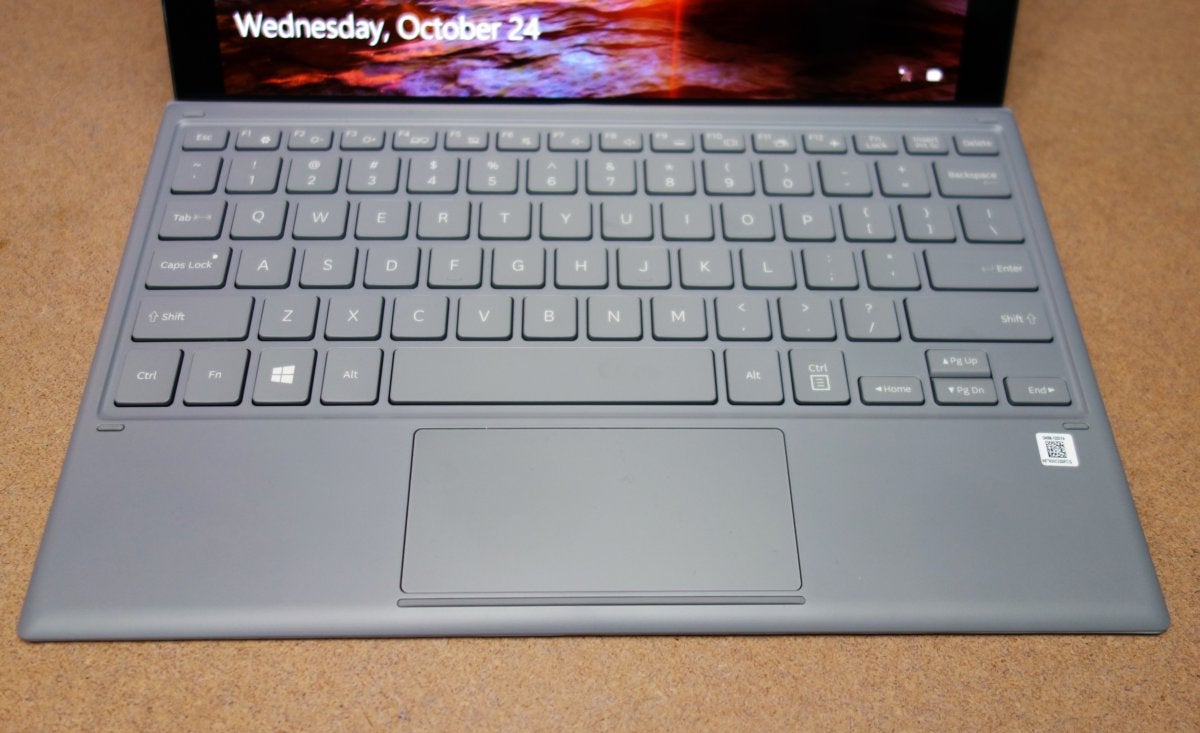 Samsung has adopted the now-traditional double-folding hinge, which connects the keyboard to the tablet. As someone who prefers a slightly angled keyboard, the ease with which the keyboard unhinges is annoying —there's even a hidden Samsung label that makes me think the behavior's intentional. But the final magnetic connector holding the keyboard in place is pretty close to rock-solid, leading me to believe that you could work with it on your lap for prolonged lengths of time. The hinged kickstand reclines way back, almost but not quite flat.
I'm impressed with the Galaxy Book 2's speakers. Granted, because of the physical limitations of a tablet, they can't really deliver even the low-end oomph of a connected speaker like the Harman/Kardon Invoke. But even without any augmentation, the range of sound the Book 2's speakers deliver is relatively balanced, with good volume. They improve even further with the included Dolby Atmos augmentation—which, somewhat surprisingly, ships off by default and needs to be enabled with an app. With Dolby Atmos enabled, the Book 2 delivers a fairly rich soundscape, from highs to lows.
Galaxy Book 2 apps: A mixed bag
The Galaxy Book 2 offers an acceptable amount of storage (128GB), though anything below 256GB triggers a bit of paranoia that I'll run out of room. How Windows 10 integrates OneDrive assuages that somewhat, as you can back up files to the cloud and let them remain as "placeholders" on the drive. (For some reason, however, the Book 2 wanted to default to the Verizon LTE SIM that Samsung included—which was set up as a metered connection, and that means OneDrive won't automatically sync your files to the cloud. I had to disable the cellular connection manually to convince Windows to use my unmetered Wi-Fi and ethernet.)
Connectivity issues aside, however, the fact remains that the Galaxy Book 2 ships with the usual complement of bloatware (Candy Crush, Candy Crush Soda Saga, Disney Magic Kingdoms, etc.), which you'll want to delete immediately. There's also the built-in Samsung apps, which we discussed in more detail under the "Bundled apps" section of our original Galaxy Book review. These are more forgivable, especially the Galaxy Book app that ships with some minimal configuration options, such as adjusting the display color warmth or preventing the Galaxy Book 2 from charging more than 85 percent to preserve the longevity of the battery.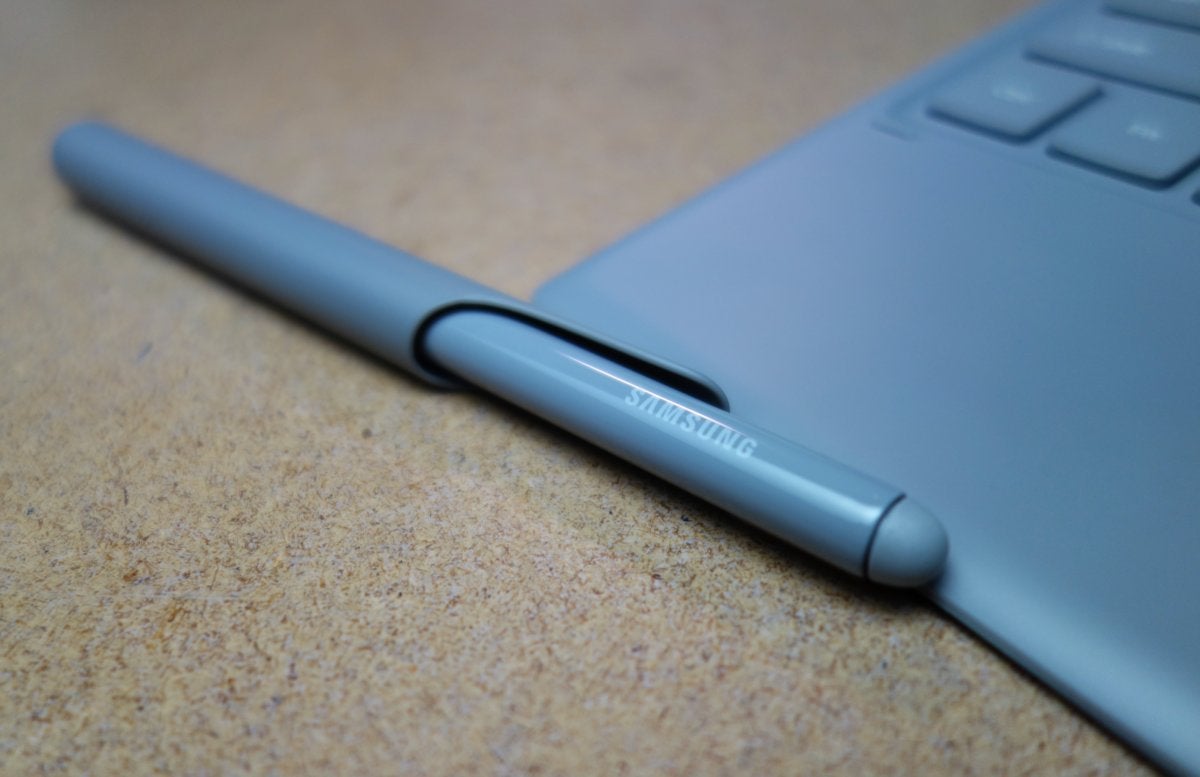 Samsung shipped the Galaxy Book 2 with Samsung Flow, which works to unlock your PC using your phone—something that Windows Hello should make redundant? Samsung Gallery also works somewhat like the Your Phone app within Windows: Originally designed as a conduit to pass photos taken with a Galaxy phone to your Galaxy Book 2, it now can use a more generic Bluetooth connection via a Google Play app that can be downloaded by any compatible Android phone.
The first Galaxy Book shipped with an S-Pen, bundled as a discrete accessory. I criticized the lack of integration. The more recent Samsung Notebook 9 Pen adopted the built-in pen holster used by the Galaxy Note phones and tablets, which I happily applauded until I accidentally jammed the S-Pen wrong-way in. The Galaxy Book 2 uses an odd sleeve apparently re-purposed from a meat thermometer… and, well, given my past history, I'm okay with that. It might have been nicer with an accent color, or perhaps a clip of some sort, but Samsung's Brutalist design should stop absent-minded reviewers from stuffing the S-Pen where it shouldn't go.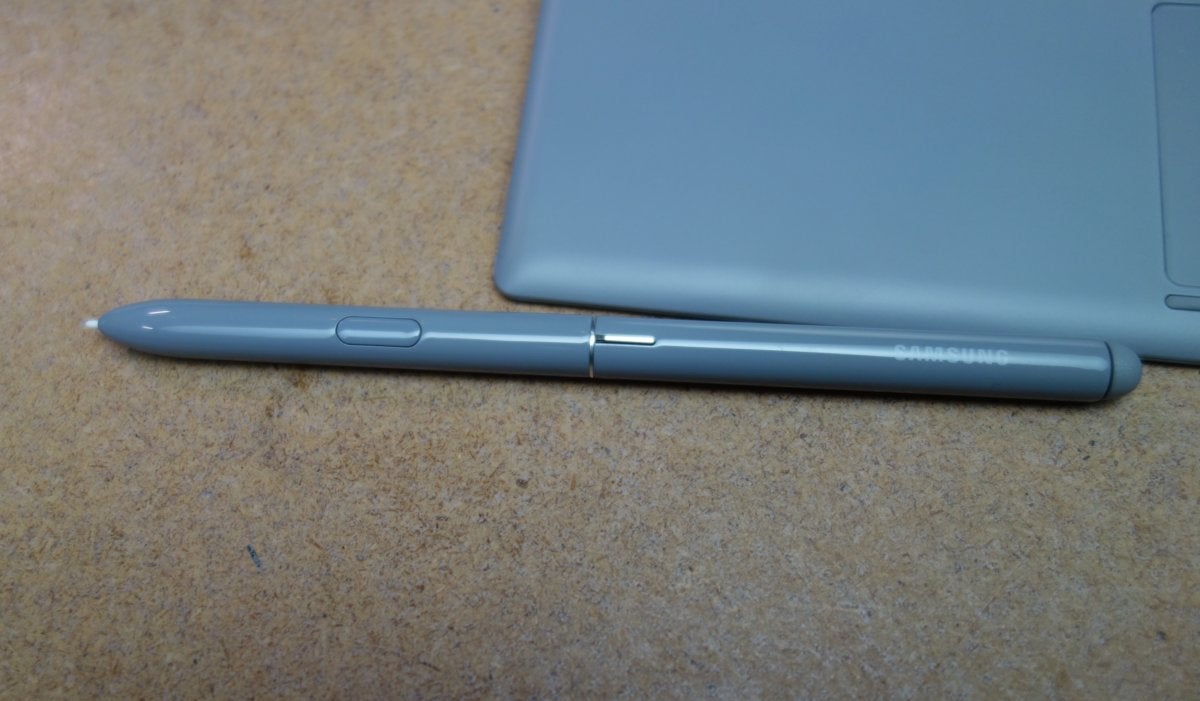 What about benchmarks? Keep reading to find out.
Galaxy Book 2: Cross-platform benchmarks
Samsung's choice to move from an Intel Core i5 CPU to a mobile chip shifts the emphasis from performance—where the first Galaxy Book did very well—to battery life. It's our first test of the new, next-gen Qualcomm Snapdragon 850, which promises "multi-day" battery life as well as more speed.
Does the new Snapdragon 850 have enough oomph for you to be happy? Well, it depends. Due to the anemic processor and low system memory, web browsing is generally acceptable with limited tabs. Office work, like word processing, is just fine. YouTube videos are child's play—there's a special video decode engine in the Adreno graphics chip, and a 1080p video consumed about a third of its resources. Games? Don't count on it, especially anything really modern.
Mentioned in this article
Surface Go
Price When Reviewed:
$549.00
What our tests indicate so far is that the $999 Galaxy Book 2's performance is in the neighborhood of the $399 Microsoft Surface Go, which is a "good-enough" small-form-factor tablet in its own right. Remember, too, that the Book 2's battery life pretty much blows everything else away—it's over twice that of the Surface Go's!
One caveat: Samsung says it will ship its new Galaxy Book 2 with Windows 10 Home in S Mode, but it inexplicably shipped ours with Windows 10 Home enabled—which we noticed after running several of the browser-based tests we'd normally use for testing a Windows 10 S PC. It's possible that running Windows 10 Home rather than Windows 10 Home in S Mode may invalidate these results—S Mode is supposedly a more optimized environment, but it doesn't allow for any apps outside of the Microsoft Store. But they seem consistent with our more traditional benchmarks.
Because these are browser-based benchmarks, we can compare the Book 2 to non-Windows devices, "first"-generation Snapdragon-powered PCs like the Asus NovaGo, and even Apple devices and an Android tablet. Note that though we didn't have an opportunity to run our full suite of benchmarks for our original hands-on, we made sure we ran them all for this, our review. We were pretty sure that our initial tests would be indicative of final performance, but we were slightly mistaken—battery life actually increased. These tests reflect those numbers.
First up: WebXPRT, a good all-around benchmark which uses HTML5 and JavaScript to mimic traditional web apps. We have a broader database using the older 2015 benchmark, and fewer entries tested using the more WebXPRT 3 update. The Galaxy Book lands in the lower middle of the pack.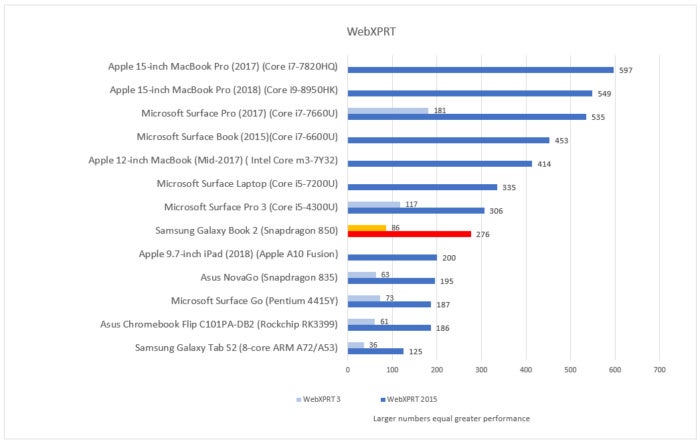 The Jetstream 1.1 benchmark runs a series of synthesized JavaScript tests, each designed to isolate a particular workload that would affect web performance. The Galaxy Book 2 unimpressively leads the rear guard.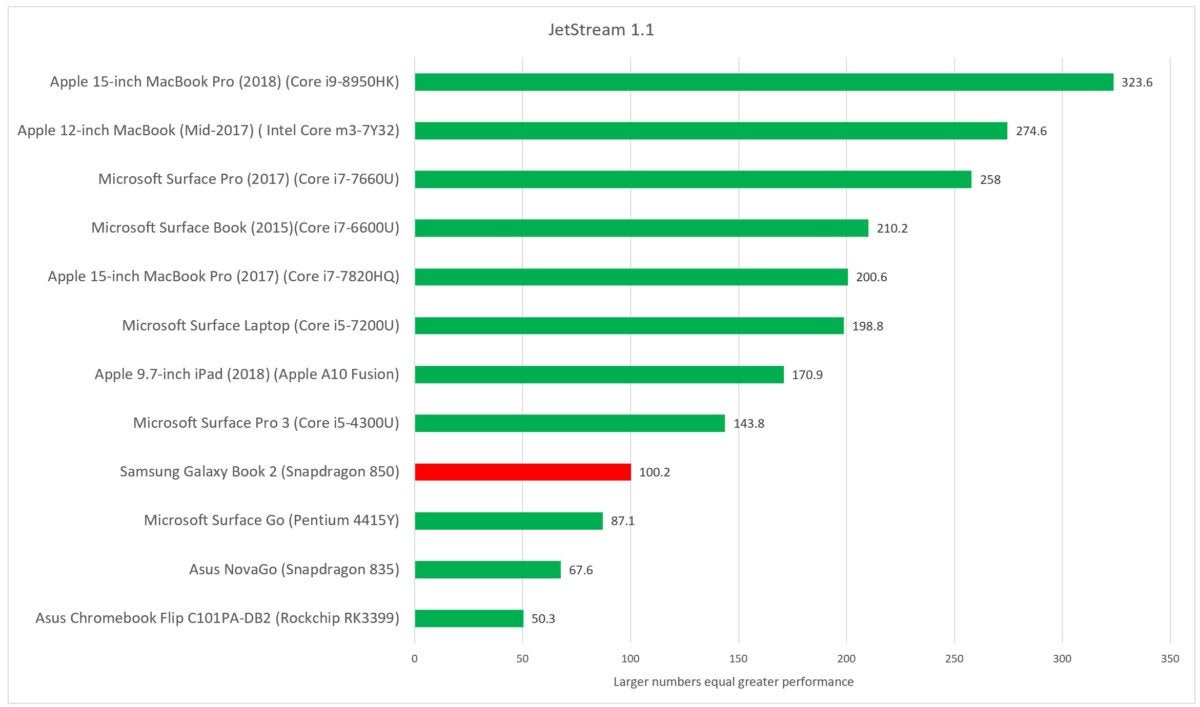 We've included both versions of the older Speedometer benchmark, designed to measure the responsiveness of web applications. (In real-world browser use, the Book 2 felt as responsive as a much more powerful laptop, especially when using Microsoft Edge.) Google's deprecated Octane benchmark was also tested. In both cases, the Galaxy Book 2 lands at the top of the bottom (or lower middle, if you're a glass-half-full sort of person), as seems to be the general trend for it.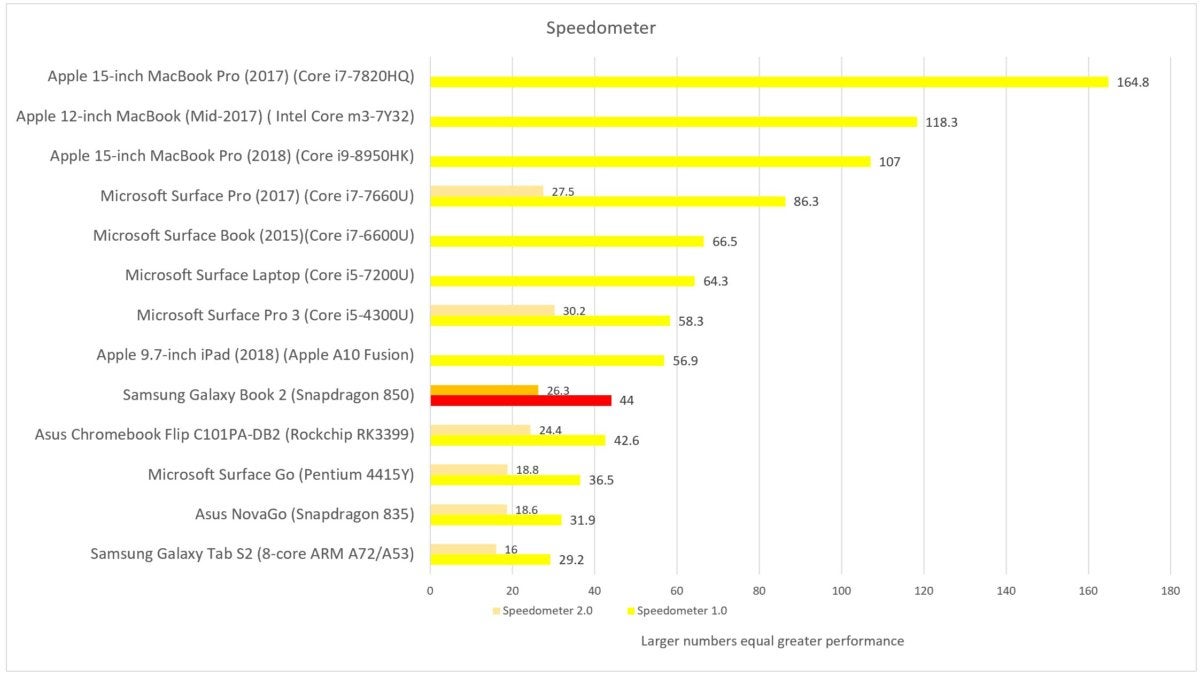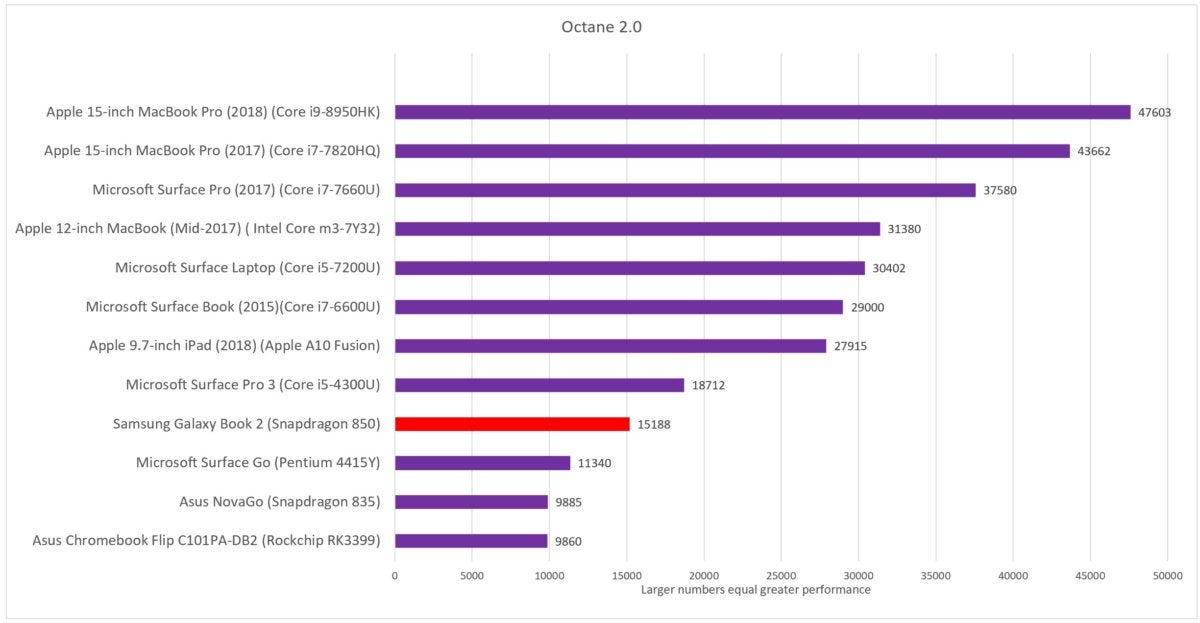 Samsung Galaxy Book 2: PC benchmarks
As I noted in my review of the Microsoft Surface Go and Windows 10's October 2018 Update, Microsoft's Edge browser now feels fast and responsive—and with the Galaxy Book 2, you need all the help you can get.
There's a real difference in how the Galaxy Book 2 feels in terms of the browser you use with it. I was able to open ten media-rich tabs in Edge, and the browser felt fast and responsive, able to navigate most pages within a second—even bouncing back to older tabs. Occasionally, the images would take a bit longer to load, though, I was able to scroll up and down the page. Oddly, it was slow to close the application.
Chrome, meanwhile, felt much, much slower, and pages took quite a while to open completely. That may have to do with how Chrome "sandboxes" each tab, and Chrome's reputation for gobbling memory won't help in a 4GB machine like the Galaxy Book 2. It's a markedly different experience.
While the Galaxy Book 2 is a bit faster than the original Galaxy Book, it's generally fairly slow for intensive, computational work. As we noted above, two tests—Cinebench and HandBrake—refused to run. (While they did on an older Snapdragon-powered PC, the Asus NovaGo, that laptop also used a beta version of Windows 10 in S Mode.)
We've compared the Galaxy Book 2 (in red) to a number of tablets, including the first-generation Galaxy Book, which we've highlighted as well (in orange). The gulf between the Intel Core i5 in the first generation and the Qualcomm Snapdragon 850 in the second generation is wide.
The PCMark Work test measures spreadsheet performance, Word processing, web browsing, and VOIP calls, which is pretty critical. The Home test, which adds some light gaming and image manipulation, puts some additional stress on the Adreno GPU.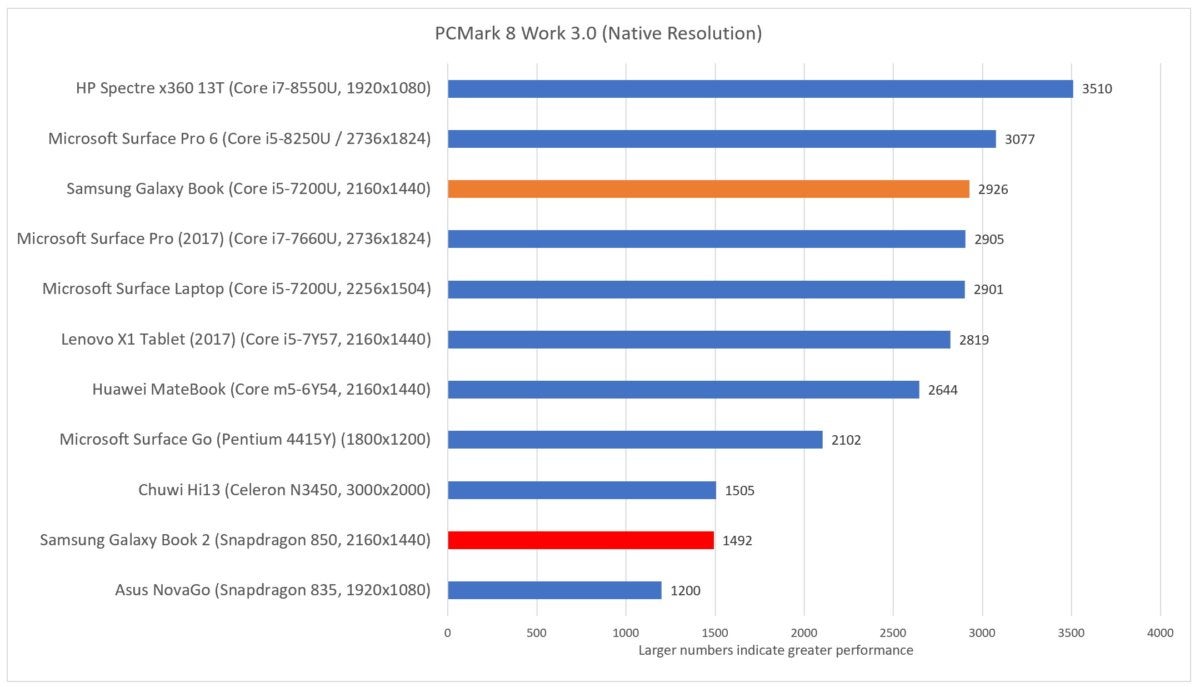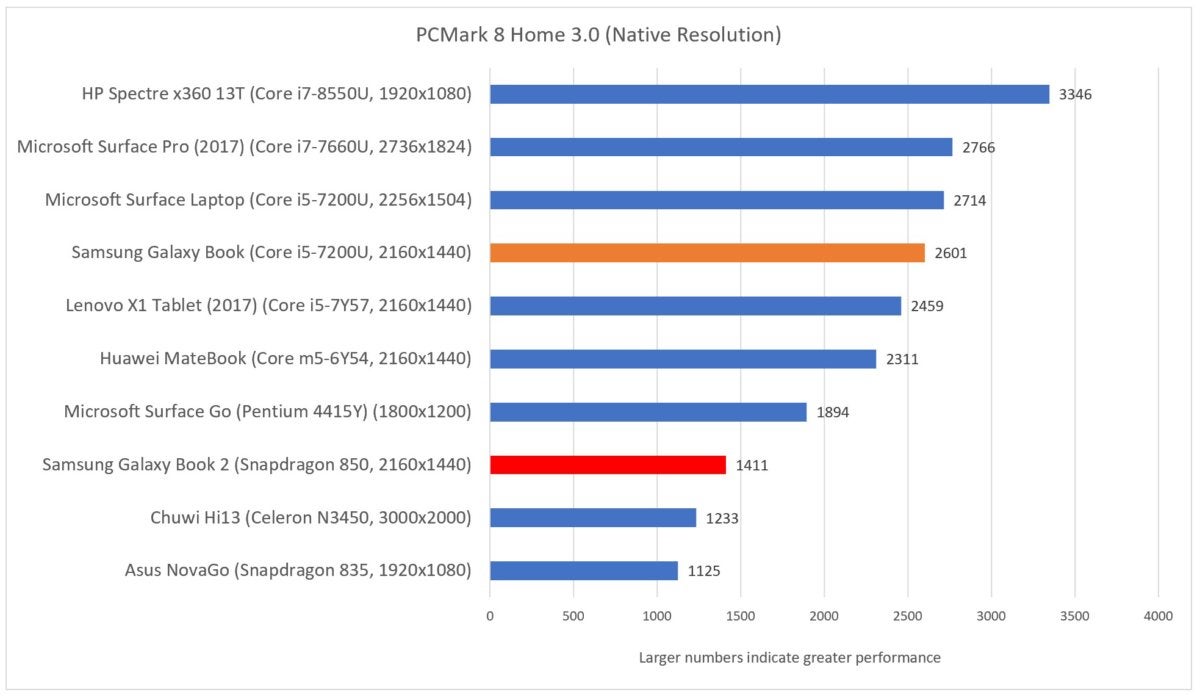 We also tested the Book 2 with the PCMark Creative test, the most stressful of the three in terms of overall performance. It measures image manipulation and video editing, light gaming, and VOIP calls. Again, the Book 2 can't keep up with Intel Core-powered laptops and tablets.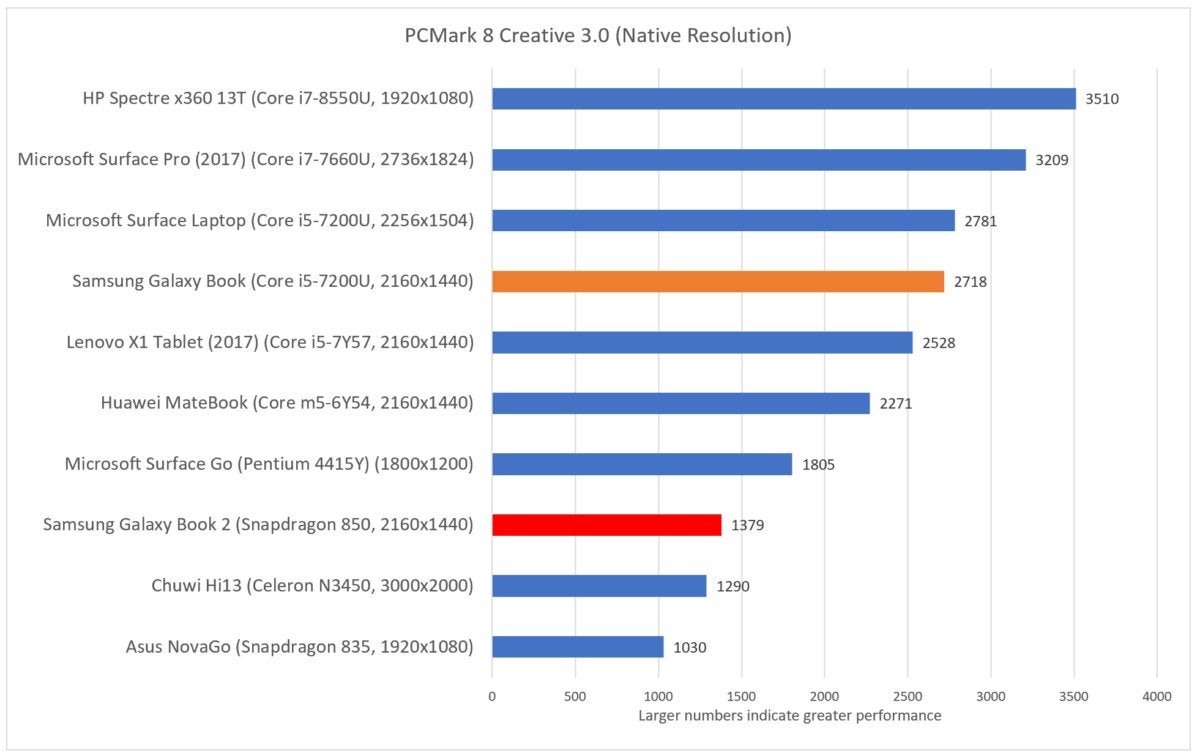 The 3DMark Sky Diver tests assesses how well a laptop or chip would do in 3D gaming performance. These results should tell you that gaming simply isn't the Galaxy Book 2's emphasis. The Adreno GPU has no problem with video decoding, however, which isn't measured here.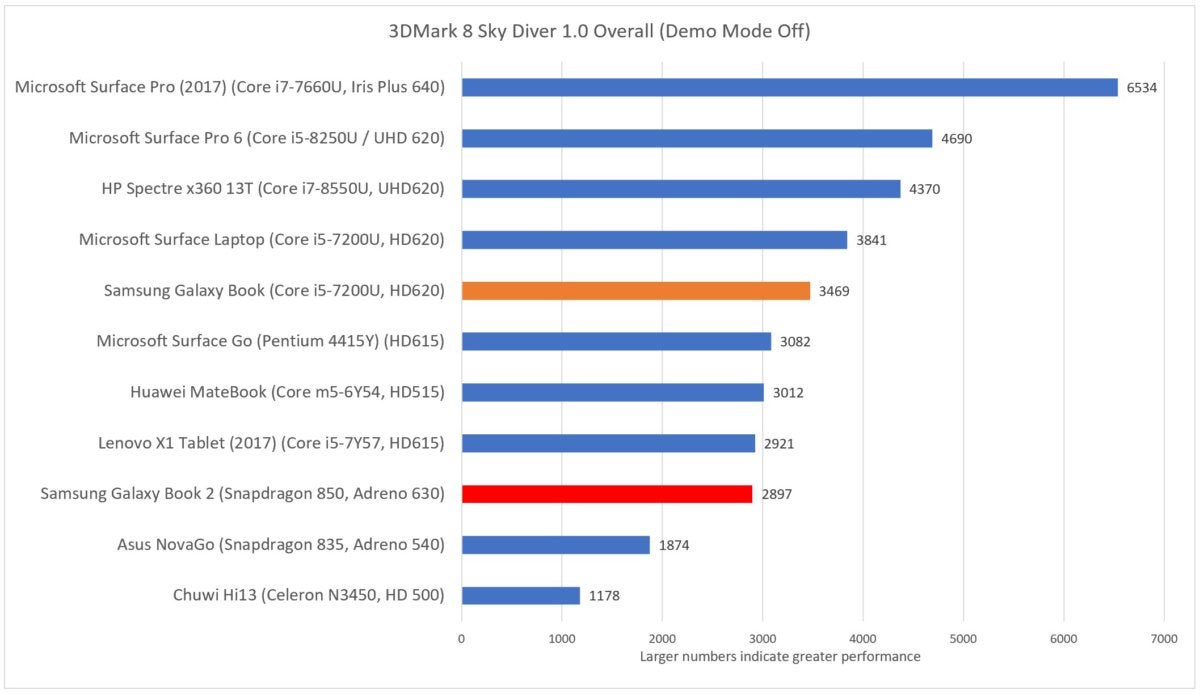 But wait! We finally come to the piece de resistance of the Samsung Galaxy Book 2, and the Qualcomm Snapdragon chips: battery life. This is why you should be interested in the Galaxy Book 2, and it's here that it will pay you back in spades. We use a light meter to establish a standardized level of light output for comfortable viewing, then loop a 4K movie (with headphones connected and volume at its middle setting) until the battery expires. The Samsung Galaxy Book 2 delivers, and then some: 17 hours and 12 minutes of battery life. That's almost in a league of its own.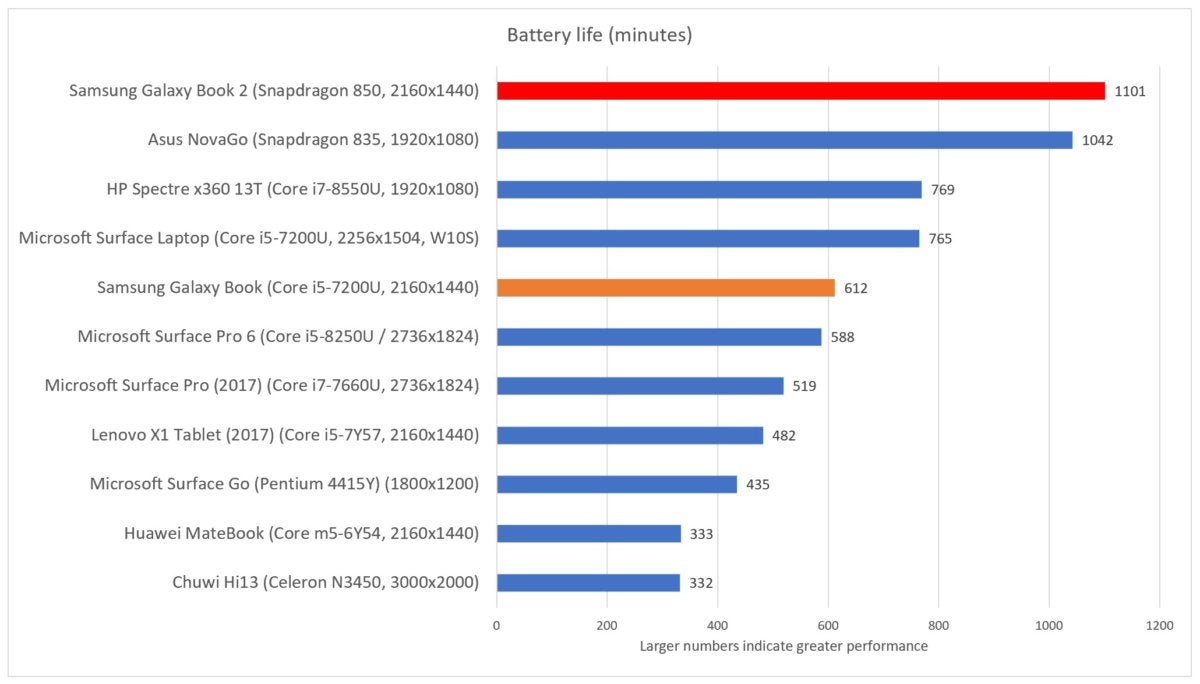 One thing we don't like, though: Supposedly the Galaxy Book 2 ships with a "Fast Charging" smartphone-style USB-C 1-amp charger. When Windows reports that it will require over 3 hours to charge the laptop, we have to wonder if Samsung should rethink the branding.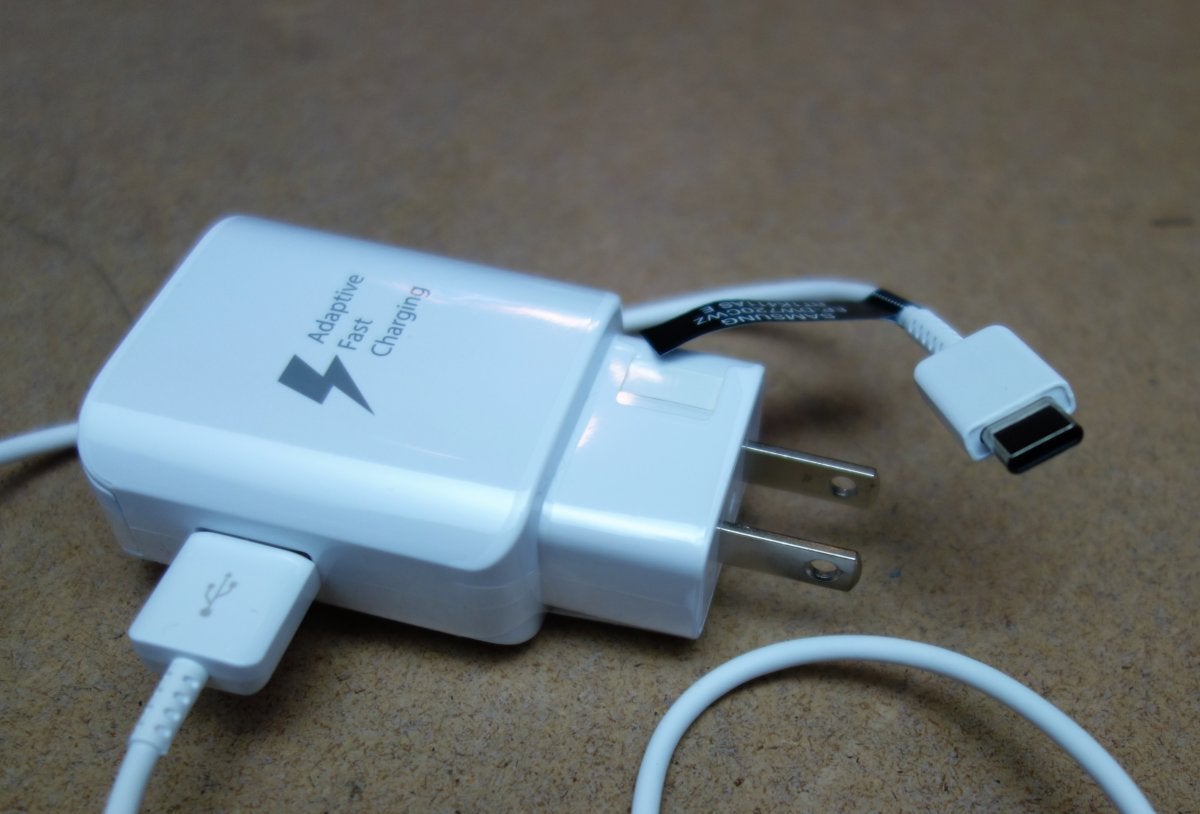 Conclusion: Buy it for the battery
The Samsung Galaxy Book 2 delivers fantastic battery life, marginal performance, a lovely display, and optional LTE. If you're not doing much more with it than office work and web browsing, we see no reason not to buy it. We still encounter some apps that simply won't run on a Snapdragon chip, though, and we're hesitant to recommend anything that may yield a similar experience. Buying a notebook or tablet that can't run the one app you need is a frustrating experience.
Though it never quite crested our Editor's Choice awards, the original Galaxy Book was a solid all-round effort. Samsung's leaned heavily toward battery life this time around, at the expense of performance and slight app compatibility. Don't forget the price, either—$999 isn't bad, which includes the keyboard and pen.
Performance issues left a sour taste in my mouth, as did the refusal to run a couple of apps. But I was reluctant to give back back the Galaxy Book 2, simply because I prize a laptop that allows you to work on the go with without worrying about running out of juice. In short, our recommendation remains essentially the same as the Asus NovaGo: If you can accept the risks and a bit of frustration, and prize battery life above all else—then yes, the Galaxy Book 2 is definitely the tablet for you. If you're unsure, you may as well wait—faster Snapdragon chips are on the horizon.
Best Prices Today: Samsung Galaxy Book 2