At a Glance
Expert's Rating
Pros
Earcups feature cooling gel, still a neat gimmick
Lightweight, durable, and comfortable
Finally Razer builds a control box worth using
Cons
Razer's sound quality is still average at best
Some of the in-line controls are redundant
Cable is way too long for everyday use
Our Verdict
Razer's Kraken Tournament Edition combines a standard 3.5mm headset with a USB control box, giving it THX capabilities and nifty on-the-fly bass EQ. And hey, the earcups are cold now.
Best Prices Today: Razer Kraken Tournament Edition
The last Razer headset we reviewed, the Nari Ultimate, packed one hell of a gimmick: custom-built drivers that respond to bass presence by literally vibrating against your head. Silly? Absolutely. Still, I enjoyed my time with it.
Not every Razer product is built on gimmicks though, and as if to prove the point Razer's also released the Nari Ultimate's polar opposite this fall: another iteration of the no-frills Kraken line, this one dubbed the Razer Kraken Tournament Edition. Is it really tournament-ready? We donned one to find out.
This review is part of our ongoing roundup of the best gaming headsets. Go there for information on other competing products and how we test them.
Set the controls
We last looked at a Kraken model about two years ago, with the Kraken V2 . Visually not much has changed since, which is a bit disappointing. Razer's headsets are bulky, there's no getting around it, and the Kraken is the bulkiest-feeling of all. As I said about the Kraken V2, it gives you that "Princess Leia side-bun look." And because the earcups don't pivot, the headset can seem even bulkier when you remove it.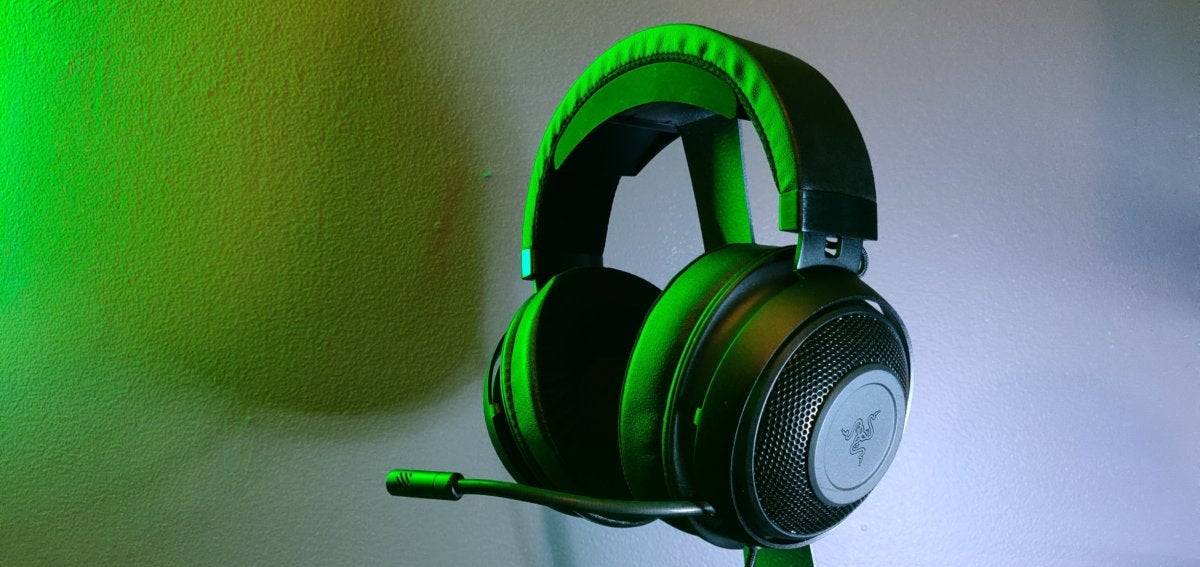 That said, it's well-built and comfortable. The metal headband is thick and sturdy but remarkably lightweight, the leatherette accents are slick-looking, the earcup hinges feel resilient, and there's a solid inch of foam padding on each ear. That contributes to the bulky look, but damn if it isn't comfortable.
The Kraken Tournament Edition isn't completely devoid of gimmicks. Like the Nari Ultimate, the Kraken Tournament Edition includes cooling gel in the earcup padding. For the first 15 or 20 minutes after you put the headset on, it feels nice and cool against your skin. After it warms up it's pretty much just a normal headset, but the effect is pleasant while it lasts. (Those seeking additional cooling power can remove the pads and throw them in the fridge for a bit.)
Cooling gel is the only obvious design change. Otherwise this might as well be the Kraken V2 chassis.
What else has changed? The cabling, of all things. The Kraken Tournament Edition is a bit of a weird hybrid. Both the USB-powered Kraken 7.1 V2 and the 3.5mm Kraken Pro V2 are still on sale. The Kraken Tournament Edition, from what I can tell, combines the two.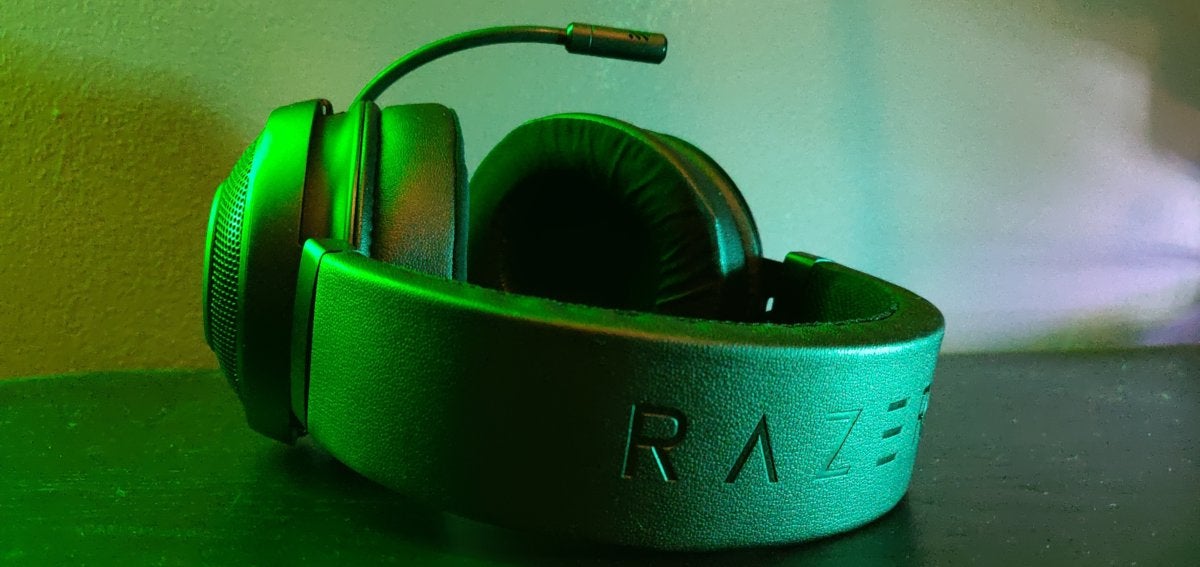 Okay, it's a bit more complicated than that, so let's break it down. The Kraken Tournament Edition is a 3.5mm headset, and can be plugged into any compatible device—your phone (provided it still has a headphone jack), your Xbox controller, your PC, whatever. It even features the same in-line controls as the Kraken Pro V2, a rudimentary box with a mic mute switch and a small volume wheel.
The Kraken Tournament Edition includes a second cable. No mere extension cable, this one begins with a sound card and terminates in a USB connection. Plugging the 3.5mm cable into the sound card gives you access to a bunch of Razer Synapse software add-ons, like noise cancellation and EQ, as well as THX Spatial Audio.
But—and this is where it gets weird—the sound card also includes redundant mic mute and volume controls that function independently of the ones already accessible on the 3.5mm cable. I wouldn't be surprised if Razer wanted to reuse the Kraken Pro V2 hardware with this new control box, but the resulting cabling system feels incredibly overdesigned and messy.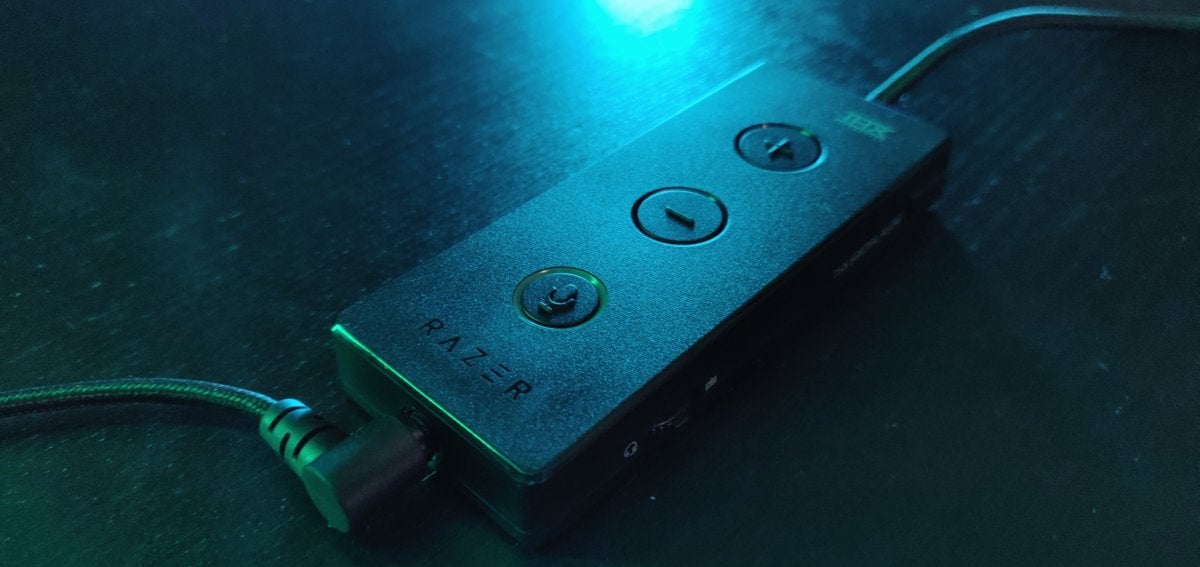 There are a few interesting additions nevertheless. On the left side you'll find a "Bass" toggle. Moving it back and forth lets you EQ the bass frequencies on-the-fly, which is a nice touch—though unfortunately there's no way to tell when you've reached "Flat" again. The right side features two controls, one to enable and disable the aforementioned THX Spatial Audio, and the other a much-appreciated chat mixer.
It's not the most elegant box, but it gets the job done and is certainly an improvement over the Kraken's usual no-frills controls. Worth noting: The sound card/control box also includes glue on the back if you want to attach it to your desk, but then you're really making a commitment to this one headset (and one desk, as well). If you don't, expect the control box to end up on the floor. It's inevitable.
Pump up the bass
The Kraken Tournament Edition sounds similar to the Kraken V2, which shouldn't come as much surprise. It's decent, especially given that new "Bass" toggle I mentioned above. I found the Kraken V2's bass response pretty anemic, but here you can adjust to your preference without even popping open Razer's software. Slick, and it rectifies one of my biggest problems with the previous Kraken.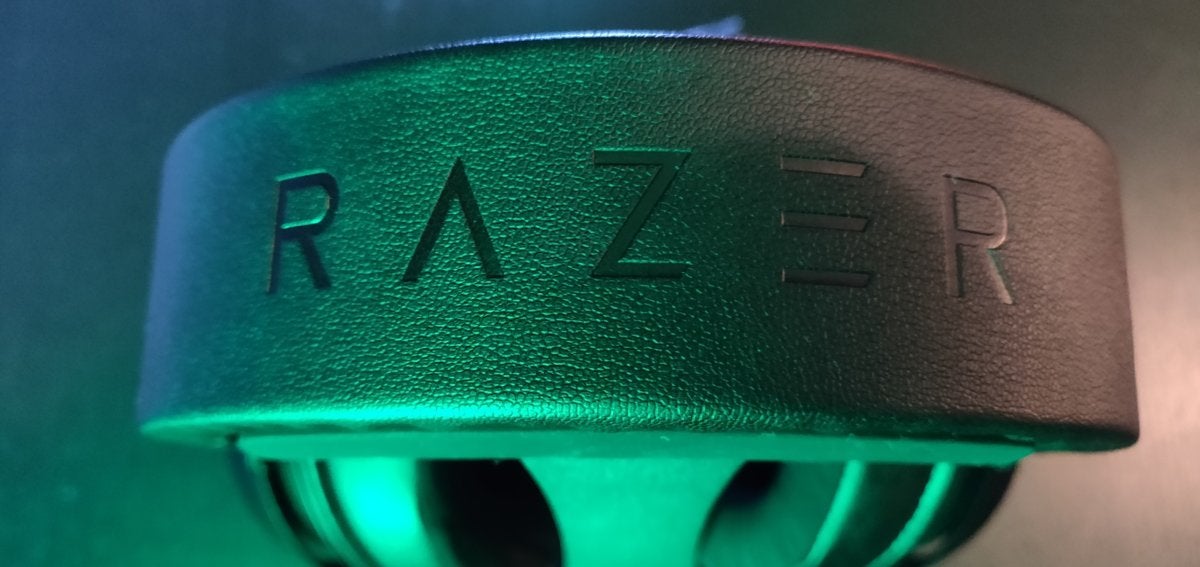 Otherwise it's a pretty standard Razer headset. It does little for music, which is my usual Razer complaint. Complicated mixes tend to feel muffled and lifeless, all the different frequencies piling atop one another and making for a pretty mediocre listening experience. Mids and high frequencies in general could use a bit more breathing room in Razer's headsets. But it's good enough generally for both gaming and music, especially gaming where the mixes are simpler and more to-the-point. The left/right stereo play is solid.
Chat mix works great, and it's nice to see it here because it's such a rarity on Razer's headsets—and on headsets in this $100 range, for that matter. Razer's box isn't as convenient or refined as most of the larger mix-amps out there but, you know, $100. I'll take what I can get.
Razer's also improved a lot on the software side over the years. Synapse is still way heavier on the system than I'd like, but it's at least smartly designed. The Kraken Tournament Edition lets you enable or disable THX Spatial Audio/surround sound on a per-program basis, which I've really appreciated. Sure, you might want it in Battlefield V but you definitely don't want it running while listening to music on Spotify. Synapse lets you easily set up those conditions.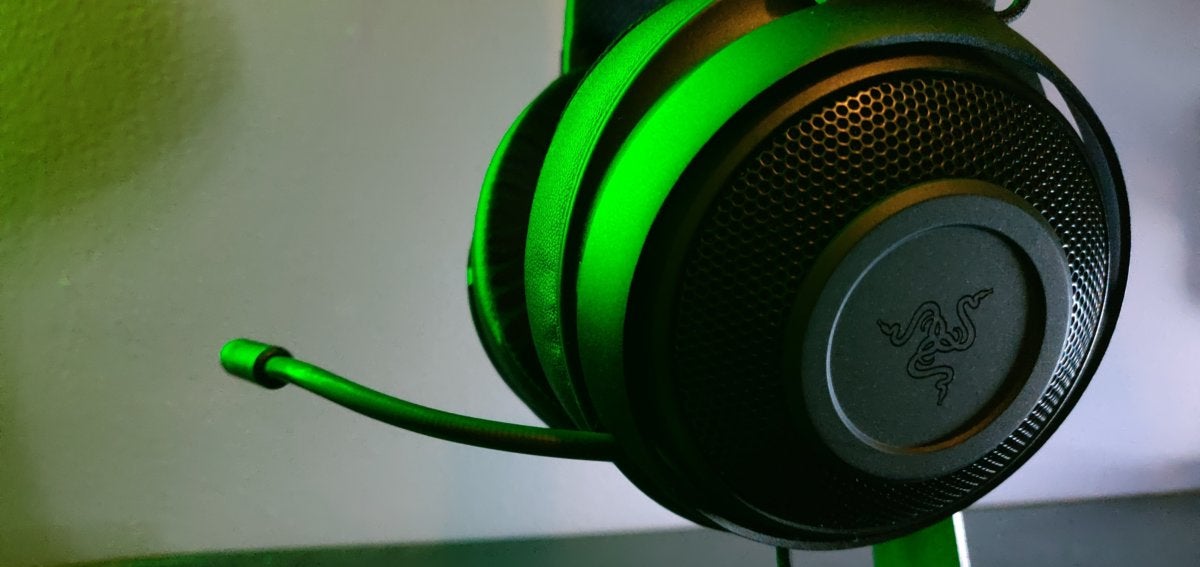 That said, there are a few weird aspects. As I said above, the "Bass" toggle doesn't have any notification when you've reached a flat or unmodified sound—and Synapse is no help. The toggle is acting on its own, not adjusting the EQ level in Synapse, which is a strange way to handle it. Similarly, I find myself annoyed that the Kraken Tournament Edition actually has three volume controls: Windows, the sound card controls, and the smaller in-line box on the 3.5mm cable. It would've been nice for the sound card controls to automatically adjust the volume at the OS level to save at least one step.
Bottom line
The Razer Kraken Tournament Edition is a weird proposition I think, and I'm not sure where it really fits in the lineup. The Kraken Pro V2 is probably a better choice for console gamers, as a cheaper 3.5mm headset without the pricey USB sound card they can't use. But the Kraken 7.1 V2 might still be a better choice than the Tournament Edition for PC users. Why? Mainly because the cabling is less awkward. The Kraken Tournament Edition has better controls (in that it has them, period) and I love that "Bass" toggle, but put together the two cables end up around nine feet long. It's way overkill unless you're going to attach the control box to your desk.
That said, the Kraken Tournament Edition and Kraken 7.1 V2 bear the same $100 price tag so it's down to personal preference. Hopefully the next Kraken redesign is more substantial, but this will do for now.