At a Glance
Expert's Rating
Pros
Pretty solid audio fidelity when plugged in
Standard HyperX comfort
Charges quickly and lasts for 20 hours on the go
Cons
Why would you use it plugged in?
On-headset controls only work in Bluetooth mode
As expensive as buying two discrete devices, one wired and one Bluetooth
Our Verdict
Bridging the gap between wired gaming headset and mobile Bluetooth headset, the HyperX Cloud Mix doesn't quite nail either. But if you fall into both camps, perhaps it's an appealing jack-of-all-trades option.
Best Prices Today: HyperX Cloud Mix
HyperX wants you to wear its Cloud Mix headset (MSRP $200) all the time—not just for gaming. At your desk? Sure. But also on the train, walking to the grocery store, maybe even while snowboarding. Wherever life takes you, thanks to the Cloud Mix's built-in Bluetooth capabilities.
The Cloud Mix is HyperX's attempt to move up the ladder from a gaming brand to a "lifestyle brand." Astro made the pivot early, pitching its high-end gaming headsets as a statement, not a mere accessory. Then Razer swung that direction as well, ushering in some sort of RGB-everything future.
But can every brand make the pivot? HyperX is a brand that seems steeped in gamer culture more than its predecessors—a brand that started with RAM and other arcane PC necessities. Let's see how things shook out.
Note: This review is part of our roundup of best gaming headsets. Go there for details on competing products and how we tested them.
Streetwise
Judging by the Cloud Mix's design, HyperX already thinks it's a lifestyle brand, or at least bordering on one. Let's not dance around the subject: The Cloud Mix looks like any other HyperX headset. The color scheme's a more muted gray-and-black instead of the brand's standard red-and-black, but even this isn't 100 percent new. HyperX used the same gray-and-black on the Cloud II headset, for instance.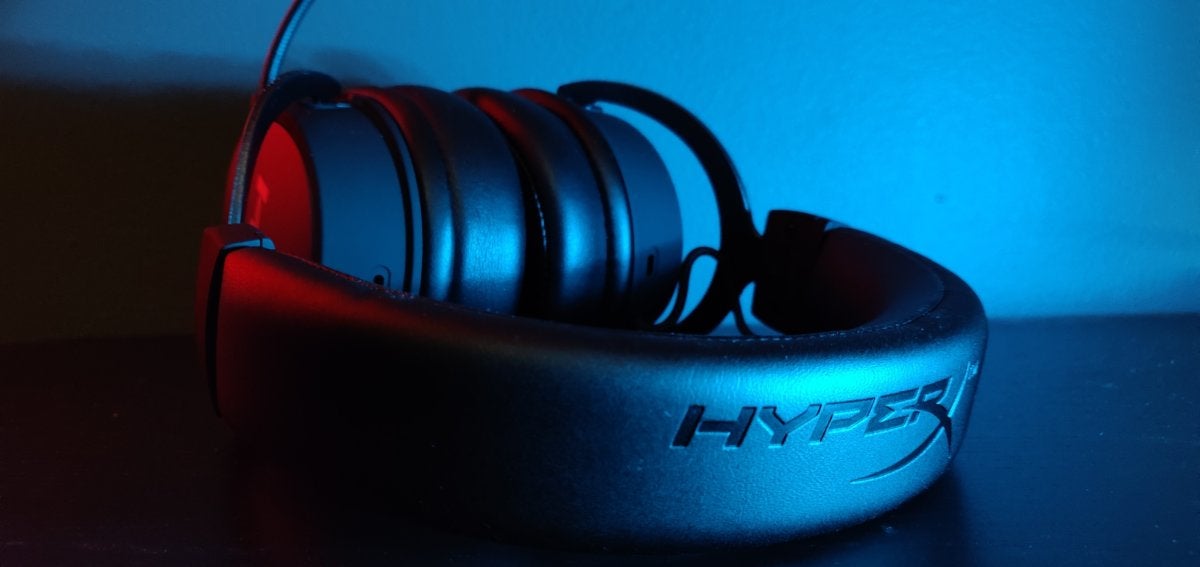 Hell, the Cloud Mix takes after the original Cloud and Cloud II more than the current-gen Cloud Alpha. This isn't exactly a break from tradition, like we saw with Astro's streetwear-oriented A38 headset. The Cloud Mix simply repurposes old and (at least in the desktop space) beloved ideas. The stitching's been toned down a bit, but if I threw a Cloud Mix and a Cloud II into a bin together, I'd have a hard time separating the two. The new headset features the same leatherette-padded headband, the same oval-shaped earcups with enormous HyperX logos emblazoned on both sides.
That's probably the most questionable decision HyperX made with the Cloud Mix. I'm actually a fan of the Cloud design. It's pretty inconspicuous, not overly bulky nor flashy. I firmly believe you could wear it out on the street, same as any pair of Audio-Technicas or Sennheisers.
But the branding? The branding is anything but inconspicuous. The HyperX logo looks like, well, video games. It's edgy and aggressive in a way you don't see from mainstream audio brands like Audio-Technica, Sennheiser, Polk, and so on.
It's not an impossible hurdle—Razer's made inroads with a three-headed snake graphic, which is arguably worse. But HyperX's logo is so big and so prominent. I can't help but wish it were shrunk down or confined to the headband, or maybe rendered black-on-black where it'd be less glaring. Anything that would make me more comfortable about wearing the Cloud Mix on the street.
Branding missteps aside, there's not much to complain about. As I said, it's a HyperX headset. The Cloud Mix is extremely comfortable, as you'd expect from HyperX. I've worn it for hours at a time without issue, though the leatherette earcups might get a bit toasty in the summertime.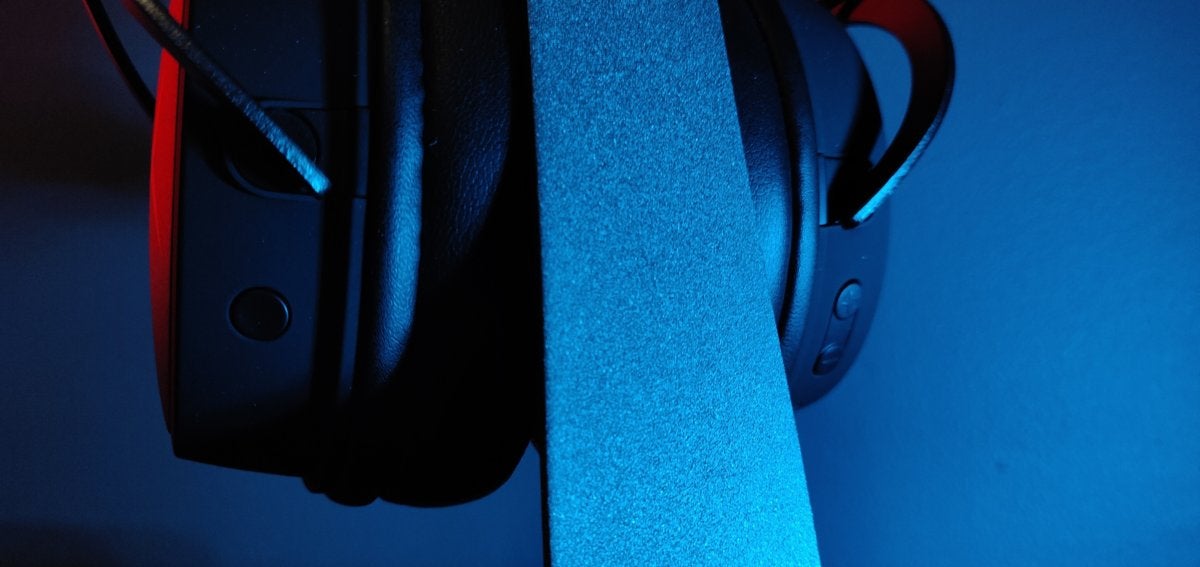 In some ways I like it even more than the Cloud Alpha—or really, in one major way. The Cloud Mix finally rectifies one of my biggest complaints with the brand, by slapping controls onto the headset itself instead of relegating them to a small box on the cable. You'll find volume and power on the right earcup, and a mute button on the left.
Kind of Blue(tooth)
Of course, that's because the Cloud Mix doesn't need cables. There is one, and if you're sitting at a desktop PC all day you might choose to use it. It's a simple 3.5mm cable that plugs into the bottom of the left earcup, same as most HyperX headsets, along with an optional extension cable and dual-terminus mic and headphones splitter. If you're in wired mode, the on-headset controls don't work. Instead you'll need to use old-style inline controls. Why? I don't know, and it's one of the weakest parts of the design.
But if you're shelling out for the Cloud Mix it's probably because of its Bluetooth capabilities. I personally don't use Bluetooth headsets with my desktop. Most DIY desktop PCs don't even have built-in Bluetooth. But maybe you want one device you can carry between your desktop, laptop, and phone with minimal hassle—especially if your phone lacks a headphone jack.
The Cloud Mix is a pretty good jack-of-all-trades in that regard. Plugged in, the headset runs sans battery power, as you'd expect; but HyperX claims around 20 hours of battery life on a single charge when you go Bluetooth. That should get you through a day or two of heavy use, at least. (There's a MicroUSB port on the right ear for charging. I wish it were USB-C, but MicroUSB is still pretty standard for peripherals, unfortunately.)
There's also a smart trick with the microphone. The Cloud Mix ships with the same detachable boom mic as HyperX's other headsets, which is great for desk use. On-the-go it'd look a bit conspicuous though, so the headset also packs a built-in microphone. Audio reproduction and noise cancellation are obviously quite a bit worse, but at least you won't look like an air traffic controller in public.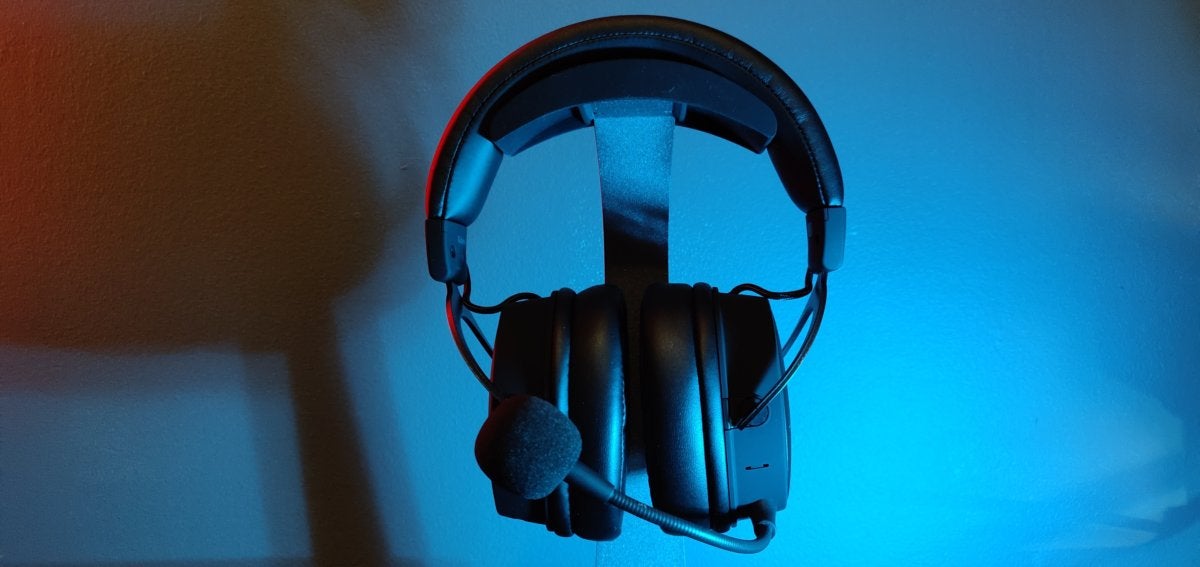 Here's where it gets complicated: Sound quality.
Mentioned in this article
HyperX Cloud Alpha
Price When Reviewed:
$99.99
The Cloud Mix features the same dual-chamber design as 2017's HyperX Cloud Alpha, and I love the Cloud Alpha. The dual-chamber tech ostensibly separates low frequencies from the mids and highs, giving you a more even sound, but it's mostly marketing speak. As I said last year: "I have headphones that sound as good or better than the Cloud Alphas and do it without dual-chamber driver wizardry."
I followed that up with this, though: "What matters here regardless is the Cloud Alpha sounds great. HyperX can chalk it up to dual chambers if it wants—the end result is an excellent gaming headset, especially for $100."
I could say the same about the Cloud Mix. It sounds pretty damn good, especially wired. There, you're getting pretty much the same output as the Cloud Alpha—wide soundstage, moderately bass-boosted, a bit of a weak treble but hardly noticeable. It's also, as HyperX is quick to point out, Hi-Res certified, meaning you can fully appreciate your 24-bit/96KHz lossless music collection on the Cloud Mix.
You've got one of those collections, right?
Yeah, me neither. Most people don't, and most streaming services don't support Hi-Res audio yet. As I wrote when reviewing the Hi-Res certified Roccat Khan Aimo, your average listener can't even distinguish between good and bad audio, let alone two extremely granular levels of good audio.
What's more, the Cloud Mix is only Hi-Res certified when wired in. Bluetooth audio quality is miles behind analog still, and most people are going to use the Cloud Mix in Bluetooth mode. Otherwise you might as well save $100 and buy the Cloud Alpha.
So why even include the Hi-Res? I assume because it's one more bullet point to add to the Cloud Mix's feature set. But I've also noticed Hi-Res certified headsets tend to cost a ton more, and for what? A label most people can't appreciate and, in this case, won't even use? Bizarre.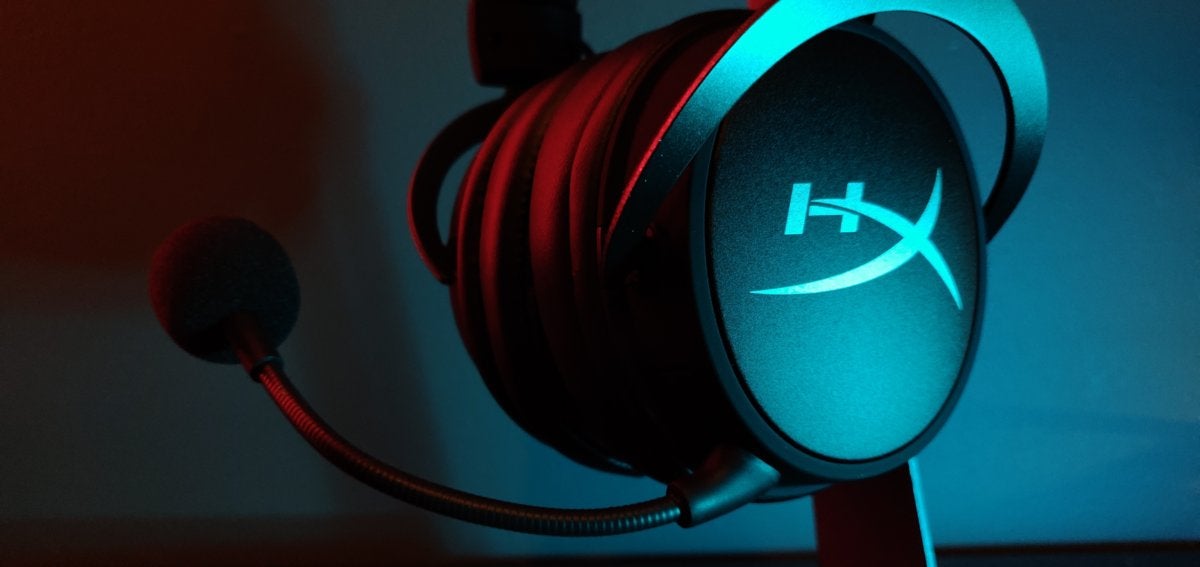 Anyway, the Cloud Mix sounds pretty good in Bluetooth mode as well. Music's not quite as vibrant and the bass gets less punchy, but HyperX's wide soundstage is still in evidence and the fidelity is as good as any other mid-tier Bluetooth headset I've used.
The main issue is that the Cloud Mix costs $200. See what I wrote above? "The end result is an excellent gaming headset, especially for $100." That's in reference to the Cloud Alpha. At twice the price, the Cloud Mix isn't nearly as compelling. There are great wireless headsets in this price range, and even better wired headsets. HyperX's sweet spot has always been premium-feeling hardware at an entry-level or near-entry-level price. The Cloud Mix is premium-feeling hardware for an actual premium price, and it doesn't fare as well.
And the dual wired/wireless design is frustrating, in my opinion. Other Bluetooth headsets I've used have been wireless to desktop, then Bluetooth as an additional value-add. The SteelSeries Arctis Pro Wireless is one example. It makes sense! Keep it convenient, wherever you're at!
How do I rate the Cloud Mix though? As a $200 wired headset with Hi-Res capabilities? As a Bluetooth headset with decent sound? Some mix of the two?
Personally I've found that I never use the Cloud Mix at my desktop because I'm simply not going to use it in wired mode. That's how it's shaken out, and the score reflects that reality. I would've rather seen HyperX rework its wireless Cloud Flight headset with additional Bluetooth capabilities, even if it were slightly more costly. At least then both modes would feel of a piece with each other.
Bottom line
The HyperX Cloud Mix is a weird experiment, and one I don't think is entirely successful. It's expensive, the logo is obnoxious, and splitting the difference between wired gaming headset and mobile Bluetooth means HyperX doesn't really nail either market. I'm not even sure there's good reason to hit both those niches at once instead of selling two discrete devices.
That said, I'm curious to see where HyperX goes from here. Four or five years ago, HyperX was the underdog. Now it's a gaming mainstay, and for good reason. HyperX makes great hardware. The Cloud Mix just needs more iterations and a bit more focus—and seriously, a more street-friendly logo.
Best Prices Today: HyperX Cloud Mix