Qualcomm's efforts to put its Snapdragon chips into PCs have historically run into one major obstacle: The performance simply isn't competitive with that of chips from Intel and AMD. Now Qualcomm is trying again, with what it's calling an "extreme" version of the Snapdragon: the Snapdragon 8cx.
Qualcomm's promising that the 8cx will offer the equivalent performance of the competition's 15-watt processor offerings—though it's not saying which one. (Intel's U-series Core chips consume 15 watts.) At the same time, Qualcomm is promising more of its traditional strength: an incredible 25 hours of battery life, plus support for niceties like LPDDR4X memory, NVMe SSDs, USB 3.1, and four PCI Express lanes. There's Qualcomm QuickCharge, too.
Executives said that the company has already designed the Snapdragon 835 and 845 for PCs and isn't abandoning the old design. The 8cx has been on the roadmap for some time, however, and is a separate effort, designed from the ground up for PCs.
Like the Snapdragon 855, the 8cx is built on a 7nm process. That's certainly an advantage AMD and Intel can't offer.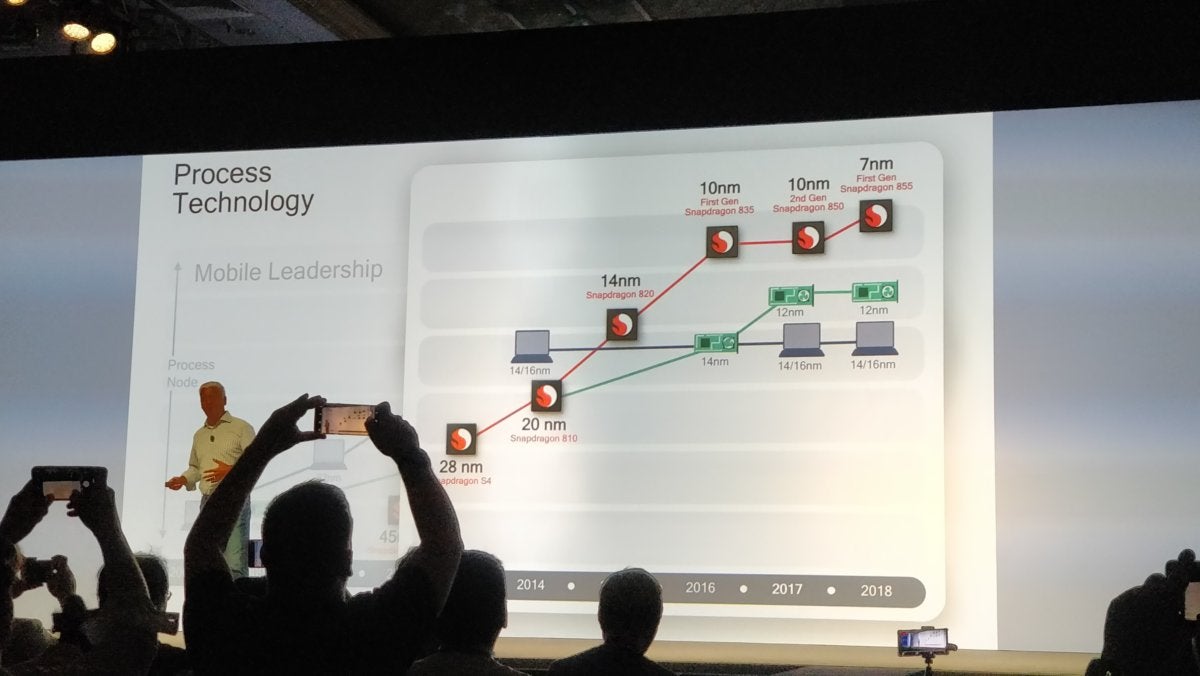 Snapdragons, fast and furious
Qualcomm executives freely admit that they've had to build an ecosystem from essentially nothing, fixing things and educating consumers on what an Always Connected PC means. After shipping the Snapdragon 835 into PCs like the Asus NovaGo in April 2018, Qualcomm followed up with the Snapdragon 850 in the Galaxy Book 2 in October. Major carriers like Verizon are now selling the Galaxy Book 2 in their stores, and another Snapdragon 850 PC, the Yoga C630, is selling in Best Buy.
Now it's December, and there's another Snapdragon for PCs, the 8cx. While the 8cx is many months away—expected to ship in devices during the third quarter of 2019—Qualcomm is essentially releasing three separate Snapdragon chips for PCs in about a year's time. The 8cx will coexist alongside the Snapdragon 850 as a new, premium tier, senior director of products management Miguel Nunes said Thursday.
Apparently, the chips will just keep coming. "These super Snapdragons are going to keep rolling out stronger and stronger—relentlessly," Alex Katouzian, senior vice president and general manager of Qualcomm Technologies, said.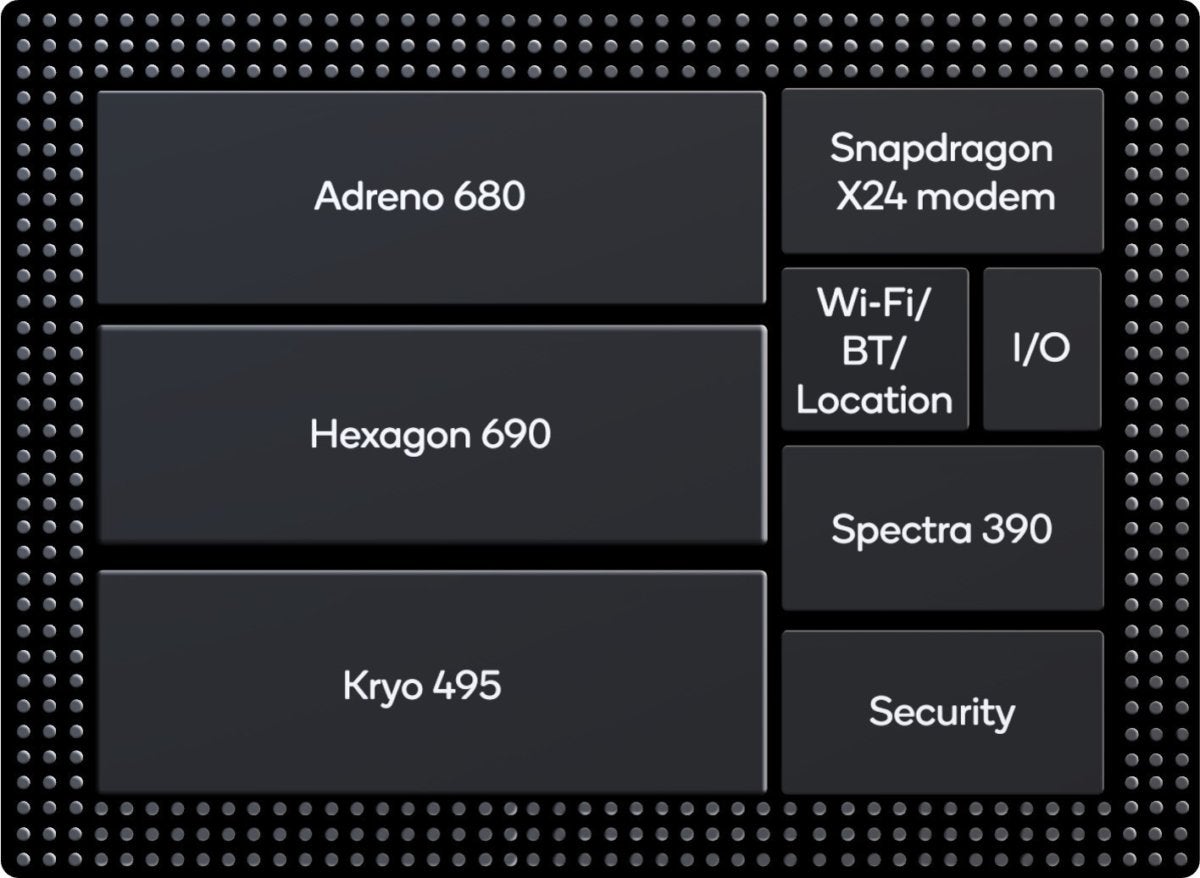 Ready to take on Intel's Core, yet again
The meat of the new Snapdragon 8cx is in the CPU and the GPU—the Kryo 495 and the Adreno 680, respectively.
Qualcomm claims the Kryo 495 is its most powerful Kryo ever, even more powerful than the Kryo 485 CPU used in the Snapdragon 855 Qualcomm launched on Wednesday. (It's based on the ARM A76 and A53 cores, executives said in advance of the Maui summit.) Executives also told PCWorld that the Kryo 495 was "at least" 2.5 times as powerful as the version of the Kryo in the Snapdragon 850—on paper, that would put it on roughly on a par with an Intel Core i7-8550U, based on PCWorld's scores for the Snapdragon 850 used in the Galaxy Book 2.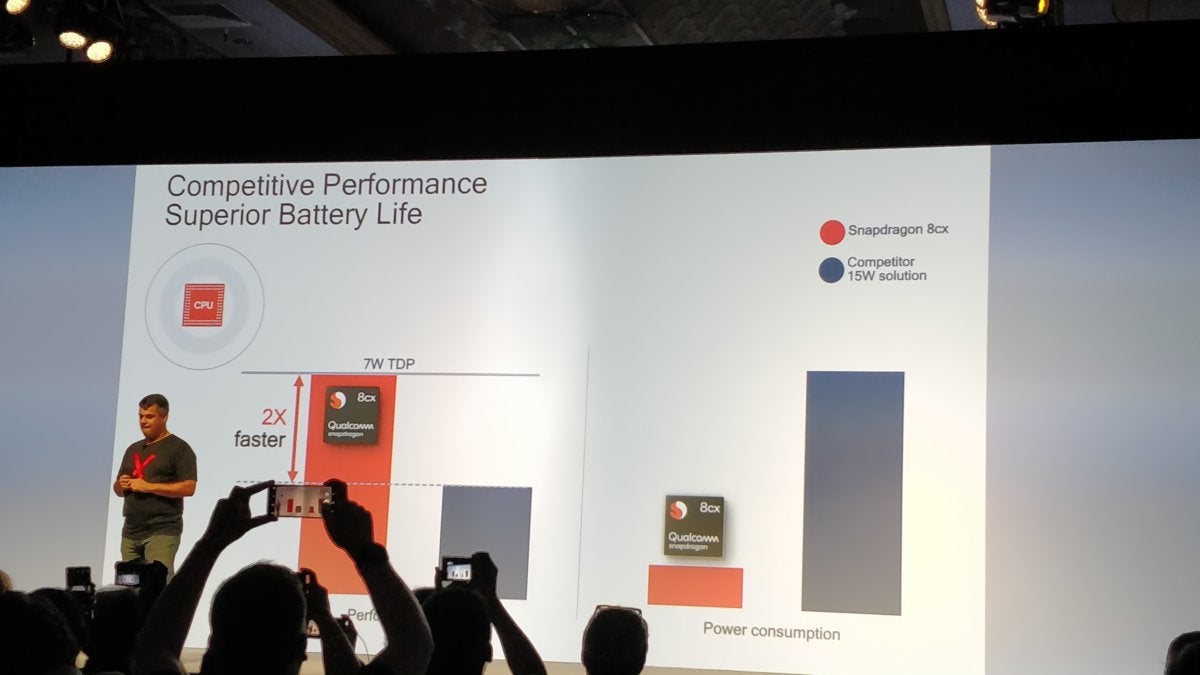 Interestingly, the Kryo 495 used by the 8cx doesn't include a "prime core" for single-threaded burst applications. Instead, it uses the same mix of four "performance" cores and four "efficiency" cores that other ARM-based Snapdragon chips use. There's also a total of 10MB of cache spread out over the system, including level-3 cache.
That may be because Qualcomm feels that the majority of tasks a PC runs don't require a high-performance CPU. In one example, executives said that transferring several hundred megabytes up into Microsoft's OneDrive could be handled by the "efficiency" cores—something other PC architectures lacked.
Qualcomm executives dubbed the Adreno 680 "a mega monster," though that's a pretty aggressive phrase to use in a world that already boasts GPUs that can handle ray tracing. Executives called the new Adreno twice as fast as the Snapdragon 850, and three times as fast as the Snapdragon 835. It will support DirectX 12. (Assuming that's true, that would put any Snapdragon PC on a par with the UHD 620 used by the Microsoft Surface Pro 6.)
The chip takes some of the "Cinema Core" functionality of the Snapdragon 855, offloading dedicated H.265 video decoding to save even more power. Qualcomm also leveraged some of the Hexagon DSP from its Snapdragon smartphone chips and their aptX audio. Running a digital assistant like Cortana requires less than a milliamp, executives said.
Qualcomm included features like USB 3.1 and four PCI Express lanes to attract PC makers. Snapdragon 8cx systems will be able to connect to a pair of 4K HDR monitors. LPDDR4X memory (8 channel, 2133 MHz) is also supported, executives said, as are NVMe SSDs. Unfortunately, the 8cx uses an older Spectra 390 camera processor, though with support for 4K video capture at 30Hz.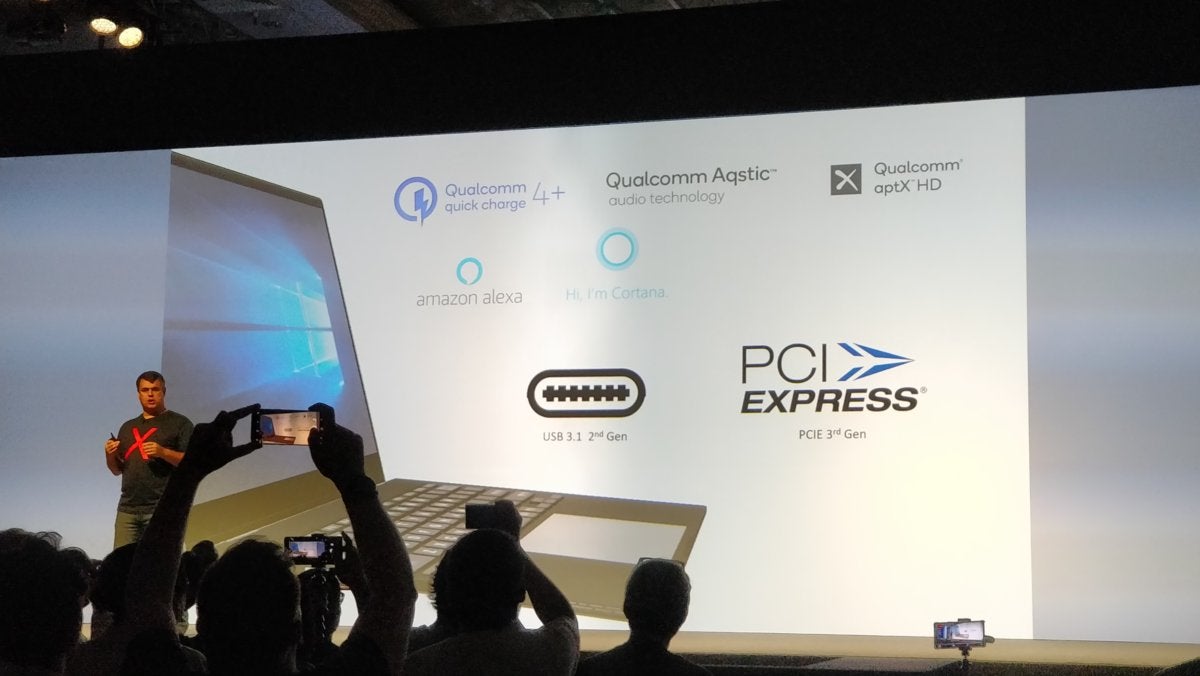 Qualcomm built in connectivity as well, of course. The 8cx includes Qualcomm's integrated X24 modem for enabling Always Connected PCs (ACPCs). It will add 5G capabilities later.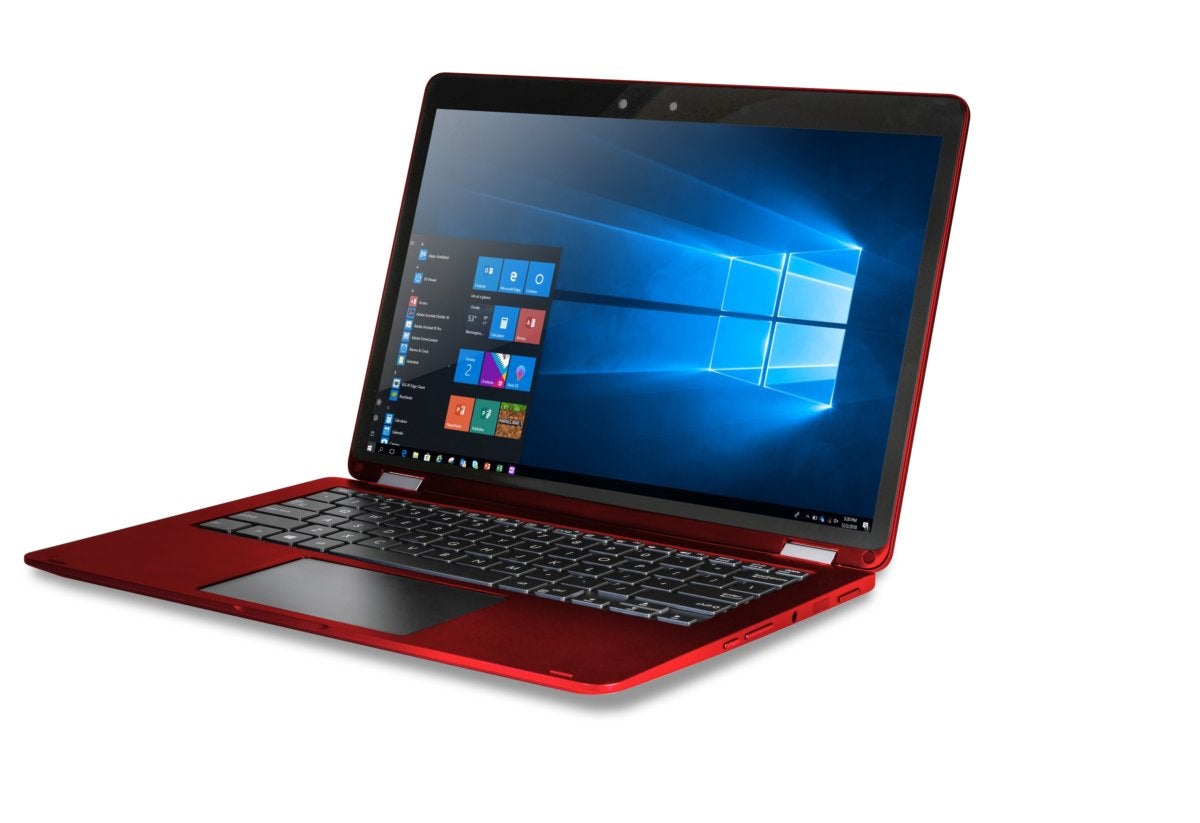 Is app compatibility finally not an issue?
Qualcomm executives also believe that their momentum is paying off with app developers. In May, Microsoft released an SDK for coding 64-bit ARM apps, which can then be ported to the Microsoft Store. Qualcomm also released an LLVM compiler and has begun working with enterprises to port their apps.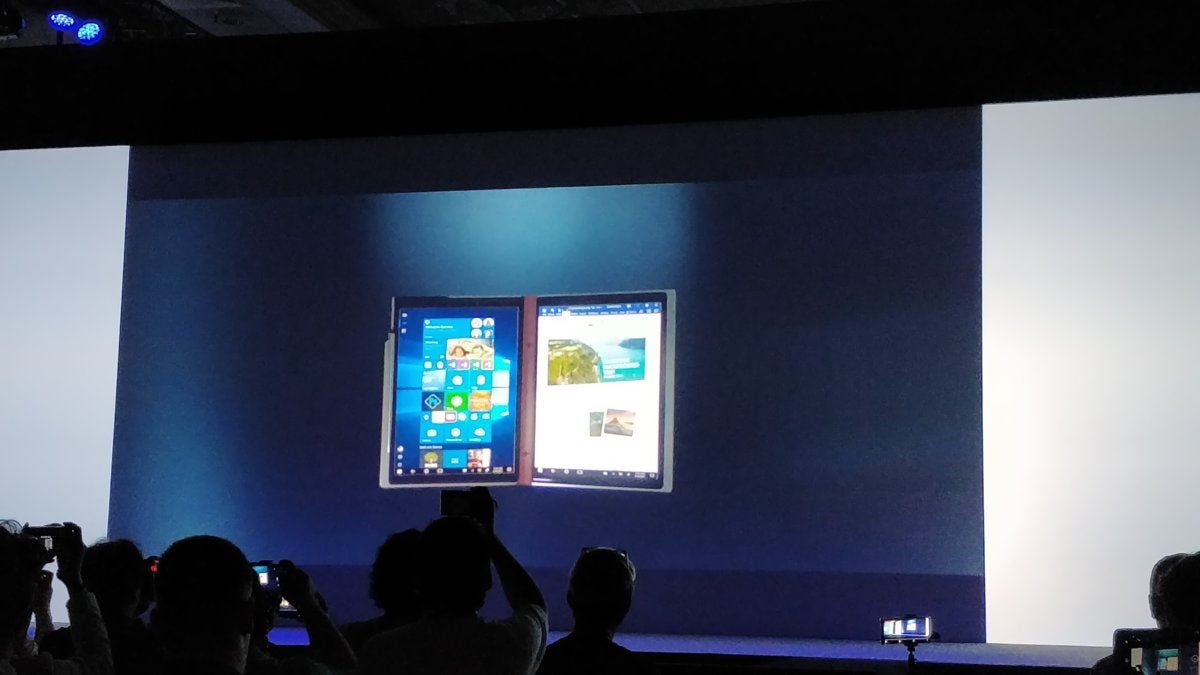 Qualcomm's Nunes said Qualcomm's data show that any returns of Snapdragon-powered PCs aren't being made because of app compatibility, and whether an app is 32-bit or 64-bit compliant simply isn't in a consumer's mind. "For most people, [an app] just works," he said.
A key element of "app compatibility" is the browser. Whether it be Edge, Google Chrome, Firefox, Opera, or others, a browser is an app many consumers live in constantly. The first Snapdragon 835 PCs used Windows 10 in S mode, which restricted users to the Edge browser, shutting out other competitors such as the popular Chrome.
Now, Qualcomm is working with the open-source portion of Google Chrome, Chromium, to construct its own Chrome-like browser, Nunes said. An ARM64 version of Firefox is also in the works. Eventually, Qualcomm hopes that Google will port Google Chrome.
Analysts were impressed. "What Qualcomm announced today is big," Pat Moorhead, principal at Moor Insights, said. "A very small percentage of notebooks are mobile. Qualcomm is removing nearly all objections of a connected PC. Speeds are higher, overall compute performance is now at the levels of a standard laptop and get a true multi day battery life."
The one thing the 8cx doesn't have yet is customers. A Lenovo representative appeared onstage at the event, but left without committing to an 8cx product. Qualcomm's Nunes said later that there will be "lots of new customers" for both the 8cx and 850 in 2019. While not formally commenting on whether Lenovo plans a device around the chip, Nunes did say that Lenovo would want its own forum to make such an announcement.
What it all boils down to, though, is one simple word: performance. Running most common apps acceptably is table stakes for PC use. If Qualcomm can deliver, then it's very possible that Snapdragon can make inroads in the PC market. If not, then we'll all be waiting for another generation.
Updated at 12:50 PM Hawaii time with some additional details about Lenovo.
Note: Because Qualcomm would provide certain information only via an in-person briefing in Hawaii, with no alternative venue in the continental United States or by virtual means, we accepted the company's offer to pay for my flight and hotel in order to get the story.