So how fast is 5G, anyway? About as fast as a premium-tier cable modem, according to a live test performed by Qualcomm, Motorola, and Verizon on Tuesday.
All three companies showed off the technology at the Snapdragon Technology Summit in Maui, demoing a prototype 5G device on a prototype 5G network. (The entire first day of the summit was devoted to 5G.) According to the test, the modem transferred a gigabyte's worth of data in 17 seconds. That's 0.0588 GBps, or about 470 Mbps. That's pretty damn fast.
Want to see it for yourself? Watch the demo below.
Unfortunately, you have to take this demo with a fairly large grain of salt. And you have to ask some important questions: Who owns the network? What device are you using for downloads? How far is that device from the network antenna? Is there network congestion? All of these factors will affect wireless speeds. While the International Telecommunications Union draft spec calls for 5G to deliver a whopping 20Gbps download speed, such bandwidth will be shared with thousands to millions of devices, all connecting and disconnecting, and that affects performance.
Sharp-eyed viewers will notice that the 1GB file in the demo downloaded in 34 seconds in a subsequent test, as the image at the top of this article indicates. Interestingly, that's much more in line with what network provider Ericsson told The Verge was the actual speed of the backhaul network—about 140 Mbps. It seems that the company used some compression hanky-panky to game the results, though the network was functional.
In fact, once we were able to find a second Moto Z3 and run a speed test on it, we recorded far lower throughput, as the photo below shows. Verizon executives manning the demo booth told us they were showing off the technology merely to prove that it works.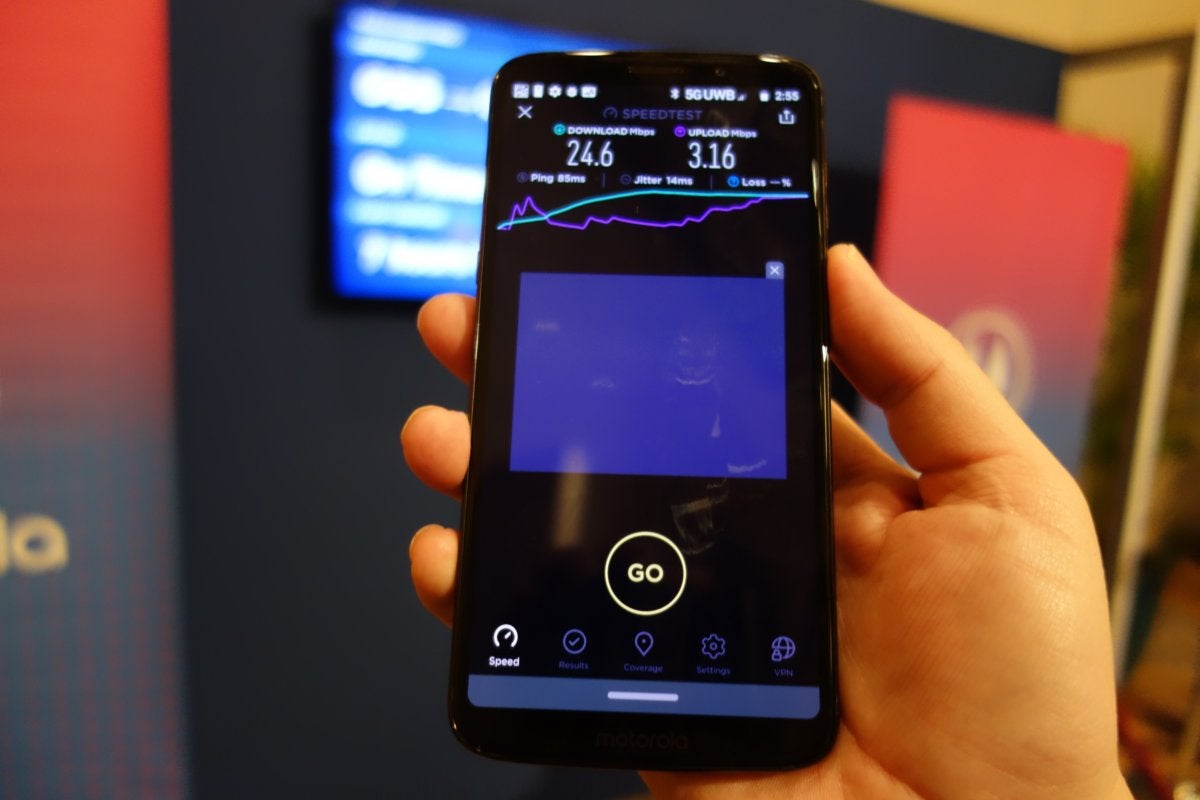 The network in the demo used back-end equipment from Ericsson, and tapped into Verizon's network, which we can assume was tuned for the experience. But the phone itself was interesting: a Moto Z3 with a dedicated 5G MotoMod that snapped into the back of the handset.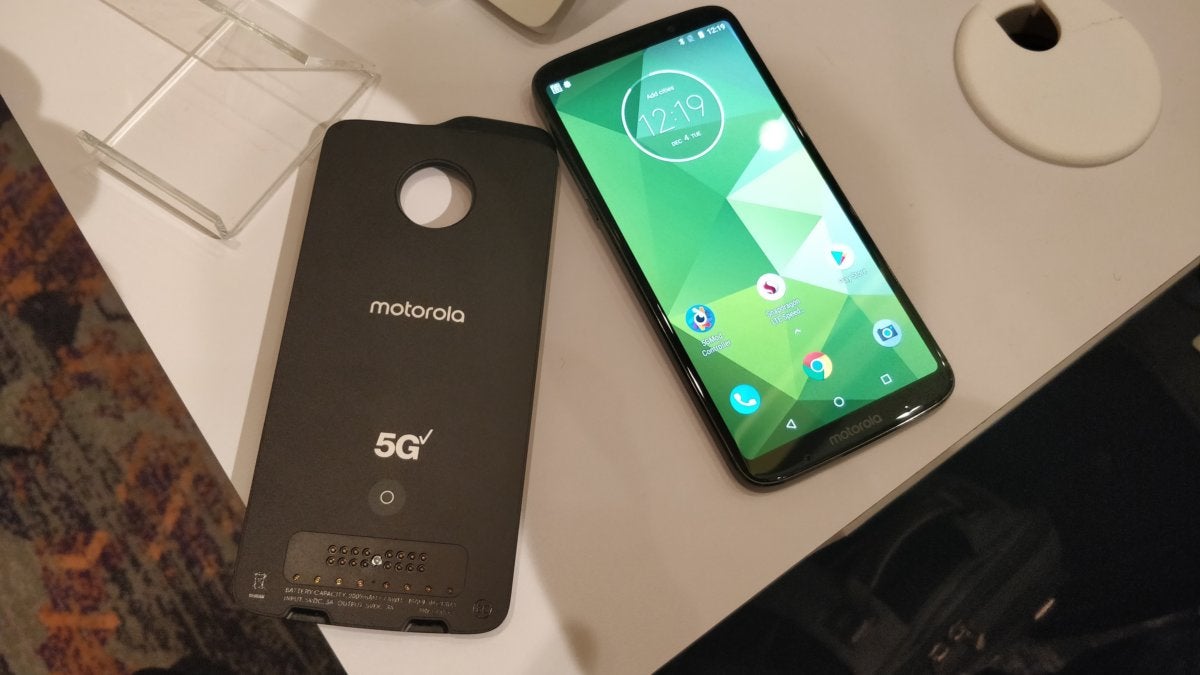 While we criticized the 5G MotoMod as gimmicky, it's the underlying technology that made this 5G experience work. And, yes, it's kind of crazy—inside the MotoMod (not the phone!) there's a Snapdragon 855, Qualcomm's dedicated X50 modem chip, and a 2,000 milliamp-hour battery. It contains 10 separate antennas inside, and is optimized for the high-speed millimeter wave portion of the 5G spec. Executives said they didn't plan to update the MotoMod with sub-6GHz technology, as that portion of the spectrum is designed for slower speeds and a broader coverage area.
The 5G MotoMod will all ship in early 2019, though Motorola isn't saying exactly when or for how much.
Carolina Milanesi, a consumer technology analyst for Creative Strategies, thinks that worrying about 5G's actual speed is a red herring. Instead, she said, 5G will do for the phone what the home gateway did for the home—connect all of your devices, as well as provide a speed bump. "But consumers aren't thinking of it that way yet," she said. "They don't have an existing frame of reference."
We now know that 5G will roll out slowly, though handset manufacturers and Verizon are trying to buck the trend and push it out faster. So will you get crazy-fast 58.8 Mbps downloads when 5G finally arrives? Probably not—though you'll hopefully get a sizable speed boost nonetheless.
Updated on Dec. 10 to indicate the confusion about the network speeds.
Note: Because Qualcomm would provide certain information only via an in-person briefing in Hawaii, with no alternative venue in the continental United States or by virtual means, we accepted the company's offer to pay for my flight and hotel in order to get this story and others from the Snapdragon Technology Summit. This story was updated at 8:37 PM Hawaii time to clarify a few details.