At a Glance
Expert's Rating
Pros
Slimmer, lighter design
Waterproof
Bluetooth audio connectivity for Audible connect
Crisp, bright display
8GB or 32GB of storage
Reasonably priced for what you get
Virtually unlimited reading and listening options via Kindle Store and Audible
Cons
Front lighting could be better
Page turning can be unreliable when display is wet
Lacks page-turn buttons
Best Prices Today: All-new Kindle Paperwhite, Ad-Supported
Amazon's All-new Kindle Paperwhite comes along just in time. While we've loved prior versions, the e-reader hasn't changed much since its debut in 2012, aside from incremental upgrades such as better front-lighting, additional storage and a few software tweaks. Its most recent version, from 2015, was losing ground to similarly priced competitors such as the Kobo Clara HD.
With the All-new Kindle Paperwhite, Amazon's not only managed to catch up to the competition, it's lapped them. The new e-reader's premium features, reasonable price, and wide variety of content make it the best e-reader for most people.
Note: This review is part of our roundups of the best e-readers. and the best Kindles. Check out those stories for details about competing products and how we tested them.
All-new Kindle Paperwhite specs, features, price
The All-new Kindle Paperwhite lives up to its name with a raft of innovations. Before we dive into the review experience, here are the main details. The version of the All-new Kindle Paperwhite we reviewed was the ad-free 32GB model with LTE.
Storage: 8GB or 32GB (a $20 option)
Display: 6-inch Paperwhite with E Ink Carta and five white LEDs, 300ppi,16-level grayscale.
Dimensions: 6.6 x 4.6 x 0.3 inches
Weight: 6.4 to 6.8 ounces, depending on features
Connectivity: All models come with Bluetooth and Wi-Fi. The 32GB models offer Wi-Fi plus free LTE (a $52.50 option).
Battery life: Up to 6 weeks on a single charge
Special Offers: Save about $15 if you submit to ads, or pay about $15 if you don't.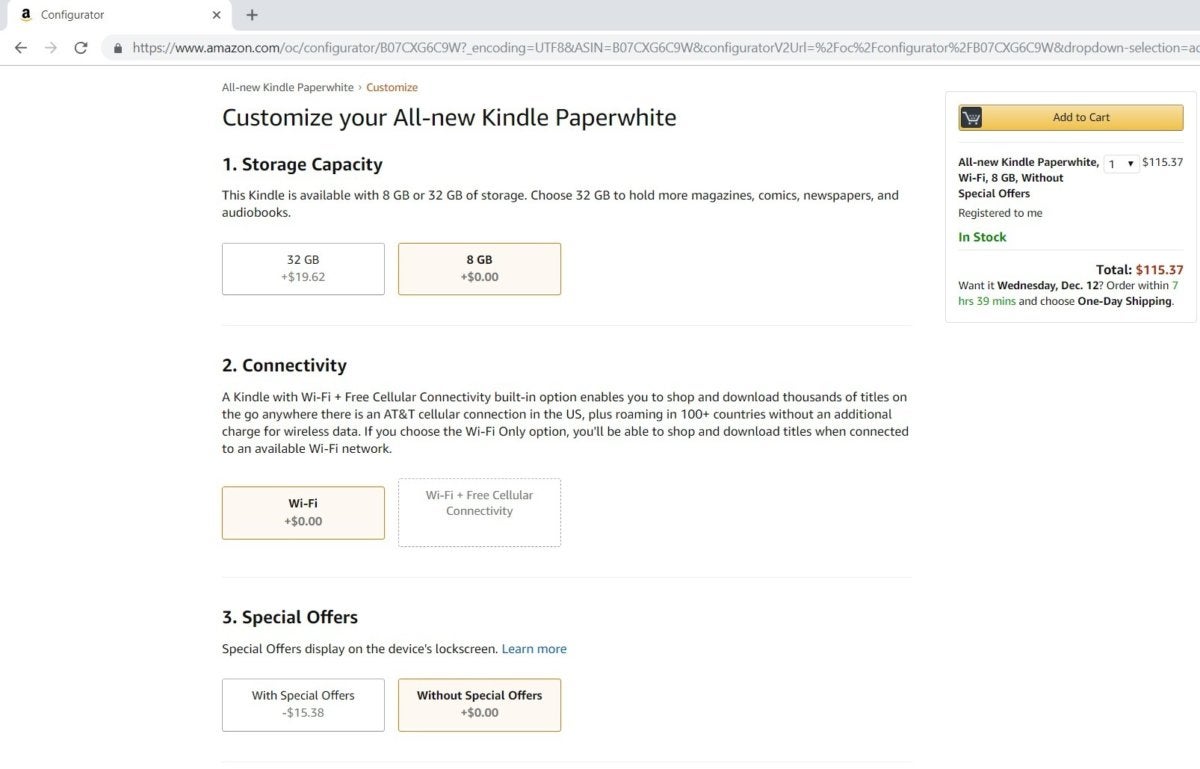 All-new Kindle Paperwhite prices via Amazon vary depending on storage amount, connectivity choices, and whether you choose the Special Offers discount. All these options are available in the Customizer screen that appears after you add the device to your shopping cart.
Currently the least-expensive model is the 8GB version with Wi-Fi and the Special Offers discount, for $100. The fully tricked-out All-New Kindle Paperwhite we reviewed, with 32GB, Wi-Fi plus LTE, and no Special Offers discount, currently costs $187.49. Go to the All-New Kindle Paperwhite product page on Amazon to see other configurations and prices.
Design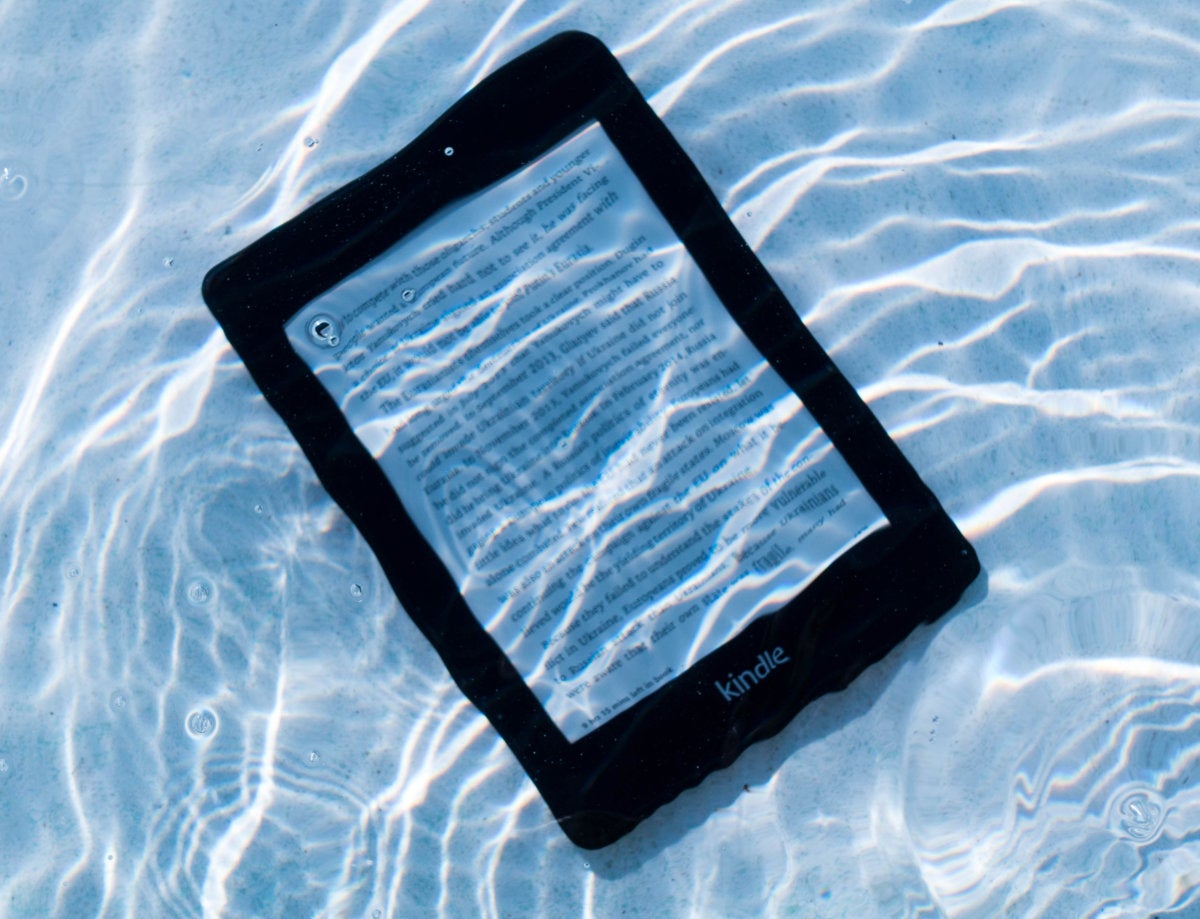 The All-new Kindle Paperwhite is noticeably lighter than its predecessor (at 6.4 to 6.8 ounces) and just a hair slimmer. The reductions make the Paperwhite more comfortable to hold during marathon-long reading sessions.
Here's the bad news: Any of the cases you may have bought for your old Paperwhite won't fit the new model. Amazon sells its own cases for the All-new Paperwhite, starting with a basic water-resistant fabric cover for $30Remove non-product link (multiple colors available), a midpriced leather cover for $40Remove non-product link, or a premium leather cover for $60Remove non-product link. When paired with Amazon's $60 premium leather case, the all-new Kindle Paperwhite wakes from hibernation or goes to sleep whenever the case's cover is opened or closed, respectively. Third-party cases such as the Infiland Kindle Paperwhite 2018 CaseRemove non-product link (available on Amazon) start well below $10.
The Paperwhite's Closest Competition
Kobo Clara HD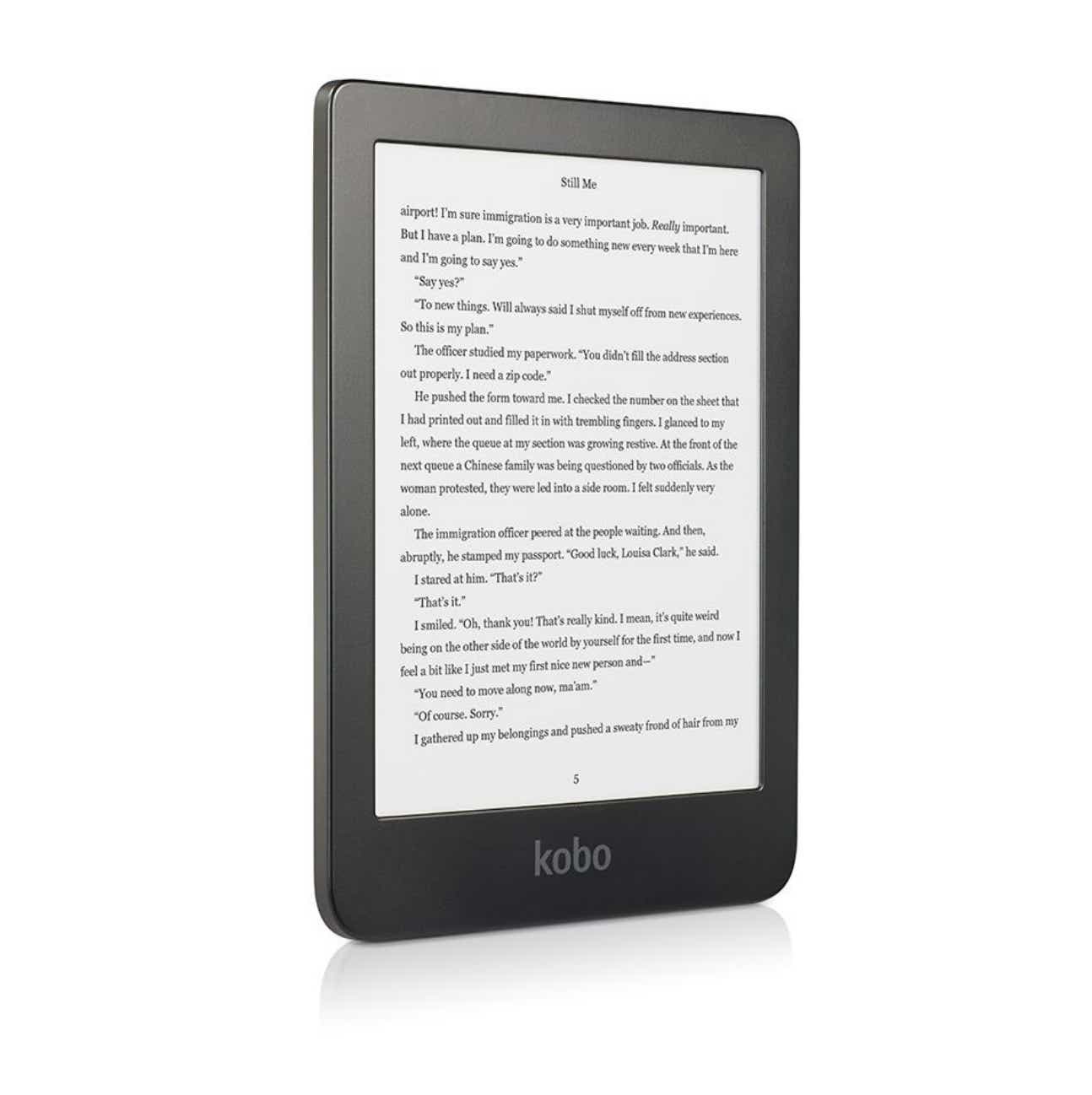 One of the frustrating things about the Kindle Paperwhite's previous design was its recessed display. It made swiping difficult at times and was almost guaranteed to trap sand, crumbs and other debris along the seam between the bezel and touchscreen. The All-new Kindle Paperwhite still has bezels, but they're flush with its display. This new design gives the device a sleek, premium aesthetic and significantly improves the user experience. Swiping across its touchscreen is easier than it was with previous generations of the device.
As with the last-generation Paperwhite, the 2018 model comes sporting a 6-inch HD E Carta E Ink display with a pixel density of 300ppi. That's geek-speak for "text on the display is crisp and looks great."
To make reading easy on your eyes no matter how bright or dim the lights where you're reading may be, the all-new Kindle Paperwhite is front-lit by five white LEDs. I found its front lighting was more or less consistent from edge to edge of the display. However, it's no match for the exceptional quality of lighting you get with the 12 white LEDs on the pricier 2017 Kindle Oasis. Unlike the Kindle Oasis or the now-discontinued Kindle Voyage, the All-new Kindle Paperwhite lacks an ambient light sensor—so you'll have to tweak its illumination level yourself.
The All-new Kindle Paperwhite is waterproof—a first for the Paperwhite line. With its IPX8 rating, it can survive in two meters of water for up to an hour at a time. This means that, for the first time, it's possible to take your All-new Kindle Paperwhite to the beach, into the bathtub, or poolside with a light heart. That said, using the device while it's wet is less than ideal. As with the 2017 Kindle Oasis, the All-new Kindle Paperwhite's operating system makes it possible to turn off touch input, lest its touchscreen mistake a splash of water for user input.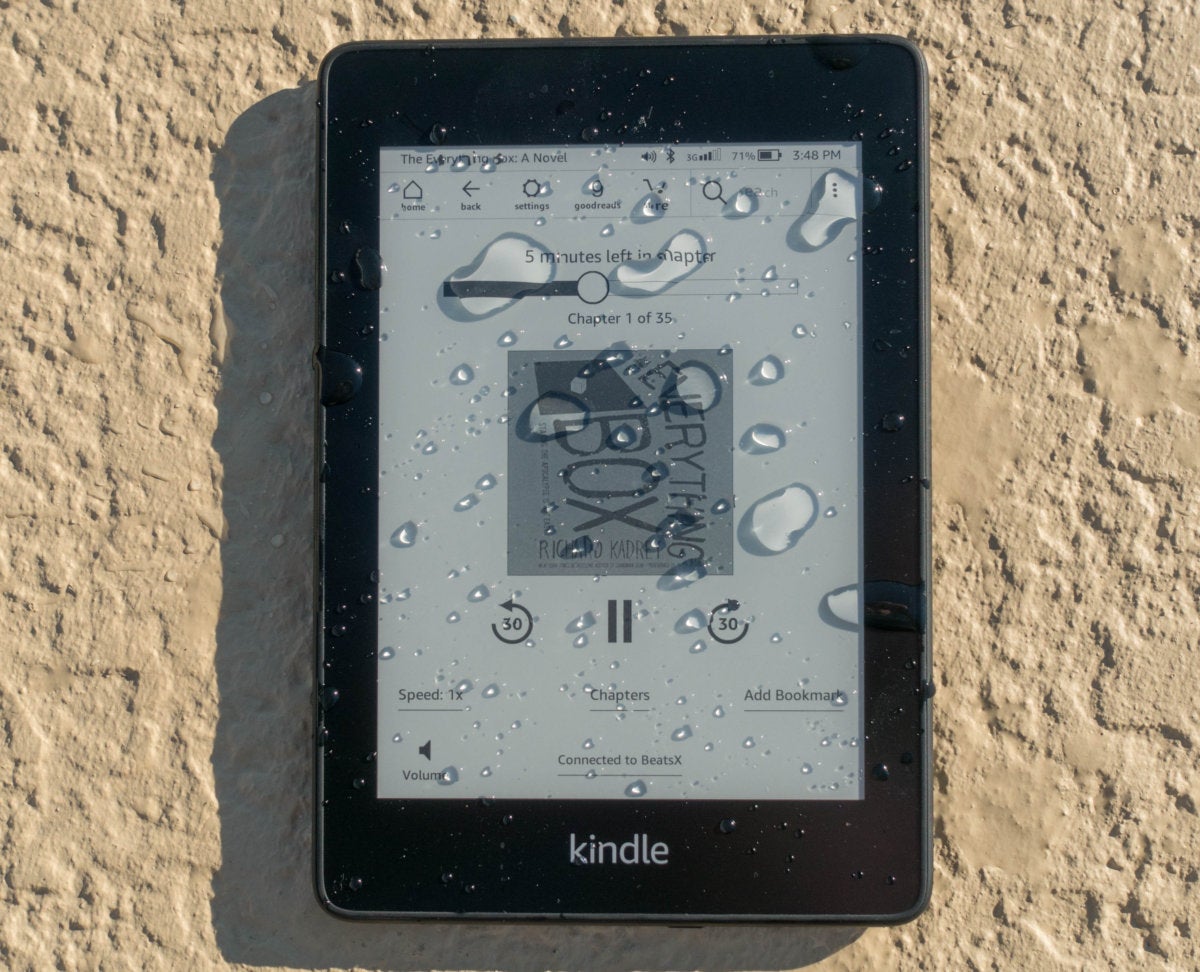 Also unlike the Oasis, the All-new Kindle Paperwhite lacks page-turn buttons. Amazon's UI designers try to get around this by allowing you to swipe horizontally across the display to turn the pages of whatever you're reading. This works pretty reliably, provided your hands and the device's display are dry enough. Get either too wet, and the touch interface can't be relied upon to get the job done. Given that stepping up to a Kindle Oasis from a Paperwhite will cost, at a minimum, an additional $130, this compromise will most likely be one that most people are willing to bear.
The All-new Kindle Paperwhite comes packing Bluetooth connectivity, bringing it in line with the Kindle Oasis and Amazon's entry-level Kindle e-reader. Pair a Bluetooth speaker or set of headphones with the device, and you're ready to listen Audible audio content.
Audiobooks take up a lot more storage space than .Mobi files or PDFs do, however, which is why the All-new Kindle Paperwhite comes with a base storage of 8GB—double that of the 2015 model. A 32GB upgrade is available.
E books and audio books purchased from the Kindle Store or Audible can be transferred to device via Amazon's Whispersync service. It's also possible, as with other Kindles, to sideload content via USB or email it to the device using it's email address. When browsing the Kindle Store, updating your Goodreads profile or syncing your reading progress with the cloud, the All-new Kindle Paperwhite connects to the Internet using Wi-Fi. If you want 4G LTE connectivity as well, you'll have to fork over for a 32GB version of the device.
Amazon promises 'weeks' of battery life, and that's no exaggeration. An E Ink display sips delicately at battery power, especially compared to the way an iPhone or Pixel Slate guzzles juice. However, how many weeks its battery will last depends on your reading habits: display brightness, how often you prefer your pages to be refreshed, and whether you power down or put your Kindle to sleep between uses. Bluetooth will suck the life out of your batteries far quicker than Whispersync via Wi-Fi ever could. The same goes for 4G LTE.
The version of the All-new Kindle Paperwhite that I tested had LTE. With its display lighting kept at 50 percent (dipping down to 15-20 percent while reading in bed), Wi-Fi/LTE switched on and listening to perhaps 30 minutes of audio per day, I found that the device lasted me just under eight days before I had to charge it. This was long enough to read Warren Elli's Normal novella, and about 80 percent of Timothy Snyder's The Road to Unfreedom—not bad, all things considered.
User Experience
If you've used a Kindle e-reader in the past few years, you'll find Amazon's user interface hasn't changed much, except for the better. Tweaks to customize fonts, line spacing, and other text presentation options have been placed front and center with Page Display. Accessing it is a tap of the Papwerwhite's touchscreen away. The same goes for shortcuts to Amazon's Kindle Store, GoodReads, and the quick-access pane for the Paperwhite's illumination, Bluetooth, sync, and Airplane Mode settings. Readers can quickly scan pages or skip to a specific page with a few taps and swipes. More granular control of the device's settings, any highlighted sections or notes you may have made while reading or information about a given book and its writer can all be had via the Menu button in the top-right corner of the device's Quick Settings bar.
For those who have never used a Kindle e-reader before, picking up the basics with the Paperwhite is easy as Amazon provides a number of tips for using the device the first time it is turned on. It's one of the least intimidating tech experiences around.
The Bottom Line
With its refined, waterproof design, Bluetooth connectivity, beefed-up storage options and reasonable price, the All-new Kindle Paperwhite is a outstanding upgrade to what was already a fabulous device.
Best Prices TodayAll-new Kindle Paperwhite, Ad-Supported