At a Glance
Expert's Rating
Pros
Widest selection of sizes.
Decent photo print quality.
You can sell your photo books and photography on their website.
More affordable compared to competition.
Cons
Slow, frustrating editor.
Lacks key features like photo editing.
Charges $10 to remove logo and branding.
Our Verdict
PrestoPhoto's book-making experience has issues. Sure, there are two dozen different sizes to choose from, but the book itself isn't great quality and the editor is incredibly frustrating and sluggish.
Best Prices Today: PrestoPhoto
PrestoPhoto isn't just a photo book service. It's also an online marketplace for selling your creations—though there's no obligation to put your work up for sale. It's a great idea, but sadly PrestoPhoto just doesn't deliver. The book creation editor is slow, dated-looking and lacks essential features, and the final book it produces doesn't match the quality of competitors, despite relatively decent (if a bit dark) image reproduction.
On the positive side, PrestoPhoto has the widest selection of photo book types and sizes among the services PCWorld reviewed. There are six different styles, ranging from "landscape" to "tall portrait," and a whopping 24 different sizes to choose from. Paper comes in either lustre, matte, silk, or velvet, and the book can be either hardcover or softcover. The pages can also lay flat when opened for an additional fee.
Prices start as low as $8.99 and go up to $48.99, depending on the size and options you select. We won't list them all, but you can see the full pricing list here. For this review, we created a 13×10-inch landscape photo book on lustre paper with matte lamination. Our subject matter: A yearbook for PCWorld's "The Full Nerd" video show. We paid extra to remove the PrestoPhoto logo, giving us a total of $54.14 without shipping.
Editor's note: This review is part of our best photo book roundup. Go there for details about competing products and how we tested them
Creating the book
PrestoPhoto's editor was frustrating, slow, and generally lackluster. It took well over a minute for thumbnails to appear after we uploaded our images—that is, when the thumbnails appeared at all. We often had to refresh the page to get the thumbnails to show.
Compared to other services we reviewed, PrestoPhoto offers fewer templates—a big disappointment. Even worse, applying the templates was tiresome because you have to drag and drop them individually onto each book page. Not only was this painfully slow, but often the pages wouldn't update with the template, requiring a browser refresh to get everything working again.
Opening up pages and moving between them was also glacially slow. The whole experience felt like working on a dial-up connection.
Another downside of PrestoPhoto is that you can't copy and paste elements from page to page. Because of this, it's impossible to copy a text box and its font styles onto a new page, and as a result you must adjust styles for each text box individually. The editor also lacks alignment lines, which would come in handy when positioning text.
But it gets even worse: Aside from a simple cropping tool, there are no image editing options. Most other services let you select an image and add effects or make other adjustments, but PrestoPhoto doesn't have any of this.
In a nutshell, the PrestoPhoto editor only lets you drop photos into pre-set templates in a slow, aggravating crawl. Bottom line: PrestoPhoto is in desperate need of an overhaul.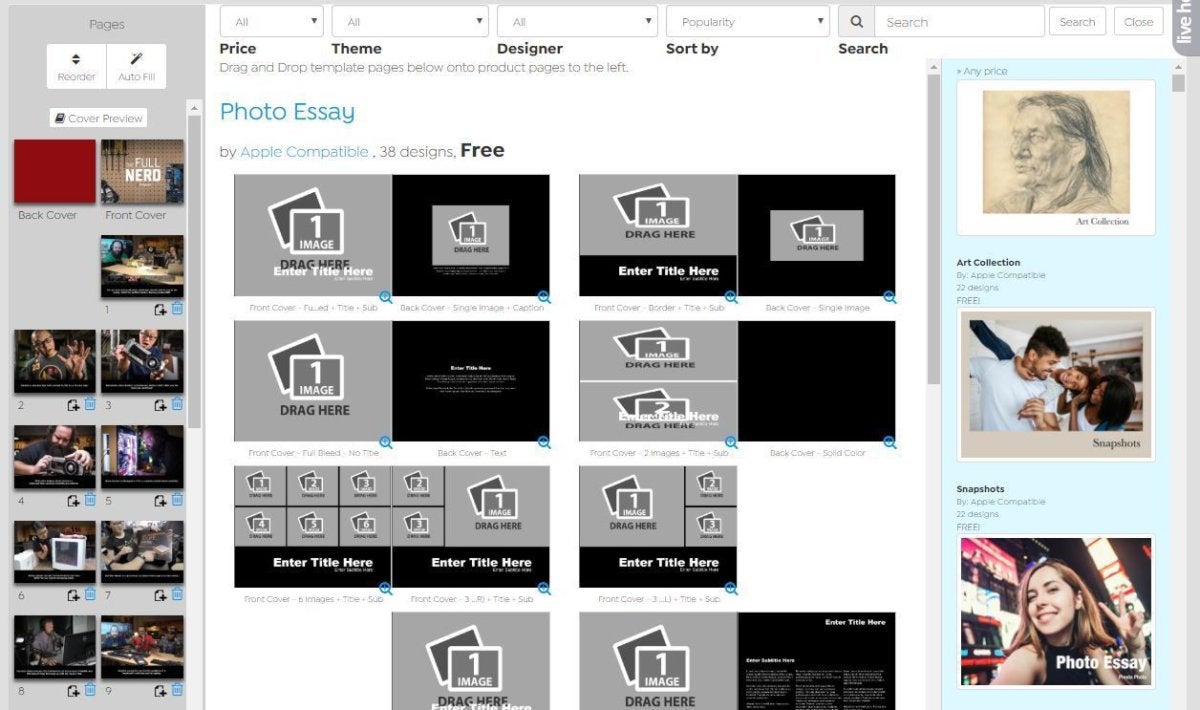 The final printed product
There are six different delivery options in the United States and four international options. If you spend $30 or more, however, you qualify for "SuperSaver" shipping, which includes 4 to 7 business day delivery. (See all of PrestoPhoto's delivery options here.)
The book itself came in a typical cardboard box and was wrapped in cellophane. It was well-protected, but unremarkable. Worse yet, what came out of the box was unimpressive—borderline bad, even.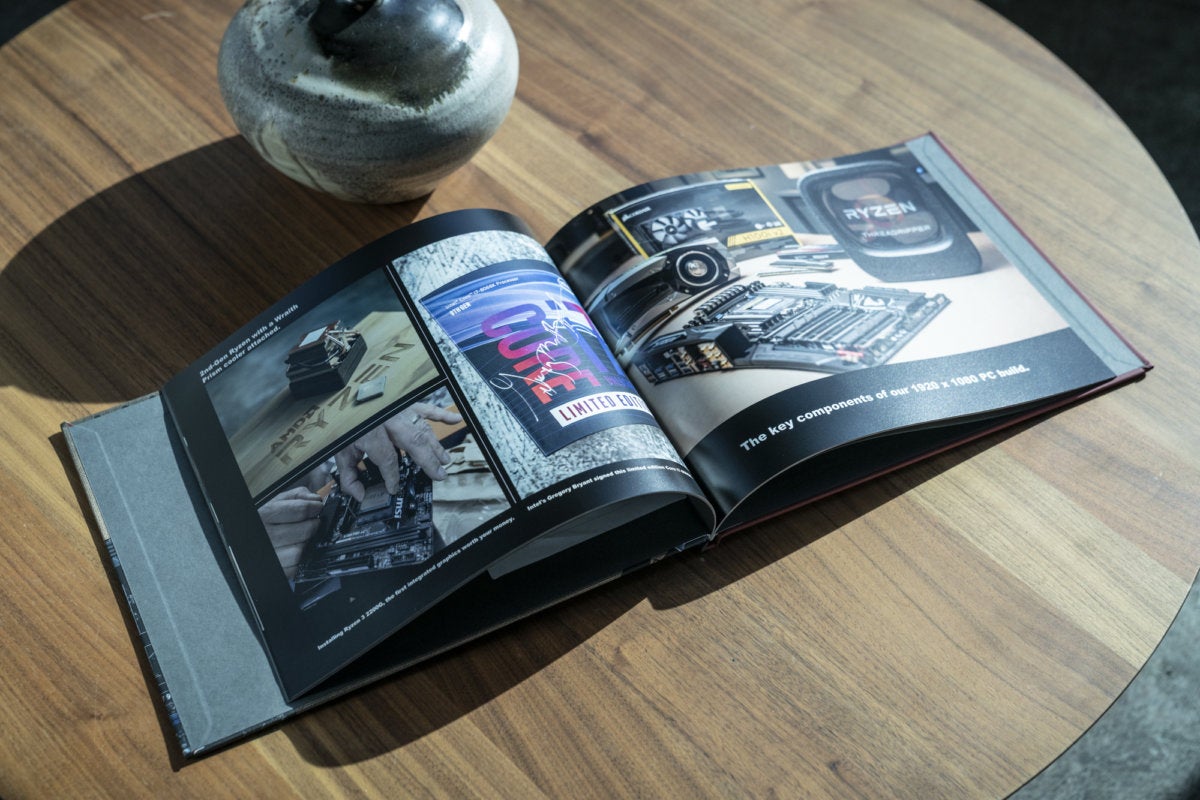 PrestoPhoto's matte cover was smudged and scuffed easily. This was most noticeable on the back cover, where smudges and scuffs were particularly awful on the deep red expanse of PCWorld's trademark color.
Photo reproduction helped PrestoPhoto redeem itself. Quality was a cut above Picaboo, though not quite as bright and clear as AdoramaPix, Mixbook, and Shutterfly. But at least we didn't see any weird color shifts. We were also pleased to see that PrestoPhoto could print two-page spreads without losing resolution. Still, the photos alone weren't enough to make the book spectacular.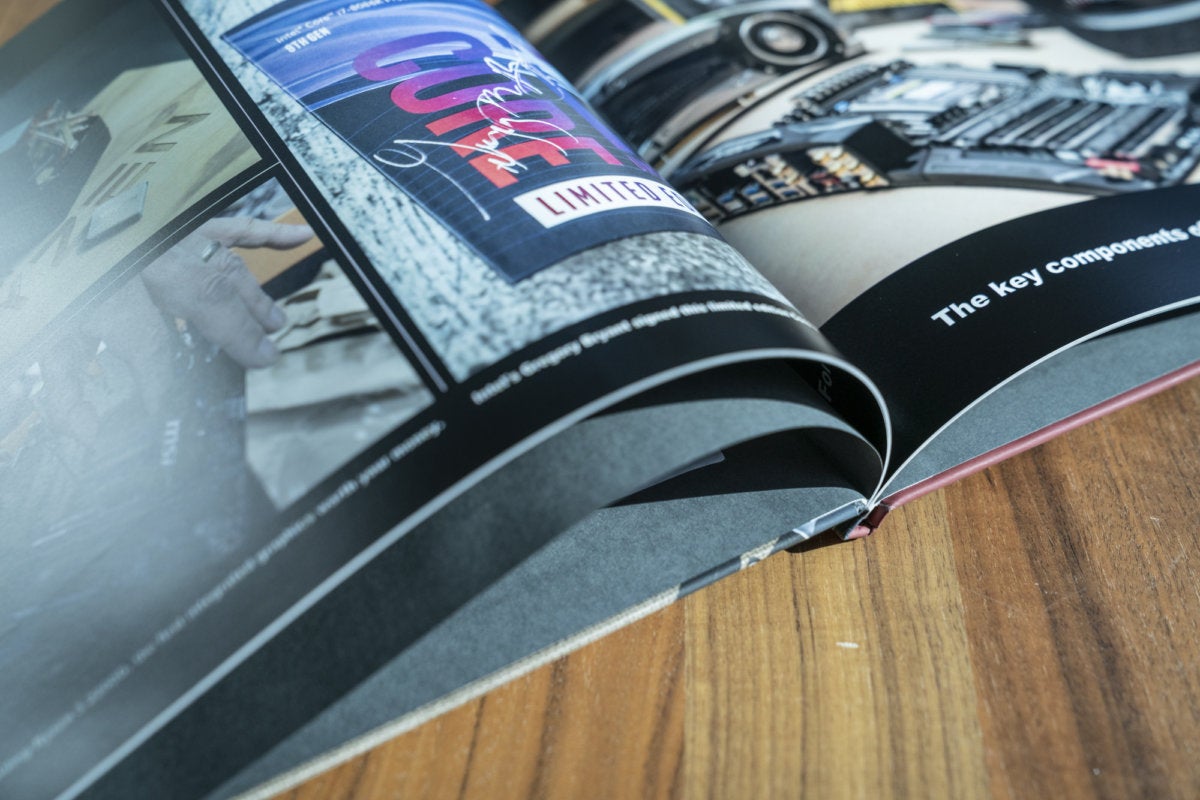 Bottom line
PrestoPhoto's best quality may be its affordability, as prices are $5 to $10 lower than similar sizes you can get from Shutterfly, Mixbook, and AdoramaPix. But even PrestoPhoto's lower prices don't make up for the service's more troubling flaws.
It's hard to say what was worse about PrestoPhoto: Its photo book creation app or the book itself. PrestoPhoto may be affordable, but it's simply not worth saving a few bucks.
Editor's note: Because online services are often iterative, gaining new features and performance improvements over time, this review is subject to change in order to accurately reflect the current state of the service. Any changes to text or our final review verdict will be noted at the top of this article.
Best Prices Today: PrestoPhoto