At a Glance
Expert's Rating
Pros
Aside from processor, hardware is virtually unchanged from first generation
Processor bump provides some performance improvement
Very good battery life
Solid value, especially if you don't opt for premium black
Cons
Aside from processor, hardware is virtually unchanged from 1st gen
Lack of USB-C ports might become a problem over time
Our Verdict
Microsoft's moderately priced Surface Laptop 2 offers excellent battery life, but moderate performance and outdated I/O may prove a bit limiting over the long haul.
Best Prices Today: Surface Laptop 2
Time has caught up to Microsoft's Surface Laptop 2. We loved it in its first iteration—what Microsoft now calls the Surface Laptop (1st Gen), and the low-cost clamshell remains a superb, optimized laptop for students and workers on the go. But while the Surface Laptop 2 has basically stood still, the competition has chimed in with their own progressive offerings. As our review shows, the 13-inch Surface Laptop 2 is still a solid laptop, but design choices made a year ago look a bit tired now.
The Surface Laptop is nearly identical to its predecessor in all three dimensions, the rated battery life, and even weight. In addition to the color, Microsoft has moved from a 7th-gen to an 8th-gen Core microprocessor, and the company has thankfully eliminated the 4GB memory option that was available in the first generation. Gone, too, is Windows 10 in S Mode, now replaced with Windows 10 Home. There aren't any low-power Qualcomm or Intel Pentium-based options, and Microsoft hasn't announced an LTE option—but those weren't available on the first device, either.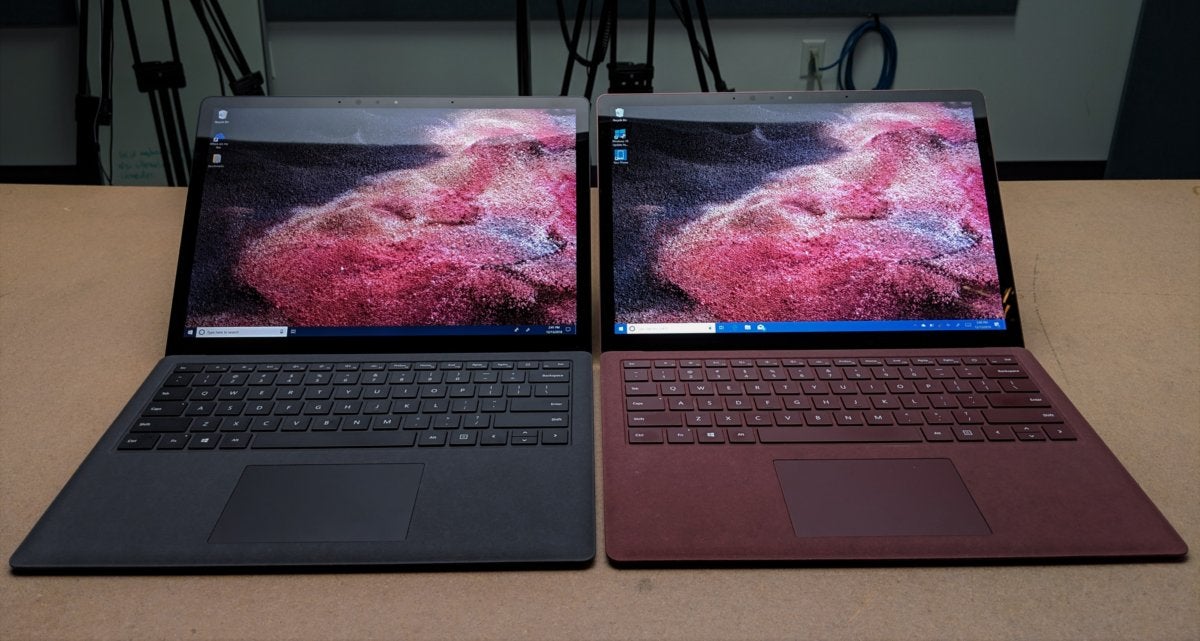 Microsoft Surface Laptop 2: Basic specs and buying advice
As you may recall from our hands-on with the Surface Laptop 2 after its announcement, Microsoft is selling both the Surface Laptop 2 for Business, and the more generic Surface Laptop 2 for consumers. The Business model begins at $1,199, versus $999 for consumers—quite a jump, especially since the additional $200 buys you just a slightly more powerful Core i5 processor with vPro capabilities, an improved warranty with the ability to receive a new device before sending in the defective model (Advanced Exchange), and Windows 10 Pro, rather than Home. We reviewed the consumer version.
Note that Microsoft varies its configurations by color. The cheapest Surface Laptop 2 for consumers is $999 for the platinum color, in a Core i5/8GB RAM/128GB SSD configuration (available at the Microsoft storeRemove non-product link as well as AmazonRemove non-product link). In black, burgundy and cobalt blue, the cheapest option was a Core i5/8GB RAM/256GB configuration, for an MSRP of $1,299. We reviewed the black version. Other, more expensive configurations are also available; we note the ranges below in the basic specifications.
Here's something to think about, though: At press time, what Microsoft now calls the "1st Gen" platinum Surface Laptop is selling at a healthy discount for theCore i5/8GB RAM/128GB version, on AmazonRemove non-product link. The platinum Surface Laptop 2 with the same configuration is both more powerful and just $100 or so more.
Display: 13.5-inch (2256×1504), 201-ppi PixelSense display, with 10-point touch
Processor: 1.6GHz Core i5-8250U (as tested) or 1.9GHz i7-8650U (consumer); 1.7GHz Core i5-8250U or 1.9GHz Core i7-8650U (business). All processors are quad-core, 8th-gen Kaby Lake-R."
Graphics: Intel HD 620
Memory: 8GB-16GB DDR3 (8GB as tested)
Storage: 128GB-1TB NVMe PCIe SSD (256GB as tested)
Security: TPM 2.0, Windows Hello
Ports: USB 3.0 Type-A, Surface Connect, miniDisplayPort, 3.5mm headphone jack
Wireless: 802.11ac, Bluetooth 4.1
Cameras: 720p HD camera (front-facing) (Windows Hello)
Battery: 45Wh
Operating system: Windows 10 Home (as tested); Windows 10 Pro for business
Dimensions: 12.1 x 8.8 x 0.57 inches (14 mm)
Weight: 2.8 pounds (with Type Cover); 3.62 pounds (including AC adapter)
Colors: Platinum, black, burgundy, cobalt blue
Optional accessories: Surface Pen ($99 at Microsoft Store)

Remove non-product link

Price: $1,299Remove non-product link as tested
While it feels a little… Apple-y… to go ga-ga over a new color, there's no ignoring that the new jet black adds a note of distinction to the smooth anodized aluminum unibody construction as well as the slightly fuzzy Alcantara fabric coating the Surface Laptop 2's palm rest and interior. Yet it's odd and somewhat disappointing that Microsoft is essentially charging an additional $200 for it.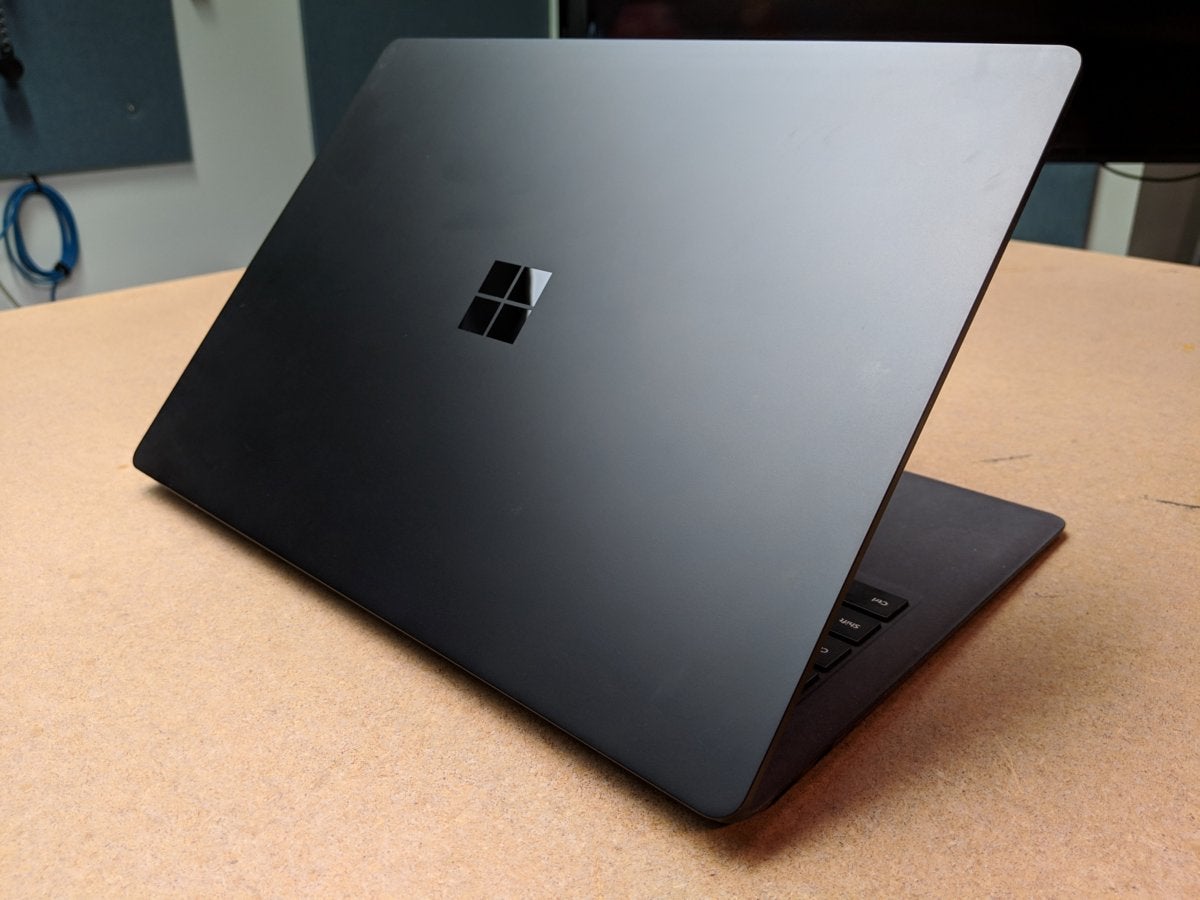 Hands on with the Surface Laptop 2
The Surface Laptop 2 is sturdy without feeling especially weighty. There's just a bit of back-and-forth flex in the display hinge when the Laptop 2's base is wiggled. Inside, the Surface Laptop 2's display reclines to an ergonomically comfortable 45 degrees or so away from the horizontal. I never noticed the base becoming especially warm or overheated, except during an intensive round of updates, when the bottom warmed to a level that was still comfortable.
A sheet of Gorilla Glass 3 houses the display in a 3:2 format —again, identical to the original Surface Laptop. (The Microsoft Surface Pro 6 has a higher-res 2736×1824, 12.3-inch display.) Our light meter recorded a maximum luminance of 337 nits, a slight 8 percent drop from our 1st Gen machine. (We consider anything over 260 nits of luminance to be of sufficient brightness.) There are no additional color space options like the Surface Book 2 beyond RGB, and the display uses a standard dynamic range.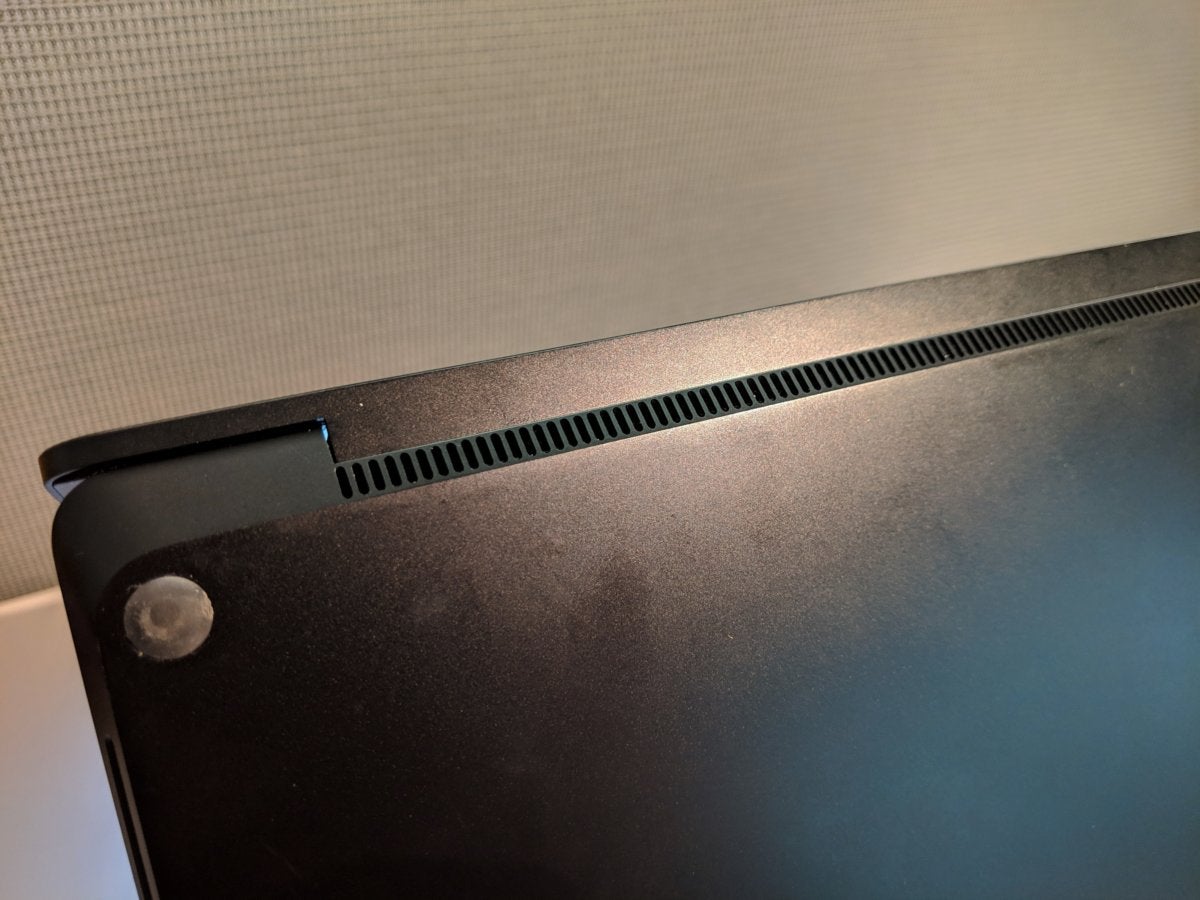 Beyond the numbers, the PixelSense displays used in Microsoft's Surface products offer stunning color fidelity and they're simply pleasing to use. Microsoft smartly picks default backgrounds that show off its displays to its best advantage. Note, however, that while a higher resolution can be easier on the eyes, it impacts battery life and performance.
Microsoft's out-of-the-box experience feels a little bit different with each new Surface, and the Surface Laptop 2 is no exception. Like other Surface devices, a series of screens marches you through the setup process. There was something new here, though: Not only did the Surface Laptop 2 update itself before asking for a password…it didn't ask for a password. That's right—though I signed in with a Microsoft account, Microsoft knew I had two-factor authentication set up and merely asked to authenticate the new Laptop 2 with my phone. That's a subtle yet powerful way of welcoming you back to the Windows ecosystem.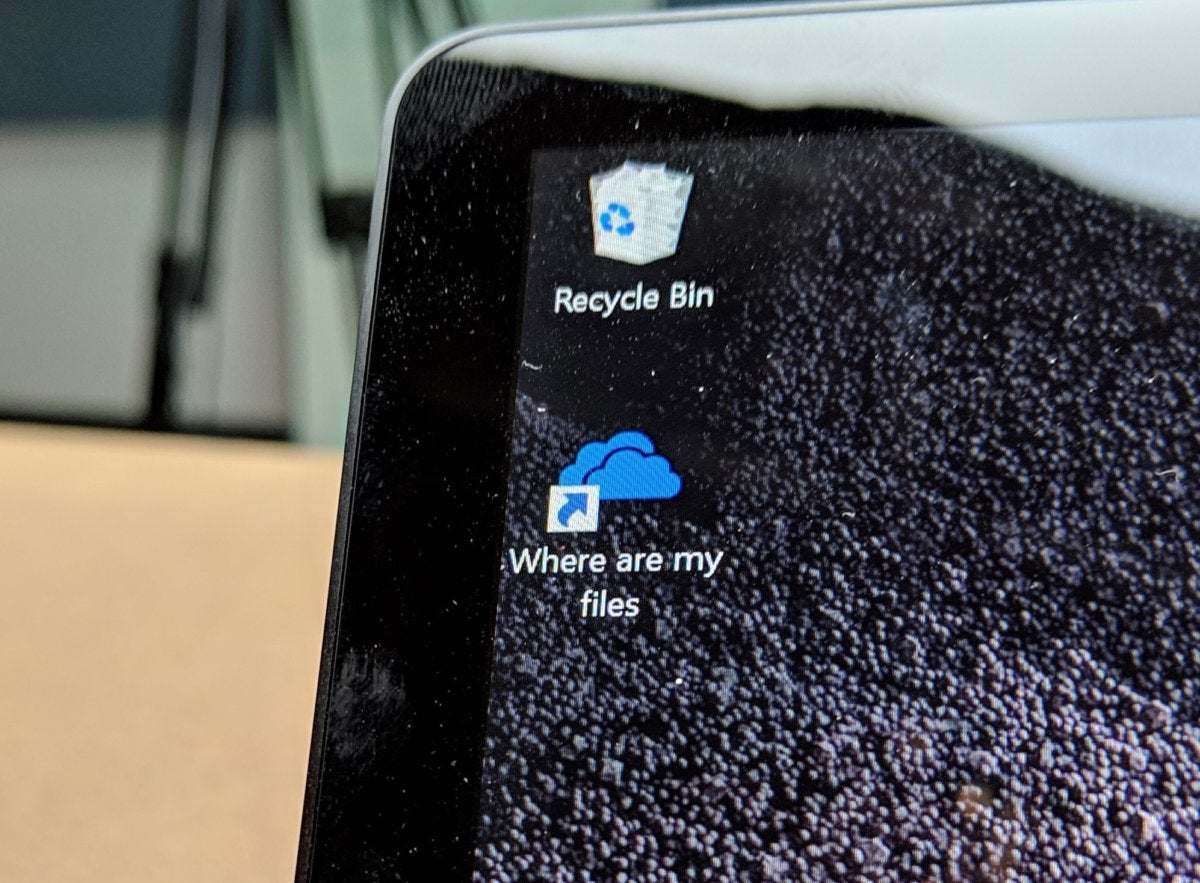 Unfortunately, the Microsoft ecosystem still includes the host of crapware that accompanies most Surface devices: Candy Crush Soda Saga, Hulu, Fitbit Coach,and more. Yes, you can uninstall it, and there's an argument that students might actually enjoy the diversion. But for the rest of us, they're unnecessary.
A new coat of paint hides some aging I/O
While I really love the simple minimalism of the Surface Laptop 2's chassis—remember, Microsoft designed it to pry students away from Apple MacBook Airs—there's no denying that it's now a bit behind the times. Yes, a laptop is more "lappable" than a tablet like the Surface Pro 6, but the Surface Laptop 2 still lacks the microSD slot of the Surface Pro 6 and the USB-C port of many of its other rivals. There's no rear-facing camera, either, though that's more forgivable.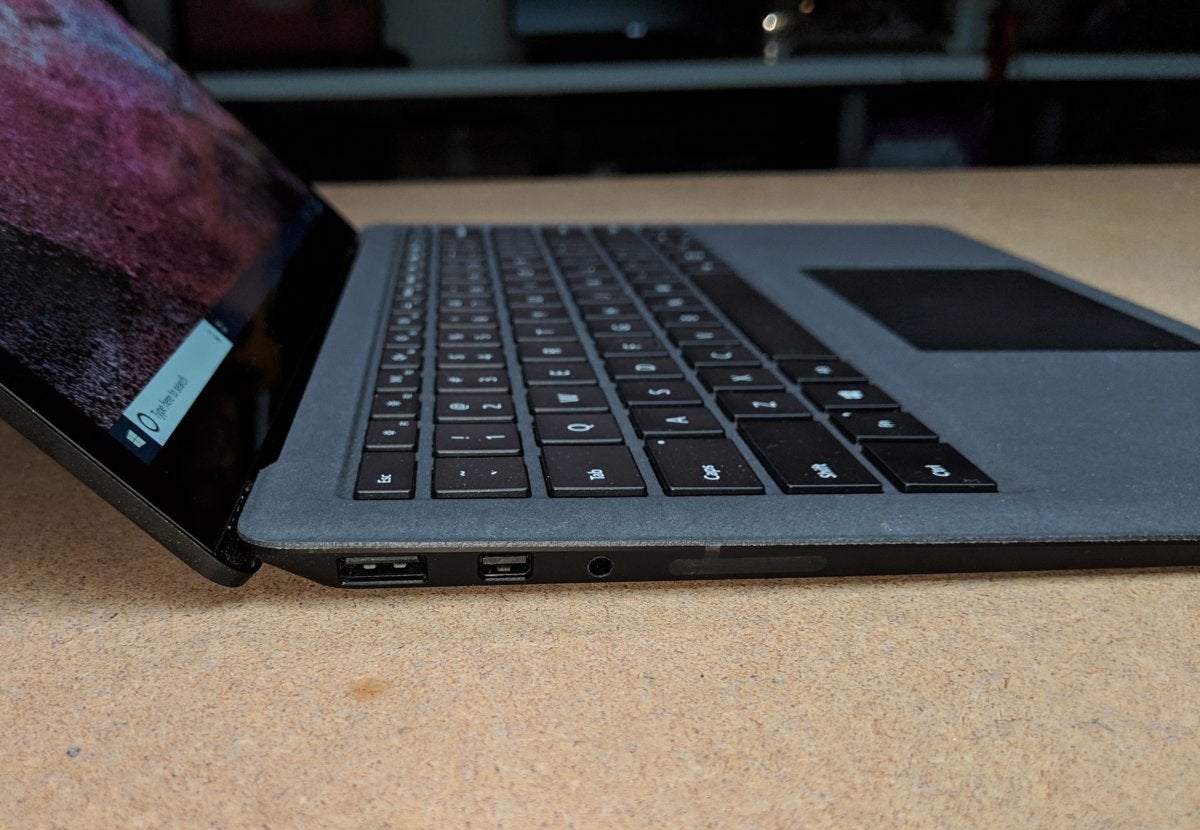 In the year or four that a student should expect to hold onto the Surface Laptop 2, however, USB-C devices will simply become more prevalent. Not only is the $80(!!) Surface to USB-C dongleRemove non-product link overpriced, users have given it poor reviews for charging and functionality. A microSD slot could make the entry-level Platinum version (with just 128GB of storage) much more tolerable. What was once a forgivable oversight is now a blemish.
Instead, there's the usual loadout of Surface ports: USB 3.0 Type A, miniDisplayPort and the mic/headphone jack on the left, and the Surface connector on the right.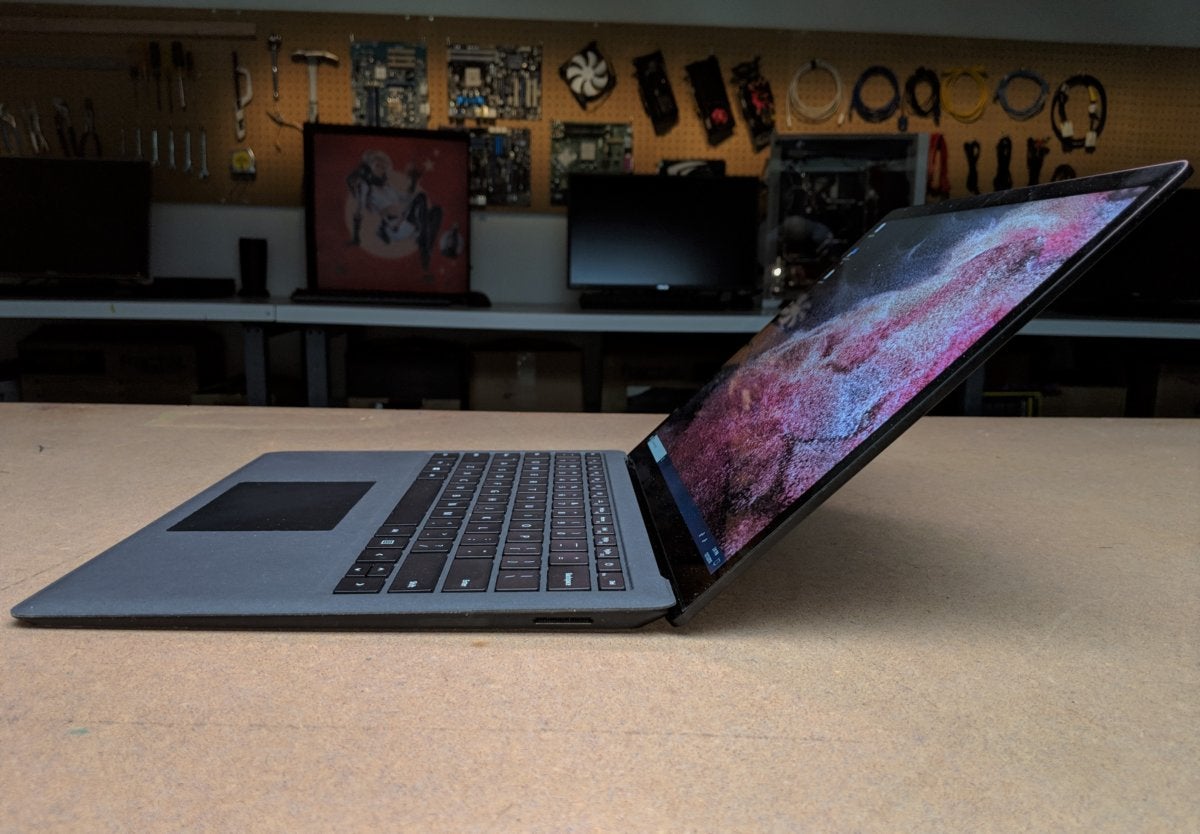 Microsoft's Surface devices have traditionally shipped with one of the better keyboards in the industry, and the Surface Laptop 2 continues that tradition. It provides slightly smaller keys than the Surface Book 2, but with adequate landing area and a pleasing springiness that makes them comfortable to type upon for long periods.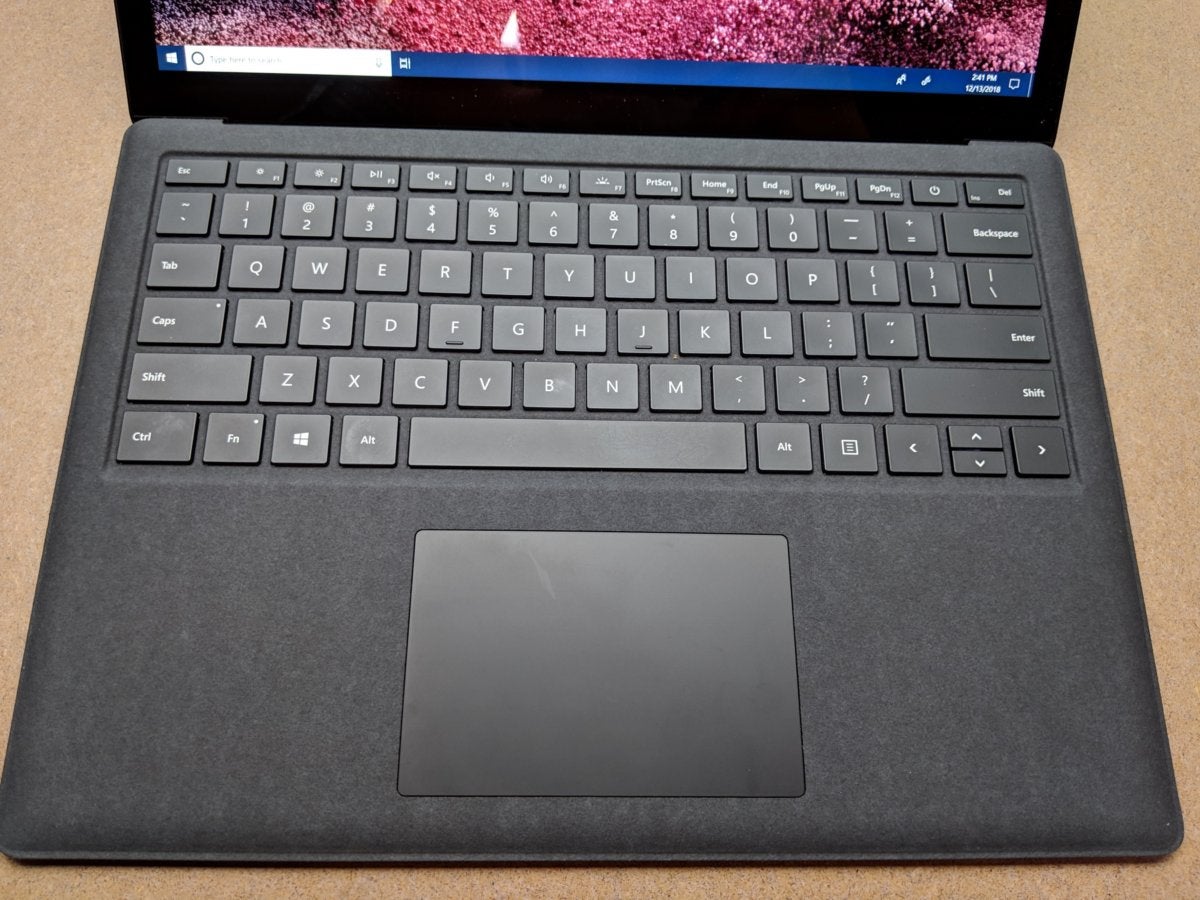 While Microsoft sheathes only the inside of its Laptops with its Alcantara fabric, the slightly fuzzy cloth provides a hint of give and a bit of warmth to your palms as they rest upon the typing surface. The fabric hasn't become stained from prolonged contact with my hands or other liquids, either.
Microsoft doesn't seem to have altered its trackpad. It's still the spacious, smooth surface Microsoft provides for its other Surface devices, excepting the Surface Go.
The Surface Laptop's speakers, embedded underneath the keyboard, deliver a surprising amount of volume. As with other laptops and tablets, however, the sounds those speakers produce is flat, without a great deal of bass or treble. You won't find many options within the standard volume control panel; instead, Microsoft has migrated the audio controls to the separate Realtek Audio Console, which governs the Realtek audio chip inside. Here you'll find the ability to toggle the Dolby Audio enhancements off and on, which doesn't do a great deal for the speakers but adds depth to music played back via the headphones.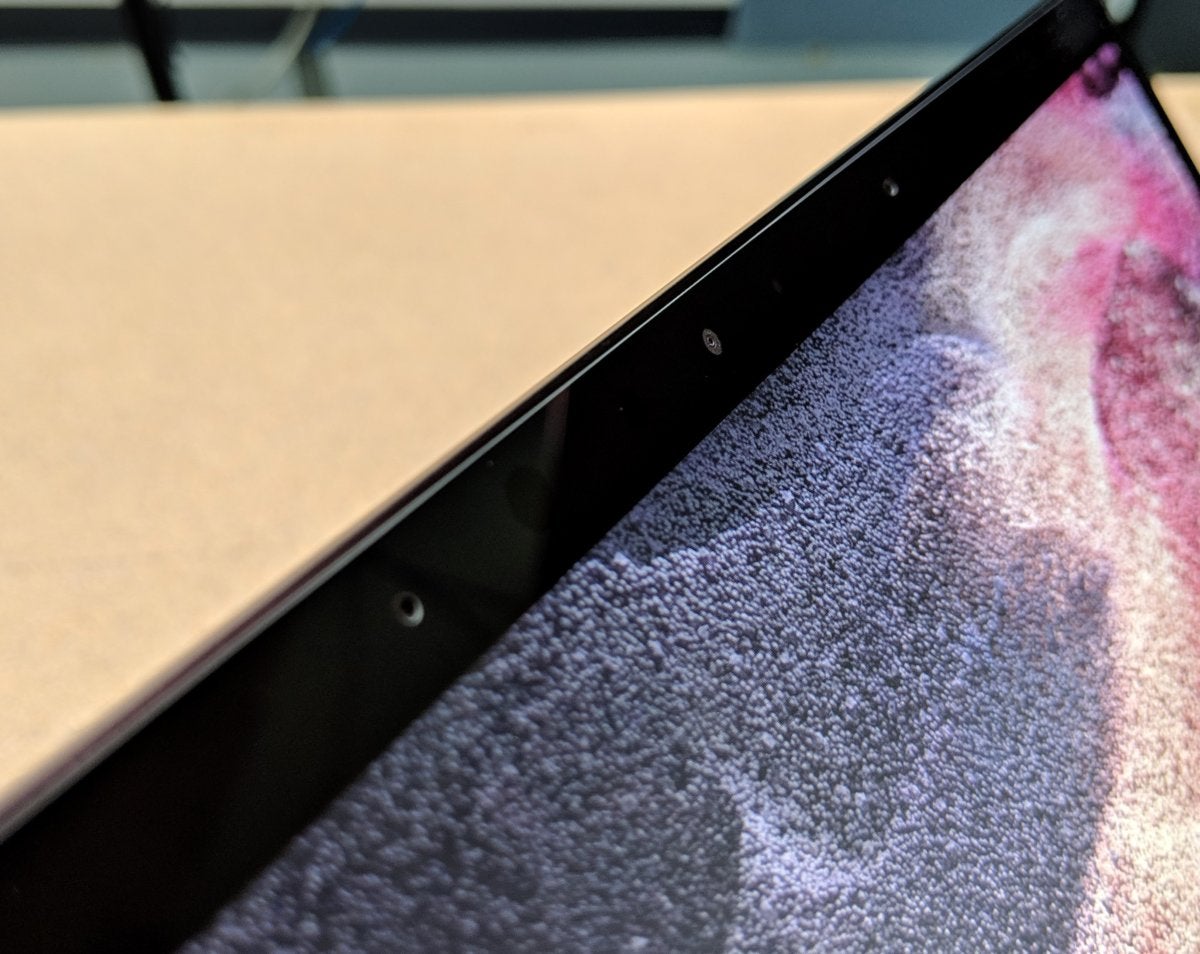 Personally, I've used the Surface Laptop as a test machine for Windows 10 Insider builds, banging away on it off and on every week or so, and especially in the month or so before a new feature release. From a longevity and usability standpoint, and speaking specifically about the 1st Gen laptop, the Surface Laptop line comes recommended.
Keep reading for performance and battery benchmarks.
Surface Laptop 2 performance
Microsoft never designed the Surface Laptop to be anything much more than an aesthetically pleasing middle-of-the-road laptop that a student or a casual worker could tote around to class or a conference. As such, we never expected its performance to be exemplary, and it wasn't. Battery life sold the original Laptop, and it's the selling point here, too—but now, other laptops can offer as much or better.
(One performance note: Though we benchmark in airplane mode to prevent background processes from affecting our results, we use the laptops, too—and it was during this period that we were caught short by an unexpected update to the Windows 10 October 2018 Update between tests. The upgrade didn't seem to affect benchmark scores except for some of the PCMark tests, where scores seemed to fall by about 7 percent. While the scores averaged out—we ran two tests before the upgrade, and two after—it's also worth noting that even the earlier scores wouldn't have meaningfully affected the Surface Laptop 2's relative ranking.)
We gathered together several recently-introduced laptops, all hovering a bit above or below the $1,000 price point. We also included the Surface Laptop 1st Gen (brown bars below) for comparison's sake.
Our first standardized test, PCMark, supplies three separate benchmarks: Work, Home, and Creative. While the Work test measures typical office productvity applications, such as spreadsheet work and word processing, the Home and Creative tests begin pushing more familiar applications, such as light gaming. Any score over 2,000 is acceptable, and the Surface Laptop 2 (red bars below) made it over the line—but behind everyone else.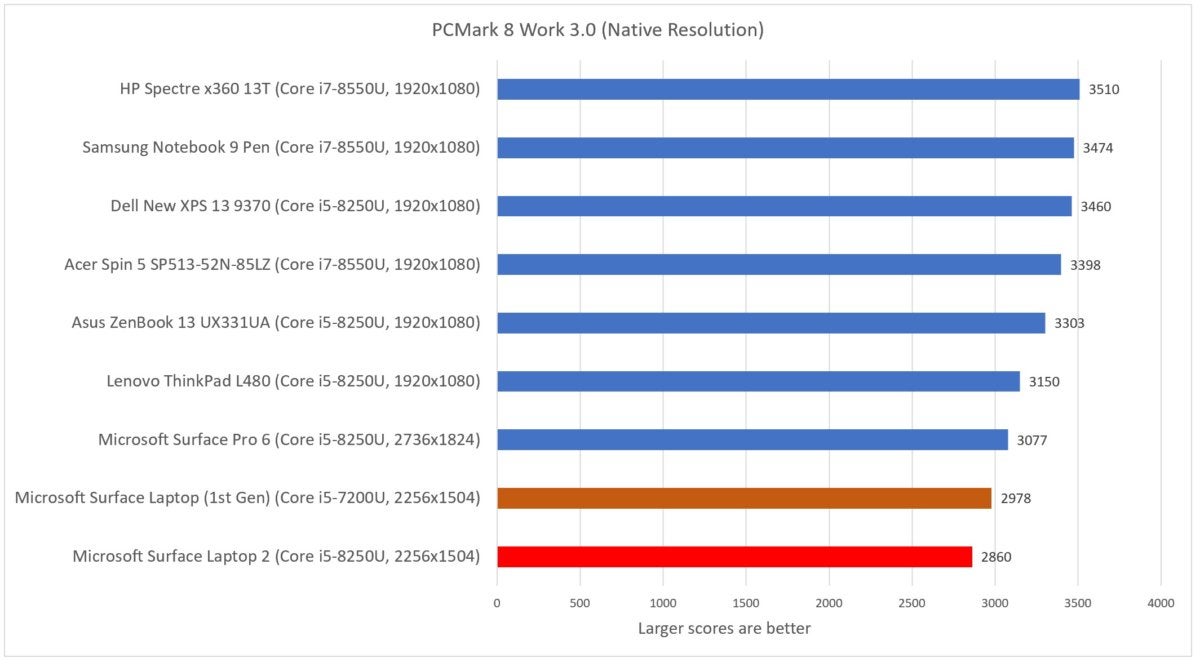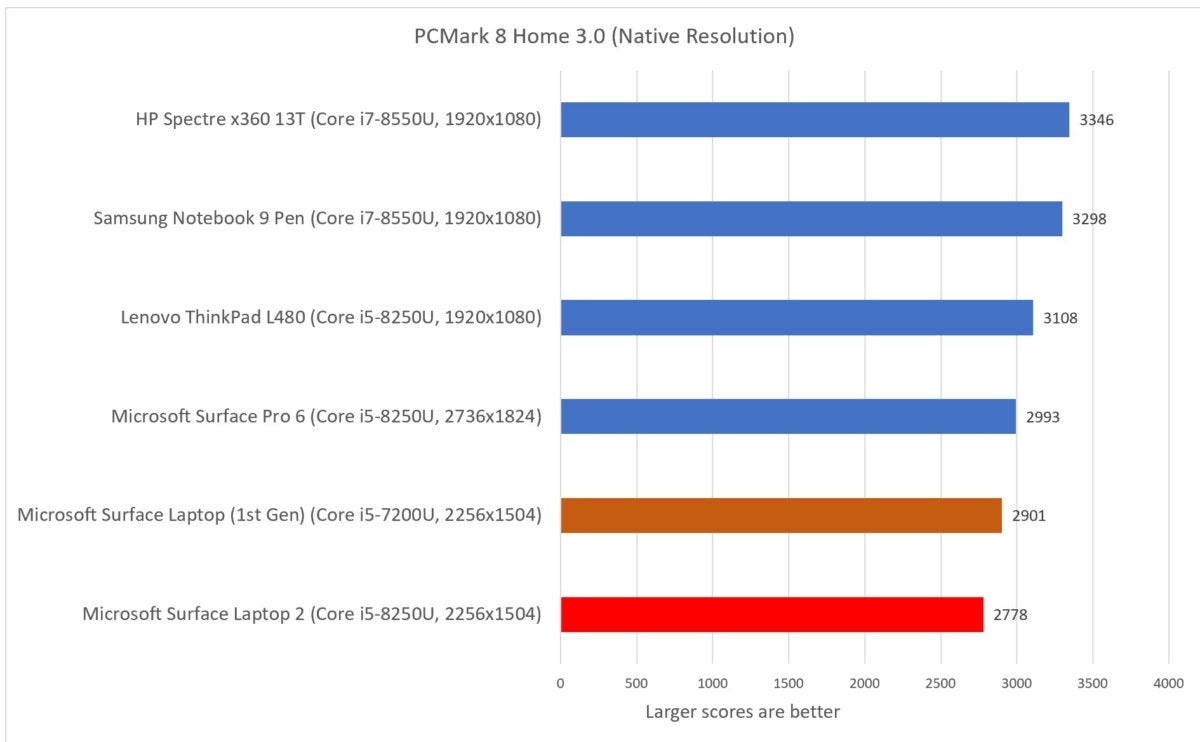 The Creative tests leans more heavily into tasks like photo editing and video, stressing the system harder. Here, the upgraded processor appears to boost the Surface Laptop 2 higher, though the increased resolution of the Surface Laptop 2's screen still seems to be holding it back.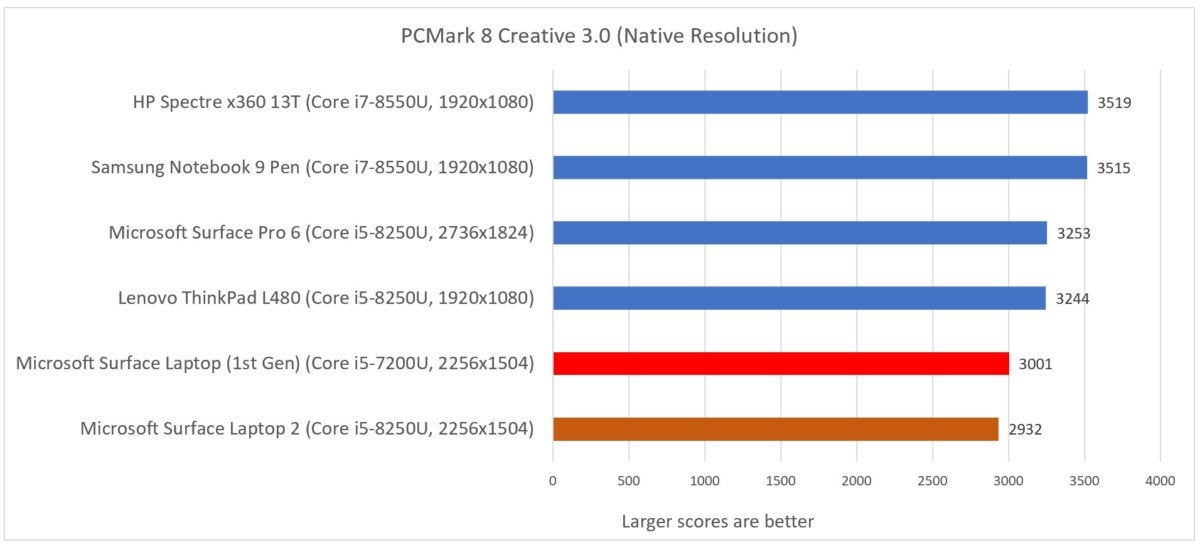 PCMark also recently released a more modern version of its benchmark, combining all of its previous benchmarks into a separate test. Though our database of results is smaller, we're still able to compare it to a few machines. The Surface Laptop 2 scored 3,400 for the basic test, compared to 2,767 for the HP Spectre x2 and 3,737 for the Dell XPS 13 9370.
Maxon's Cinebench benchmark should be familiar to anyone who's read a review of a CPU. The test stresses all or one of the CPU cores, allowing you to get an idea of what the performance would be under an optimized load. Through we test both single- and multithreaded, we show only the multithreaded result below. The Surface Laptop 2 posts a solid midrange score here, far ahead of the 1st Gen Surface Laptop.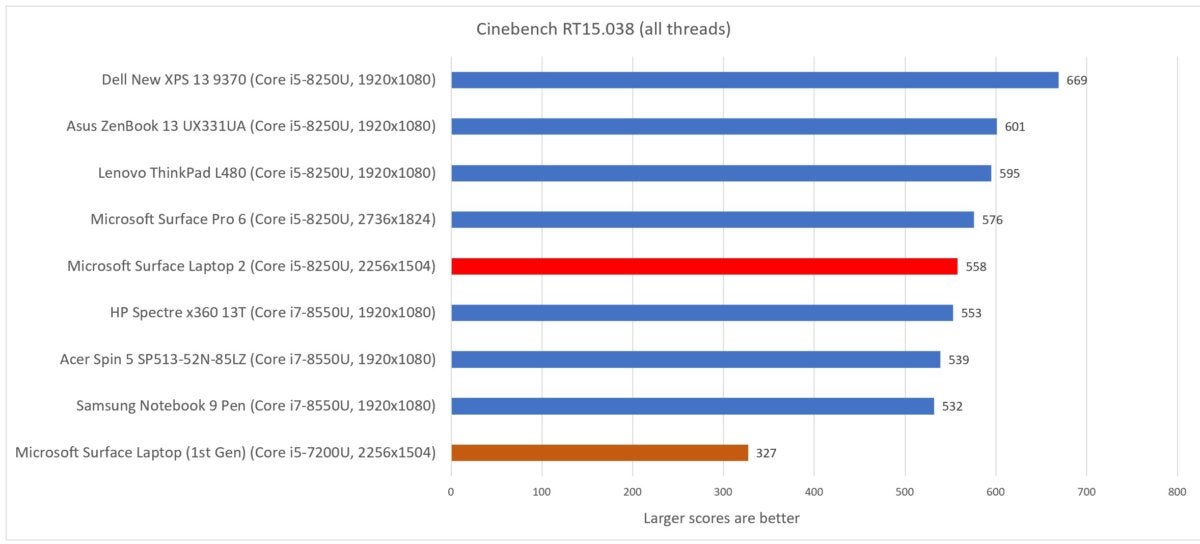 HandBrake, an open-source tool for converting video, provides an excellent test of how a system handles stress over time. We convert a full-length movie into a format that could be viewed with an Android tablet. This is a real-world task, and one in which the Laptop 2 fares better than usual, leaving its predecessor in the dust.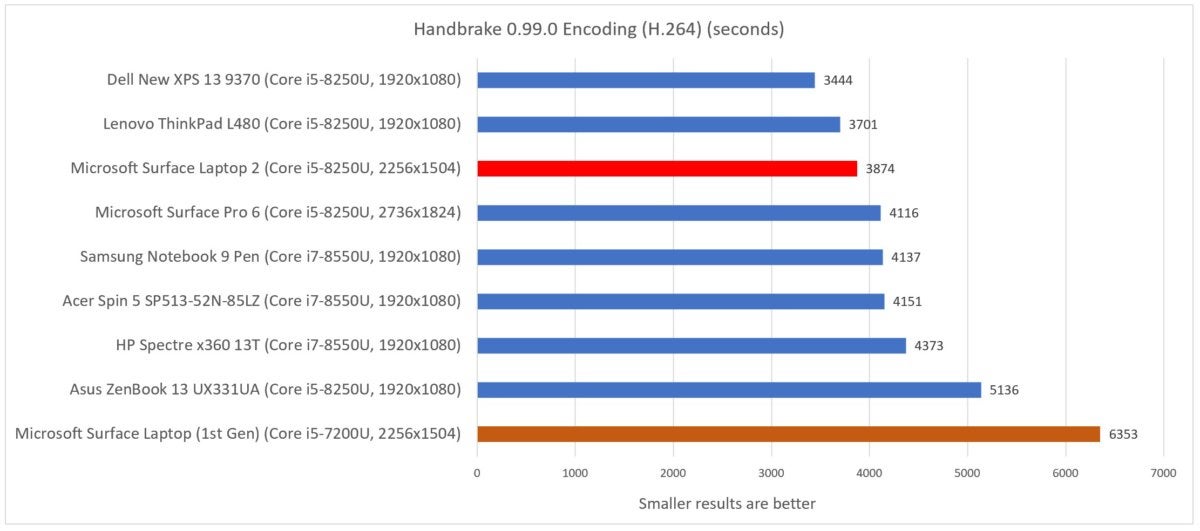 Though it's doubtful that you'll use the Surface Laptop 2 as a gaming machine, we test using 3DMark's Sky Diver benchmark to measure how well the Laptop 2 would fare in a 3D gaming scenario. We don't expect much here.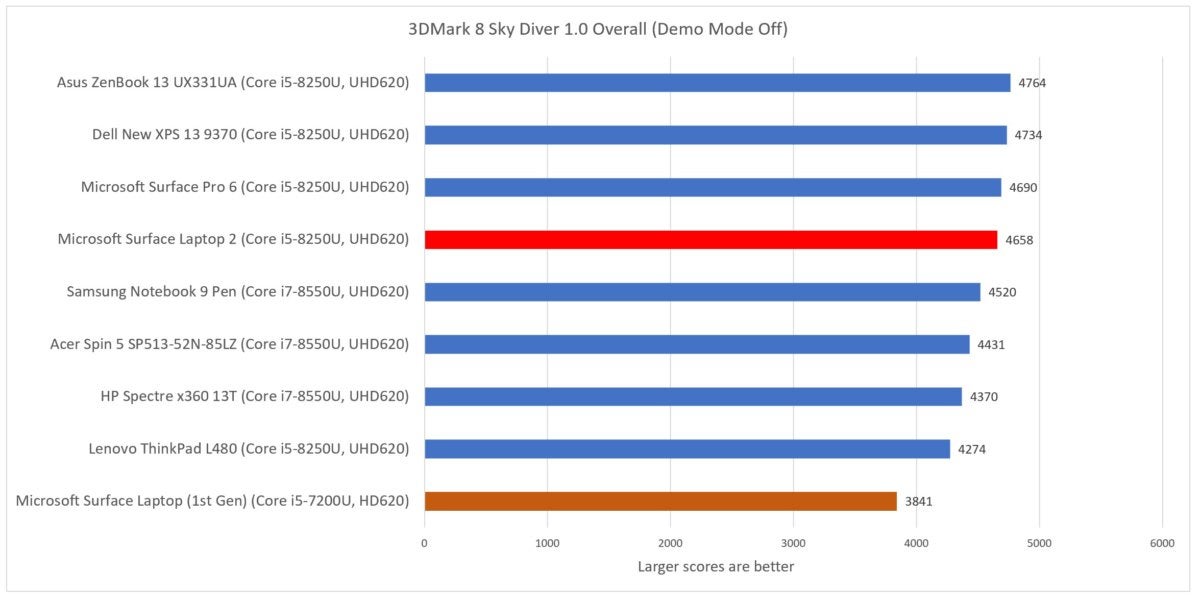 Finally, there's battery life, increasingly a key buying factor. In this case, the 1st Gen Surface Laptop lasted nearly 11 hours, while the Surface Laptop 2 lasted slightly less, about 10.5 hours. There's an explanation: The 1st Gen Surface Laptop's 48Wh battery has an inherent advantage over the Surface Laptop 2's 45Wh supply. Both times are good for working all day.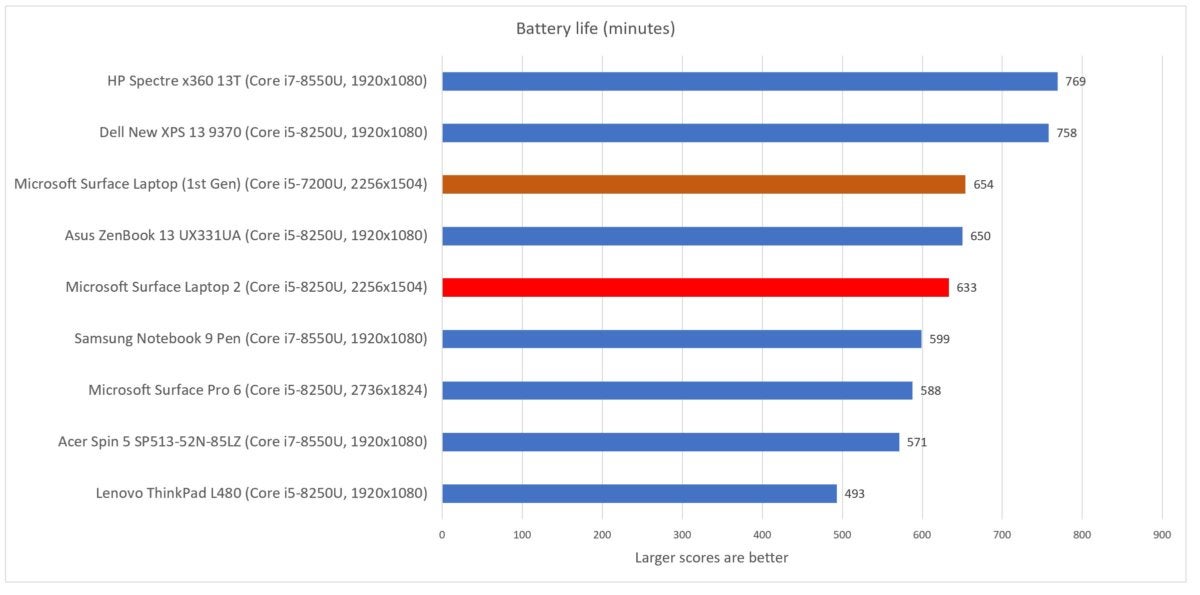 Should you buy the Surface Laptop 2?
Microsoft designed the original Surface Laptop for a student on the go: an affordable, pleasing notebook with moderate performance but killer battery life. Microsoft hewed to the same goal with the Surface Laptop 2.
In the intervening months, however, several other notebooks caught up: the Dell New XPS 13, for example, or the HP Spectre x360 13t (late 2017) offer even better battery life than the Surface Laptop 2, and the XPS far outclasses it in terms of performance. While most peripherals will take advantage of the USB-A port on the Surface Laptop 2 now, the USB-C devices of the future ewill be frustrated. By contrast, Dell's XPS 13 has wholly embraced USB-C.
Microsoft contented itself with merely tweaking the Surface Laptop to create the Surface Laptop 2, and that's fine. It still remains one of the better notebooks of 2018, and you'll be as happy buying it as I was using it. But if you want one of the very best notebooks, you should look elsewhere.
Best Prices Today: Surface Laptop 2