Lenovo has unveiled refreshed 13.3-inch ThinkPad L390 and L390 Yoga notebooks for business customers, now sporting Intel's latest Whiskey Lake processors while maintaining two conveniences from their predecessors, the ThinkPad L380 and L380 Yoga.
Lenovo's ThinkPad L-series notebooks represent the value class of Lenovo's ThinkPad business lineup, appealing to professionals as well as consumers who want a more serious-minded notebook solution. They'll be priced starting at $659 for the L390, and $889 for the L390 Yoga, and available in December in either black or silver.
The new L390 Yoga maintains two handy features that were also offered in the L380 Yoga: the hinge-mounted "world camera" that can be used for workers or students in the field, and the refreshing trend of "garaging" the Lenovo Active Pen within the L390 Yoga's chassis. The latter feature helps to avoid losing the Active Pen within a briefcase or backpack, a convenience that few of its competitors—with the exception of the Samsung Notebook 9 Pen, perhaps—offer. Both laptops are also MIL-SPEC tested, for increased durability.
While a logjam of 8th-gen Intel chips make distinguishing between them somewhat harder than it should be, the new "Whiskey Lake" chips promise 10 percent more performance than the preceding Kaby Lake R 8th-gen chips, and about 50 percent more performance than an Intel 7th-gen Core chip.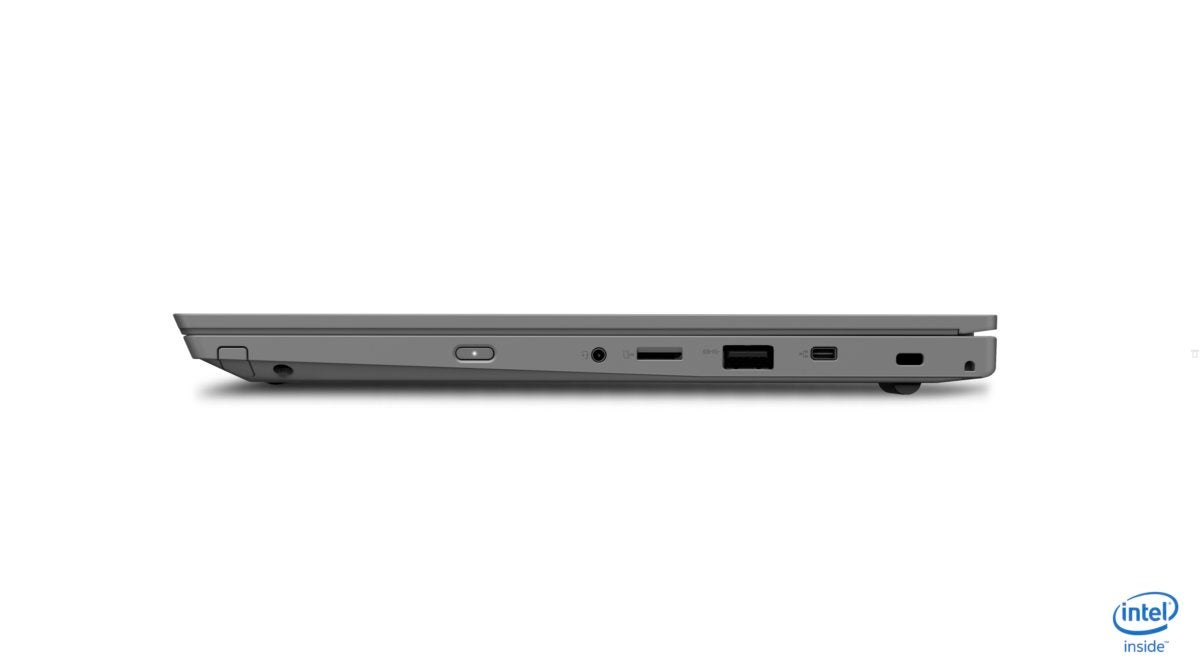 Both notebooks are port-friendly, with both USB-A and USB-C ports—still no Thunderbolt yet, though. There's also a fingerprint reader and a Windows Hello-certified front-facing depth camera. Otherwise, the new improvements are largely internal. Here's what we know of the L390 and the L390 Yoga: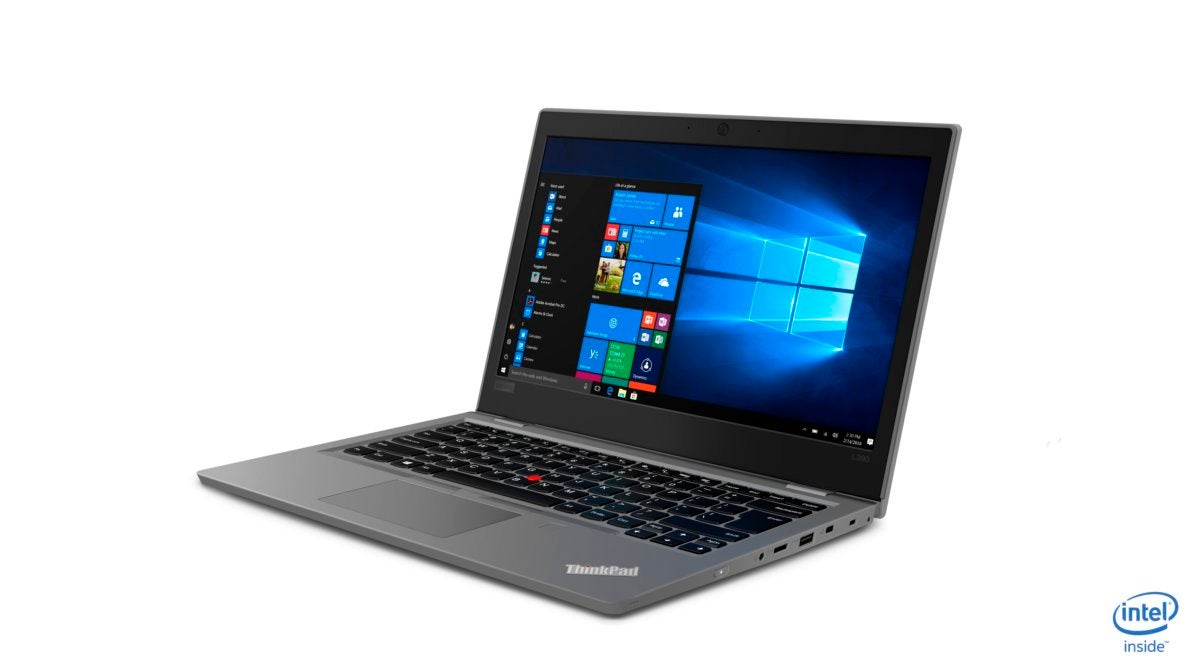 ThinkPad L390: Specs and pricing
Display: 13.3-inch (1920×1080) touch, IPS
Processor: 8th-gen Intel Core ("Whiskey Lake"), Core i5 (vPro), Core i3, Celeron
Graphics: Intel HD (integrated)
Memory: Up to 32GB DDR4
Storage: Up to 512GB PCIe SSD
Security: Fingerprint reader, dTPM 2.0, Kensington lock
Ports: 2 USB 3.0 Type C (5Gbps); 2 USB 3.1 Type A; HDMI 1.4; microSD; miniRJ-45
Wireless: 802.11ac (2×2), Bluetooth, NFC
Camera: 720p HD
Battery: 45Wh
Operating System: Up to Windows 10 Pro, 64-bit
Dimensions: 12.67 x 8.82 x 0.74 inches
Weight: Starting at 3.2 lb
Price: Starting at $659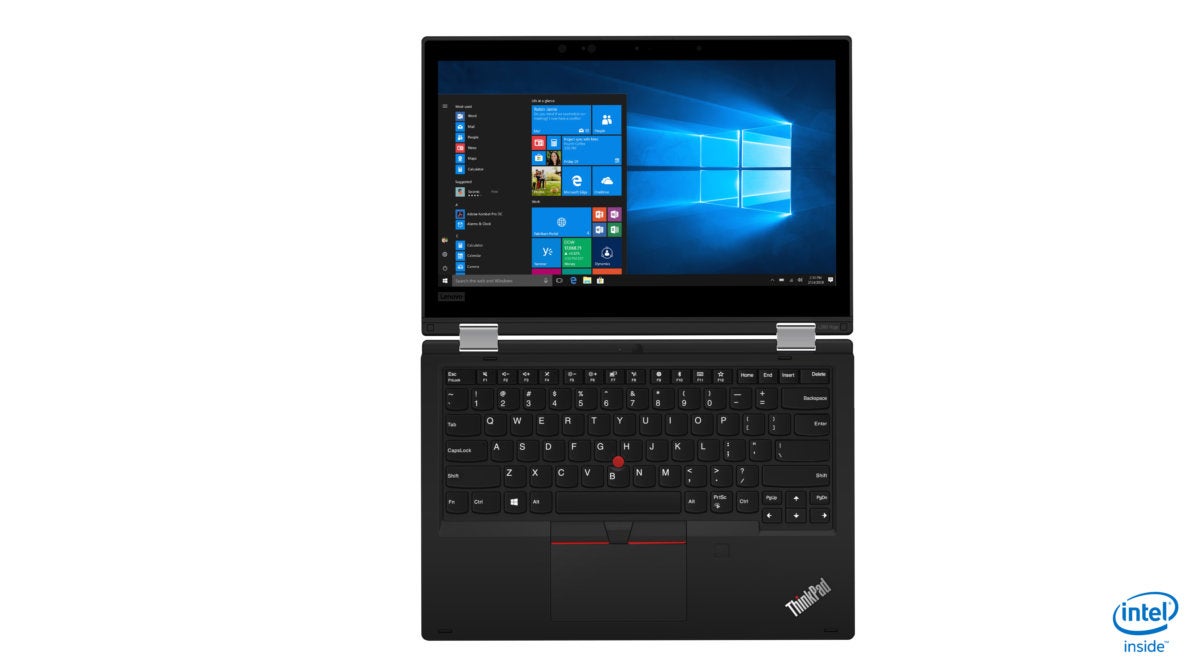 ThinkPad L390 Yoga: Basic specs
Display: 13.3-inch (1920×1080) touch, IPS
Processor: 8th-gen Intel Core (Whiskey Lake), Core i5 (vPro), Core i3
Memory: Up to 32GB DDR4 2400MHz
Storage: Up to 512GB PCIe SSD
Security: Fingerprint reader, dTPM 2.0, Kensington lock, Match on Host touch, NFC
Ports: 2 USB 3.0 Type C; 2 USB 3.1 Type A; HDMI 1.4; microSD; miniRJ-45
Wireless: 802.11ac (2×2), Bluetooth, NFC
Camera: 720p HD/depth camera for Windows Hello; world-facing camera
Battery: 45Wh
Operating System: Up to Windows 10 Pro, 64-bit
Dimensions: 12.67 x 8.82 x 0.74 inches
Weight: Starting at 3.44 lb
Price: Starting at $889