At a Glance
Expert's Rating
Pros
Relatively thin body for a 17-inch gaming laptop
Impressive Core i9 and GTX 1070 performance
Cons
Fans spool up under relatively light loads
Pretty bad battery life
Our Verdict
Origin's EVO17-S shows that you can indeed get Core i9 in a "thin" laptop. It just has to be different definition of what some would think of as thin.
Best Prices Today: EVO17-S
Origin PC's EVO17-S says it's okay to consider an inch-thick laptop "thin." Sure, many mainstream laptops are mere slivers in comparison, but none of them can pack a Core i9 and GeForce GTX 1070—at least, not without the embarrassing performance nerf's of a Macbook Pro 15. As our benchmarks show, if you have a need for speed, the EVO17-S will deliver.
EVO17-S specs: Core i9, GTX 1070 and more
The star of the EVO17-S is its CPU: The mighty Core i9-8950HK is the fastest Intel chip out there. Paired with an Nvidia GeForce GTX 1070 discrete GPU, the other components almost don't matter. What more do you need?
Mentioned in this article
Samsung 970 Pro M.2 NVMe SSD

Origin didn't skimp, though. This laptop packs in 16GB of DDR/2666 RAM and a 512GB Samsung Pro 970 Pro M.2 NVMe SSD, one of the fastest (and priciest) SSDs you can buy.
For bulk storage, the configuration we received for review also includes a 2TB Seagate hard drive. While that may seem quaint to you, it'll see you through many a massive 50GB game install.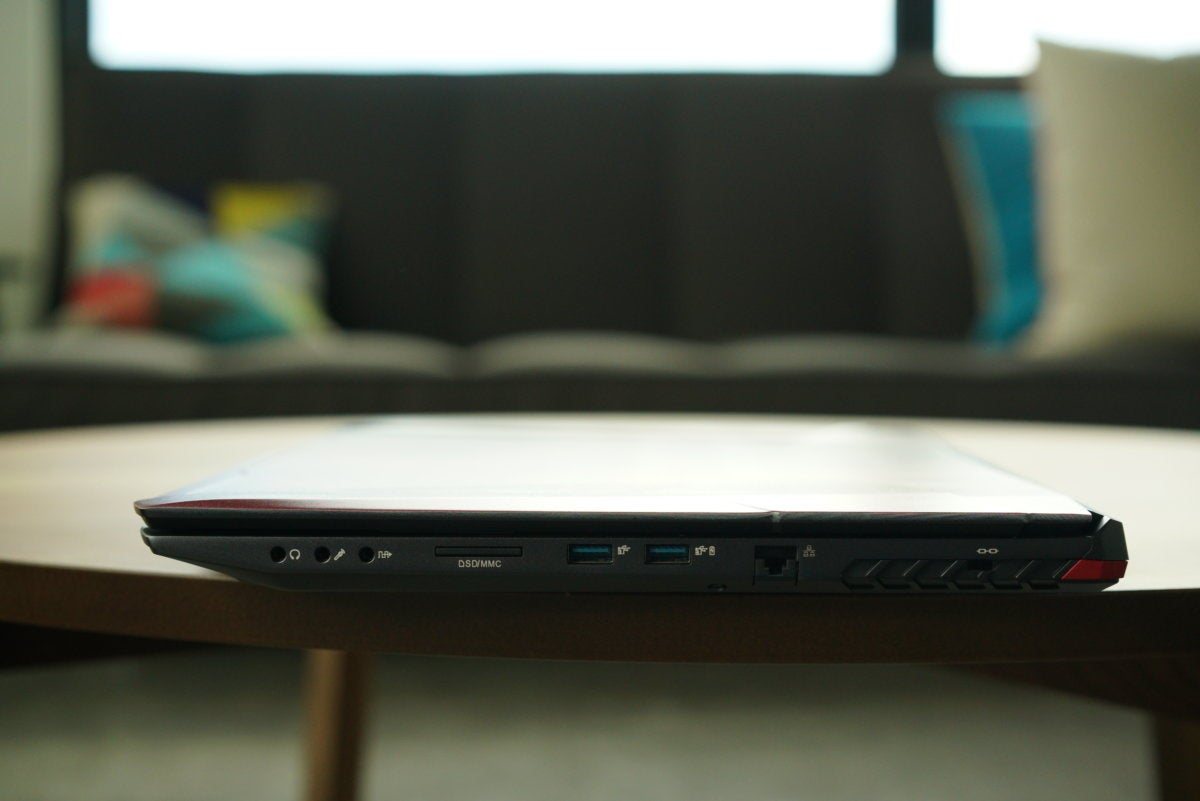 Ports
The EVO17-S offers plenty of ports: two miniDisplayPorts, a full-size HDMI, two USB 3.1 Type A, and a single Thunderbolt 3 port on the left side. The barrel charger for the 230W power brick also plugs into the lefthand side. On the right side there's an SD slot, two more USB 3.1 Type A ports, Gigabit ethernet, S/PDIF, and analog jacks for mic and headphone.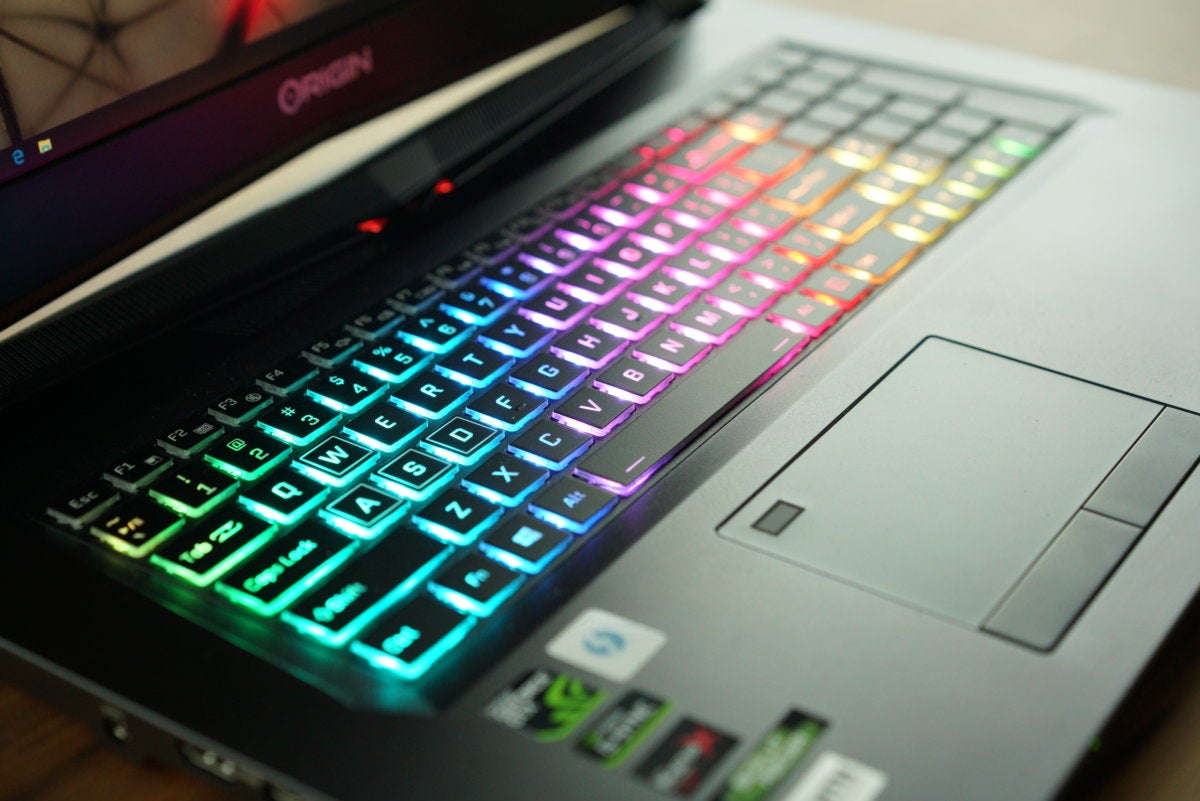 Keyboard and trackpad
The trackpad is a Synaptics model with fingerprint reader integrated into the upper left corner. Rather than a piano-hinge click-type trackpad, the trackpad doesn't move. Separate left-click and right-click buttons are integrated into the bottom.
The keyboard is a dome-type keyboard with an integrated 10-key numeric keypad. The keys are individually RGB backlit.
Unlike some makers who have gone with keyboard skirts to minimize the glow (are they ashamed of their RGB?!), the EVO17-S key bases are translucent. The result is perhaps the brightest RGB backlighting we've ever seen in a laptop—and maybe even among desktop keyboards. For those who may think it's too bright, you can shut them off or select from three brightness levels.
Size and design
The laptop measures about 16.5 inches wide and 11.5 inches deep and, as you know, about 1 inch tall. The lid, keyboard and bottom appear to be anodized aluminum, with the bezel of the screen made of plastic.
Though an inch thin, we were able to hold the laptop for a few seconds by each corner without heavy flexing. The 6-pound, 14-ounce weight of the laptop means you aren't going to do that often, though, without snapping your wrist or fingers first. The total weight of the laptop with its 230-watt power brick is 8 pounds, 15 ounces.
With some gaming brands pushing for more sedate looks to worm into work, the styling on the EVO17-S is very much in-your-face gamer. It's all grilles, vents and bulges. Origin PC, in fact, offers everything from the UV print on our unit's lid to custom paint, laser etching or hydro dip.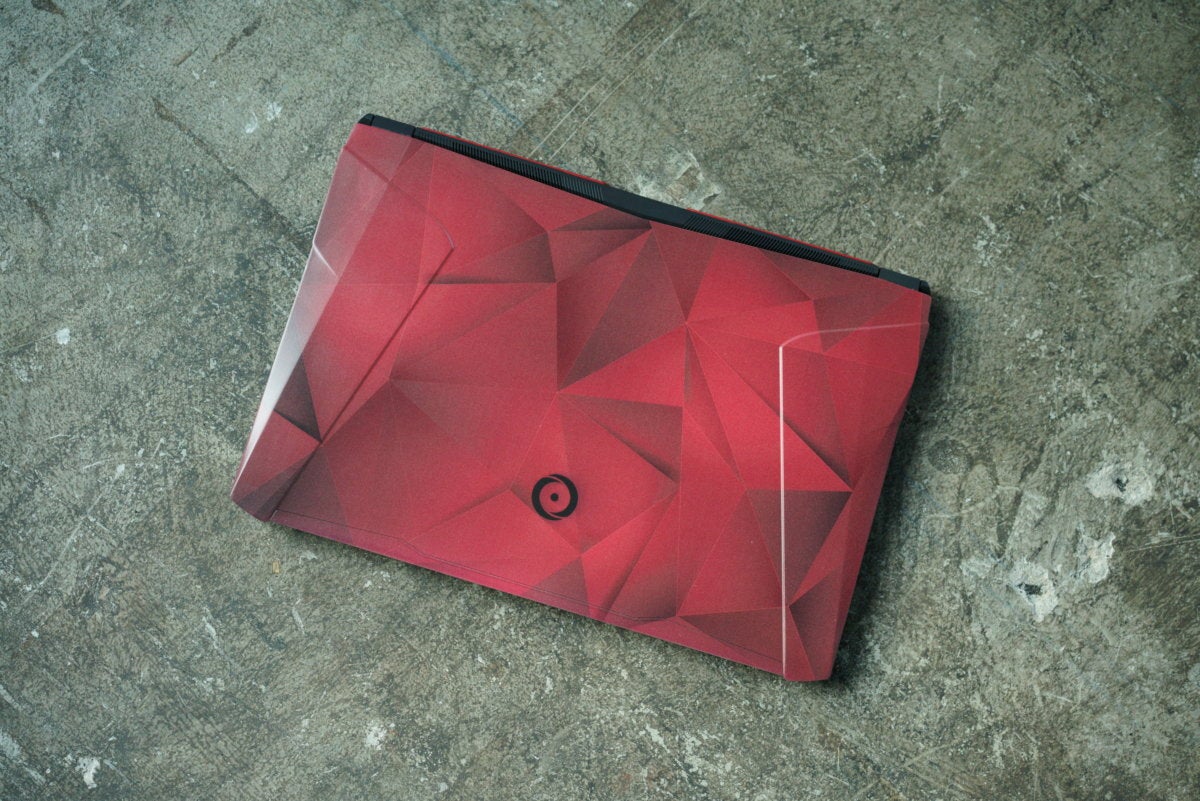 Keep reading for benchmarks, benchmarks, and more benchmarks.
Origin EVO-17S Performance
None of this would matter if the EVO17-S didn't perform. Our first benchmark against a stack of gaming laptops is Maxon's Cinebench R15, which is built on the company's 3D rendering engine from its Cinema4D 3D modelling application.
Modelling and rendering today are highly dependent on the number of CPU cores or threads available. The top dog in this category is the all-AMD version of Acer's Predator Helios 500, with its 8-core Ryzen 7 2700 CPU. Among the 6-core Core i9 chips CPUs, though, the Origin PC EVO17-S holds its weight. It's about 5 percent slower than the Alienware 17 R5, and impressively it's within spitting distance of its older sibling the EON17-X, which uses a desktop CPU. It also outpaces the Intel/Nvidia version of Acer's Predator Helios 500, outfitted with the same Core i9. You can get the Predator Helios 500 to wake up if you overclock it, but out of the box, the EVO17-S does decently well.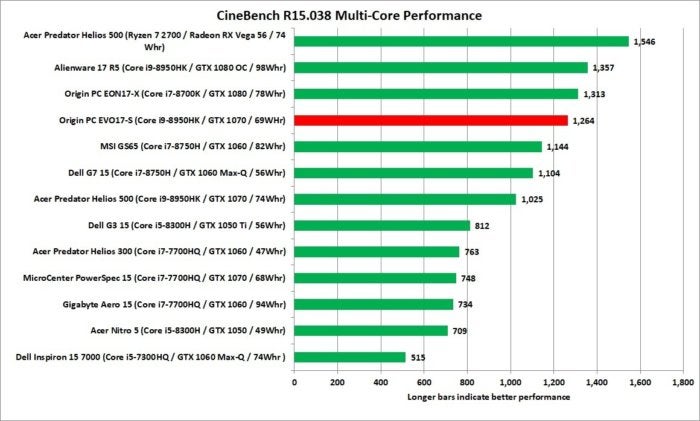 As we said, Cinebench R15 is a test that measures 3D modelling and taps all cores and all threads. However, very few applications and workloads exploit that many cores. In fact, single-threaded and single-core performance is probably more important for 90 percent of what we do in a browser, Microsoft Office, and most games.
To get an idea of how well the Origin PC EVO17-S does in very light loads, we also run Cinebench R15 using just a single core. The result is a pretty big win for the EVO17-S, which actually manages single-threaded performance above that of a Core i7-8700K desktop chip.
What this means is under single-threaded loads, the EVO17-S will boost to about 5GHz for about 5 seconds before settling down to about 4.7GHz. That's enough performance to basically make it the fastest laptop around in single-threaded loads. And no, we didn't overclock it ourselves. That's the out-of-the-box performance from the Origin PC laptop.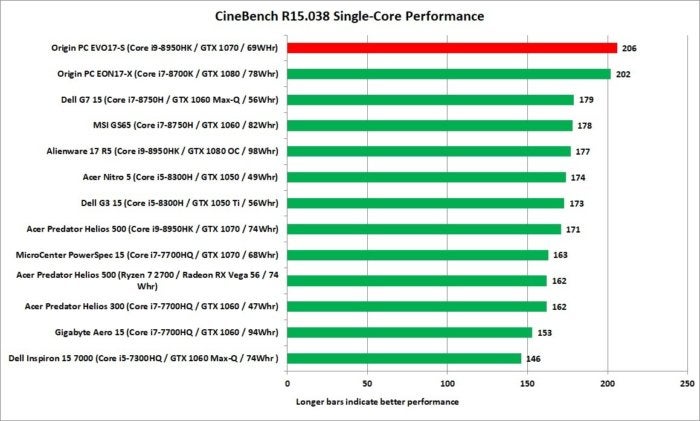 HandBrake Performance
Nothing against Cinebench, but because of its relatively short execution time, it doesn't tell you how a particular laptop will handle the heat in longer tasks. For that, we use the popular and free HandBrake encoder to convert a 30GB, 1080p video file using the Android Tablet preset.
For the most part, the results put the three Core i9 laptops within reach of each other. The thickest of the three, the Acer Predator Helios 500, comes out slightly faster. The two big winners are the older Origin EON17-X with its desktop CPU, and the Acer Predator Helios 500 outfitted with the 8-core Ryzen 7.
The Core i9's main advantage is high-boost clocks, which it will hold until it heats up enough for the the CPU to ratchet back performance. You can see, for example, that the 6-core Core i7 laptops aren't that much slower than the 6-core Core i9 laptops in the chart once the turbos burn off.
For the most part, on heavy, heavy CPU workloads, we'd declare it a tie between the three Core i9 laptops. Given the thickness of the EVO17-S, we'd call that a pretty good draw.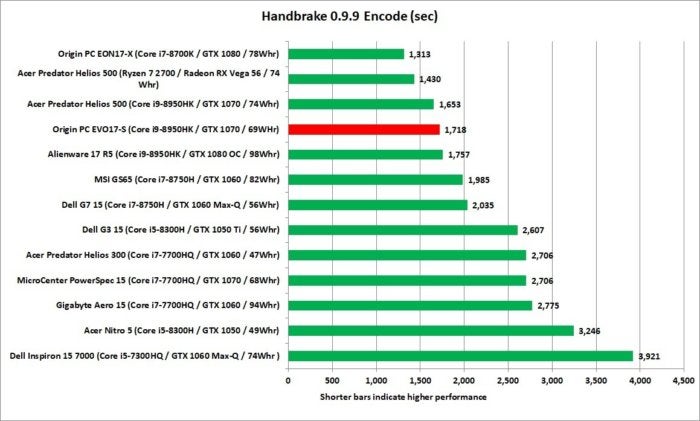 Gaming Performance
You don't buy a laptop like the EVO17-S just for CPU workloads. No, you buy a laptop like the EVO17-S for gaming. First up is an overall score using 3DMark Fire Strike, a synthetic gaming benchmark with a lot of credibility.
The GeForce GTX 1070 in the EVO17-S performed as expected. For the most part, a GeForce GTX 1070 unconstrained by thermals has always been a good GPU. The EVO17-S is slightly ahead of the other full GTX 1070 laptops.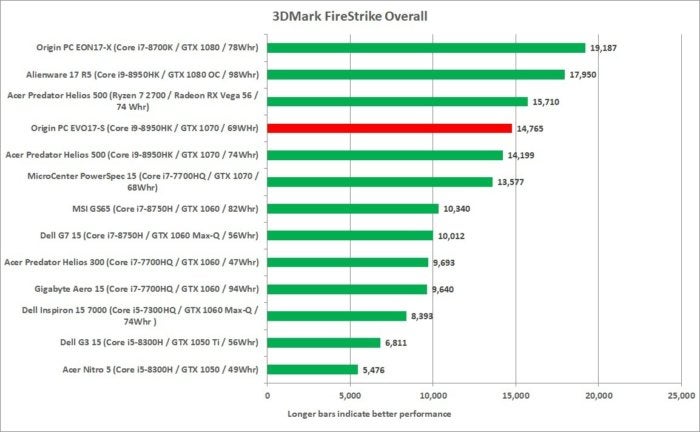 We also ran a few games, and here's one of a few that tells you what you need to know: It's pretty much dead even with the other GTX 1070 laptops. At this level of laptop it's about picking what GPU you want. If we were to look for a weakness of the EVO17-S, it's the lack of a GTX 1080 upgrade. That gives the edge to other designs which let you pick from the top-end GPU and down.Still, let's not be too picky. This is a fairly thin laptop for this much hardware.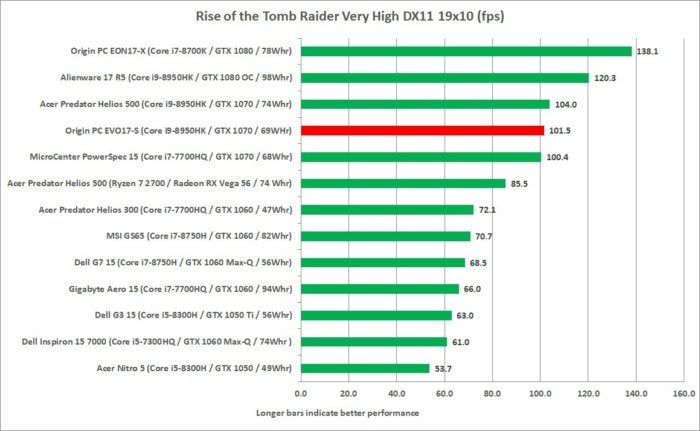 Battery Life
We don't think battery life should really matter that much on a large gaming laptop, which spends 99 percent of its life on AC. Still, you should know it's not good on the EVO-17S. In fact, it's probably fair to say it's poor. We basically got just over two hours of looped video service out of it.
Part of that comes from the use of G-Sync in the high-frame-rate panel. When G-Sync is a feature (and FreeSync for the matter), the GPU must be on even when all you're doing is watching video. On laptops with hybrid graphics, which can use a CPU's IGP for video playback or boring chores, battery life can get fairly decent even in a gaming laptop.
The EVO17-S's smallish battery doesn't help either. Like we said earlier, this probably isn't a big issue on a gaming laptop, which will live as a desktop replacement, but a thin gaming laptop will probably get used on battery far more than a thick desktop replacement. In that regard, you just might want to care more about the battery life here.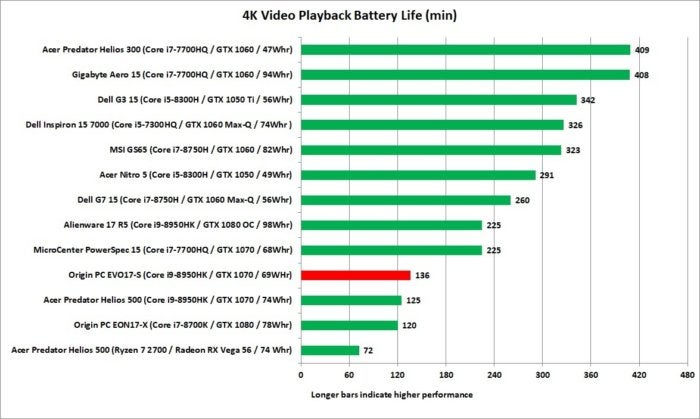 Conclusion
The elephant in the room is all the rumors of impending new GPUs at CES. But the pattern that's emerged lately with hardware has been simple substitutions. If you know the EVO17-S can run a GTX 1070 just fine, you know an equally fast GPU is likely to get rolled into the EVO17-S. We fully expect to see a very similar laptop to this with whatever GPU is announced.
We were more interested in whether the EVO17-S could handle the heat of the Core i9. In fact, when Intel first launched Core i9 in laptops, we initially thought it would appear only in very heavy, very thick laptops. Somewhere along the way, someone thought it would be a great marketing idea to jam the CPU into thin laptops, which meant the Core i9 mostly performed at a Core i7's level.
Origin's EVO17-S shows that you can indeed get Core i9 in a "thin" laptop. It just has to be different definition of what some would think of as thin.