At a Glance
Expert's Rating
Pros
Lasts up to 18 months on two AA batteries
Media keys are easily distinguished
Dual Bluetooth and Lightspeed wireless modes
Cons
Romer-G Tactile switches still aren't our favorite
No backlighting on the main keyboard
Wrist rest feels like overkill when using the G613 on a desk
Our Verdict
Logitech's G613 could benefit from backlighting, especially for living room usage, but long battery life and multiple pairing options make it a solid mechanical keyboard for cable-haters.
Best Prices Today: Logitech G613
Mechanical keyboards have grown from niche to mainstream in the past few years, but only for the corded among us. Those who prefer a wireless keyboard have been out of luck, which is especially odd given the push for more living room-friendly peripherals.
That oversight's starting to be addressed though, with both Logitech and Corsair releasing wireless mechanical keyboards recently. Here we're going to take a look at the former, the Logitech G613, which seems perfect for both living room and desktop use—as long as you don't mind keeping the lights on.
This review is part of our ongoing roundups of the best wireless keyboards and also the best gaming keyboards. Check them out for information on competing products and how we tested them.
Cutting the G213's cord
The G613 has an inauspicious pedigree. Out of the box it looks like Logitech's short-lived G213, an entry-level keyboard that experimented with custom "mech-dome" switches, rubber domes that supposedly felt like true mechanical switches. Supposedly. The reality was not nearly as exciting.
The G213 suffered from other issues. The construction didn't feel very durable, with the chassis flexing a disturbing amount if you put even a little weight on the center. For the G613 to use the same basic design as the G213? It's not the best first impression.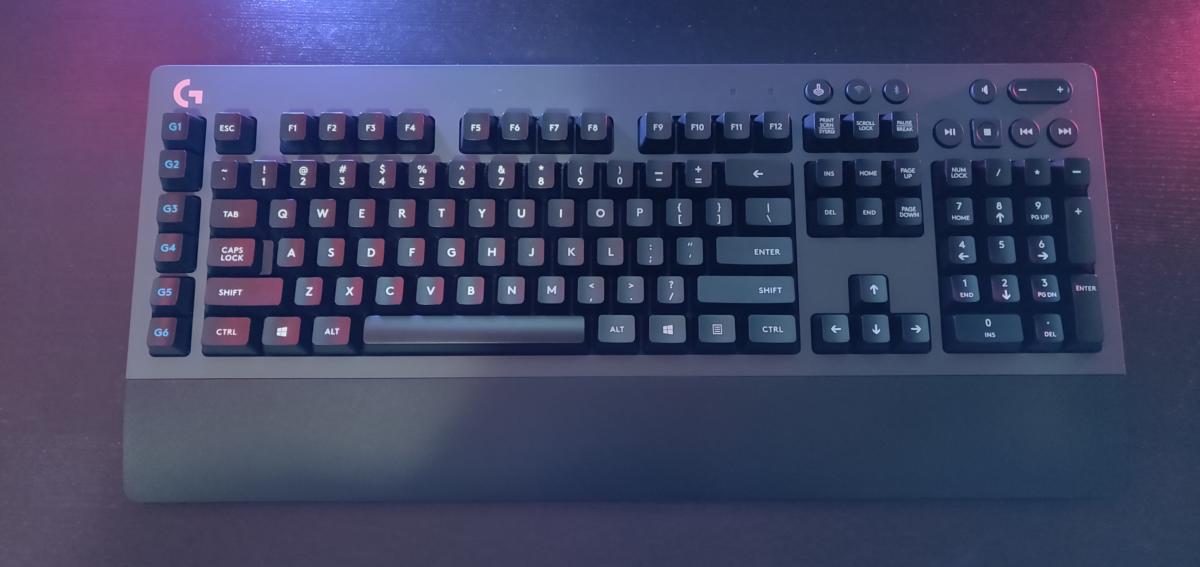 But luckily the G213's sins have been mitigated here. The G613 has a thick and sturdy plastic backplate that seems like a slight improvement over the G213's. It's not a complete solution, and indeed there's still some flexing if you have the feet out. That said, it feels more durable than the G213. I'd prefer a metal backplate and zero flex of course, especially at the G613's $150 price, but you most likely won't notice it in day-to-day use—especially if day-to-day use entails perching it on your lap, as I used it.
That's the real key: The G613 is set up for different use cases than the G213, and thus some of the G213's flaws don't feel as important. The built-in wrist rest, for instance, also benefits from ad-hoc lap usage.
Like its predecessor, the G613 seems enormous when you first receive it. As I wrote about the G213:
"On the one hand, the wrist rest, which is slightly sloped, is comfy enough despite being just naked plastic. On the other hand, it adds a solid two inches of plastic to the keyboard's size. That's fine, as long as you want a wrist rest, but it does make the G213 seem oversized when you remove it from the box."
The sentiment holds true with the G613. It is comfy, but it's also huge. But I think the appeal hinges on how you plan to use the G613. On a lap, the locked-in wrist rest actually makes a lot of sense. There's enough of a ledge to make the G613 stable and give your hands a resting place.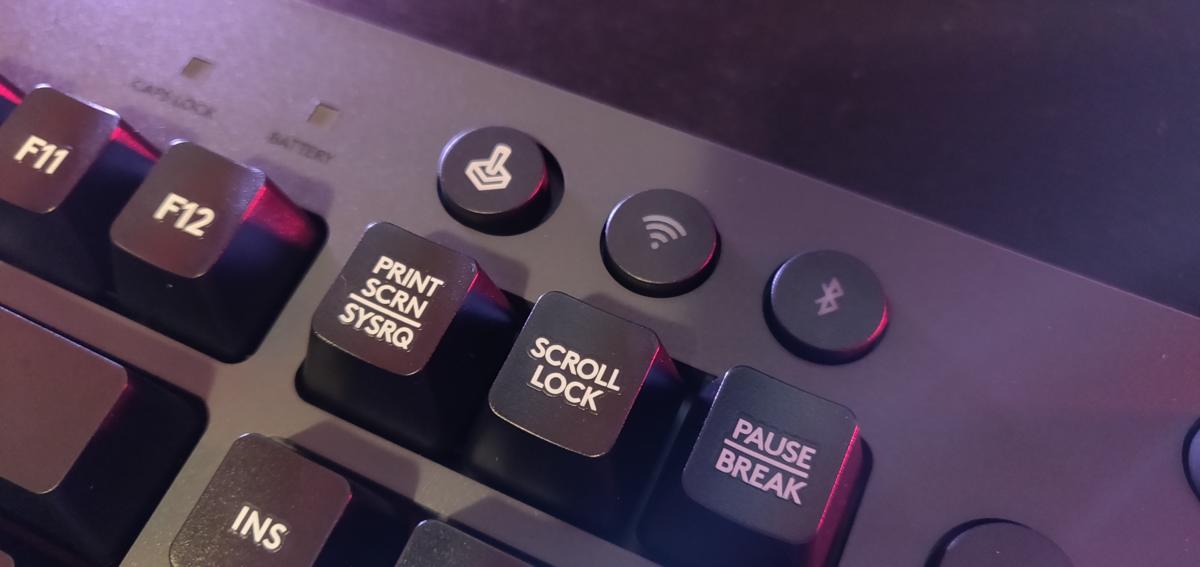 On a desk I'm less enamored, especially given the plush leatherette-padded wrist rest included with the G513. The G613's naked plastic feels chintzy by comparison, and takes up a lot of real estate in the process. As with the G213, I find myself wishing it were removable—especially given the slight color difference between keyboard and wrist rest, which hints at that functionality but doesn't deliver.
There have been a few changes, given the G613 is a wireless keyboard. There's a battery compartment on the underside, calling for two AAs (included)—and with space to store the wireless dongle as well. Two AA batteries last "up to 18 months," as Logitech puts it. That's a wholly useless descriptor, and I'd prefer Logitech quantified it in terms of hours instead, but the point is: The batteries last a long time. The 18 months figure pertains to Bluetooth as far as I can tell, while using the G613 on the Lightspeed wireless setting will cut life down a bit. Even so, a year's pretty decent for a wireless keyboard.
You'll find an on/off toggle on the right side of the keyboard, for those who are militant about preserving every ounce of battery life. Among the media keys you'll find two buttons to toggle between Bluetooth and Lightspeed wireless modes. It's worth noting these are the only backlit keys.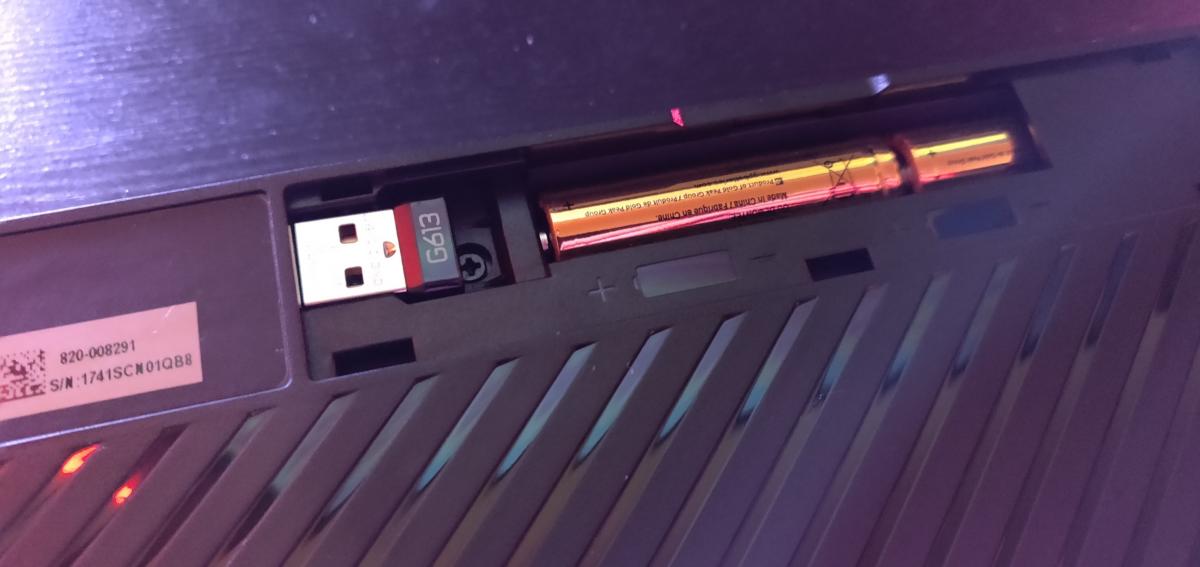 Lighting is the G613's main sacrifice, in fact. There are indicator lights underneath the Lightspeed and Bluetooth buttons, but they turn off after 5-10 seconds. Then there's a battery indicator that flashes green when you turn the keyboard on, or red if the remaining battery's under 15 percent. Lastly, there's a Caps Lock indicator.
That's it, though. There aren't even indicator lights for Num Lock and Scroll Lock, that's how power-efficient the G613's trying to be. And there's no keyboard backlighting at all. I've found that slightly challenging, especially using the G613 in a darkened living room. It's one reason I might recommend Corsair's K63 over the G613, as Corsair opted for full per-key backlighting. That said, the K63 needs to be charged every few days, while the G613 is a long-term workhorse.
I'd also recommend the K63 because, like most Logitech keyboards, the G613 uses Romer-G switches—and not even the new Romer-G Linear switches I tried last year and liked. No, these are the chunky Tactile switches Logitech debuted its Romer-G design with, and in four or five years of testing I still haven't come to love them. As per usual the Romer-G Tactile switch feels a bit too much like a rubber dome to me, with a stiff resistance up front that then gives way all-at-once and results in a lot of bottoming out. It's not a great typing experience, even if the problems aren't as noticeable while gaming.
Bottom line
If you can stomach Romer-G switches though, the G613 is a decent option for living room use. It will last for months on end, is thin enough to tuck under or beside the couch, has a set of macro keys if you want to quickly launch your favorite programs, has large and accessible media keys, and is fairly comfortable to use on a lap. That's all you can really hope for.
At a desk, the benefits are more questionable. Personally I find it pointless to use any wireless keyboard at a desk, but even if we take that out of the equation the G613 is expensive (at $150), has no backlighting, and is saddled with a lackluster wrist rest. We didn't think too highly of the G613's wired cousin, the G213, and if you're going to use the G613 deskbound I'd say it deserves the same score. There are much better wired keyboards for the money, including Logitech's own G513.
Still, if you just can't stand wires for some reason? Logitech's G613 is a gaming-grade keyboard you can pick up and carry wherever. I'd like to see a more full-featured iteration in the future, but at least wireless fanatics aren't stuck with rubber domes anymore.
Best Prices Today: Logitech G613