AMD used its first-ever keynote address at CES to announce its next GPU, the Radeon VII, as well as its 3rd-generation Ryzen processor. Both will ship this year using the 7nm manufacturing process, giving AMD the technological edge over Nvidia and Intel in the war for ever-shrinking chips.
The keynote by AMD chief executive Lisa Su initially paled in terms of new announcements compared to Intel's own 10nm keynote blitz a day before. But it ended strong, with the smaller, finer 7nm technology the focus of Su's speech. It's already been a busy show for AMD, which announced new mobile chips and its first foray into Chromebooks earlier in the week.
Su reminded the audience of several AMD historical firsts, from the world's first 64-bit processor to the integrated GPUs driving today's game consoles. She then looked forward: over 34 billion connected devices will be available in 2025, generating 125 zettabytes of data.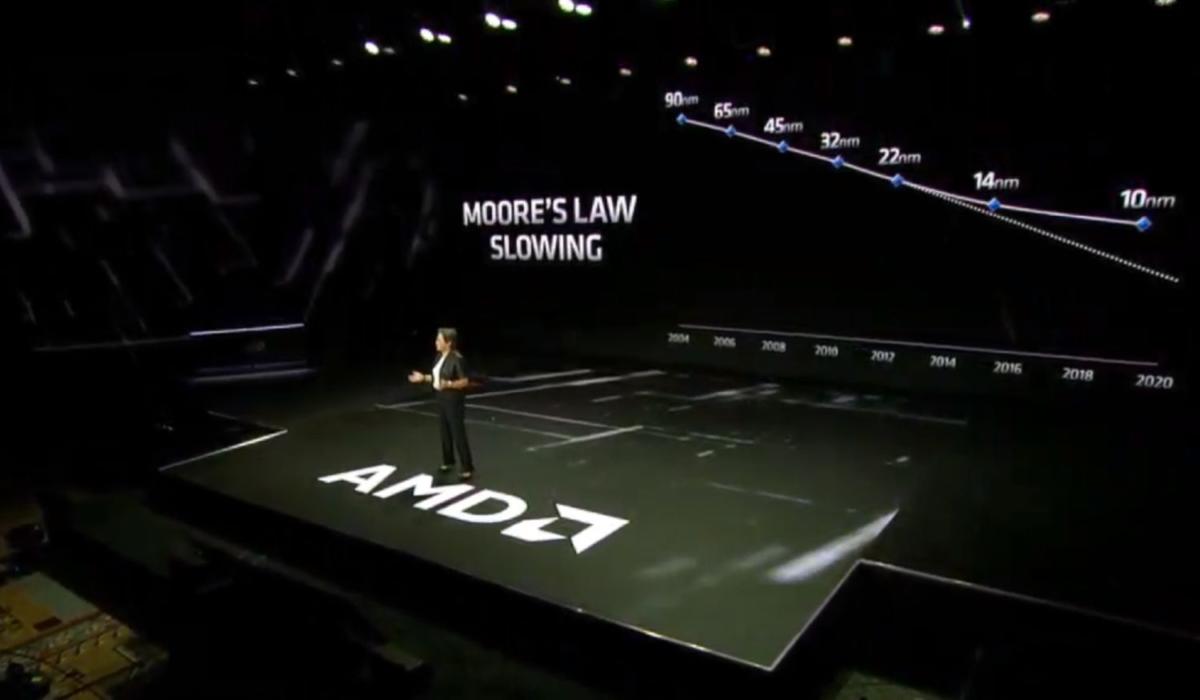 "When we look as an industry, what really excites us is how do we deliver all that computing performance, is how we keep on that trendline…it's going to require new approaches and new innovation, and is a tremendous opportunity for all of us to deliver new leaders," Su said.
The problem is that Moore's Law, the axiom that transistors double over two years, has slowed, putting a premium on design. AMD is also prioritizing heterogenous computing, tasking the right processor to do the right job.
Powering consoles as well as PCs
Content creation is primarily done on the PC, and AMD created Threadripper as a response to it. Su claimed that Threadripper was the most popular high-performance processor. For those performance users, "Threadripper is a game-changer," she said, and played a strong endorsement by Fox VFX Lab, the virtual reality production arm of Twentieth Century Fox film studio.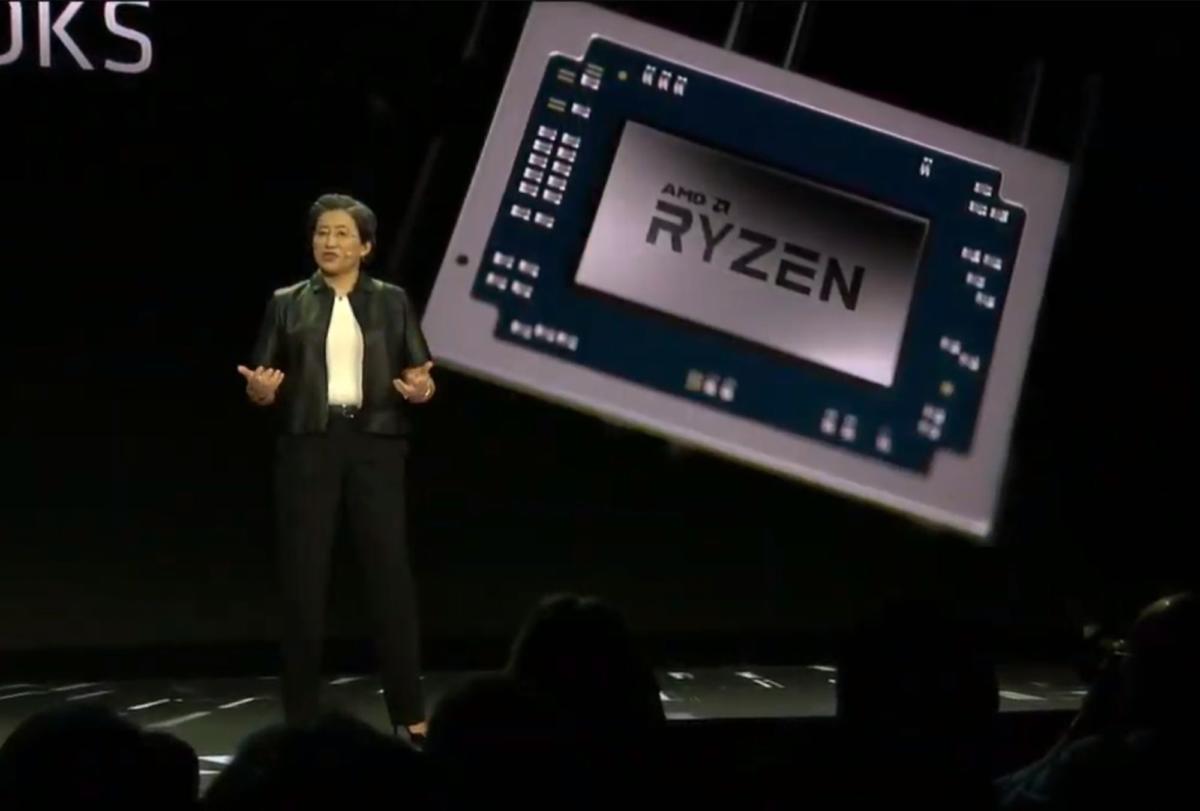 About 160 million notebooks will be sold this year, many of them ultrathin notebooks, Su said, recapping some of the earlier 2nd-gen mobile Ryzen announcements. Modern Windows PCs includes features like the ability to wake it using your voice, 4K streaming, and all-day battery life, and AMD designed its Ryzen chips to support those. AMD will also be powering its first Chromebooks.
AMD is the only company delivering CPUs and GPUS for console as well as PCs, Su continued. Over 400 million gamers play on AMD Radeon graphics, and a lot of them are playing esports. Su said the top five games played on AMD's GPUs are all competitive titles. The founder of esports team Fnatic appeared on stage to remind gamers what esports prioritizes: 1080p resolution and 144Hz or higher refresh rates, with the lowest latency possible. Speed.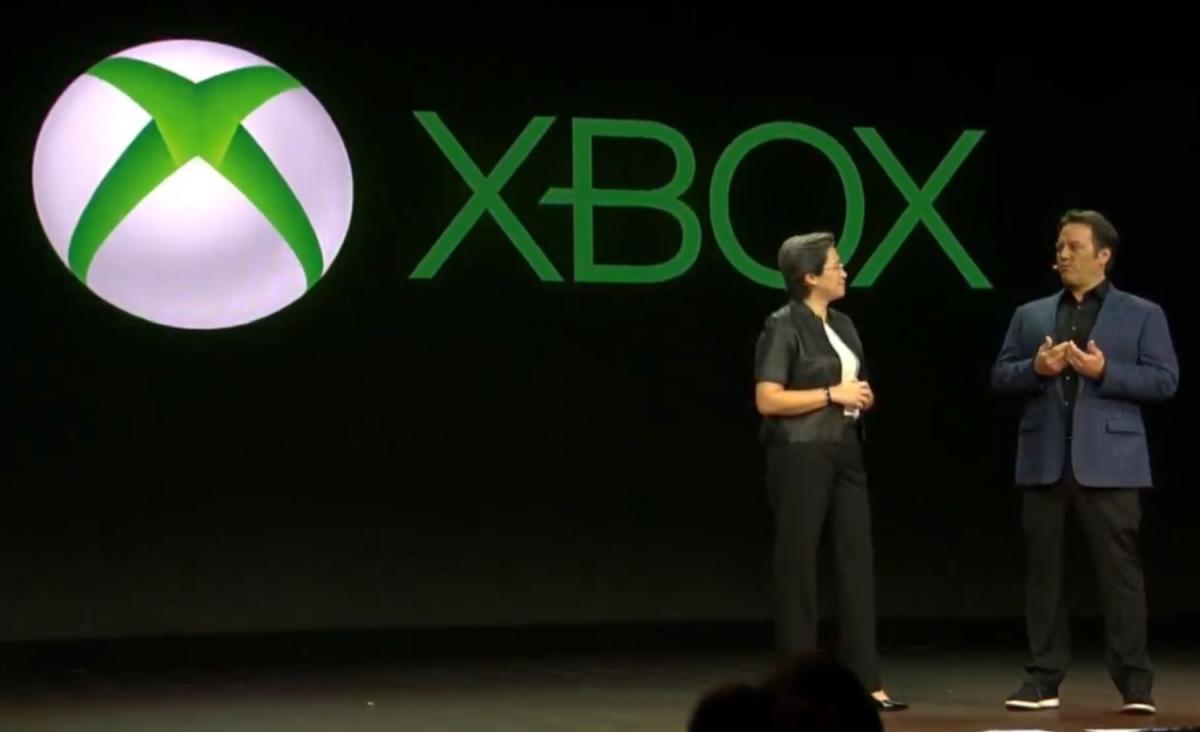 Phil Spencer, the Xbox chief for Microsoft, also came on stage to reminisce about developing the Xbox One X together. About 2 billion people play games around the world, and Spencer said that the AMD partnership was "critically important to our endeavors."
Su also showed off Project Stream, Google's effort to bring high-performance gaming to the browser. Su announced that Radeon Pro GPUs would be used to power the back-end cloud.
Meet the Radeon VII
Moving on to discrete graphics, Su then called out the Radeon RX 590, which PCWorld recently crowned the new 1080p gaming champion. Radeon Software, the supporting software app, has been improved with features like streaming to a phone or VR headset. It's great. But AMD saved its best for last, with the announcement of its next Radeon GPU, Radeon VII.
The Radeon VII is the consumer incarnation of AMD's previously teased 7nm Vega GPU variant, now rebranded to show off the new process technology. The chip contains 60 compute units, putting it between the counts of the Radeon Vega 56 and Vega 64, with 25 percent more performance at the same power.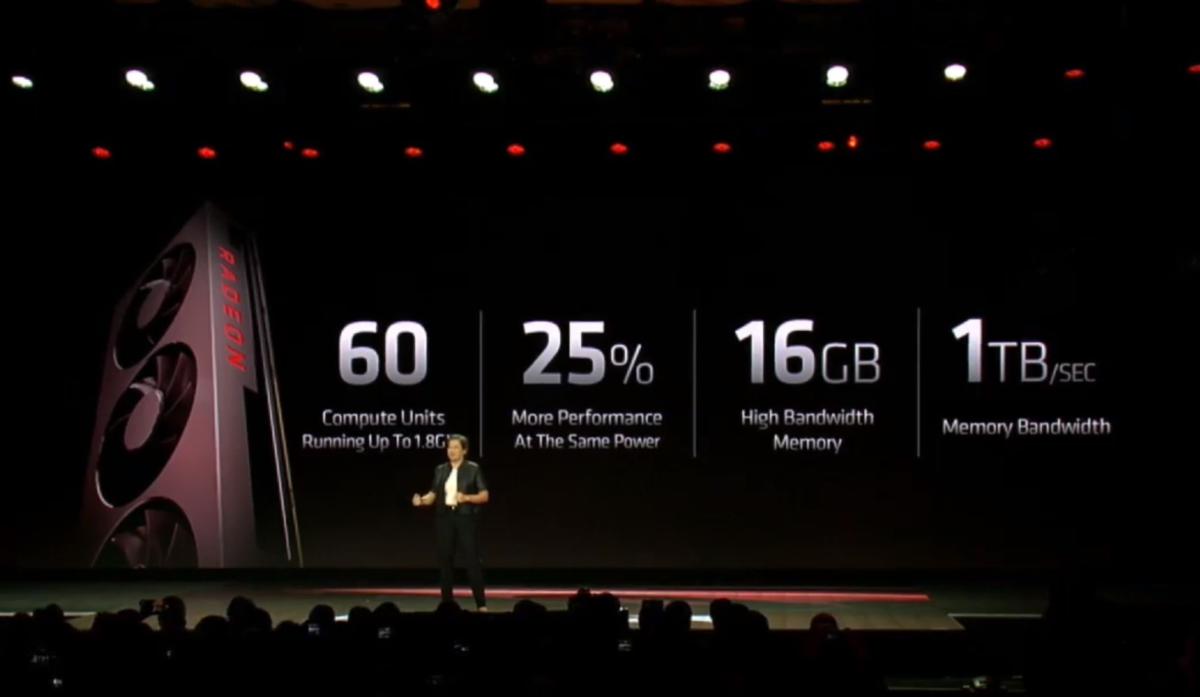 AMD has increased the specs to 16GB of integrated memory, 1TB of memory bandwidth and 30 percent more performance in content creation. This card should scream in GPU compute tasks.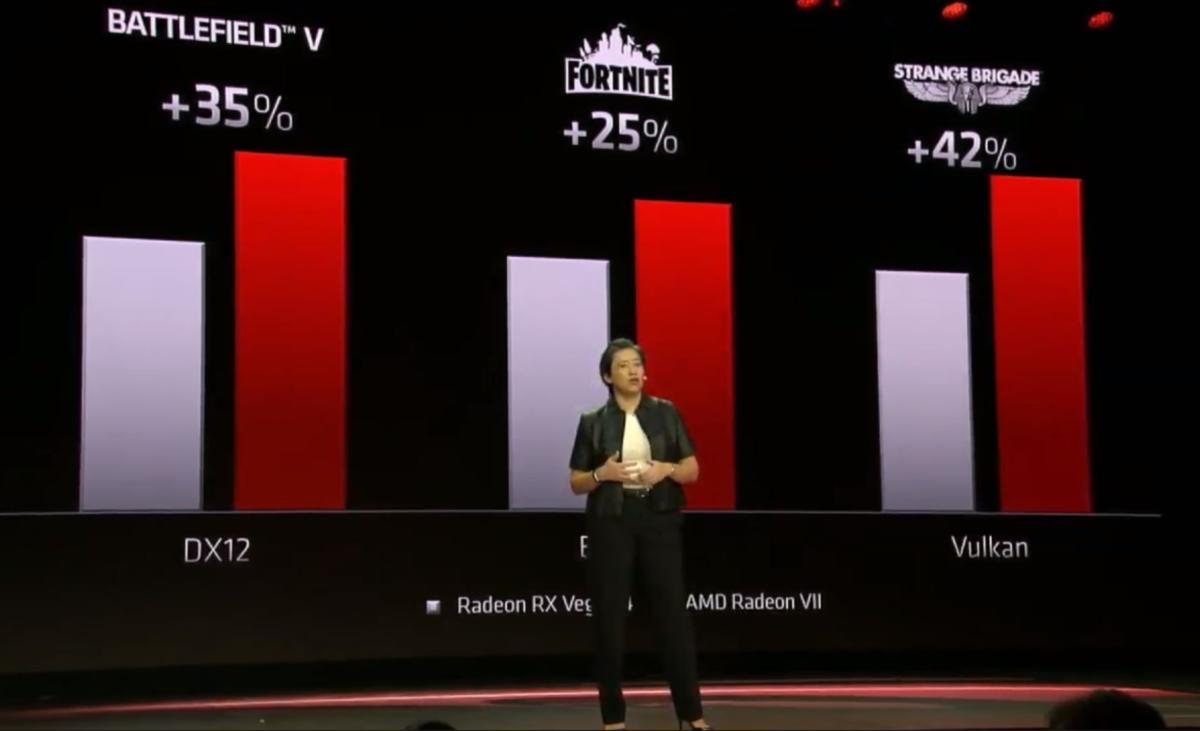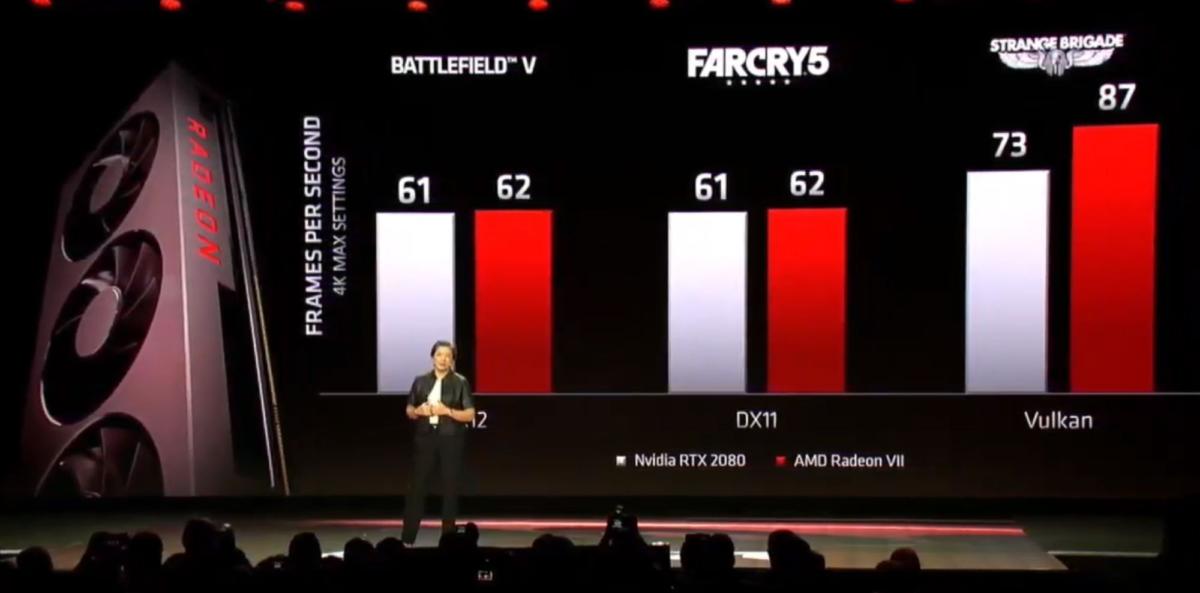 Naturally, gaming performance will significantly improve as well. AMD showed Radeon VII easily surpassing 60 frames per second in Devil May Cry 5, although that game hasn't been released yet, so it's hard to draw comparisons.
AMD also provided some harder performance numbers showing that Radeon VII should be significantly faster than the original Vega 64. Su showed the new Radeon trading blows with Nvidia's $700 GeForce RTX 2080 in Battlefield V in DirectX 12 and Far Cry 5 in DX11, and blowing past it in Strange Brigade's Vulkan modes. Those games tend to favor AMD titles, though, so wait for independent testing to confirm the new graphics card's place in the gaming world.
The Radeon VII will cost $699 when it launches on February 7. AMD will also toss in three free games—The Division 2, Devil May Cry 5, and Resident Evil 2—when you buy one.
Here it comes: AMD's 3rd-gen Ryzen announced
Next up: the new 3rd-generation Ryzen CPU.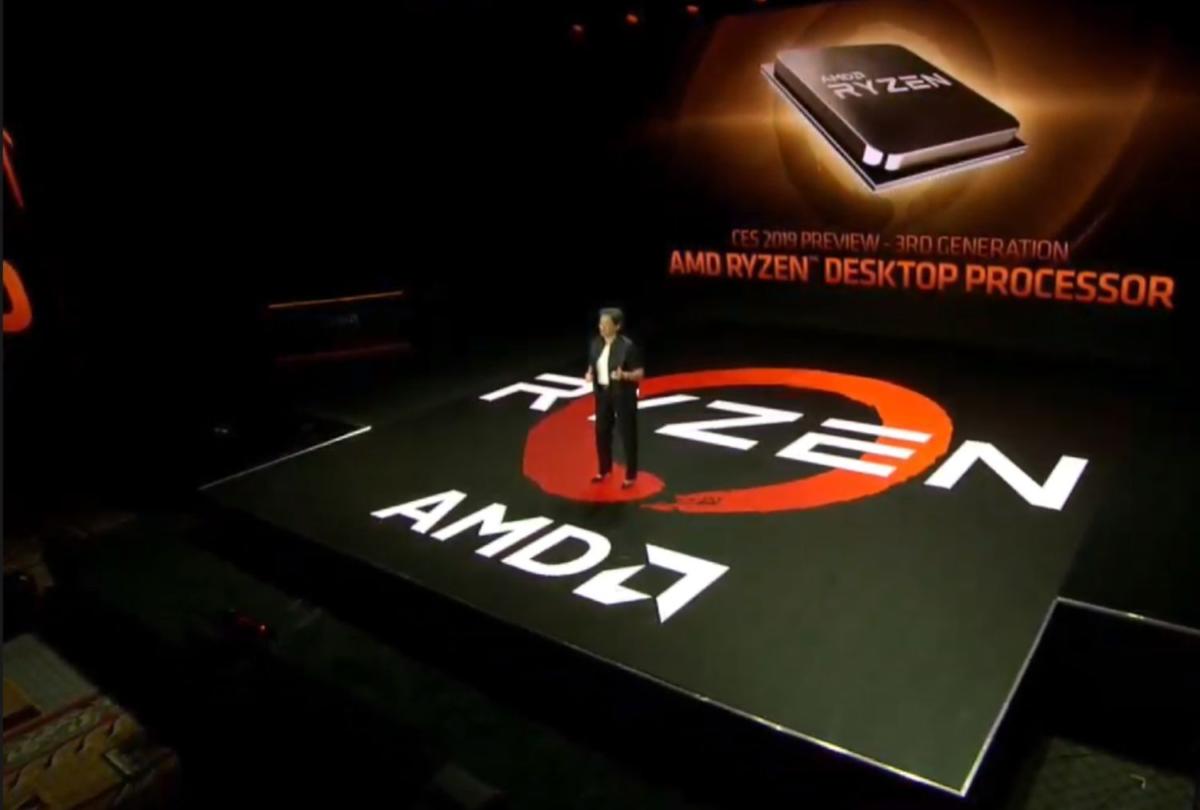 The 3rd-gen Ryzen architecture is powered by the Zen 2 core. As a desktop processor it "wlll absolutely set the bar for performance and power efficiency, " Su said. AMD showed off Forza Horizon 4 with the 3rd-gen Ryzen and Radeon Vega VII, running at more than 100 frames per second. It was a "preview" of the next-gen Ryzen chip, Su said.
In a comparison against the Core i9-9900K, using the new 8-core, 16-thread Ryzen (but not at the final shipping frequency), AMD performed a live Cinebench test onstage. The Core i9-9900K returned a score of 2,040, while the Ryzen 3 reported 2,057 with significantly less power draw.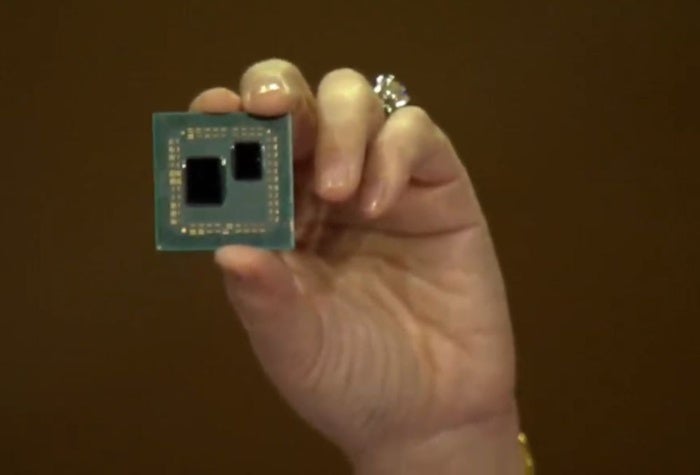 The 3rd-gen Ryzen uses a "chiplet" design, where the Ryzen CPU runs on its own separate die, connecting to an I/O chip in the same package. The 3rd-gen Ryzen chips will also be the first consumer CPUs to support PCI-E 4.0, Su said. Ryzen 3 will ship sometime in the middle of 2019, Su said.
Analysts were impressed. "The biggest surprise of the day was AMD's re-entry into the enthusiast graphics space, which it hasn't seen in at least five years," said Pat Moorhead, principal with Moor Insights.
"I believe the Radeon VII will perform best in the consumer creative space given its 16GB of HBM [high-bandwidth memory], but it will also perform well in gaming," Moorhead continued. "Radeon VII's success will be dependent on how many the company can make and the importance gamers put on features like the competition's accelerated ray tracing."
—PCWorld's Brad Chacos contributed additional reporting in the Radeon VII section.