Haptic feedback is the one feature I miss when gaming on PC. I love me a mouse and keyboard, but I find myself reaching for my Xbox One controller sometimes just for the rumble effects. It's not a very sophisticated version of haptic feedback, but it nevertheless adds so much to the weightiness of guns, the rumble of engines, the boom of an explosion—all these small touches you don't notice until they're gone.
Nobody's managed to make haptics work on PC though. Or, at least, nobody's stuck with it long enough to force adoption.
Razer loves a good gimmick though, and in keeping with that spirit Razer might be the company to deliver us from our rumble-less prison. Well, Razer and a gaggle of partners, including Lofelt and Subpac.
Shaking it up
We already got a glimpse of Razer's rumbling future late last year, with the Nari Ultimate headset. I admit, I expected the Nari Ultimate to feel like a gimmick. It's a headset that literally vibrates your skull in time with the low-frequency effects, which sounds…well, really dumb.
Mentioned in this article
Razer Nari Ultimate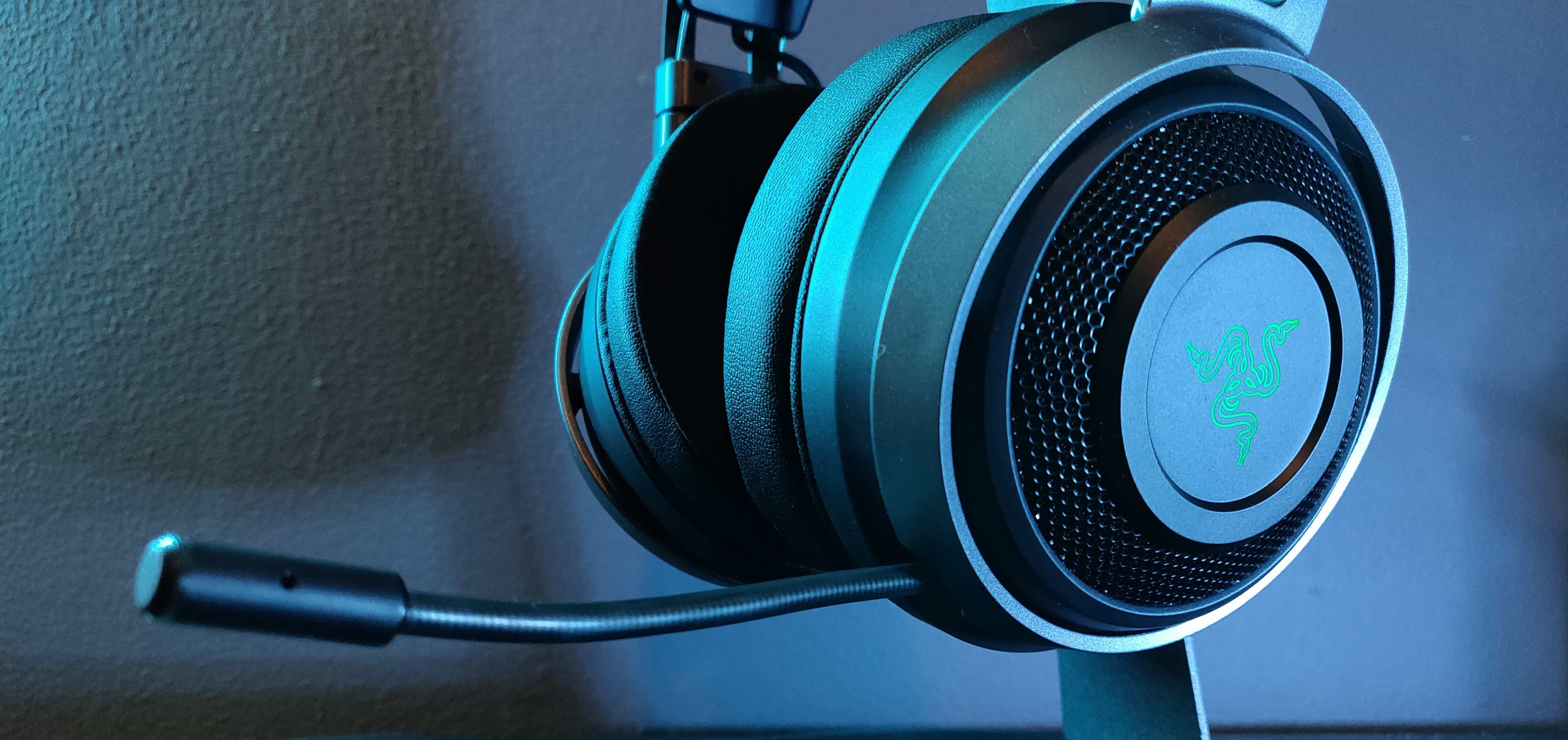 Price When Reviewed:
$199.99
And yet it works. Listening to music, the Nari Ultimate will pulse insistently in time with the kick drum, rumble along with a synth, bounce to the bass guitar. Gaming, you might get a crunch driving through a wall in Forza Horizon 4, or a sharp blast from a grenade going off in Battlefield V. Like controller rumble, it quickly fades from gimmick to background feedback, an effect you notice as soon as it disappears.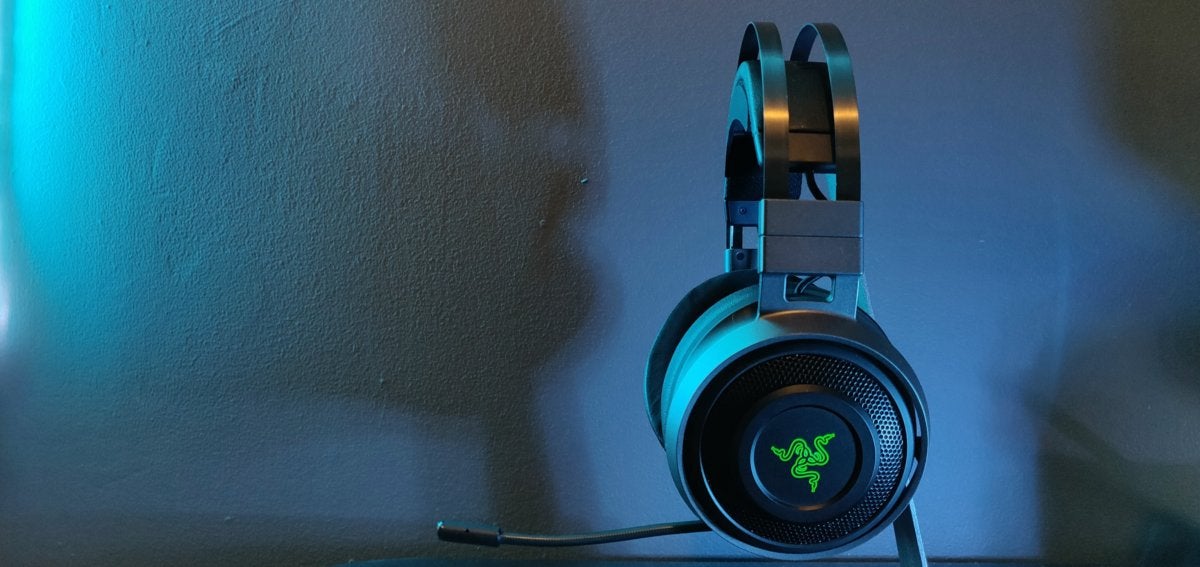 What makes it work? What elevates it above other, similar attempts at haptic-enabled headsets? Precision, mostly. Designed by Lofelt, the Nari Ultimate's haptic effects are more nuanced than the crude on/off rumble of old. Called "HyperSense," the haptics operate across the entire 20Hz to 200Hz low-end range, and also process sounds in stereo.
That means you get layers of feedback. The music I mentioned above? You don't just feel the kick drum, synth, or bass guitar in isolation. You feel all three at the same time. Perhaps the bass guitar throbs from your right side, the synth from the left, and the kick drum is an additive force on both sides. Playing Battlefield, a tank moving left to right moves in sync with the Nari Ultimate's haptics, while every explosion or stray bullet thud gets an accompanying, shorter shake.
It's one of the most advanced consumer-ready haptics implementations I've ever played around with—and now it's looking like just a proof-of-concept for Razer's greater ambitions.
This week at CES, Razer showed off an entire haptic-enabled suite of PC peripherals. Now, let's be clear: Most of these peripherals aren't being sold yet. They're Razer prototypes, and may or may not ever see the light of day. The CES setup consisted of the aforementioned Razer Nari Ultimate, a haptic-enabled chair powered by Subpac, and a haptic-enabled mouse and wrist rest powered by Lofelt.
Here's an illustration: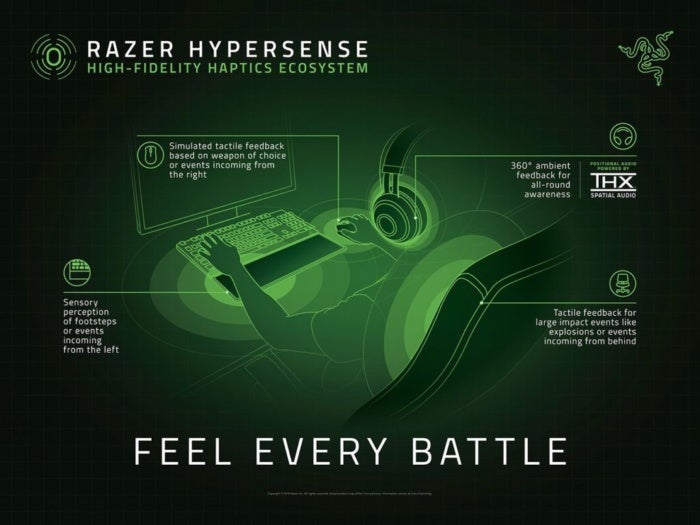 So yeah, the Nari Ultimate is still carrying a lot of the weight. The wrist rest vibrates to signal movement from the left though, while the mouse vibrates to simulate right-hand movement in addition to traditional gun feedback. Then the chair subwoofer handles rear-facing events, plus any large-scale impacts (i.e. explosions).
Take that, controller rumble. This is what PC haptics should look like.
This isn't the first time these ideas have been explored. Subpac's an established product, albeit niche, and SteelSeries makes a few rumble-enabled mice, the Rival 500 and Rival 710. But the key difference? HyperSense, again.
When I reviewed the Rival 500, my main complaint was that its haptic capabilities relied on developer integration—and at the time, that compatibility list consisted of approximately five games. I'm sure the situation's improved a bit since then, since SteelSeries just released the Rival 710 in late 2018. But still, it's a pretty mediocre way to bring about new technology, as we've seen with the bevy of competing RGB LED tie-ins. If you have a Razer keyboard, Overwatch will trigger some cool stuff! If you have a Logitech keyboard, Grand Theft Auto V's your game! If you love Corsair, Far Cry 5 is your game!
And so on, and so forth.
HyperSense is plug-and-play though. It's simply reading your low-frequency range and attempting to emulate what it "hears." It's not always 100 percent spot-on, but the advantage is it works with every game, every movie, every bit of music straight out the box.
Thus it falls to hardware manufacturers to add compatibility for HyperSense, not every individual game and program. Lofelt's mouse and wrist rest prototypes are designed to work with the system, Subpac works with the system, and I'm sure we'll see more partners down the line.
Razer's quick to add that game developers can tie HyperSense into their games in a more bespoke way. From the announcement:
"Like Razer Chroma, Razer HyperSense is capable of a more distinct and powerful immersive experience via game developer integrations which tie specific game events, audio queues and game mechanics to high-definition haptics capable of reproducing a wider variety of vibrations than conventional haptic devices for natural and lifelike feedback."
Developers don't need to do so, though—and that makes all the difference. It means even in some hypothetical future where you have a rumbling Razer headset, a rumbling Corsair mouse, and a rumbling Cooler Master wrist rest, they should still function with some semblance of logic based on raw low-frequency output.
Bottom line
That's a very hypothetical future though. At the moment, Razer appears far ahead of the competition in this regard. As I said, they love a good gimmick over at Razer, and haptic feedback's traditionally fallen into that category on PC.
But gimmick or no, it deserves an honest appraisal. Haptic feedback adds a lot to the gaming experience when done right, in ways both large and small. If Razer can pull off an all-encompassing haptic ecosystem? I'll be the first in line to get shaken like ye olde Polaroid picture.