At a Glance
Expert's Rating
Pros
It's five pounds and fast!
Very respectable battery life
GeForce RTX 2080 Max-Q offers outstanding performance in today's games
Cons
Odd trackpad location
Hybrid Ray Tracing performance is slower than expected
Expensive
Our Verdict
MSI's GS75 Stealth offers performance and battery life previously unseen at this weight, thanks in large part to its RTX 2080 Max-Q graphics.
Best Prices Today: MSI GS75 Stealth
The MSI GS75 Stealth challenges that old PC laptop proverb that says you can have high performance, and you can have a 17-inch screen, and you can have light weight—but you can only pick two. Sure, at five pounds GS75 is hardly "light." But along with its 17.3-inch display it packs an 8th-generation 6-core CPU and Nvidia's brand-spanking new GeForce RTX 2080 Max-Q graphics inside.
Mentioned in this article
EVO17-S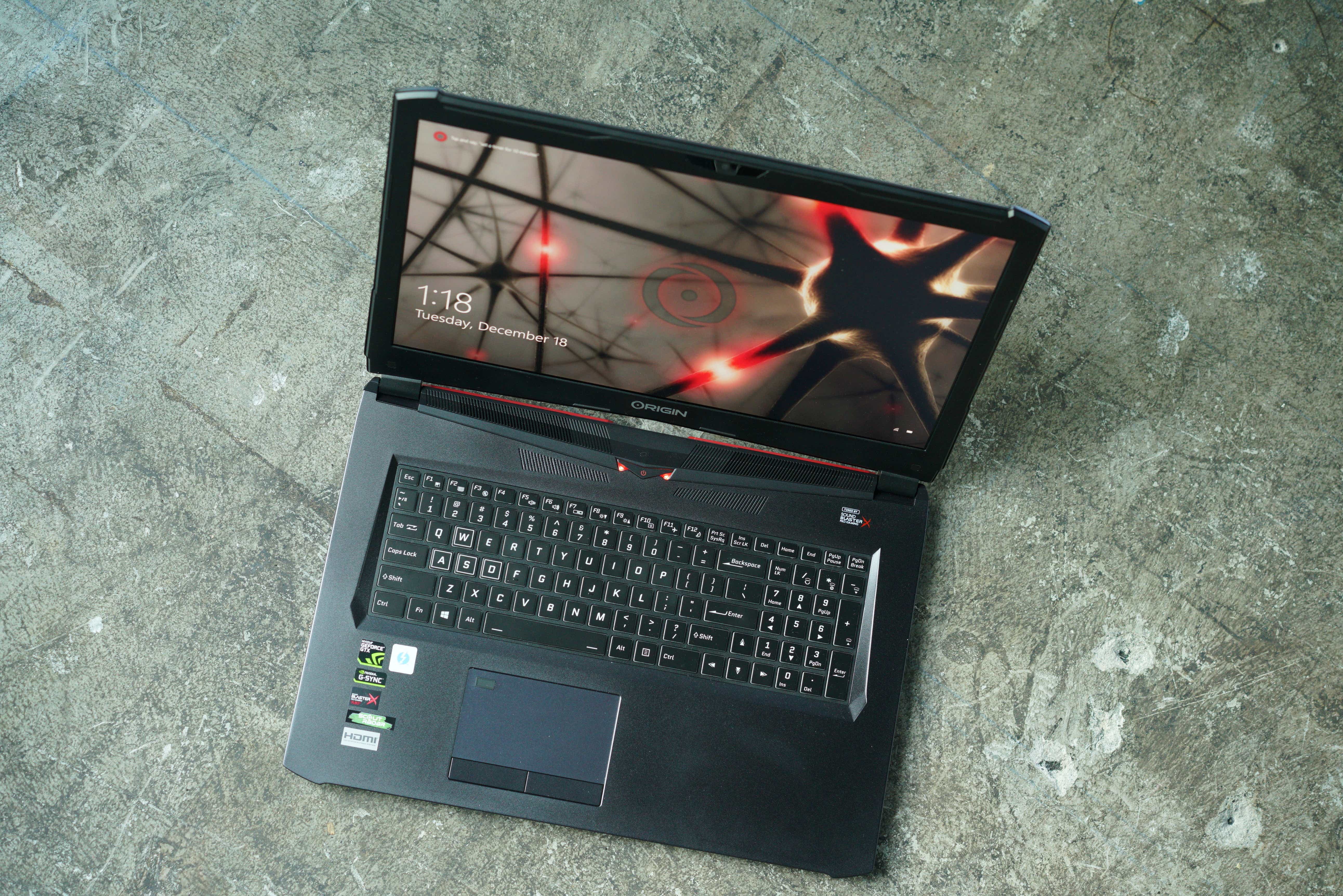 Price When Reviewed:
$2659
To put it in context: Origin PC's EVO-17S is considered pretty portable for a 17-inch laptop, and it weighs nearly seven pounds, with a GeForce GTX 1070 inside.
Meanwhile, Razer Blade Stealth, the self-anointed "smallest 15-inch gaming laptop," is just slightly smaller and lighter than the MSI GS75 at 4.6 pounds.
Mentioned in this article
Razer Blade Stealth (2018)
Price When Reviewed:
$1499.99
The MSI GS75 is one of the first laptops to debut with Nvidia's RTX graphics for laptops, announced earlier in January at CES. This review focuses a bit more on graphics than usual as a result—and as you'll see in our benchmarks, the MSI GS75 is a (relatively) lightweight laptop with a heavweight wallop. As we test more laptops with the new technology, we'll add that information to an accompanying story discussing whether Nvidia RTX for laptops is worth it.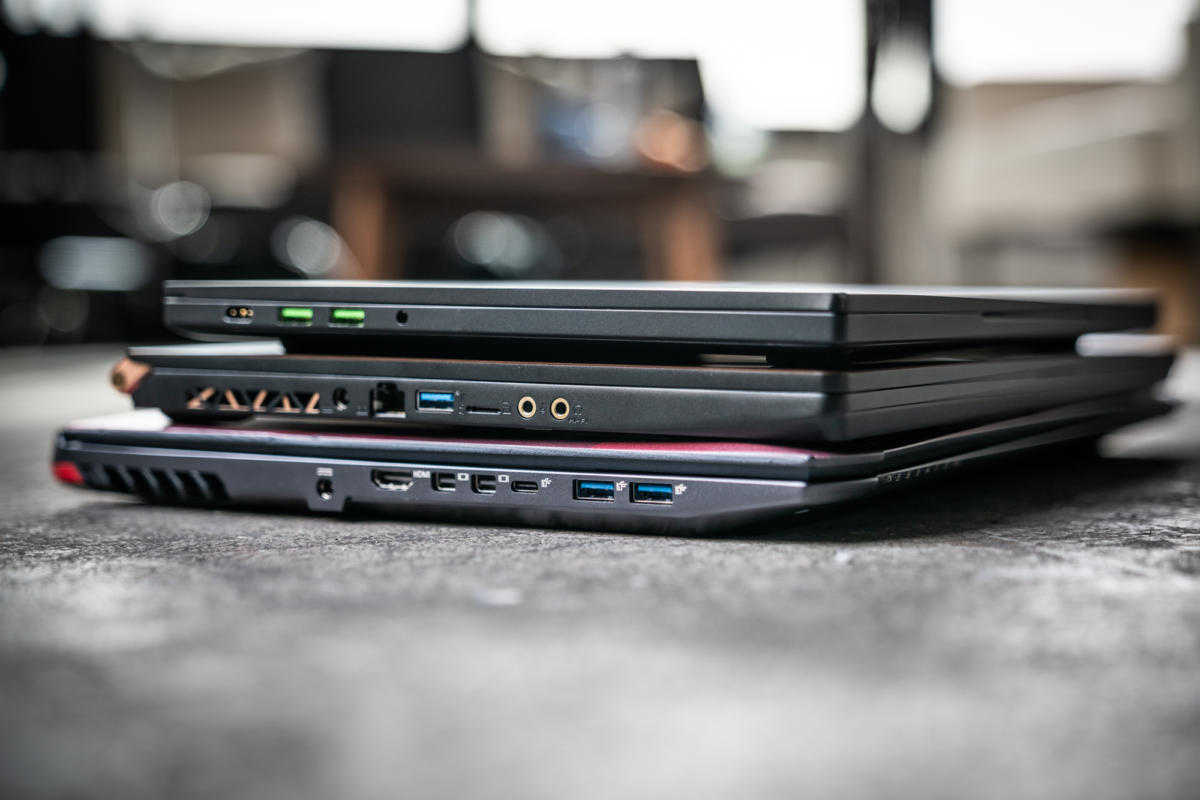 MSI GS75 features and specs
Let's start with the basic internal specs for the MSI GS75. As we said, it's an impressive list:
CPU: 8th-gen Intel Core i7-8750H
Memory: 32GB of DDR4/2667 in dual-channel mode
Storage: 512GB Samsung PM981 NVMe SSD
Display: 17.3-inch 144Hz wide-aspect ratio monitor without G-sync or FreeSync
Graphics: Nvidia GeForce RTX 2080 Max-Q
82-watt-hour battery
Now that you know what's inside, here's more about the outside. As with the 15-inch GS65, the GS75 features an all-aluminum body that's anodized black. The black is accented by bronze, which gives it a very "grown-up" feeling. MSI has endeavored to make its laptops visually acceptable in corporate conference rooms, lest your boss suspect you're fragging bots on the clock.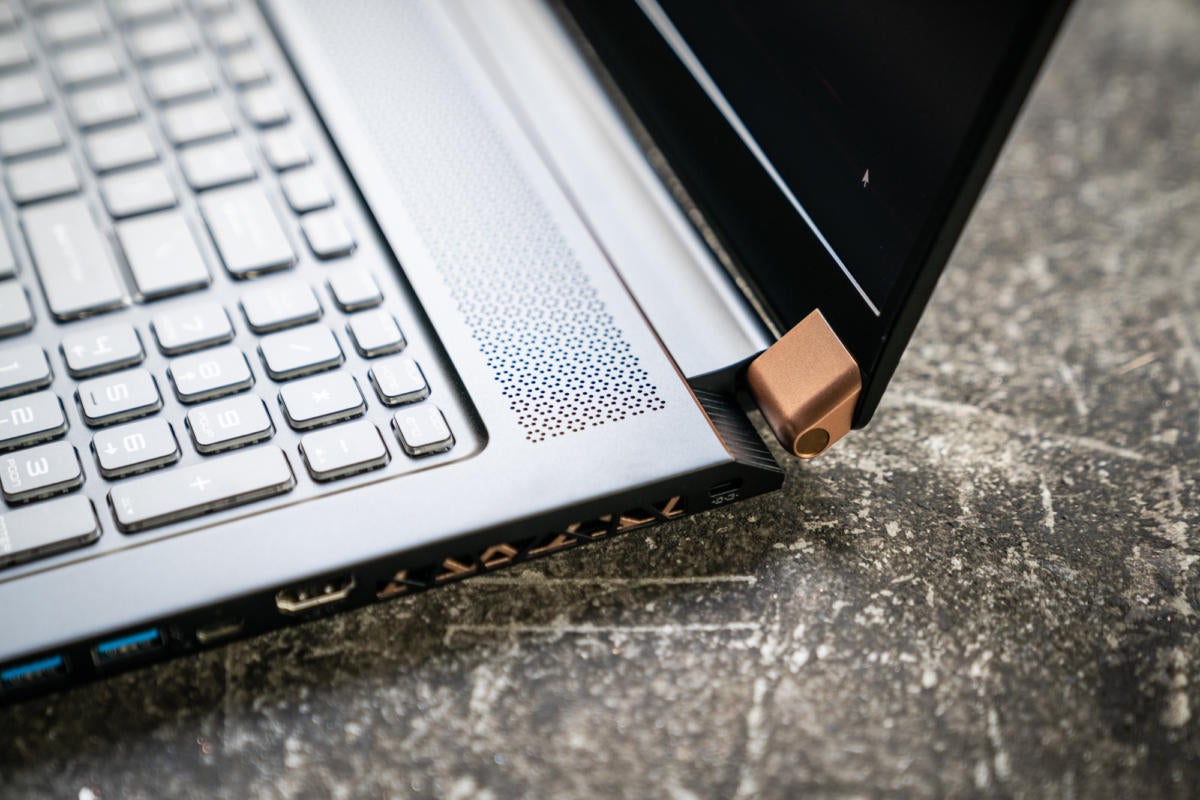 Ports still matter for those who actually do work, and MSI is generous. The left side of the GS75 features 3.5mm analog headset and mic ports, a microSD slot, USB 3.1 Type A, a Killer Gaming Network E2500 gigabit port, and a dedicated power port.
On these last two points we should mention that the Killer NIC E2500 is Atheros hardware, and the Wi-Fi portion is the company's new 802.11ac that's based on Intel hardware. MSI includes a fairly slim 230-watt power brick with the GS75 Stealth. It's still brick-ugly, but at least it's not as large as some.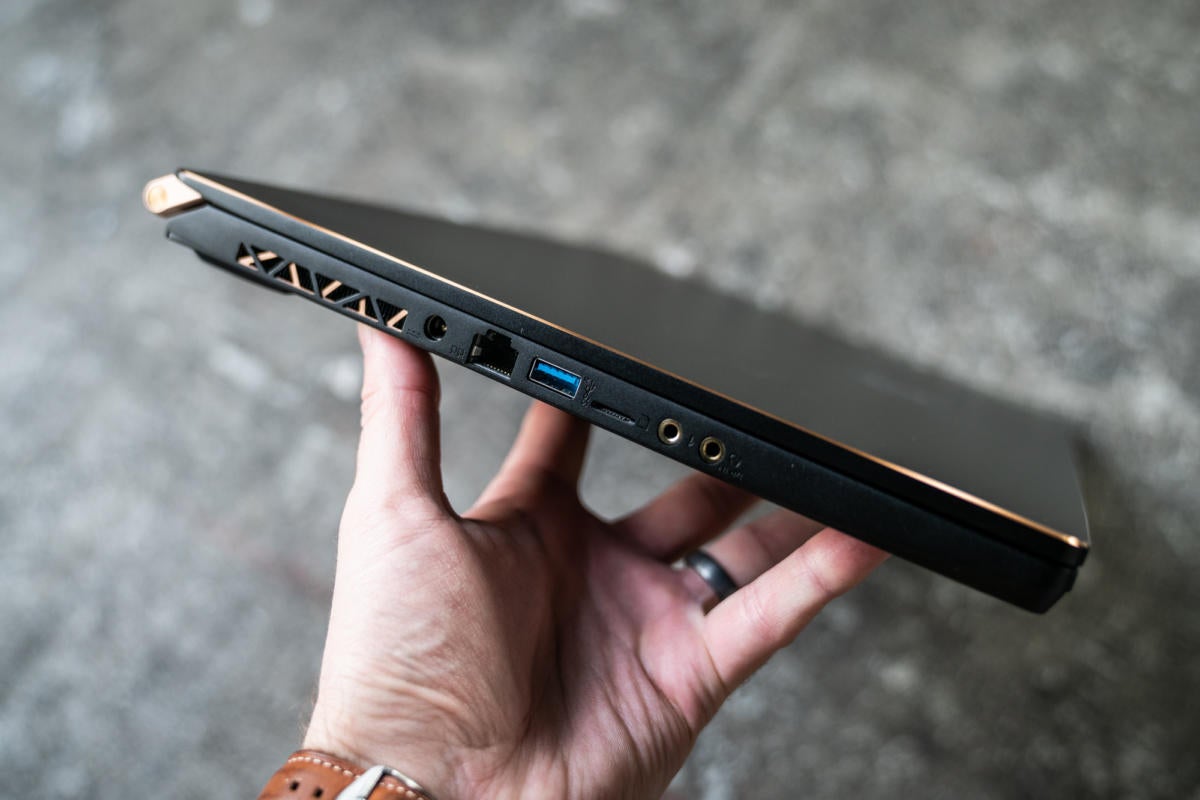 Moving on to the right side of the GS75 we see two more USB 3.1 Type A ports, and two USB 3.1 Type C ports. One is just USB-C 3.1 Gen 2 at 10Gbps, while the other adds Thunderbolt 3. Finally, the laptop also features a full-size HDMI 2.0 port.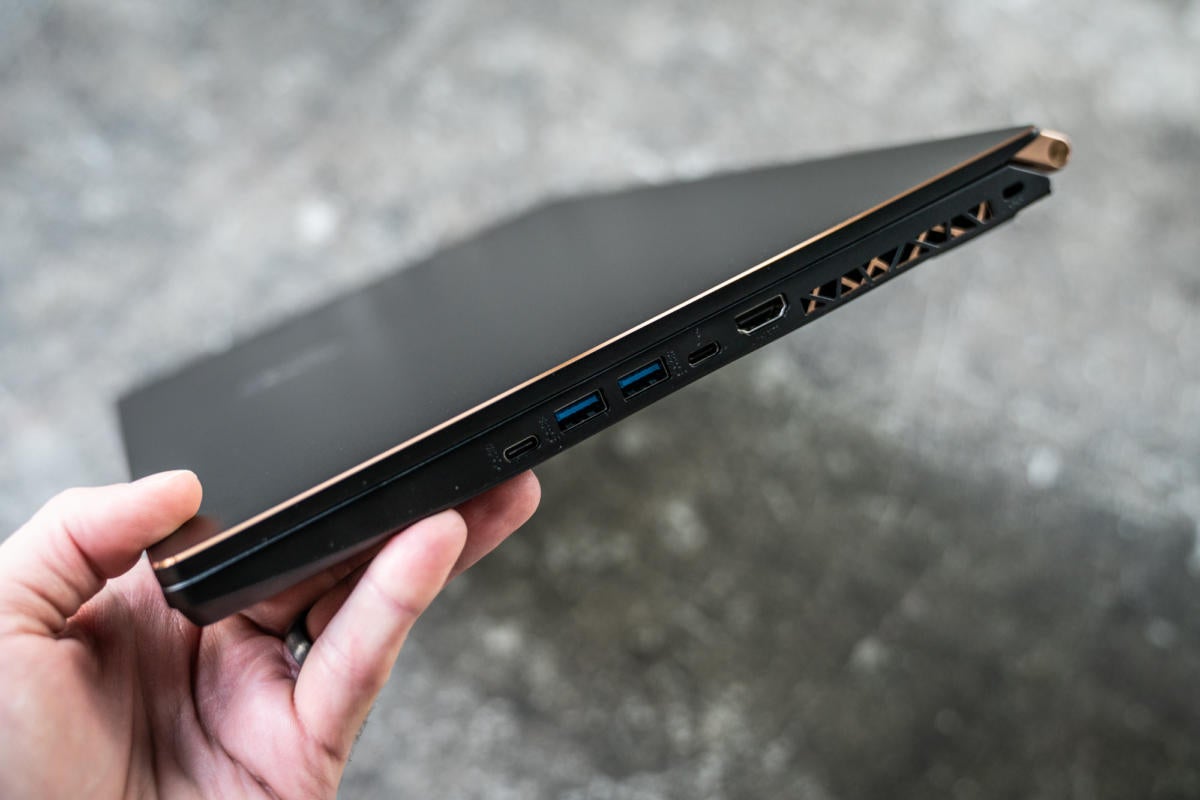 The keyboard on the GS75 Stealth carries SteelSeries branding and features per-key RGB lighting. The keyboard is a rubbery-dome type with N-key rollover support. The keyboard is decently bright and features translucent skirts to accent the RGB look of it. MSI jams in a small 10-key on the right side, which still oddly follows a phone-style layout for the 0 key. As we've whined about before: Anyone with an accounting background knows the zero key should actually be under the one key instead of the two key, as it is here. Phooey.
Perhaps the most unusual choice is the placement of the trackpad. It's beautifully glass-smooth and responsive, with support for Microsoft's Precision Driver gestures. The palm rejection is excellent, too. But it's so huge, you'll constantly place your right wrist on it while typing, and likely trigger the trackpad's physical click mechanism.
Much of the problem stems from MSI's decision to center the trackpad on the keyboard tray (roughly between the 'I' and 'O' keys), rather than center it under the QWERTY keyboard (between the 'T' and 'U' keys). Your wrist just naturally falls where the trackpad lies. The only advantage we can see is that it's completely clear of the WASD keys, so your left wrist probably won't hit the trackpad while gaming.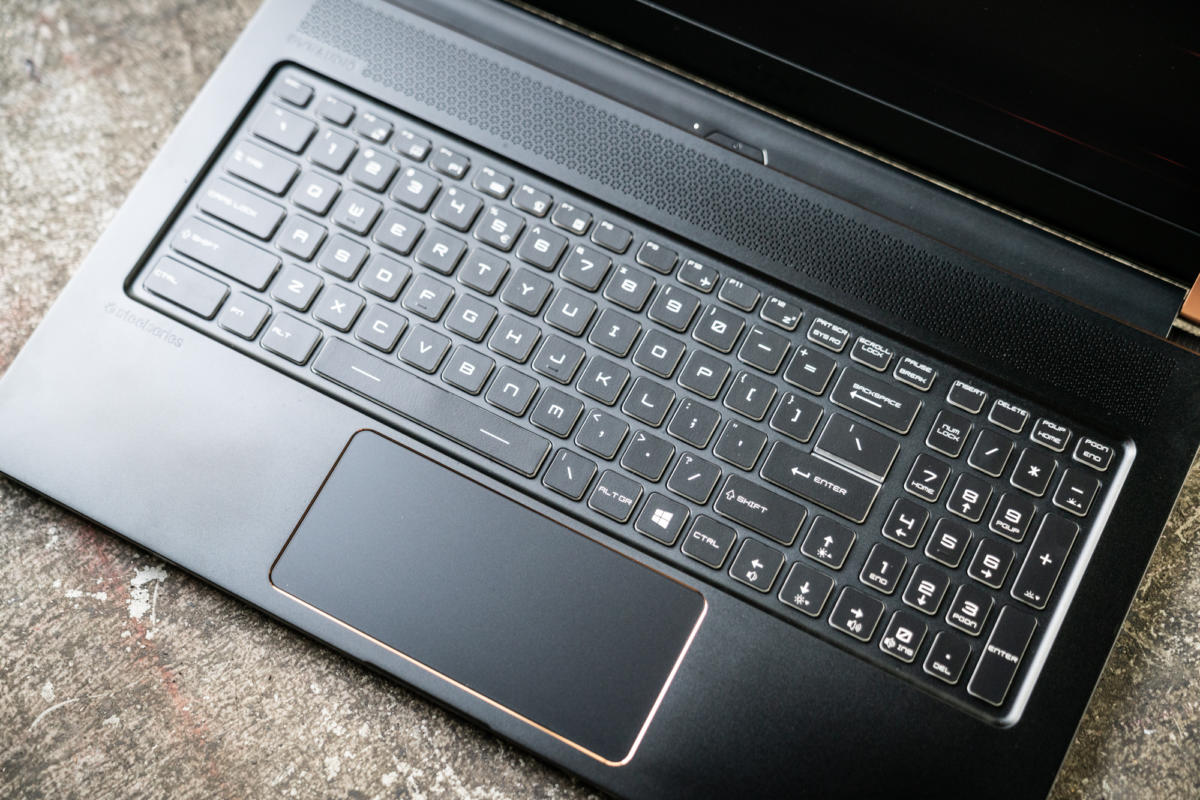 MSI GS75 Stealth CPU Performance
We know, we know, the big news is how this laptop performs with the brand-new RTX graphics inside. At the risk of spoiling your fun, let's confirm up front that it's fast. But there's plenty of nuance from test to test. Hold onto your hats as we give the CPU its due.
First up is Maxon's Cinebench R15. Based on the company's rendering engine from its Cinema4D product, it's a multi-threaded test that loves CPU cores. The result is basically in line with what we've seen from a stack of 8th-gen Core i7 CPUs. We'd actually put the MSI slightly in front of the pack, but let's just call it a tie. The good news is there's no sign of performance loss from shrinking this laptop.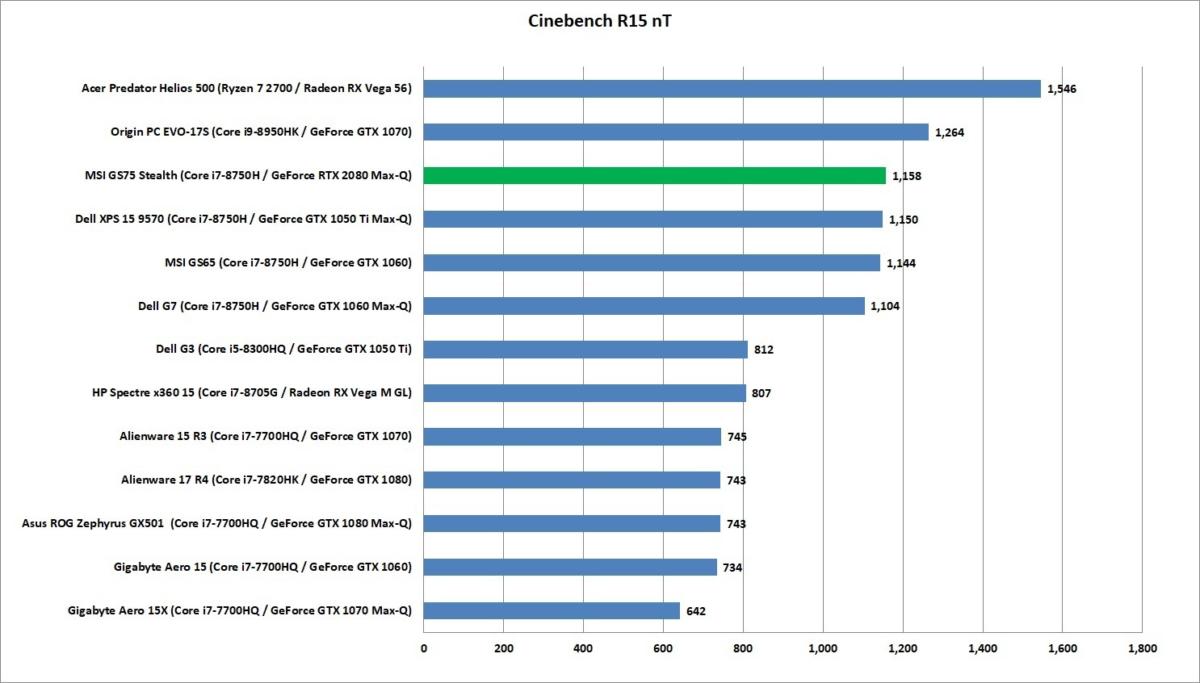 Because few workloads use all the cores of a CPU, we also look at Cinebench's single-threaded performance, which is more indicative of what you'd see in Office or browsing the Internet. The result is again in line with what we've seen with other laptops with the same CPU.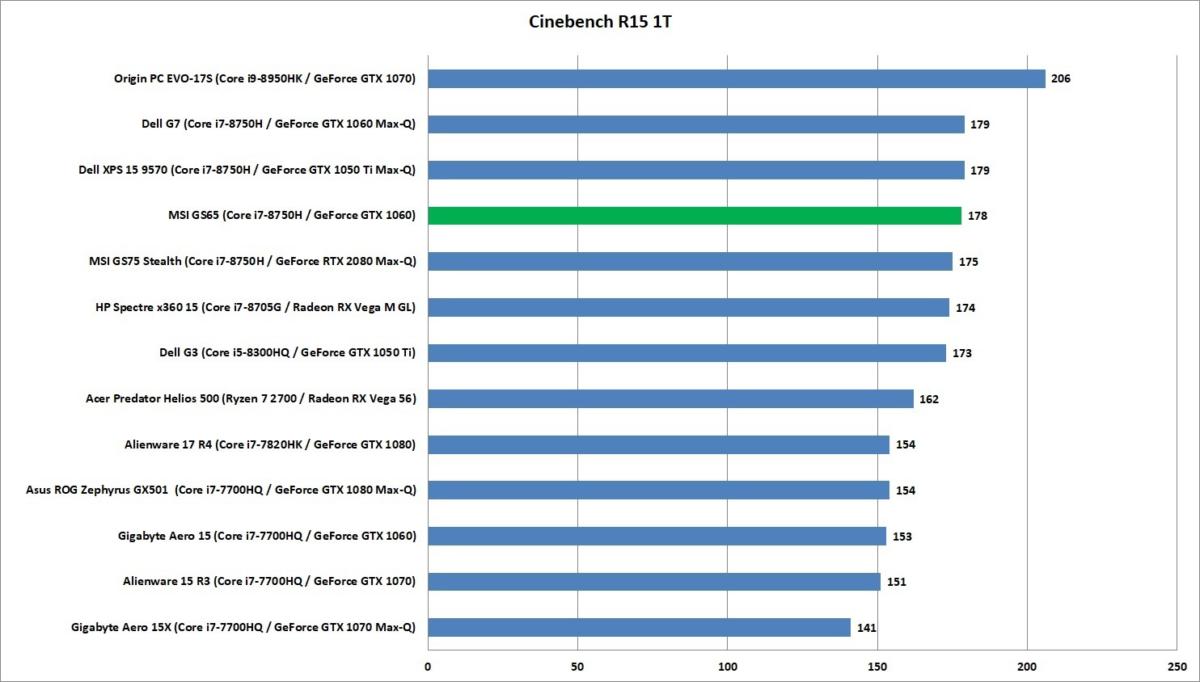 Our last CPU benchmark examines how a laptop handles workloads that run the CPU hard and for a long period of time. We take a 30GB 1080p video file and transcode it with the popular and free HandBrake app, using the Android tablet preset. What this typically reveals is a performance dip as the laptop heats up.
You'd think the light and thin MSI GS75 Stealth would suffer performance loss or spin its fans to annoying levels under heavy loads, but all is good. In fact, acoustics on the GS75 Stealth were truly amazing. During a looped graphics load stress test, the GS75's fans spun up, but we'd swear it was quieter than some 13-inch laptops under load. In fact, it may be the quietest gaming laptop we've ever heard.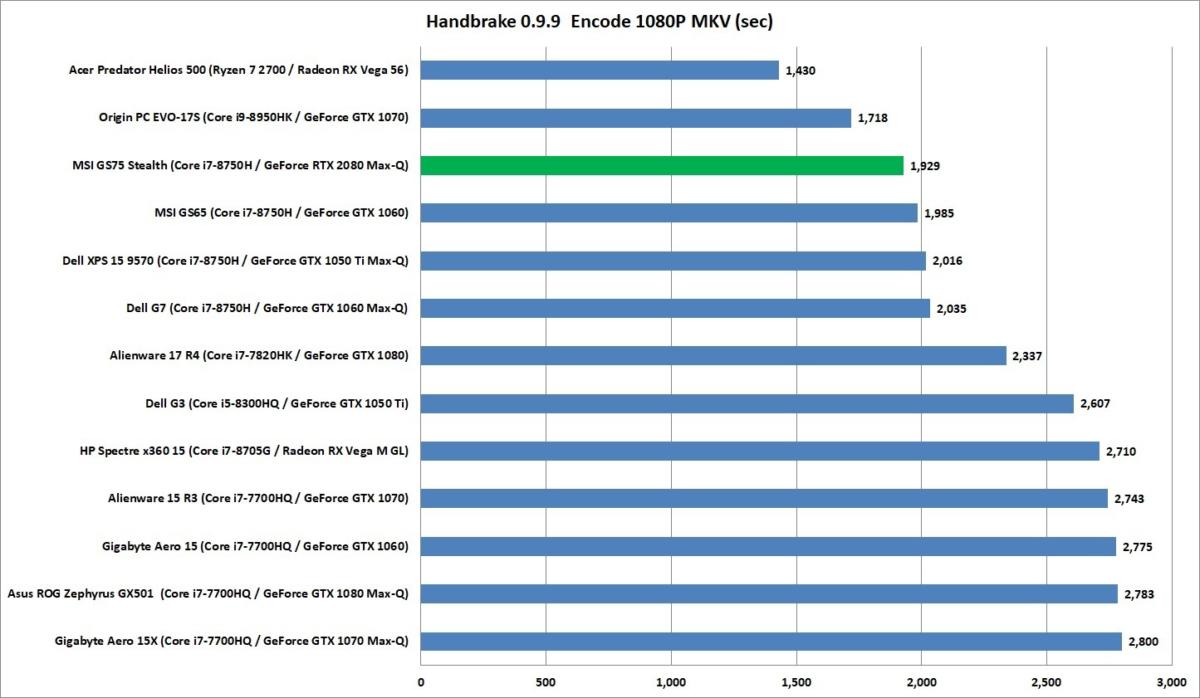 Exactly how fast is that GPU? Keep reading to find out.
MSI GS75 GeForce RTX 2080 Max-Q can actually be fast
If you've read our GeForce RTX reviews (here) you probably know what to expect of a desktop chip. Nvidia has basically taken the RTX lineup and jammed them into laptops. The amount of CUDA cores are the same, as are the amount of memory, the type of memory, and the memory bus speed. What changes are the clock speeds of the GeForce RTX full performance parts and the GeForce RTX Max-Q parts, which crank down to save on power and heat dissipation.
The question is, just what do you give up? In conventional gaming, it doesn't look like much. Remember: You can't separate any laptop design from the actual GPU (or CPU) performance, but we're seeing pretty stellar performance from the GS75's GeForce RTX 2080 Max-Q chip.
Our first test is Rise of the Tomb Raider run on the Very High setting at 1920×1080 resolution. We run this particular test in DirectX11 mode, because DX12 drivers and support was pretty spotty when we first adopted it.
The result is about 17 percent higher performance than larger and heavier laptops with GeForce GTX 1080 laptops, and about 15 percent more than the GeForce GTX 1080 Max-Q chip in the original Asus ROG Zephyrus GX501.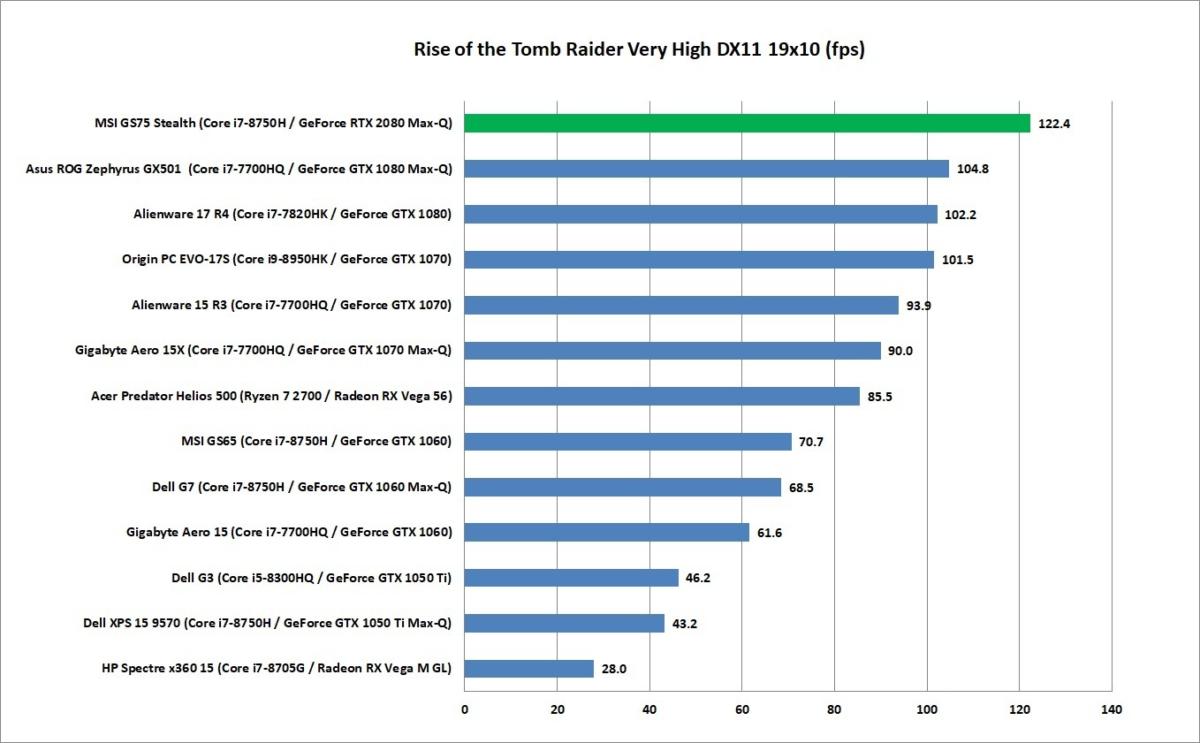 Moving on to Middle-earth: Shadows of Mordor on Ultra, the full-tilt GeForce GTX 1080 chip in the older Alienware 17 R4 just edges out the GS75 and its RTX 2080 Max-Q chip. The more comparable Asus ROG Zephyrus GX501 and its GeForce GTX 1080 Max-Q squeaks in behind it, though—the RTX Max-Q part is about 10 percent faster.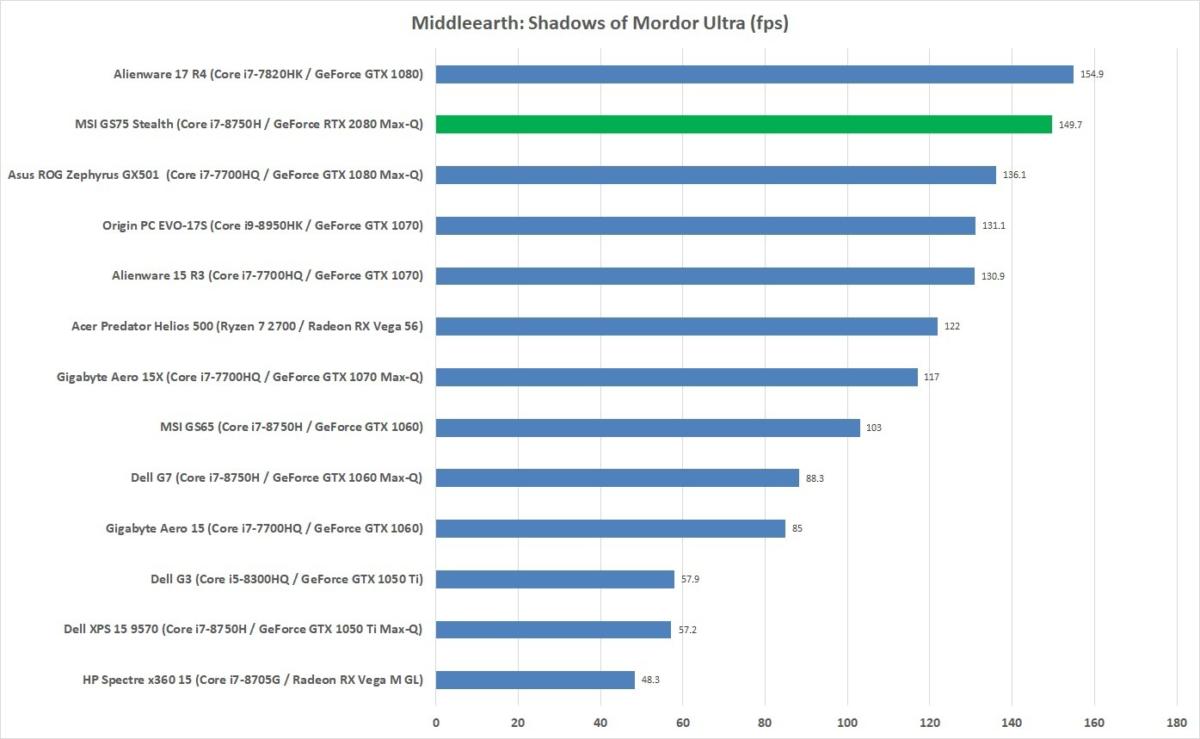 One issue with trying to judge laptop GPU performance for graphics is it's hard to rule out CPU differences. That's especially true for games which may be particularly sensitive to clockspeeds.
Fortunately UL's 3DMark is designed to break out graphics performance from CPU performance influences. First up is 3DMark Fire Strike, which puts the MSI GS75 Stealth with RTX 2080 Max-Q ahead of all laptops, except for the large-and-in-charge Alienware 17 R4.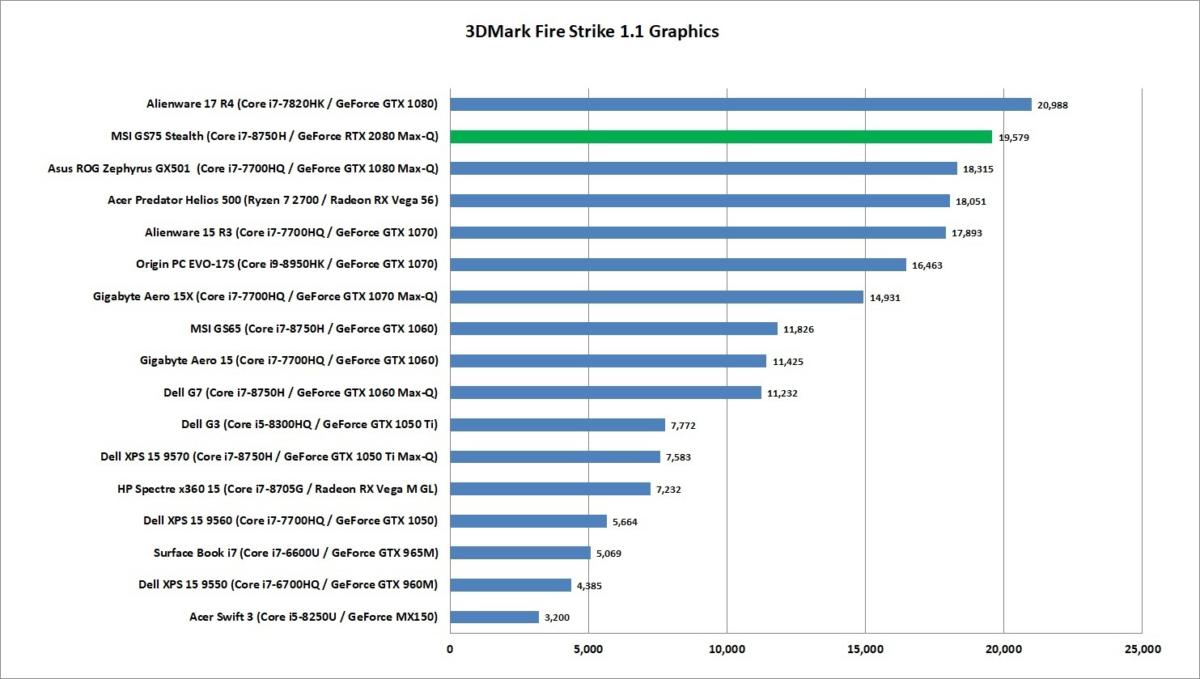 Granted, 3DMark Fire Strike is a somewhat older test built to stress DirectX 11-vintage hardware. UL's 3DMark Time Spy is far newer and tests DirectX 12 with a big step up in graphics work load. For example, it throws about 10 times more tessellation and four time as many shaders at the GPU than Fire Strike does.
With the more modern workload run, we now see the MSI GS75 Stealth prevail. Although the full-tilt GeForce GTX 1080 is awfully close, the more comparable Asus ROG Zephyrus GX501 with its GeForce GTX 1080 Max-Q comes up almost 20 percent short.
Compared to the full-speed GeForce GTX 1070 in the Origin PC EVO-17S, the GS75 Stealth is a hefty 29 percent faster. When you reach down to a GeForce GTX 1070 Max-Q chip, you're looking at more than 58 percent. So, yes, it's pretty durn fast.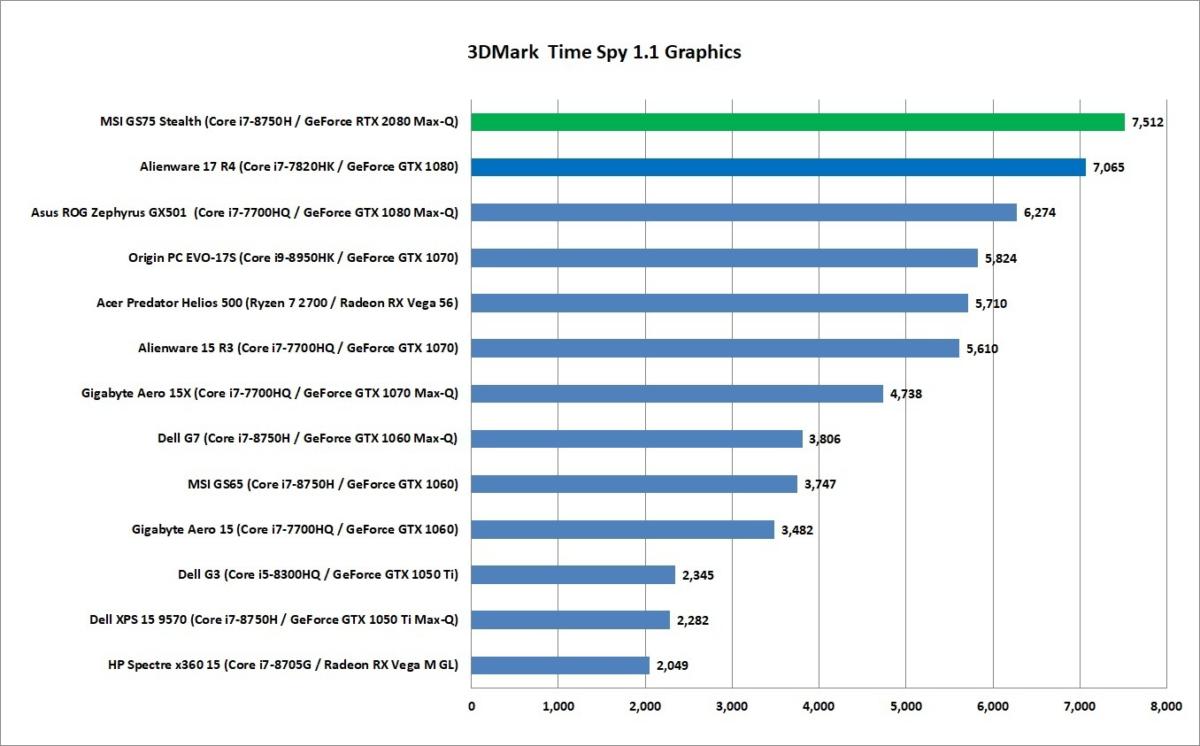 Of course, the one thing Nvidia wants you to know is the information in the next chart. This is UL's new 3DMark Port Royal, which measures ray tracing performance exclusively. If you believe in Nvidia's vision for the future of PC gaming, then it's the only thing you care about, because of all the previous laptops we've reviewed, it's the only one that can run hybrid ray tracing games.
This isn't the last word in hybrid ray tracing performance, of course. In fact, while we think the boost in non HRT-games is actually decent, the performance of the GeForce RTX 2080 Max-Q brings up a lot of questions.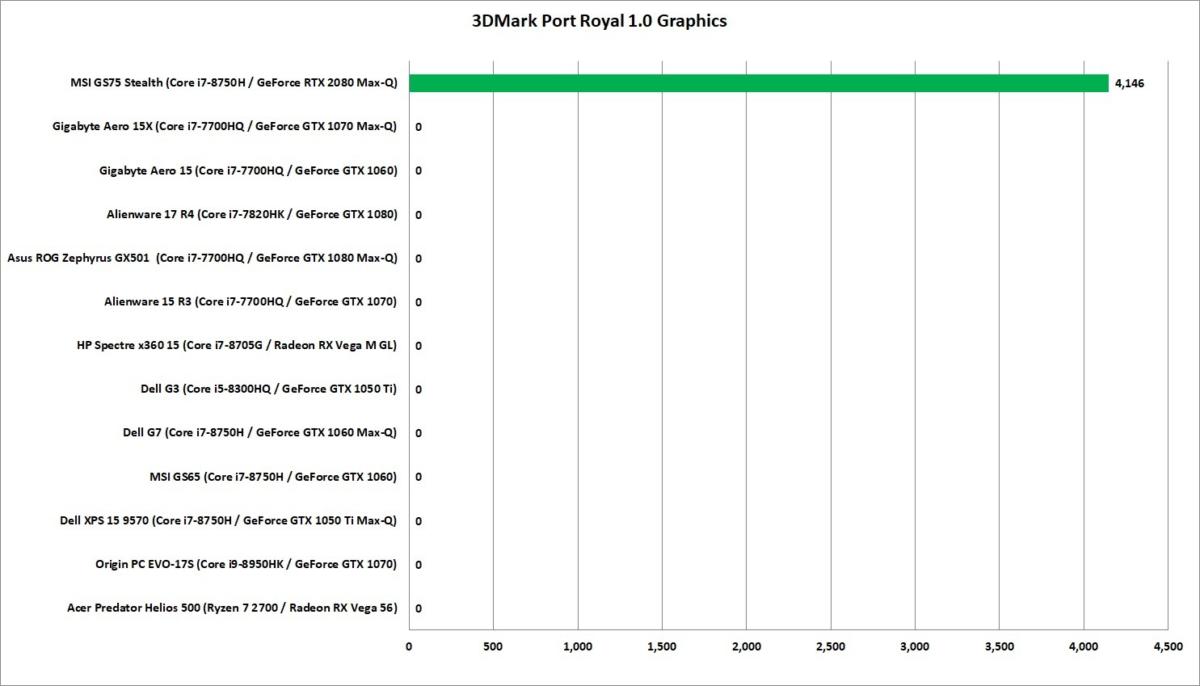 For example, we ran tests using EA's Battlefield V, the sole game available with hybrid ray tracing. When EA first turned on ray tracing, performance actually dropped with RTX enabled. In our own tests at 1920×1080 resolution with the game set to Ultra quality mode, we saw the RTX 2080 Max-Q in the GS75 achieve 90 frames per second in default mode, and drop to 45 frames per second with DirectX Ray Tracing turned on. Oof. While some of this may well be fixed by further driver tuning and game tuning, we're still pretty uneasy about how the Max-Q RTX laptops can run these games at their highest setting.
MSI GS75 Stealth Battery Performance
Our last test is perhaps the most important in any true laptop: battery performance. For this we loop a 4K video in airplane mode with the screen set to a relatively bright 250 to 260 nits, with ear buds connected.
While the GS75 Stealth doesn't win any ribbons, it's actually extremely good battery performance from a 17-inch gaming laptop. Some of that comes from the decision to ditch Nvidia's G-Sync technology, which forces the GPU on at all times; and some of it comes from the relatively large 82-watt-hour battery.
What we can say is that for a 17-inch gaming laptop that is essentially one of the fastest laptops we've seen, that's outstanding. For context, if you look at the result and then glance down at the bottom—they're almost all 17-inch high-power gaming laptops too.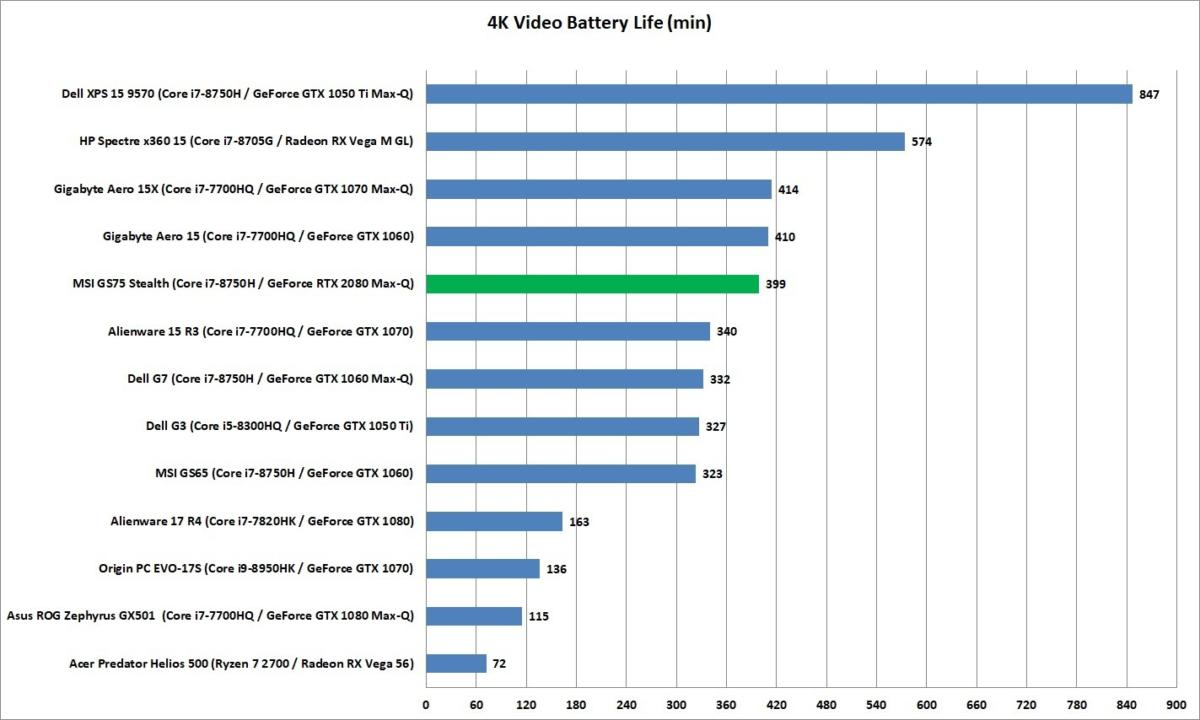 Conclusion
We have a fantasy. If we could take an MSI GS75 Stealth back in time to 2008 or even 2012, we're fairly certain we could walk into any PC gaming LAN party and declare ourselves a minor deity. "Behold: I carry a laptop more powerful than any of your gaming computers, and it weighs less than five pounds! Grovel before me!"
And to be honest, we think with the sheer performance and portability of the amazing GS75 Stealth, that's entirely possible. This is just the first of many benchmarking opportunities we hope to have with Nvidia's new RTX graphics for laptops, but the initial signs seem to point toward a lighter, faster future for mobile PC gaming.
Best Prices Today: MSI GS75 Stealth