At a Glance
Expert's Rating
Pros
Market-leading cost per gigabyte
Very good performance until cache runs out
Cons
Sustained write speed plummets after secondary cache is exhausted
500MB version writes half as fast as the 1TB
Our Verdict
This drive is very affordable. Stick with the 1TB version, whose performance is very good except during long writes (larger than about 4 percent of capacity). Not a drive for large data sets, but a great deal for the average user.
Best Prices Today: P1 NVMe SSD
I regularly end bargain TLC SSD reviews with the advice "Don't buy it unless it's a lot cheaper than the competition." Until Crucial's P1, no drive ever met that criteria. But the 17 cents per GB that the 1TB version will set you back is a good 8 cents cheaper than most of the competition. And, while it's no blazing-fast Samsung 970 Pro, you don't give up a ton of performance unless you regularly write 50GB (less with smaller capacities) or more. If you do, move along to another review.
Very fast, more expensive
Samsung 970 Pro M.2 NVMe SSD

Design and specs
The Crucial P1 is an x4 PCIE NVMe SSD that ships in the 2280 (22 mm wide, 80 mm long) form factor. The drive comes in 500GB and 1TB flavors that retail for $90 and $170 respectively. That's a good $80 cheaper than most of the competition currently. They carry a 5-year warranty and are rated for 100TBW (TeraBytes Written) for every 500GB of capacity.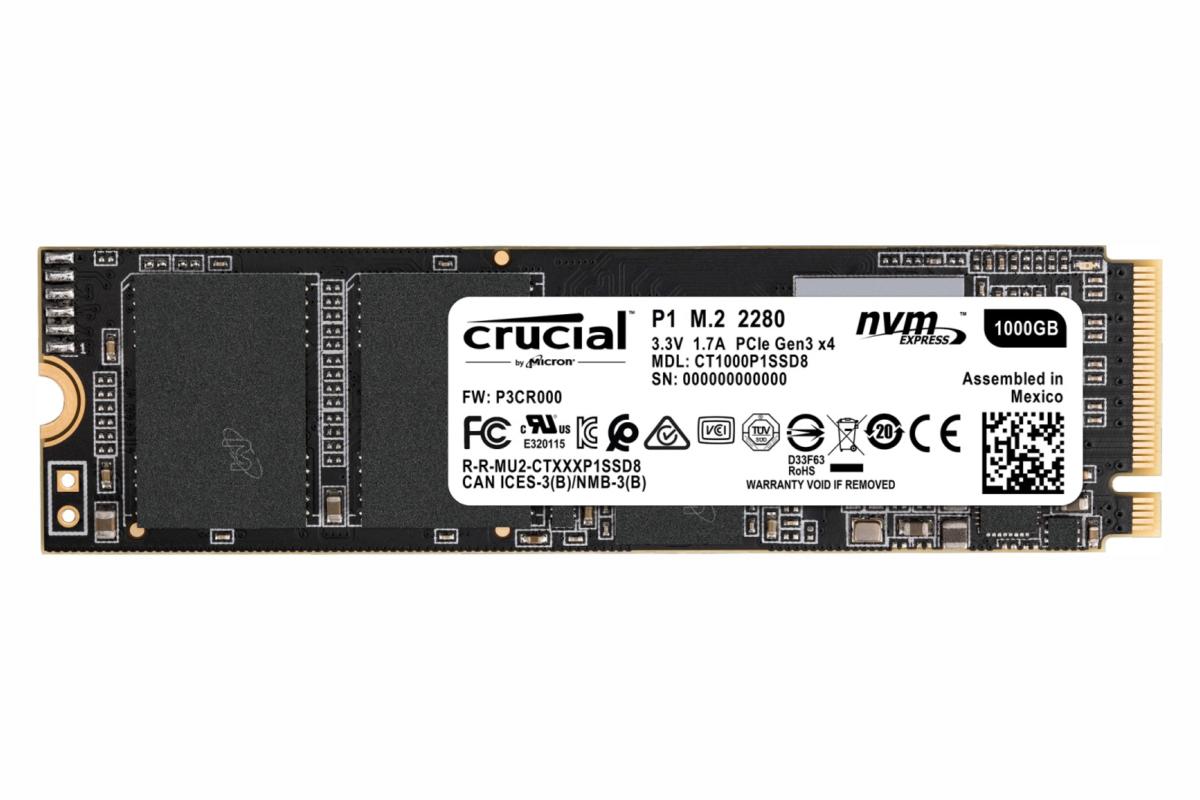 That's an extremely low TBW rating for an NVMe drive, but it's no doubt part of the reason for the low price. The scuttlebutt around the industry is that TBW ratings are worst-case scenarios that are generally exceeded by a large margin. And that's still 54GB per day over the 5 years—more than most users are likely to write. And it is just writes—reading doesn't affect longevity.
Faster on big writes
Black SN750 NVMe SSD
Performance
Before I get to the results, please note that I tested the 1TB version of the drive. The 500MB version which I did not test, while cheaper, claims half the write performance. That's a common phenomenon caused by having only half as many chips to spread the data across. It's also likely to have less cache and fall prey to the slow TLC writes sooner. More on that in a paragraph or two.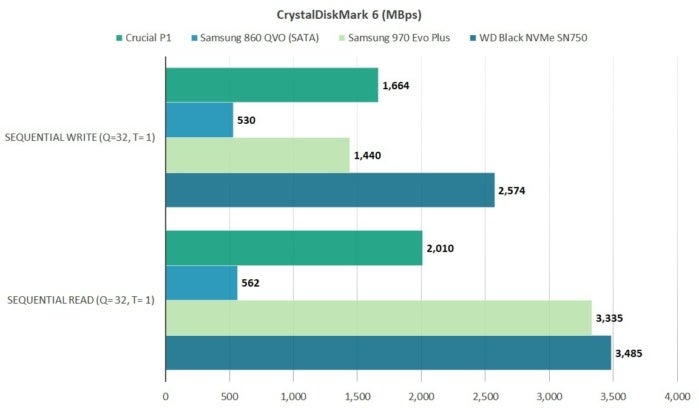 The 1TB P1 actually passed all our standard tests, including the 48GB copies with flying colors, though it will never be mistaken for a Samsung 970 Pro, or even a 970 EVO. I've included the SATA drive to show just how much you'll gain simply by moving to NVMe from SATA. Keep that in mind with all our NVMe reviews: Even the slowest is faster than SATA by a healthy margin.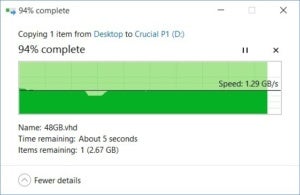 It was only during the 450GB write test, which we regularly run to see how things proceed when the cache runs out, that the drive slowed down—tragically.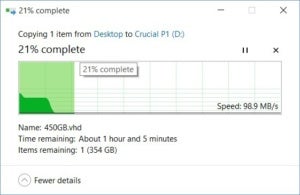 By tragic, I'm talking roughly 95MBps, or more than a 1000-percent drop, as you can see in the image above. Ouch.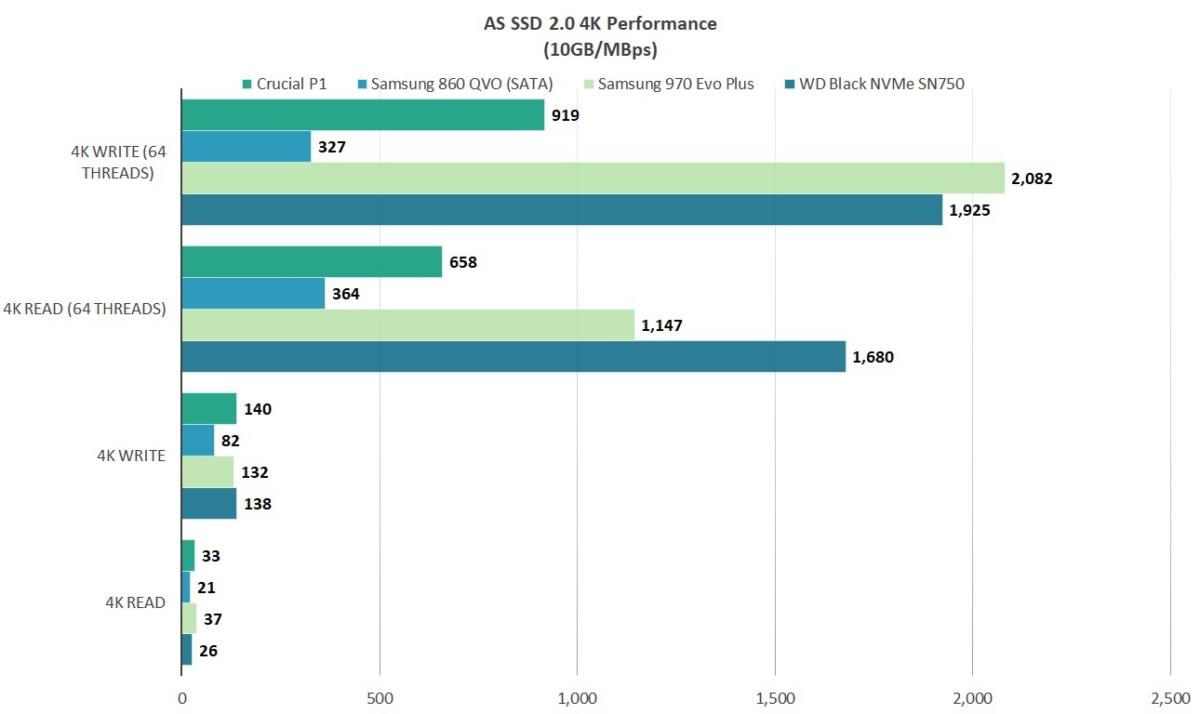 For normal everyday use, with NVMe's stellar seek times and small file performance, the P1 remains an great bargain because of the price. But it's not the drive for you if you regularly write large amounts of data.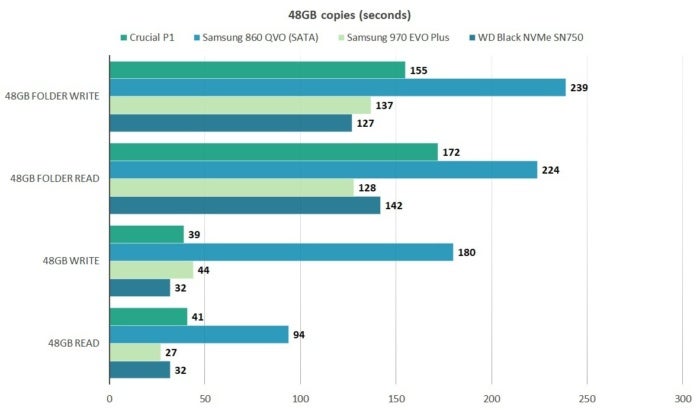 It's the budget drive
Price will out. The P1 is the first bargain SSD to that saves you enough money to forgive the occasional super-slow write. If you want fast sustained throughput when copying more than 50GB of data (or likely 25GB with the 500GB version), you'll need to spend at least another $80 for WD's Black SN750 NVMe. Your choice.
This article was editing on November 30th, 2019 to note that the P1's TBW ratings are very, not somewhat parsimonious.
Best Prices TodayP1 NVMe SSD