At a Glance
Expert's Rating
Pros
Outstanding 1080p and solid 1440p gaming
Tremendous effective custom cooler
Effective dual-BIOS profiles optimized for thermals and noise
Outstanding features and build quality
Cons
No RTX ray tracing capabilities
$50 premium in price-sensitive segment
Very large graphics card
Our Verdict
Nvidia's GeForce GTX 1660 Ti is the best 1080p GPU you can buy, and Asus's versatile and potent ROG Strix design makes it even better, albeit at a significant price premium.
GTX is back, baby. After being kicked to the curb in favor of a new "RTX" brand that signifies the inclusion of dedicated RT and tensor cores that enable real-time ray tracing and AI-enhanced gaming, Nvidia's tried-and-true mainstay returns for the release of the GeForce GTX 1660 Ti graphics card. Yes, that means this $280-plus GPU lacks the cutting-edge capabilities of its bigger siblings, like the GeForce RTX 2060. But by ditching all the extra hardware, Nvidia was able to focus the GTX 1660 Ti's efforts on just plain kicking ass in games.
And it succeeds, friends.
The GeForce GTX 1660 Ti delivers outstanding 1080p and solid 1440p gaming performance on a par with last-gen's $380 GTX 1070, without the massive price increase witnessed in its RTX-laden cousins—it's only $20 more than what the GTX 1060 launched at. This card beats the snot out of AMD's Radeon RX 590, even though its starting price is $10 lower. It's a winner. Let's take a look at the Asus ROG Strix GTX 1660 Ti, a custom-cooled, heavily overclocked version of the GPU that costs $330.
Nvidia GeForce GTX 1660 Ti specs and features
Despite costing just $20 more than the 6GB GTX 1060, the new GTX 1660 Ti comes loaded with much more hardware under the hood—more CUDA cores, more L1 cache, more texture units, faster GPU and memory clock speeds, more transistors built using the more advanced 12nm FFN manufacturing process, you name it. Two notable features remain identical, however: a 120-watt TDP and the 6GB of onboard memory capacity, though the GTX 1660 Ti gets a massive bandwidth upgrade by moving from GDDR5 to GDDR6.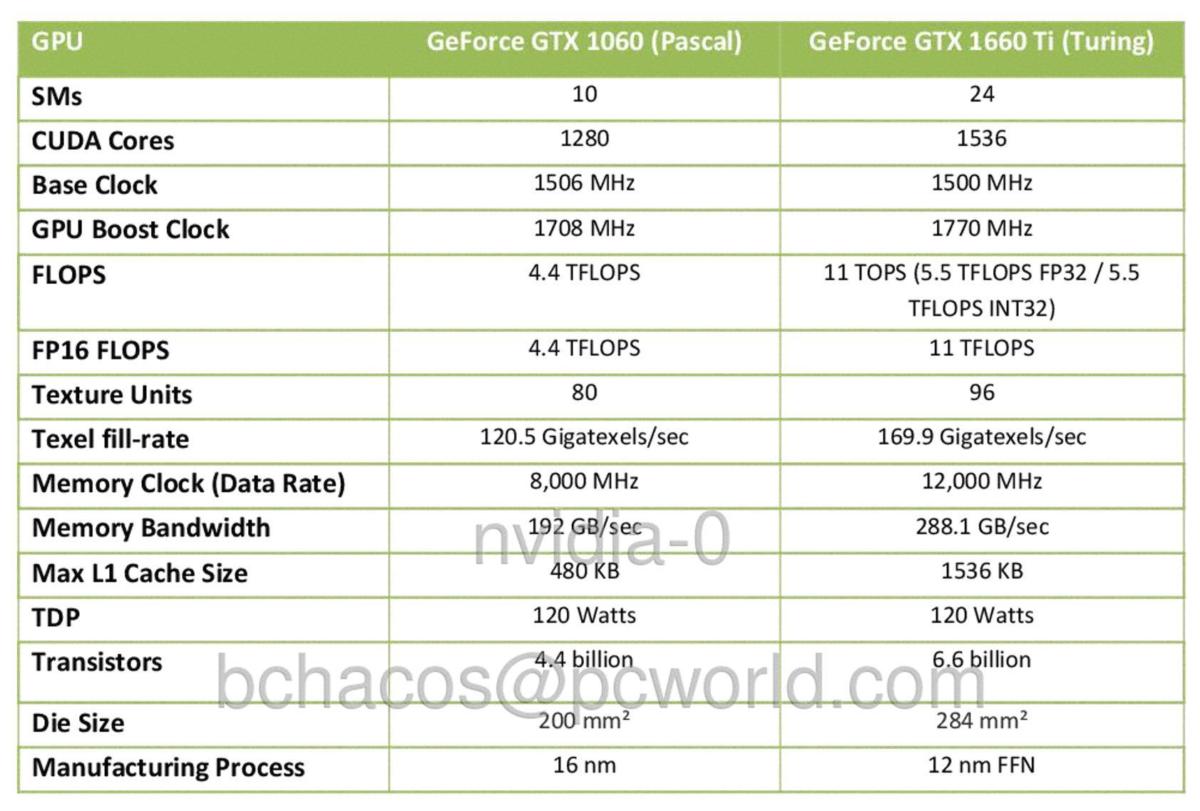 The memory isn't the only upgraded hardware. The CUDA cores at the heart of the Turing GPU inside the GTX 1660 Ti (and its RTX brethren) received a significant overhaul that helps Nvidia's new graphics cards outpace their "Pascal" GPU-based predecessors. Most notably, Nvidia added a new integer pipeline (INT32) alongside the floating point pipeline (FP32) traditionally used to process shading. This lets the GPU manage floating point and non-floating point instructions concurrently, rather than stalling the shading process while the GPU tackles integer tasks, which used to be the norm. The new capabilities help Shadow of the Tomb Raider run over 50 percent faster on the GTX 1660 Ti than it did on the 6GB GTX 1060, Nvidia says—a claim verified by our own performance testing.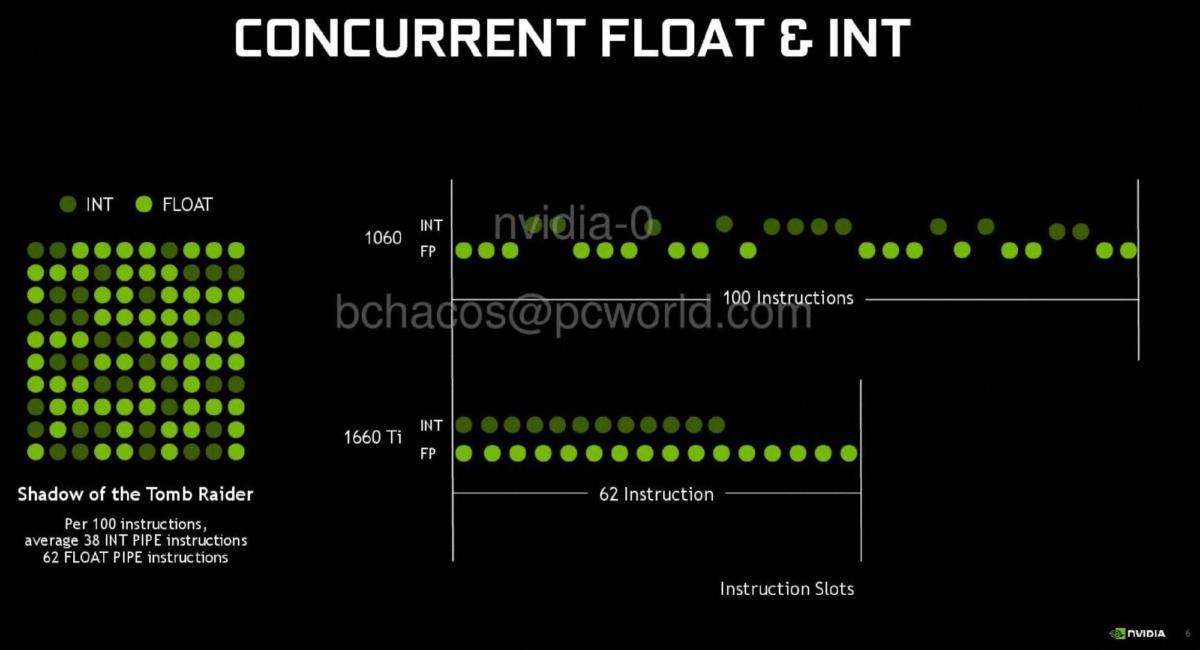 Turing GPUs also include support for variable rate shading, a technology that allows different parts of the image to be rendered at varying fidelity levels for increased performance. It also provides a unified cache architecture that gives Turing almost three times more available L1 memory than the Pascal GPUs in the GTX 10-series, with twice as much bandwidth and lower latency. Those features help boost performance in Wolfenstein II and Call of Duty: Black Ops 4, respectively, by 50 percent compared to the GTX 1060, Nvidia says.
For a much more in-depth dive into the changes in these new-look CUDA cores, check out our deep-dive into Nvidia's Turing GPU architecture. You'll learn a lot about the ray tracing and tensor core capabilities of RTX GPUs there, too.
Of course, as a modern GeForce card, the GTX 1660 Ti can take advantage of Nvidia's rich software ecosystem, including features like Ansel super-screenshots, ShadowPlay video capturing, automatic game optimization via GeForce Experience, and G-Sync monitor compatibility. Nvidia GPUs can now play nice with AMD FreeSync monitors too.
Asus ROG Strix GTX 1660 Ti specs and features
While the GeForce GTX 1660 Ti will hard-launch today, February 22, with multiple versions available from all the usual suspects starting at $280, the specific graphics card we reviewed is the $330 Asus ROG Strix GTX 1660, a luxurious model with a heavy overclock, a ferocious custom cooler, and extra features galore. Everything you'd expect from a ROG Strix card, in other words! Here's a look at its spec sheet: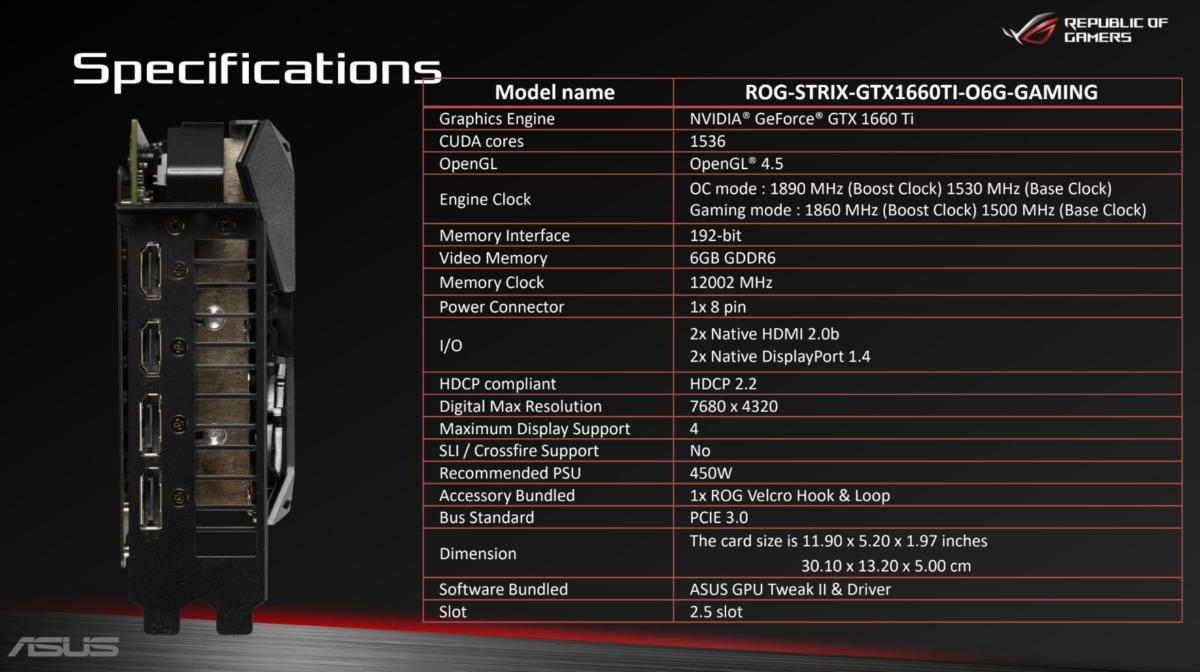 Out of the box, the ROG Strix is rated for a 1,860MHz boost clock, a 90MHz increase over the GTX 1660 Ti's reference speeds. Downloading Asus's handy GPU Tweak II overclocking software and activating the one-button OC mode ups that to 1,890MHz. But you don't need to do that: The large, effective cooler on the ROG Strix allows the card to hover consistently between 1,935MHz and 1,950MHz in our games testing, because Nvidia's GPU Boost algorithm automatically pushes clock speeds further as thermal headroom allows. GPU Tweak II lets tinkerers fine-tune things even further with manual overclocking controls, too.
The triple-slot Asus ROG Strix GTX 1660 Ti comes with three RGB-illuminated axial fans, a beefy heatsink, a metal-braced design, and a fetching full-length backplate that mirrors the aesthetic on other modern Strix releases.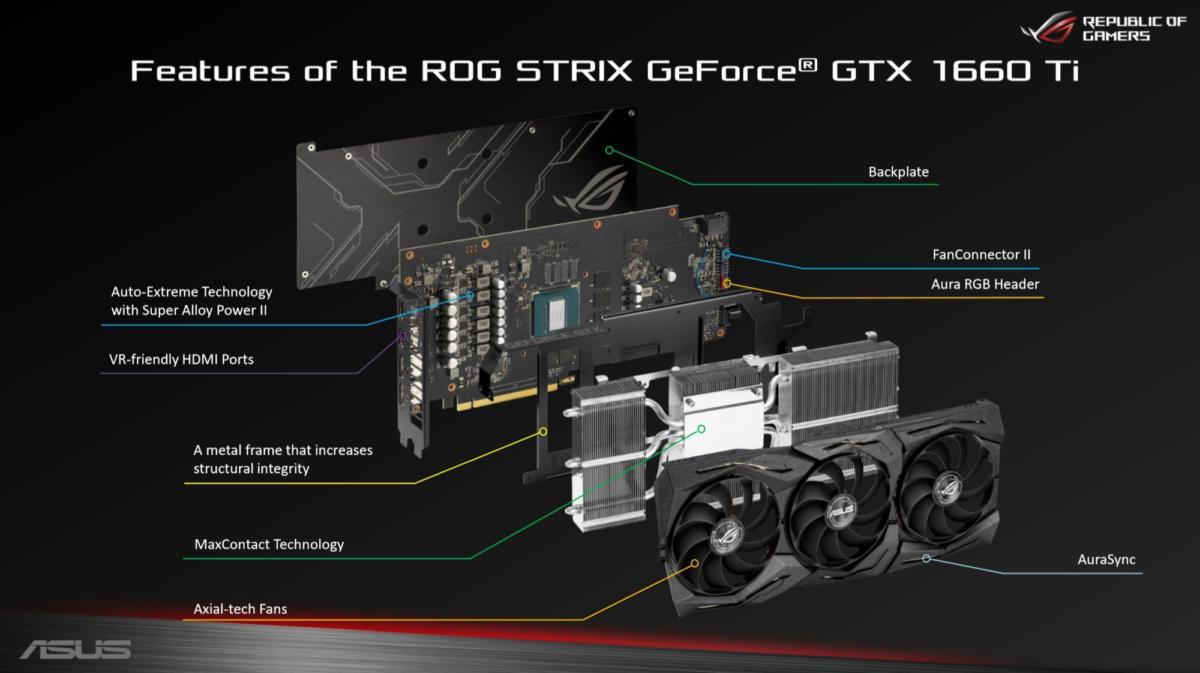 Asus is particularly proud of its Auto-Extreme automated manufacturing process. "Traditionally, soldering of through-hole and surface-mounted components needs to be performed in separate stages," Asus's reviewers guide explains. "Auto-Extreme Technology allows all soldering to be completed in a single pass, reducing thermal strain on components and avoiding the use of harsh cleaning chemicals. The end result is less environmental impact, lower manufacturing power consumption, and a more reliable product."
Beyond the bulky heatsink and fan trio, the ROG Strix GTX 1660 Ti packs additional features for better thermal performance. Strix GPUs include "MaxContact Technology," a fancy way of saying that the heat spreader contacting the GPU is precision-machined to be 10X flatter than traditional designs, allowing for improved heat dissipation. The card also comes with a pair of Asus FanConnect II fan headers. Any PWM case fans connected to the headers can automatically react to the GPU's temperature, picking up speed when temperatures rise and slowing down when your GPU is idle. In our prior experience, it's especially effective if you use FanConnect with a front case fan pointed at the Strix.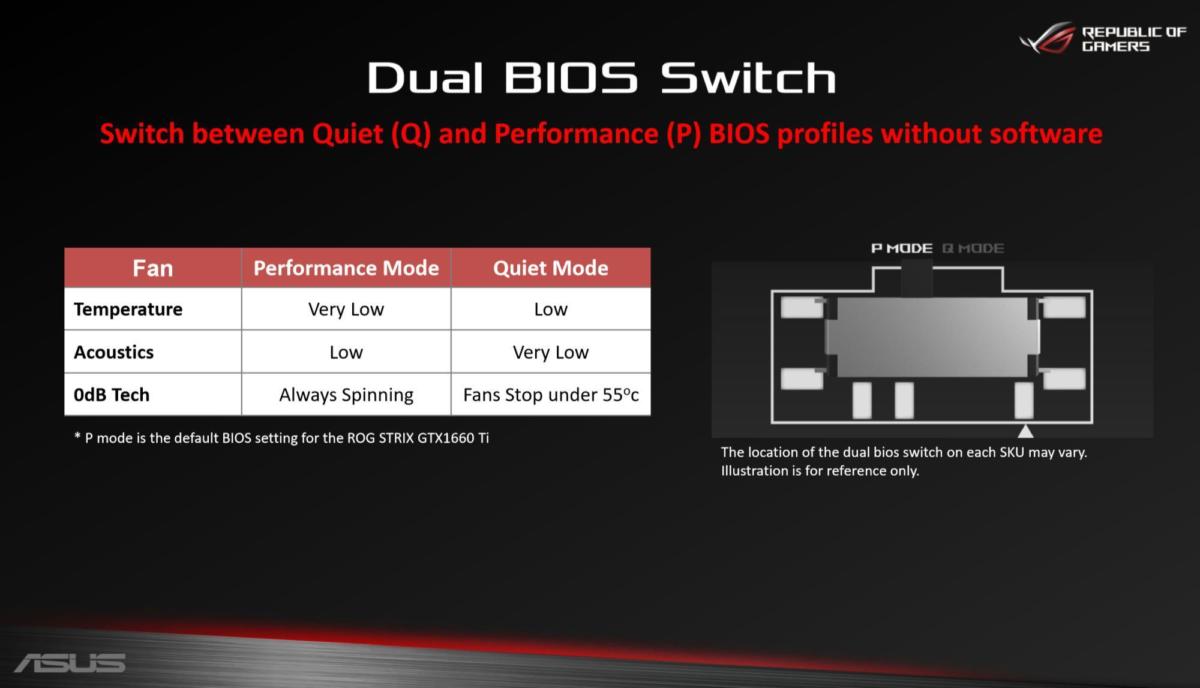 Add it all up and the ROG Strix GTX 1660 Ti's custom cooling solution is almost frightfully effective, as you'll see later. That effectiveness gives the graphics card some interesting versatility, which we first witnessed in the Asus ROG Strix RTX 2080: A dual-BIOS switch that lets you choose between Performance and Quiet profiles.
That's nothing new in swankier graphics cards, but the Strix's powerful cooler lets both profiles deliver identical performance in games, and that's a rarity. Instead, the Performance BIOS ramps up the fans to keep temperatures consistently below 60 degrees Celsius. Performance mode runs surprisingly quietly, but the dedicated Quiet mode optimizes for acoustics and runs virtually silently. Quiet features a much less aggressive fan curve, and the fans go idle if the GPU core temperature drops below 55 degrees Celsius.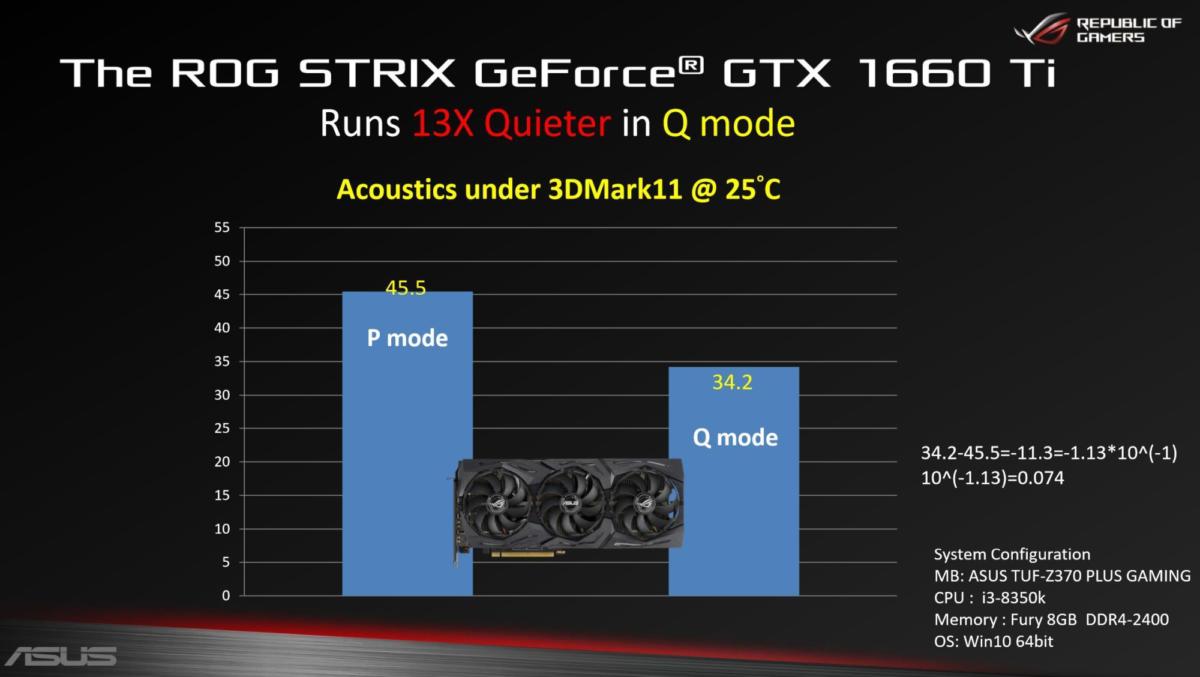 According to Asus, the Performance BIOS is 16 percent cooler than the Quiet BIOS, while Quiet is 13X quieter. Both are tremendously effective at their given goals in practical use. This is a great feature for discerning gamers.
Next to the dual-BIOS switch, you'll find a dedicated hardware button for disabling the ROG Strix GTX 1660 Ti's RGB lighting—a thoughtful touch. That lighting can be controlled by Asus's Aura Sync software. The port loadout for the GeForce GTX 1660 Ti will vary from model to model, but the ROG Strix comes equipped with a pair of DisplayPorts and a pair of HDMI 2.0b connections.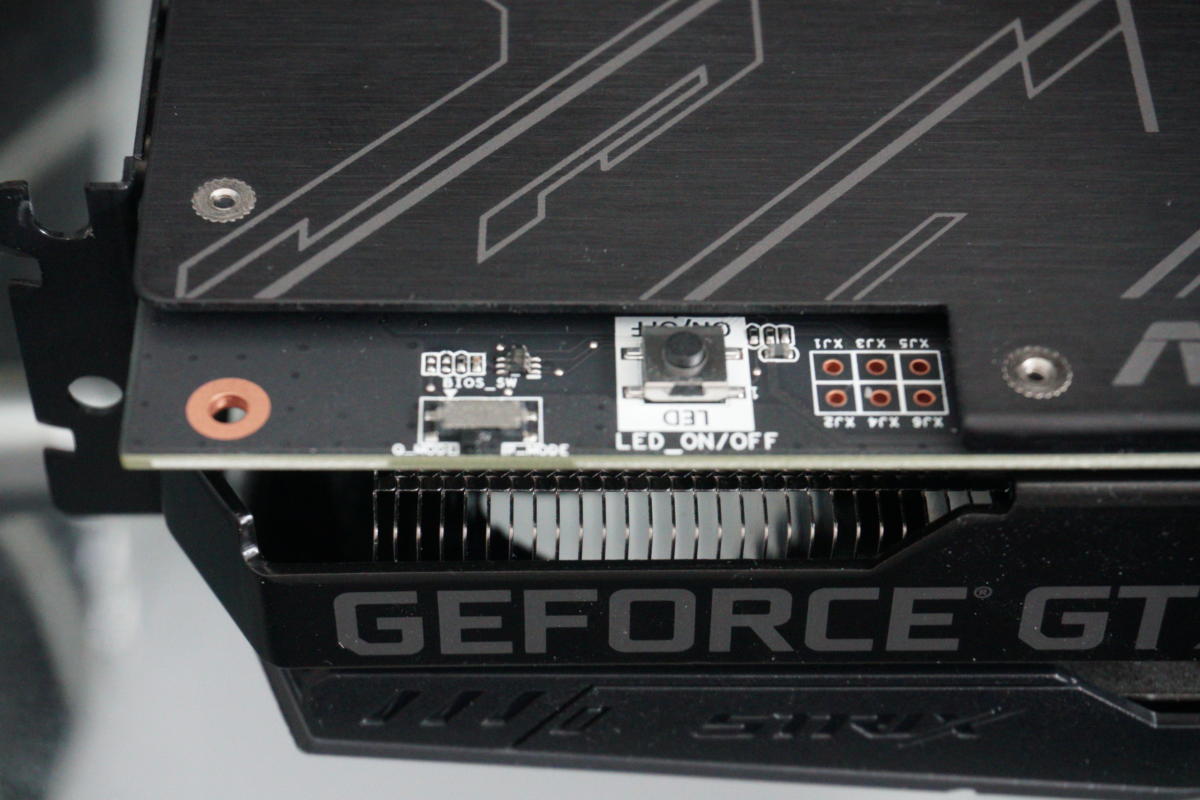 While we're reviewing Asus's most expensive and glamorous GTX 1660 Ti offering today, the company is releasing several SKUs across its ROG Strix, Asus Dual, and Asus Phoenix brands with varying speeds and feature sets:
ROG-STRIX-GTX1660TI-O6G-GAMING – $329.99
ROG-STRIX-GTX1660TI-A6G-GAMING – $324.99
ROG-STRIX-GTX1660TI-6G-GAMING – $319.99
DUAL-GTX1660TI-O6G – $309.99
DUAL-GTX1660TI-6G – $304.99
PH-GTX1660TI-O6G – $284.99
PH-GTX1660TI-6G – $279.99
Got it? Good. Let's hit the test bench.
Next page: Our test system, benchmarks begin
Our test system
Our dedicated graphics card test system is packed with some of the fastest complementary components available to put any potential performance bottlenecks squarely on the GPU. Most of the hardware was provided by the manufacturers, but we purchased the cooler and storage ourselves.
Mentioned in this article
Radeon RX 590 Nitro+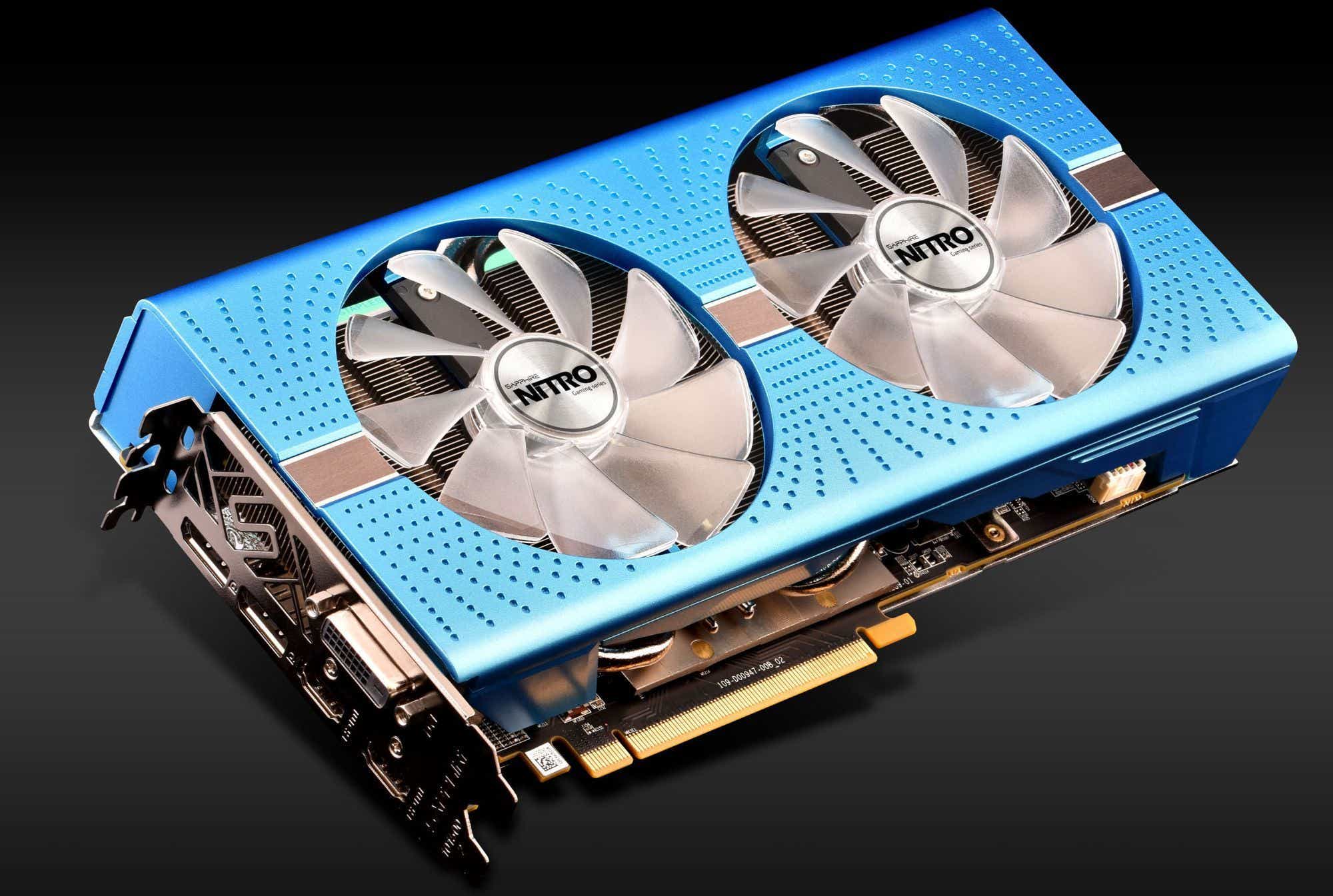 Price When Reviewed:
$259.99
We're comparing the Asus ROG Strix GTX 1660 Ti against its predecessor, an overclocked EVGA version of the 6GB GTX 1060, as well as the GTX 1070 Founders Edition and the ray tracing-capable $350 GeForce RTX 2060 Founders Edition. To see how it stacks up against the Radeon competition, we're also included performance results from the $260 Sapphire Radeon RX 590 Nitro+ (which launched at $280 in November), the $400 Radeon Vega 56, and the Asus ROG Strix version of the Radeon RX 580. Many Radeon RX 580 models can consistently be found for under $200 on sale these days, even in 8GB variants.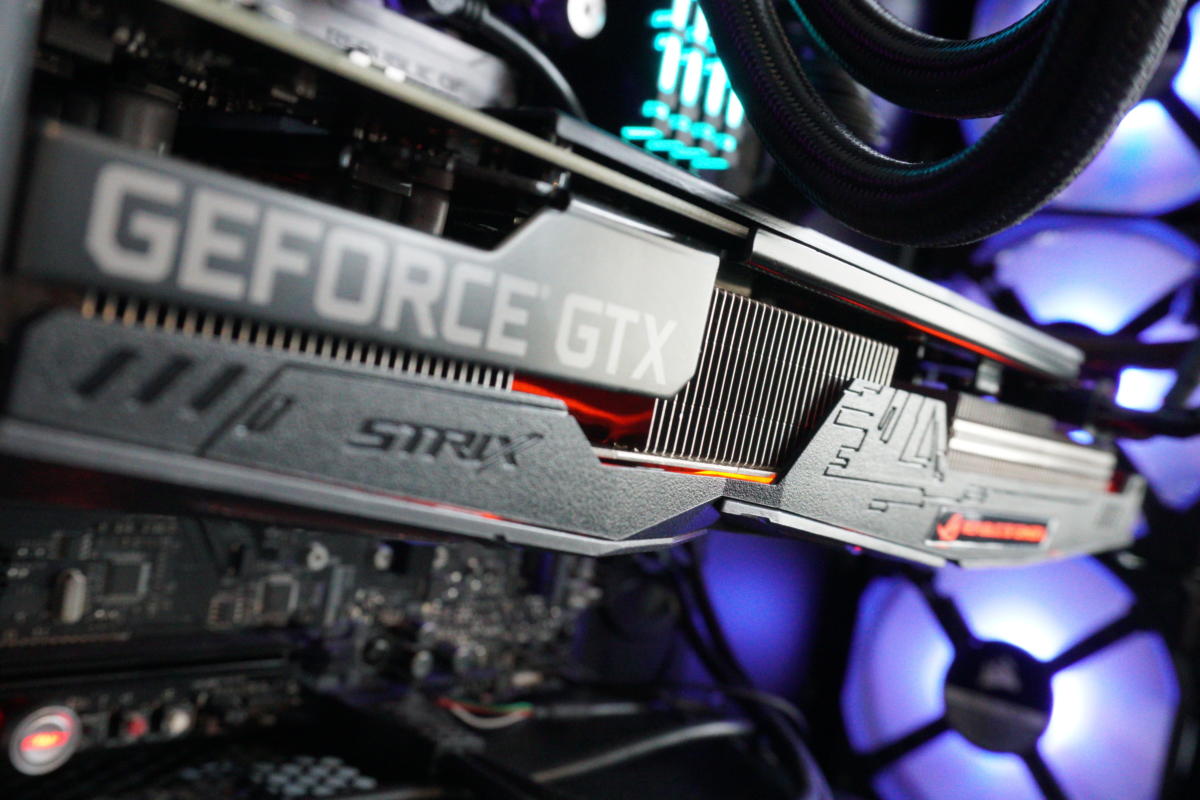 Each game is tested using its in-game benchmark at the highest possible graphics presets, with VSync, frame rate caps, and all GPU vendor-specific technologies—like AMD TressFX, Nvidia GameWorks options, and FreeSync/G-Sync—disabled, and temporal anti-aliasing (TAA) enabled to push these high-end cards to their limits. If anything differs from that, we'll mention it. We run each benchmark at least three times and list the average result for each test.
We limited our testing to 1080p and 1440p resolutions, as satisfying 4K gaming is mostly out of the reach of this class of card. We benchmarked the Asus ROG Strix GTX 1660 Ti using its default Performance BIOS.
Asus ROG Strix GTX 1660 Ti gaming benchmarks
Strange Brigade
Let's kick things off with Strange Brigade ($50 on Humble), a cooperative third-person shooter where a team of adventurers blasts through hordes of mythological enemies. It's a technological showcase, built around the next-gen Vulkan and DirectX 12 technologies and infused with features like HDR support and the ability to toggle asynchronous compute on and off. It uses Rebellion's custom Azure engine. We test with async compute off.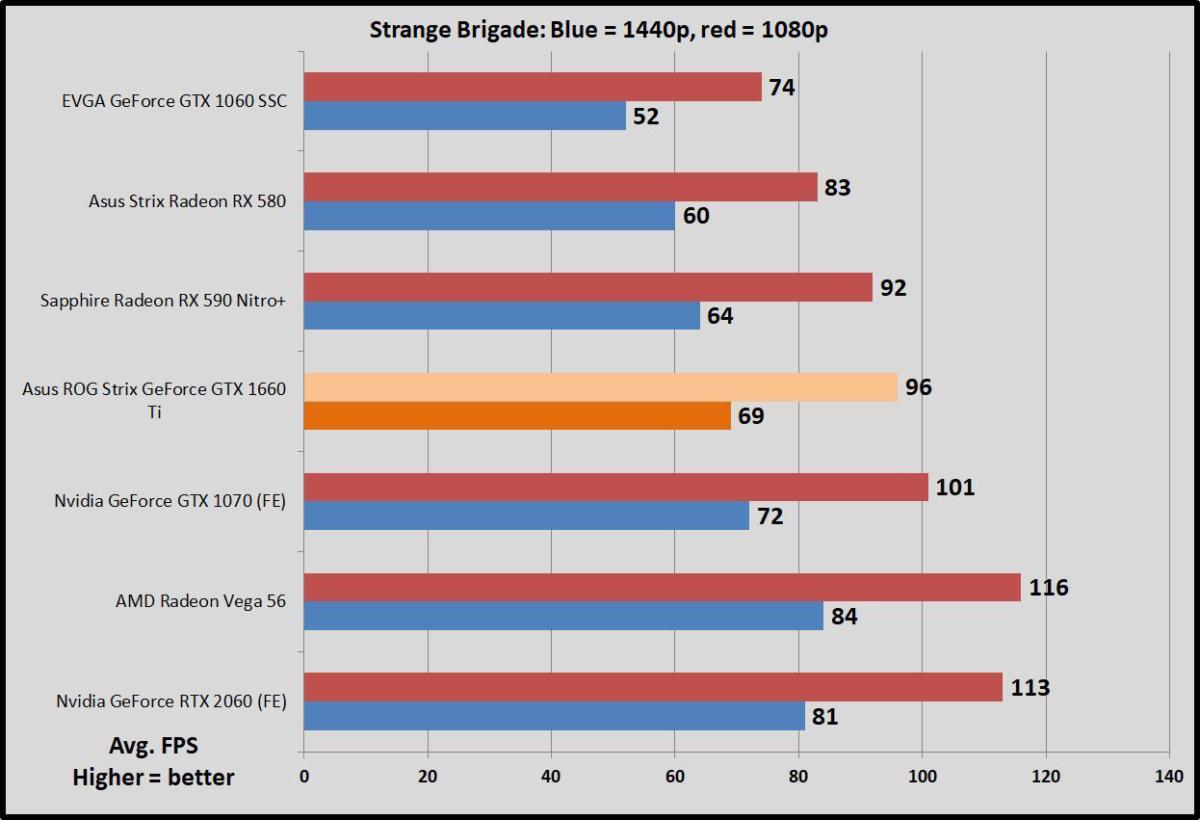 The Asus ROG Strix GTX 1660 Ti's performance rivals the GTX 1070's and surpasses the GTX 1060's by about 30 percent, hovering around the 100-fps mark at 1080p resolution. It also manages to eke out a win over the similarly priced Radeon RX 590 despite Strange Brigade's preference for AMD cards, which you can see in clear effect by comparing the results of the GTX 1070 and Vega 56.
The pricier, RTX-enabled GeForce RTX 2060 Founders Edition is noticeably faster than the GTX 1660 Ti, which makes sense because the graphics card packs in more CUDA cores and other tech. It'll maintain its lead over the ROG Strix in every benchmark.
Shadow of the Tomb Raider
Shadow of the Tomb Raider ($60 on Humble) concludes the reboot trilogy, and it's utterly gorgeous—even the state-of-the-art GeForce RTX 2080 Ti barely manages to average 60 fps with all the bells and whistles turned on at 4K resolution. Square Enix optimized this game for DX12, and recommends DX11 only if you're using older hardware or Windows 7, so we test with that. Shadow of the Tomb Raider uses an enhanced version of the Foundation engine that also powered Rise of the Tomb Raider.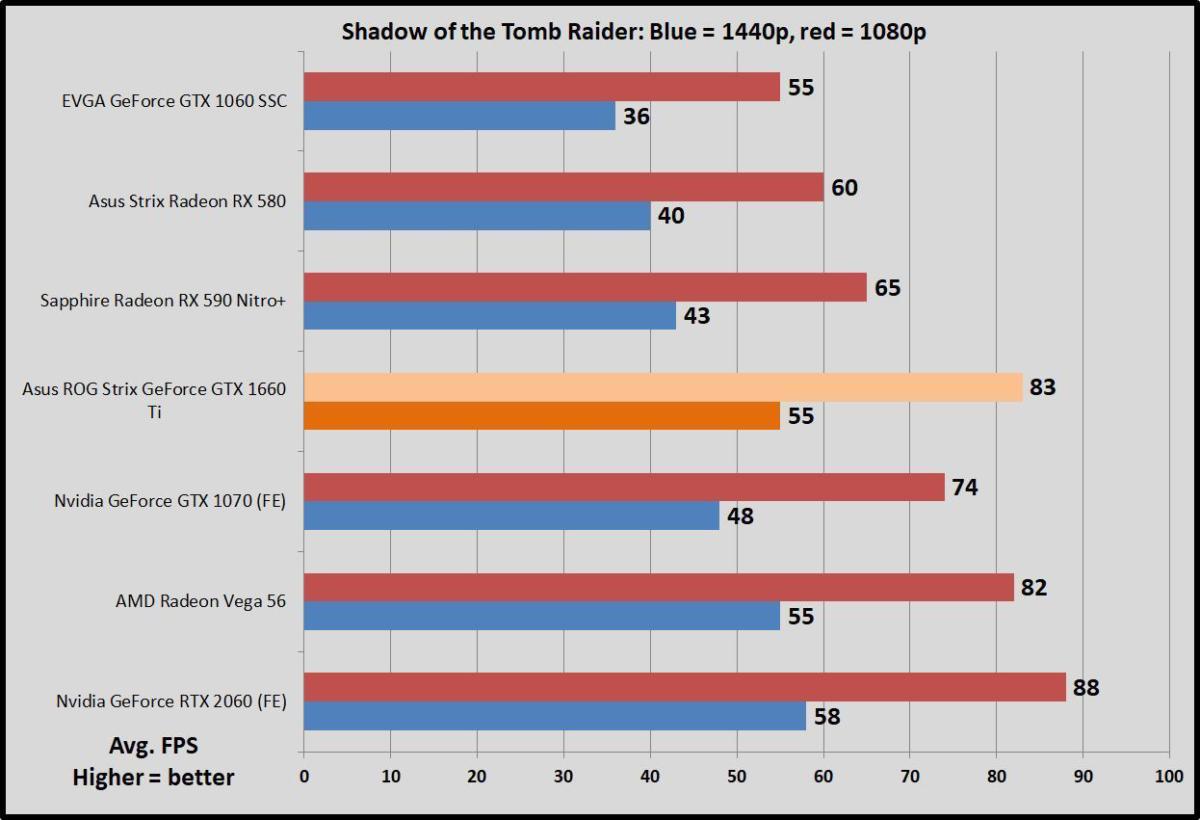 Remember how Nvidia said tweaking shading performance to run integer and floating point operations concurrently gives the GTX 1660 Ti a huge boost in Shadow of the Tomb Raider? It wasn't lying. It blows by the GTX 1060 to the tune of 50 percent-plus, smashes the Radeon RX 590, and even the GTX 1070 can't keep pace.
Far Cry 5
Finally, a DirectX 11 game! Far Cry 5 ($60 on Humble) is powered by Ubisoft's long-established Dunia engine. It's just as gorgeous as its predecessors, and even more fun. We'll likely replace it in our suite with the newer Far Cry: New Dawn soon.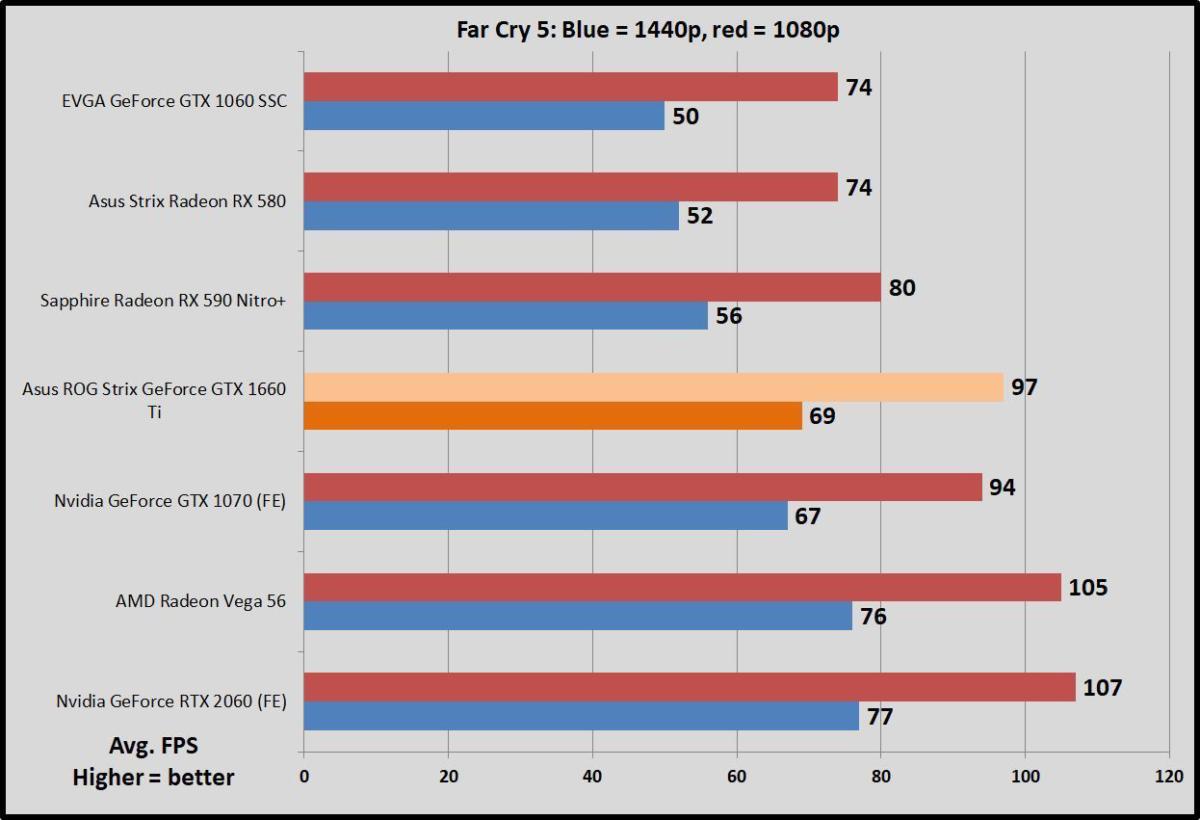 It's another massacre. The GTX 1660 Ti beats the Radeon RX 590 by over 20 percent, and the GTX 1060 by over 30 percent.
Next page: Gaming benchmarks continue
Ghost Recon Wildlands
Move over, Crysis. If you crank all the graphics options up to 11, like we do for these tests, Ghost Recon Wildlands ($50 on Humble) and its AnvilNext 2.0 engine absolutely melts GPUs. Ghost Recon Wildlands also prefers Nvidia's GPU architecture in general.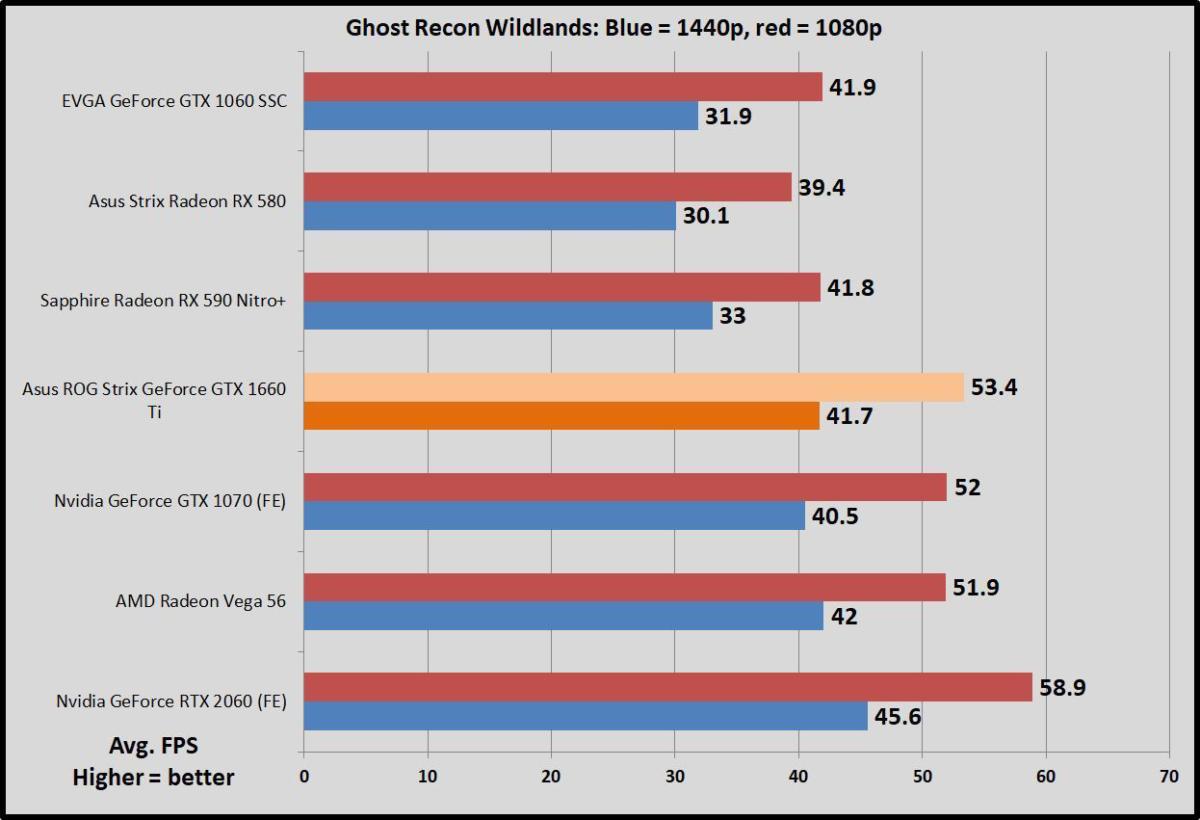 Once again, the ROG Strix blows away the GTX 1060 and AMD's similarly priced Radeon RX 590, trading blows with the GTX 1070. And once again, the GeForce RTX 2080 is even faster, though its lead is slighter here.
Middle-earth: Shadow of War
Middle-earth: Shadow of War ($50 on Humble) adds a strategic layer to the series' sublime core gameplay loop, adapting the Nemesis system to let you create an army of personalized Orc commanders. It plays like a champ on PC, too, thanks to Monolith's custom LithTech Firebird engine. We use the Ultra graphics preset but drop the Shadow and Texture Quality settings to High to avoid exceeding 8GB of VRAM usage in our testing scenario, since graphics cards that exceed 8GB of capacity are rare indeed.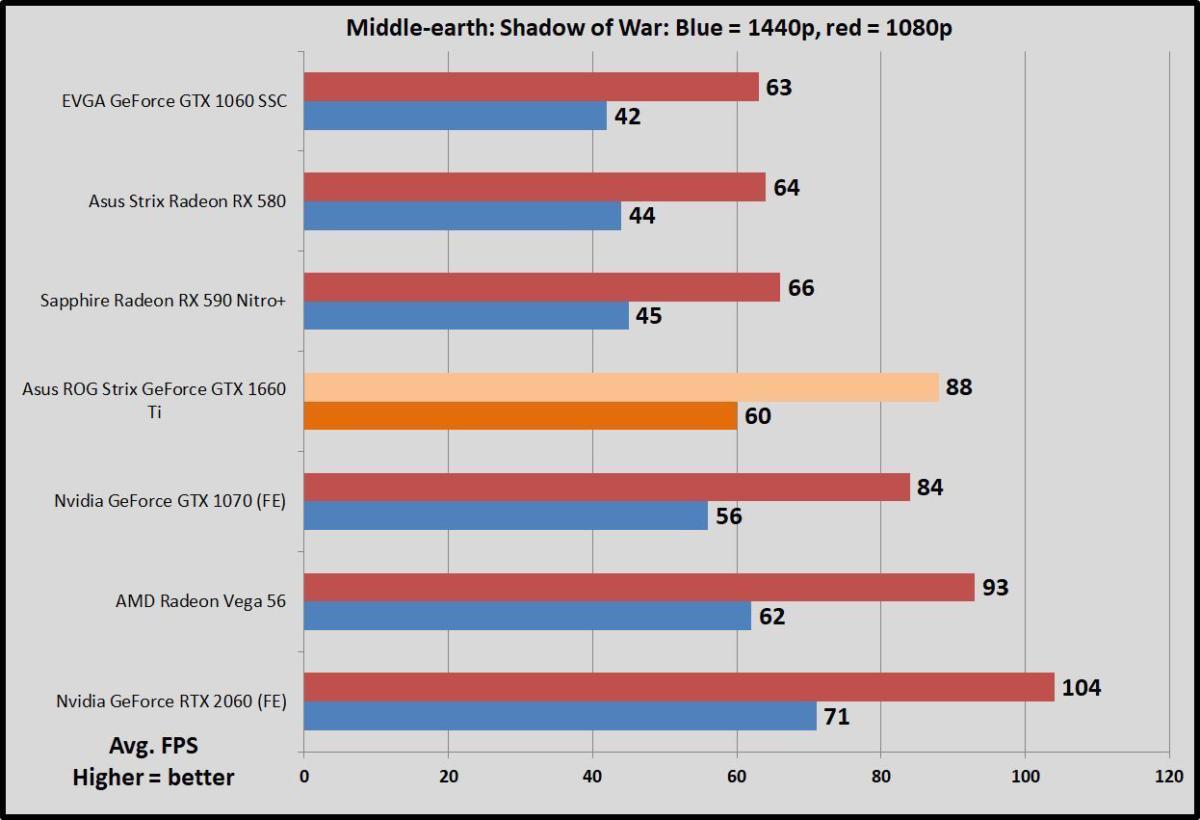 The GTX 1660 Ti doesn't even have 8GB of memory capacity, though that doesn't affect its performance. It again stays on even footing with the GTX 1070 and Radeon Vega 56, and wrecks its predecessor as well as AMD's Polaris GPU-based cards.
F1 2018
The latest in a long line of successful games, F1 2018 ($60 on Humble) is a benchmarking gem, supplying a wide array of both graphical and benchmarking options—making it a much more reliable option that the Forza series. It's built on the fourth version of Codemasters' buttery-smooth Ego game engine. We test two laps on the Australia course, with clear skies.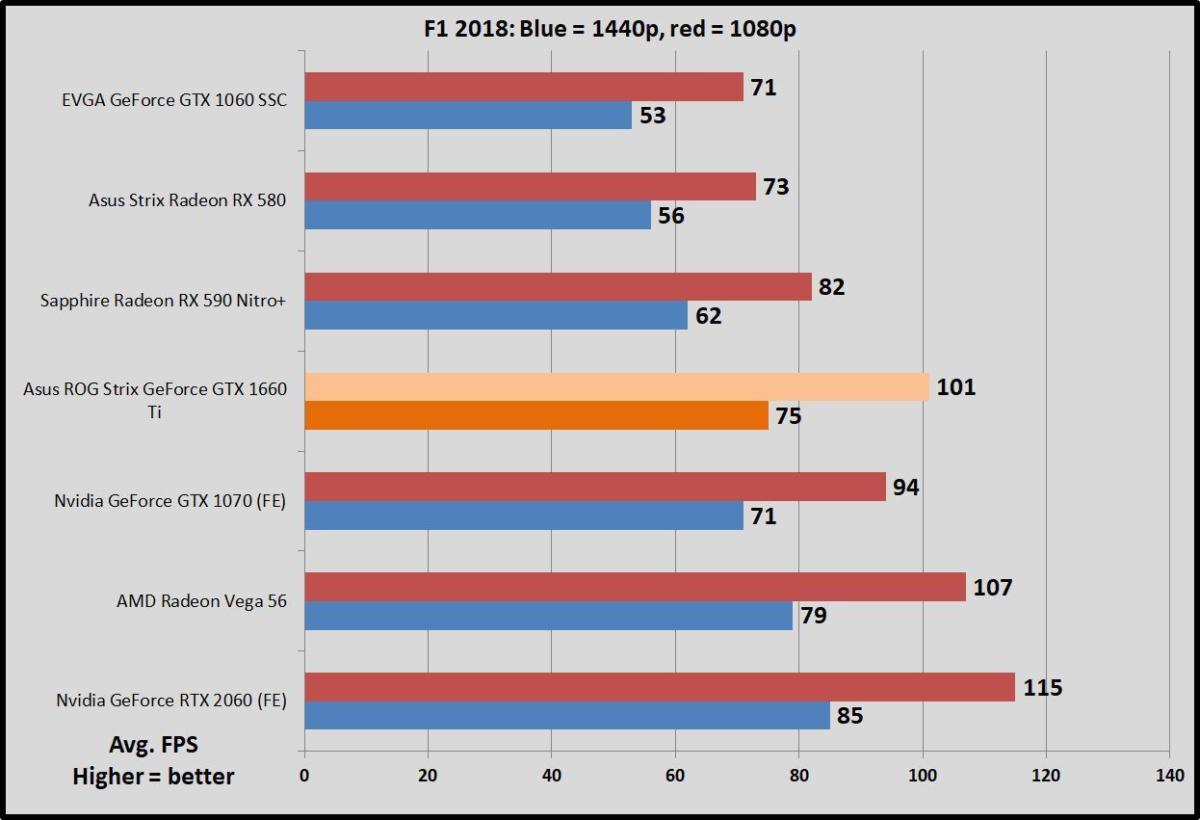 The GTX 1660 Ti surpasses a 100-fps average at 1080p resolution. Not even the GTX 1070 does that. AMD's Vega 56 is a little faster, but costs $400.
Next page: Gaming benchmarks continue
Ashes of the Singularity: Escalation
Ashes of the Singularity ($40 on Humble) was one of the very first DX12 games, and it remains a flag-bearer for the technology to this day thanks to the extreme scalability of Oxide Games' next-gen Nitrous engine. With hundreds of units onscreen simultaneously and some serious graphics effects in play, the Crazy preset can make graphics cards sweat. Ashes runs in both DX11 and DX12, but we test only in DX12, as it delivers the best results for both Nvidia and AMD GPUs.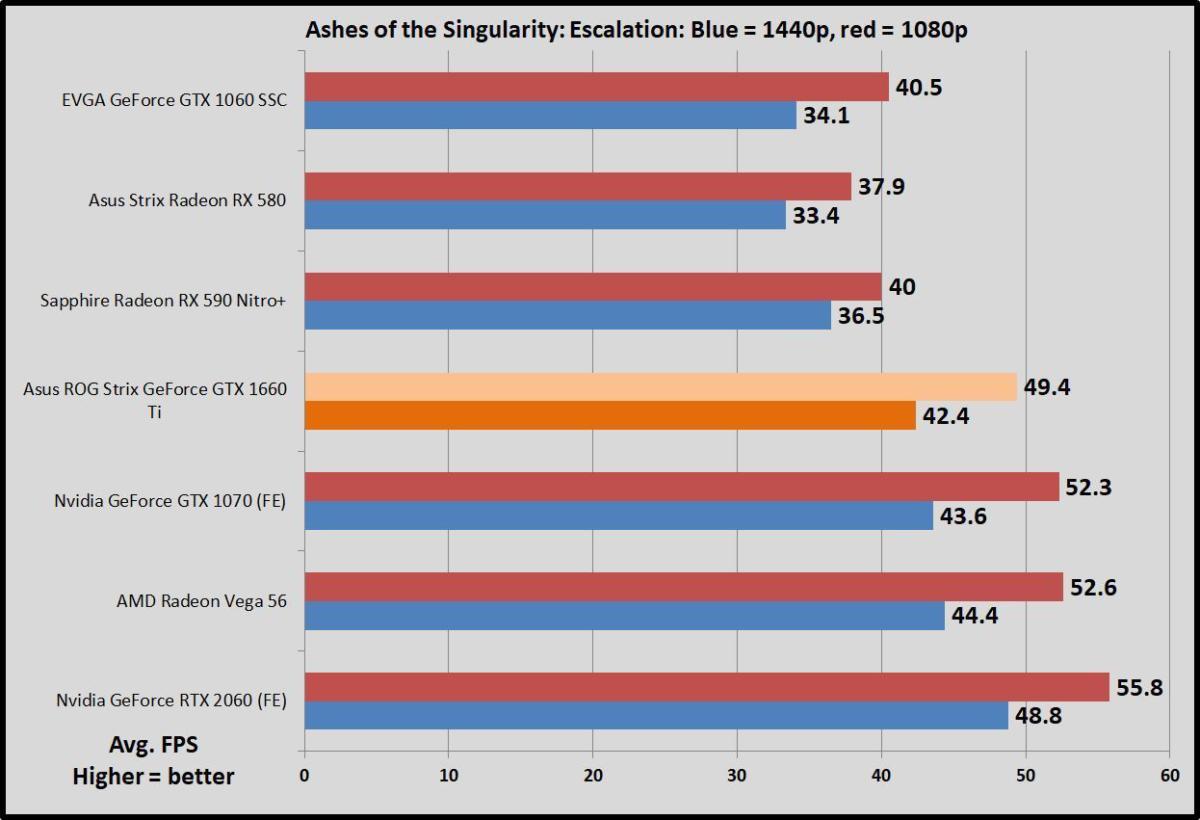 The song remains the same here. The ROG Strix hangs with the GTX 1070 and Vega 56, and beats the GTX 1060 and similarly priced Radeon RX 590 by about 25 percent.
GTA V
We're going to wrap things up with a couple of older games that aren't really visual barn-burners, but still top the Steam charts day in and day out. These are games that a lot of people play. First up: Grand Theft Auto V ($30 on Humble) with all options turned to Very High, all Advanced Graphics options except extended shadows enabled, and FXAA. GTA V runs on the RAGE engine and has received substantial updates since its initial launch.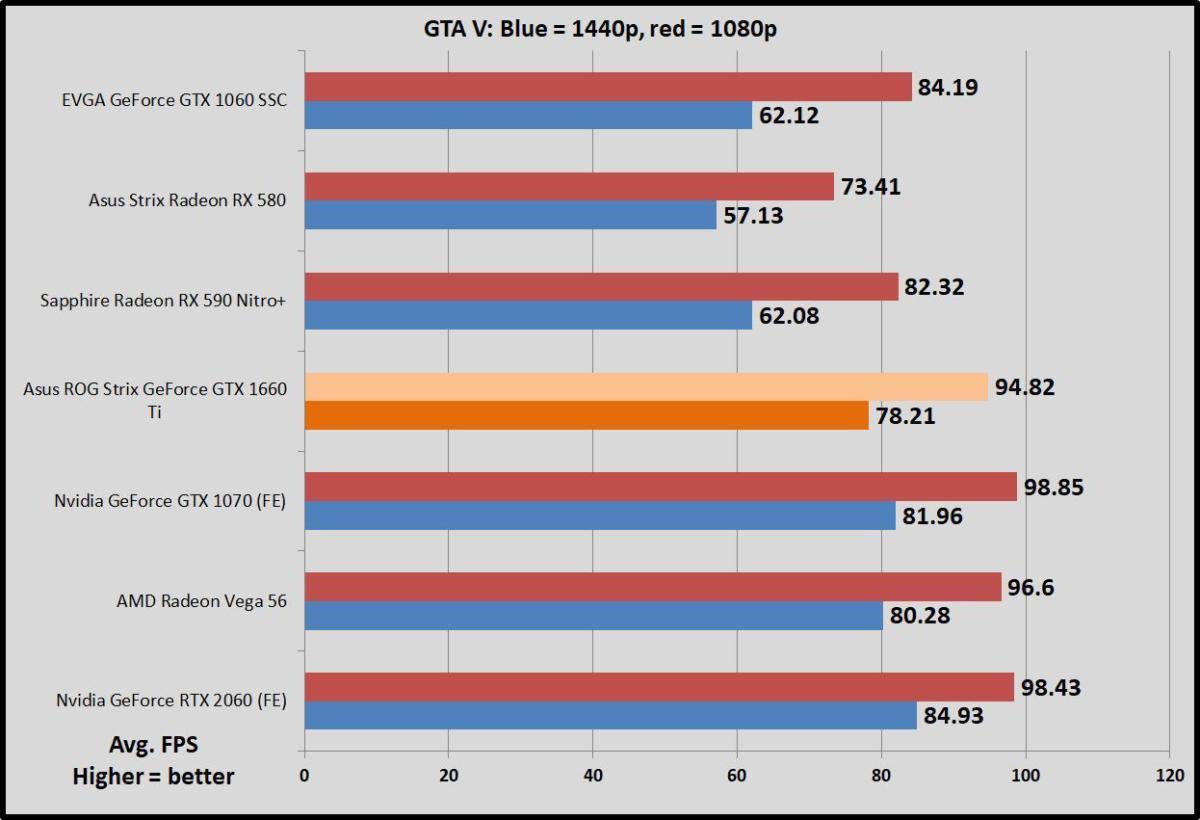 Surprise! The ROG Strix GTX 1660 Ti is a little slower than the GTX 1070 here, which is a trend we've seen in Nvidia's RTX cards, too—something about GTA V's design prefers the older Pascal architecture. It's just barely slower than the pricier options, though, and it still womps on the Radeon RX 590 and GTX 1060, especially as the resolution increases.
Rainbow Six Siege
Finally, let's take a peek at Rainbow Six Siege ($40 on Humble), a game whose audience just keeps on growing, and one that still feels like the only truly next-gen shooter after all these years. Like Ghost Recon Wildlands, this game runs on Ubisoft's AnvilNext 2.0 engine, but Rainbow Six Siege responds especially well to graphics cards that lean on async compute features.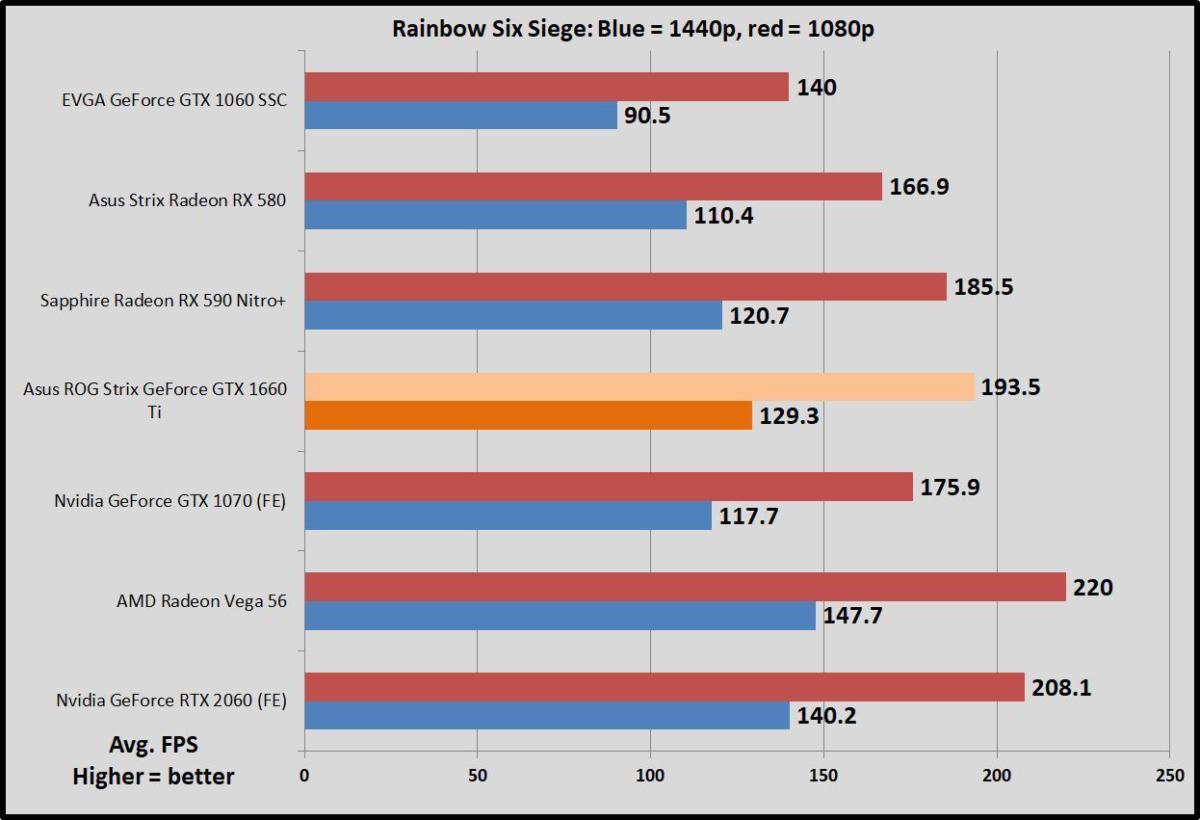 As such, Nvidia's Turing-based GPUs well outpace their predecessors, with the ROG Strix outpunching the GTX 1060 by a whopping 40 percent. The Radeon RX 590 hangs close, but trails Nvidia's newcomer by a noticeable margin—at least on paper. In reality, you'd be hard-pressed to pick out the differences between the frame rates for the two cards.
Next page: Power, thermals, noise, and synthetics
Asus ROG Strix GTX 1660 Ti power draw, thermals, and noise
We also tested the Asus ROG Strix GeForce GTX 1660 Ti and its competitors using 3DMark's highly respected Fire Strike synthetic benchmark. Fire Strike runs at 1080p, Fire Strike Extreme runs at 1440p, and Fire Strike Ultra runs at 4K resolution. All render the same scene, but with more intense graphical effects as you move up the scale, so that Extreme and Ultra flavors stress GPUs even more. We record the graphics score to eliminate variance from the CPU.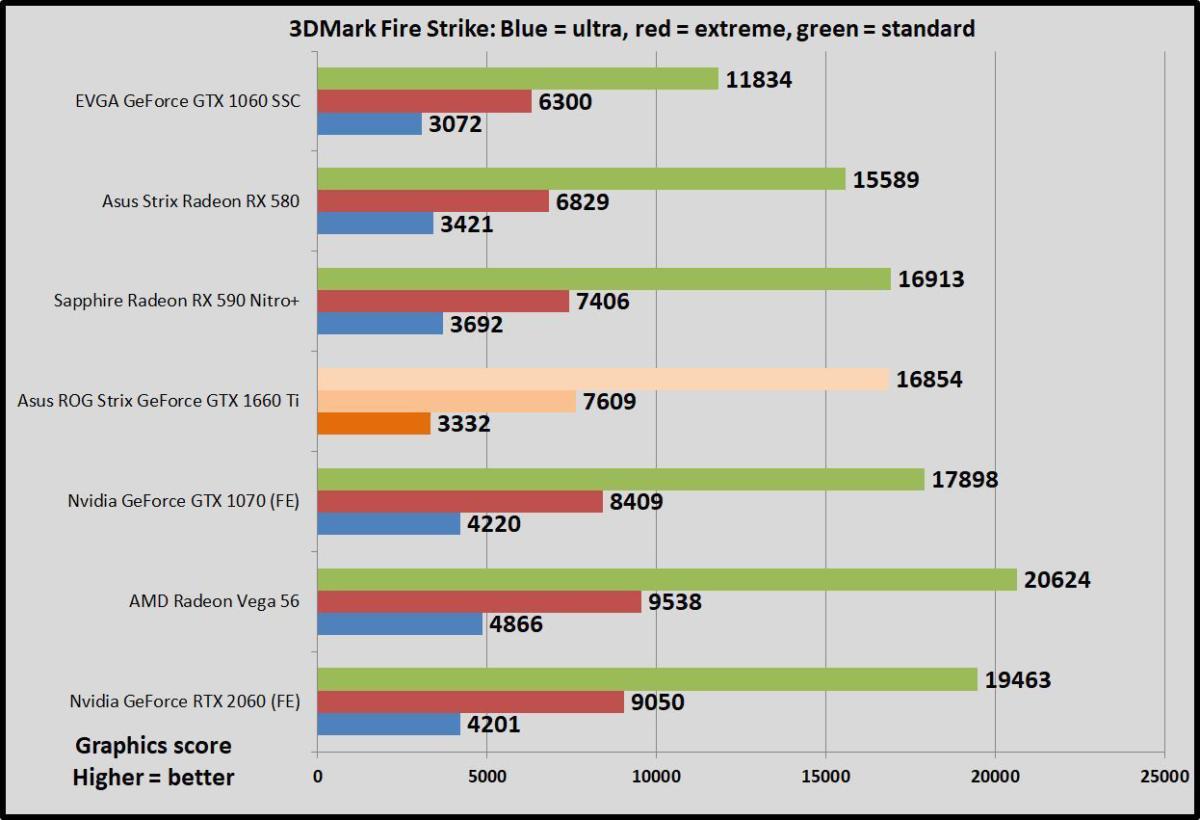 This is why you can't test cards based solely on synthetic benchmarks, though they're wonderful for relative sanity checks and competitive overclocking contests. According to Fire Strike, the GTX 1660 Ti is slower than the Radeon RX 590, and well behind the GTX 1070. That simply isn't true in actual games.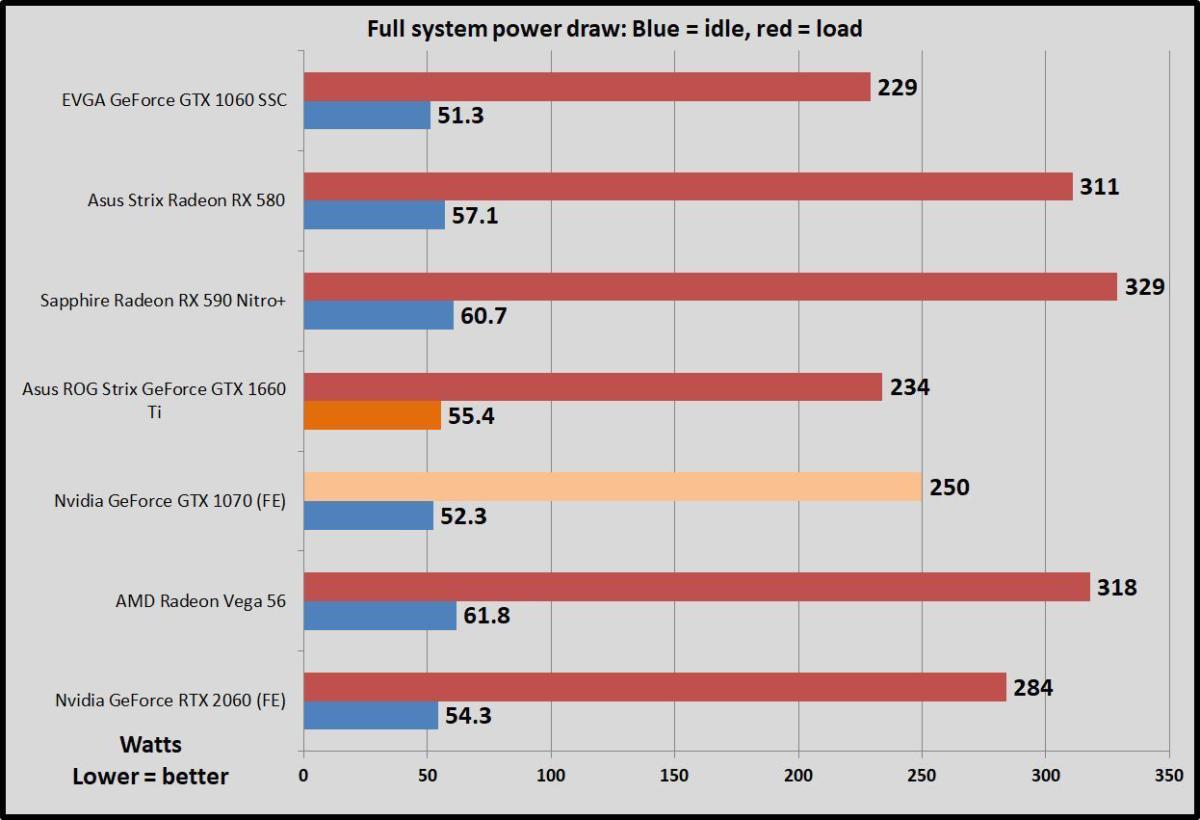 We test power draw by looping the F1 2018 benchmark for about 20 minutes after we've benchmarked everything else, and noting the highest reading on our Watts Up Pro meter. The initial part of the race, where all competing cars are onscreen simultaneously, tends to be the most demanding portion.
The GeForce GTX 1660 Ti is another testament to the incredible power efficiency of Nvidia's GPU architectures. Even with its RGB LEDs, trio of fans, and heavy overclock, the ROG Strix draws roughly the same amount of power as EVGA's overclocked GTX 1060, but delivers much higher performance. AMD's card can't even come close to Nvidia's in terms of raw power efficiency, either.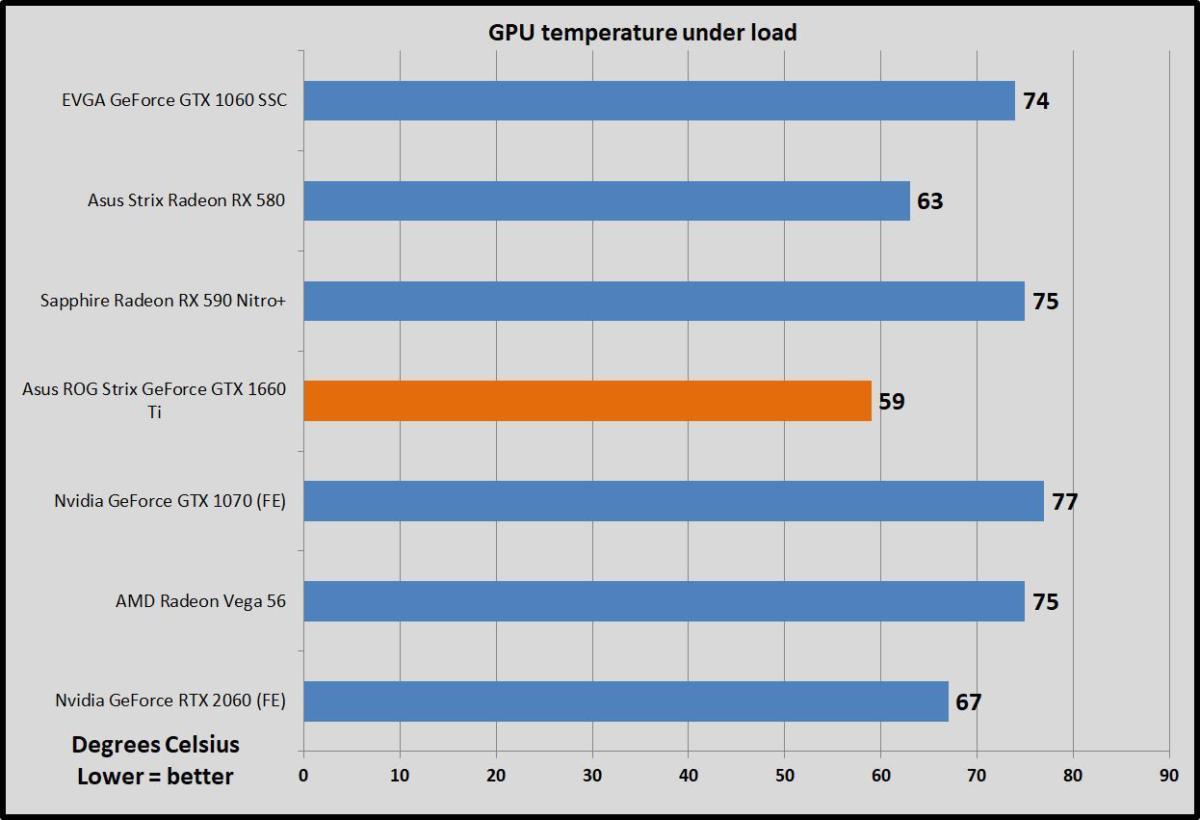 We test thermals by leaving HWInfo's sensor monitoring tool open during the F1 2018 5-lap power draw test, noting the highest maximum temperature at the end.
Sweet holy moly. The Asus ROG Strix GTX 1660 Ti's default Performance BIOS keeps the GPU absolutely frigid, and it doesn't get too loud in the process. If you prefer silence, swapping to the Quiet BIOS delivers that in exchange for temperatures rising to right around 70 degrees Celsius—which would still make it one of the coolest graphics cards in this price range. The custom cooling solution that Asus uses on ROG Strix graphics cards may be massive and pricey, but it delivers absolutely wonderful results.
Next page: Should you buy the GTX 1660 Ti?
Should you buy the GeForce GTX 1660 Ti?
Definitely, and doubly so if you have an ultra-fast refresh rate 1080p monitor.
Move over Radeon RX 590: Nvidia's $280 GeForce GTX 1660 Ti is hands-down the best 1080p graphics card you can buy today, trouncing its AMD rival in both performance and power efficiency. Plus, it handles 1440p gaming on a par with the GTX 1070, a previous top pick in that category, and plays nice with affordable FreeSync monitors now. The GeForce GTX 1660 Ti kills, full stop.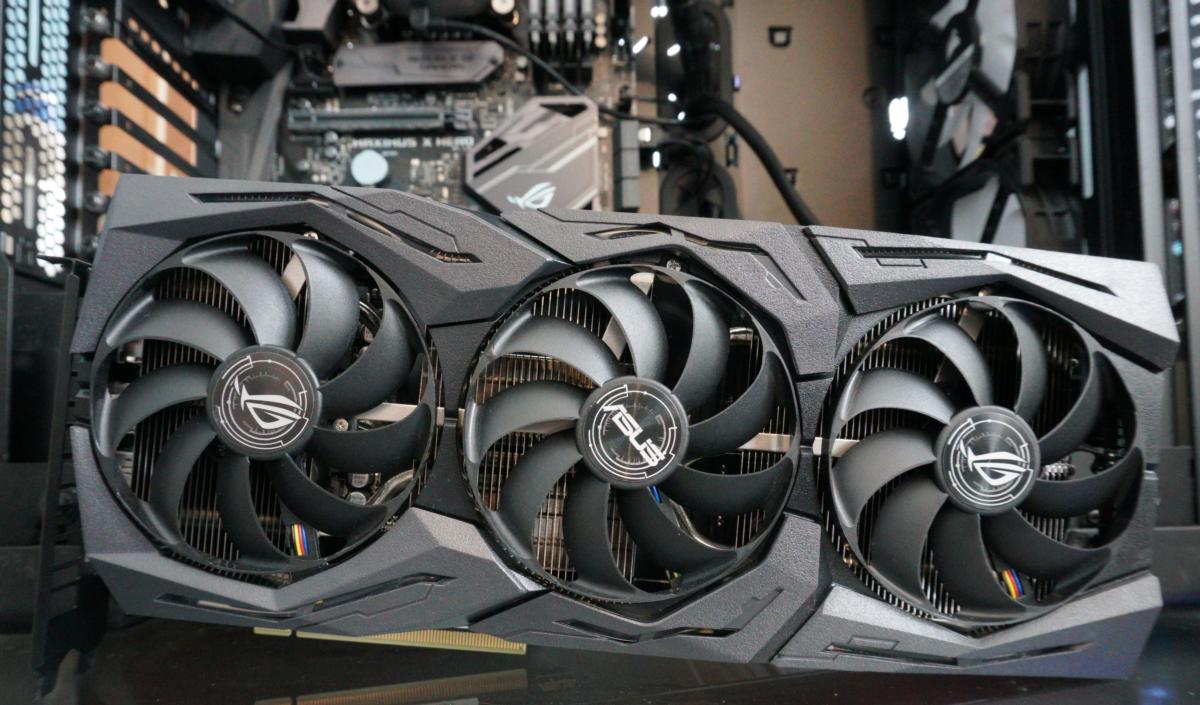 You shouldn't buy it in every circumstance, though.
While Nvidia's graphics card holds up decently at 1440p, if you're buying a new graphics card specifically for that resolution, we'd probably recommend spending the extra money on a $350 GeForce RTX 2060. Its lead isn't significant in every game we tested, but it maintains a noticeable performance advantage in most titles. That additional legroom will come in handy at the higher resolution as time goes on. The RTX 2060 contains cutting-edge ray tracing and AI-enhancement features that the GTX 1660 Ti lacks as well, though game support for RTX technologies have been slow to roll out.
Mentioned in this article
Radeon RX 580 Nitro+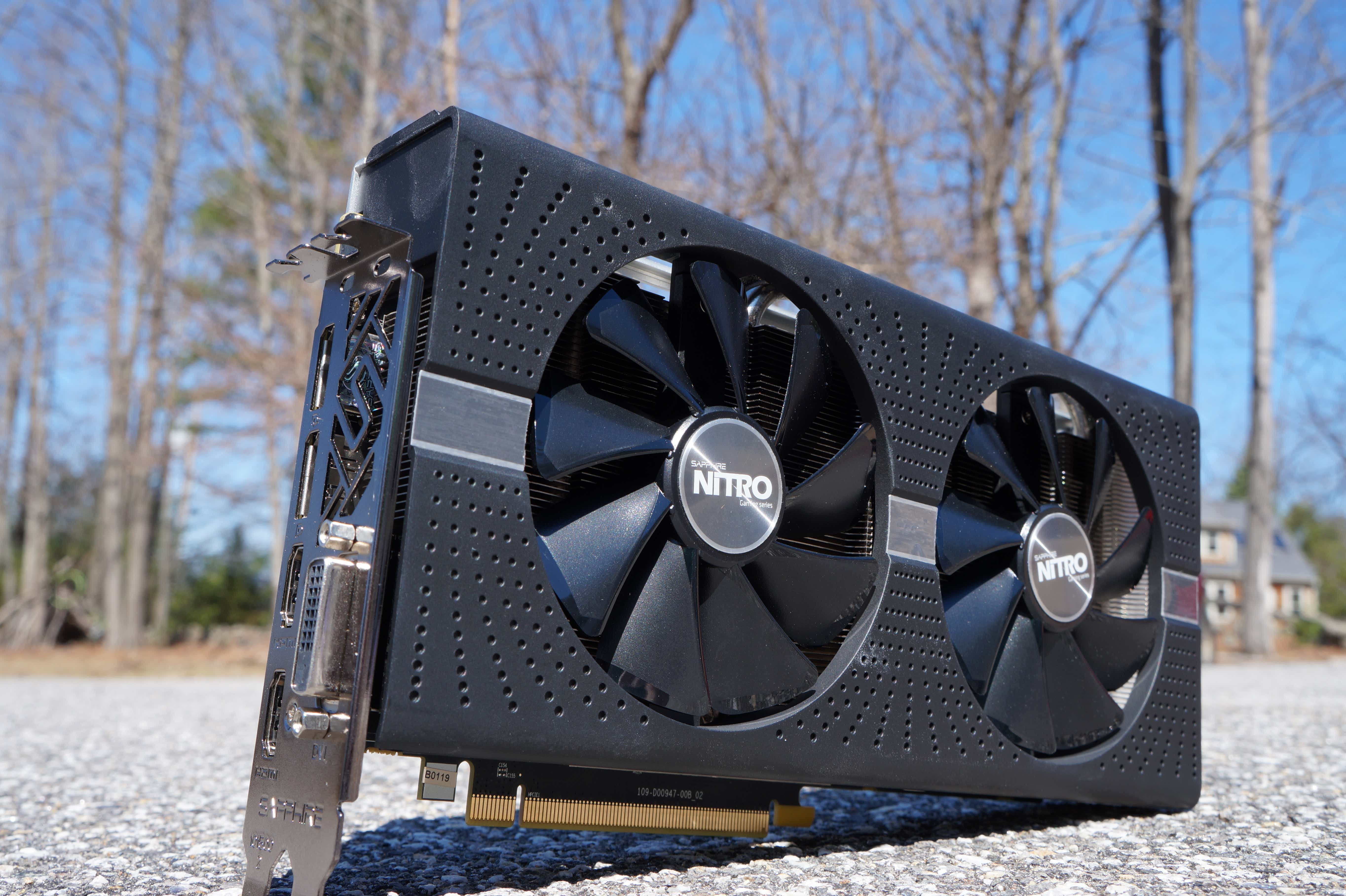 Price When Reviewed:
$229.99
On the flip side, the majority of gamers use 1080p monitors, and a big chunk of those are running at 60Hz. If that's your situation, the GTX 1660 Ti might be overkill. With the older Radeon RX 580—not the more powerful Radeon RX 590—still delivering a superb 1080p/60 gaming experience on Ultra or High graphics settings, we'd recommend leaning in that direction, especially since 8GB versions of the card can almost always be found selling for $200 or less these days. That's a full $80 less than the MSRP for the GTX 1660 Ti, or $130 less than this ROG Strix version of it, and the Radeon RX 580 will still give you a sublime gaming experience on a 60Hz screen.
Avoid the Radeon RX 590 for now. Prices for it have dropped slightly, from $280 to $260, but the GTX 1660 Ti beats it silly in every way.
If you're coming from a GTX 960 or older GPU (which sadly, we didn't have time to benchmark), the GeForce GTX 1660 Ti will be an utterly massive upgrade. While it's faster than the GTX 1060 by a healthy 25 to 50 percent in most games, upgrading from its direct predecessor is less enticing. You usually want to skip a generation if you're staying in the same price range.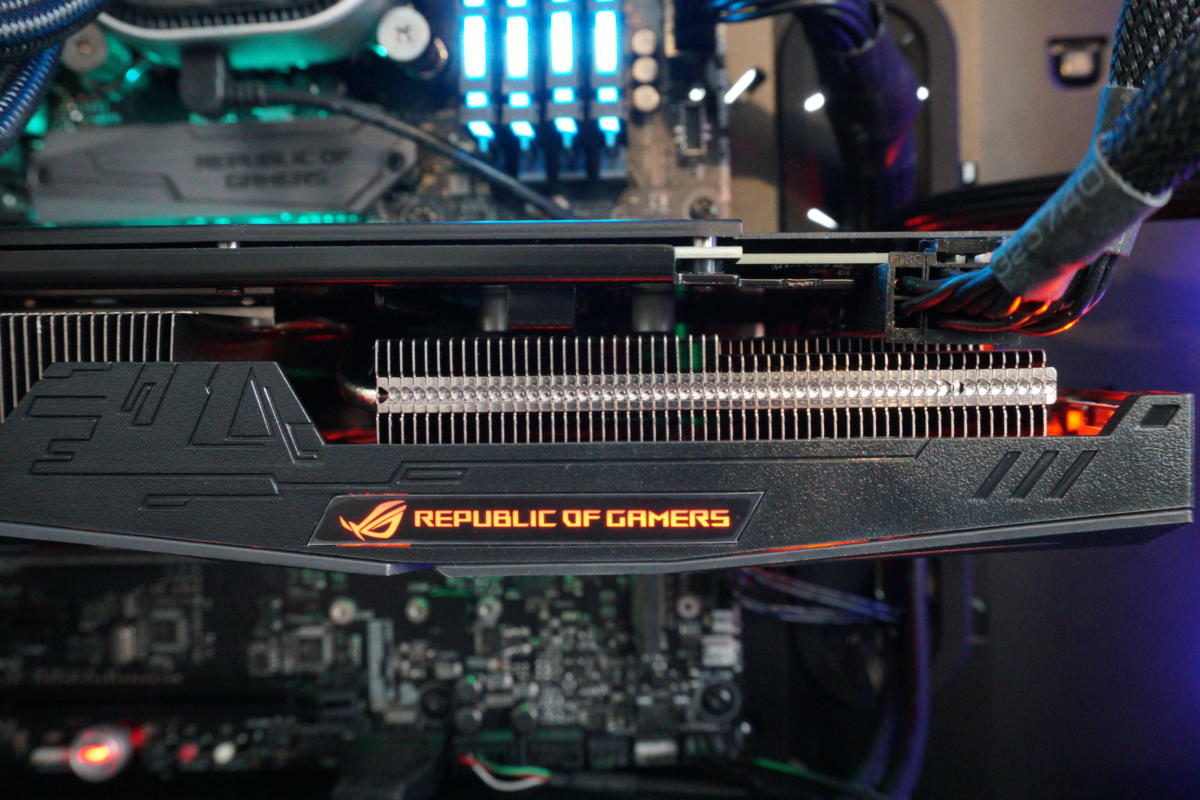 As far as the $330 Asus ROG Strix GTX 1660 Ti itself goes, it earns our hearty recommendation—and an Editors' Choice award.
We haven't tested a $280 version of the GTX 1660 Ti yet, but even if performance for the cheaper models winds up in the same ballpark with some tweaking, this card easily justifies its $50 price premium. The sizeable overclock and even higher out-of-the-box performance is nice, but it's the Strix's monstrous cooler and deep array of value-adding features that impress the most. That potent cooler unlocks tantalizing scenarios that most other cards can't match in the form of dual-BIOS profiles that let you choose between ice-cold temperatures and great noise levels, or effectively silent noise levels with still-great thermal results. I can't state enough how big of a quality-of-life win that is in actual use. Two drawbacks: You'll need a lot of space in your case to accommodate this beast, and the price premium pushes the ROG Strix out of the sub-$300 range that most gamers consider the mainstream sweet spot.
Don't let that deter you if you can swing it, though. The Asus ROG Strix GTX 1660 Ti is damned near the ultimate version of an absolutely stunning graphics card—even without ray tracing.