At a Glance
Expert's Rating
Pros
Independently verified no-logs policy
Unlimited simultaneous device connections
Incredible number of servers
Great extra features such as multi-hop and split tunneling
Cons
App panel awkwardly located on the lower-right corner of screen by default
Speeds are just okay
Our Verdict
Private Internet Access is one of the top VPN services around. It's affordable and comes with one of the best feature sets on the market. It has a great global server spread, offers a ton of servers, and it's been upgraded to allow for unlimited simultaneous device connections. The speeds aren't exceptional, but they'll do fine in most situations.
Price When Reviewed
$11.95 per month
Best Prices Today: Private Internet Access
Private Internet Access VPN in brief:
P2P allowed: Yes
Simultaneous device connections: Unlimited
Business location: U.S.
Number of servers: 10,000+
Number of country locations: 84
Cost: $11.95 per month, or $79 + 3 free months for a three-year subscription
Private Internet Access (PIA) has seemingly been around since the advent of third-party VPNs. Since that time, it's been a favorite VPN service for many users thanks to its excellent pricing and good privacy guarantees. Recently the service has made some truly promising improvements by lifting the device connection limit and undergoing a third-party audit. So, with these new updates how does it stack up against the other titans of the VPN market? Let's dive in and have a look.
Further reading: See our roundup of the best VPNs to learn about competing products.
Private Internet Access VPN features and services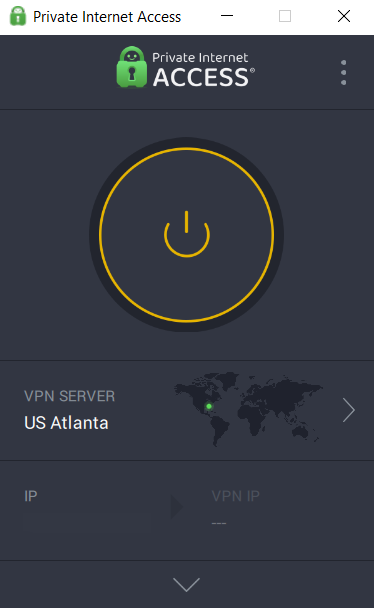 Sam Singleton
Upon first opening PIA you'll notice that it has maintained the same user-interface design since the company overhauled its Windows app in 2019. You're presented with a simple panel in the lower-right corner of your screen. By default this panel is locked to that location and you're unable to move it. This design decision honestly felt a bit constrained and awkward. Thankfully, you're able to change this in the settings menu, but it isn't obvious at first glance.
Otherwise the Windows app is pretty straightforward. There's a big on/off button at the top, and below that is the VPN server location—clicking it takes you to a different screen where you're able to view and choose a different country or server location. For countries with multiple location options you're able to click a drop-down menu to display all of the available server locations within that country. And boy are there a lot to choose from. PIA offers an 84 country server spread, and while not officially confirmed, it's believed to have more than 10,000 servers.

Sam Singleton
Next to each country location is its latency displayed in milliseconds and there's a heart icon which allows you to designate a server as one of your favorites. It also denotes which servers are virtual servers with an icon that states "This is a geo-located region" next to the name. A virtual server is not located within the country itself, but rather assigns an IP address of the country location instead. The transparency here should be commended as not many other VPN providers label which of their servers are virtual or physical.
Overall the server-list layout is nice and simple to follow. PIA allows you to sort its server list either by latency or location name, as well. This makes it much easier for people who are only interested in speed to find the optimal connection, or likewise by name to find their desired location.
Once connected, the app displays your actual IP address and the VPN address you're using. This basic information is all you can see in the compact view, but if you click the downward-facing arrow at the bottom you can see a ton of extra details as well. This includes quick-connect options with locations such as France, Germany, the U.S., and the UK. There are also tiles for bandwidth usage, a performance graph, data encryption and handshake settings being used, and basic settings control. If you prefer to see any of this information on the compact view instead you're able to click the bookmark icon on any tile to display it. You can add or remove any of these options as you see fit.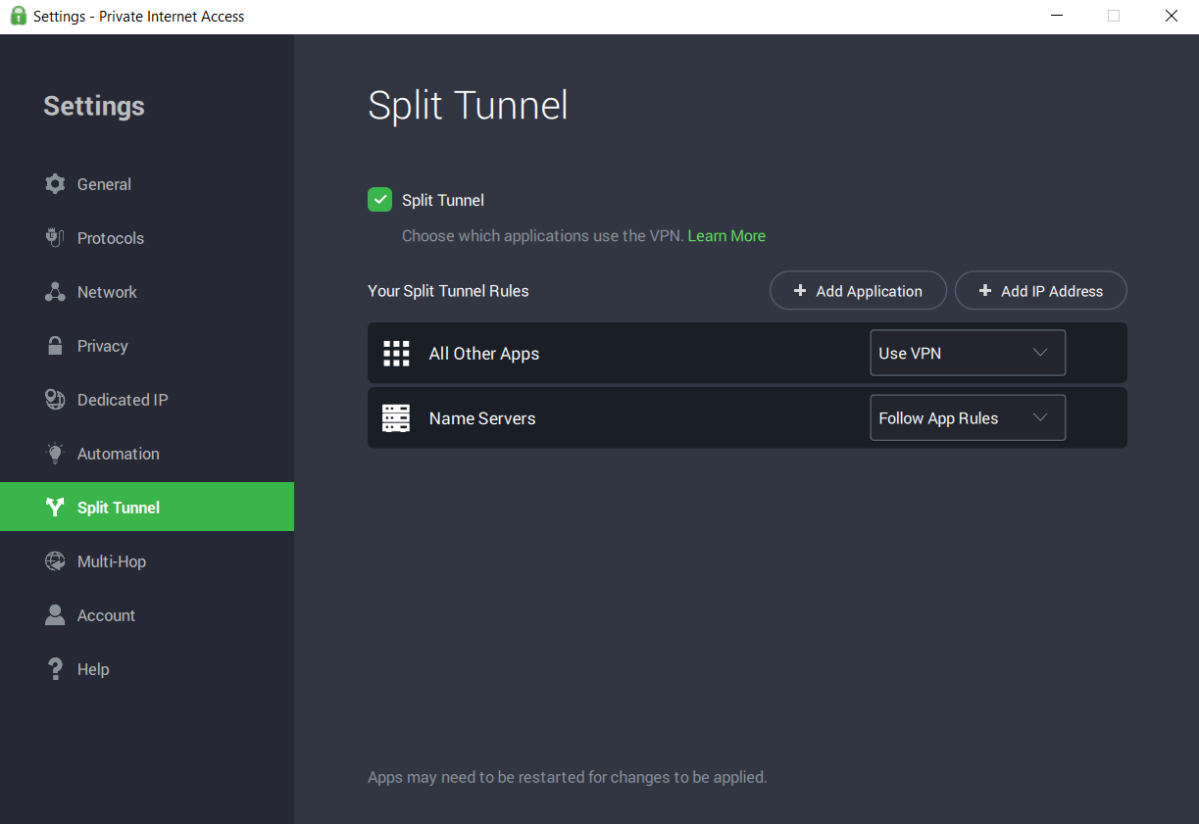 Sam Singleton
Private Internet Access also comes with a plethora of great features such as split-tunneling, multi-hop, and a kill switch. Split-tunneling allows you to pick and choose which apps you wish to run through a VPN, allowing you to optimize bandwidth for low-risk activities such as streaming or gaming. In fact, PIA has one of the most dynamic split-tunneling features we've ever seen. Power users can go to town tweaking things such as which apps, IP addresses, and DNS requests are allowed to bypass the VPN. It even allows you to designate an app-based kill switch, which will block traffic only on specific apps should the VPN connection break.
Additionally, taking after other VPN providers such as NordVPN and Surfshark, PIA has added a handy security extra in the form of an ad- and tracker-blocker that it calls MACE. This is something we're seeing more regularly as a means to entice users with a complete online security suite rather than just a VPN service. You can even opt-in to an antivirus tool from PIA for an additional fee when you sign-up if you so choose. The convenience of this all-in-one approach is appealing, but generally speaking, a standalone antivirus software, like our favorite antivirus suites, will offer you more comprehensive coverage and overall security.
It seems that every time we do an updated review of Private Internet Access it has introduced new upgrades and features and this time is no exception. Since early 2023, PIA now allows for unlimited simultaneous device connections—which is increasingly becoming an industry standard. Also, PIA is in the process of upgrading its servers to NextGen 10Gbps instead of the 1Gbps it's had in the past. This should increase connection speeds significantly for users in the future.
How is Private Internet Access VPN's performance?
In our testing we measured connection speeds across PIA's servers in five different countries all around the world and then compared them to our baseline internet speed. PIA's speeds were alright, but they weren't enough to make our top five fastest VPNs. Across all locations tested, the speeds averaged 52 percent of the base download speed and a respectable 80 percent of the base upload speed.
Of course, as one would expect, we noted that locations closer to our physical location had better speed averages, while server locations further away were slower. For a top VPN, these averages are a bit on the slow side. NordVPN, one of PIA's top competitors, has average speeds of over 70 percent of the base download speed. That being said, they aren't terrible and should be plenty fast enough to allow you to stream, game, or browse to your heart's content without noticeable lag—depending on your own home internet connection, of course.
As for streaming, Private Internet Access worked perfectly fine with all of the major streaming services such as Netflix, Disney Plus, Amazon Prime, and Hulu. We didn't come across any servers that were blocked and geo-restriction access was never an issue.
Private Internet Access VPN security and privacy
[PIA website services screenshot]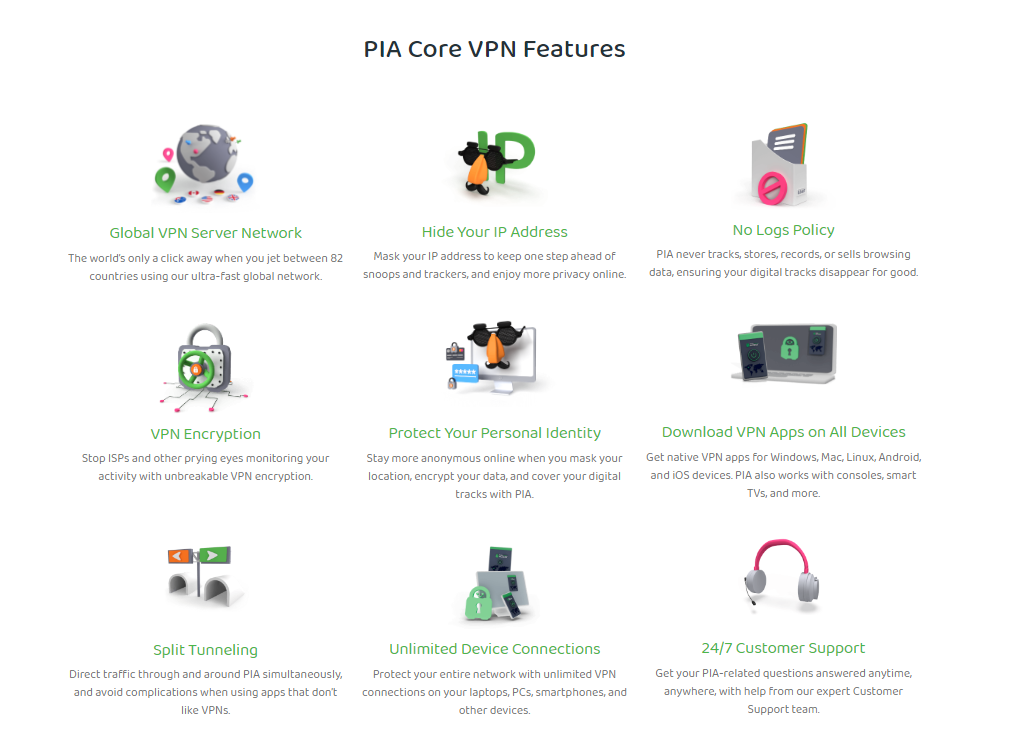 Private Internet Access
When you sign up for PIA, it only asks for your email address. It accepts a good range of payment options including credit card, PayPal, Amazon Pay, and cryptocurrencies such as Bitcoin, Ethereum, and Litecoin—there's also an option to use Bitpay instead of direct wallet transfers.
PIA has been owned and operated by Kape Technologies, a UK-based company formerly known as Crossrider, since 2019. There have been some questions in the past about the somewhat dubious practices surrounding Crossrider. Its development platform for browser extensions was used by independent developers to deliver malicious adware and malware to users. Realizing this and facing backlash, Crossrider closed the platform in 2016 and rebranded as Kape Technologies.
Since this reset, and subsequent leadership reorganization, Kape Technologies has pivoted to become a major provider of digital security software. It has gone on a run in recent years of purchasing ownership over some of the largest VPNs on the market today including PIA, ExpressVPN, ZenMate VPN, and CyberGhost VPN, as well as Mac antivirus firm Intego.
To its credit, PIA has made an effort to ease the minds of privacy-focused users with regular transparency reports. Additionally, in 2022 it underwent an independent audit by Deloitte to review its no-logs policy. Deloitte confirmed that PIA stores no logs and no details that could be used to identify users or their activities. Privacy is one of the pillars of a good VPN service and this independent audit and PIA's continued willingness to strive for transparency has done a lot to rectify concerns over its parent company's past.
PIA uses the industry standard AES-256 encryption and in the Windows app supports WireGuard and OpenVPN protocols. There is also built-in protection against DNS leaks. We confirmed this by using a DNS Leak test tool and found that our real location information was never leaked while connected to PIA's servers.
PIA also uses diskless RAM-only servers, which boot on a read-only image and use RAM modules instead of hard disks. By not storing data on hard disks, RAM-only servers are more resistant to tampering both by hackers and physical breaches. This is also becoming increasingly popular among VPN providers, but it means that PIA is staying at the forefront of security.
Is Private Internet Access VPN worth it?
Private Internet Access has been at this game for a long time and it shows. Its VPN is well polished with a nice interface, plenty of servers to choose from, and tons of tweakable features. Its continued publication of transparency reports and up-front nature regarding user privacy and security is commendable as well.
It's true that the speeds might not be the fastest, and its parent company has had its fair share of dubious issues. But that is all seemingly in the past and PIA has done its best to show that it is removed from all of that anyhow. While there may be other services that do one single thing better, PIA stands apart as a jack-of-all-trades that does everything well. It continues to be a top-tier VPN that is only getting better with age.
Editor's note: Because online services are often iterative, gaining new features and performance improvements over time, this review is subject to change in order to accurately reflect the current state of the service. Any changes to text or our final review verdict will be noted at the top of this article.
Best Prices Today: Private Internet Access