Aside from its great screen, ultra-fast processor, and awesome camera, the Samsung Galaxy S10 its also big, slippery, and fragile, and the last thing you want is a giant crack in it. Here are our favorite cases for the S10 so far.
Update 4/23/19: Added new categories for best shell cases and new rugged and wallet cases.
Beat clear cases for Galaxy S10, S10+, S10e
Along with super slim bezels and a gorgeous display, the Galaxy S10 has one more thing going for it: beautiful new colors to choose from. Available in new "prism" finishes that change color depending on the light, a flamingo pink that's too cool for school, and two luscious ceramic options, it's a shame to cover up your Galaxy S10 with a case. So here are some great ones that will still its natural color shine through:
1. X-Doria Defense Shield
Why we love it: The X-Doria Defense shield looks and feels more expensive than its $30 price tag: An aluminum band around the back of the case helps it meet MIL-STD-810G specifications, so it should survive drops of up to 10-feet. The cutout around the headphone jack and the USB-C port are also spacious, with raised ridges on the case to make buttons easy to find. And we just love how the iridescent border looks against the S10's prism colors.
Price: $30
Wireless charging: Yes
Editor's choice: The X-Doria Defense Shield is our current pick for best clear Galaxy S10 case.
2. Totallee Thin
Why we love it: With such a beautiful array of colors and a gorgeous design, we want to show off as much of our S10 as possible. And that's just what the Totallee Thin case does. Super thin, ultra flexible, and clear as can be, Totallee's glossy case won't protect your phone from a major fall, but it will keep it free from scratches, give it some extra grip, and let the original color shine through.
Price: $29
Wireless charging: Yes
3. Speck Presidio V-Grip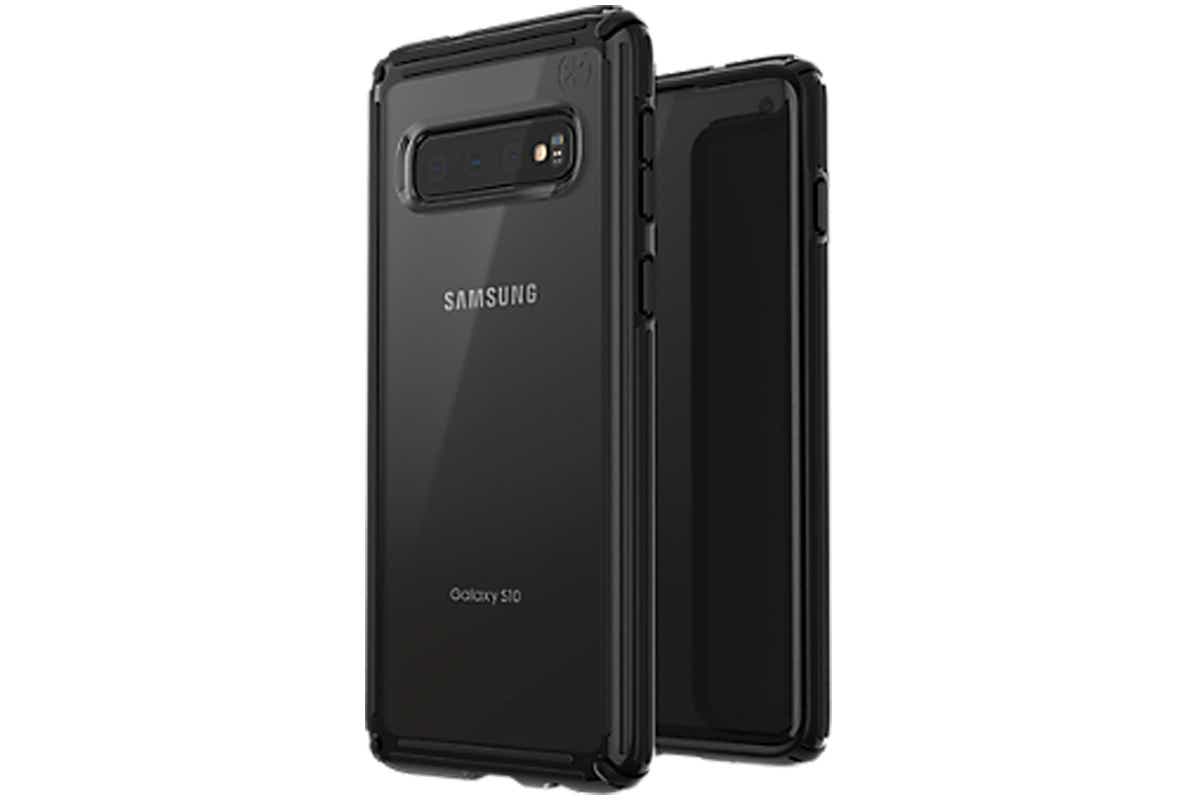 Why we love it: Speck is a mainstay when it comes to Galaxy cases, and the Presidio Grip is consistently one of our favorites. The V-Grip line takes the hard plastic bumper of the Grip model and adds a clear window so you can see your S10's natural color. The black border compliments any color you choose, but it looks particularly great with one of the lighter prism options, especially white.
Price: $40 (S10) / $45 (S10+)
Wireless charging: Yes
4. Gear4 Crystal Palace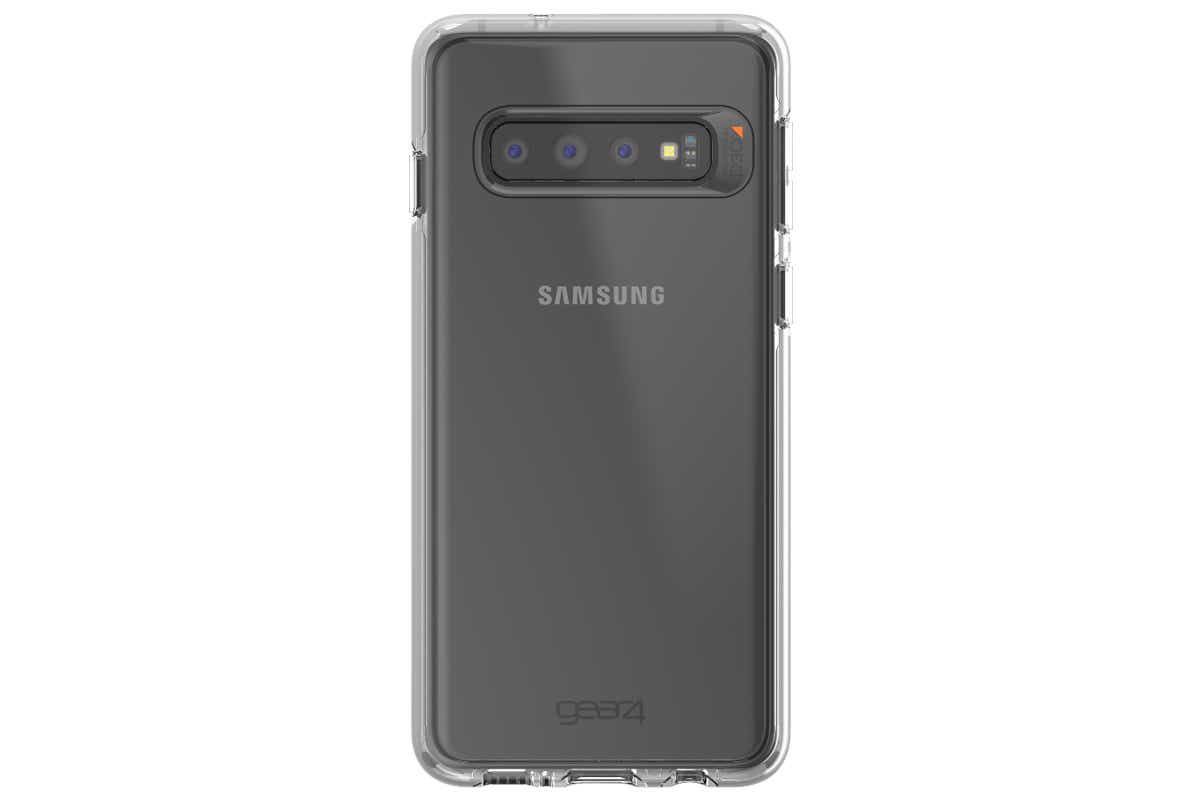 Why we love it: Most clear cases offer minimal protection again falls, but the Gear 4 Crystal Palace is more of a tough slip case that you can see through. There are no designs, no accents, and no textures—just strong, clear plastic built to protect your S10 without hiding a single millimeter of its design.
Price: $40
Wireless charging: Yes
5. Bodyguardz Ace Pro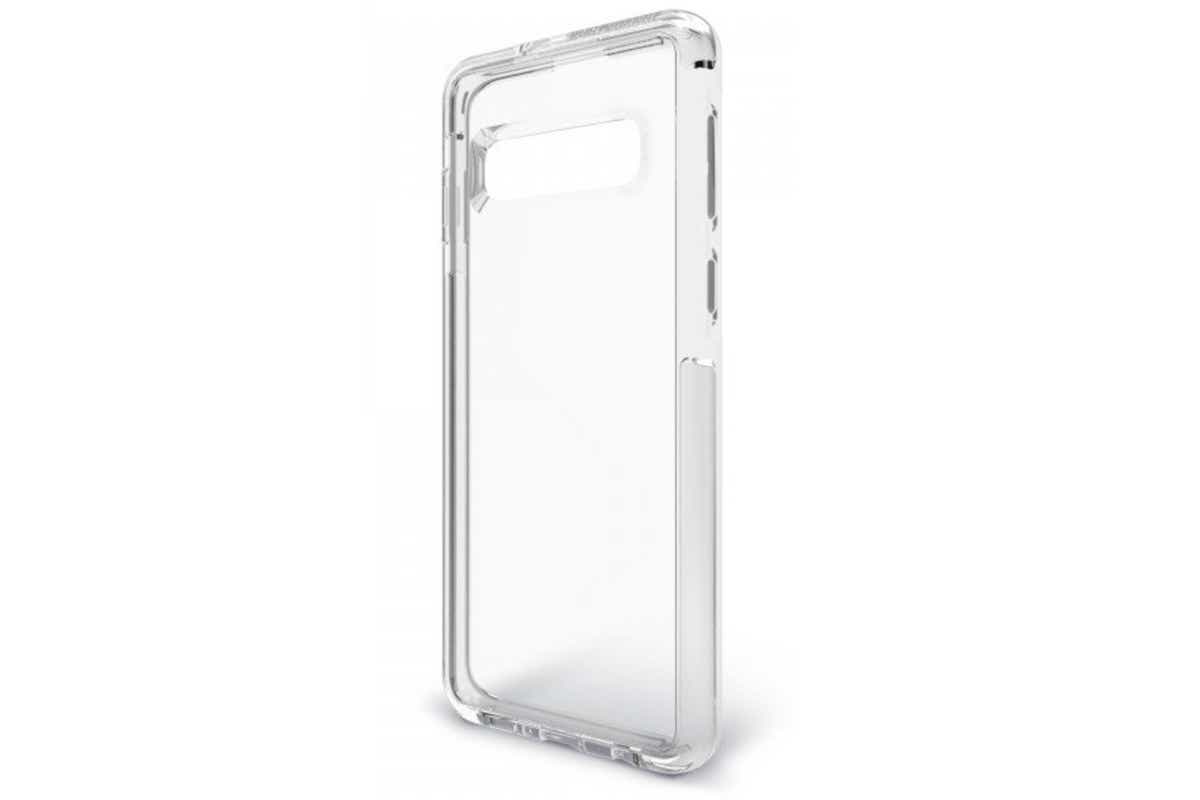 Why we love it: The Bodyguardz Ace Pro case won't turn any heads on its own, but it will keep your S10 looking its best. The crystal clear version has a subtle white bumper that helps your S10's rear color pop even more, and Bodyguardz says it uses a special gel that absorbs and dissipates impact so your S10 will stay safe. But even if you never need to test that theory, this case is a great way to keep your S10 as fresh as when first taken out of the box.
Price: $35
Wireless charging: Yes
6. Gear4 Battersea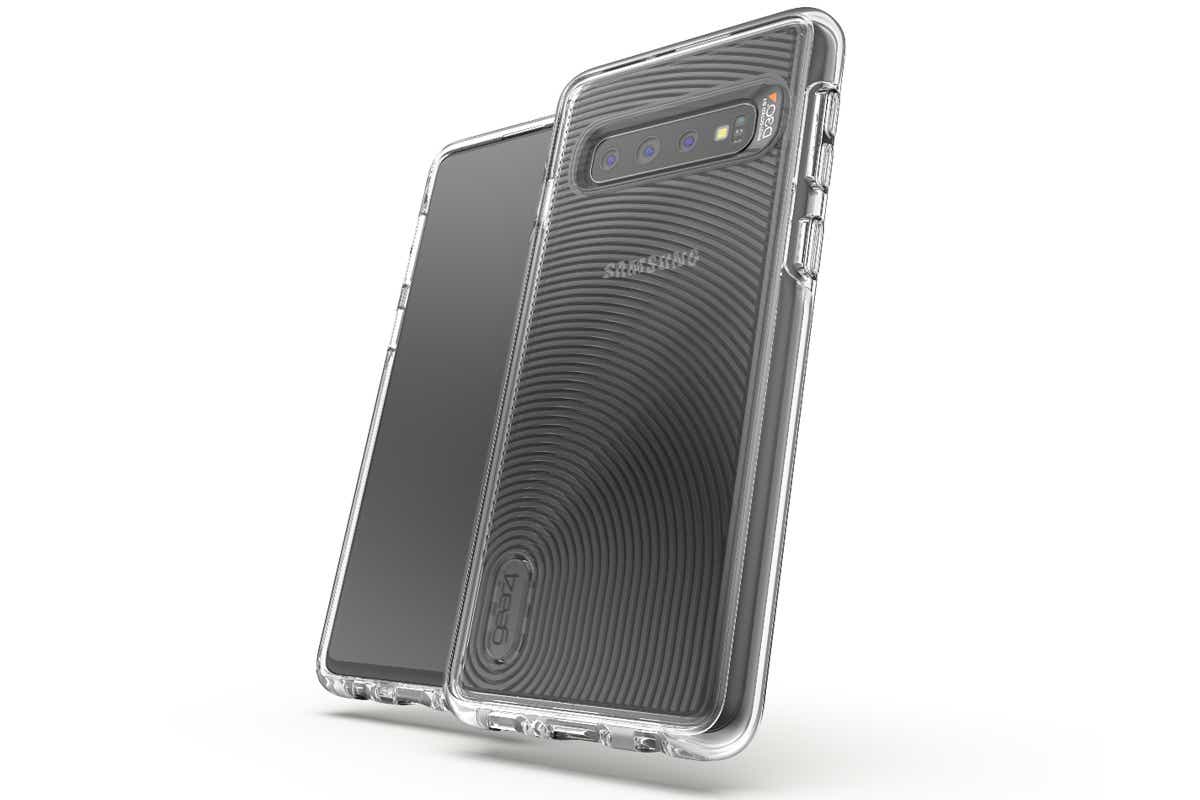 Why we love it: This particular clear case that adds texture and style to the S10. Though it doesn't show off the S10's color as well as other cases on this list, it has a vibe that's unique: for example, the back of the Gear4 Battersea has a pattern that encircles the Gear4 logo like a ripple in a pond. Our only quibble is a "Protected by D30" logo stamped to the right of the camera array, but it's small and subtle enough where we don't mind too much.
Price: $50
Wireless charging: Yes
7. Spigen Ultra Hybrid
Why we love it: The Spigen Ultra Hybrid case combines the feel of a soft shell case with that of a more rigid, protective case. The bumper is soft and flexible, while the back of the case is rigid and feels like it can take a beating or three. It's not often that a clear case comes with a protective coating, but this particular case has a removable film on the inside and outside of the case to ensure it arrives free of any scratches. And once it's applied, it won't add much bulk to your S10 at all.
Price: $30
Wireless charging: Yes
8. Speck Presidio Stay Clear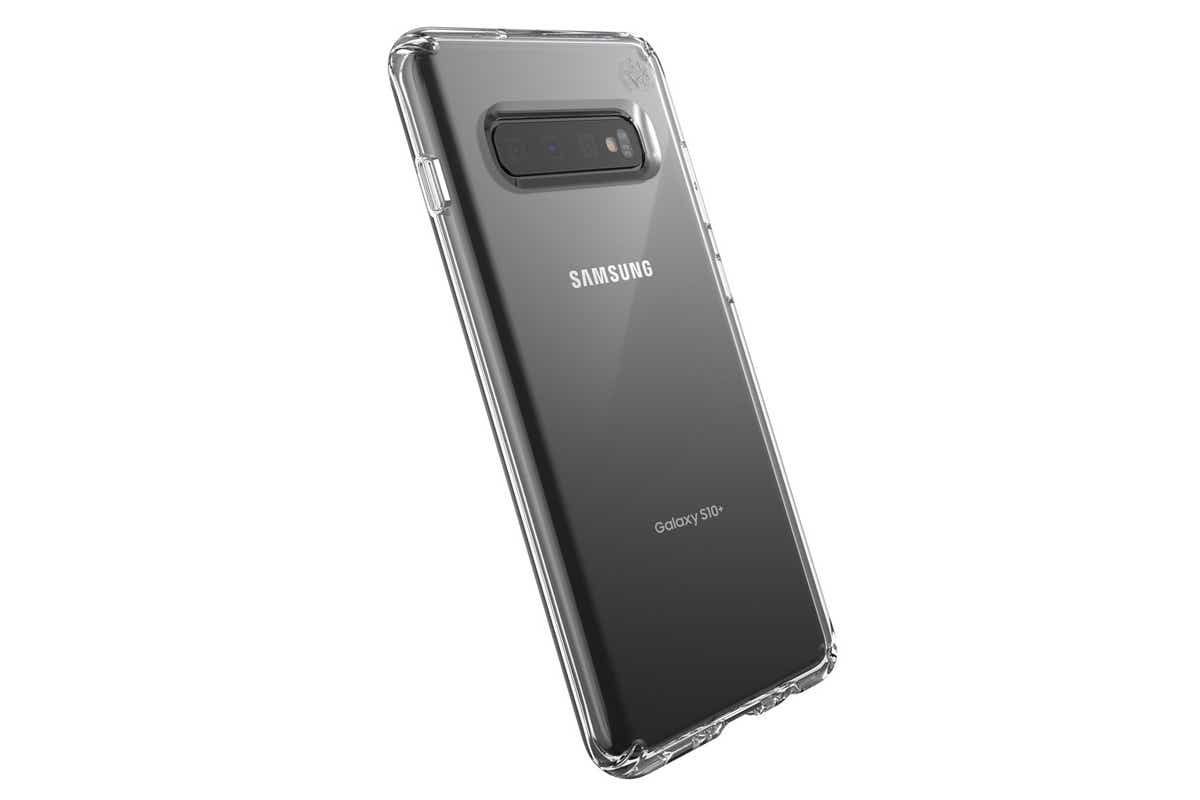 Why we love it: Speck's cases always impress, even when it's one as simple as the Presidio Stay Clear. The entire case is stiff and feels high-quality, and Speck claims it can protect the Galaxy S10 in a drop from eight-feet high, thanks to its two layer constructions. The buttons are a bit hard to press when you first put it on, but they already started to loosen after a short period of use. The only drawback to the Stay Clear case is that it's just as slippery as the S10 itself—though at least you'll have peace of mind if you happen to drop it.
Price: $45
Wireless charging: Yes
9. OtterBox Pursuit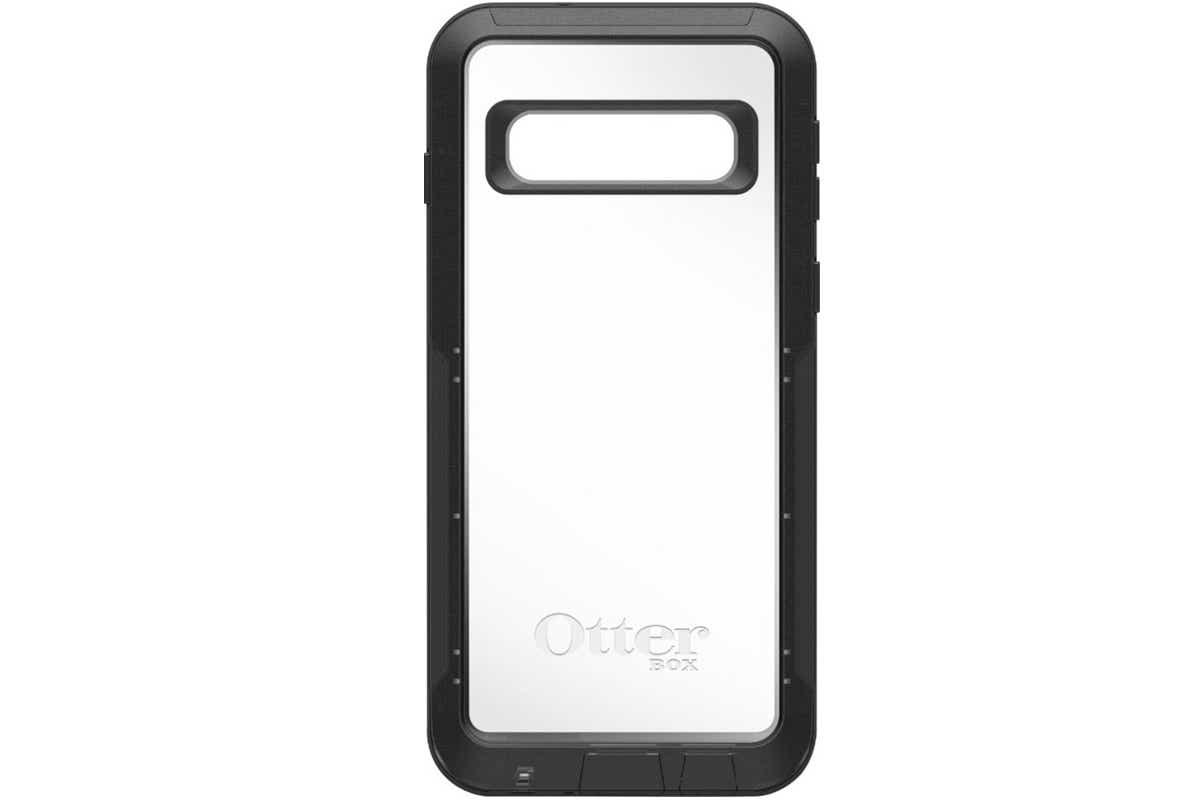 Why we love it: Otterbox makes some of the toughest cases money can buy, but they're also some of the bulkiest. The Pursuit Series takes the company's tried and true rugged design and slims it down just enough so it can fit comfortably in your pocket. The headphone and charging ports are sealed with port covers, ensuring that dust and debris can't get inside, while the buttons are firm, easy to find, and have plenty of give when pressed. And the black bumper looks pretty sharp against the Prism White color.
Price: $70
Wireless charging: Yes
10. Spigen Liquid Crystal
Why we love it: If you want a clear, minimal shell that lets you show off your shiny Galaxy S10 while providing some protection, then Spigen's Liquid Crystal case fits the bill. It's soft and flexible, making it easy to take on and off, and a bundled cleaning wipe helps keep it free from dirt and fingerprints. This particular case is extremely plain, allowing your S10's design to shine through, but if you want something a little more flashy, there's also a glitter version of this same case.
Price: $20
Wireless charging: Yes
Best shell cases for Galaxy S10, S10+, S10e
If you're looking for a more traditional way to protect your S10, there are plenty of good, old-fashioned shell cases to choose from.
Best rugged cases for Galaxy S10, S10+, S10e
When you want to ensure your Galaxy S10 will survive a major fall, only a rough, tough, and rugged case will do.
Best wallet cases for Galaxy S10, S10+, S10e
The S10 takes up a lot of room in a pocket, so these cases let you leave your wallet at home.