At a Glance
Expert's Rating
Pros
Outstanding 1080p and solid 1440p gaming
Cool and quiet custom cooling
DVI connection included
High out-of-box overclock
Easy fit into most gaming PCs
Cons
No fancy extra features
No RTX ray tracing capabilities
Only 1 DisplayPort and HDMI port
Our Verdict
The EVGA GeForce GTX 1660 Ti XC Ultra strips out fancy extras to focus purely on great performance in all functional areas. It's an outstanding all-around graphics card for 1080p and 1440p gaming.
The EVGA GeForce GTX 1660 Ti XC Ultra we're testing today strikes a balanced compromise. Nvidia's $280 GeForce GTX 1660 Ti is the best GPU you can buy for 1080p gaming, full stop. It's an enticing option for 1440p gaming too, usurping the last-gen GTX 1070 that debuted at nearly $100 more.
But while Nvidia offers its own "Founders Edition" graphics cards for all RTX 20-series GPUs, it's skipping direct consumer sales for the return of the GTX brand. That means the GeForce GTX 1660 Ti's launch consists solely of models sold by Nvidia's board partners, each with its own unique spin.
We've already reviewed the Asus ROG Strix GTX 1660 Ti and fell in love with its borderline overkill custom cooler and abundant features. But at $330, the triple-slot behemoth commands a steep $50 price premium. The EVGA GeForce GTX 1660 Ti XC Ultra we're testing today offers a hefty overclock like the Asus ROG Strix and a customized dual-fan cooler of its own, but in a more accommodating dual-slot design—and for $20 less.
Can EVGA's GTX 1660 Ti XC Ultra ($310 on Amazon or Newegg) impress even with less raw heavy metal than the mammoth ROG Strix? Spoiler alert: Yep. Let's dig in.
Meet the EVGA GTX 1660 Ti XC Ultra
Before we dig into EVGA's customizations, here's a quick refresher on the GeForce GTX 1660 Ti's core tech specs. Highlights include a massive jump in overall memory bandwidth thanks to an upgrade to ultra-fast GDDR6 VRAM, and a massive upgrade in Turing GPU-enhanced CUDA cores, all at the same 120-watt TDP as the older GTX 1060. Spectacular stuff—though note that all GTX 1660 Ti models lack the dedicated ray tracing and AI hardware found in the pricier RTX 20-series GPUs.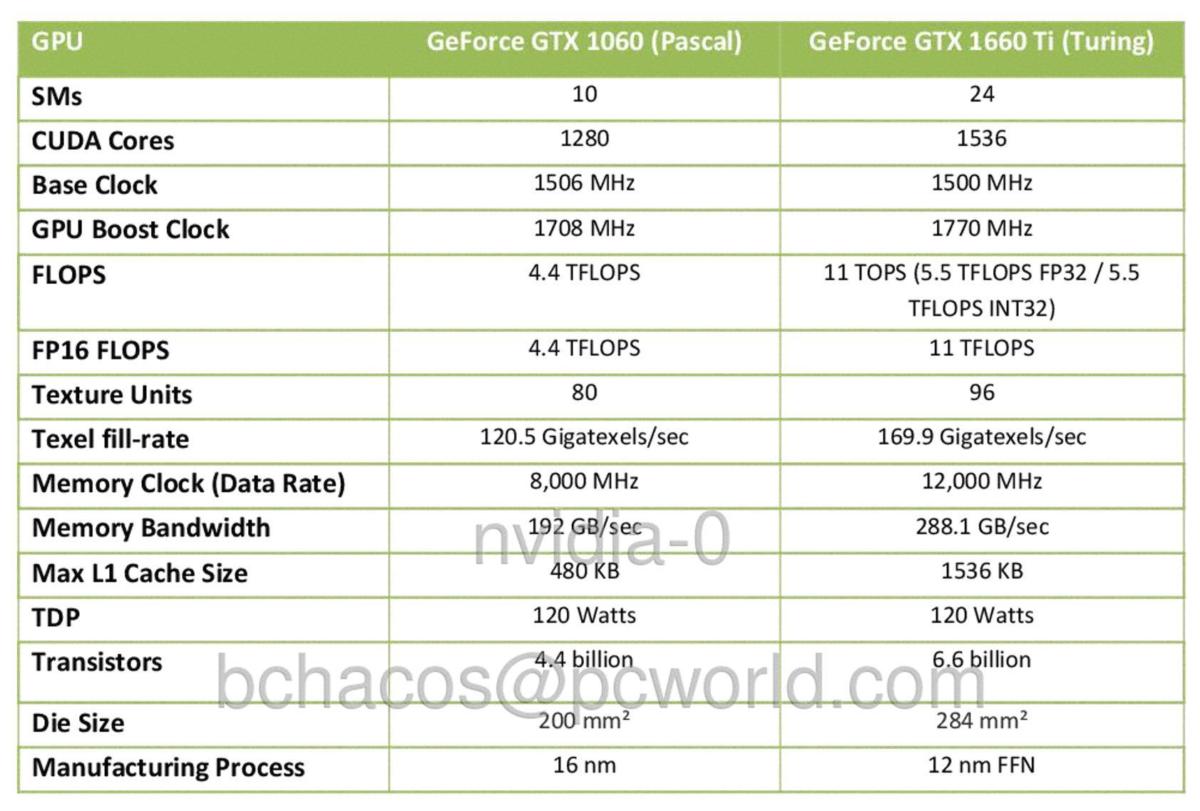 The EVGA GTX 1660 Ti sticks to the reference specifications with one key exception: the GPU clock speed. EVGA's card claims the same 1,860MHz boost clock speed as the ROG Strix, a sizeable 90MHz increase over the reference spec. Also like the ROG Strix, the EVGA GTX 1660 Ti XC Ultra actually soars even higher out of the box, maintaining clock speeds around 1,935MHz to 1,950MHz in most games. It's fast.
EVGA's graphics card maintains those supercharged clock speeds thanks to its potent custom cooler. The GeForce GTX 1660 Ti XC Ultra includes the overhauled custom cooling design found on many of EVGA's RTX 20-series GPUs. Dual hydraulic dynamic bearing (HDB) axial fans emblazoned with tiny "E"s sit atop a deep, dense heat sink, and EVGA claims that the mixture of HDB fans with the tiny letters result in a 19 percent reduction in noise levels compared to competing fans with sleeve-bearing fan designs. We can't quantify that ourselves, but there's no question that the EVGA GTX 1660 Ti XC Ultra runs pretty quietly for such a potent graphics card.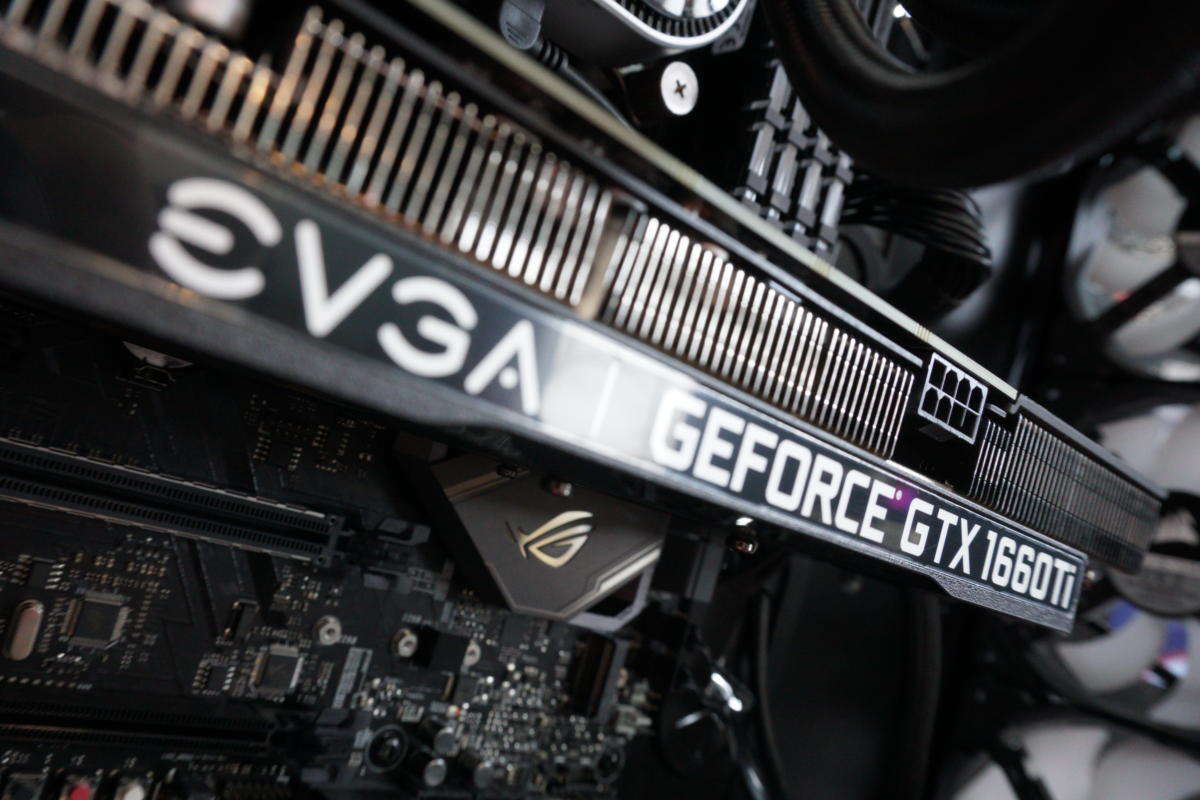 The custom cooler wasn't the only thing EVGA redesigned from the ground up for this generation. The company's Precision X1 software has evolved into one of the slickest and easiest-to-use overclocking tools available, with everything you need to push your GPU to new heights—including dead-simple one-button automatic overclocking for folks who don't like to get their hands dirty. It's highly recommended if you have any interest in tinkering with your graphics card.
Returning to physical design, the EVGA GTX 1660 Ti XC Ultra sticks to basic port options, limiting itself to solitary HDMI, DisplayPort, and dual-link DVI connections—though we're very happy to see the latter whatsoever. By comparison, the Asus ROG Strix dumps DVI, but doubles up on HDMI and DisplayPorts. EVGA's card measures 10.5 inches long and requires only a single 8-pin power connection, so it should have no problem slipping into the vast majority of gaming PCs.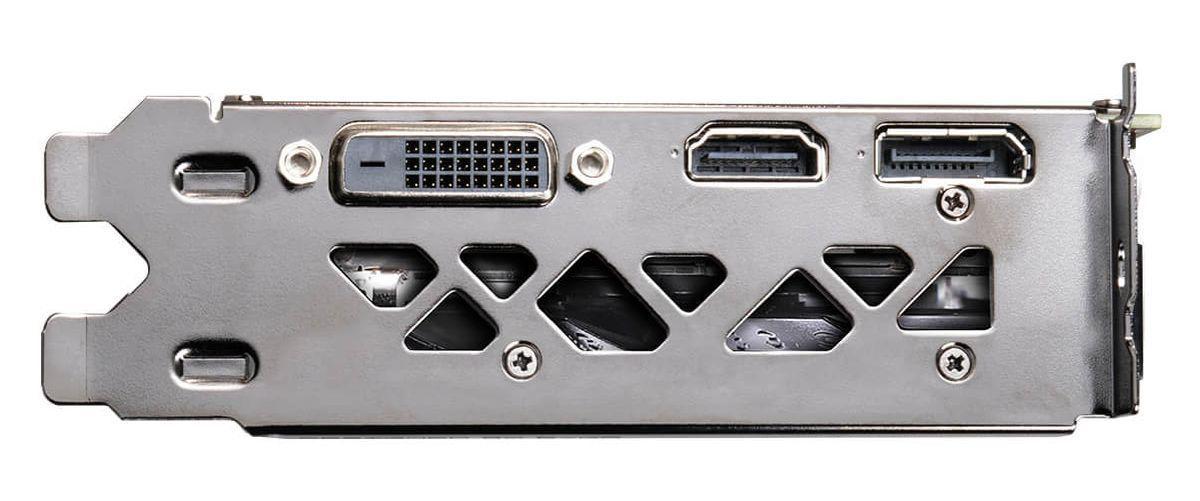 Wrapping things up, it's worth noting a few omissions on EVGA's card, RGB LEDs being the most glaring. We're fine with the decision, but it's increasingly rare to see a modern graphics card without flashing lights. The card also lacks a backplate, but that's not really a negative either—just a point worth mentioning given that this is EVGA's highest-end GTX 1660 Ti offering.
But enough tech spec talk! Let's take the EVGA GTX 1660 Ti XC Ultra to the test bench.
Next page: Our test system, benchmarks begin
Our test system
Our dedicated graphics card test system is packed with some of the fastest complementary components available to put any potential performance bottlenecks squarely on the GPU. Most of the hardware was provided by the manufacturers, but we purchased the cooler and storage ourselves.
We're comparing the $310 EVGA GTX 1660 Ti XC Ultra against the $330 Asus ROG Strix GTX 1660 Ti, as well as its predecessor, an overclocked EVGA version of the 6GB GTX 1060. Rounding out the Nvidia side, we're also including the GTX 1070 Founders Edition and the ray tracing-capable $350 GeForce RTX 2060 Founders Edition.
Mentioned in this article
GeForce RTX 2060 Founders Edition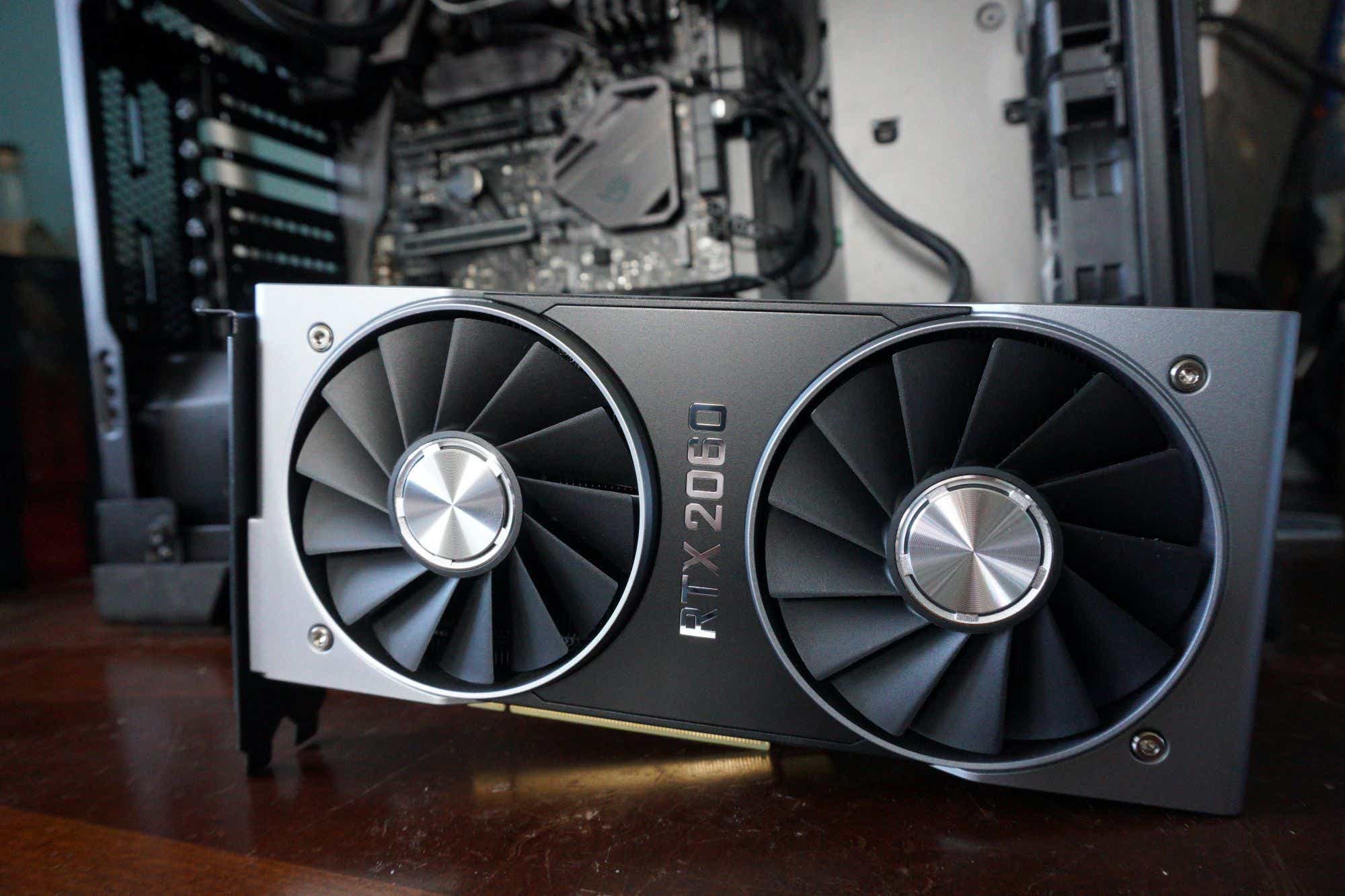 Price When Reviewed:
$299
To see how EVGA's graphics card stacks up against the Radeon competition, we're also included performance results from the $260 Sapphire Radeon RX 590 Nitro+ (which launched at $280 in November), the $400 Radeon Vega 56, and the Asus ROG Strix version of the Radeon RX 580. Many Radeon RX 580 models can consistently be found for under $200 on sale these days, even in 8GB variants.
Each game is tested using its in-game benchmark at the highest possible graphics presets, with VSync, frame rate caps, and all GPU vendor-specific technologies—like AMD TressFX, Nvidia GameWorks options, and FreeSync/G-Sync—disabled, and temporal anti-aliasing (TAA) enabled to push these high-end cards to their limits. If anything differs from that, we'll mention it. We run each benchmark at least three times and list the average result for each test.
We limited our testing to 1080p and 1440p resolutions, as satisfying 4K gaming is mostly out of the reach of this class of card. Because the EVGA GTX 1660 Ti's gaming performance results largely mirror the Asus ROG Strix GTX 1660 Ti's—it's a clear Radeon RX 590 killer—we'll refrain from commentary until the power and thermals section, where differences between the two GTX 1660 Ti models become more clear.
EVGA GTX 1660 Ti XC Ultra gaming benchmarks
Strange Brigade
Let's kick things off with Strange Brigade ($50 on Humble), a cooperative third-person shooter where a team of adventurers blast through hordes of mythological enemies. It's a technological showcase, built around the next-gen Vulkan and DirectX 12 technologies and infused with features like HDR support and the ability to toggle asynchronous compute on and off. It uses Rebellion's custom Azure engine. We test with async compute off.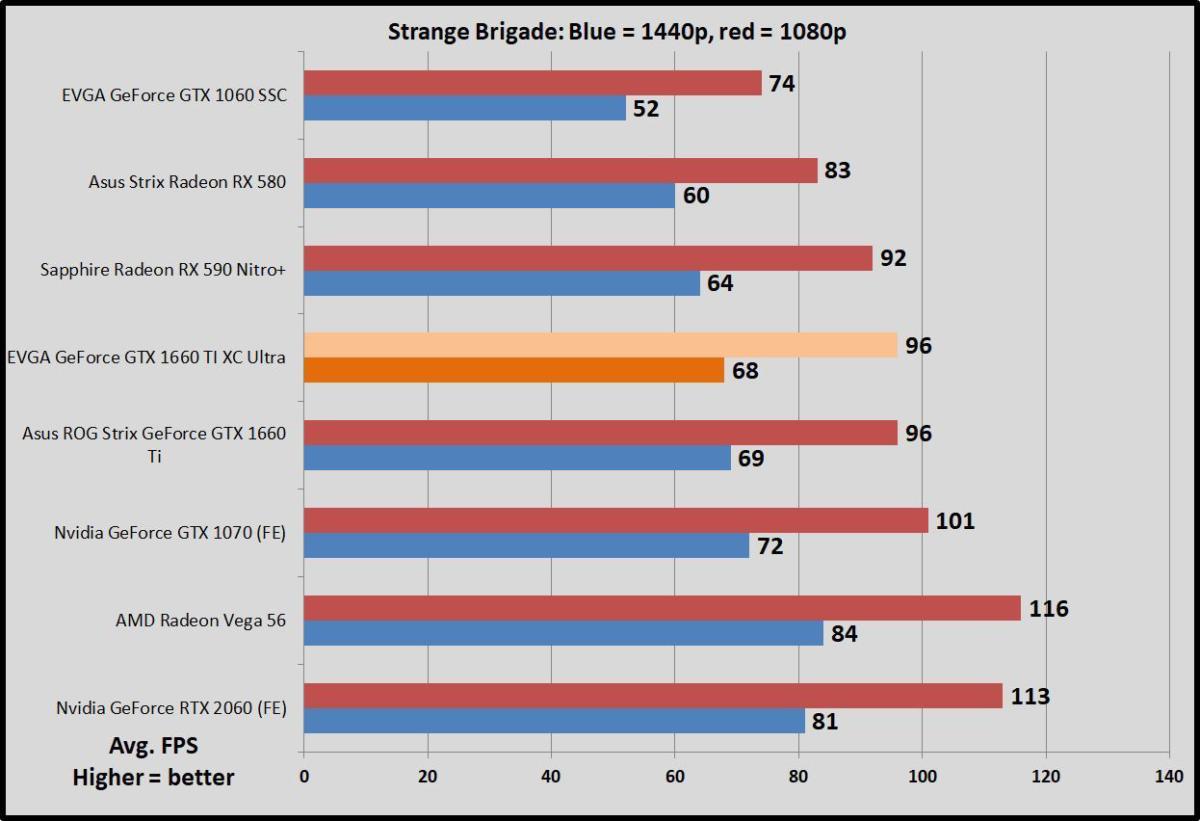 Shadow of the Tomb Raider
Shadow of the Tomb Raider ($60 on Humble) concludes the reboot trilogy, and it's utterly gorgeous—even the state-of-the-art GeForce RTX 2080 Ti barely manages to average 60 fps with all the bells and whistles turned on at 4K resolution. Square Enix optimized this game for DX12, and recommends DX11 only if you're using older hardware or Windows 7, so we test with that. Shadow of the Tomb Raider uses an enhanced version of the Foundation engine that also powered Rise of the Tomb Raider.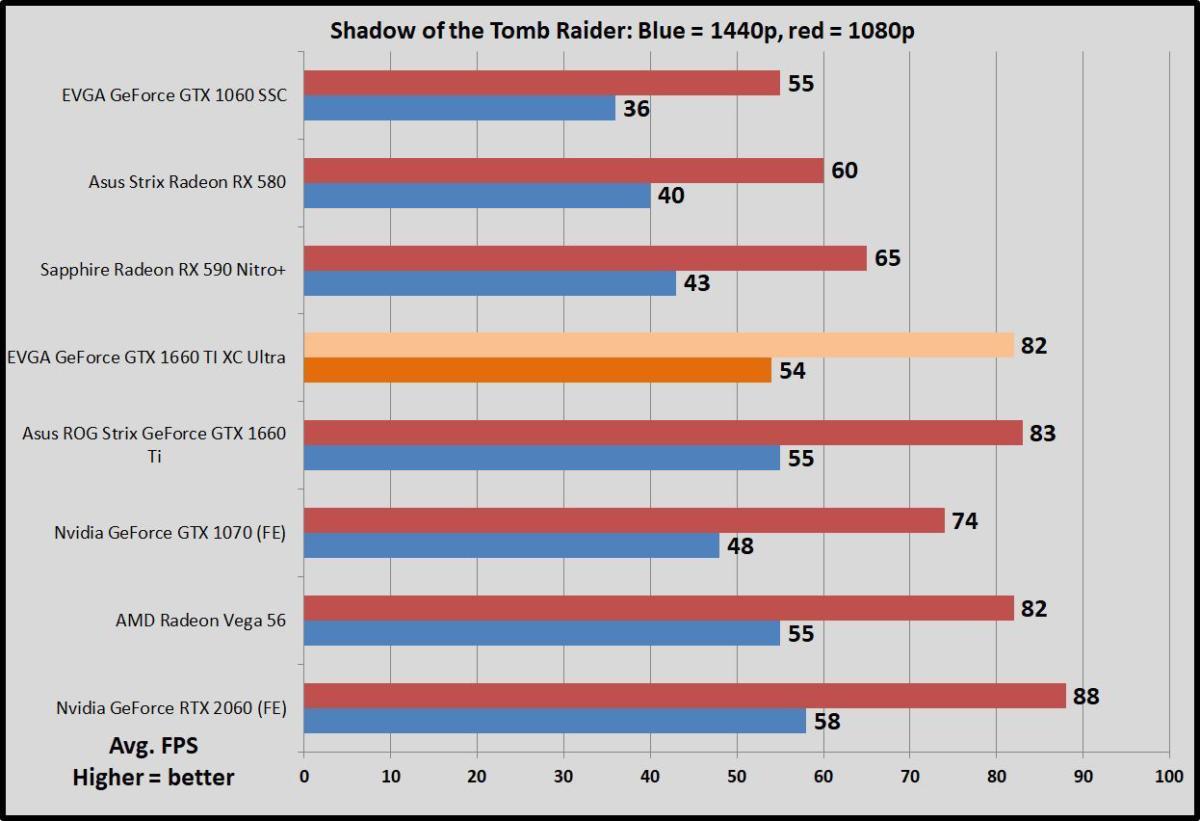 Far Cry 5
Finally, a DirectX 11 game! Far Cry 5 ($60 on Humble) is powered by Ubisoft's long-established Dunia engine. It's just as gorgeous as its predecessors, and even more fun. We'll likely replace it in our suite with the newer Far Cry: New Dawn soon.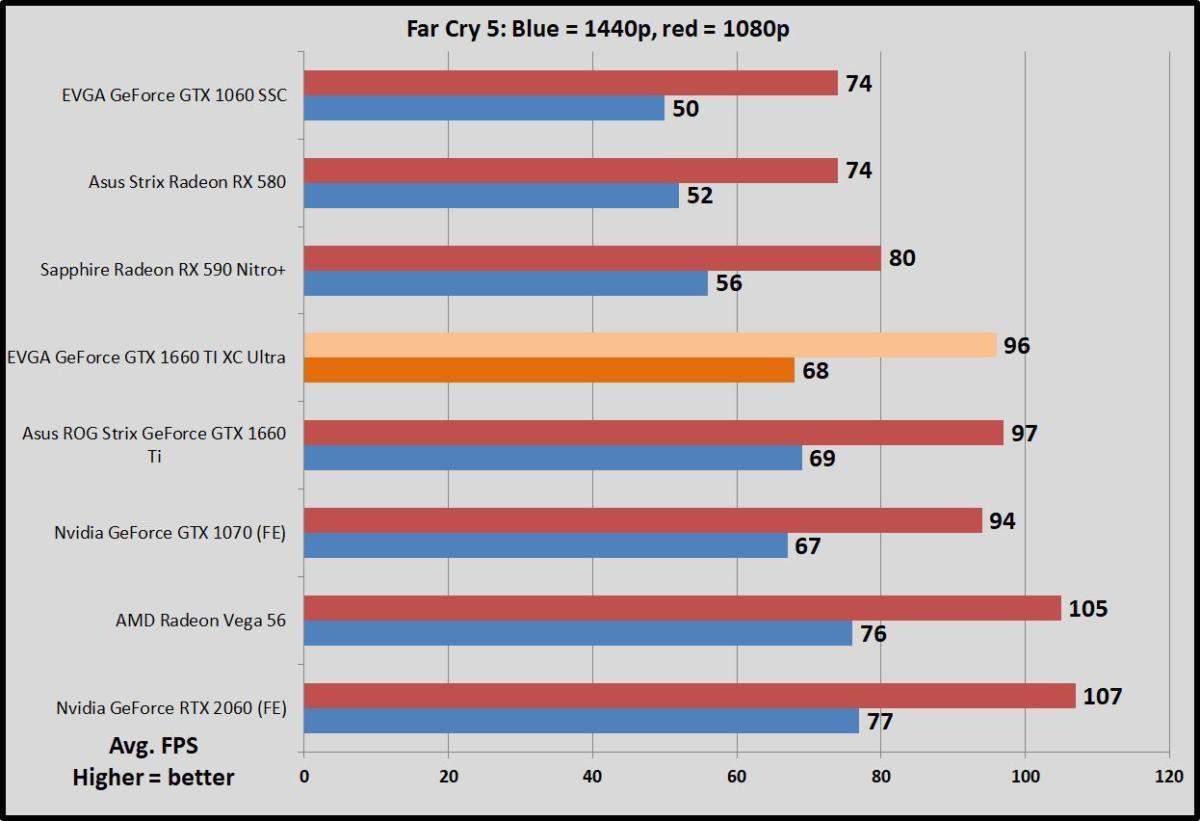 Next page: Gaming benchmarks continue
Ghost Recon Wildlands
Move over, Crysis. If you crank all the graphics options up to 11, like we do for these tests, Ghost Recon Wildlands ($50 on Humble) and its AnvilNext 2.0 engine absolutely melt GPUs. Ghost Recon Wildlands also prefers Nvidia's GPU architecture in general.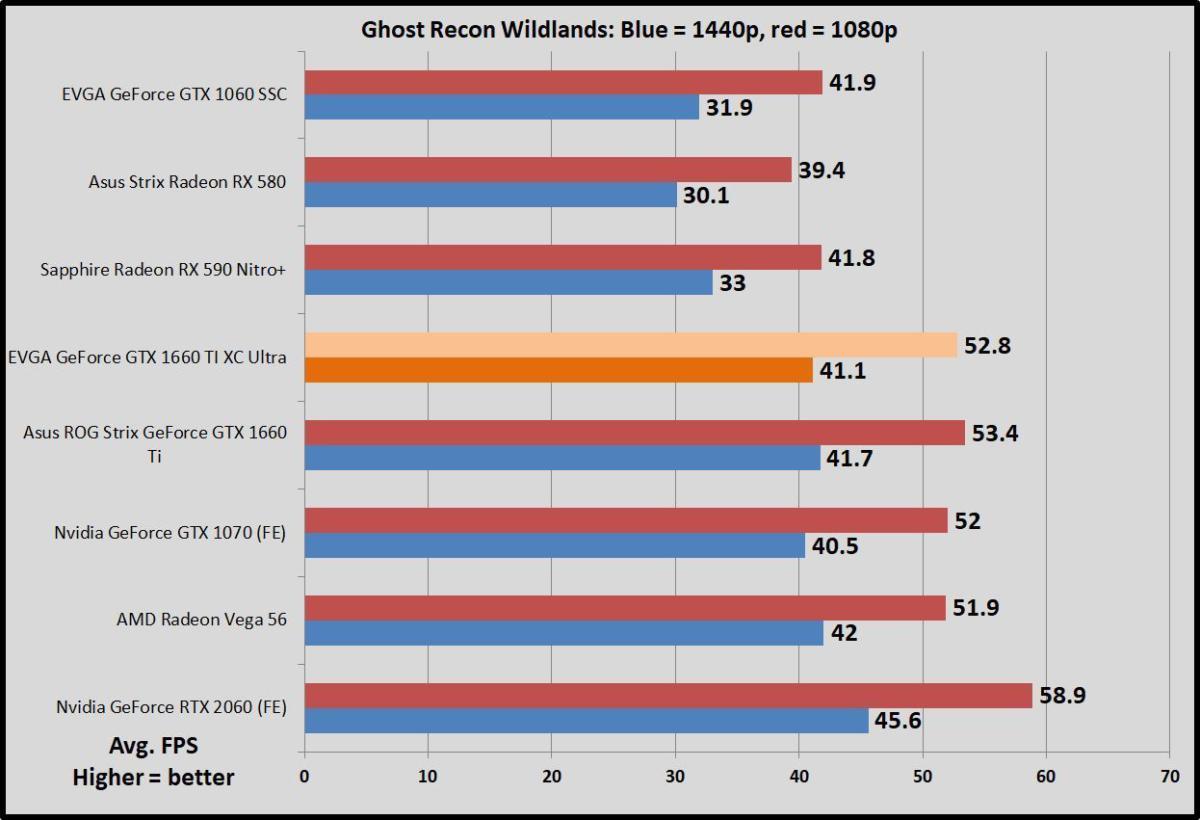 Middle-earth: Shadow of War
Middle-earth: Shadow of War ($50 on Humble) adds a strategic layer to the series' sublime core gameplay loop, adapting the Nemesis system to let you create an army of personalized Orc commanders. It plays like a champ on PC, too, thanks to Monolith's custom LithTech Firebird engine. We use the Ultra graphics preset but drop the Shadow and Texture Quality settings to High to avoid exceeding 8GB of VRAM usage in our testing scenario, because graphics cards that exceed 8GB of capacity are rare indeed.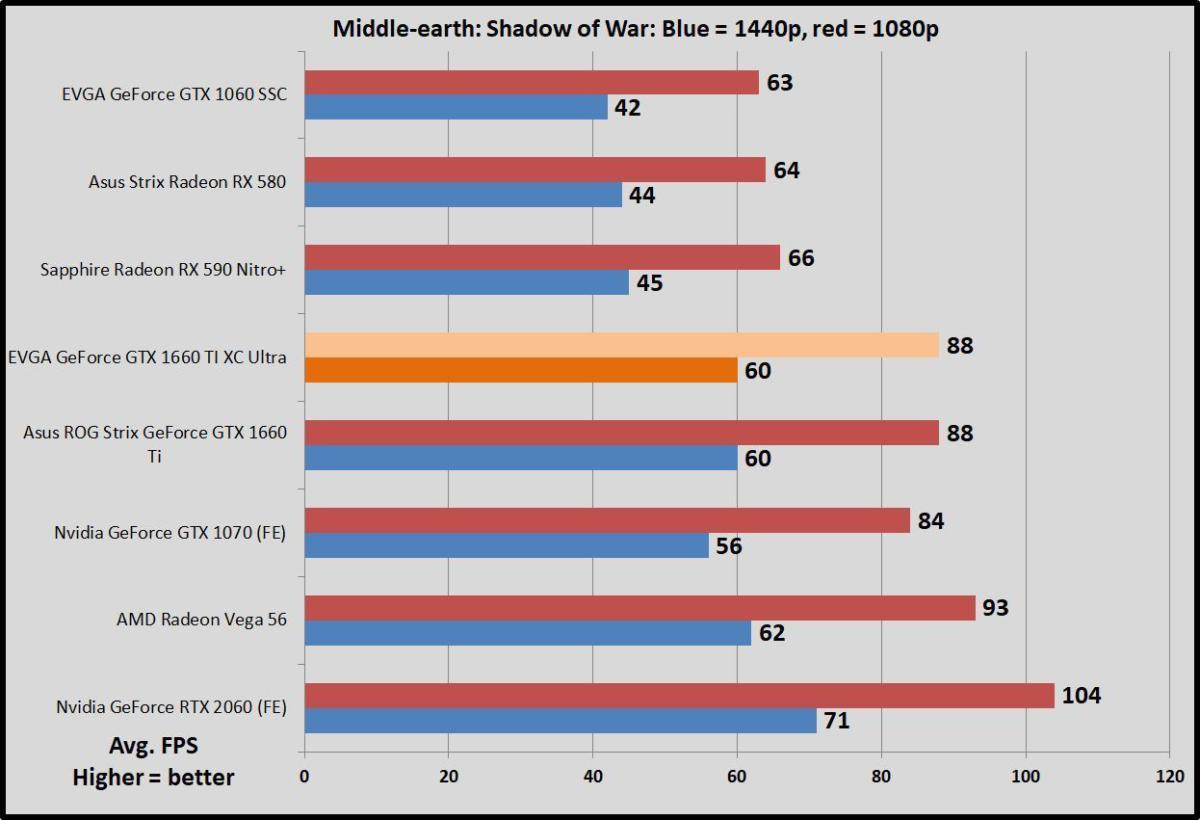 F1 2018
The latest in a long line of successful games, F1 2018 ($60 on Humble) is a benchmarking gem, supplying a wide array of both graphical and benchmarking options—making it a much more reliable option that the Forza series. It's built on the fourth version of Codemasters' buttery-smooth Ego game engine. We test two laps on the Australia course, with clear skies.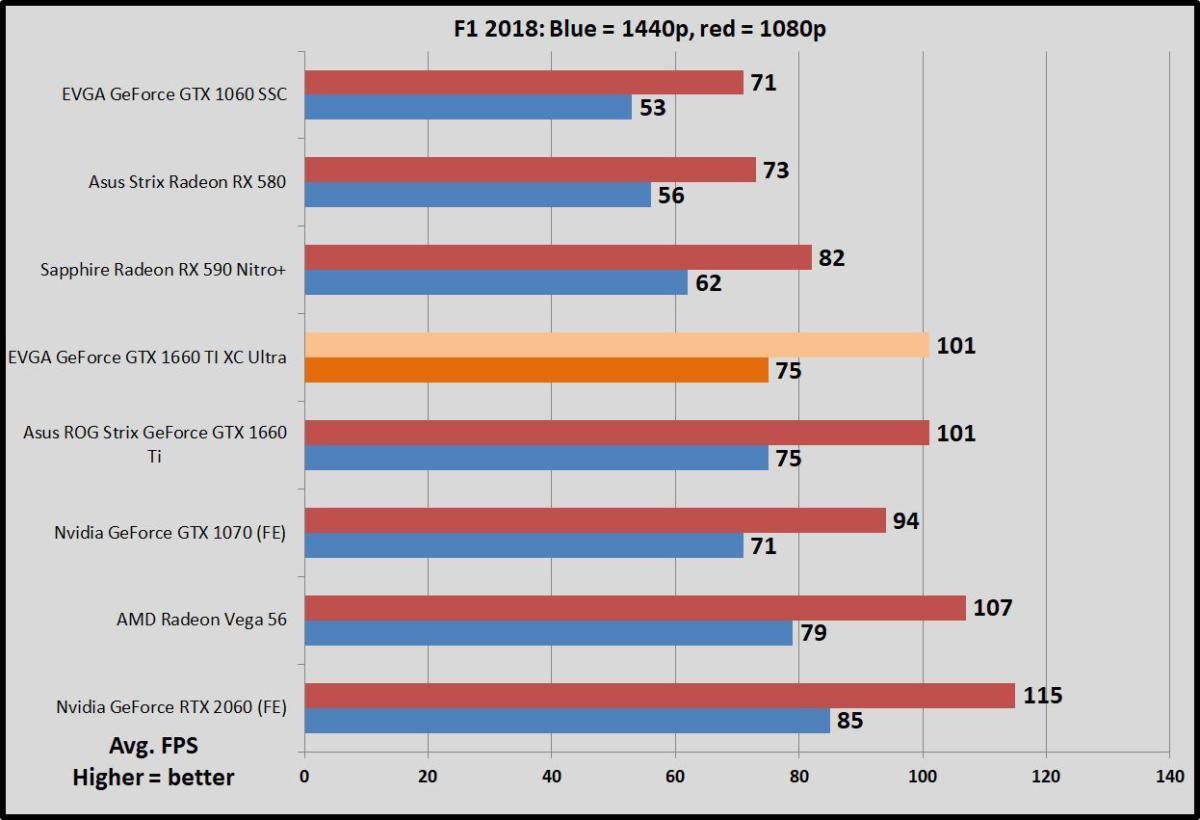 Next page: Gaming benchmarks continue
Ashes of the Singularity: Escalation
Ashes of the Singularity ($40 on Humble) was one of the very first DX12 games, and it remains a flag-bearer for the technology to this day thanks to the extreme scalability of Oxide Games' next-gen Nitrous engine. With hundreds of units onscreen simultaneously and some serious graphics effects in play, the Crazy preset can make graphics cards sweat. Ashes runs in both DX11 and DX12, but we only test in DX12, as it delivers the best results for both Nvidia and AMD GPUs.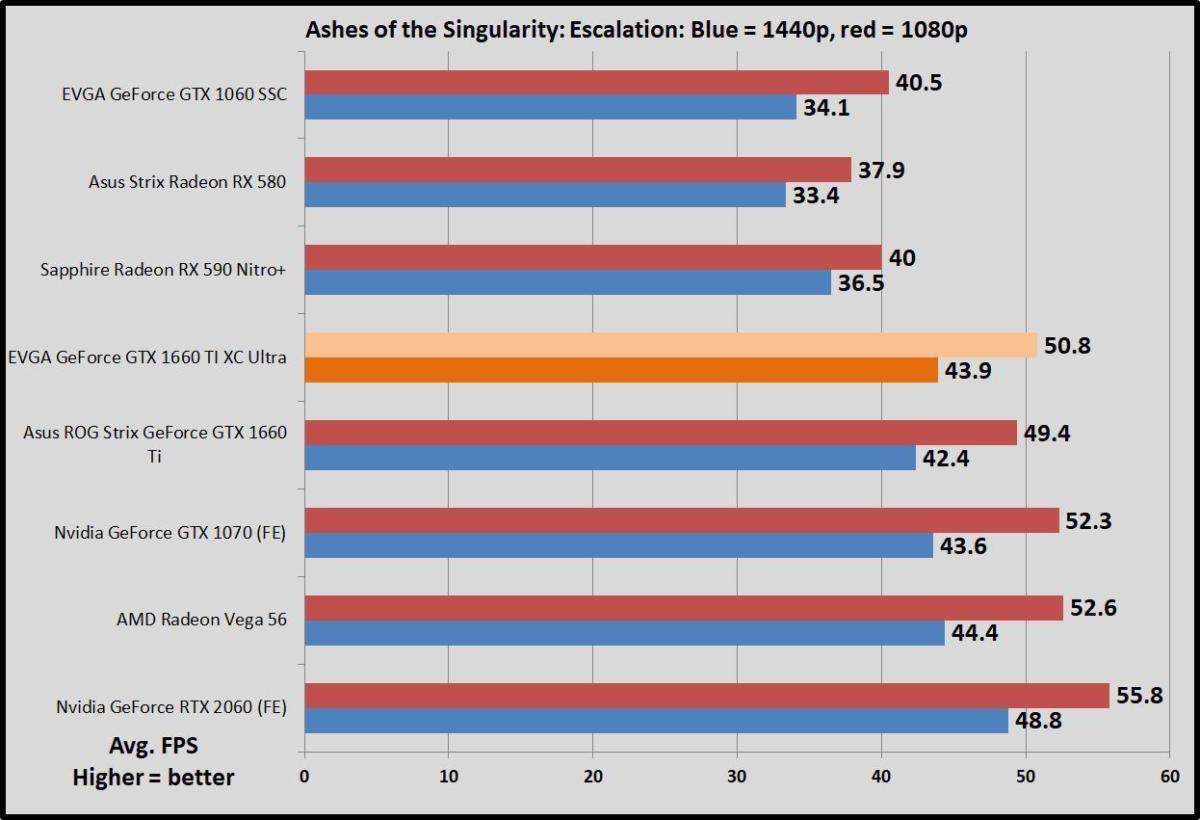 GTA V
We're going to wrap things up with a couple of older games that aren't really visual barn-burners, but still top the Steam charts day in and day out. These are games that a lot of people play. First up: Grand Theft Auto V ($30 on Humble) with all options turned to Very High, all Advanced Graphics options except extended shadows enabled, and FXAA. GTA V runs on the RAGE engine and has received substantial updates since its initial launch.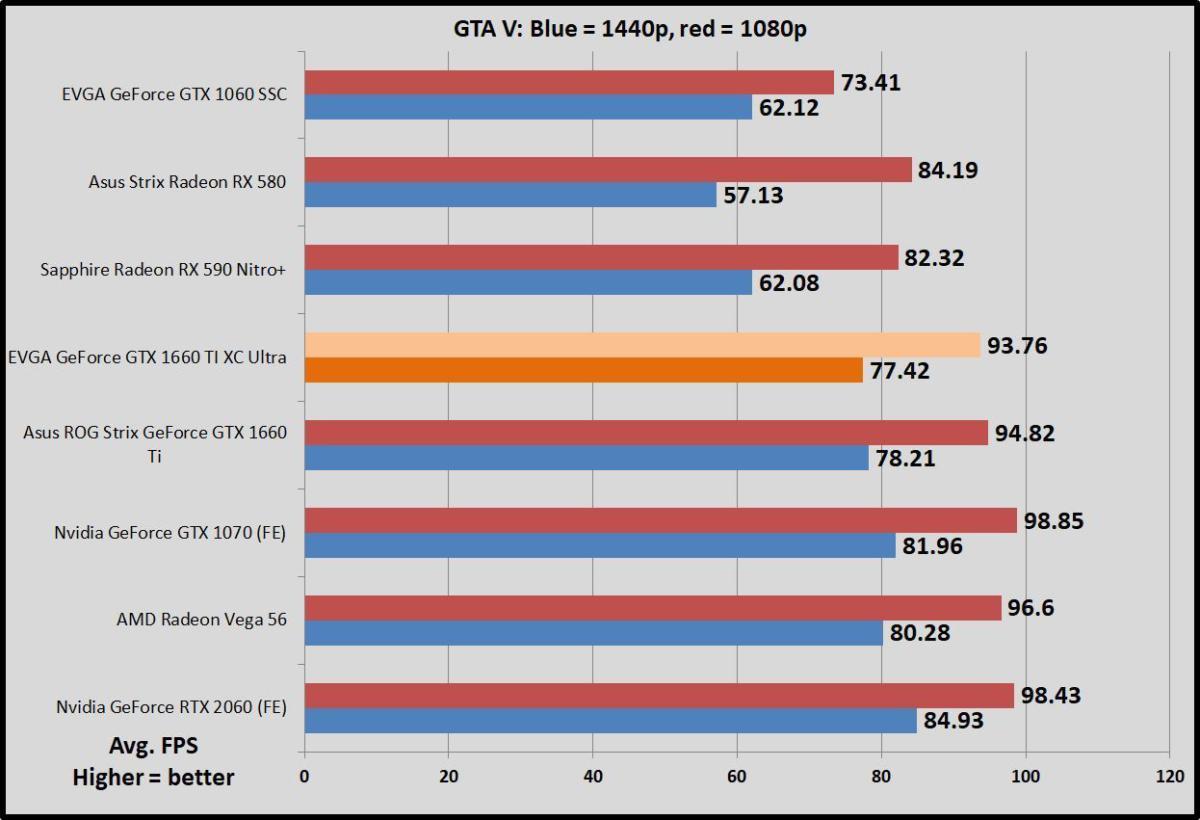 Rainbow Six Siege
Finally, let's take a peek at Rainbow Six Siege ($40 on Humble), a game whose audience just keeps on growing, and one that still feels like the only truly next-gen shooter after all these years. Like Ghost Recon Wildlands, this game runs on Ubisoft's AnvilNext 2.0 engine, but Rainbow Six Siege responds especially well to graphics cards that lean on async compute features.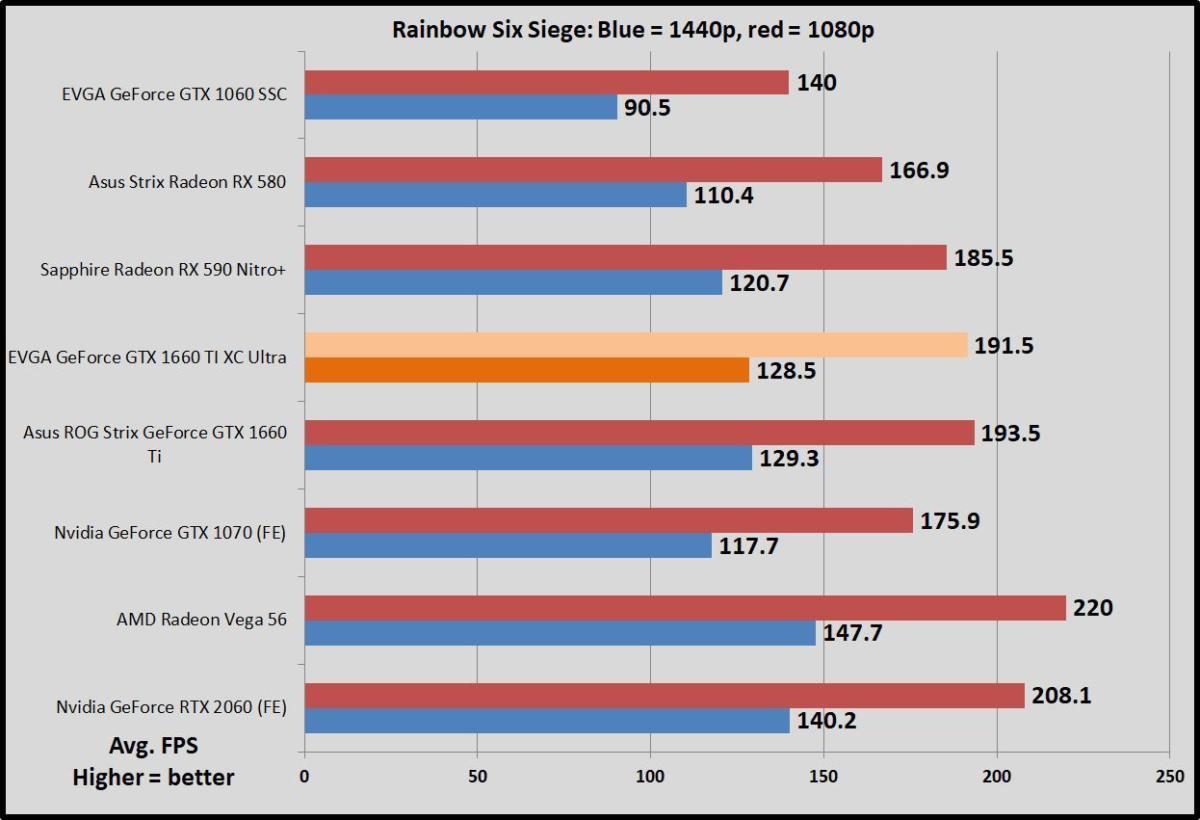 Next page: Power, thermals, noise, and synthetics
EVGA GTX 1660 Ti XC Ultra power draw, thermals, and noise
We also tested the Sapphire Radeon RX 590+ using 3DMark's highly respected Fire Strike synthetic benchmark. Fire Strike runs at 1080p, Fire Strike Extreme runs at 1440p, and Fire Strike Ultra runs at 4K resolution. All render the same scene, but with more intense graphical effects as you move up the scale, so that Extreme and Ultra flavors stress GPUs even more. We record the graphics score to eliminate variance from the CPU.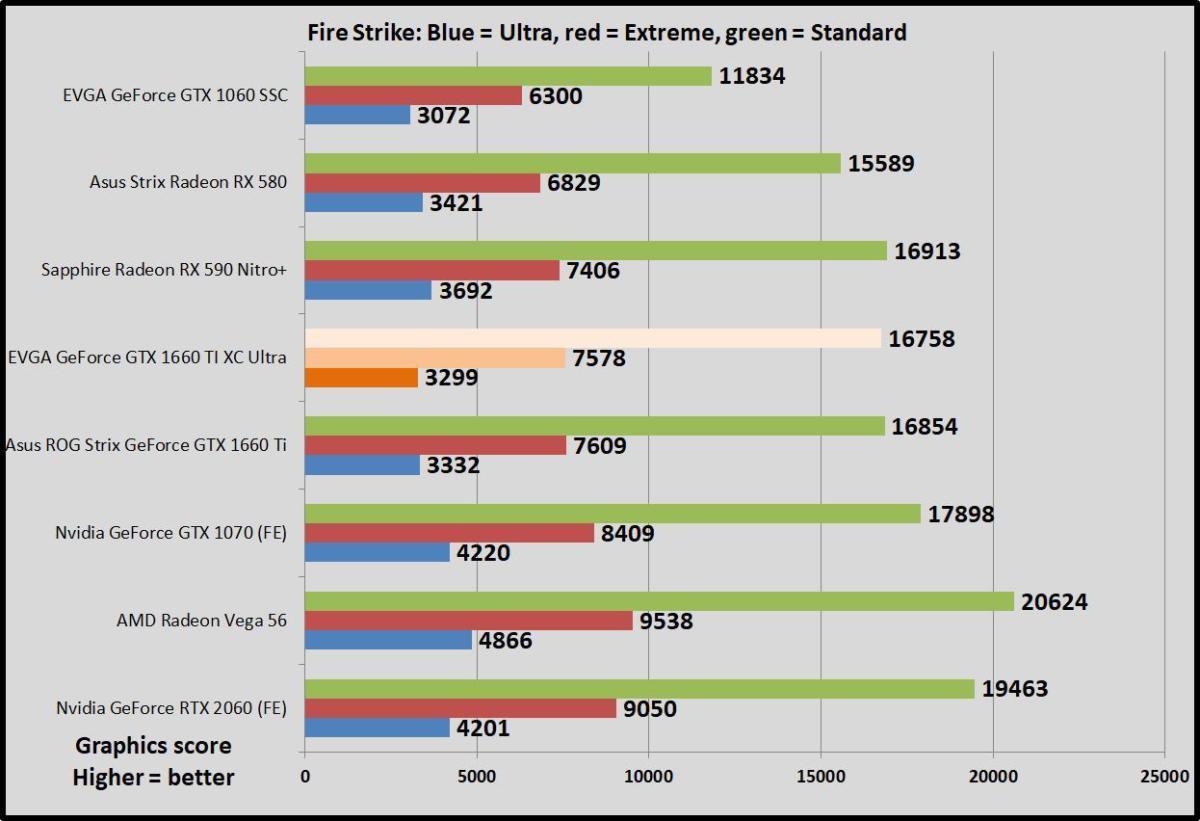 This is why you can't test cards based solely on synthetic benchmarks, though they're wonderful for relative sanity checks and competitive overclocking contests. According to Fire Strike, the GTX 1660 Ti is slower than the Radeon RX 590, and well behind the GTX 1070. That simply isn't true in actual games.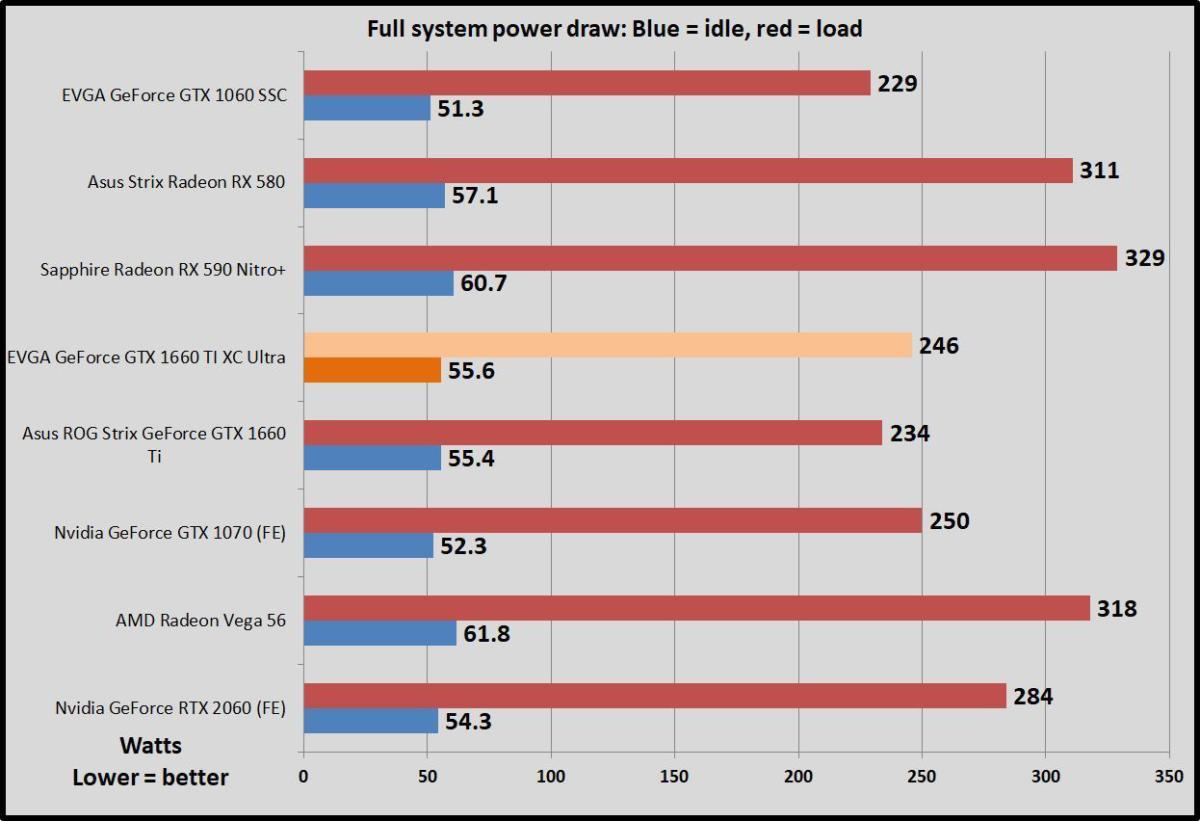 We test power draw by looping the F1 2018 benchmark for about 20 minutes after we've benchmarked everything else, and noting the highest reading on our Watts Up Pro meter. The initial part of the race, where all competing cars are onscreen simultaneously, tends to be the most demanding portion. The GTX 1660 Ti is yet another testament to Nvidia's clear power efficiency domination, drawing far less energy than its Radeon rivals, and roughly the same amount of power as the GTX 1060 while delivering far more performance per watt.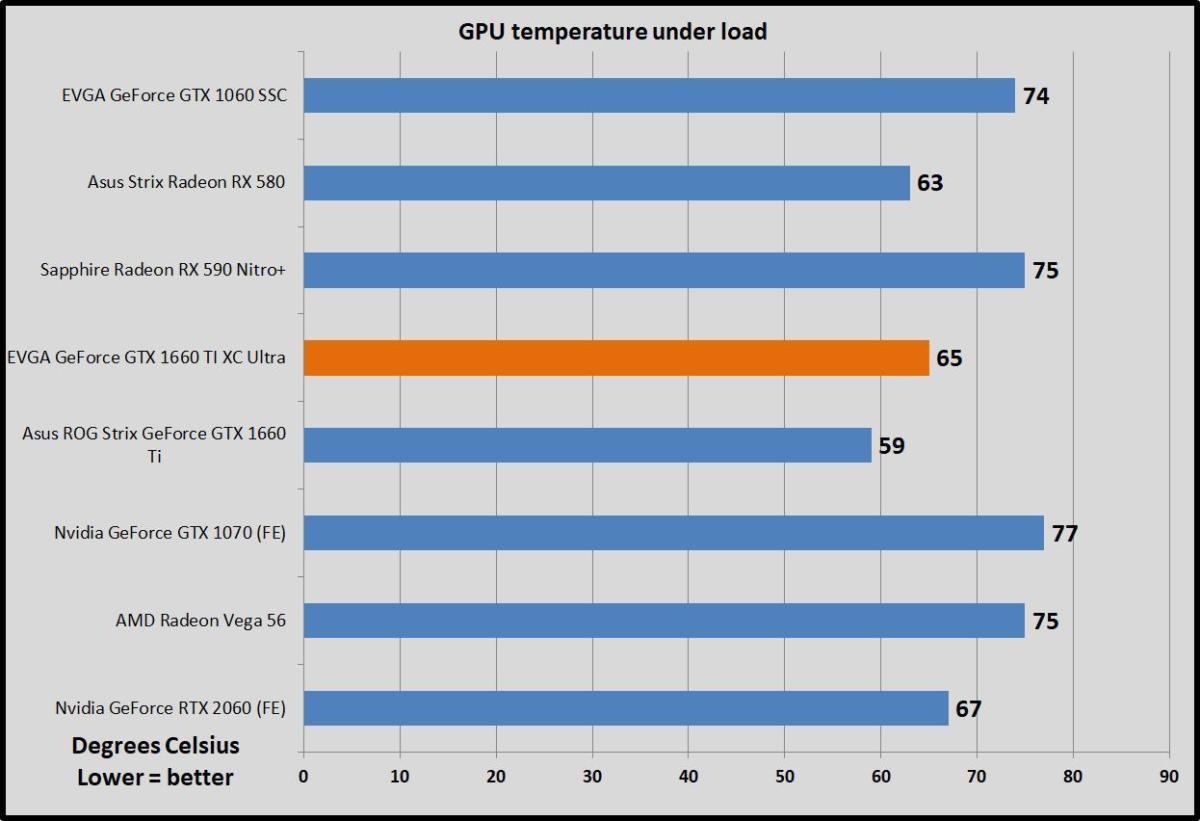 We test thermals by leaving HWInfo's sensor monitoring tool open during the F1 2018 5-lap power draw test, noting the highest maximum temperature at the end.
Here's the biggest pure performance difference between the two GTX 1660 Ti models we've tested, the Asus ROG Strix and EVGA's XC Ultra. The massive ROG Strix runs ice-cold with very little fan noise, or utterly silently with the card's Quiet BIOS. But achieving that requires a massive triple-slot, triple-fan cooler and a steeper price premium. The EVGA GTX 1660 Ti XC Ultra still delivers some of the lowest GPU temperatures in this performance class, it runs very quietly itself, and it does so in a more flexible dual-slot cooler design. They're both winners, albeit in very different ways.
Next page: Should you buy the EVGA GTX 1660 Ti XC Ultra?
Should you buy the EVGA GTX 1660 Ti XC Ultra?
If you're looking for a great graphics card that will let you game at high frame rates and no visual compromises at 1080p resolution, the $310 EVGA GTX 1660 Ti XC Ultra should be on your short list. It's powerful enough for 1440p gaming, too, and would make a sublime pairing with a G-Sync or FreeSync variable refresh rate monitor. EVGA's built a very compelling graphics card built around a very compelling GPU—one that utterly dismantles rival AMD Radeon RX 590 options, and one that renders the GTX 1070 obsolete unless you find one on a massive sale.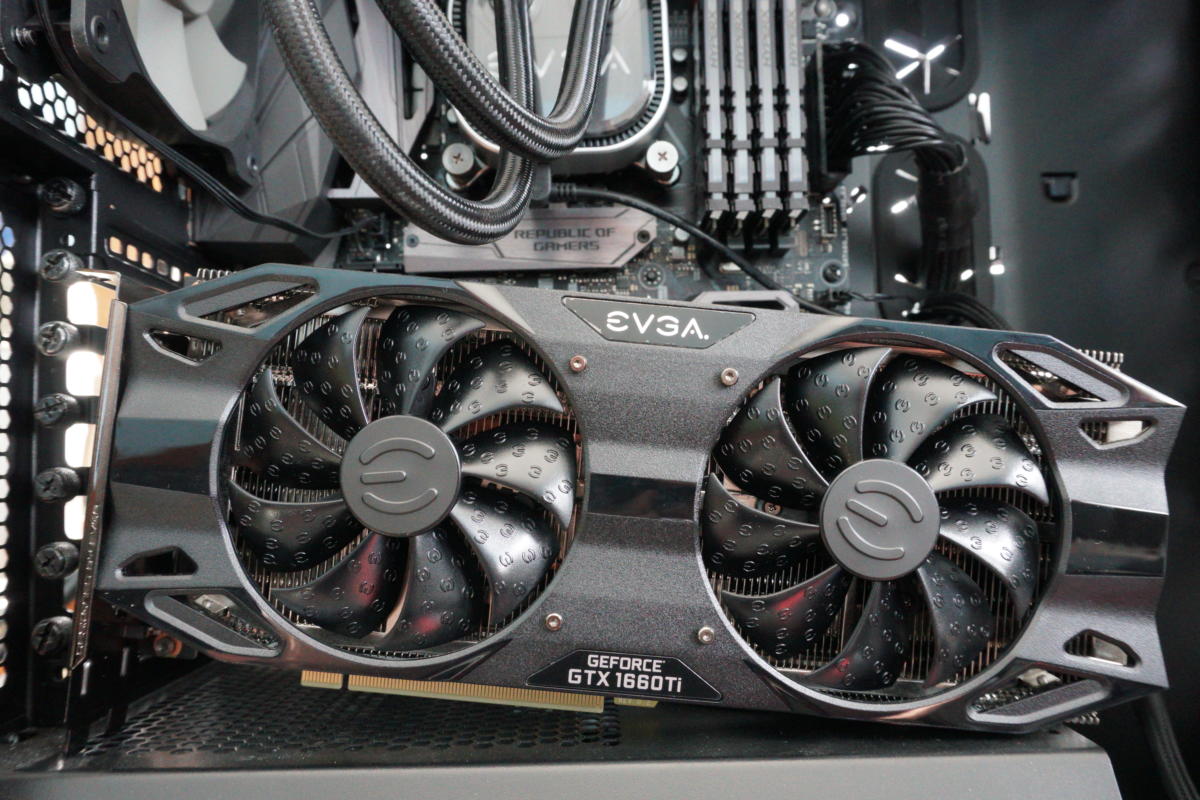 The XC Ultra justifies its $30 premium over baseline GTX 1660 Ti models thanks to its hefty overclock and potent custom cooling system. GPU clock speeds hover around 2GHz in most gaming scenarios, and EVGA's cooling solution runs chilly and quiet while maintaining a reasonable dual-slot design that should have no trouble fitting in most gaming PCs. The need for only a single 8-pin power connection adds to its versatility.
Mentioned in this article
ROG Strix GeForce GTX 1660 Ti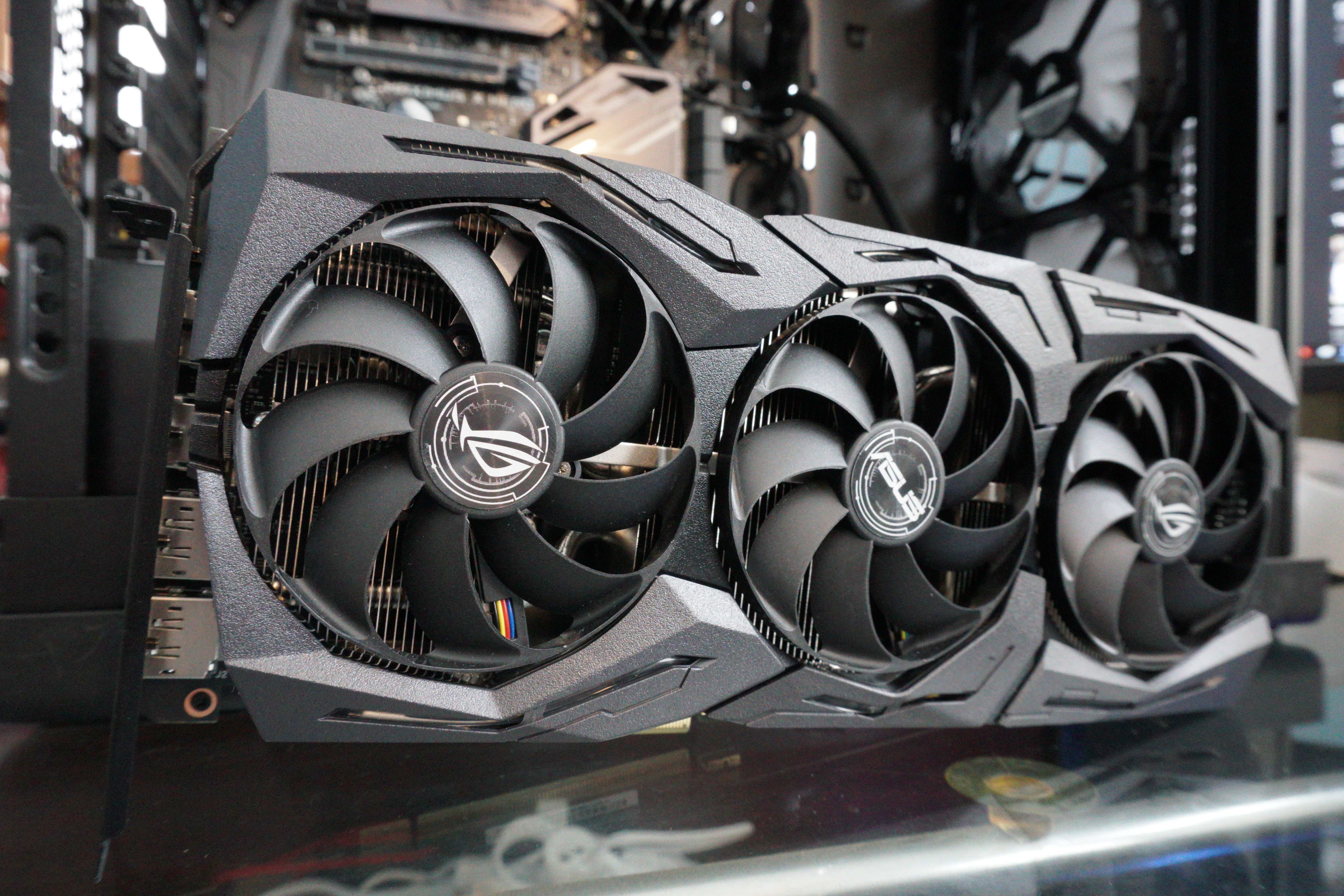 Price When Reviewed:
$329.99
It's lacking in luxurious extras, however. The XC Ultra doesn't include RGB LEDs or a backplate, let alone performance-altering features like the dual-BIOS switch, adaptive fan headers, and discrete LED button found on the Asus ROG Strix GTX 1660 Ti. The Strix's monstrous triple-slot, triple-fan cooler won't fit in all cases, however, and it costs $330—$20 more than the XC Ultra, and a full $50 more than the GTX 1660 Ti's baseline MSRP.
You can't go wrong with either of these cards. The Asus ROG Strix is a big, badass, and borderline overkill graphics card built for the proverbial 1 percent who want all the bells and whistles and don't mind paying extra for them.
EVGA's card is probably better for most people. It delivers a high level of performance similar to the Strix, with a great cooling solution, but avoids extravagant extras to keep the price from getting too high. Plus, it offers an all-too-rare DVI connection.
The EVGA GTX 1660 Ti XC Ultra is fast, cool, quiet, energy-efficient, and broadly compatible—a killer combination. And the company's superb Precision X1 overclocking software serves as a delicious cherry on top. It's a great graphics card.