At a Glance
Expert's Rating
Pros
Excellent 1080p/60Hz gaming performance
Quiet under load
Very quiet
Affordable
EVGA's Precision X1 overclocking software is GREAT
Cons
No fancy extra features
Reasonable $30 premium puts it close to entry-level GTX 1660 Ti GPUs
Only 1 DisplayPort and HDMI port
Our Verdict
Nvidia's GeForce GTX 1660 and EVGA's superb XC Ultra custom design result in a new mainstream gaming champion. This is the graphics card you want for 1080p gaming at 60 frames per second.
Hail to the new champion of the graphics card "sweet spot." Nvidia's $220 GeForce GTX 1660 usurps the prize from AMD's Radeon RX 580, which held the title for years now, and renders even the recently released Radeon RX 590 obsolete. And though Nvidia's latest GPU technically replaces the unimpressive $200 3GB GTX 1060, it actually manages to surpass the more potent (and pricier) 6GB GTX 1060 while simultaneously addressing the most glaring weaknesses of its predecessor.
Not too shabby, Nvidia. Not too shabby at all.
Mentioned in this article
GeForce GTX 1660 Ti XC Ultra
Price When Reviewed:
$309.99
Nvidia isn't creating a Founders Edition for the GPU, but its board partners will release a variety of GTX 1660 models for Thursday's launch. Today, we'll be reviewing the $250 EVGA GeForce GTX 1660 XC Ultra, the more affordable cousin to the custom-cooled, highly overclocked $310 EVGA GTX 1660 Ti XC Ultra that we loved so much. Let's go!
Nvidia GeForce GTX 1660 specs, features, and price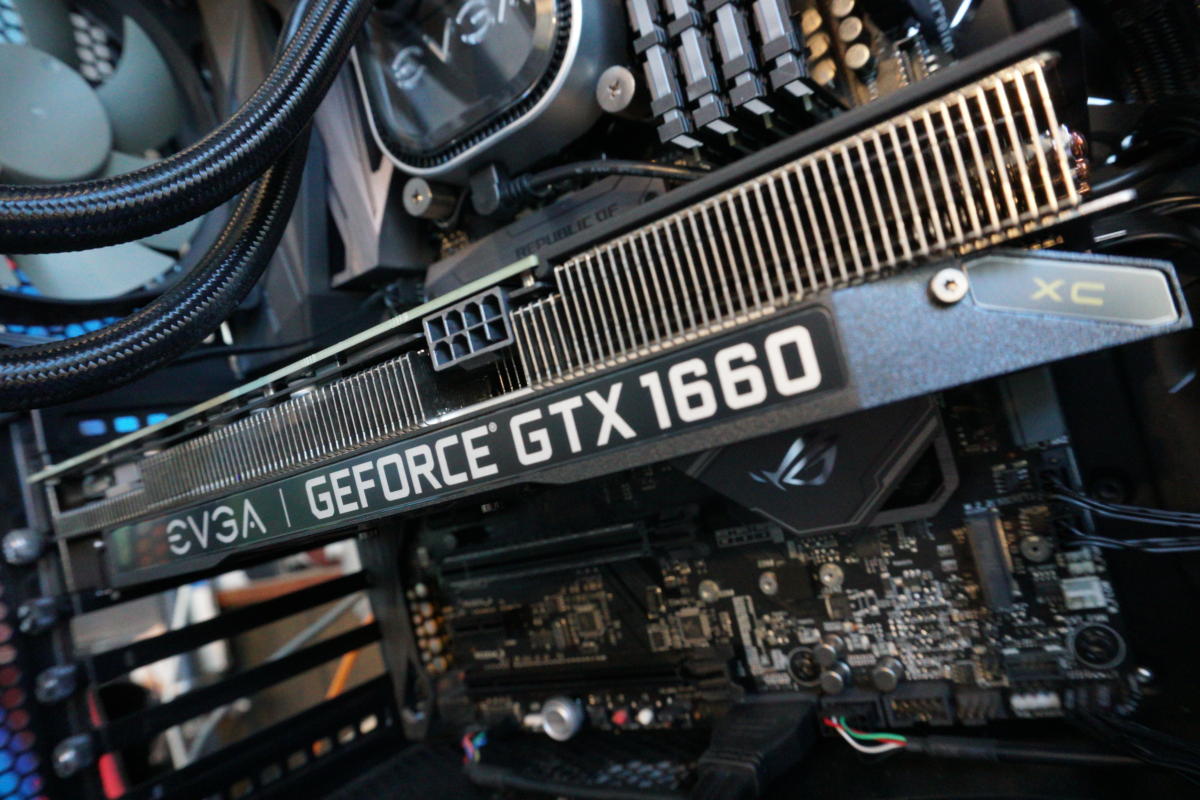 You won't find many surprises under the hood of the GTX 1660, because it uses a cut-down version of the TU116 Turing GPU found in the powerful GTX 1660 Ti. That gives it all of Nvidia's modern performance benefits in traditional games, which we covered in-depth in our Turing GPU deep-dive. As a GTX model instead of an RTX GPU, however, the GTX 1660 lacks the dedicated hardware that enables ray-tracing and AI-enhancement features so heavily promoted in more expensive Nvidia graphics cards.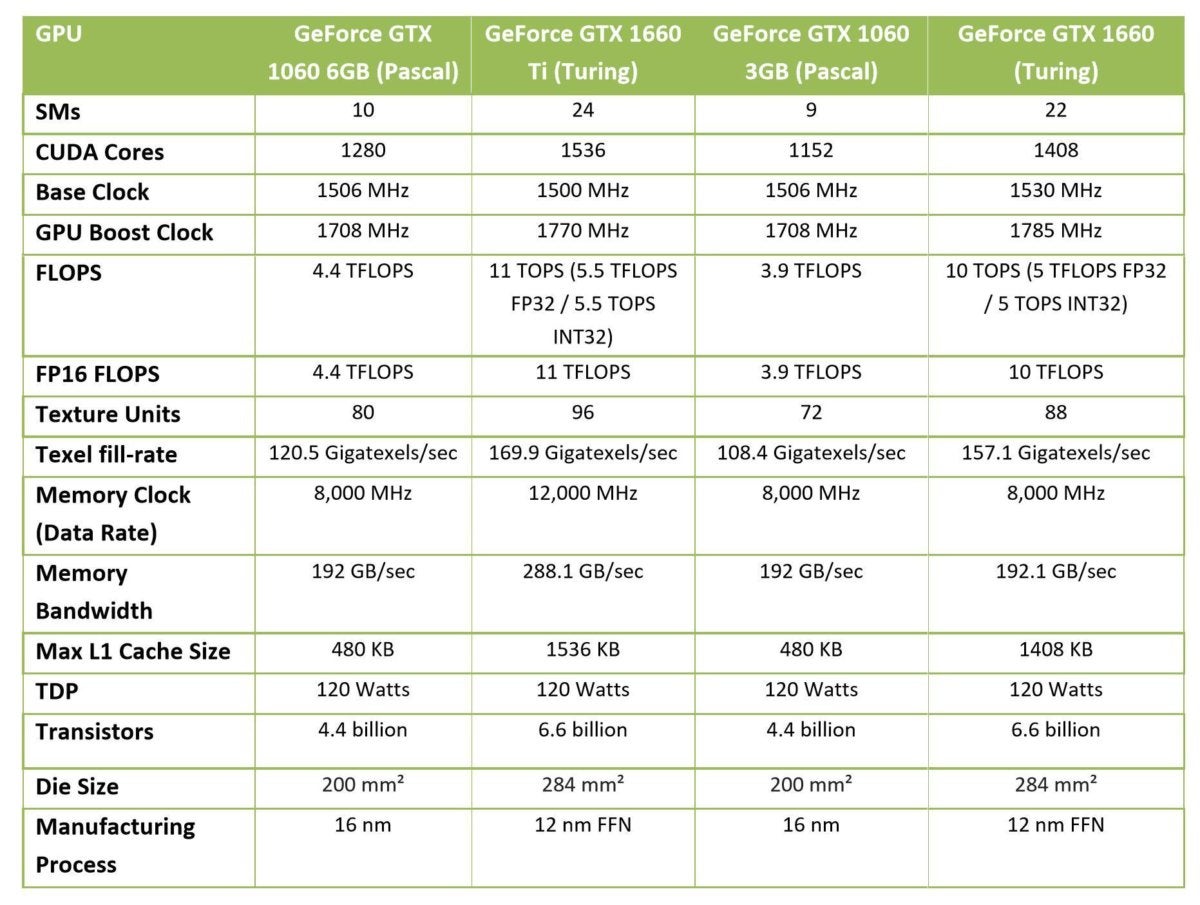 As you can see in the chart above, the new GTX 1660 matches or beats both the 3GB and 6GB GTX 1060 in every relevant spec, from CUDA core counts to raw clock speeds, all while sticking to the same 120-watt TDP. That's a stunning testament to the superb energy efficiency of Nvidia's architecture, which makes rival Radeon GPUs look outright power-hungry by comparison.
Speaking of comparisons, it's worth taking a second to discuss the GTX 1660's memory configuration. Nvidia's new GPU fixes the most notable flaw of 3GB GTX 1060: the paltry 3GB of RAM stated right in its name. When the 3GB GTX 1060 launched in 2016, that scant memory capacity resulted in occasional performance issues when playing some 1080p games with all the eye candy cranked. The limitation rankled all the more with the passage of time, essentially leaving the $200-ish market to AMD's better-equipped Radeon RX 570 and RX 580.
Nvidia fixed that by giving the GeForce GTX 1660 a full 6GB of VRAM, but note that it uses traditional GDDR5 memory instead of the ultra-fast (and cutting-edge) GDDR6 variety found in the GTX 1660 Ti and RTX 20-series graphics cards. It's a smart move to save money in the cutthroat mainstream market. GDDR5 offers much lower memory clock speeds and thus much lower overall memory bandwidth than GDDR6, but it's fast enough for 1080p gaming, and it ensures the price stays right (although the GTX 1660 still costs $20 more than the 3GB GTX 1060 did at launch).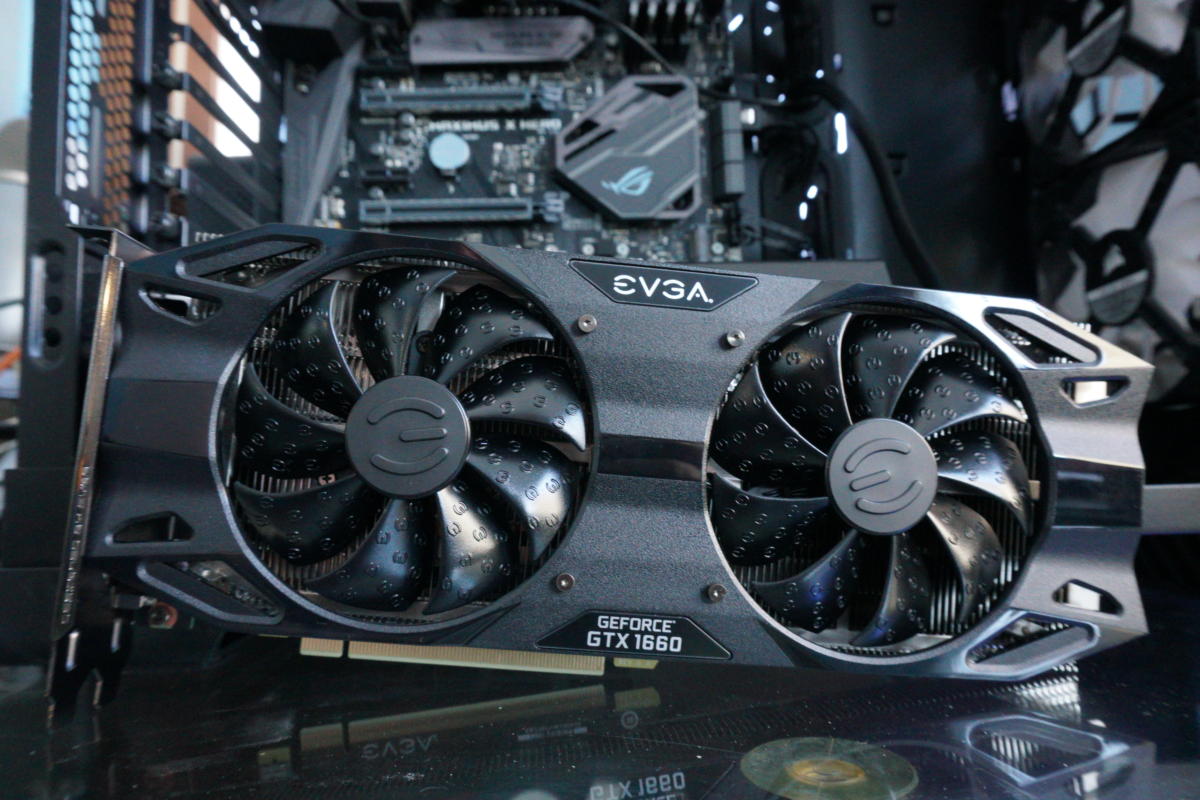 You won't find many surprises in EVGA's implementation either, but you will find plenty to be impressed with. The $250 GTX 1660 XC Ultra uses the same custom cooler as its GTX 1660 Ti counterpart. It also comes overclocked out of the box, hitting 1,845MHz rather than the GTX 1660's rated 1,785MHz. The card runs much faster in practice, hovering around the 2GHz range depending on the application.
EVGA's effective cooling solution enables Nvidia's GPU Boost algorithms to push the clocks that hard. Here's what we said about it in our EVGA GTX 1660 Ti XC Ultra review, and spoiler alert: The cooler runs even, well, cooler paired with the less-powerful GTX 1660.
"The GeForce GTX 1660 Ti XC Ultra includes the overhauled custom cooling design found on many of EVGA's RTX 20-series GPUs. Dual hydraulic dynamic bearing (HDB) axial fans emblazoned with tiny 'E's sit atop a deep, dense heat sink, and EVGA claims that the mixture of HDB fans with the tiny letters result in a 19 percent reduction in noise levels compared to competing fans with sleeve-bearing fan designs."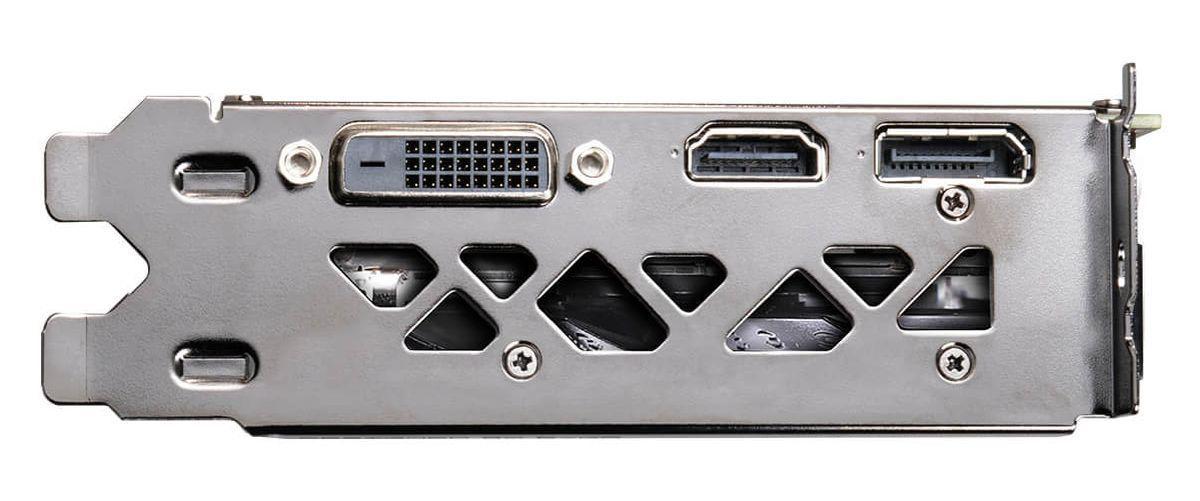 The EVGA GTX 1660 XC Ultra also mirrors its bigger sibling's port selection, providing one HDMI, DVI, and DisplayPort apiece. That's pretty limited, but most gamers buying graphics cards in this price range probably have only one or two monitors anyway. DVI's inclusion is a very welcome surprise—it's becoming a rarity. The card sticks to a standard dual-slot design and only needs a single 8-pin power connector, so upgrading from another GPU shouldn't be a hassle.
Despite being EVGA's high-end GTX 1660 offering, the XC Ultra skips out on some common value-adding extras. You won't find a backplate on it, nor RGB LED illumination. Neither omission is really a drawback—I dig a "blacked-out" non-RGB look in many systems—but they're worth noting.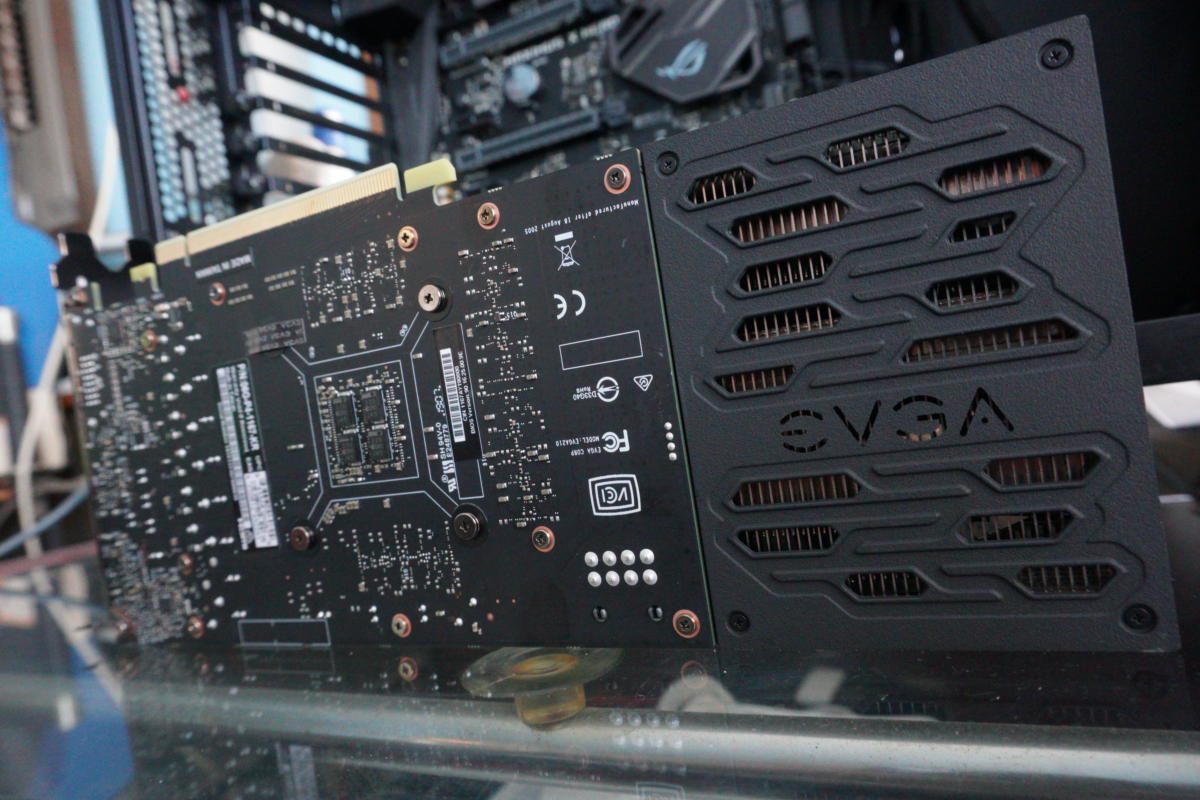 Also worth noting: EVGA's robust support system. The company's Precision X1 software was overhauled from the ground up for Nvidia's latest GPU generation, and it's absolutely stunning—it's my favorite GPU overclocking and monitoring tool to use, complete with one-click auto-overclocking using Nvidia's splendid OC Scanner API. The company also recently started an EVGA Associates program, which is sort of like an affiliate program for PC enthusiasts. The referred buyer receives a discount on EVGA gear, and the person whose Associate Code was used to buy new hardware gets a percentage of the net sale as "EVGA bucks" that can be used for discounts on EVGA's website. Nifty!
EVGA will also provide a free copy of GRIP: Combat Racing, paired with an exclusive EVGA-branded skin for your virtual car. But enough talk. On to the games!
Next page: Our test system, benchmarks begin
Our test system
Our dedicated graphics card test system is packed with some of the fastest complementary components available to put any potential performance bottlenecks squarely on the GPU. Most of the hardware was provided by the manufacturers, but we purchased the cooler and storage ourselves.
We're comparing the $250 EVGA GeForce GTX 1660 XC Ultra against its big sibling, the $310 EVGA GTX 1660 Ti XC Ultra, as well as its predecessor, an overclocked EVGA version of the 6GB GTX 1060. Rounding out the Nvidia side, we're also including the GTX 1070 Founders Edition and the ray tracing-capable $350 GeForce RTX 2060 Founders Edition.
We received our review sample very close to deadline and didn't have time to re-test the $200 3GB GTX 1060, but since the new GPU outclasses the 6GB GTX 1060, we're comfortable omitting the slower 3GB variant from our results. (For what it's worth, Nvidia claims the GTX 1660 is "on average 30 percent faster" than the 3GB GTX 1060 at reference clock speeds.)
Mentioned in this article
Radeon RX 590 Nitro+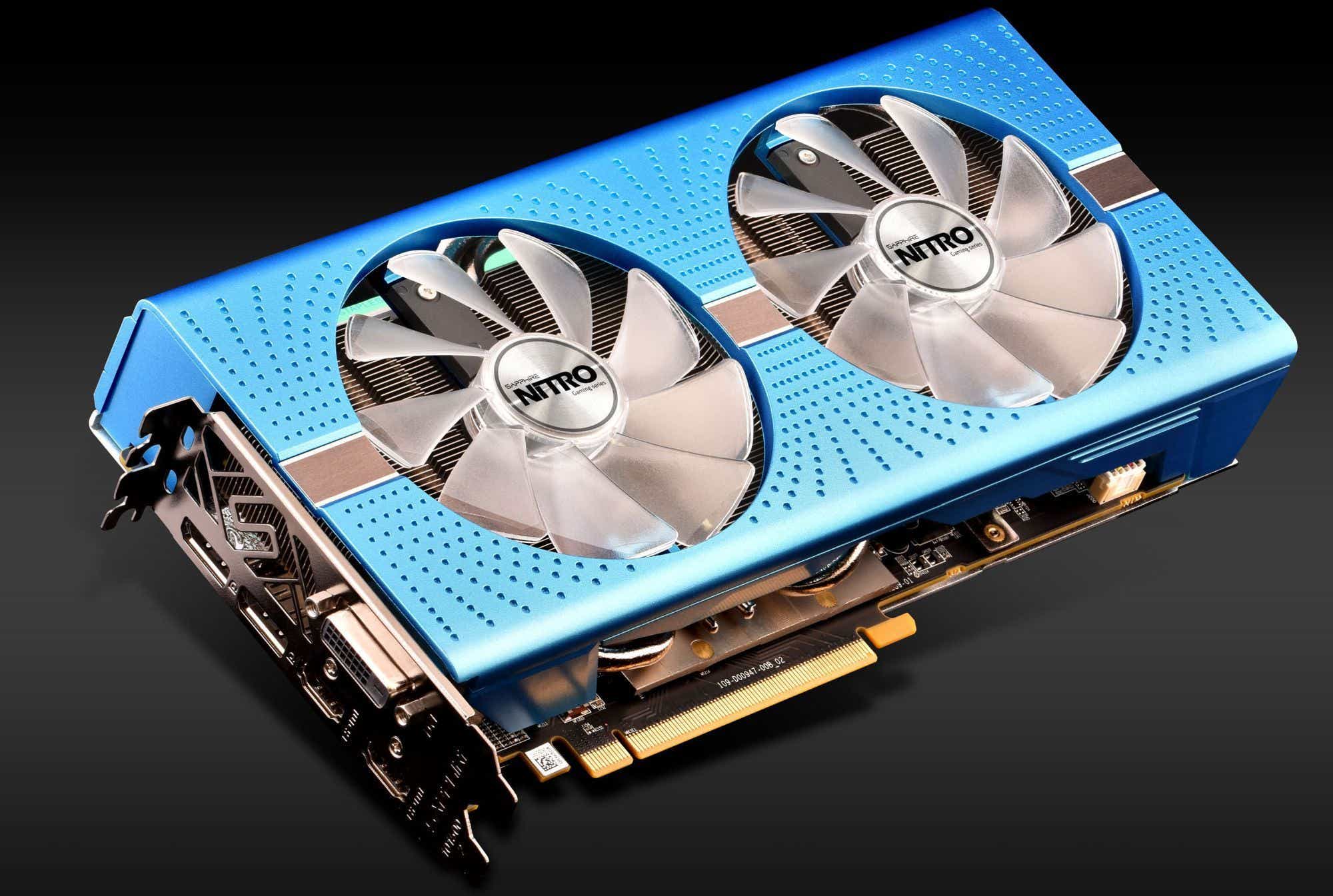 Price When Reviewed:
$259.99
To see how EVGA's graphics card stacks up against the Radeon competition, we've also included performance results from the $260 Sapphire Radeon RX 590 Nitro+ (which launched at $280 in November), the $400 Radeon Vega 56, and the Asus ROG Strix version of the Radeon RX 580. Many Radeon RX 580 models can consistently be found for $200 or slightly less on sale these days, even in 8GB variants.
Each game is tested using its in-game benchmark at the highest possible graphics presets, with VSync, frame rate caps, and all GPU vendor-specific technologies—like AMD TressFX, Nvidia GameWorks options, and FreeSync/G-Sync—disabled, and temporal anti-aliasing (TAA) enabled to push these high-end cards to their limits. If anything differs from that, we'll mention it. We run each benchmark at least three times and list the average result for each test.
We limited our testing to 1080p and 1440p resolutions, as satisfying 4K gaming is mostly out of the reach of this class of card.
EVGA GTX 1660 XC Ultra gaming benchmarks
Strange Brigade
Let's kick things off with Strange Brigade ($50 on Humble), a cooperative third-person shooter where a team of adventurers blasts through hordes of mythological enemies. It's a technological showcase, built around the next-gen Vulkan and DirectX 12 technologies and infused with features like HDR support and the ability to toggle asynchronous compute on and off. It uses Rebellion's custom Azure engine. We test with async compute off.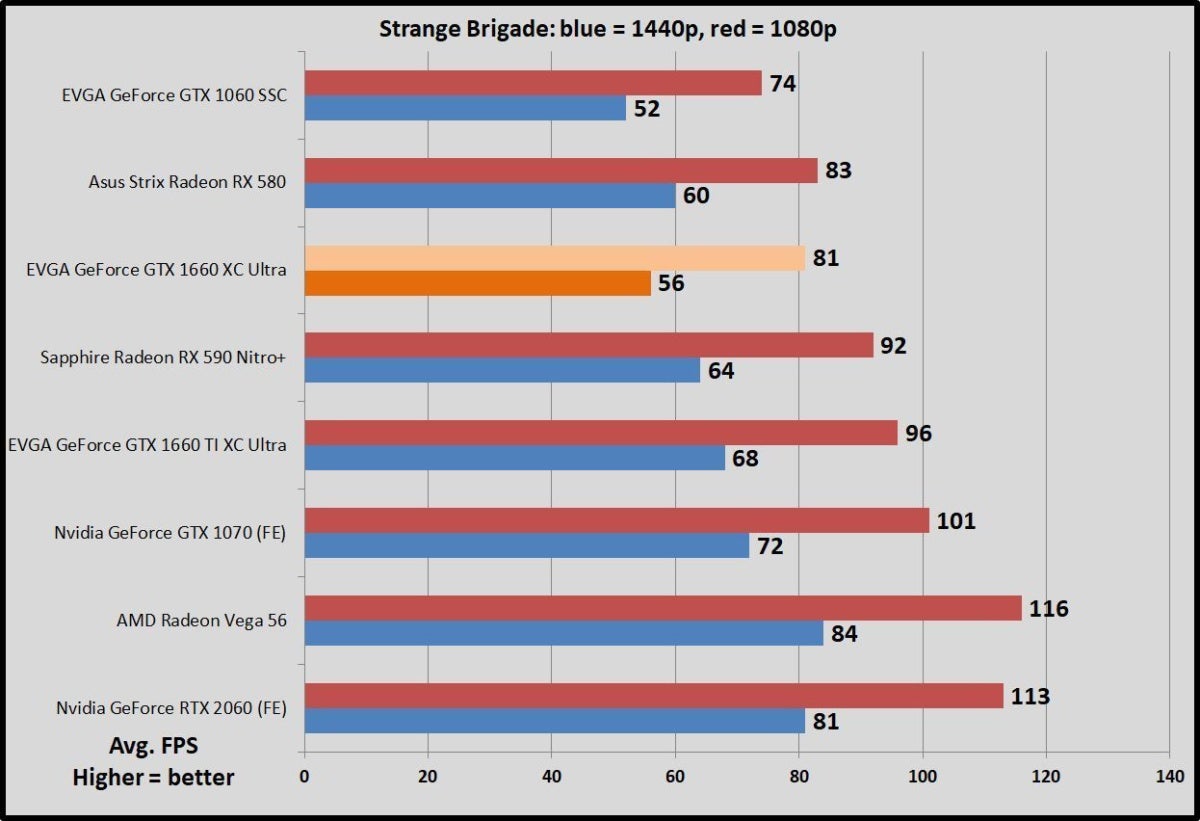 The first game out of the gate doesn't paint the GTX 1660 in the best light. It's only about 9.5 percent faster than the GTX 1060, and it's actually slower than the Radeon RX 580, much less the RX 590. But Strange Brigade loves AMD GPUs, and the GTX 1660 still delivers great framerates at 1080p resolution. Heck, it almost hits the hallowed 60 frames per second at 1440p! The step-up GTX 1660 Ti is significantly faster, however—as it should be for $60 more.
Shadow of the Tomb Raider
Shadow of the Tomb Raider ($60 on Humble) concludes the reboot trilogy, and it's utterly gorgeous. Square Enix optimized this game for DX12, and recommends DX11 only if you're using older hardware or Windows 7, so we test with that. Shadow of the Tomb Raider uses an enhanced version of the Foundation engine that also powered Rise of the Tomb Raider.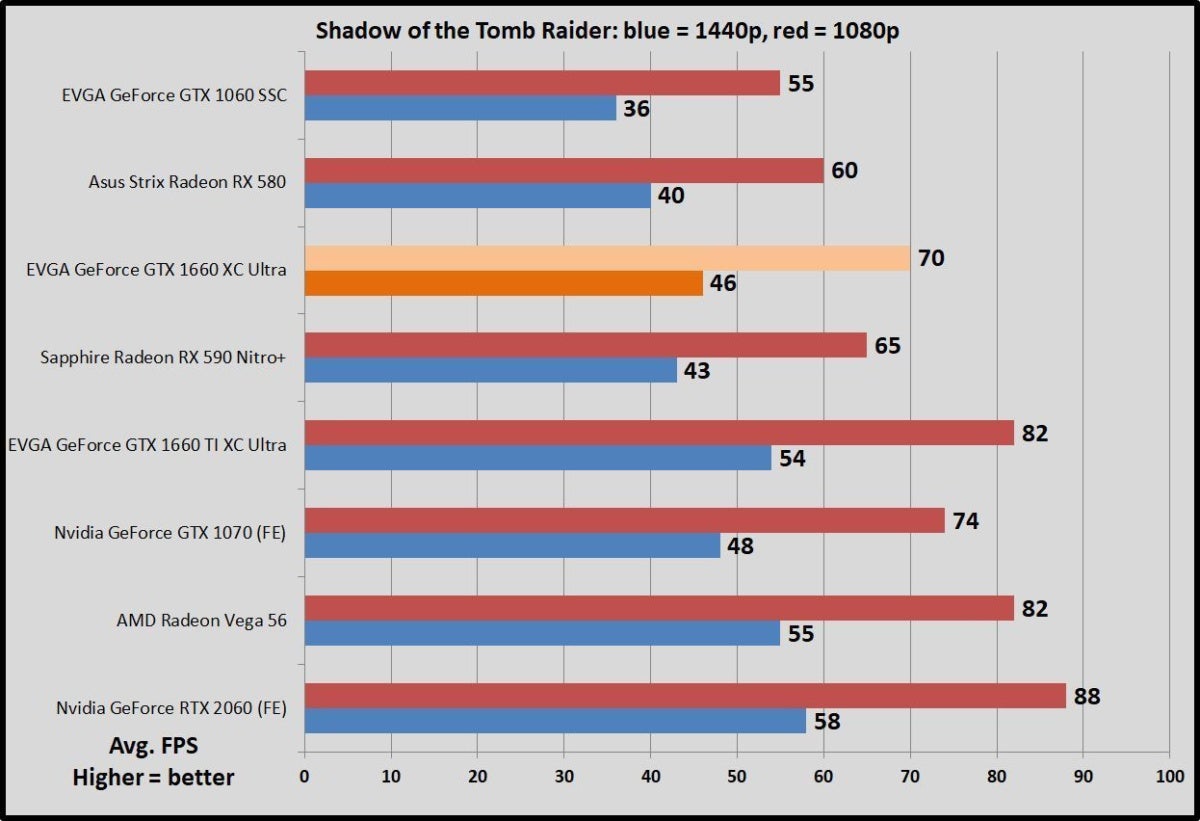 EVGA's GTX 1660 XC Ultra delivers much more impressive results here, beating the Radeon RX cards handily, and the last gen's overclocked 6GB GTX 1060 by a whopping 27+ percent at 1080p resolution. Games should also be playable at 1440p if you tinker with the visual settings. Again, the pricier GTX 1660 Ti is about 20 percent faster than the new GTX 1660.
Far Cry 5
Finally, a DirectX 11 game! Far Cry 5 ($60 on Humble) is powered by Ubisoft's long-established Dunia engine. It's just as gorgeous as its predecessors, and even more fun.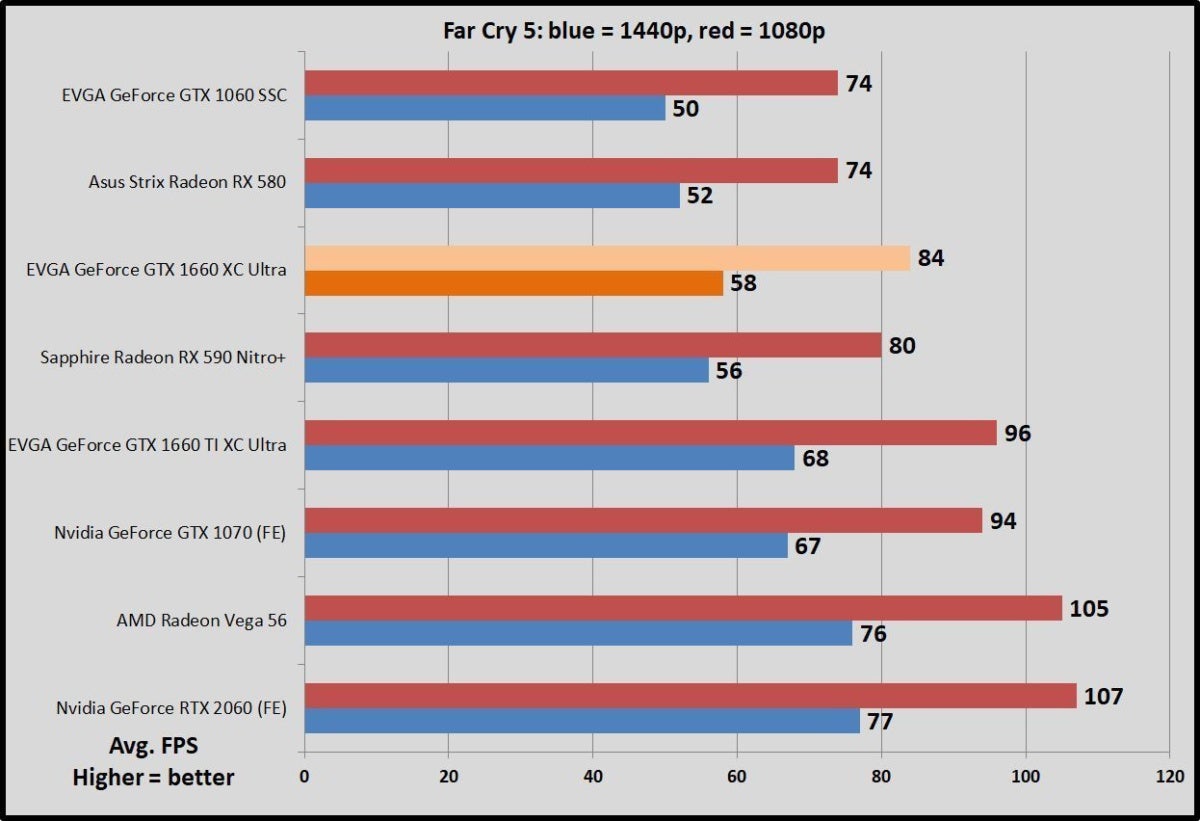 Nvidia's card shows up strong yet again, beating the GTX 1060 and comparable Radeon GPUs alike. The 1080p results prove especially strong, though you could play Far Cry 5 at 1440p with very few visual compromises, too.
Next page: Gaming benchmarks continue
Ghost Recon Wildlands
Move over, Crysis. If you crank all the graphics options up to 11, like we do for these tests, Ghost Recon Wildlands ($50 on Humble) and its AnvilNext 2.0 engine absolutely melt GPUs. Ghost Recon Wildlands also prefers Nvidia's GPU architecture in general.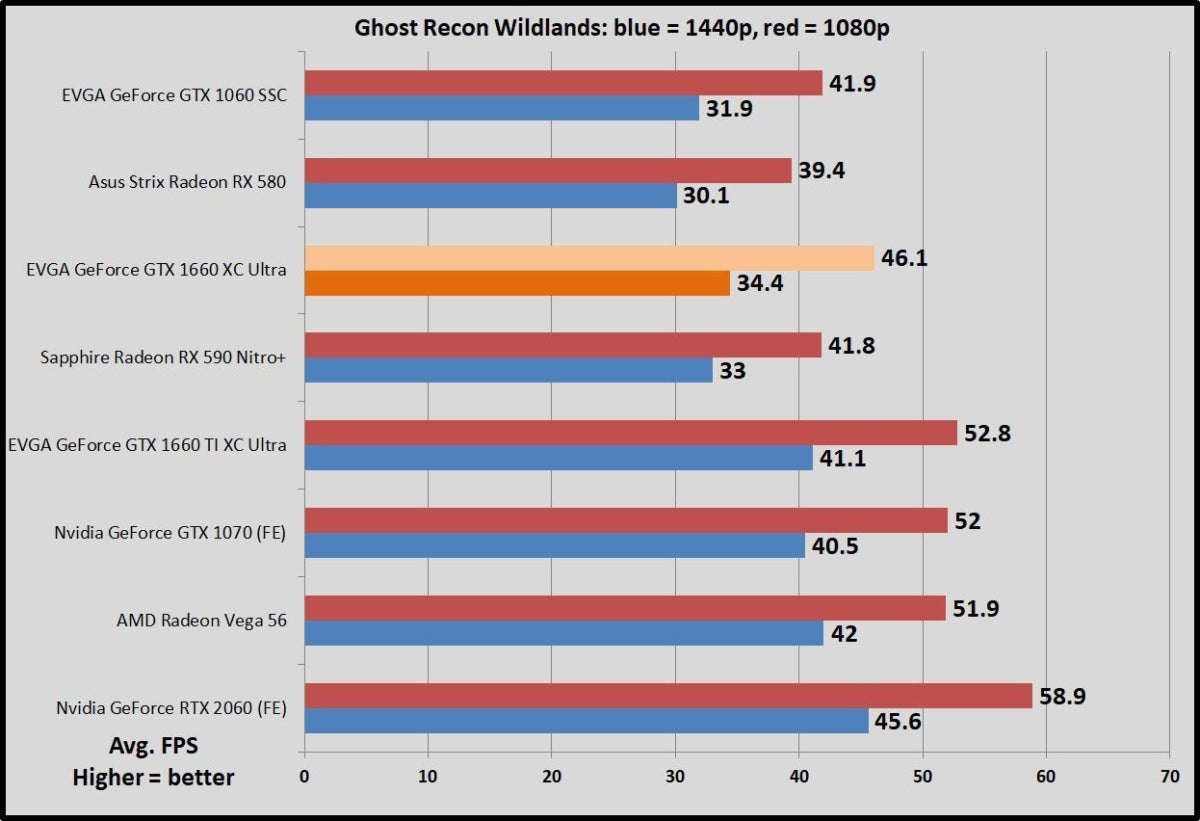 The actual frame rates might seem slow here—they improve dramatically if you dial back from the game's borderline torture-test Ultra settings—but don't be fooled: The GTX 1660 is still over 10 percent faster than the GTX 1060, and more so versus the Radeon options.
Middle-earth: Shadow of War
Middle-earth: Shadow of War ($50 on Humble) adds a strategic layer to the series' sublime core gameplay loop, adapting the Nemesis system to let you create an army of personalized Orc commanders. It plays like a champ on PC, too, thanks to Monolith's custom LithTech Firebird engine. We use the Ultra graphics preset but drop the Shadow and Texture Quality settings to High to avoid exceeding 8GB of VRAM usage in our testing scenario, because graphics cards that exceed 8GB of capacity are rare indeed. (Nvidia's "sweet spot" graphics cards all top out at 6GB.)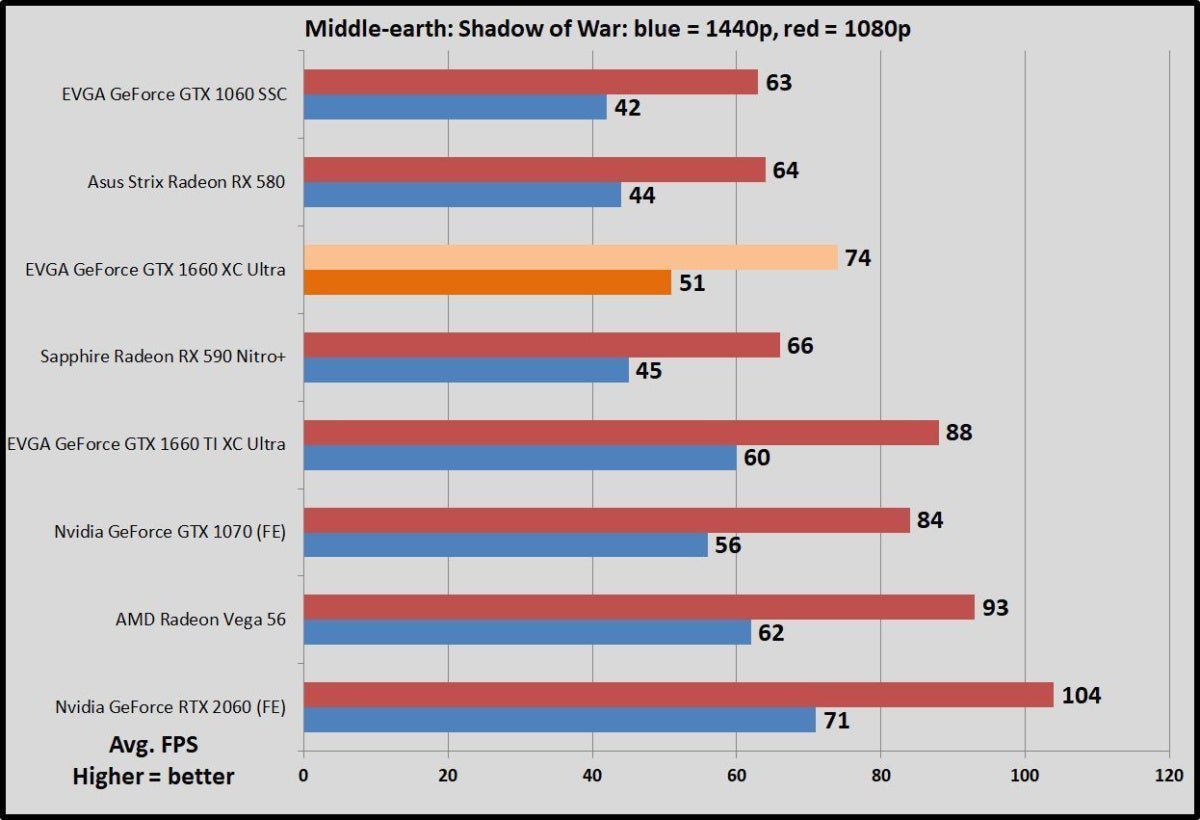 The EVGA GTX 1660 XC Ultra is nearly 20 percent faster than the GTX 1060 6GB here, and could provide a solid 1440p gaming experience with a few visual tweaks. And the GTX 1660 Ti is nearly 20 percent faster than that.
F1 2018
The latest in a long line of successful games, F1 2018 ($60 on Humble) is a gem to test, supplying a wide array of both graphical and benchmarking options—making it a much more reliable (and fun) option that the Forza series. It's built on the fourth version of Codemasters' buttery-smooth Ego game engine. We test two laps on the Australia course, with clear skies.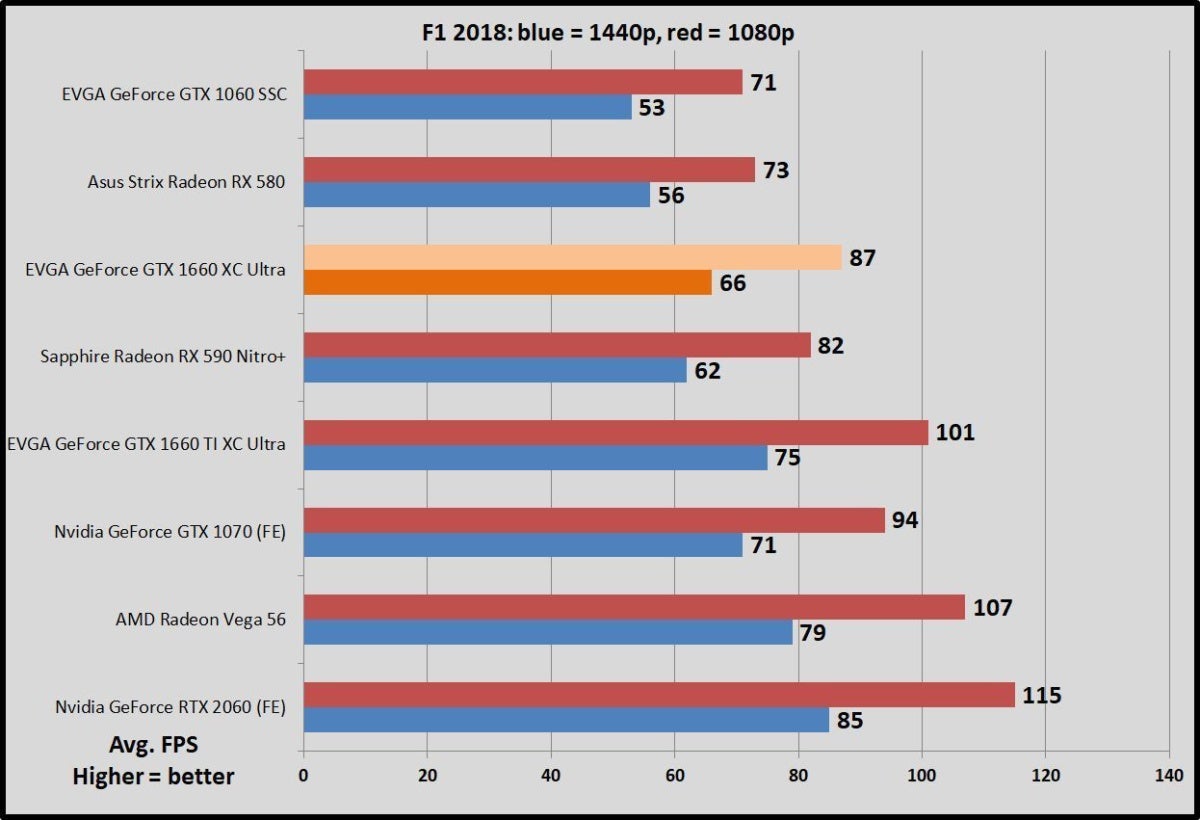 EVGA's overclocked, custom-cooled card outdances its predecessor to the tune of a 22 percent performance increase. The lead over the Radeon RX 590 is slimmer, but it's there, and the AMD GPU costs more in stores.
Next page: Gaming benchmarks continue
Ashes of the Singularity: Escalation
Ashes of the Singularity ($40 on Humble) was one of the very first DX12 games, and it remains a flag-bearer for the technology to this day thanks to the extreme scalability of Oxide Games' next-gen Nitrous engine. With hundreds of units onscreen simultaneously and some serious graphics effects in play, the Crazy preset can make CPUs and graphics cards sweat. Ashes runs in both DX11 and DX12, but we only test in DX12, as it delivers the best results for both Nvidia and AMD GPUs.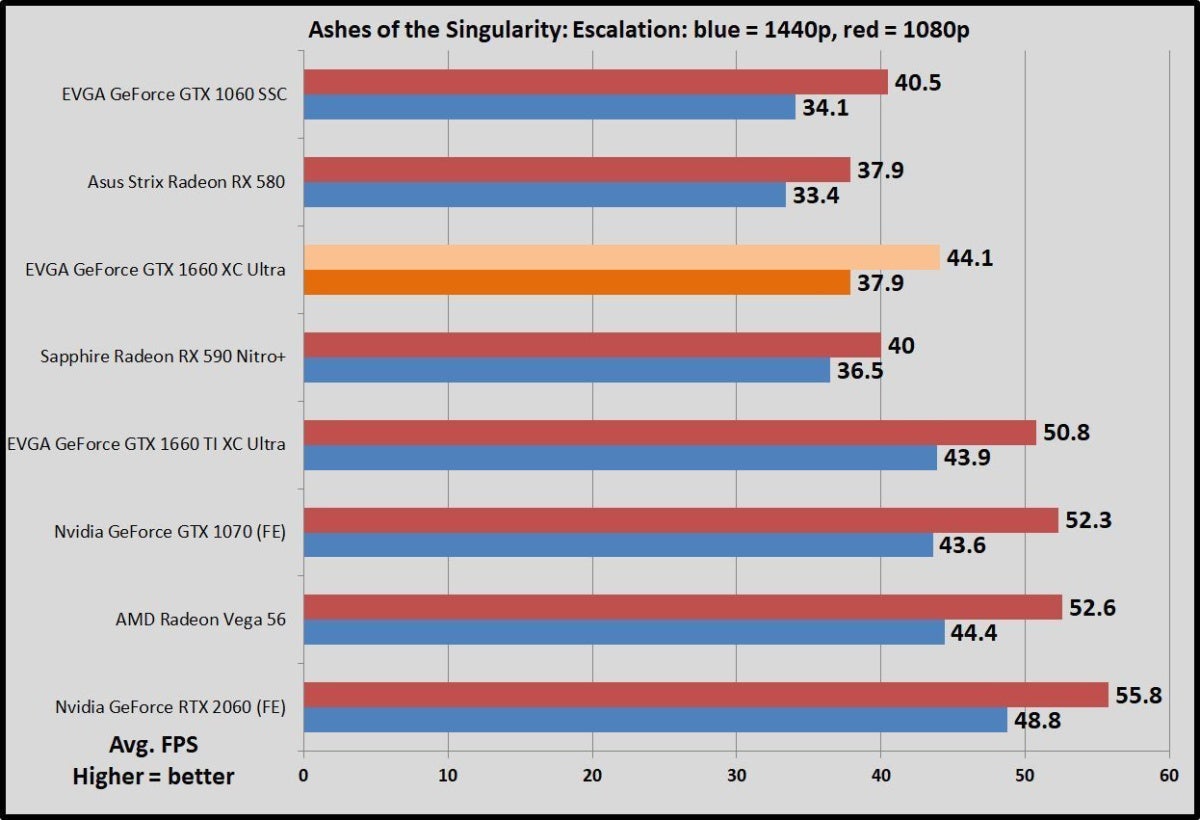 Interestingly, the GTX 1660 is only a few frames per second faster than the older 6GB GTX 1060, and the GTX 1660 Ti is only a few frames faster than its namesake. Those amount to performance differences of 10+ percent, however. Expect to see the raw frame rate gap widen if you're not using the ultra-strenuous Crazy preset.
GTA V
We're going to wrap things up with a couple of older games that aren't really visual barn-burners, but still top the Steam charts day in and day out. These are games that a lot of people play. First up: Grand Theft Auto V ($30 on Humble) with all options turned to Very High, all Advanced Graphics options except extended shadows enabled, and FXAA. GTA V runs on the RAGE engine and has received substantial updates since its initial launch.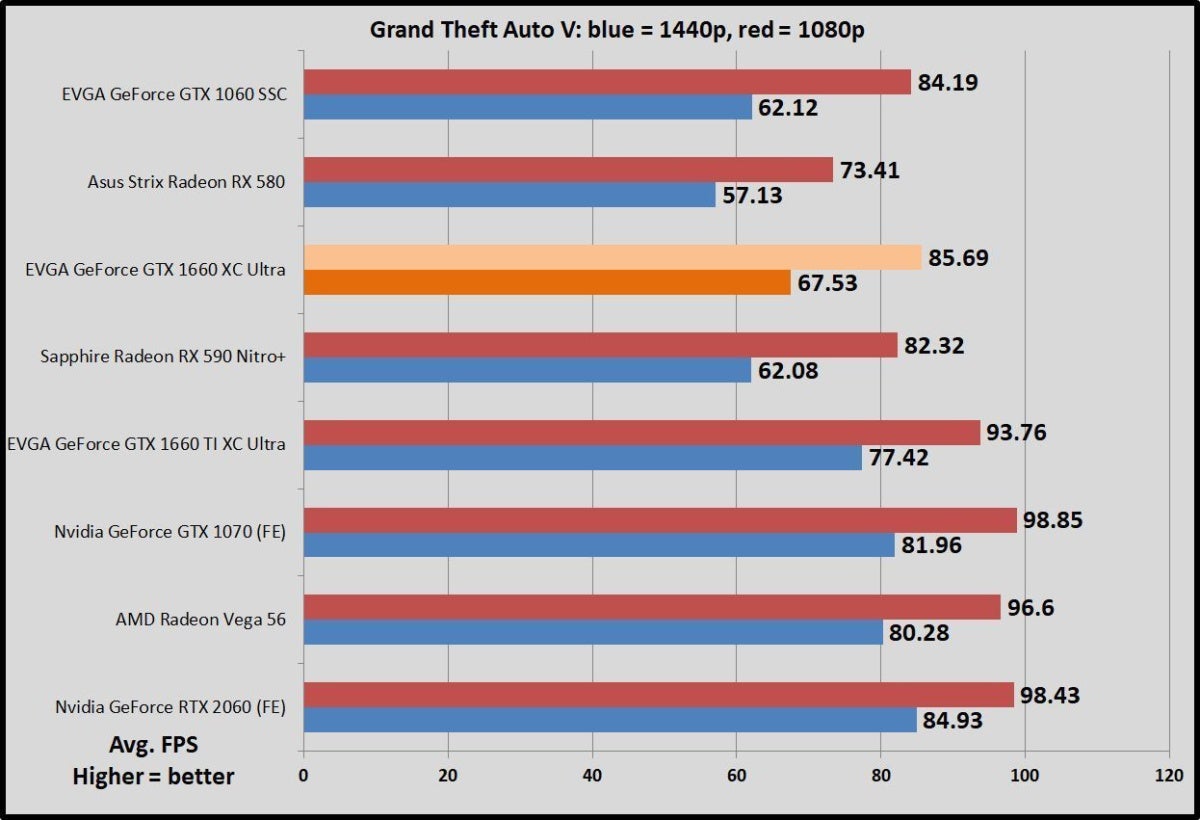 This is an older game, so it's no surprise to see the GTX 1660 provide minimal performance uplift compared to its predecessor. The GTX 1660 Ti is substantially faster if you can spend more money, though. AMD's Radeon cards are left in the proverbial dust by Nvidia's offerings.
Rainbow Six Siege
Finally, let's take a peek at Rainbow Six Siege ($40 on Humble), a game whose audience just keeps on growing, and one that still feels like the only truly next-gen shooter after all these years. Like Ghost Recon Wildlands, this game runs on Ubisoft's AnvilNext 2.0 engine, but Rainbow Six Siege responds especially well to graphics cards that lean on async compute features.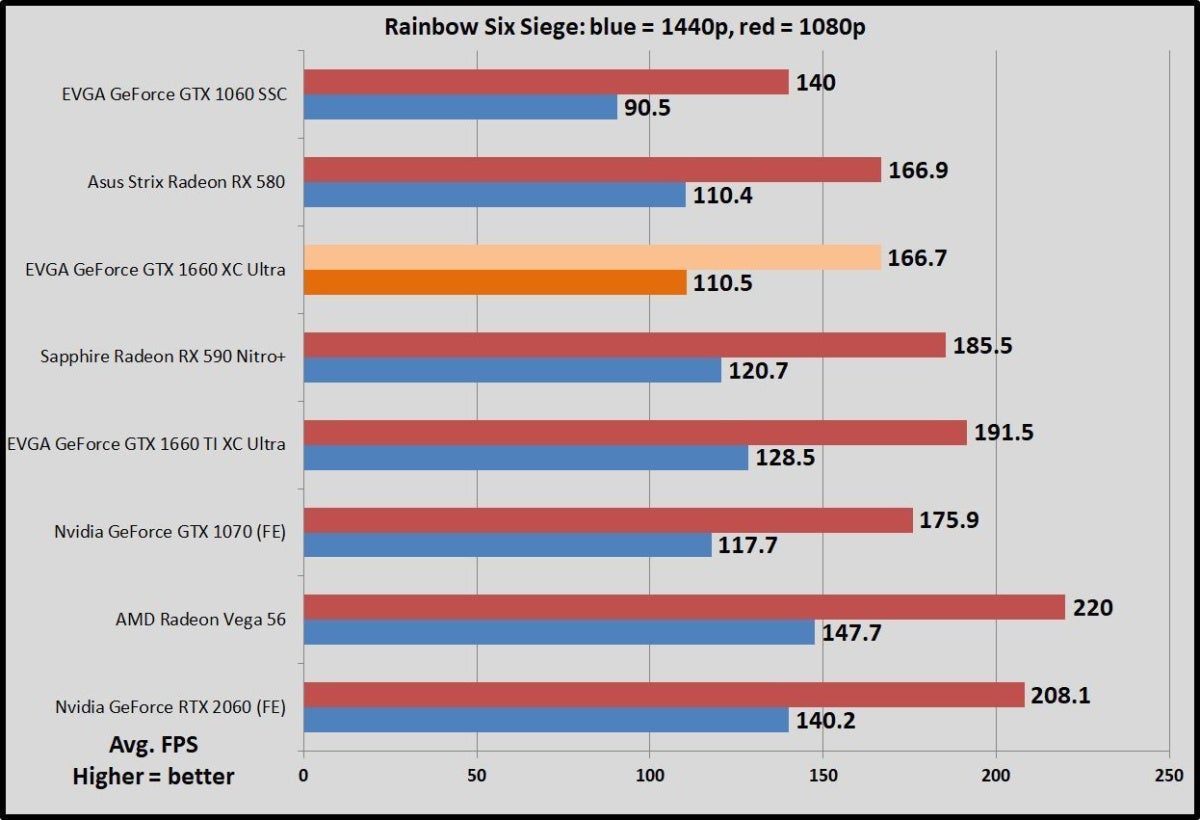 That responsiveness to async compute gave the Radeon RX 580 a clear edge over the older GTX 1060, but the GTX 1660 manages to draw even with AMD's graphics card. Both the Radeon RX 590 and GTX 1660 Ti are noticeably faster—but realistically, this game delivers screaming performance on all the hardware tested, even at the more demanding 1440p resolution.
Next page: Power, thermals, noise, and synthetics
EVGA GTX 1660 XC Ultra power draw, thermals, and noise
We also tested the EVGA GTX 1660 XC Ultra using 3DMark's highly respected Fire Strike synthetic benchmark. Fire Strike runs at 1080p, Fire Strike Extreme runs at 1440p, and Fire Strike Ultra runs at 4K resolution. All render the same scene, but with more intense graphical effects as you move up the scale, so that Extreme and Ultra flavors stress GPUs even more. We record the graphics score to eliminate variance from the CPU.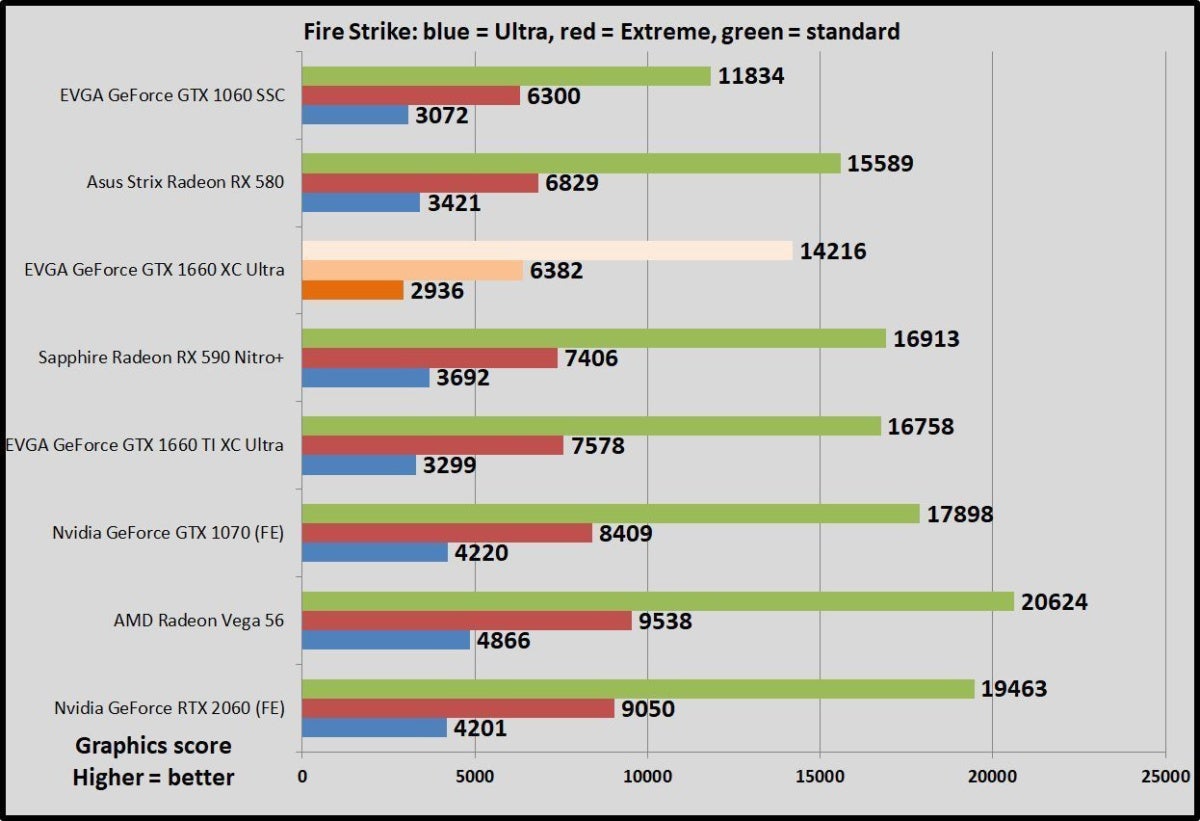 This is why synthetic benchmarks are good for general comparisons and for providing a level playing field in overclocking competitions, but can't be fully relied upon. Fire Strike shows the EVGA GTX 1660 XC Ultra lagging behind the Radeon cards, but that simply isn't true in the majority of real-world games.
We test power draw by looping the F1 2018 benchmark for about 20 minutes after we've benchmarked everything else, and noting the highest reading on our Watts Up Pro meter. The initial part of the race, where all competing cars are onscreen simultaneously, tends to be the most demanding portion.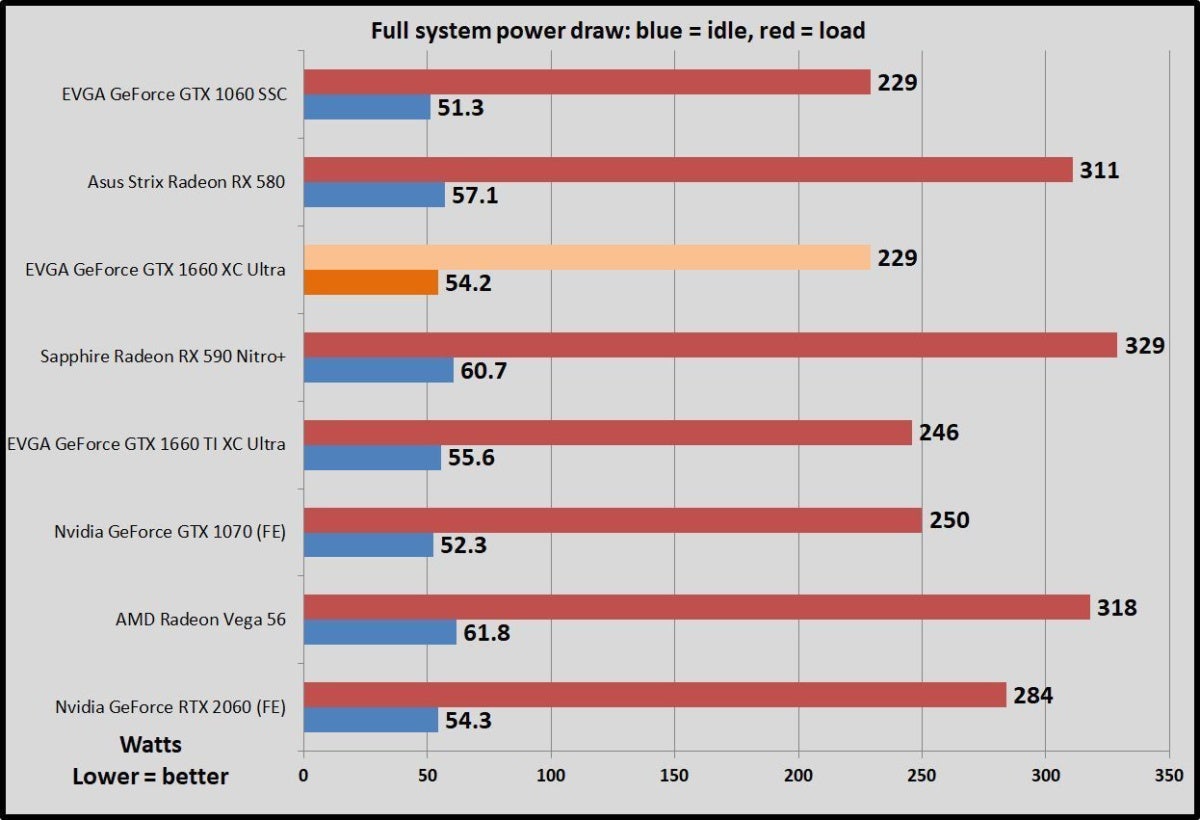 The GTX 1660 offers outstanding power efficiency even with EVGA's overclock and custom cooling solution applied. It draws the same amount of energy as EVGA's overclocked GTX 1060 SSC from the last generation, but with much improved performance—a winning combination. The Radeon graphics cards can't even come close to matching these results.
We test thermals by leaving HWInfo's sensor monitoring tool open during the F1 2018 five-lap power draw test, noting the highest maximum temperature at the end.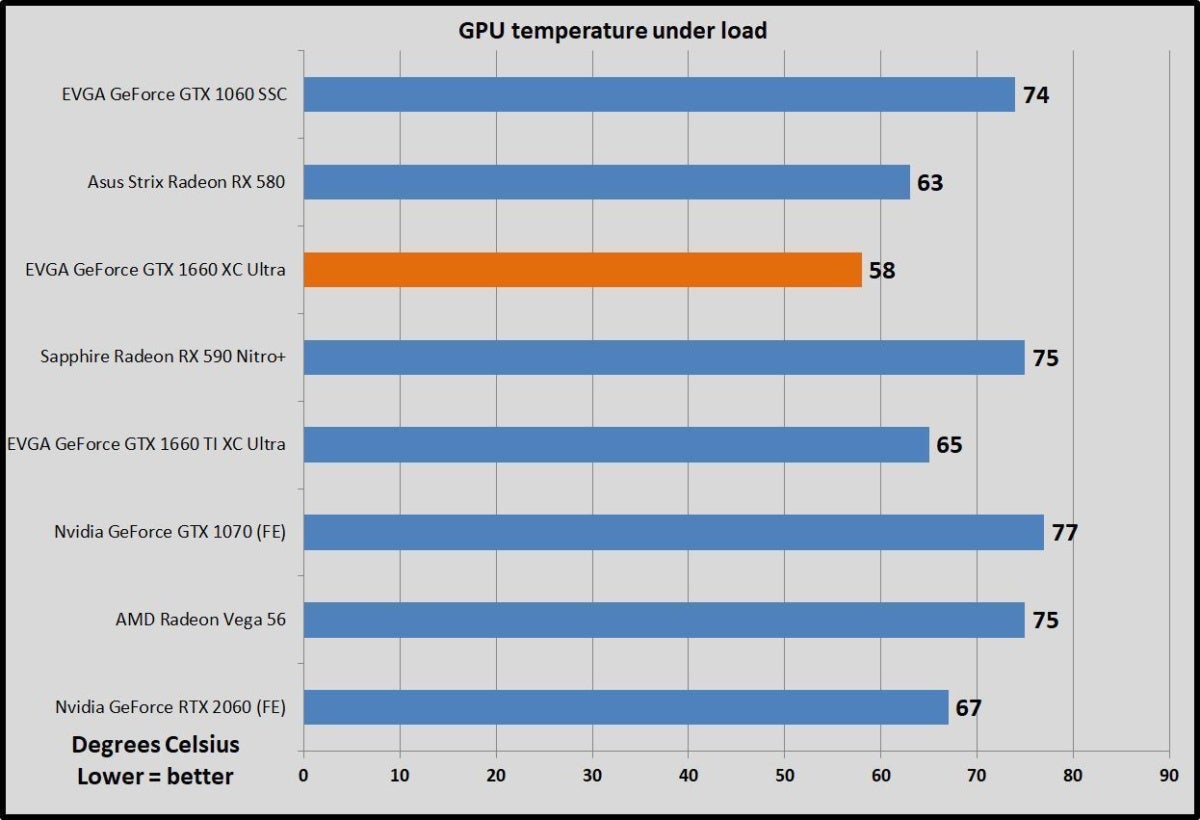 Thermal results under 70 degrees Celsius are great. In the 50s? That's ludicrous—but the EVGA GTX 1660 XC Ultra manages it while staying satisfyingly quiet (though not silent) under load. Such an impressive custom cooling solution on a 1080p-class card delivers great performance. Stay frosty.
Next page: Should you buy the EVGA GTX 1660 XC Ultra?
Should you buy the EVGA GTX 1660 XC Ultra?
If you're looking for an affordable graphics card for 1080p gaming at 60 frames per second—the monitor specs for the majority of gamers—then the Nvidia GeForce GTX 1660 is the card you want.
The GTX 1660 rips the Radeon RX 580 from its years-long lockdown as the go-to "sweet spot" graphics card. Nvidia's card trails its AMD counterpart in a couple of games that heavily favor Radeon architecture, but thoroughly triumphs over the competition in the other titles. With 6GB of memory, the capacity and longevity concerns that plagued the 3GB GTX 1060 are gone. And per usual, Nvidia's new GPU proves very power-efficient. Now that Nvidia GPUs play nice with FreeSync adaptive sync monitors, that's no longer an AMD advantage, either.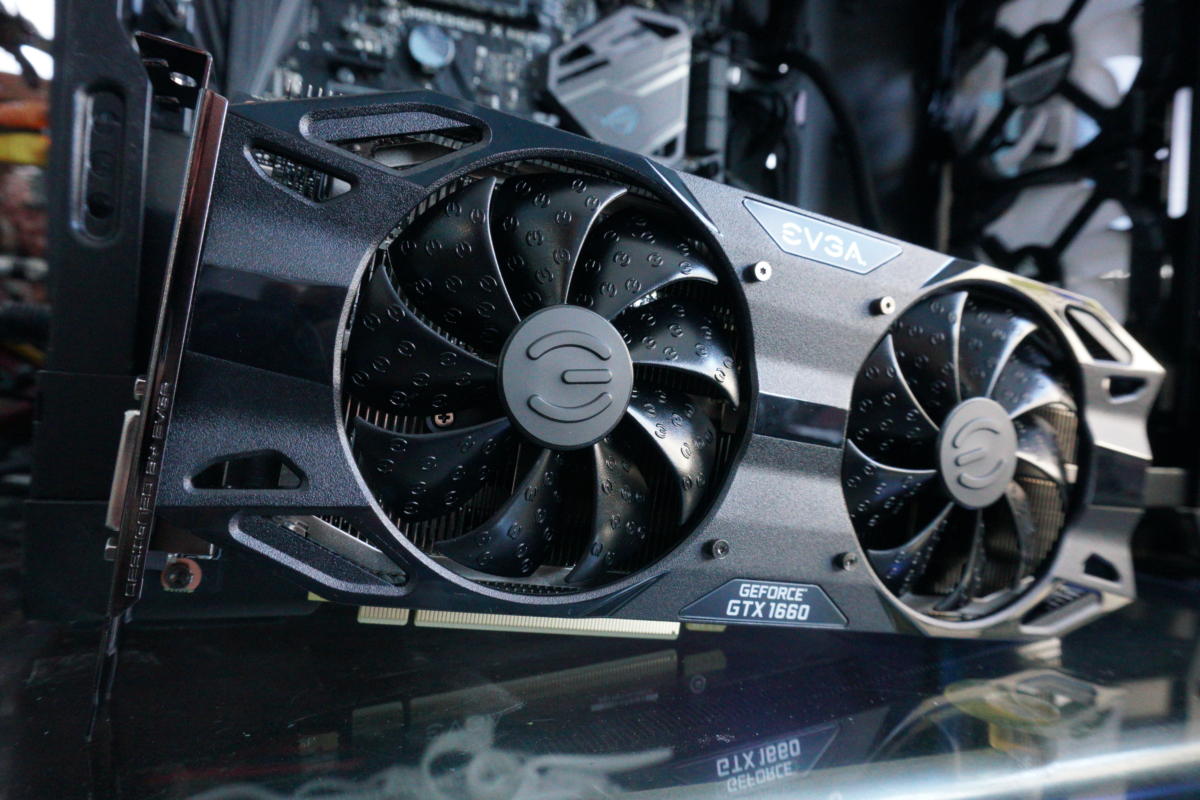 EVGA's custom cooling design and out-of-the-box overclock impresses yet again in the GeForce GTX 1660 XC Ultra, delivering great performance and downright frigid temperatures. It's worth the $30 premium the card costs over the GTX 1660's $220 starting MSRP, especially if you have no desire to overclock your graphics card manually.
Buy this instead for 1440p or 1080p/144
GeForce GTX 1660 Ti XC Ultra
Price When Reviewed:
$309.99
But for as much as we love the $250 EVGA GTX 1660 XC Ultra, market pressures prevent us from awarding it an Editors' Choice award like EVGA's pricier GTX 1660 Ti cousin. That $30 premium, while reasonable, puts the card within spitting distance of entry-level $380 GTX 1660 Ti models, and as you saw in our benchmarks, the GTX 1660 Ti is significantly faster than the GTX 1660 non-Ti. A $30 premium is a significant markup percentage-wise for a GPU that starts at $220. I'd argue it's worth the investment, but this is a very price-sensitive segment of the market, and there's a good chance that entry-level GTX 1660 models will be able to deliver satisfactory gameplay results while still keeping temperatures from getting too hot. (They won't run anywhere near as cool or quiet as EVGA's XC Ultra, though.)
AMD's Radeon RX 580 still plays well at 1080p/60, and we've seen sales drop 8GB versions of those cards well below $200 at times, often bundled with a pair of free triple-A games. The GTX 1660 is a better GPU all around, but if you're on the hunt for a new graphics card, the economics of a particularly juicy Radeon RX 580 sale could sway you to Team Red. Don't buy a Radeon RX 590 though—at $260, it costs more than even this overclocked EVGA GTX 1660 XC Ultra despite being outclassed in power efficiency and in-game performance (usually).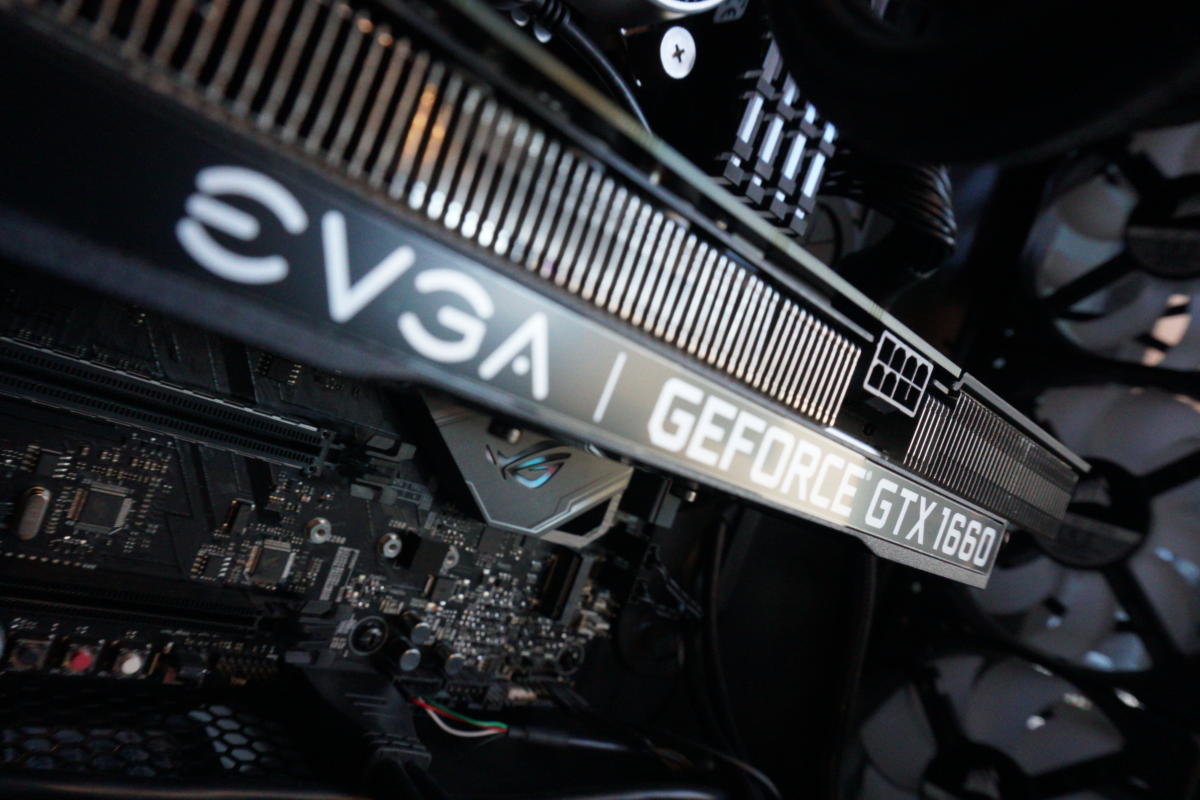 Don't let all that market positioning talk dissuade you though. The Nvidia GeForce GTX 1660 is the best "sweet spot" 1080p graphics card you can buy, priced well, and EVGA's XC Ultra spin on it is spectacular. They're going to sell a ton of these.
If you game on a higher refresh rate 120Hz, 144Hz, or 240Hz monitor, spend the extra cash on the GTX 1660 Ti instead—you'll want the extra legroom it provides. And while the EVGA GTX 1660 XC Ultra can play games at 1440p with a few visual compromises, consider opting for a $380+ GTX 1660 Ti or (more ideally) a $350+ GeForce RTX 2060 instead if you want to push all those pixels well.