You know, I really did think we'd have more games with Shadow of Mordor's "Nemesis System" by now. It was the standout feature! Procedurally-generated orc enemies who, through tech wizardry, remembered your last encounters and even bore the physical scars. Cool stuff, and while I assumed there'd be a grace period before it showed up in other games, we're nearly three years on and there's been nothing at all.
So perhaps it's not surprising that for Shadow of Mordor's sequel, Shadow of War, all that's required is "…More Nemesis System."
A new army
No seriously, that's all that's needed. Strange as it seems, the Nemesis System is just as unique now as it was in 2014.
Shortly after last week's reveal, we were crowded into a movie theater to see a 30-minute, hands-off demo. Picking up right after its predecessor, Shadow of War sees half-man/half-ghost Talion forging his own Very Powerful Ring Of Power and challenging the Dark Lord Sauron himself for control of Mordor. Donning the incredibly creative name "The Bright Lord," Talion's goal seems to be much the same as the last game—work your way up through ranks of orcs, killing them or bending them to your will, slowly building up an entire army of underlings to rival Sauron's.
That's about all we've seen of the plot and honestly it's probably all we need to know. For as much as Monolith seems excited to work with the Lord of the Rings license, Shadow of Mordor felt like bizarre fanfiction more than a true Tolkien tale—I likened it in my review to a "Star Wars prequel" situation. I mean, come on: The plot hinges on Talion forging his own "One Ring." It's called the One Ring for a reason, and that reason is there's only one of them!
Sigh. Don't expect anything better from Shadow of War.
The real "story" of Shadow of Mordor was a personal one, anyway. The Nemesis System, with its seemingly-infinite supply of one-off enemies, made it so that everyone's journey through Mordor was uniquely their own. Three years on, I still remember my own Nemesis—a snide, cowering Uruk named Hoshu who tried to kill me with poisoned crossbow bolts.
He had more character than quite a few handcrafted video game villains I can think of, and yet Hoshu was generated out of thin air. Name, voice, face, weapons, scars—that particular combination has likely never existed in anyone else's game, and likely never will. He was mine.
And so the goal with Shadow of War seems to be "Add Nemesis to Everything." Our demo consisted of Talion storming an orc fortress—what appears to be the culmination of each region this time around. (There are a lot of them, judging by the map.)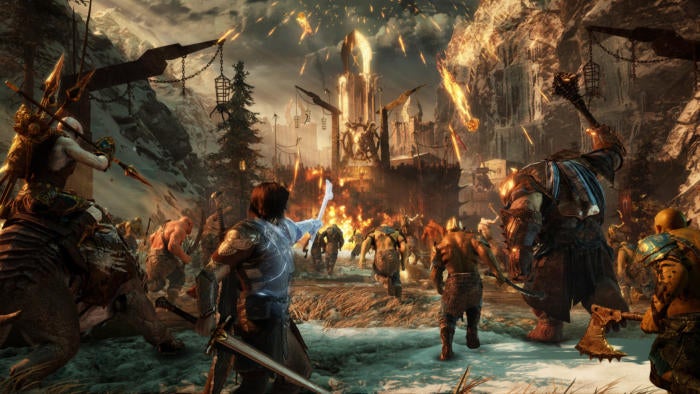 All of the enemy orcs inside the fortress? Nemesis System, of course. Before battle we saw the familiar screen with ranks of orc soldiers, from lowly grunts up to the new "Overlords," ruling over the region.
The Nemesis System now applies to the fortress itself though—and the surrounding lands. Enter a region controlled by a necromancer and you'll find it plagued by the undead. A Beast Master on the other hand will, unsurprisingly, cause the land to be overrun by wild animals, while Marauders deck out their fortress with riches.
And the Nemesis System now applies to your orc buddies, as well—and former buddies. Instead of just an endless parade of unique enemies, your own army will now have more character. Long-time allies may ride to your rescue during a dramatic battle, while those you've scorned may flip sides and bring their talents to your adversary.
Our demo was full of these small moments. As Talion and his army stormed the fortress of Seregost, a burned necromancer named Thrak Storm-Bringer accused Talion of betrayal, cursing Talion both figuratively and literally—in a "Cursed" state Talion can't use any of his supernatural powers, relying on sword alone.
Talion is later saved by Mozu Deadeye, a friend and double agent placed within the fortress. As Thrak turned to strike Talion down, Mozu sniped him right between the eyes. It's a short one-act, a simple tale of betrayal and of friendship, all playing out based on the Nemesis System. These are the sorts of moments that made Shadow of Mordor fascinating, and here those moments seem to come far more often.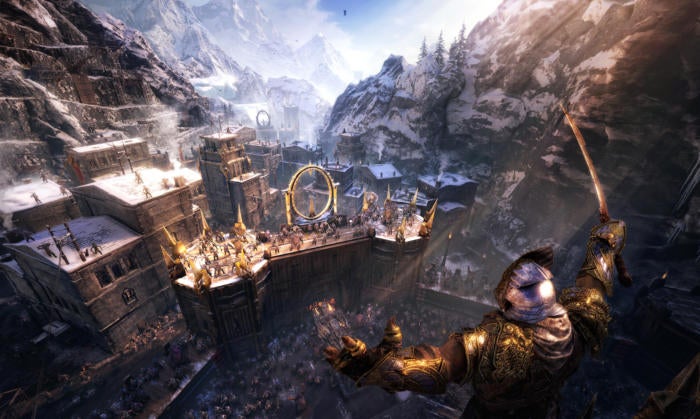 It's a demo, of course. Who knows how often this stuff will come into play in the full game—and honestly, I'm a bit overwhelmed at what I perceive to be the size of the map. Shadow of Mordor had already worn a bit thin after its two regions, and here there seems to be a lot more at play. Will this vignette seem as unique after you've seen similar stories play out half a dozen times during the campaign? Maybe not.
Bottom line
I'm excited to see though, in spite of myself. While Shadow of Mordor's moment-to-moment wasn't anything incredible, the Nemesis System really does seem remarkable still. It makes Shadow of War interesting by default, even if the rest remains lackluster.
And hey—this time you can ride dragons. That's pretty damn cool.