Microsoft Teams may be the new chat application that you don't even know you're going to use. Beginning Tuesday, businesses who subscribe to Office 365 have access to Teams, Microsoft's free app addressing the rise of real-time chat for interoffice communication. At any minute, you could get an email saying your office is moving to this app. We spent some time using it so you'll know what to expect.
Just what we needed, another chat app
You could say we've seen it all. In the last decade or so, PCWorld has moved from Yammer to GChat to HipChat to Slack, with occasional use of Skype, Google Hangouts and more.
Teams isn't entirely unfamiliar, as it incorporates a little bit of Yammer and a dash of Skype, plus Outlook and more. With any chat app, however, problems can crop up when no employee is quite sure which application to use for attaching or sharing files, creating meetings, or conducting ad-hoc video calls or collaborations.
Microsoft Teams clearly feels that all of these are its responsibility. But some of its extra capabilities can sometimes feel unnecessary, while other important features, such as private channels, aren't yet built in. The challenge for Microsoft—and for our team, which had to be pried off of Slack to try Teams—is inertia: If you have a solution that works, you stick with it.
Who gets it? Office 365 commercial customers with a Business Essentials, Business Premium, or Enterprise E1, E3 and E5 plan. If you're a home user, you may end up using Teams as an included component of your company's paid Office subscription, and you'll need to log into Teams. Free mobile clients for Android, iOS, and Windows Phone are also available.
Within Windows 10, you can either use Teams as a desktop app or as a browser-based app at teams.microsoft.com. As we discovered, some browsers, like Apple's Safari for the Mac, aren't supported.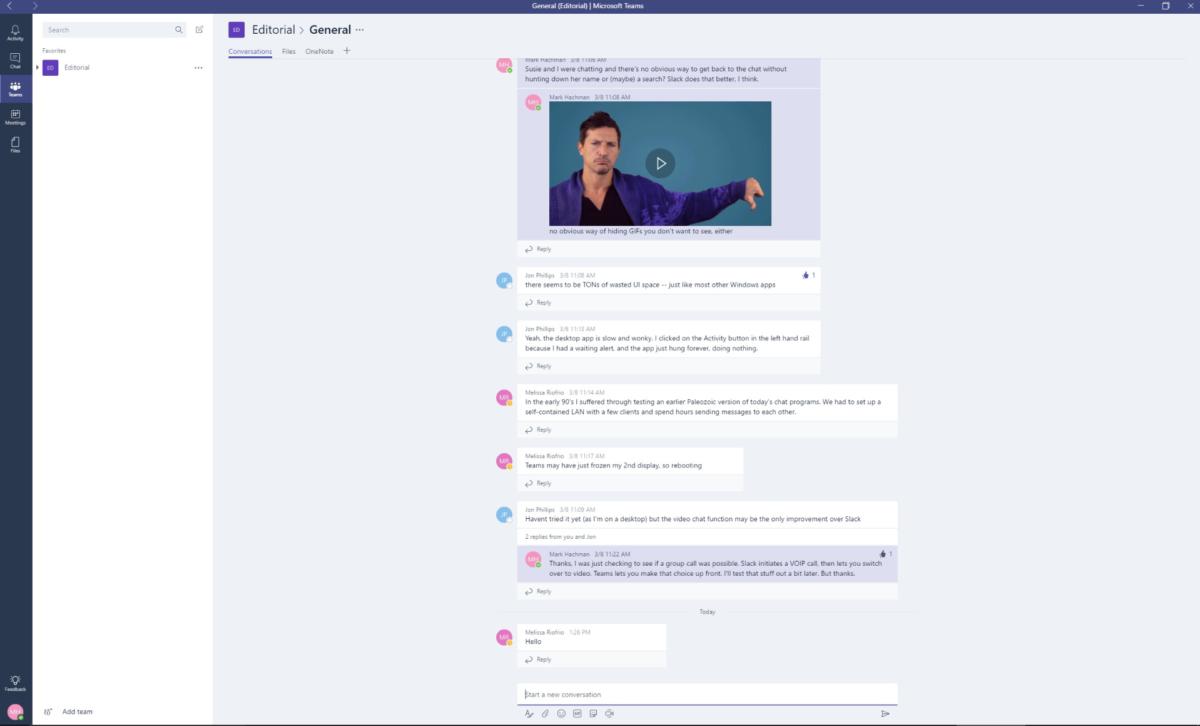 What am I looking at? After you launch the app, you navigate Teams using the left-hand bar. The default view appears to be the Teams view (natch), which leads into the general chat window. Above Teams are the other, most commonly used tabs: the Chats section, as well as Activity.
Think of Activity as your Teams' notifications center, where you can see who's responded to your messages—a tab that fills up fast. The Meetings tabs lets you view your own calendar and initiate meetings, while Files houses your own recently-used files and any others your group has shared.
For some reason, Microsoft chose to hide Teams' Settings behind your own personal icon to the bottom left. You may not care what your icon looks like, but the Notifications portion of Settings hides a great deal of customizable choices. Settings also allows you to control color schemes called Themes, such as high-contrast and dark options. Personally, I'd like to see a Compact theme, too, as Teams, like Skype, wastes a lot of white space.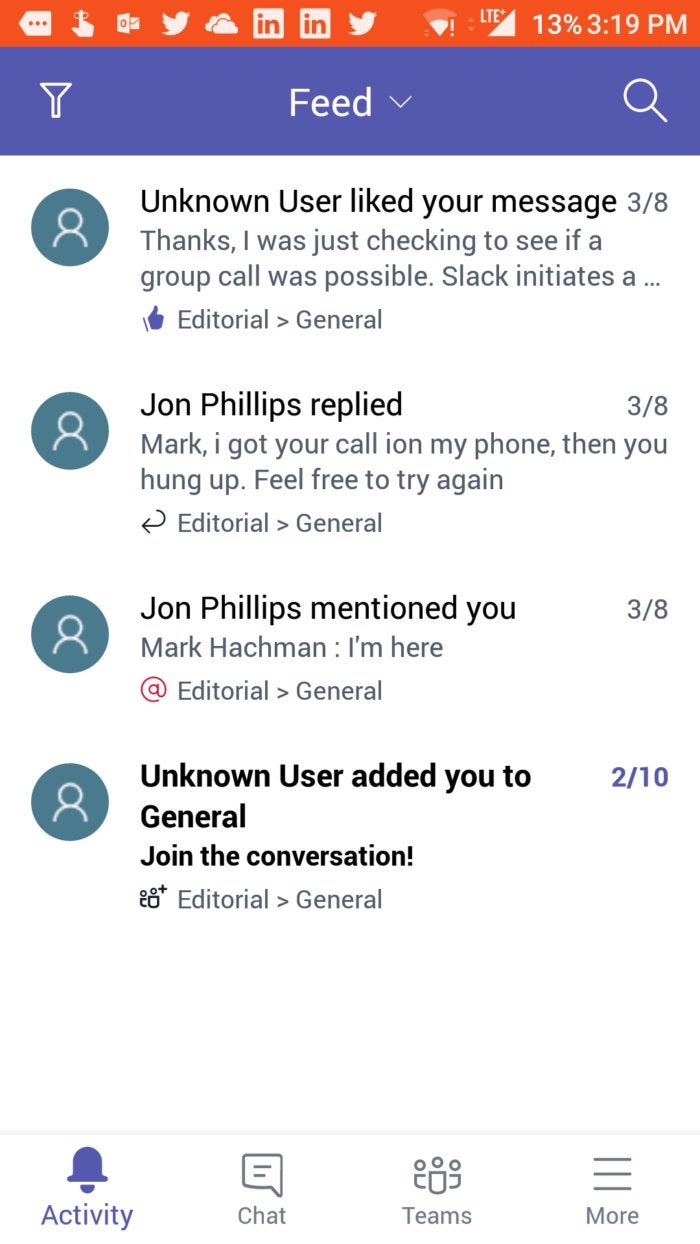 How do I know what's going on? Because Teams is a Windows app, you'll also see slide-in notifications in the lower-right-hand corner of your main desktop window. One of the key differences between Slack and Teams, though, is that Slack shows open channels and conversations in the left nav bar, by default. Teams forces you to hover over or click the appropriate Chat icon to display open conversations. The upshot is that Slack will show you if you have five messages from your boss, while Teams's default view says you have five messages—without indicating who sent them, making it harder to prioritize.

The Notifications settings lets you configure how you want to handle replies, likes, team mentions, personal mentions and other elements, whether as a banner notification, a mention in the alerts list under Activity, or nothing at all. (An emailed notification option is also available for personal mentions.) Being able to configure alerts for things like "team role changes" may be comforting to some hyper-aware workers; others will merely shrug at the array of options.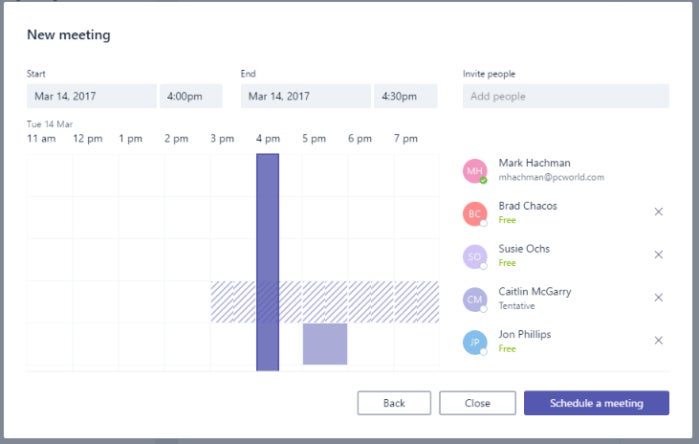 Teams also includes your own personal calendar and a handy assistant to help you schedule a more formal meeting, rather than just an ad-hoc chat.
How do I chat? Your administrator will likely have configured some sort of general chat window, so getting started shouldn't be difficult.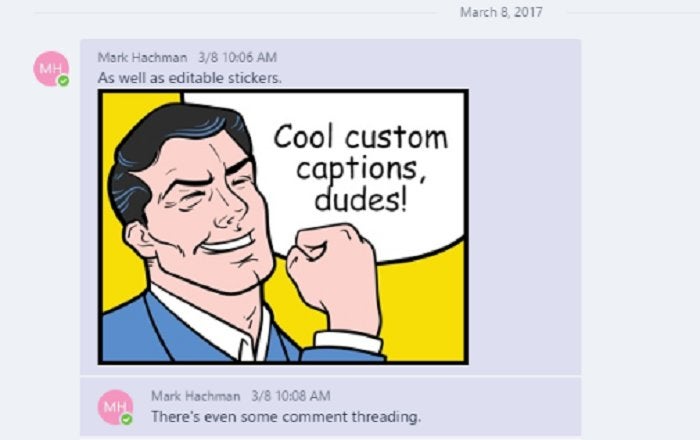 Microsoft clearly designed Teams with younger workers in mind, as there are more configurable chat options than in other clients I've seen. Unlike Slack, you don't have to type in arcane commands to format text; CTRL + I will italicize text, just like Word. You can attach files and use emoji. Teams also includes the almost mandatory Giphy GIF integration. One of my favorite features is Microsoft's custom stickers, which can also be captioned. Finally, if you so choose, a video icon allows you to transition from chat to a one-on-one or group call. There's even Microsoft's own chatbot, T-Bot, which offers help in a Google Assistant-like manner.
Unlike Slack, however, you can't yet edit or delete a message in Teams, or mark it with anything beyond a simple thumbs-up. (Correction: Teams prevents you from editing or deleting messages after 24 hours has expired. Before then, you can click the ellipsis menu next to a message and choose to either edit or delete it.)
Whom can I talk to? Unlike Hangouts or other services, Teams forces you to hunt down your coworkers. Channels you're subscribed to are easy to find, but finding out who's in them requires right-clicking on the channel name to unearth the members list. Slack uses the left rail to list coworkers and channels, but Teams merely leaves it blank. It would also be handy if Teams auto-suggested coworkers via the search box, though at least it will autocomplete a name if you begin typing.
Oh, and for right now, you can only chat to coworkers. Adding partners, freelancers, and other people outside the company will come later, Microsoft says.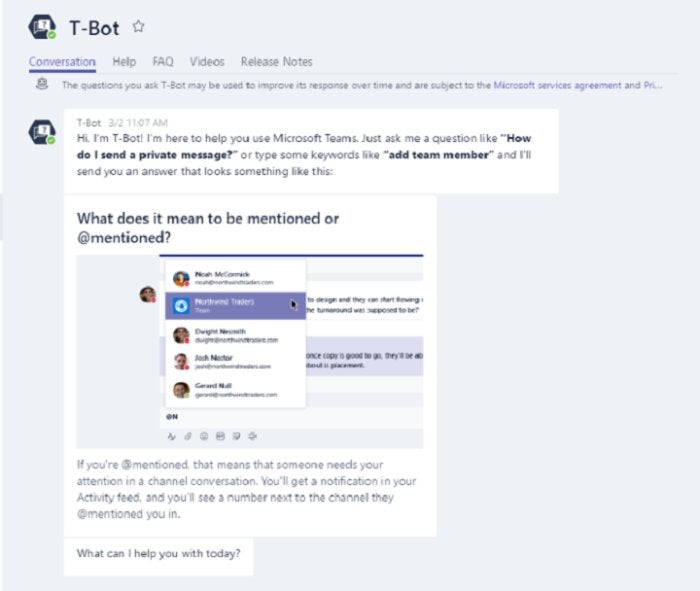 If you right-click a member's name, Teams surfaces a contact card, along with an option to email the contact or chat with them, as well as initiate either a video or VoIP call. (If you try to right-click a coworker's name in the flyout window, the card appears directly behind the flyout window, and is mostly obscured. Also, right-clicking on a person's name won't trigger the additional options—just the portrait. ) Like Microsoft Delve, Teams also offers you the theoretical possibility to discover where they fit into an organization. In reality, you'll need an administrator to set that up.
Private chats track the chat history and keep a record of files you've shared. To its credit, Teams puts this information front and center, while Slack buries shared files within the small conversation icon at the very top of a chat screen. Admins may like to know that all data is stored in regional clouds set in Azure Active Directory, and that chats are managed by the Microsoft Teams Chat Service. All users will care about, however, is that Teams retains all messages and deleted messages from between 7 and 30 days.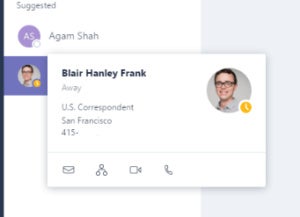 Teams has one major omission, though: At present, there are no private channels. If you're in HR and want to discuss a performance review, you'll need to open a private chat.
What's the difference between a channel and a chat? In Slack, a "chat" with five people and a "channel" with five people share many traits. While Team's chats and channels can be favorited to store them in your sidebar—just like Slack—everything else about them differs significantly.
Within Teams, a channel is more of a shared workspace. You have shared files and conversations, and a shared OneNote notebook. You can add shared Office apps, a list of websites, and more. Teams doesn't force the additional complexity on you, though it certainly encourages this additional "stickiness" via shared apps. Though Slack encourages the use of plugins, it lacks this depth of integration with Office.
How good is the video conferencing? With the possible exception of Hangouts or Skype, most PC chat apps encourage their users to interact via text. Teams falls into that category as well. If you choose to, however, you can launch either a voice or video chat using the power of (what else did you expect?) Skype. Note that video calling is also available on Android, but isn't yet available on iOS or Windows phones.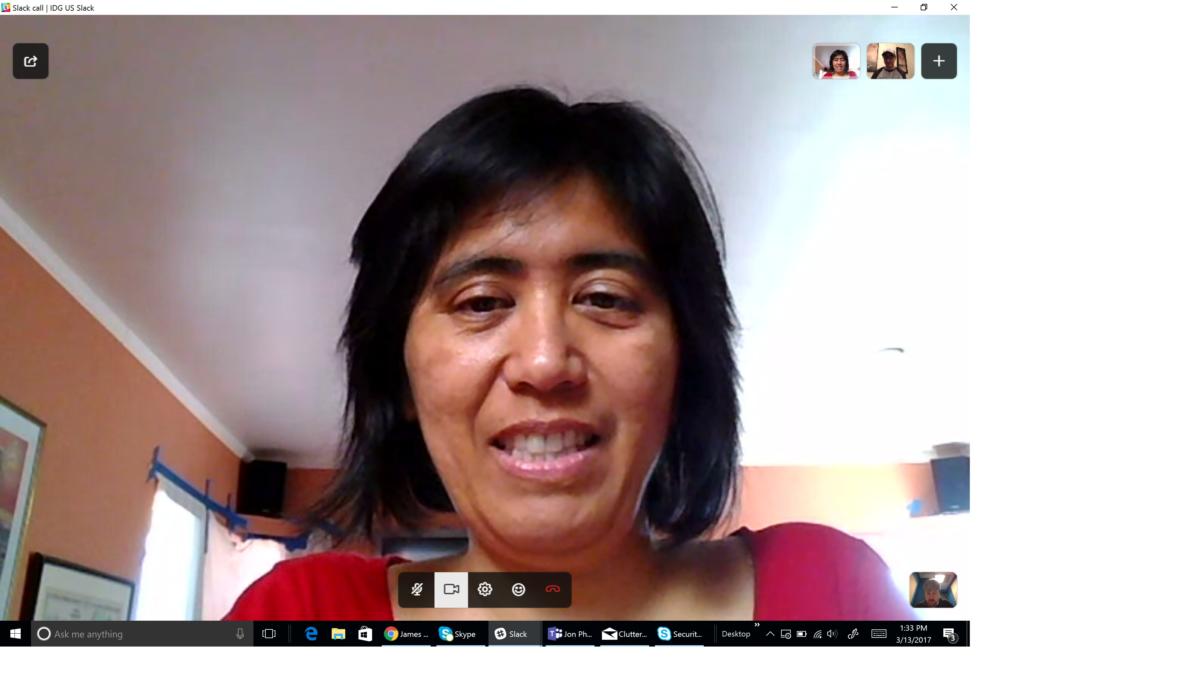 Since Teams' chat is based upon Skype, you're probably already familiar with how it works. The key difference between Slack and Teams, that I can see, appears to be that Teams favors subdividing your screen equally among the participants; Slack prefers giving the entire screen over to whomever is speaking (or fidgeting, as the case may be). Over a shaky Wi-Fi connection, neither Slack nor Teams was especially smooth. Both seemed to prioritize audio over video, however, which is probably the correct way to handle it. Up to 80 people can join a video or VoIP call using Teams, Microsoft says.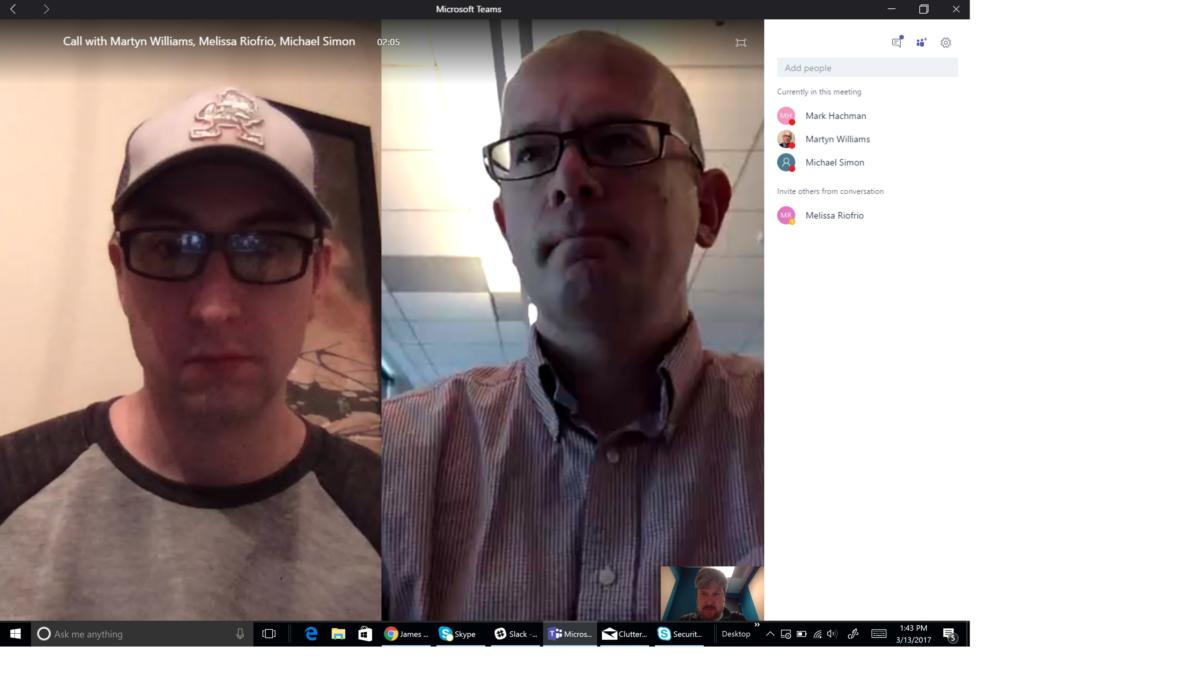 How Teams measures up: Teams still feels unfinished because of the features it lacks (private channels, mainly). Coworkers complained of the wasted space and slow performance. My own boss appeared as two entities: one tied to her Skype for Business account, and the other linked to Office 365.
Features like editable stickers are fun, but Teams needed to hit the ground running. Being the free app is a good start, but with so much established competition you can't really expect business customers to take a step back and wait for a vendor to catch up.
Updated at 9:44 AM with additional details, and at 11:01 AM to correct a statement about Teams' ability to edit or delete messages.