Later in 2017, Mozilla plans to revamp the new-tab page (again) with something called the Activity Stream. For a while now, Mozilla has thought about turning the new-tab page into a kind of home base for your browsing activity. The browser maker thinks it's finally hit on something that users will find useful.
But you don't have to wait until later this year to try it out. If you want to jazz up your new-tab page in Firefox right now, install the Test Pilot version of Activity Stream for Firefox 45 and up.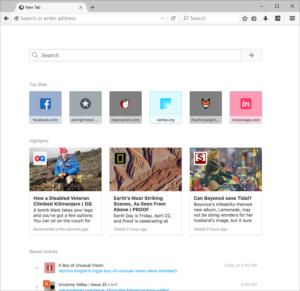 The basic layout of Activity Stream has four parts at this writing. At the top of the tab is a search box for your default search engine. Below that are the top sites you visit, similar to the tile layout Firefox offers now—just with far fewer sites.
Below the Top Sites section are highlighted bookmarks, followed by a vertical list of your recent browsing history. The basic idea, according to Mozilla, is to "get back to browsing without losing your stream of thought."
We've talked about how to install Test Pilot previously. In a nutshell, go to Mozilla's Test Pilot site and grab the Test Pilot add-on that lets you install experimental add-ons. Once that's done, visit the Activity Stream page (link above) to install it.
If you don't see a change in your new-tab page after installing Activity Stream, type about:addons into the address bar and hit Enter. Activity Stream should be listed towards the top. Click Enable to get it working. You may also have to restart the browser.
Once that's done, enjoy the more useful tab page.