I don't share Skype call links much, but I know many other people do. Today's tip makes sharing a Skype link much easier thanks to a recent update to the official Skype extension for Chrome.
Prior to this update, the Skype extension would only help you share website links on Skype or launch Skype for the Web. Now, it helps you add Skype calling links to calendar entries on Google and Outlook.com personal calendars, as well as email messages in Gmail and Outlook.com.
Email is a nice feature, but the calendar integration is particularly interesting. Anyone you invite who accepts a calendar event will have quick access to join the Skype call when they get a calendar reminder. That's much better than fishing around in the inbox at the last minute.
To get started, download and install the Skype extension from the Chrome Web Store (link above). Now, let's add a Skype video call link to both Outlook.com and Google calendar entries.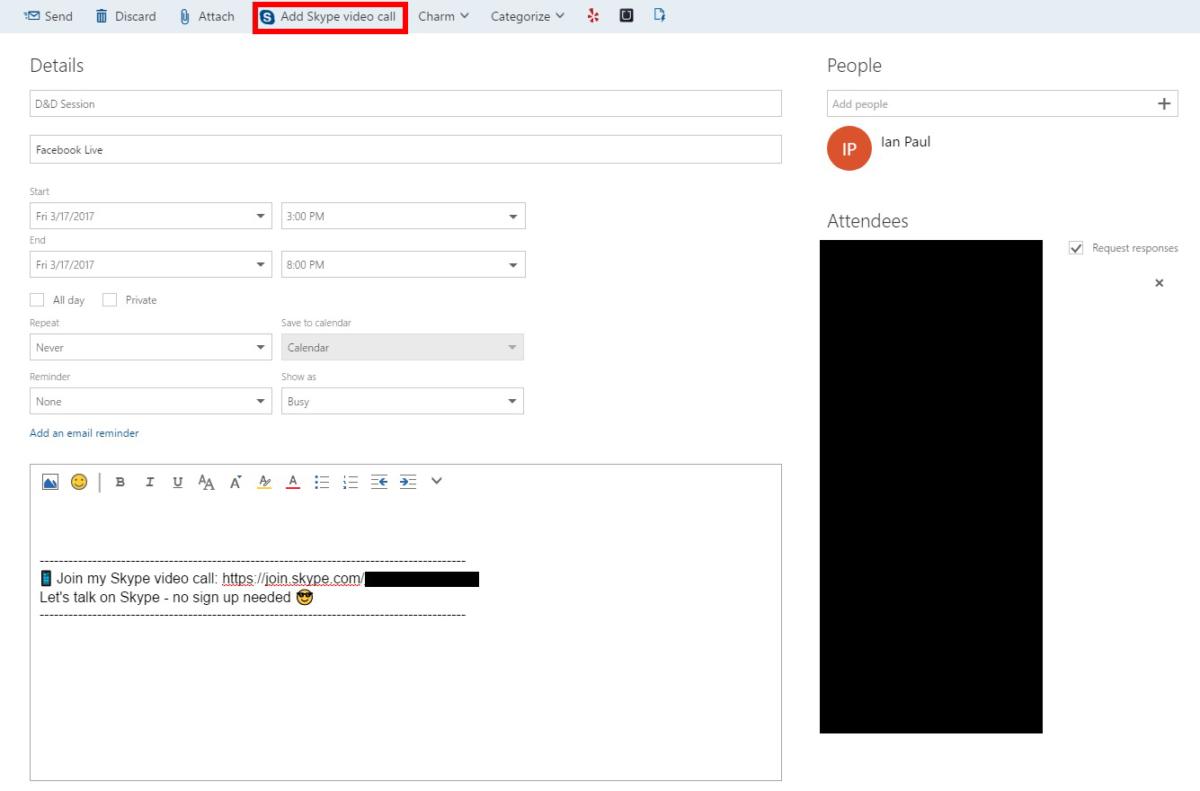 Open your calendar on Outlook.com and click New to open a calendar entry window. Right at the top, you'll see a button that says Add Skype video call. Click that button and a link with an invitation to join the Skype video call lands in the notes section of the event. Now just create the event as you normally would.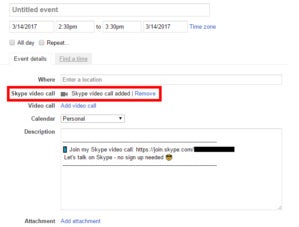 The Chrome extension works similarly in Google Calendar. Open Google Calendar and click Create in the left-hand panel to start a new event. Under the Event details tab, click the Add Skype video call link, which at this writing was just under the location text-entry box. After a few seconds, your Skype video call link will be ready to go in the Description box.
Skype for Chrome inside Google Calendar relies on third-party cookies from Microsoft's live.com and Skype.com domains. If you're using extensions such as Privacy Badger or AdBlock Plus you'll have to allow the cookies to get through for the feature to work.
In addition, if you've set up Chrome to block third-party cookies, you'll have to add both live.com and Skype.com to your exceptions list. To do this, type chrome://settings/content, hit Enter, and then click Content settings…
Then in the window that opens click Manage exceptions… and enter the following two patterns on separate lines: login.live.com and [*.]skype.com. The former only allows cookies from Microsoft's live.com login service, while the latter allows any Skype.com cookies that follow the "foo.skype.com" format.
Beyond calendar invites and email, the new Skype extension also lets you share Skype call links via Twitter. Just be careful with that as most Twitter conversations are public, and anyone who has your Skype link can join the call.