Best Buy has an extra discount this week on a four-pack starter kit of Netgear's Arlo Pro indoor/outdoor wireless home security cameras. For $600, you get four of the cameras, a base station, all the various cables you need, rechargeable battery packs, and wall mounts for each unit.
Netgear introduced the cameras last fall, but the four pack was only released in 2017. A single Arlo wireless camera costs $189, and taking into account Netgear's discounting scheme for its other starter kits, the four pack at the regular price of $649 already had a savings of $120 over the three pack. At $600, it's a slightly better price and we likely won't see a deeper discount for a while since this system was only recently released.
The Arlo Pro system features night vision with up to a 25-foot range, a viewing angle of 130-degrees, 8x digital zoom, motion detection, and two-way audio communication. As with other smart home products, the camera system has remote access, and the base station has a siren than can pump out more than a 100 decibels.
Netgear also offers free cloud storage for up to seven days worth of security recordings triggered by motion or audio. You can also hook up a USB external drive to the base station to save recordings locally.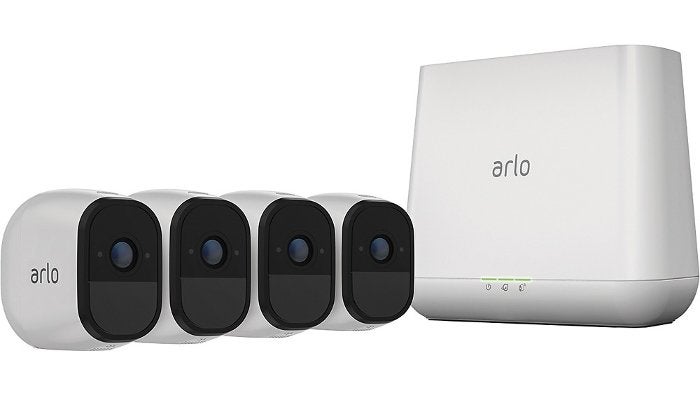 [ Today's deal: Arlo Pro wireless security cameras (four pack) for $600 ]