Sometimes you just want to slap yourself for accepting things the way they are instead of considering there might be a method that works much better you.
I recently had one of those days.
I love using my browser's bookmarks bar, but I've always hated how little space there was for all these quick-access portals. Even on a large screen many of my go-to sites were hidden under a "more" button of some sort depending on the browser.
That's when I came across this small reminder from Hackerspace: You can remove the text, dummy.
Head, meet desk.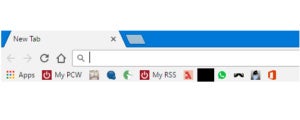 Of course! Almost every website uses a unique favicon (that little icon you see in an open tab) that accompanies your bookmark. Why bother with text on top of that if you don't need to? Put those favicons to work and let them be your bookmarks bar's sole, space-saving identifiers.
Doing this is ridiculously easy on all browsers. Here's how.
Chrome and Opera
Right-click on a bookmark in the toolbar, select Edit… from the context menu. In the small pop-up window that opens, delete the text in the Name section and press Save.
Repeat that process for every bookmark in your toolbar.
Firefox
Right-click your bookmark and select Properties. In the properties window that opens, delete the text under Name, click Save, and you're done.
Microsoft Edge
Click the "Hub" icon in Edge (the three horizontal lines), click on the star icon to see your favorites, and then click the Settings link on the top-right. In the settings panel that opens enable the option that says Show only icons on the favorites bar.
Internet Explorer
Right-click any bookmark in your favorites bar, select Customize tile widths > Icons only.
When icons aren't enough
This tip is really only a good idea for your bookmarks bar. These are (or should be) the bookmarks you access all the time. Space on your bookmarks bar is constrained, which is why it's a good idea to maximize it.
Once you go deeper into your folders and subfolders space-saving is no longer a concern, and text can help jog your memory for sites you visit less often, whose icons are less familiar.
Reliance on icons can also be problematic if you have eyesight problems. Or you might have multiple distinct pages from a single site bookmarked, creating duplicate icons within your bookmarks. In such cases, you could compromise by leaving a shortened text descriptor in the Name: section.
Now my only problem is finding enough bookmarks to fill up all this new free space.