At a Glance
Expert's Rating
Pros
Packs top-of-the-line parts into a tiny frame
Liquid-cooled CPU and GPU give you quiet gaming performance
Front-mounted HDMI port makes it perfect for VR
Cons
SSD is SATA rather than PCIe
Not easy to open and upgrade
Opening the PC voids the warranty
Our Verdict
Corsair's first complete PC is compact and quiet, but bars you from opening it up.
Best Prices Today: One
As Corsair's first-ever PC, the One is impressive as hell.
This tiny machine (which starts at $1,800) is fast, beautifully built, and perhaps more importantly—quiet, too. That's no small feat for a PC that measures just 15 inches high, 7 inches wide, and 8 inches deep.
According to Corsair a professional lab measured the One's acoustics at idle: 20dB. That's equivalent to someone whispering three feet from you, says Corsair.
Quiet at idle is one thing. Quiet when the CPU and GPU are at full throttle is quite another. The One excels on that front, too. It's far from silent (I've certainly heard quieter—albeit much larger—machines under load), but I mostly agree with Corsair's assessment that it would be "unnoticeable" under normal gaming conditions.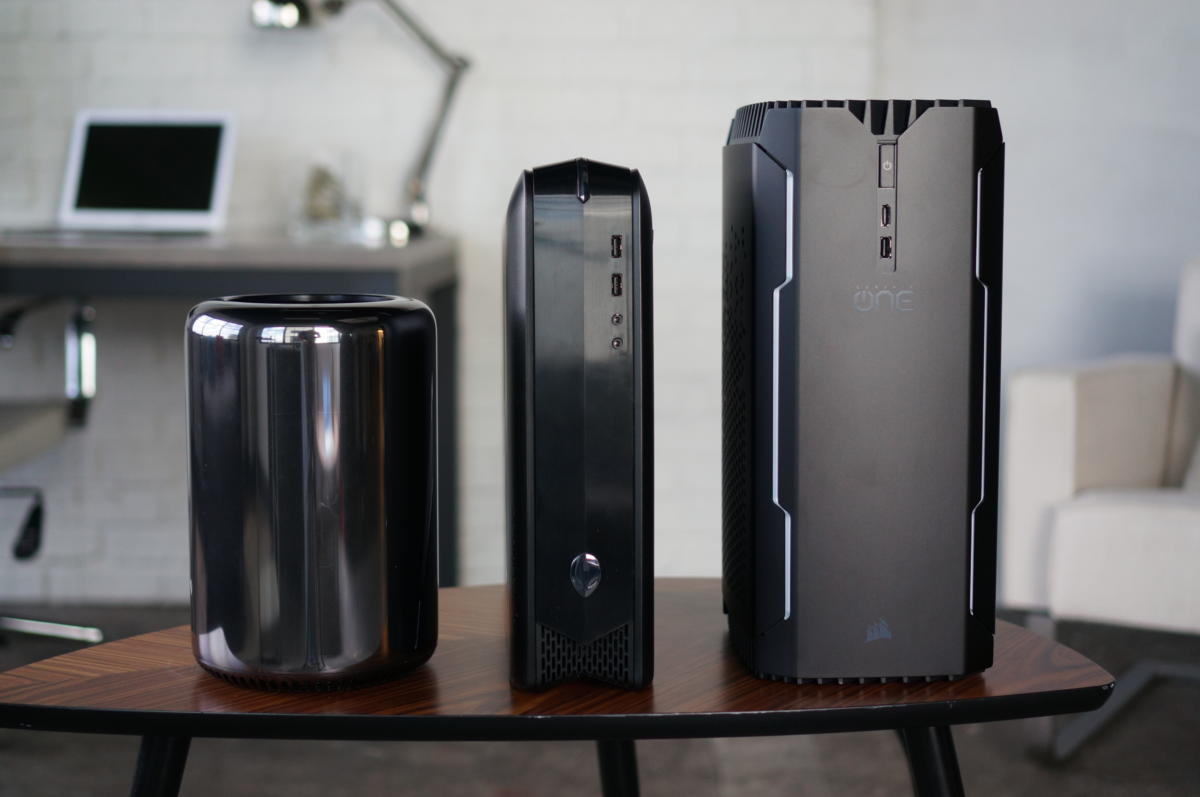 That quietude is the result of the One's design and the liquid cooling of both the CPU and GPU. Most small-form-factor rigs out today using the familiar micro-tower mold, such as Origin PC's Chronos or Falcon Northwest's Tiki, liquid cool the CPU but leave the GPU to air cooling. Despite having a larger footprint than the One, those boxes just don't have the room to liquid-cool both components.
Corsair custom-designed the One's aluminum chassis to hold two low-profile 240mm radiators, one mounted to each interior side of the case. One cools the GeForce GTX 1080 (or 1070 in the lower-end model), while the other keeps the CPU cool. Corsair keeps the One's profile small by foregoing fans on those radiators. Instead, a single low-RPM, 140mm magnetic levitation fan mounted up top sucks air from the system. With the radiators mounted flush with the sides, cooler outside air is sucked through the intakes then through the radiator. Call it a semi-passive liquid-cooling system.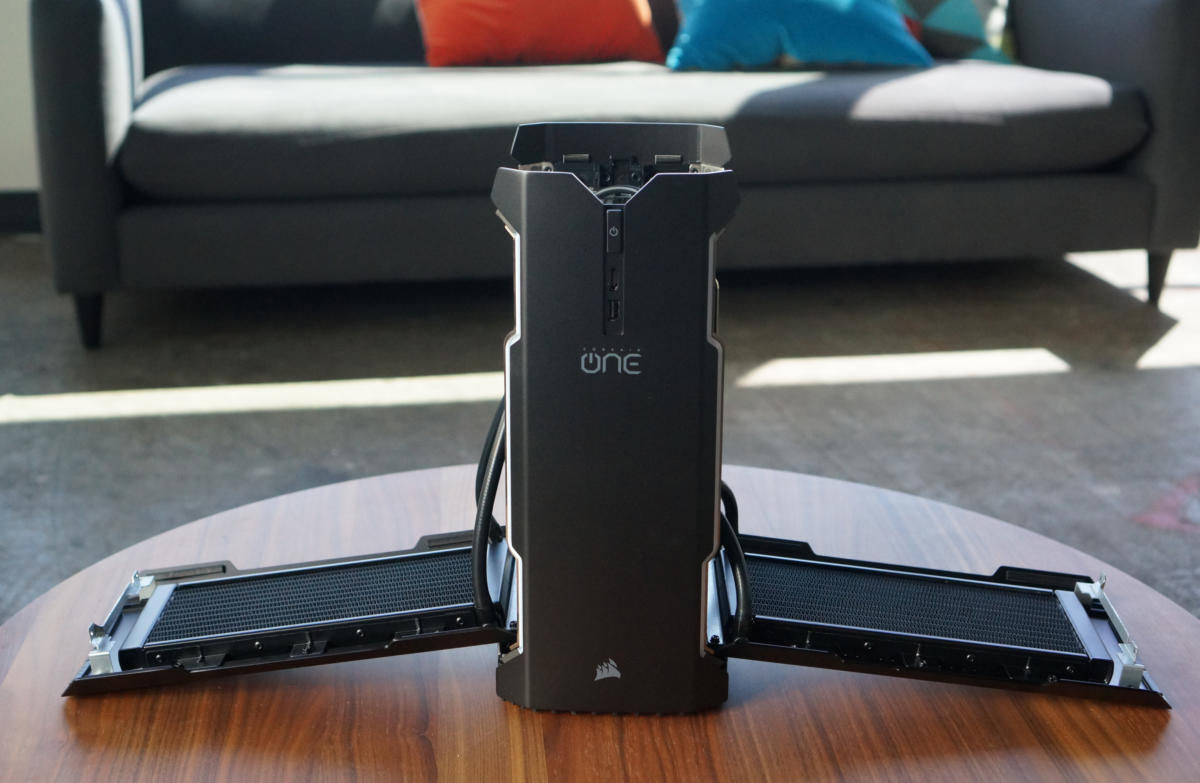 Of course, one fan isn't enough to keep the entire system chill. A second fan mounted on the desktop GTX 1080 cools the card's RAM and voltage regulation modules.
Overall it's quite clever, but not without a cost (which we'll get to later).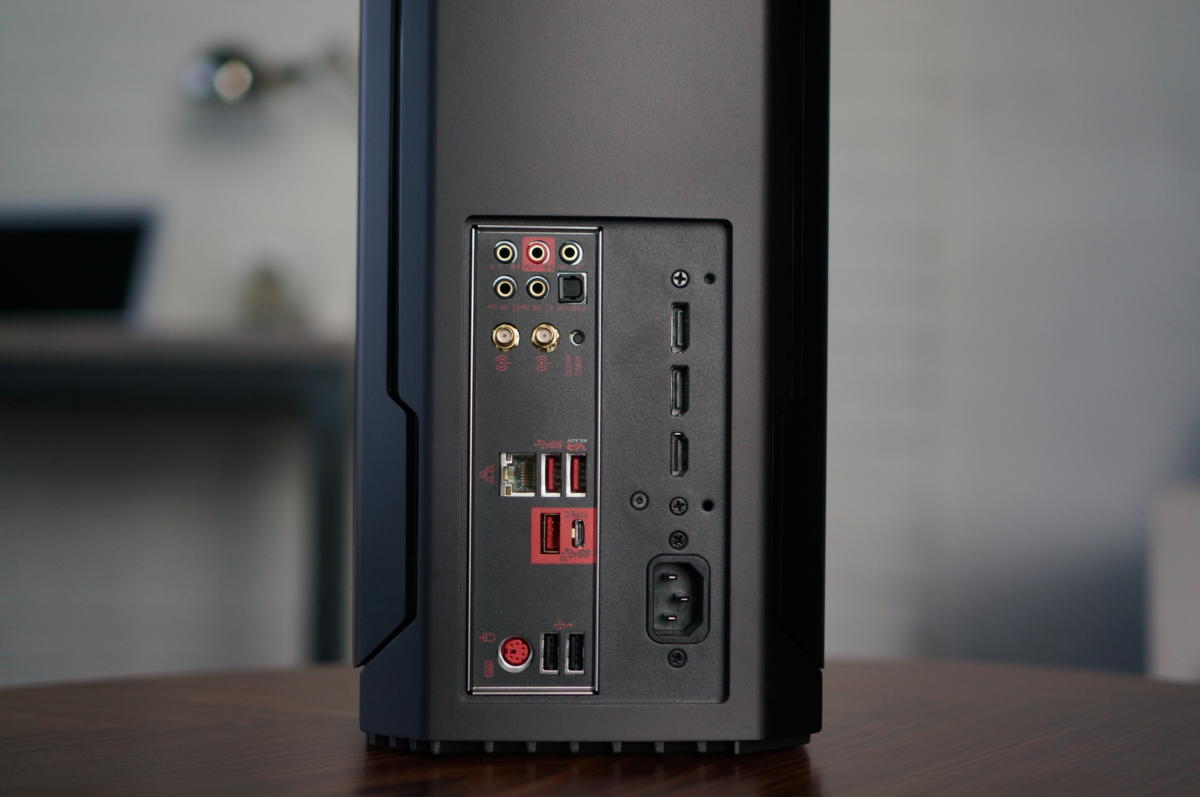 For ports, you get one USB Type-C 10Gbps, three USB Type-A 5Gbps, and two plain USB Type-A 480Mbps, along with two DisplayPort 1.4, gigabyte ethernet, and a legacy PS/2 port. VR fans will appreciate the front-mounted HDMI 2.0 port. Wireless is 802.11ac. Finally, there's a stack of the standard analog audio connectors and a SPDIF port.
More important than the ports are the components inside. Corsair is offering three tiers at launch, with the $1,800 base-level One featuring a Core i7 7700, GTX 1070, 240GB SATA SSD, and 1TB hard drive. Step up to the $2,200 One Pro and you get an unlocked Core i7-7700K, a GTX 1080, and a 480GB SSD plus 2TB hard drive. The One Pro you see here is the web store version, which dumps the hard drive in favor of a single 960GB Corsair SSD for $2,300.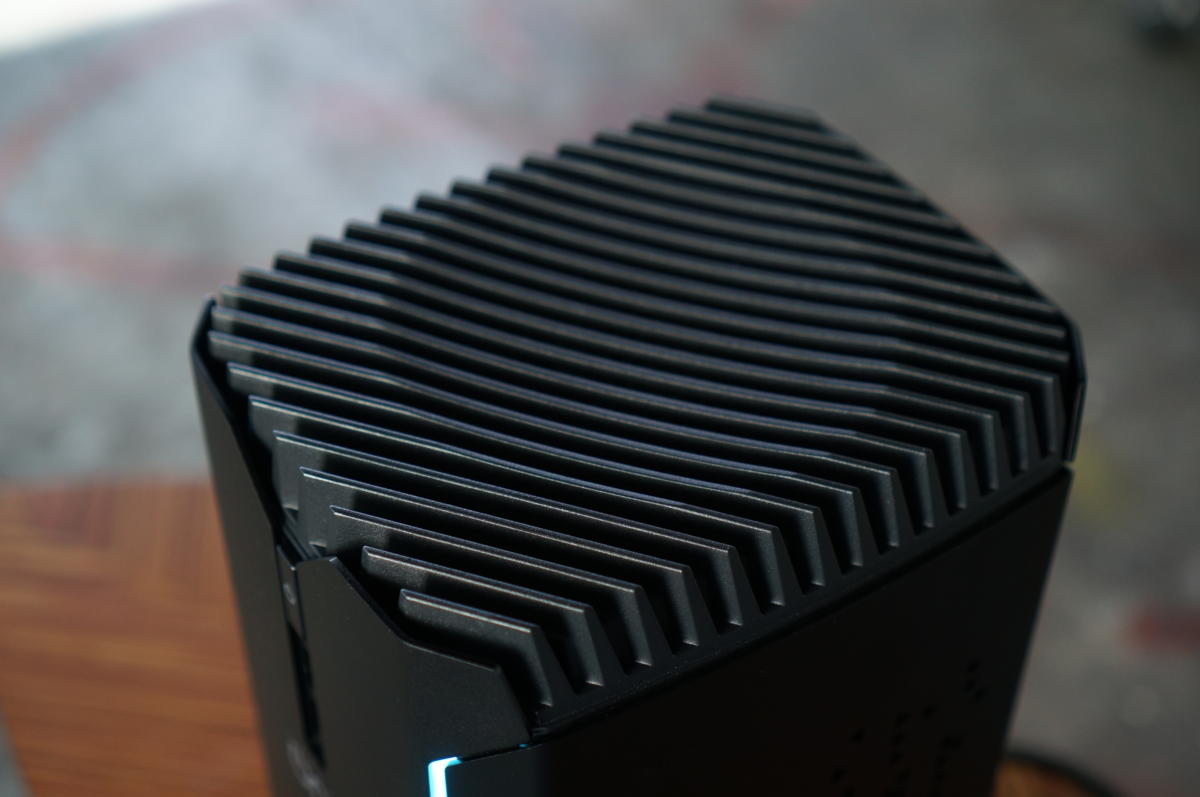 All three versions use a Z270 MiniITX motherboard stuffed with 16GB of Corsair DDR4/2400 RAM, a 400-watt SFX 80 Plus Gold PSU, and Windows 10 Home.
Windows 10 Home is what makes this Corsair's "first PC" rather than just a box of parts. Many vendors sell bare-bones systems with everything but the operating system, because the minute they install the OS, they're on the hook for all hardware- and software-related issues. Got malware? Problem with the internet? Clouds outside not moving fast enough? Call the PC maker.
So while you might not see it as a big deal that a PC comes complete with OS, know that it's a big deal for a company that got its start making just one PC component.
Most of the One's parts are top-notch, but if we were to nitpick, our first target would be the SSD, a Corsair Force in old-fashioned 2.5-inch SATA flavor. Sure, it's plenty fast, but with M.2 PCIe NVMe drives offering three to even four times the performance, it's hard to settle for SATA. Note, however, there's room for two 2.5-inch drives and an M.2 drive inside the One.
A 400-watt PSU seems a bit small and potentially limiting for future upgrades, but to be fair, you can't really drop a ton of hardware into the One's frame.
Performance
None of these details matter if the One can't keep up with similar desktops, so we put it through our standard system tests. The results were quite good for a machine so small and quiet.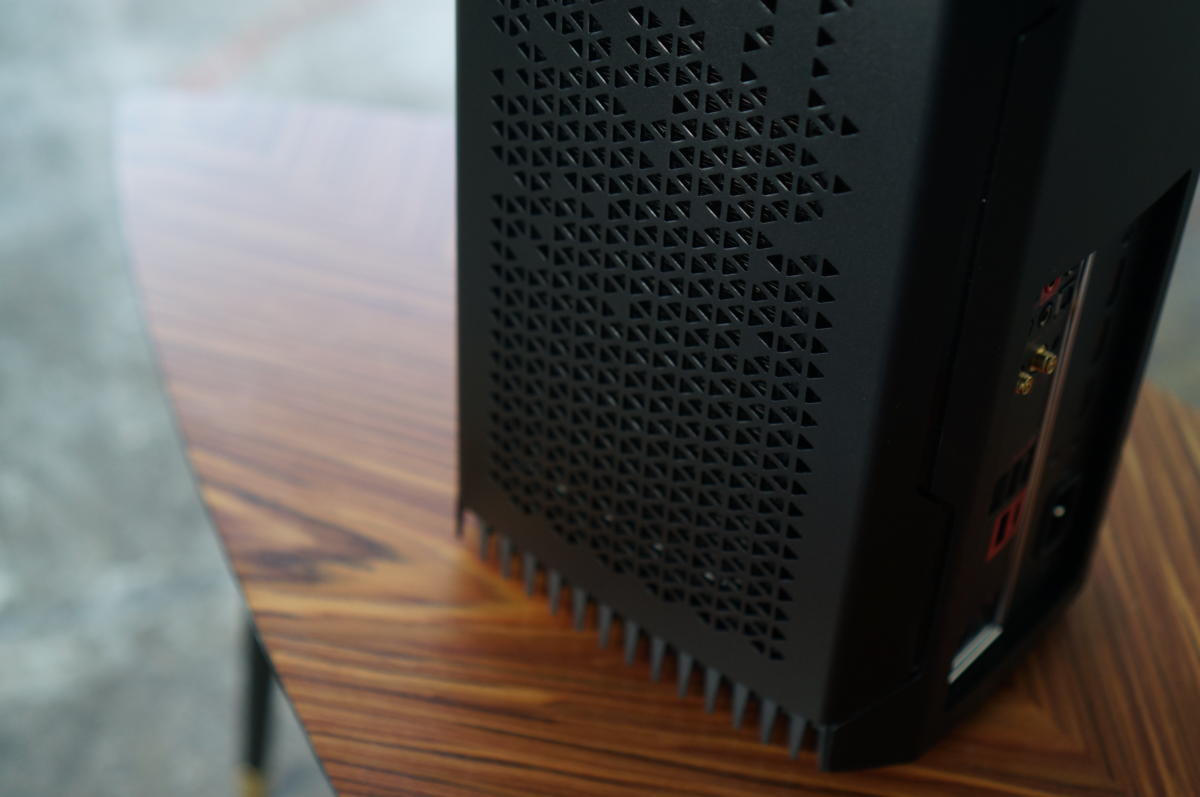 3DMark performance
First up is Futuremark's 3DMark FireStrike Extreme test. It's a synthetic test (meaning it's not an actual production game engine), but it's still useful for measuring a PC's 3D gaming capability. It's also generally considered to be neutral ground, free from vendor politics. The overall score reflects the performance of both the CPU and the GPU, but is more weighted toward the latter.
You can see the One comes in slightly faster than the 8-core Origin PC Chronos equipped with a Maxwell-era GeForce Titan X. Mind you, we had issues with the Chronos, which ran rather loud.
Tomb Raider Performance
Moving on to an actual game, we ran the older but still-fun Tomb Raider on the Ultimate setting at 2560×1600 resolution. Again, the One places in front thanks mostly to its higher-clocked 7th-generation Kaby Lake CPU and its Pascal GeForce card.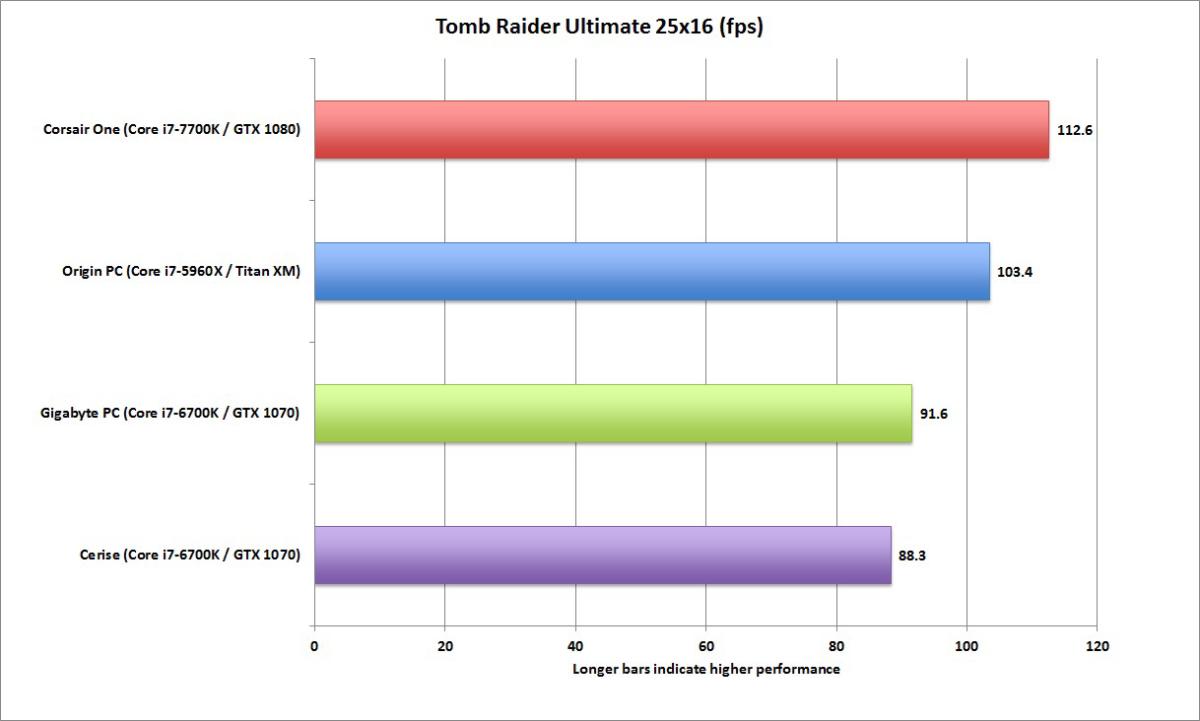 CineBench R15
Moving on to pure CPU performance, we use Maxon's CineBench R15 to measure a system's ability to render a 3D scene. This particular test loves multicore CPUs, and systems with more cores generally win.
Although no slouch by any means, the One gets left behind by the 8-core Core i7-5960X in the Chronos. It's worth noting, however, that the 8-core chip in the Chronos cost a cool grand in its day, almost three times the cost of an Intel quad-core chip. Still, the upshot from this test is that if you need a machine for heavy-duty 3D-rendering work, consider an octo-core. The good news? Maybe one day we'll see a Ryzen-based One too.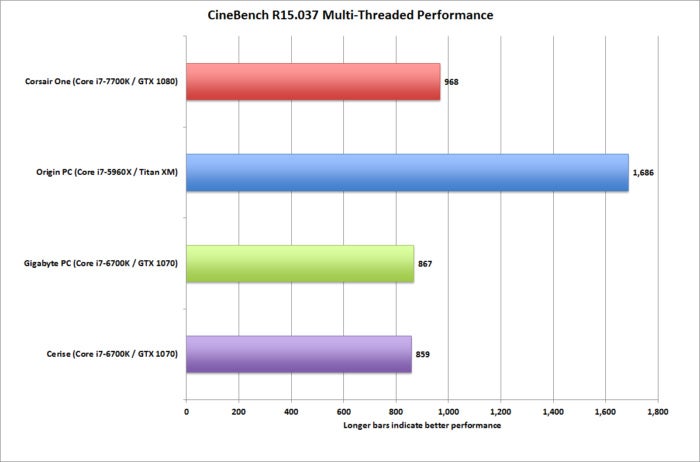 Handbrake Encoding Performance
Rendering 3D frames isn't something the typical person does, but for a broader look at CPU performance, here's how the One would handle a more common video encode. Up against the Core i7-6700K chips in the Gigabyte PC and the Cerise, the One is fastest, but not enough to matter to most users. Sadly, that's the world of incremental upgrades we live in today with Intel's quad-core CPUs.
And yes, we again see the Origin PC take all comers by a healthy margin thanks to its eight cores. Gosh, it's enough to make us wish there was an affordable 8-core CPU alternative.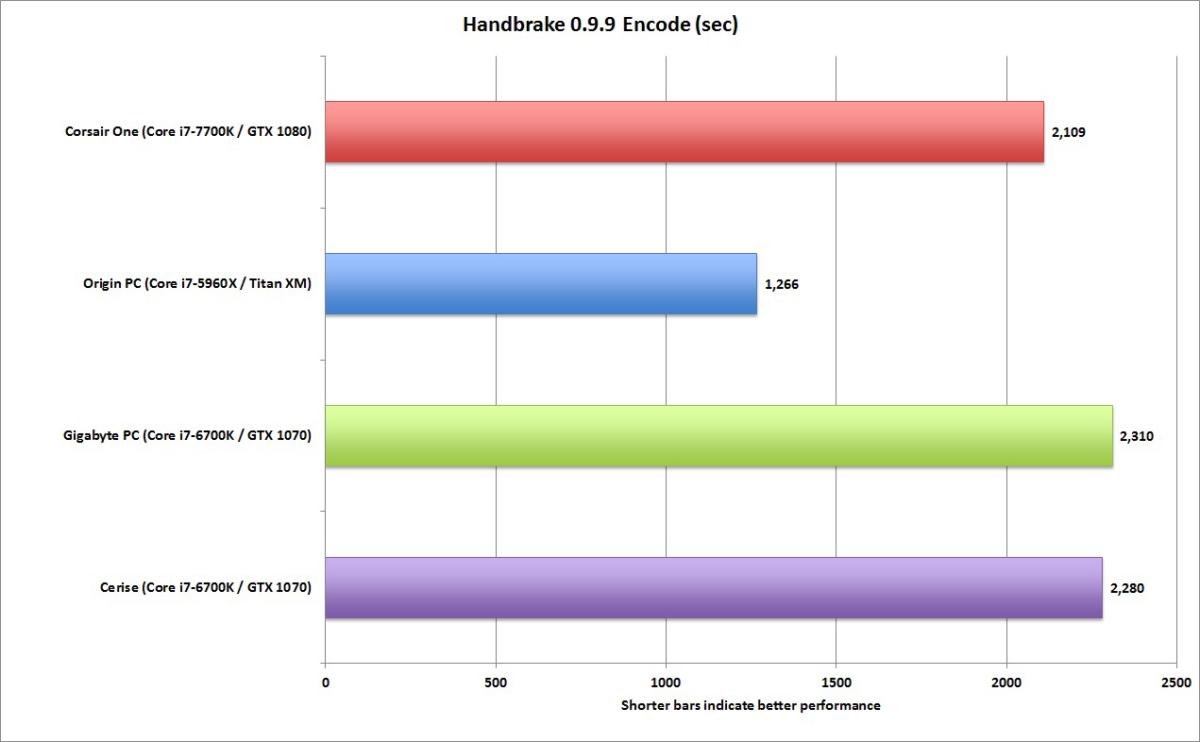 Thermals
To sum up the One's performance, it has no problems hanging with PCs similar (or even larger) in size. There are certainly faster machines in existence, but nothing this small and certainly nothing this quiet.
Still, you have to wonder if the One's semi-passive liquid-cooling can really withstand a heavy thermal load. To find out, we ran our unit through 3DMark's stress test for two hours and saw no signs of GPU or CPU throttling in that time.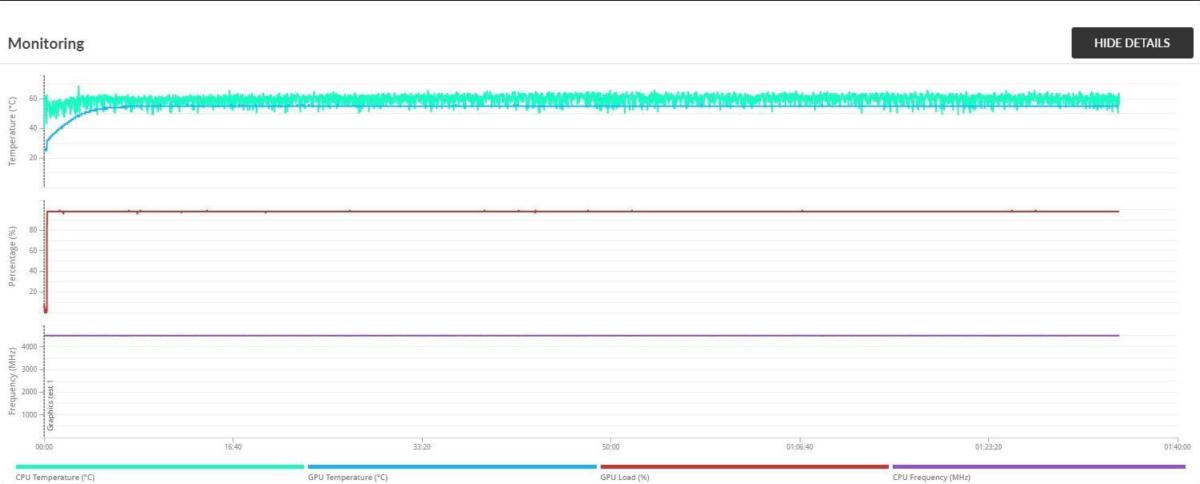 The upgrade path
Okay, so the Corsair One is small, quiet, and fast. What more could you want? Well, how about easy upgrades?
That's where the price of miniaturization and a custom design whack you on the knuckles. First, getting into the One isn't a snap, but it's certainly not impossible.
You first push a button, then remove the cast-aluminum top, then remove four screws to release the sides bearing the radiators. From there, you can "easily" access the RAM, CPU, and the SATA drive if you can dig it out from under the cables.
As I mentioned before, the One can hold an M.2 SSD and two 2.5-inch drives; I suspect the M.2 may be mounted behind the motherboard making access major surgery. Swapping the GPU will require a compatible liquid cooler for the upgrade, not to mention time spent extracting the part.
To be fair, this has always been the price of miniaturization. In fact, I'm actually surprised the One is as upgradable as it is, given its size and acoustics. All of the components, as you can see, are industry standard. There's no weird-ass mobile GPU or funky custom motherboard in there. It won't be fun or easy, but upgrading is possible.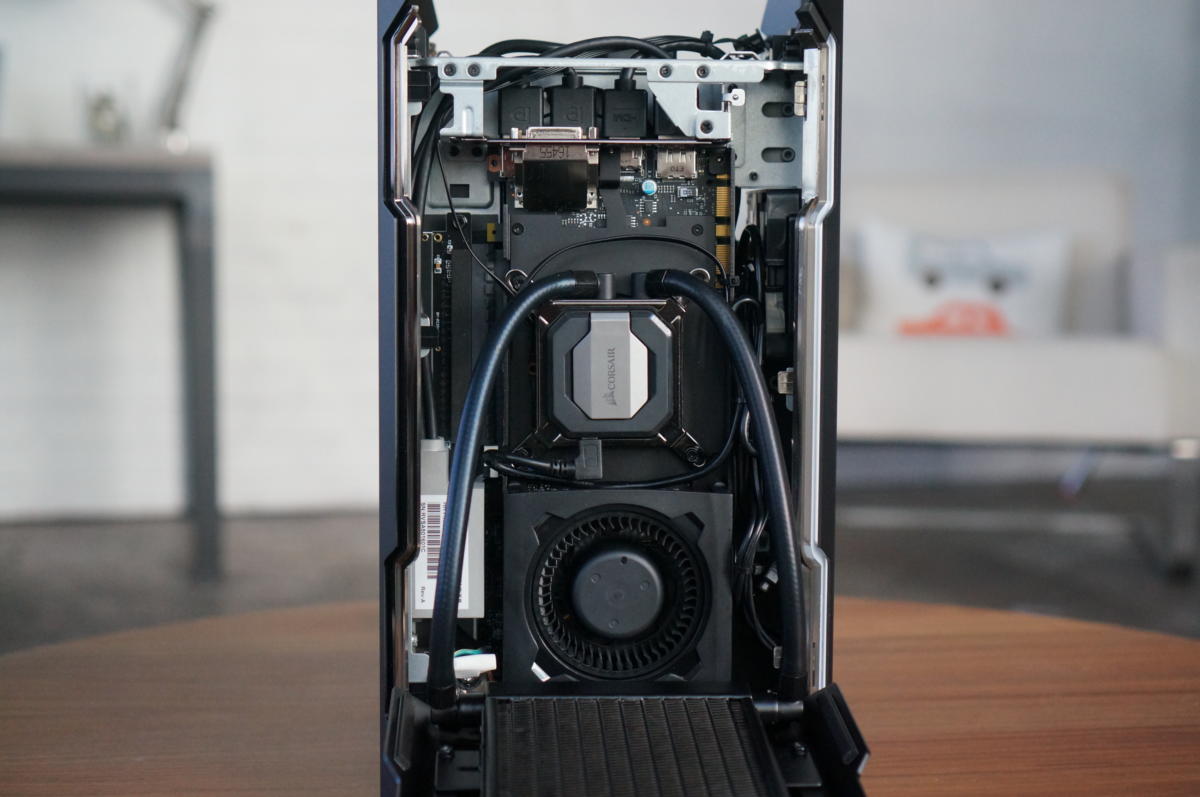 Caveat emptor
Here's the catch: Corsair says the act of opening up the One to, say, add RAM or a larger SSD voids the warranty. Period. Want it upgraded? An authorized service center can do it for you.
Why would Corsair do this? Small computers can be tricky to work on. Corsair is likely afraid that a clumsy consumer will try to open it up, destroy things, and then scream for a warranty replacement.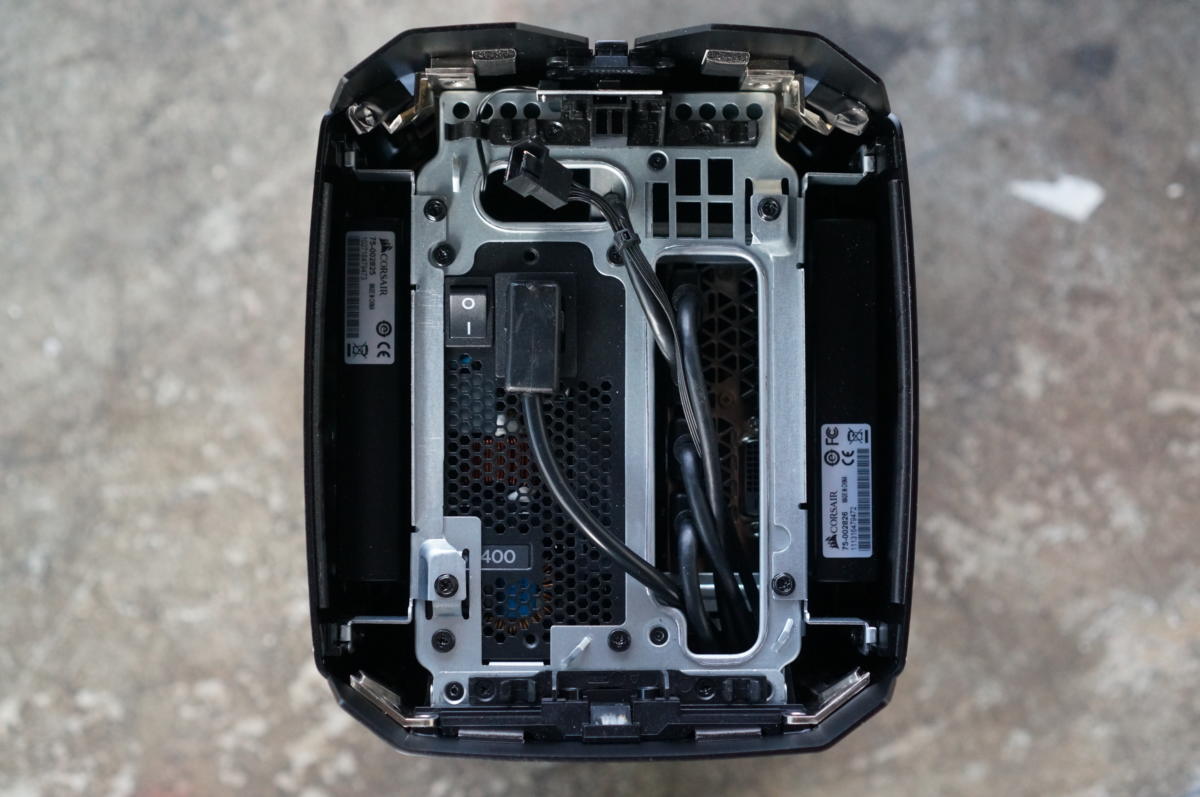 That's a valid concern, but I'll point out that Dell, HP, and even Apple allow you to add RAM or storage without voiding the warranty (provided you don't break things).
Granted, established PC OEMs have hundreds of different models and huge support mechanisms. First-time PC-maker Corsair has a considerably smaller operation.
To get the most out of your two-year warranty, you basically have to treat the One as a sealed box. And for many that won't be a deal breaker—this amount of power will easily last two years. Corsair also says users can overclock without breaking the warranty (yes, a CMOS reset button is accessible from outside).
Conclusion
For a first go at the rodeo, Corsair's One PC gets most things right. That's quite an accomplishment when you think about all the moving parts there are to a custom design, much less a complete liquid-cooled PC. Corsair just needs to loosen up its warranty policy to make the One truly superb.
Correction: A previous version of this review stated a Ryzen-version of the One was forthcoming but Corsair said none is planned today. PCWorld regrets the error.