In a few months, you may no longer have to write "FAKE" below your friends' Facebook posts. Fake news warning alerts appear to be rolling out to Facebook users in the United States after first appearing in Germany in January.
The new alerts, flagged with help from independent fact-checkers, are designed to prevent users from sharing fake news stories unwittingly, but they will not prevent people from sharing the story if they still choose.
When you try to share a story that has been flagged as phony, Facebook will insert an alert at the bottom of the post creation window (pictured at top). The alert will include a red triangle with an exclamation point, and a message such as "Disputed by Snopes.com and Associated Press."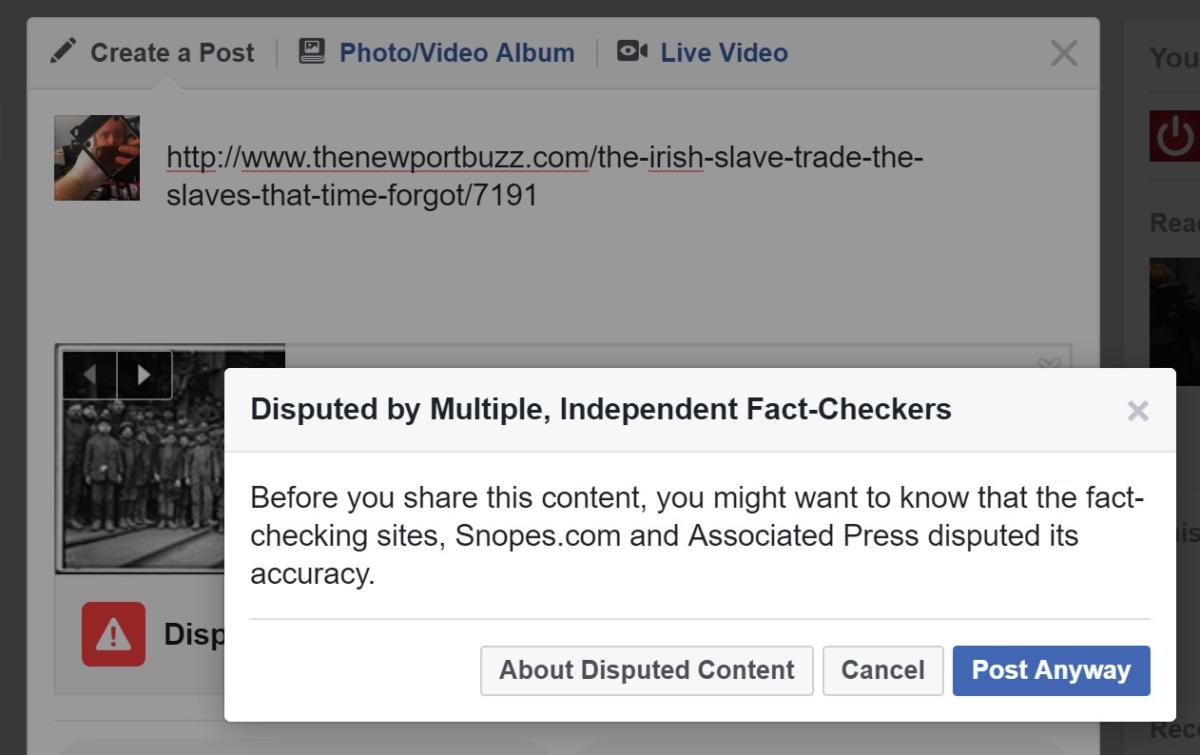 If a user ignores that message, then a pop-up widow appears repeating that the accuracy of the content is in question, as first spotted by The Guardian. "Before you share this content, you might want to know that the fact-checking sites, Snopes.com and Associated Press disputed its accuracy," the secondary warning says.
Users then have the option to learn more about disputed content, cancel their post, or click Post Anyway. The default is to Post Anyway.
Clicking through to learning more about disputed content includes an explanation that "sometimes people share fake news without knowing it." Facebook explains that all of its fact-checkers are signatories to the Poynter Institute's non-partisan code of principles. There are also links to the sites of the news agencies and fact checkers disputing the truth of a certain story.
Facebook announced in December that it would roll out an anti-fake news tool. While our U.S.-based staff saw the new warning, attempts to spur it from Israel proved unsuccessful.
Why this matters: We've all got a few Facebook friends who love to share shocking stories without checking their veracity. This new tool should help tamper those impulses, at least for long-standing fake stories. It's not clear how fast this tool will work, and if newer stories will be able to get past the fake news filters for at least a few hours. Nevertheless, it's a good step by Facebook at a time when getting at the truth is more important than ever.