Time to replay Obduction, I guess. This morning Cyan announced that Vive and Oculus Touch support has been added into the game, allowing you to explore Hunrath, Kaptar, and the rest of its spacefaring Myst successor with full hand-tracking support. Pull levers, press buttons, move around, explore.
Mentioned in this article
HTC Vive
Price When Reviewed:
$800
I just spent half an hour doing just that with the Vive, and it's stunning. As I wrote about during Obduction's original Oculus release last year, Obduction in VR gives you a whole different sense of scale. That iconic little white house with its picket fence? It's not so little once you have the headset on. Ditto for the towering cliffs of Kaptar, stretching down into a cloud-filled void. It's enough to give you vertigo.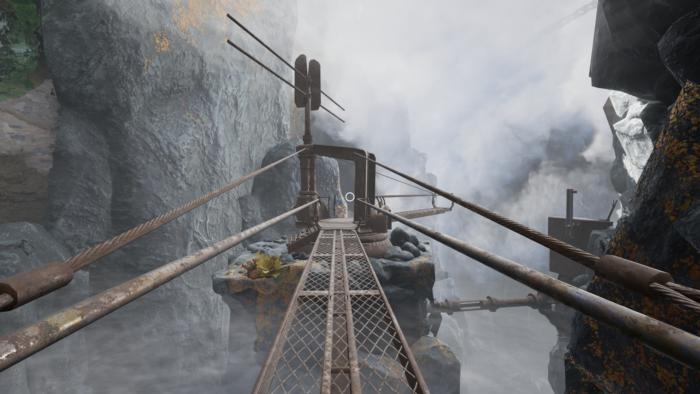 And like all hand-tracked VR, there's the novelty that comes with operating machinery with your hands. It sounds silly, but especially for a game in the Myst vein that's mostly about interfacing with strange gizmos there's something special about doing so in VR. (The same applies to Myst-like adventure Call of the Starseed.)
Not that there aren't issues. First and foremost, performance. You're going to need one hell of a machine to run Obduction smoothly in VR. I have a GTX 980 Ti in this machine and still had some stuttering with the graphics defaulted to Medium. That's also a shame because Obduction's art is one of its strongest features, and you lose a bit of that here.
There are also parts of the game that just plain weren't designed for VR, and that's clear. Reading notes is a painstaking struggle at the moment, and I think needs to be reworked for VR. It's cool to pick up notes, but some are nearly impossible to decipher.
Mentioned in this article
Oculus Touch
Price When Reviewed:
$199.00
And then there are the moving bits. Get ready for your stomach to lurch while you're riding around in Hunrath's mine cart. There's also an elevator at one point, plus a plethora of stairs, all of which are things people tend to avoid in made-for-VR titles.
It works, though! There are still few full-length games available in VR, and even fewer that are any good. Obduction satisfies both those demands. It needs some fine-tuning, and I could easily see someone switching back and forth between VR and a normal monitor. But playing something Myst-esque and being able to walk around, explore, reach out and "touch" the machinery is pretty amazing. I don't know if Obduction will move VR headsets like Myst moved CD-ROM drives, but it certainly feels like the same type of step forward for Cyan.