Incognito Mode in Chrome can keep your browsing history secret unless you have a nosy Internet Service Provider, and you're not using a VPN. But one thing incognito doesn't keep secret are any bookmarks you've got. If you've ever wanted to keep a private collection of bookmarks the Chrome extension Hush is one solution.
The extension only works in incognito mode and encrypts your store of private bookmarks that can only be accessed with the password.
It's a pretty easy extension to use and can come in handy if you're trying to plan a surprise party on a family computer or just keep some sites to yourself.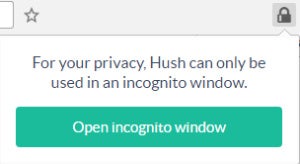 To start using Hush, download and install it from the Chrome Web Store (link above). Once it's installed, if you click on Hush's lock icon to the right of the address bar, you'll see a note that it only works in incognito mode.
For that to happen, however, you have to enable the extension manually. Type chrome://extensions into the address bar and hit Enter.

Scroll down to Hush's section and check the box labeled Allow in incognito. Chrome will then display a warning explaining that the browser can't prevent an extension from tracking you in incognito mode.
For its part, Hush says it never tracks, shares, or stores any of your data aside from the bookmarks you create using the service.
Once you've enabled Hush, click on the icon again and select Open incognito window. An incognito window will then open asking you to enter a password for Hush. Choose whatever password you like, click Load bookmarks, and you're all set.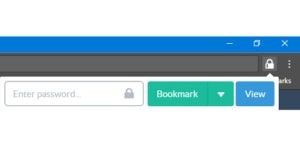 To bookmark a site, click on the Hush icon in incognito mode, enter your password, and click Bookmark. To view your saved Hush bookmarks enter your password and click View instead of Bookmark.
If there's one thing I don't like about the service, it's that when you are entering your password to add a bookmark it doesn't obfuscate your password. Instead, it's visible in plain text. That's not great since it means anyone who wanders past your screen at an opportune moment will see your password. Hopefully, that will be fixed in the future. In the meantime, check your six when entering your password.
The service is free to use, but there is a paid option called Hush Pro if you want additional features such as the ability to import regular bookmarks from your browser or sync your Hush bookmarks between devices. Hush Pro is priced at $9 per year.