The Windows 10 Creators Update released March 29—but not on the PC. The first platform to receive Microsoft's new operating system is actually the Xbox One and Xbox One S, with an updated UI complementing a new matchmaking tool and Beam game streaming.
We went hands-on with the Xbox right away, and it's been an interesting mix of familiar-yet-strange. While the Xbox version of the Creators Update bring less-dramatic changes than those introduced to Windows 10 PC, it still noticeably changes the way users interact with the console.
Before we dive deeper into our experiences, a few quick notes:
Under the hood, other improvements like Narrator and the ability to limit screen time have been added.
Managing screen time is done via a separate website, https://account.microsoft.com/family. If you have a Windows 10 PC, it's part of the new Windows Defender Security Center options rolling out with the Creators Update on April 11.
Windows Sonic, a spatializer effect also found in the PC update, is live as well.
Bitstream passthrough for Dolby Atmos will go live sometime the week of April 2, Microsoft said.
Microsoft also plans to add Arenas—a way for players to organize their own tournaments and other competitions—to the Clubs and Looking for Group features it added in the fall. Arenas, however, did not ship with the Creators Update.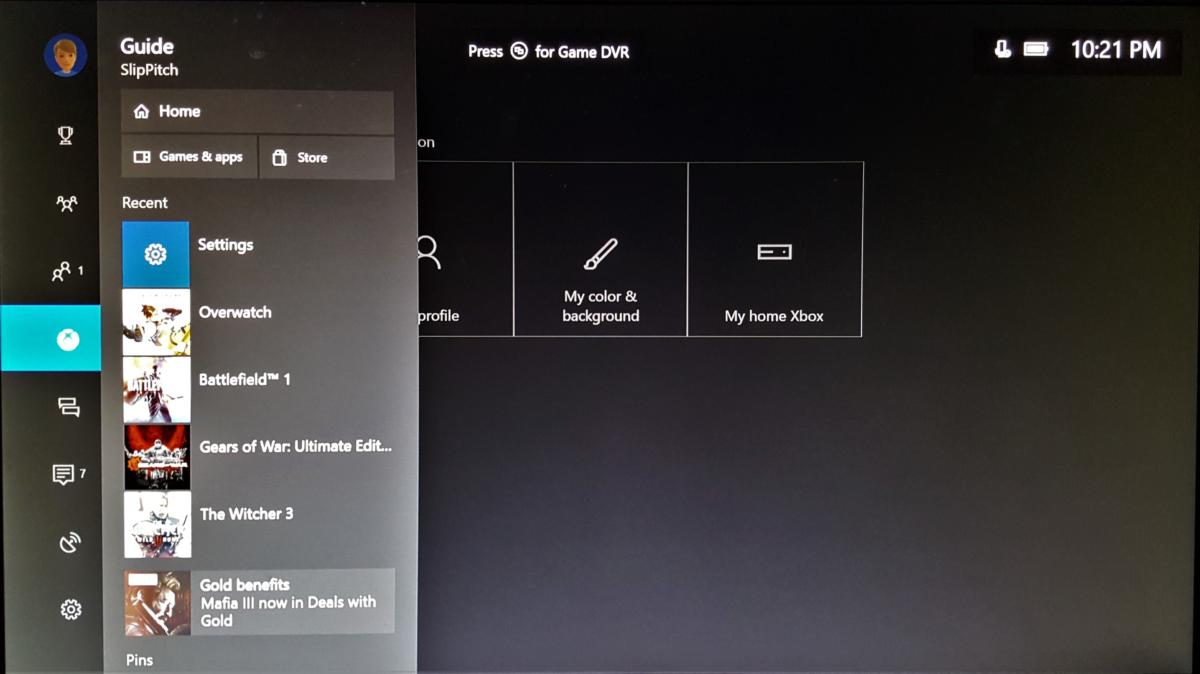 A fresh look for the Guide, Home
Probably the most significant change to the Xbox interface is simply the behavior of the Xbox button. Previously, tapping it brought you to the home screen. Now, pressing it opens the Guide sidebar along the left rail, complete with a number of retooled options that include Achievements, Parties, Friends and Clubs, Beam, and a new Guide submenu. It's a bit disconcerting—enough so that Microsoft asked Insiders if they preferred the new behavior or the old one.
Essentially, this is Microsoft guiding you along a more social path. Instead of using the Xbox button to navigate between games, Microsoft would like you to set Achievement goals, seek out new friends, and so on. If you do visit what Microsoft calls the Home page, you'll still see a list of recently played games and apps, with the one that was last launched occupying the big "hero" spot at the top of the screen. The right rail remains, but it encourages you to buy third-party games and discounted Store games more frequently than before.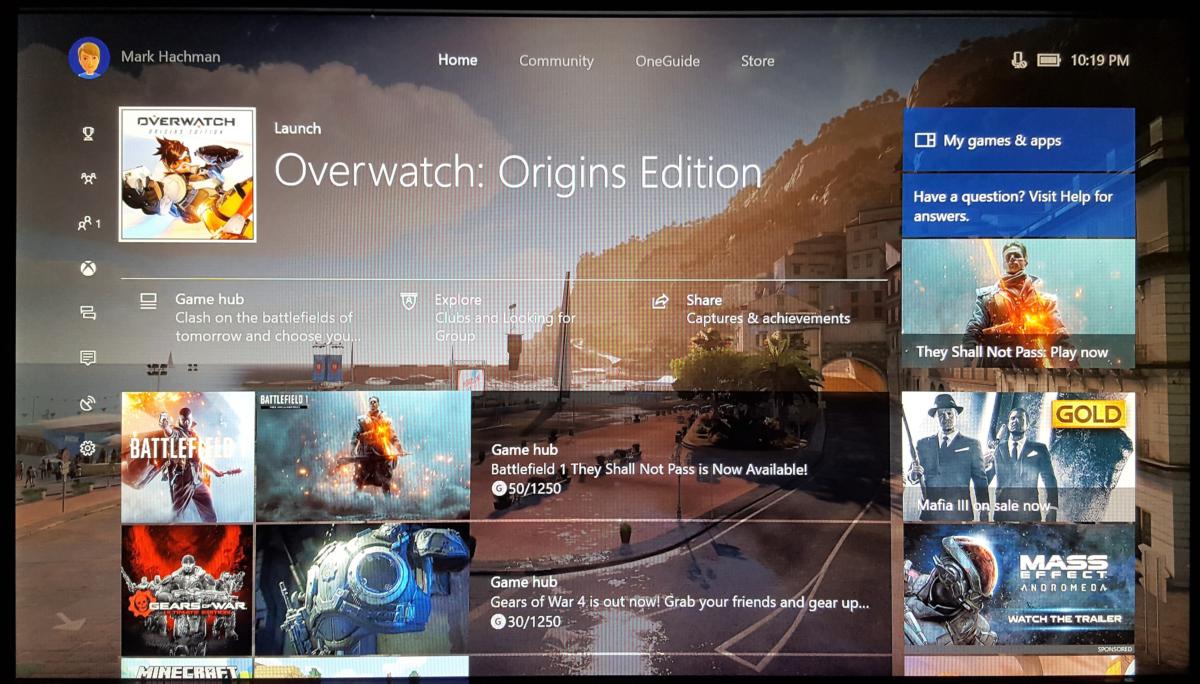 Overlays also play more of a role than before. Previously, the Xbox One encouraged a Windows-like "snapping" of an app or music player next to your game screen. Now, snapping's gone. Instead, you can view achievements and Beam streaming in a small floating window, and you can launch Groove playlists in the sidebar. I also saw reminders that I had set in Windows 10 pop up over my gameplay via Cortana, proving that the Windows 10 Creators Update integration is more than just a graphical overhaul.
Beam arrives on the Xbox One
Aside from the UI changes, Microsoft's major update to the Xbox platform is Beam livestreaming. Beam is Microsoft's answer to Twitch and YouTube. The service allows you to quickly begin broadcasting your game over the internet so that other players can watch and comment. It's deeply integrated into the new interface: You can manage broadcasts directly from the Guide sidebar, and saying "Hey Cortana, start broadcast" will start a Beam broadcast.
I'd say that while Microsoft may have a harder time displacing either Twitch or YouTube (both of which have vastly more users) on the PC, the company has a real shot at making Beam synonymous with Xbox gaming. Whether users will prefer it after years of heavy support for Twitch, I'm not sure.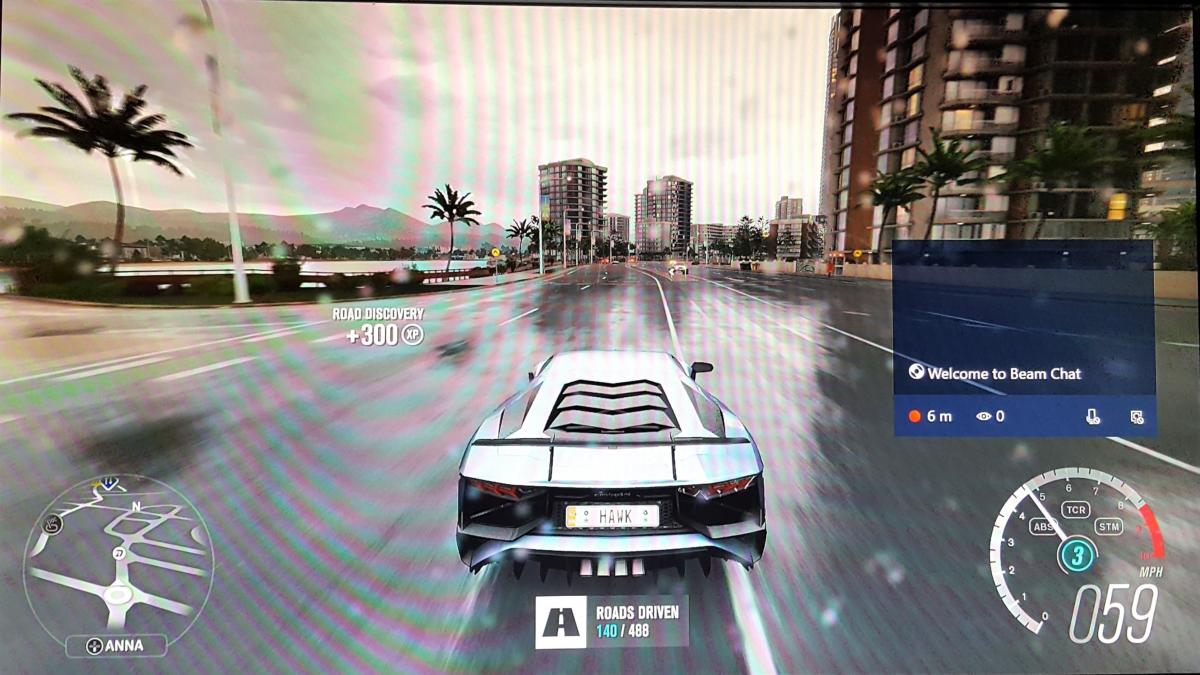 Oddly, though, I'd say that Beam is currently more appealing on the PC. For one, it's easier to use: On that platform, a quick tap on the Guide button on an Xbox controller brings up the Game Bar, where the Beam broadcasting logo is instantly noticeable. On an Xbox One, tapping the same controller button launches a default page on the Guide sidebar that doesn't include broadcasting options. Instead you have to manually scroll down to reach them.
It's also more likely that PC owners already have all the hardware necessary to take full advantage of Beam. Functionality is essentially identical on each platform, with toggles for enabling a camera (be it webcam or Kinect), microphone, or chat window. On a PC, chances are you already have a webcam either built in or attached to your monitor. Kinect, for its part, hasn't turned out to be a must-have accessory for Xbox. It makes you sort of wonder how or if Microsoft might solve that issue with the upcoming Project Scorpio console.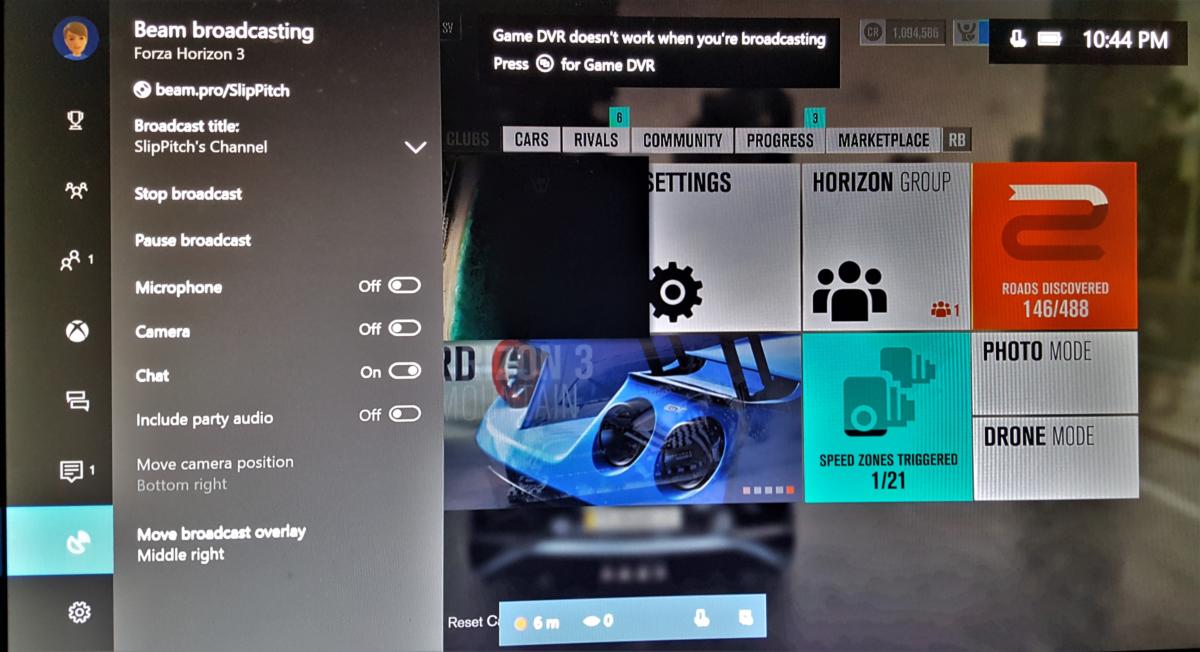 There are now two ways to capture your gameplay: the existing Game DVR feature, which stores the recorded video on your console's hard drive, and the new Beam broadcast option. Microsoft would probably prefer that you broadcast, but it's your choice. You can't record while you broadcast, however.
No one bothered to tune in when I messed around in Forza Horizon 3 (I'm a pretty antisocial gamer anyway), but Beam will publish the stream to the top of your Xbox activity feed. It's not clear whether a notification will actually be published—which happens if you stream via Twitch.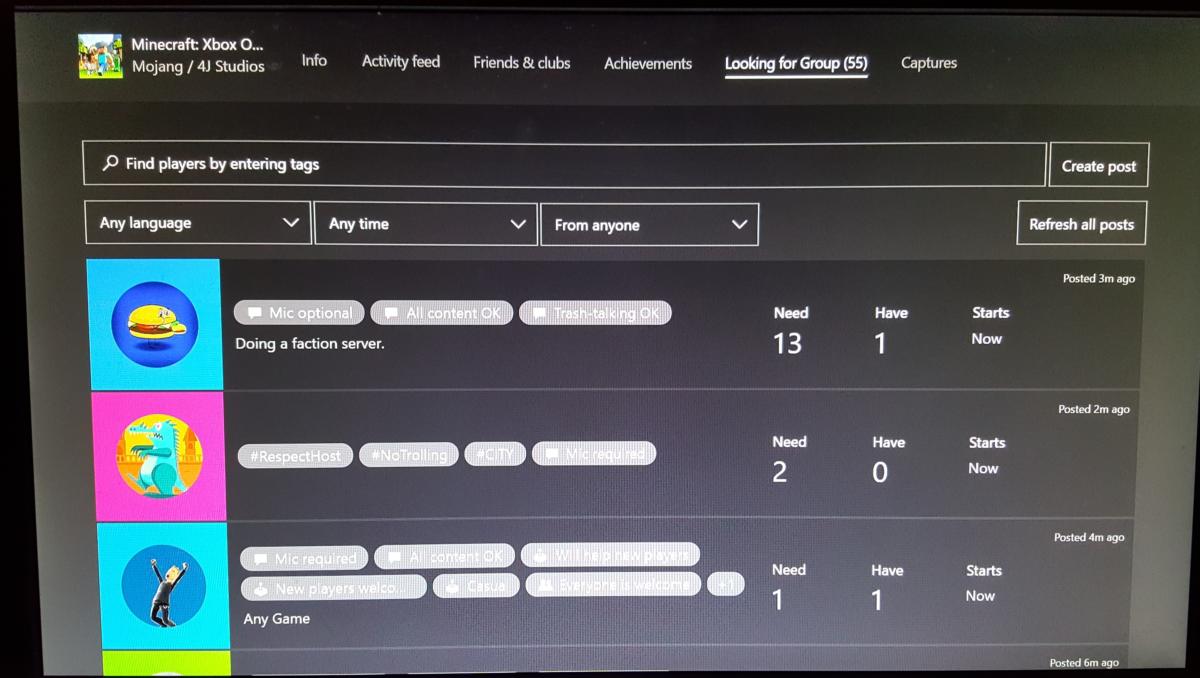 Gaming gets even more social with Copilot
I didn't have a chance to try out Copilot, one of the smaller features included in this Creators Update, but it's an another addition to the growing number of social hooks on Xbox. Essentially Driver's Ed for your console, Copilot allows you to use two controllers as if they were one. When enabled, one player can serve as the "master" controller, stepping in to "steer" for the other—a good way to teach your kids how to play games, for instance.
If you'd rather play in a more traditionally cooperative manner with others, you can instead opt for one of the two features introduced last fall. Clubs allow you to form an online posse with whatever rules you please (e.g., using a mic), while Looking for Group lets you advertise for help with a goal, like tracking down an achievement or just populating a new Minecraft server. While you have control over who joins, how well everyone cooperates is always a roll of the dice. Both of these options can be quickly accessed through the new sidebar: Clubs through the Friends & Clubs tab, and Looking to Group through the Parties tab.
Right now, the Windows 10 Creators Update doesn't feel nearly as consequential on Xbox as it does on the PC. Given the scope of the Creators Update, however, it's hard to shake the feeling that more is looming on the horizon. This fall, Microsoft will debut Project Scorpio, Microsoft's next-generation hardware, and we'll probably begin hearing more about how mixed reality plays into all of this.