Facebook is making it easier to support your friends' causes. The company recently announced a new feature that lets users create personal fundraisers. The new option is meant to raise money for medical treatments, classroom support, and similar efforts.
A GoFundMe-style feature is a no-brainer for the social network, as Facebook sees it. When you're trying to crowdfund for a personal cause you go straight to Facebook to enlist your friends' help anyway. This new feature simply cuts out the middle man.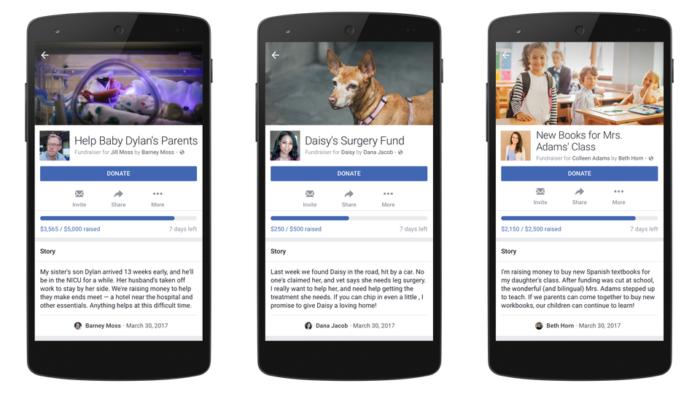 If you're thinking of using Personal Fundraisers to raise money for your pet rock's next vacation, however, think again. Facebook has a very specific set of categories that you can use with the new feature:
Education: such as tuition, books or classroom supplies
Medical: such as medical procedures, treatments or injuries
Pet Medical: such as veterinary procedures, treatments or injuries
Crisis Relief: such as public crises or natural disasters
Personal Emergency: such as a house fire, theft or car accident
Funeral and Loss: such as burial expenses or living costs after losing a loved one
The impact on you at home: Each fundraiser will have its own page similar to a Facebook Group. At the top of the page, visitors will see a Donate button, and below that an indicator displaying how much money has been raised. For all personal fundraisers, Facebook takes a 6.9 percent cut plus a fee of thirty cents. Those proceeds will go towards payment processing, fundraiser vetting, and security and fraud protection.
In addition to Personal Fundraisers, Facebook also announced that verified Facebook Pages can add donate buttons to their live streams. The new feature "gives public figures, brands, businesses and organizations new ways to fund raise on Facebook for the nonprofits they support," Facebook said. Just what we need an endless supply of telethons on Facebook Live.
Note: When you purchase something after clicking links in our articles, we may earn a small commission. Read our affiliate link policy for more details.
Ian is an independent writer based in Israel who has never met a tech subject he didn't like. He primarily covers Windows, PC and gaming hardware, video and music streaming services, social networks, and browsers. When he's not covering the news he's working on how-to tips for PC users, or tuning his eGPU setup.