There are all kinds of new features in the Windows 10 Creators Update rolling out on April 11, but one change really sticks out: greater transparency about the data that Microsoft collects from your PC.
There are new dashboard screens that all Windows 10 users will see the first time they install or upgrade to the Creators Update. Perhaps more interestingly, for the first time Microsoft has detailed information about the user data it collects for diagnostics.
Diagnostics collection
Let's start with the diagnostics collection, as Microsoft's come under heavy fire from privacy advocates for refusing to allow users to disable it completely while simultaneously refusing to detail exactly what information Windows 10 collects from users.
Microsoft published two Technet pages describing the data Microsoft collects from users on the Creators Update. There are two levels of diagnostic data: basic and full. The information is quite detailed and we won't get into it here, but if you're interested, you can find all the nitty-gritty details in those links. Note that while the Basic listing reveals all, the Full listing is a summary of the kinds of data that setting collects.
Even the basic level can gather quite a bit of info from your PC, though in a blog post, Windows chief Terry Myerson pledges that "we only collect data at the Basic level that is necessary to keep your Windows 10 device secure and up to date." Microsoft still offers no native way to turn off Windows 10's diagnostic collection completely.
Privacy dashboard
Onto the privacy dashboard!
Instead of a string of screens when you first install the new version of Windows 10, Microsoft is putting all the key privacy settings on one screen. The dashboard you'll see depends on whether you're already running Windows 10 on your machine or setting up a new PC for the first time.
Both dashboards show the same information but are arranged differently.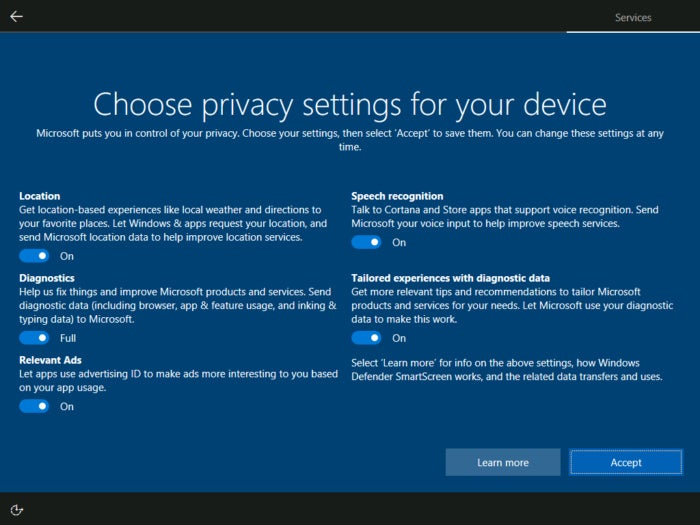 The first-time installation version is a full-screen experience with a blue background similar to other installation screens. Current Windows 10 installs will see what looks like a Settings app screen that shows up after scheduling a Creators Update upgrade.
There are five privacy options that include: Location, Diagnostics, Relevant Ads, Speech recognition, and Tailored experiences with diagnostic data. That last item is a fancy way to say "tips and recommendations," or as most Windows 10 users call it, "stuff I don't want." Each screen also has a Learn more button to get detailed information about the privacy settings if the short descriptions aren't enough.
Windows 10 Mobile users will see a similar privacy dashboard, though phones have a cellular data toggle and no tailored experiences option.
Why this matters: With Windows 10's focus on Windows as a service and built-in cloud-based features like Cortana, the company has stirred a lot of privacy concerns. This new transparency gives users a better sense of what information is being collected—and why. The new privacy dashboards also put in one place most of the personal information the operating system wants to use on a regular basis. It's a smart move on Microsoft's part. As the Creators Update rolls out we'll see whether this new information puts users at ease or just increases the concerns over data collection.