Ever wanted to simply show someone how to do something in Windows rather than describe it? As the Answer Line author, I certainly have. Animated GIFs created by GifCam, a very small, portable utility by Bahrani Apps are now my preferred way to do that. Not only will it create animated GIFs of anything the transpires on your screen, it can also save them as universally-supported AVI movies.
[Have a tech question? Send your query to answer@pcworld.com.]
Small and cleverly designed
When I say very small utility, I mean it: a mere 700KB in GifCam's downloadable zipped form. I have Word documents larger than that. And as I described it above, it's portable, meaning you can run it from wherever you unzip it. That includes USB drives if you want to take it with you.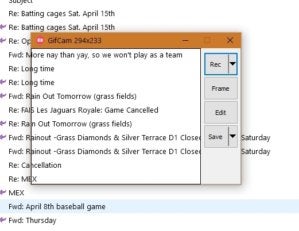 GifCam's solution to demarcating what you record is truly clever. Instead of lassoing and highlighting an area, the program window itself delineates the boundaries of what is to be captured. The frame of the window is visible, but the background is, or gives the appearance of, being transparent. It's ingenious, as you can see in the images. Simply click record, do what you want to do, and then save the resulting image or movie.
Conclusion
I will continue to use Lightscreen and Window's own commands (such as the classic Alt + PrintScreen) for still captures, but GifCam is proving itself invaluable for creating "this is what I'm talking about" animated GIFs. Clever, simple, free—there's not a whole lot more to say. You'll find instructions on how to use it on the site, though it's easy to master using simple trial and error.
Note: GifCam is free, but you'll find a small PayPal icon next to the download link providing you with the opportunity to provide a $2 donation. A small price to pay.