At a Glance
Expert's Rating
Pros
Very good overall performance
Built-in antivirus and anti-malware protection for the entire network
Unobtrusive industrial design
Cons
No dedicated channel for data backhaul
Must use a smartphone or tablet for setup and configuration
Available in three-packs only
Our Verdict
TP-Link's Deco M5 isn't the absolute fastest whole-home Wi-Fi system on the market, but it delivers very good performance and a strong set of features.
Best Prices Today: TP-Link Deco M5 (three pack)
TP-Link makes a strong entry into the whole-home Wi-Fi game with its Deco M5. This router performs very well and has one uncommon feature: integrated antivirus/antimalware (from Trend Micro) that can protect all the devices on your network. But if you want one, you'll need to pay for a $300 three-pack, as that's the only way it's available right now.
TP-Link tells me that single units will eventually be available for $129 each, which is good news for folks living in smaller spaces. A single Deco M5 might be all you really need for a studio apartment. It's not faster than pricier routers from Linksys and Netgear, but it is a very good value overall.
Feature set
As with all the mesh routers we've reviewed to date, the three nodes are functionally identical until you configure the system. After that, one becomes a router and the others access points that you distribute around your home. All nodes use the same SSID (Service Set Identifier—the network's name, essentially), and client devices are automatically steered to the node with the strongest connection to the internet.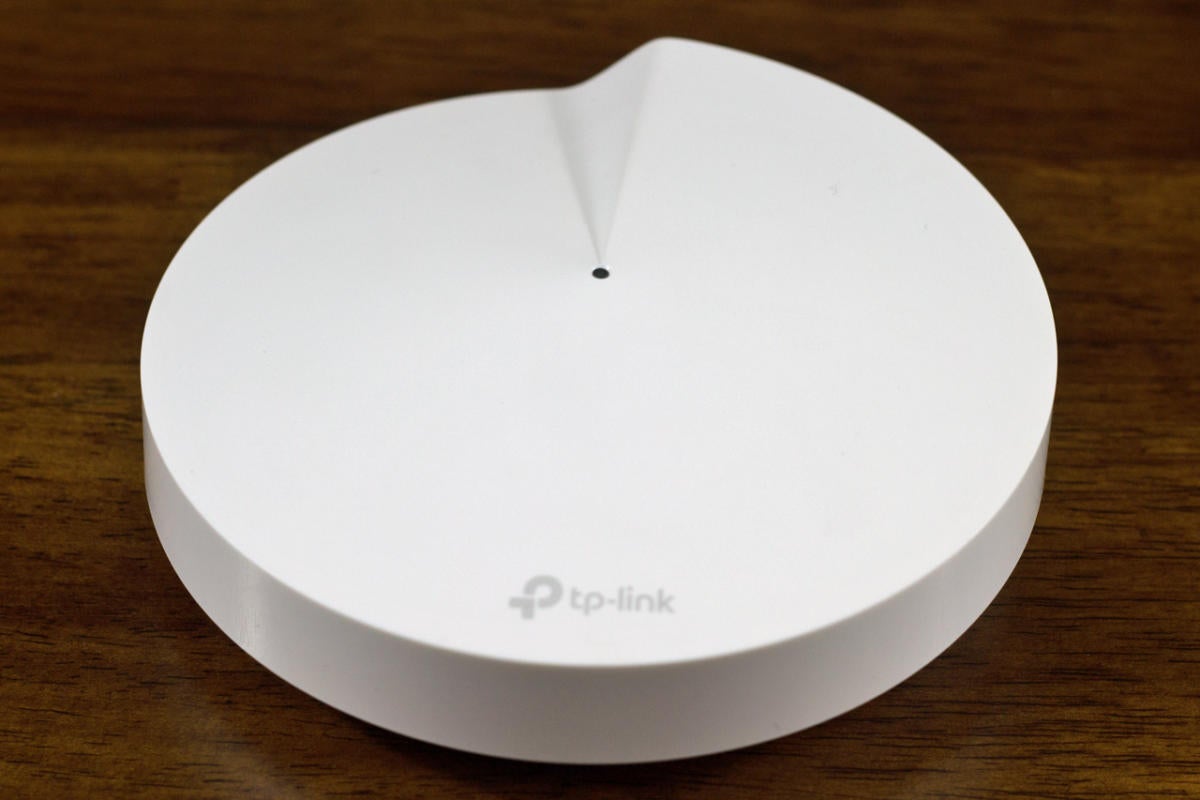 Each node has two gigabit ethernet ports that auto-configure as WAN (for connection to your broadband gateway) or LAN (for connection to the rest of your network). A single multicolored LED on top indicates status (yellow for startup, blue for pairing, and green for normal operation). The Deco M5 has one USB-C port, but that's only for power. You won't be able to plug in a storage device or printer and share them over your network, nor will you ever be able to plug in a USB Z-Wave or ZigBee dongle to use this router as a smart home hub.
Mentioned in this article
Netgear Orbi Home WiFi System (RBK50)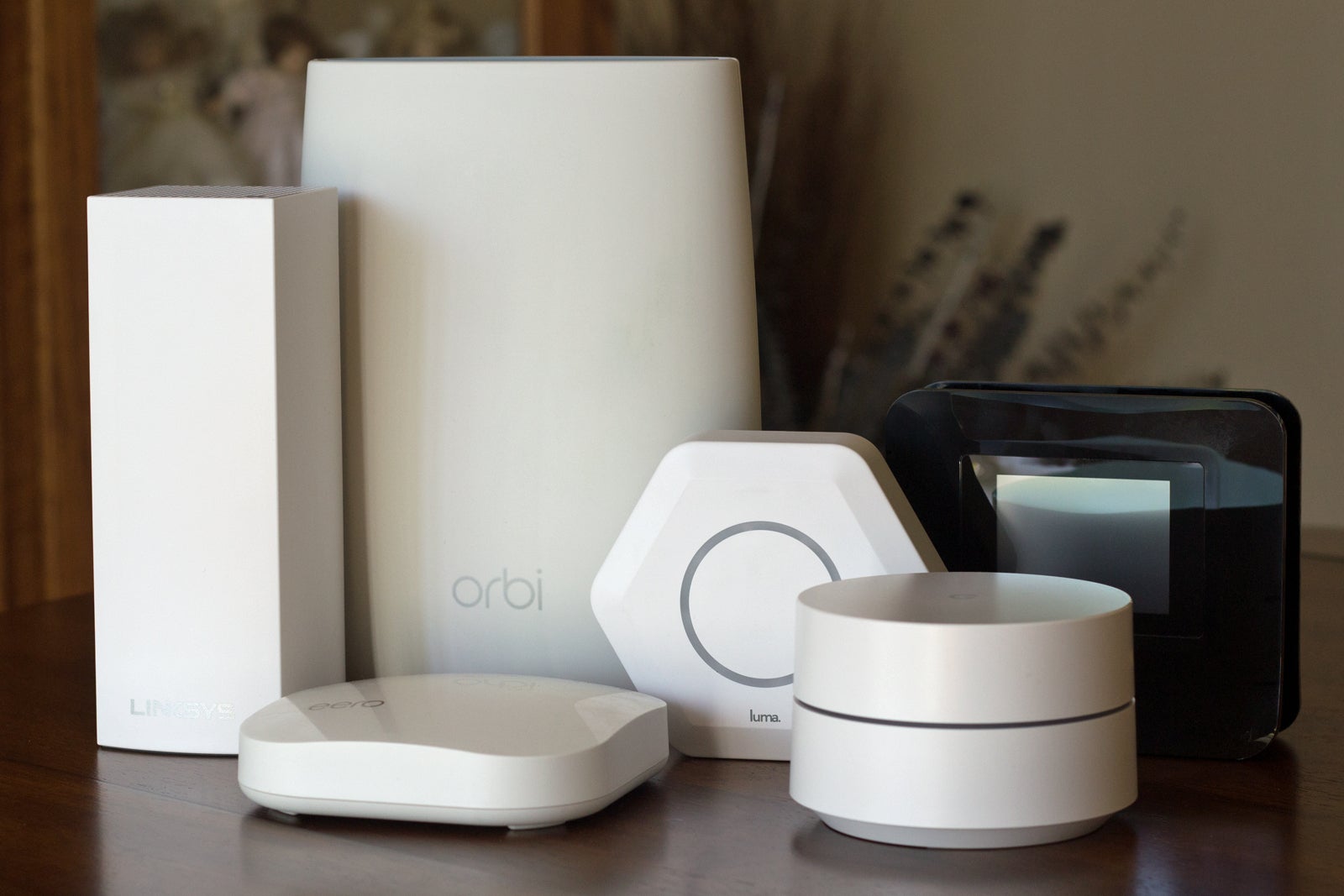 Price When Reviewed:
$399.99
The Deco M5 is a dual-band, 2×2 (two spatial streams up, two spatial streams down), 802.11ac router offering maximum theoretical throughput of 400Mbps on the 2.4GHz frequency band and 867Mbps on the 5GHz band.
Although it doesn't have a dedicated channel for data backhaul, as tri-band routers like the Linksys Velop and the Netgear Orbi series do, the Deco M5 proved to be faster than those competitors in at least a couple of scenarios. That said, it's not the overall fastest router we've tested; that distinction goes to the non-mesh Orbi RBK50, which dedicates a 4×4, 1,733Mbps network to backhaul.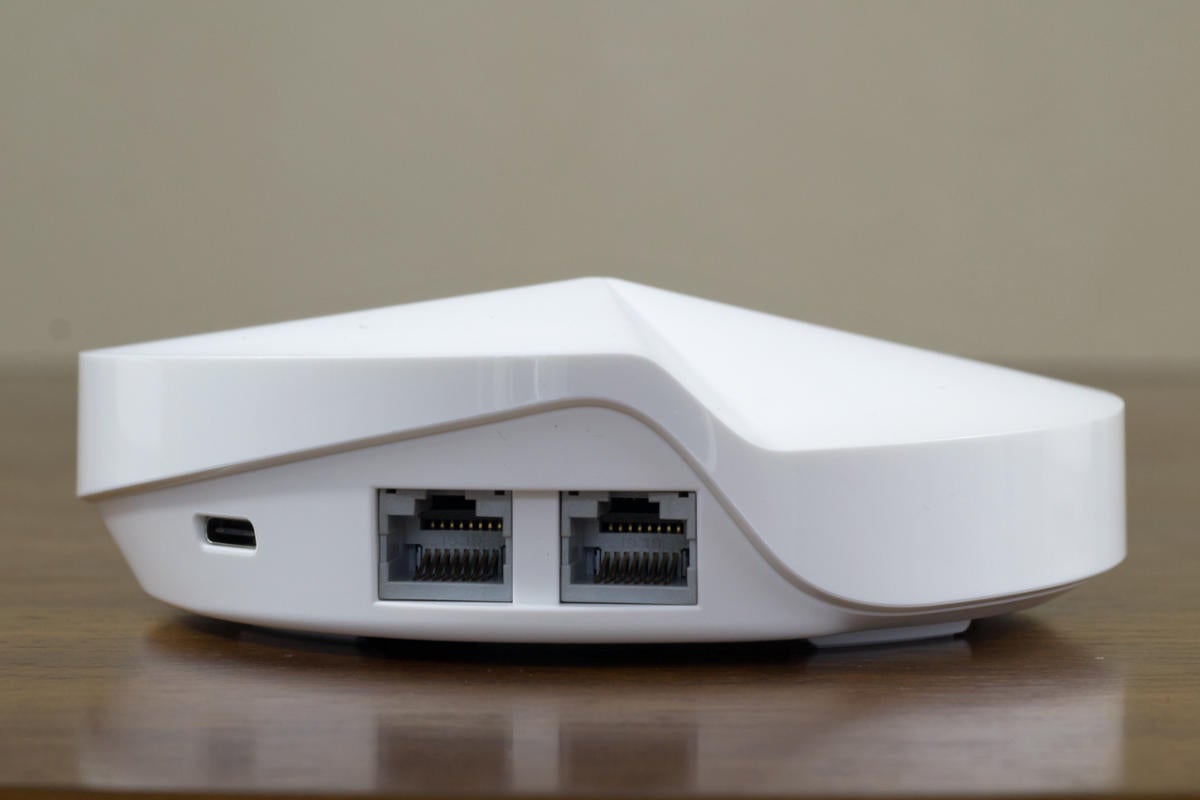 You'll need a smartphone or tablet (Android or iOS) to set up a Deco network, as TP-Link hasn't developed a web interface. Personally, I prefer a web-based UI because it's much easier to use a physical mouse and keyboard. I encountered some hiccups with my initial installation—the Android app paired with the router over Bluetooth, but it would crash every time I tried to add another node. I was using pre-release software, however; the company later provided a newer and much more stable version. Once I had that, installation was quick, smooth, and painless. You don't need to know anything about networking to get a Deco M5 system up and running.
Mentioned in this article
Linksys Velop Whole Home Wi-Fi (three pack)
Price When Reviewed:
$499.97
You don't need to do anything to activate the Deco M5's antivirus/antimalware feature; it works in the background and automatically blocks client devices from connecting to dangerous websites. TP-Link says it will also prevent compromised IoT devices, such as home security cameras or smart thermostats, from contacting unauthorized IP addresses. Three years of service is included in the purchase price, but TP-Link says it hasn't decided how much it will cost to renew the subscription after that.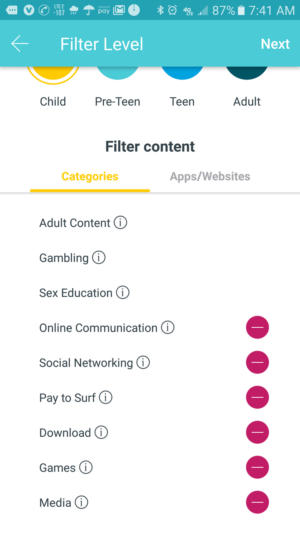 The optional parental controls feature, on the other hand, requires your input. To use it, you create user profiles for each member of the family, establish what they can and cannot do based on predefined filters (Child, Pre-Teen, Teen, or Adult), and then assign those profiles to the devices they will be using on the network.
You can block a teenager from accessing social media sites during the hours when they should be doing their homework, for instance, and you can block them from visiting porn sites altogether. You can also establish Monday through Friday and Saturday/Sunday schedules, with "bed times" when they're not allowed internet access at all, and you can control how much time they're allowed to be online overall.
The drawback to this type of parental control is that the user profiles must be linked to devices in order to work. So if you assign Junior's profile to the family desktop PC, and his profile blocks Netflix access at bed time, no one else can access Netflix on the family PC during those hours either.
You can also push one button to "pause" a profile's internet access, but here again, that action applies to all the devices linked to that profile. And the rules are in effect only while those devices are on your home network. They're inoperable if the device is tethered to a smartphone's Wi-Fi hotspot or any other network. These approaches would be more effective if each family member had their own device, but that's not economically practical for every family. These are the biggest reasons why I don't put much weight on the presence or absence of parental controls in routers.
Wi-Fi performance
Mentioned in this article
Ubiquiti Amplifi HD Mesh WiFi System
Price When Reviewed:
$349.99
As I alluded to earlier, the Deco M5's solo performance at close range (with the client nine feet from the router with no obstacles in between) topped the field by a wide margin. Not only was it faster than all the other mesh routers and Netgear's non-mesh Orbi, it was 100Mbps faster than Linksys' EA9500, the conventional Wi-Fi router I've been using as a baseline. TP-Link's router also finished first in my difficult-to-penetrate home theater, although Ubiquiti's Amplifi trounced the rest of the field when the client was in the great room.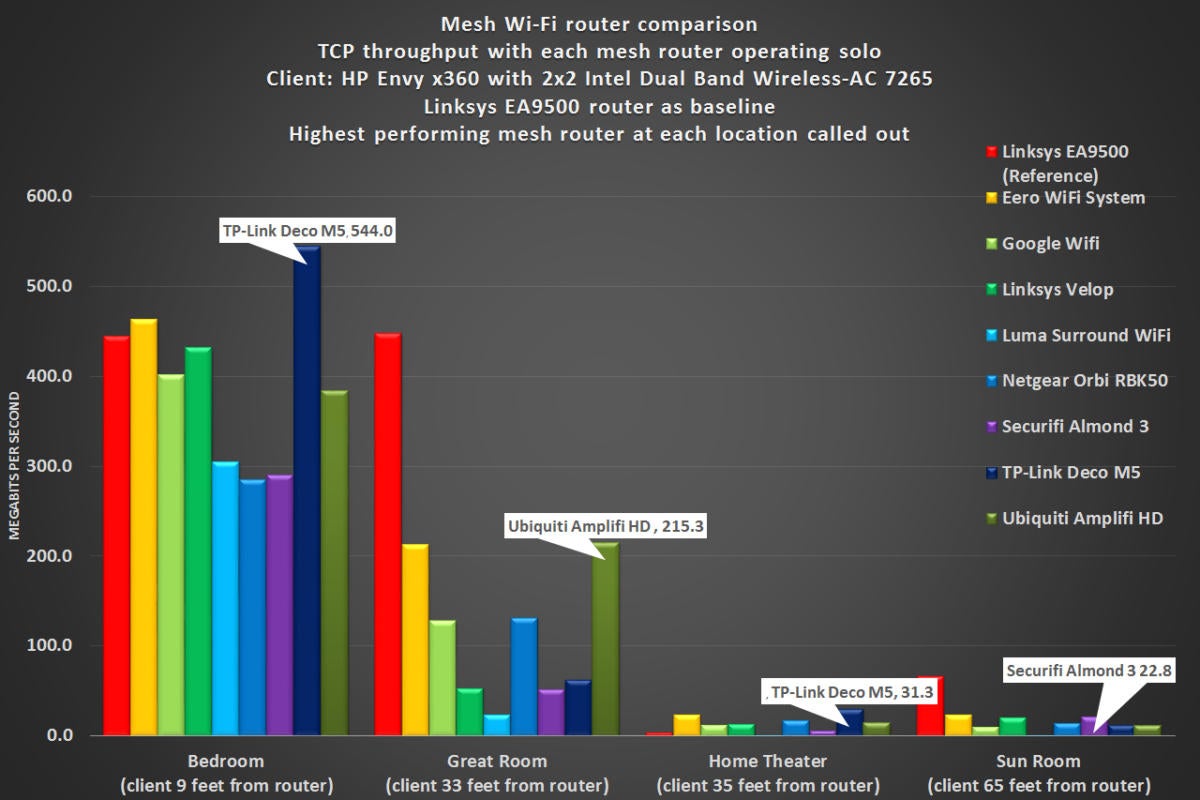 The Deco M5 dropped to the middle of the pack at all four test locations when I added a second node, losing 188Mbps of throughput at close range. Even so, the two nodes delivered more than enough bandwidth to support multiple HD video streams at all four test locations in my home. Once more, the pricier Velop and Orbi delivered even higher throughput with two nodes because they use a dedicated channel for backhaul to the router. Then again, you can't buy a two-node Deco M5 system, so the actual comparison is $300 for the TP-Link versus $380 for a Velop two-pack and $400 for an Orbi RBK50.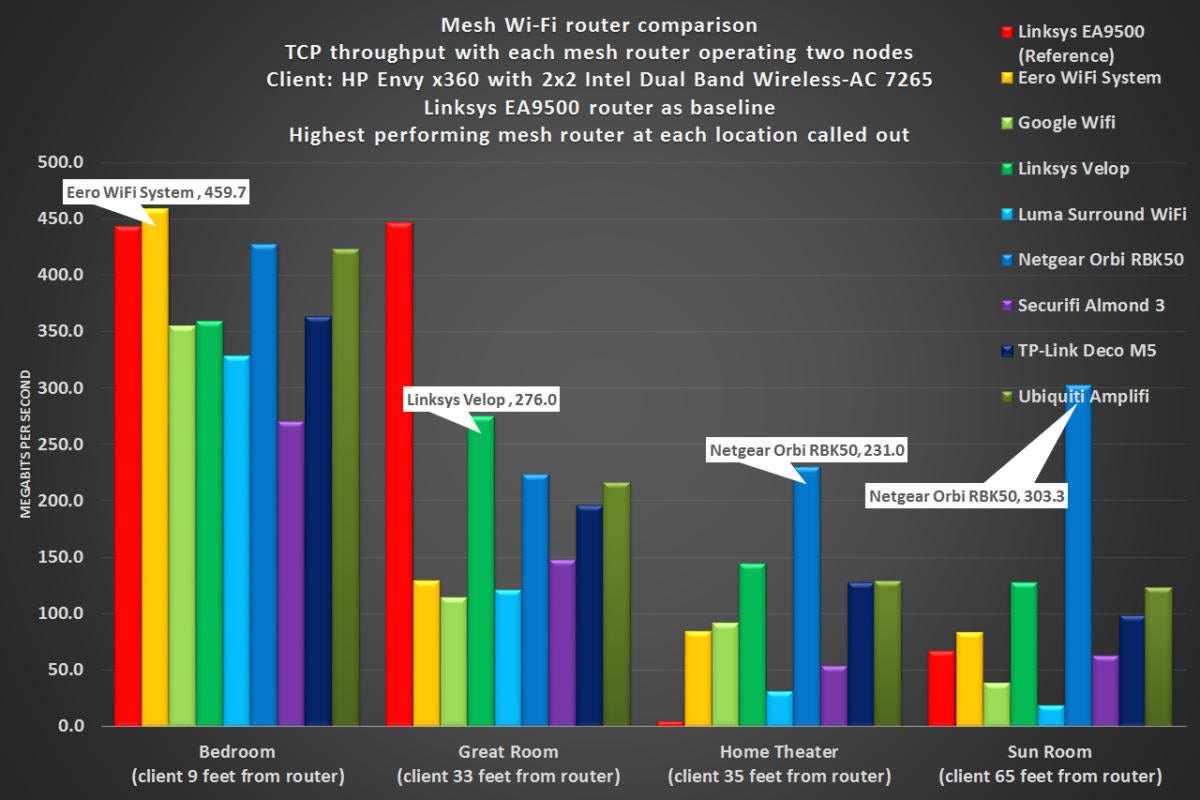 Running all three Deco M5 units restored the TP-Link router to the number-one spot at close range, but the Linksys Velop was considerably faster in the great room and the sun room, and Ubiquiti's Amplifi delivered the best performance in the home theater. Perhaps more importantly, the Orbi RBK50 was considerably faster than everything else in the furthest test locations, even though it's just the router and one satellite (which is why it's not represented in the three-node chart below). The Orbi RBK50, therefore, remains our number-one recommendation for the time being.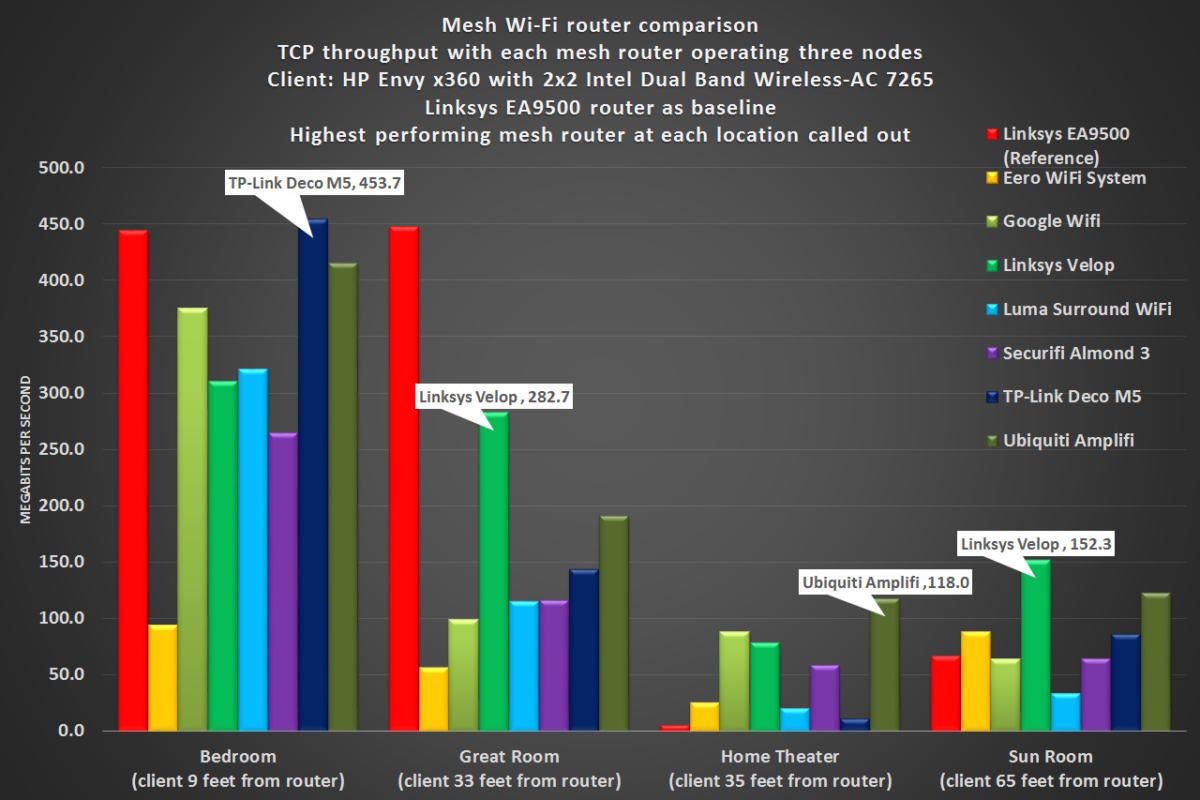 Should you buy a Deco M5?
If you're dealing with dead spots or are otherwise unhappy with your conventional router, and you're not a router enthusiast who likes to tweak all the dials, TP-Link's Deco M5 is a better value than many of the competing three-packs, including Google Wifi ($299), the Eero Home WiFi ($399), and the Luma Home WiFi ($399). The antivirus features are great to have, but I don't put as much value on the parental controls. If you already own a whole-home Wi-Fi system, TP-Link doesn't offer enough in the way of unique features or higher performance to make you switch.
Best Prices Today: TP-Link Deco M5 (three pack)