At a Glance
Expert's Rating
Pros
4GB of RAM
Superb 1080p gaming performance
Quiet, cool, and overclocked.
$10 cheaper than RX 470
Cons
Refresh of existing RX 470
Lags behind Nvidia GPUs in power efficiency.
Our Verdict
The Gigabyte Aorus is a gorgeous, well-performing graphics card. The Radeon RX 570 is the best sub-$200 gaming option around—but it isn't much of a step up over the RX 470.
Best Prices Today: Aorus Radeon RX 570
Meet the new sub-$200 graphics card boss, same as the old sub-$200 graphics card boss.
AMD's new Radeon RX 500-series graphics cards are here, and they're most notable for what they're aren't. The Radeon RX 500 lineup doesn't include the hotly anticipated Vega GPUs, nor are they really new at all. Instead, the Radeon RX 500 series utilizes a second-generation Polaris architecture compared to the original RX 400 cards (the RX 470, in this case). Yep, the $180 Radeon RX 570 is a refresh, not a whole new GPU architecture.
That's not necessarily a bad thing. The graphics card market is in a much different place now than it was when the Radeon RX 470 launched. You can actually buy the things, for one—the RX 470 and RX 480 were understocked (and therefore, overpriced) for months. Now that AMD's Ryzen processors are finally here, people are thinking about upgrading. A refreshed Radeon lineup with a year's worth of optimizations makes sense. But does it makes sense for you to buy a Radeon RX 570?
That's what we're here to find out.
Meet AMD's Radeon RX 570
Here's a look at the technical specs for the Radeon RX 570 and RX 580 (we reviewed Sapphire's take on the latter). Little has changed from their predecessors. The Radeon RX 570 still has the same underlying GPU design, the same memory speeds, the same number of texture units, and—despite the chart below, which lists only one capacity—the same 4GB and 8GB memory options as the RX 470. It's $10 cheaper this generation, though, which greatly improves its value proposition compared to the $200, 4GB RX 580.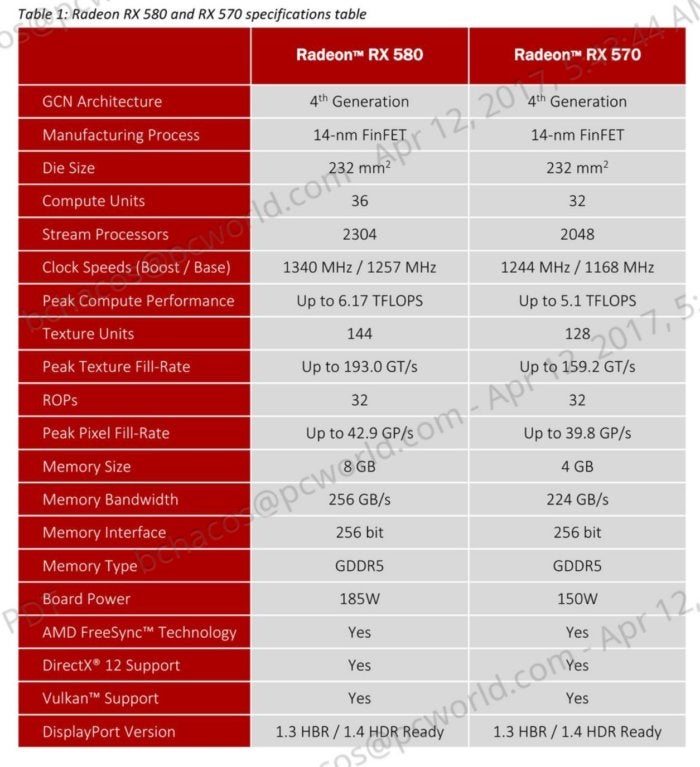 Under the hood, the Radeon RX 570 sees very slight increases to its memory bandwidth, peak texture fill-rate, and peak compute performance, but the real draw here is the clock speeds. The original Polaris cards were pushed to the edge of their capabilities and didn't have much overclocking headroom. Those manufacturing process optimizations let AMD crank Polaris's clock speeds higher. Whereas the RX 470 ranged from a mere 926MHz base clock to a 1,206MHz boost clock, the new Radeon RX 570 rocks 1,168MHz base and 1,244MHz boost clocks. That's not much of an increase on the high end but it's a noticeable increase to baseline speeds, and AMD's partners can crank things even further with factory overclocks.
Those higher speeds don't come magically; the Radeon RX 570 demands more power despite the optimized manufacturing process, with a 150-watt TDP compared to the RX 470's 120W.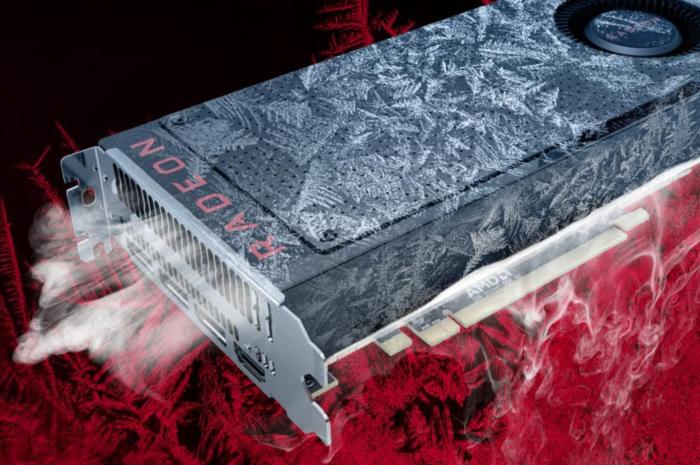 AMD combats that with some software tricks, however. The RX 500 series adds a new power state that reduces energy demands when you're idle, using a multi-monitor setup, or watching media, for example. The wonderful Radeon Chill feature baked into AMD's drivers can also reduce temperatures and power use by a significant amount in 17 popular PC games. As part of the RX 500 announcement, AMD's also adding Radeon Chill support for League of Legends and Dota 2—two of the most-played games on the planet.
There won't be any reference versions of the Radeon RX 570 available, only customized cards by AMD's hardware partners. That's similar to how the Radeon R300-series refresh was handled coming from the R200 series. AMD says those custom RX 570 cards will be available immediately, however.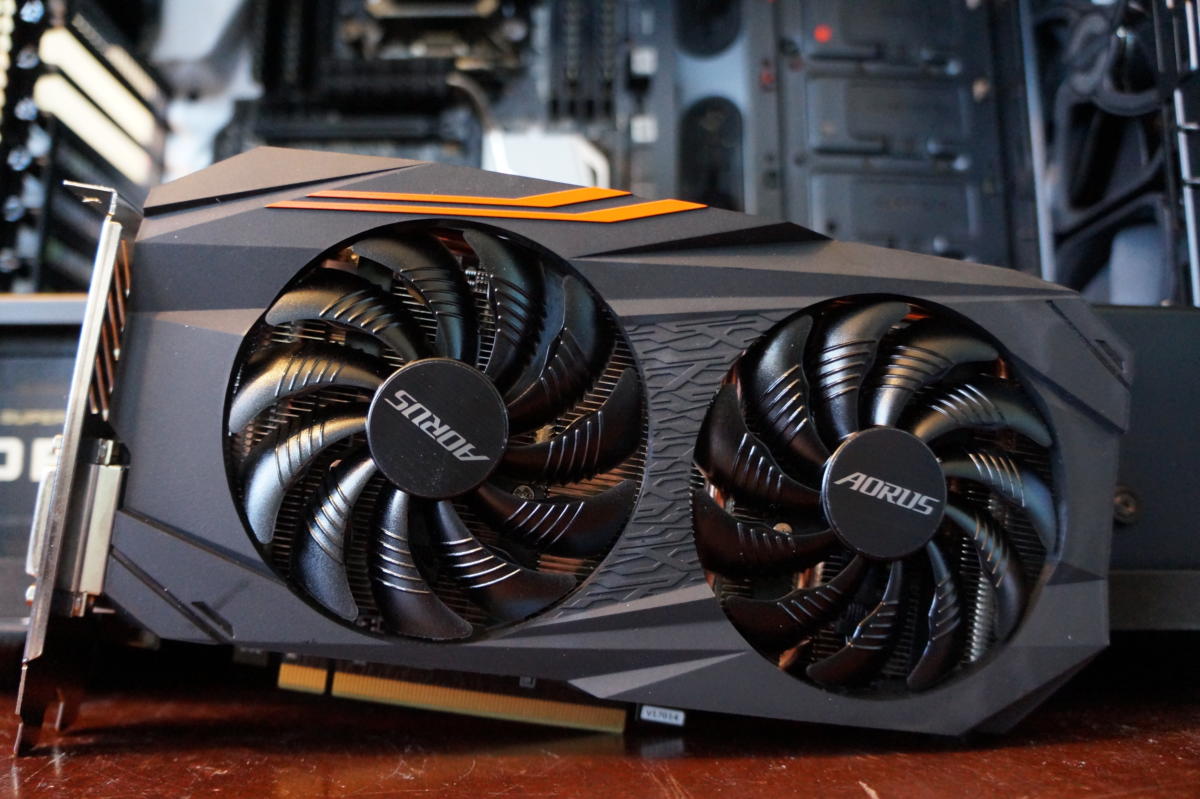 The version we're testing today is Gigabyte's Aorus Radeon RX 570 ($180 on Newegg), and it's a swanky one. The card's equipped with two of Gigabyte's Windforce fans, over a decently sized heat sink imbued with four copper pipes that directly contact the GPU. The Aorus RX 570 also features an RGB Fusion-compatible LED logo emblazoned on its edge, as well as an attractive backplate with "advanced copper backplate cooling." Testing by Linus Tech Tips has shown that the copper square doesn't really keep temperatures down, but hey, it sure is pretty. This is my first time handling an Aorus graphics card and I really dig the design.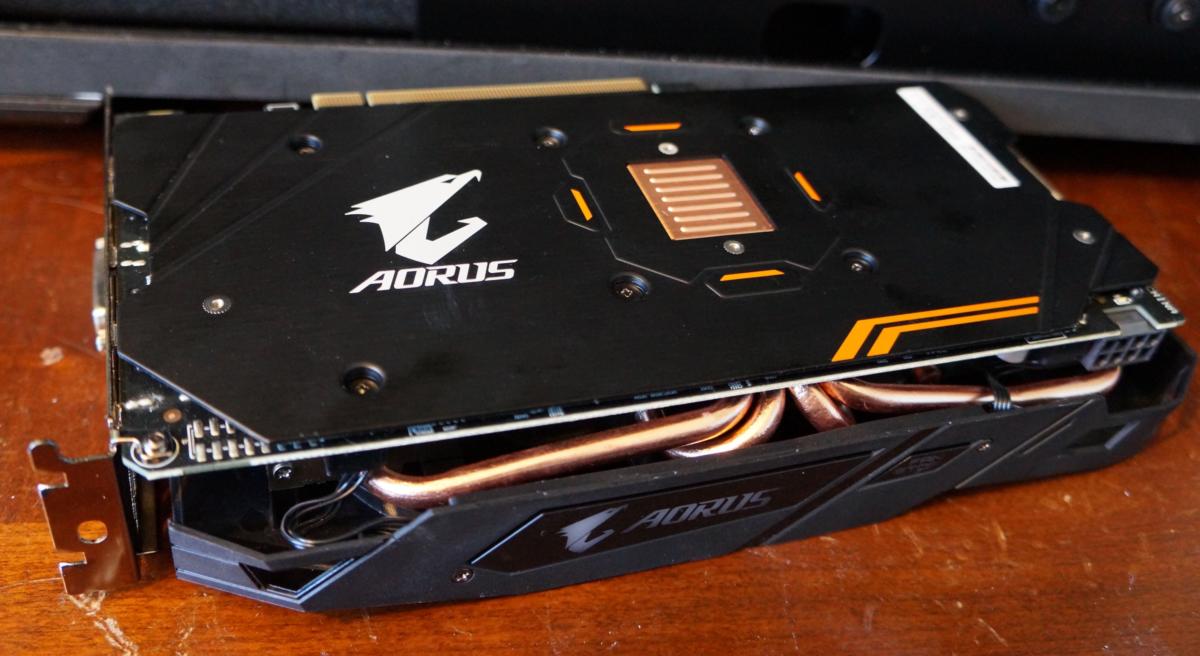 The Aorus Radeon RX 570 comes with a factory overclock to 1,280MHz, which works out to 36MHz over the stock RX 470 spec. That's pretty modest, but in-line with the increases you'd find in many factory-overclocked RX 470 cards. Gigabyte also offers Aorus Graphics Engine software that promises additional one-click overclocking capabilities if you want to push things further without manually tinkering with clock speeds. (And if you do feel like manual tinkering, there's always Radeon Wattman baked into AMD's drivers.)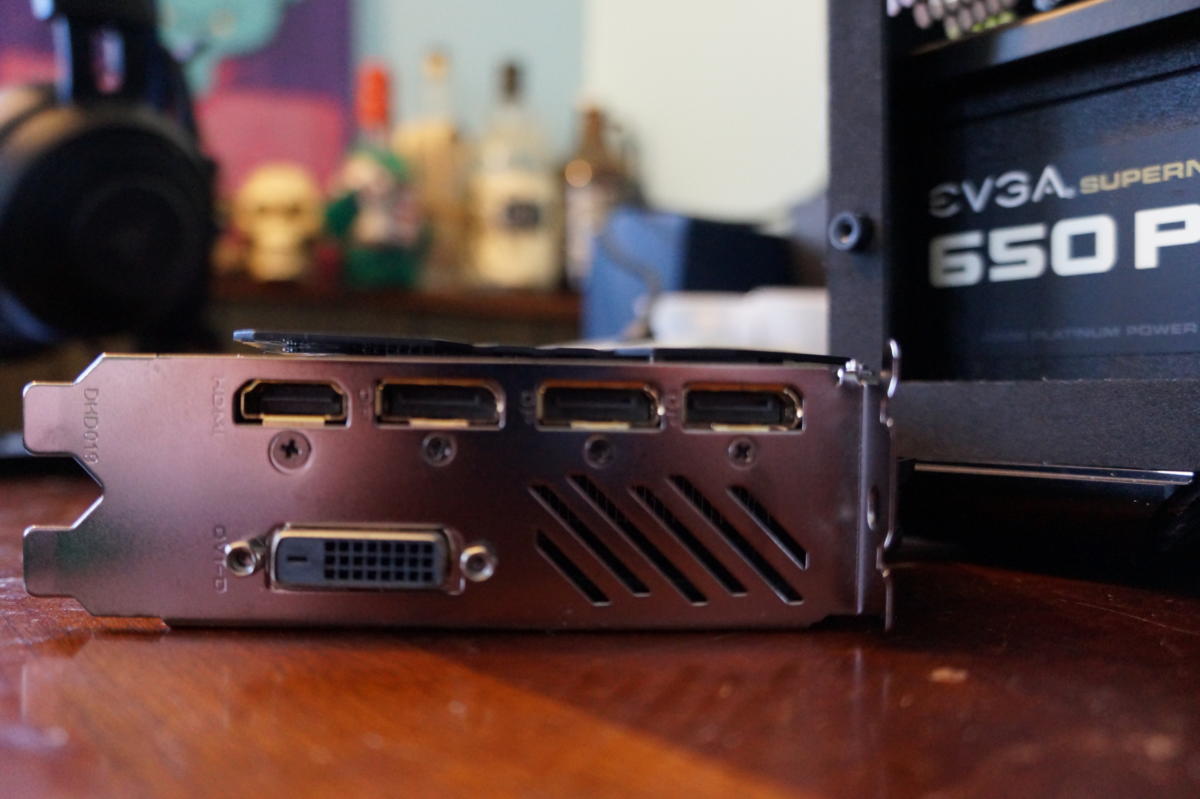 Port-wise, the 9.5-inch-long Aorus Radeon RX 570 offers a trio of DisplayPort 1.4 connections, a single HDMI 2.0 port, and DVI-D. It draws power via a single 8-pin connection, and Gigabyte recommends a 450W or greater power supply for the card.
Enough blabber. Let's benchmark!
Test system/Division benchmarks
We tested the Aorus Radeon RX 570 on PCWorld's dedicated graphics card benchmark system. Our testbed's loaded with high-end components to avoid bottlenecks in other parts of the system and show unfettered graphics performance. Key highlights:
To test the Radeon RX 570's mettle, we're comparing it against its natural competitors: XFX's overclocked Radeon RX 470 Black Edition True OC and EVGA's version of Nvidia's $200 3GB GeForce GTX 1060, which is not overclocked. We're also including results from Sapphire's new Radeon RX 580 Nitro+ to show how the Aorus RX 570 card stacks up against its beefier sibling.
Mentioned in this article
GTX 1050 Ti SC Gaming
Price When Reviewed:
$150
AMD's marketing materials pitted the RX 570 against the older R7 370 and GTX 960, playing up the upgrade angle. We're not going to bother with that here. Frankly, the existing RX 470 already stomped all over the R7 370 due to its move from the older 28nm manufacturing process to cutting-edge 14nm GPU technology, and it's not worth revisiting here. The Radeon RX 570 is definitely a worthwhile upgrade from that card. Likewise, the existing RX 470 also crushed Nvidia's budget-focused $140 GeForce GTX 1050 Ti, so we declined to re-run those tests as well.
Time for the fun stuff.
The Division
Let's start with The Division, a gorgeous third-person shooter/RPG that mixes elements of Destiny and Gears of War. It uses Ubisoft's new Snowdrop engine, and we test in DirectX 11 mode, which offers more consistent results.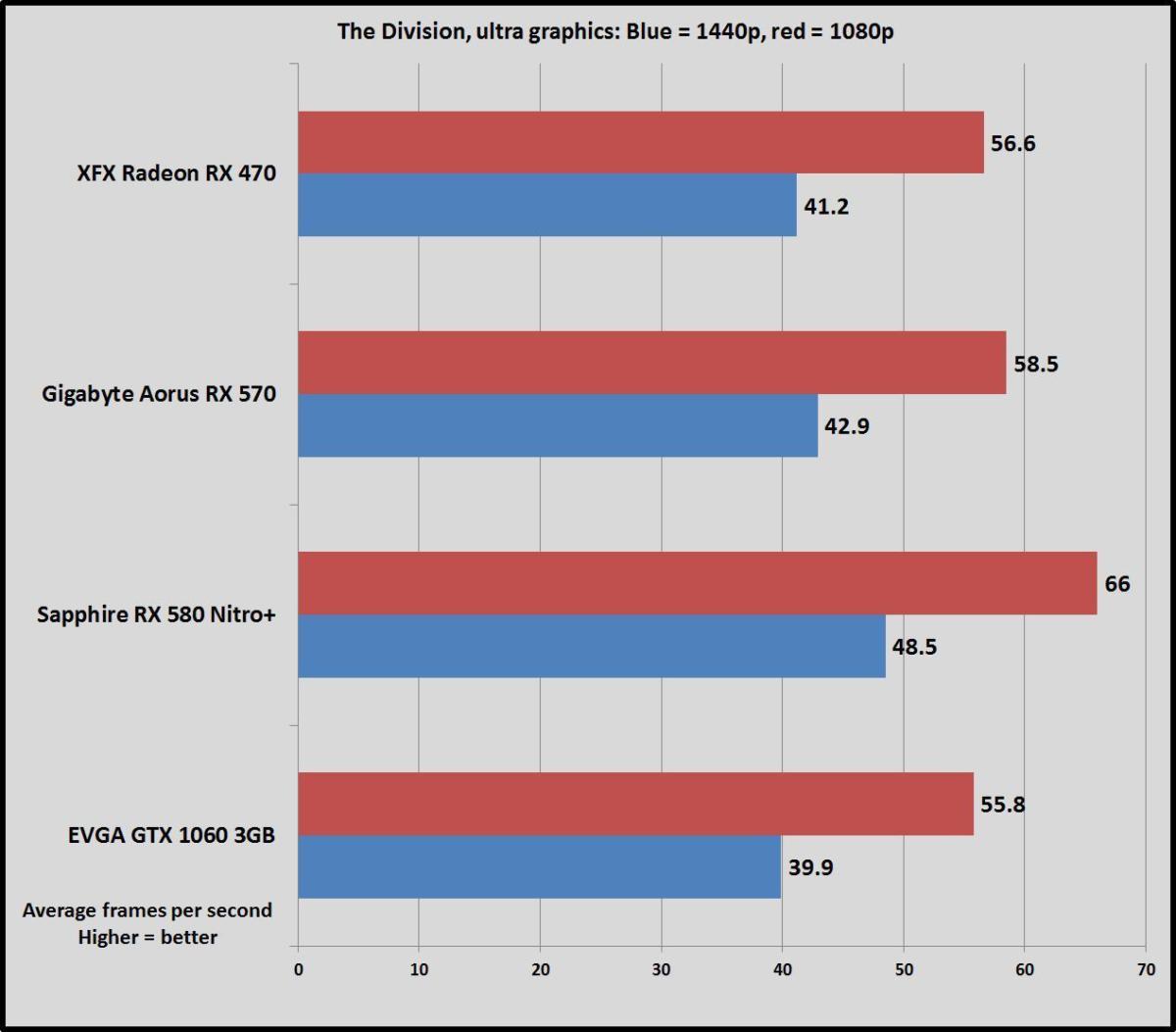 With Ultra settings enabled, the Aorus Radeon RX 570 flirts with the hallowed 60 frames-per-second standard at 1080p resolution, while still turning in a respectable 40 fps-plus rate at 1440p. (Though it's not shown here, turning the graphics down to High nearly doubles the results.) It's a mere 3.36 percent faster than the overclocked XFX RX 470, which itself is neck-and-neck with the non-overclocked EVGA GTX 1060 3GB. Okay.
The overclocked Sapphire RX 580 Nitro+, in comparison, is roughly 13 percent faster.
Hitman
Hitman's Glacier engine traditionally favored AMD hardware as a flagship AMD Gaming Evolved title, but GeForce cards have evened the score with driver updates. We test in both DirectX 11 and DirectX 12, with SSAO disabled.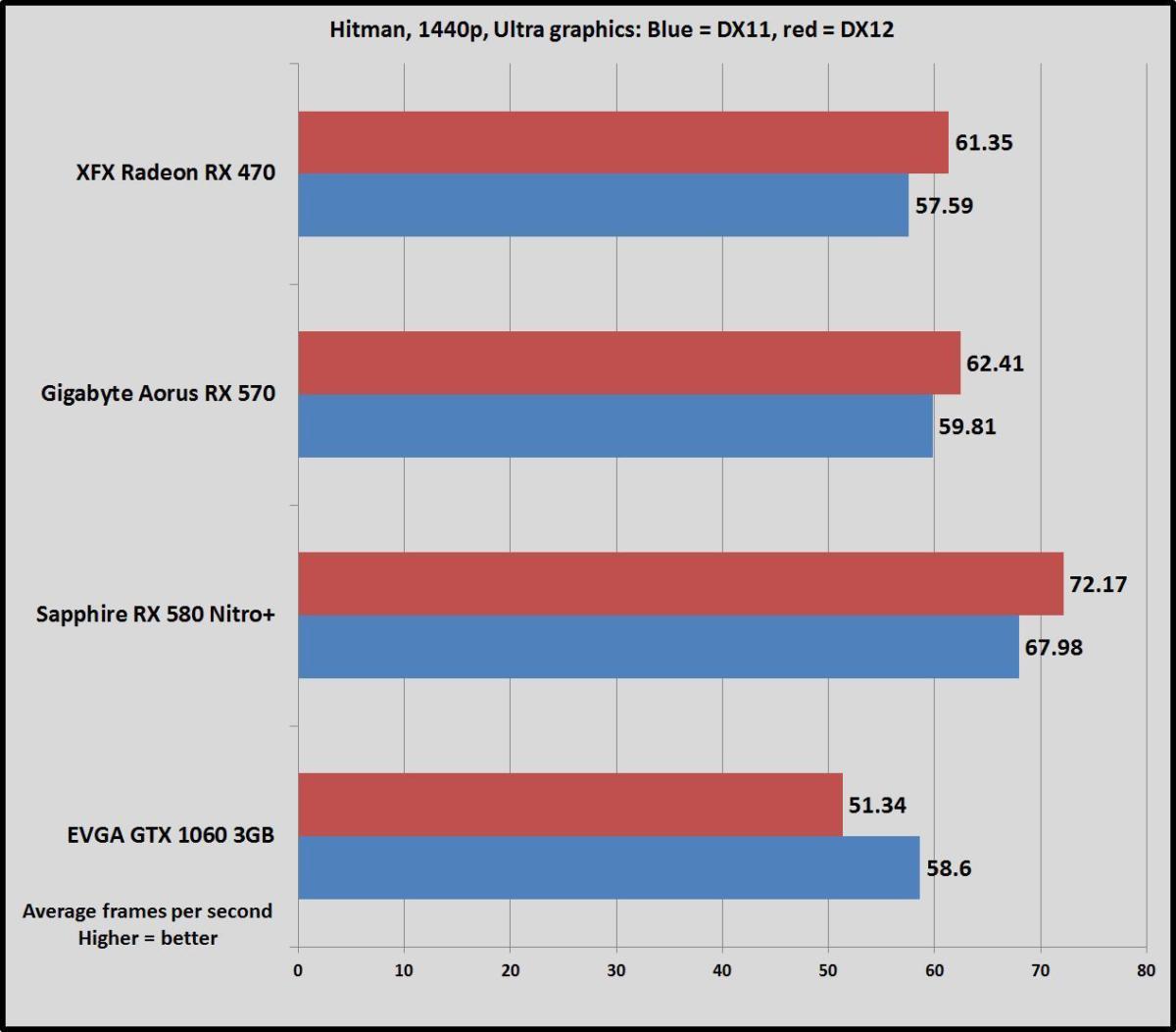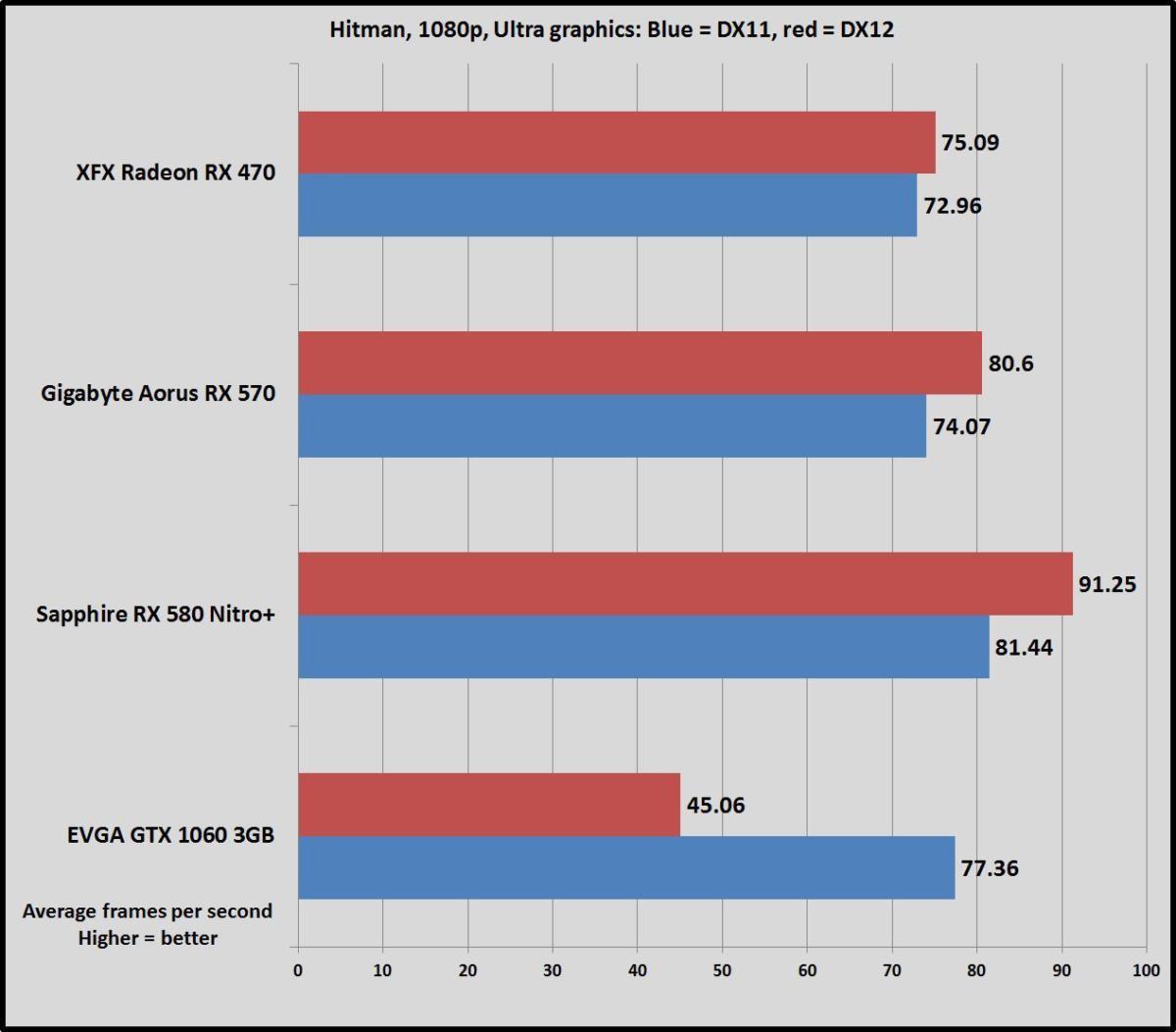 The Radeon RX 570 comes out slightly ahead here when comparing the ideal graphics API for each brand (DX11 for Nvidia, DX12 for AMD) but again, it's awfully close—just 4 frames or so per second. And again, the oomph this refresh provides proves minimal versus the RX 470.
Hitman's very much playable at both 1440p and 1080p with graphics cranked on all cards. Avoid DX12 mode on the GTX 1060, though, as the paltry amount of memory introduces some nasty stuttering.
Rise of the Tomb Raider
Whereas Hitman adores Radeon GPUs, Rise of the Tomb Raider performs much better on GeForce cards. We only test the game's DirectX 11 mode. DX12 was bolted on after the fact and acts a little wonky.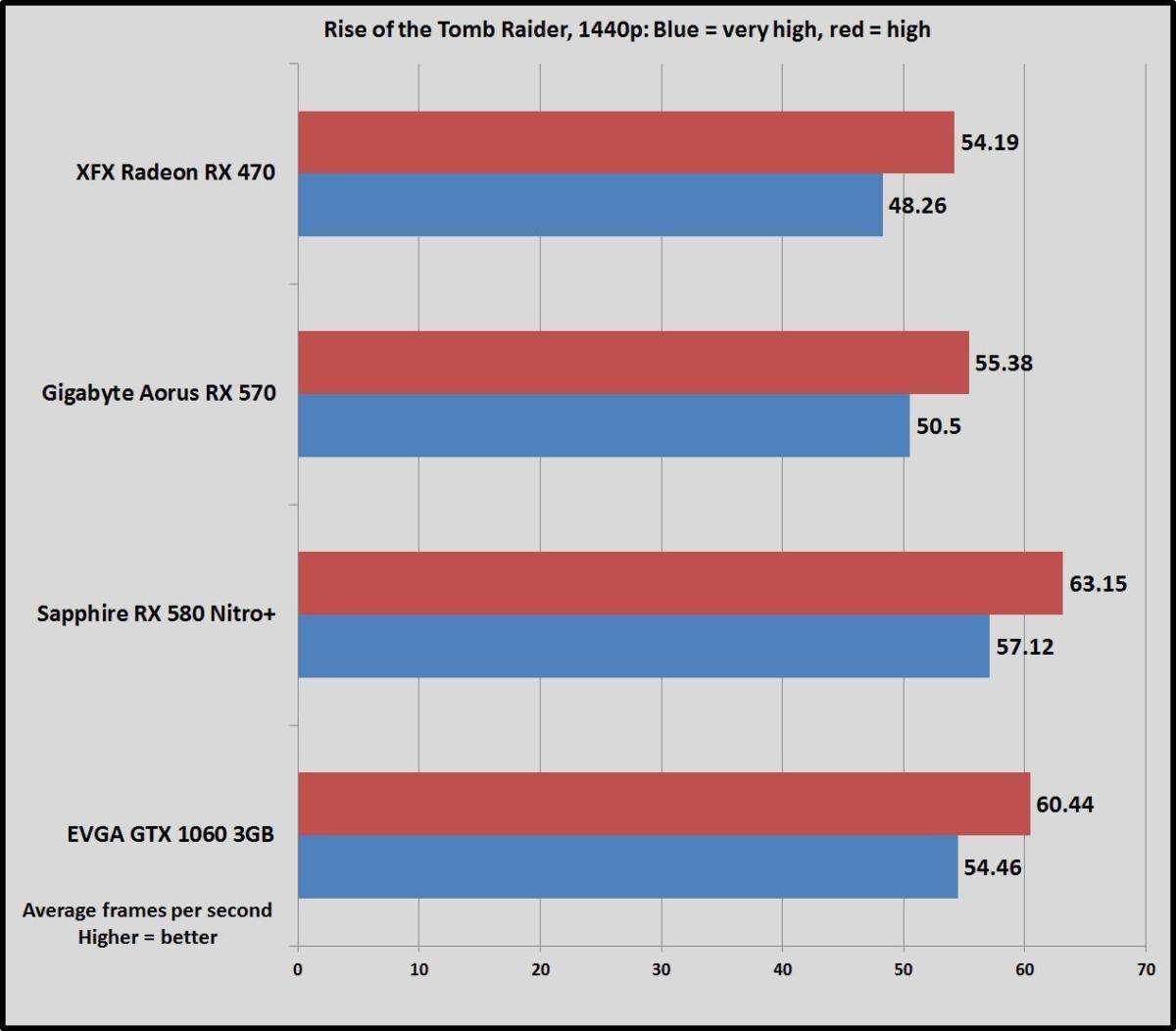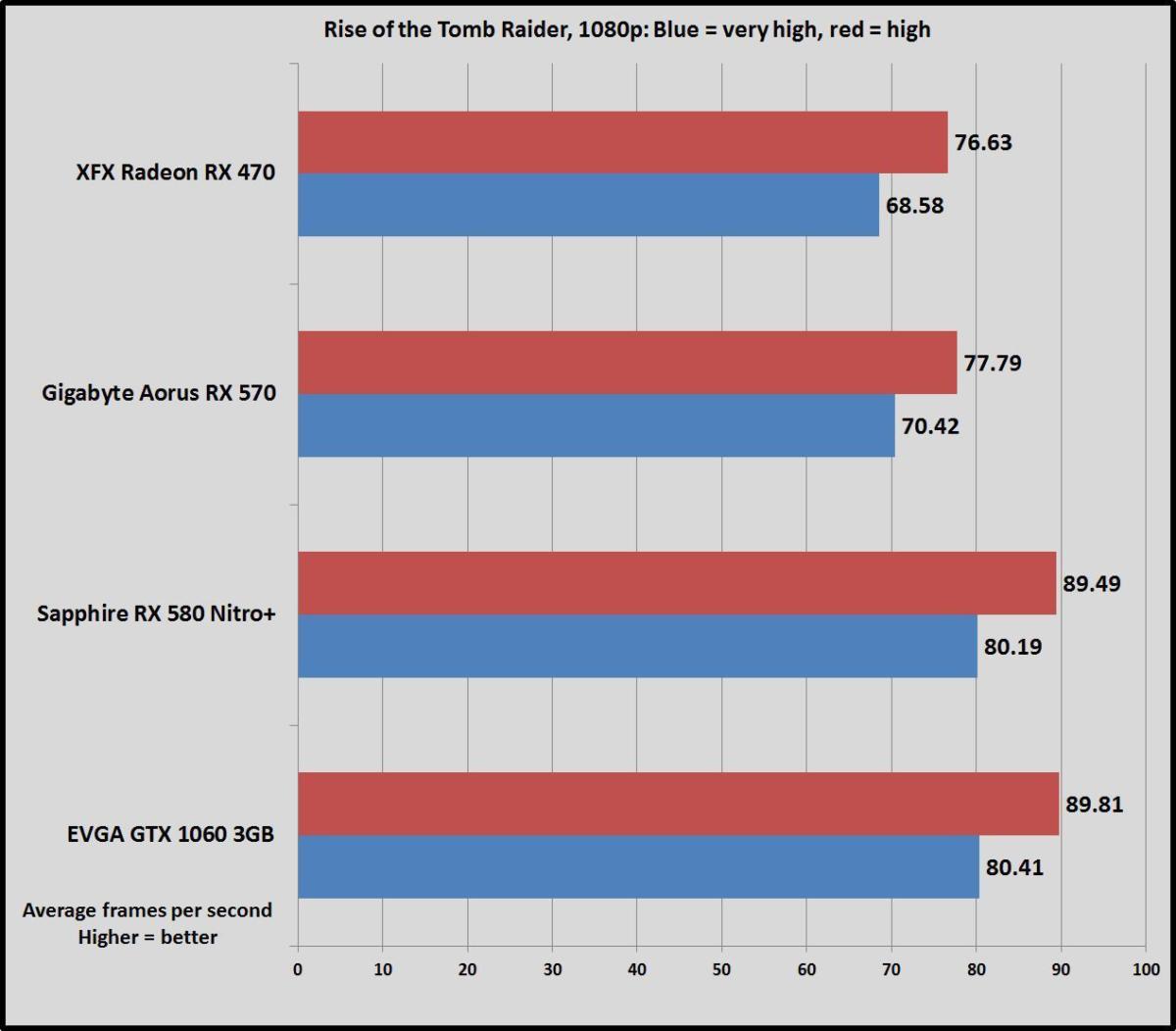 EVGA's 3GB GTX 1060 smokes the Radeon cards here, as is to be expected. The Aorus RX 570 narrows the gap mightily at 1440p resolution, however—as does the RX 470, as it once again delivers performance the slimmest of hairs behind its successor. The 3GB capacity of Nvidia's $200 graphics card just isn't ideal for high-resolution gaming.
Far Cry Primal
Far Cry Primal is yet another Ubisoft game, but it's powered by a different engine than The Division—the latest version of the long-running and well-respected Dunia engine.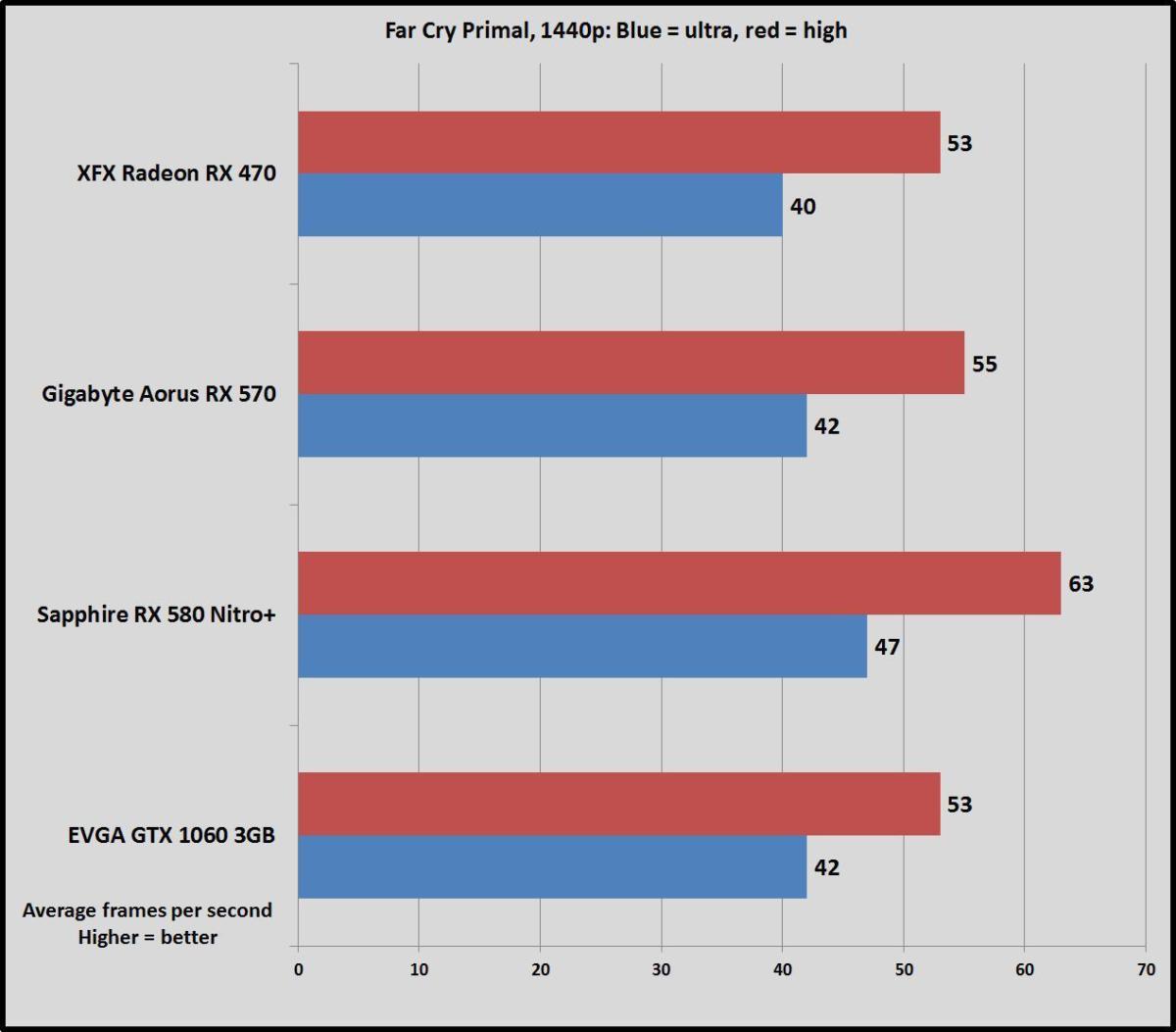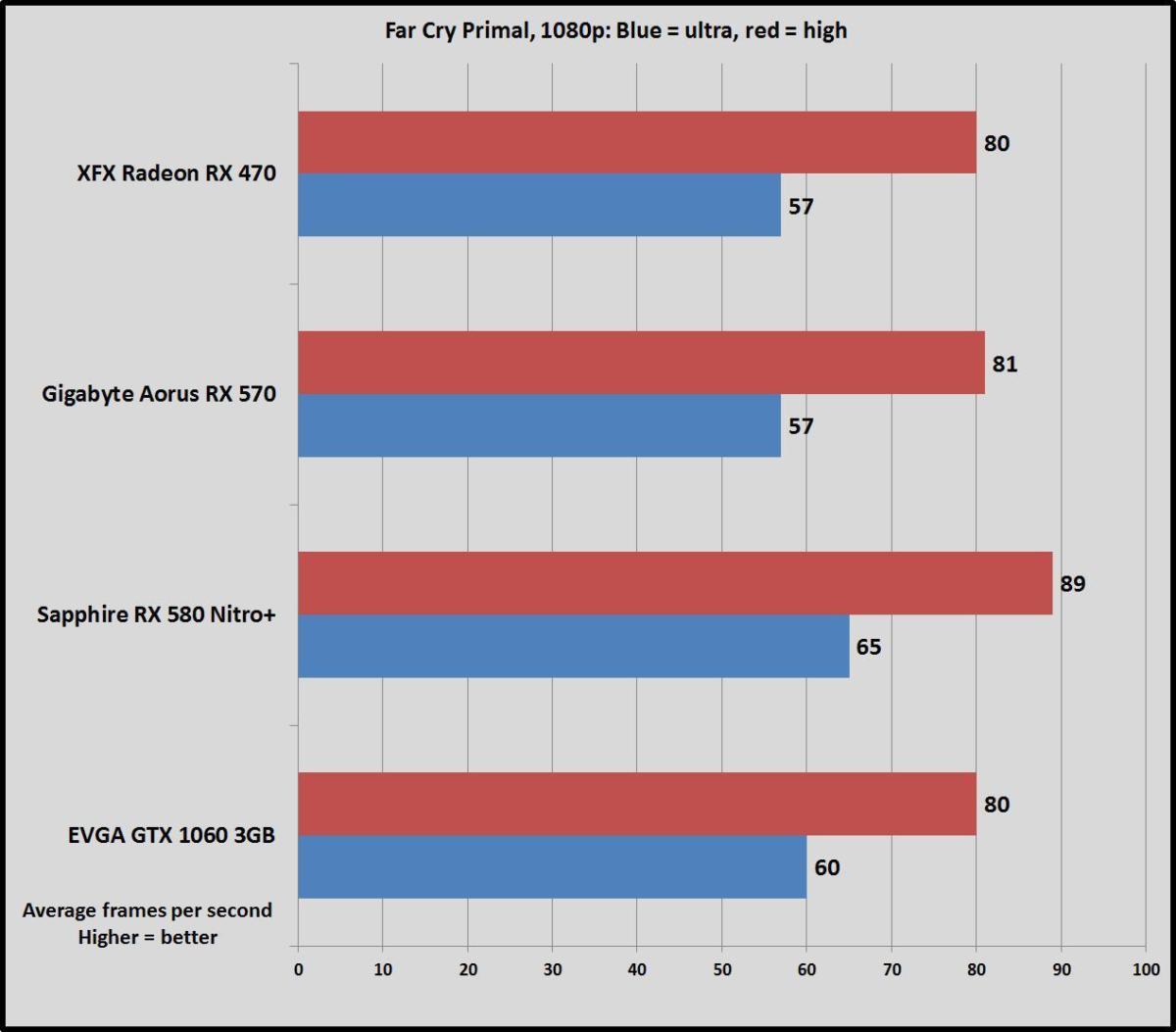 The three budget-friendly cards trade blows yet again. In some scenarios the older RX 470 even keeps pace with the RX 570.
Ashes of the Singularity
Ashes of the Singularity, running on Oxide's custom Nitrous engine, was an early standard-bearer for DirectX 12, and many months later it's still the premier game for seeing what next-gen graphics technologies have to offer. The performance gains it offers with DX12 over DX11 can be eye-opening, though those gains tend to be more profound on Radeon cards.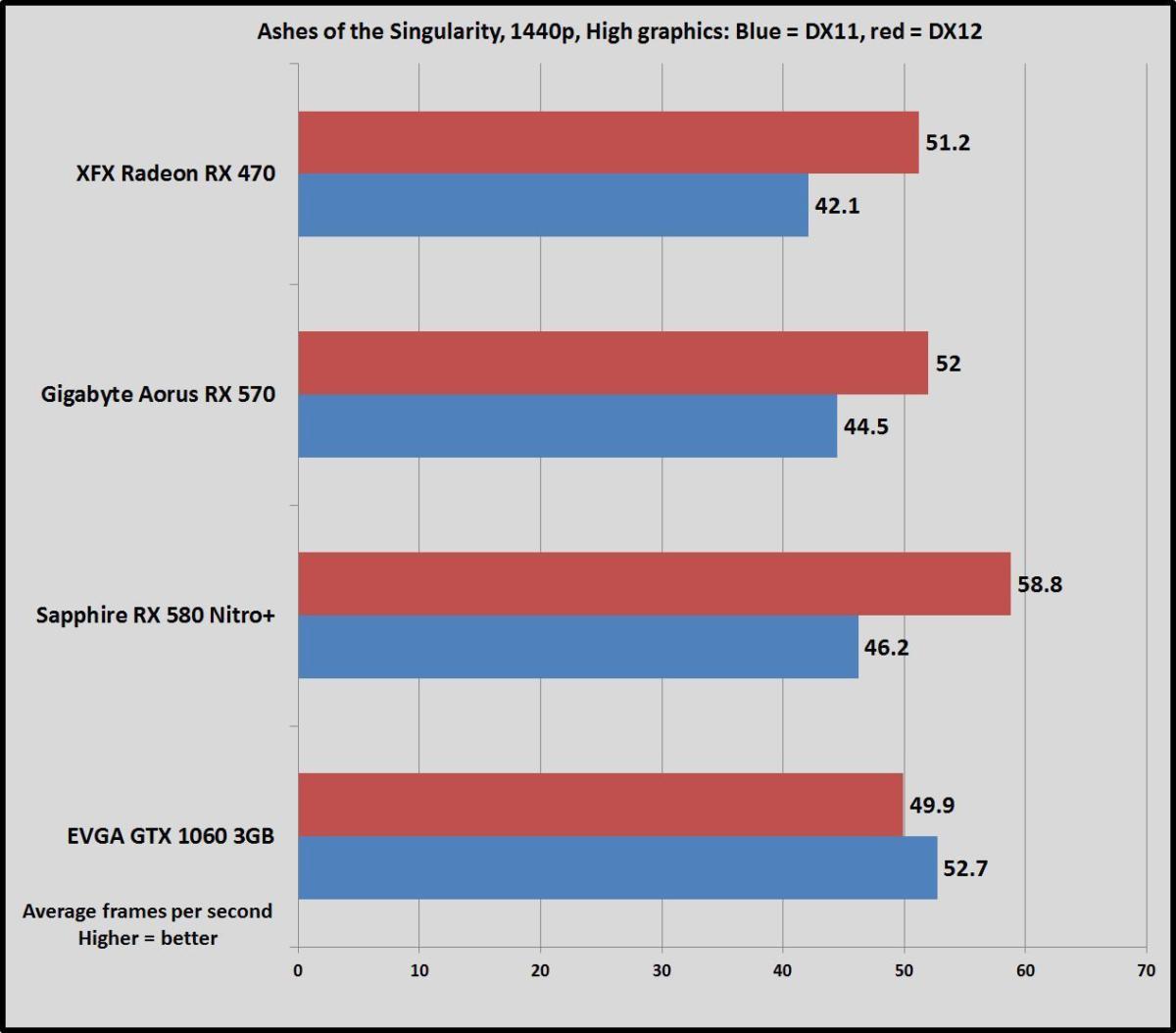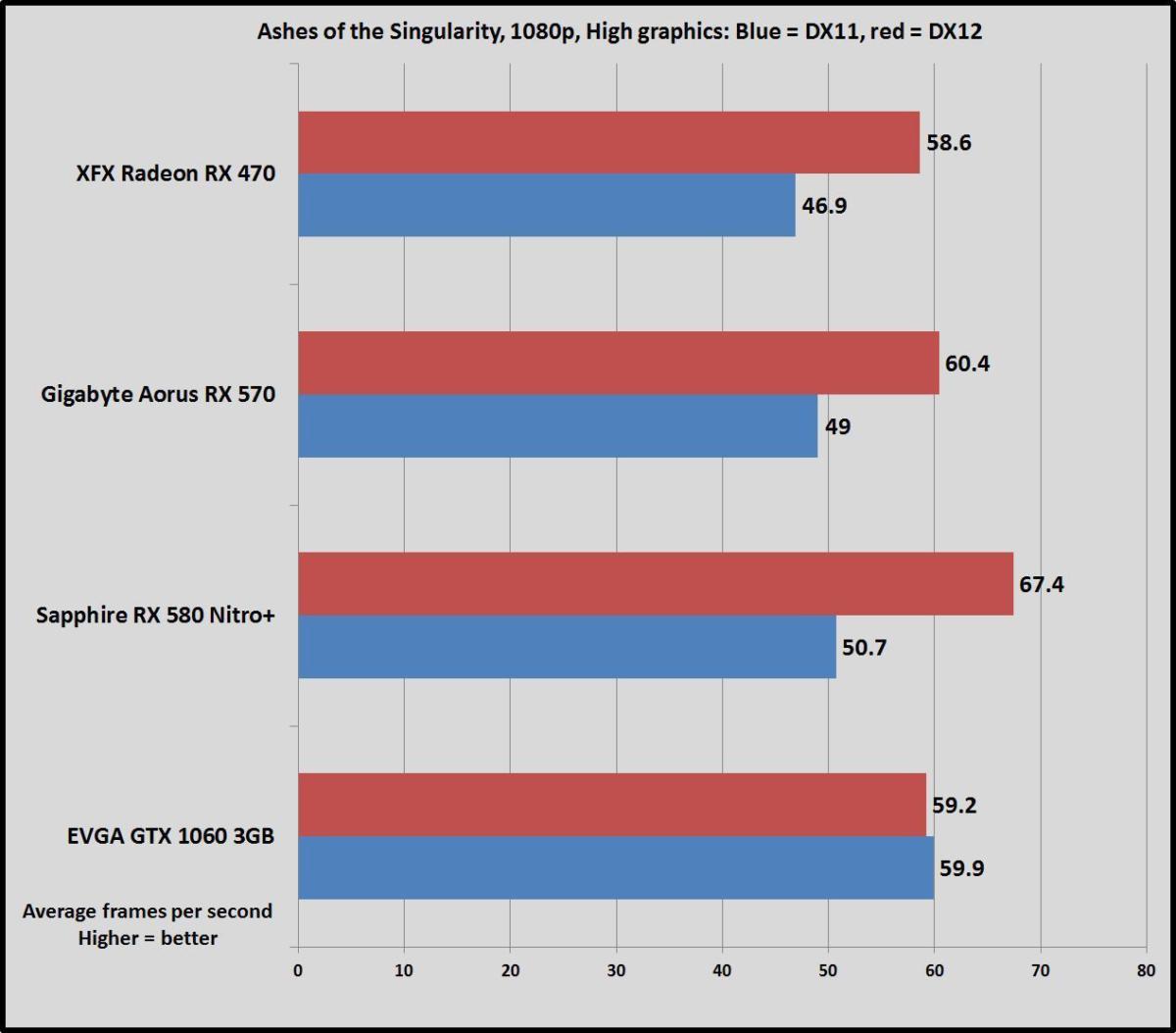 We test the game using the High graphics setting, as the incredibly strenuous Crazy and Extreme presets aren't reflective of real-world usage scenarios.
The patterns we've seen before play out the same here. It's essentially a dead heat between the RX 470, RX 570, and 3GB EVGA GTX 1060, comparing the GeForce card's DX11 results to the Radeon's DX12.
Synthetics, VR, power, and heat
We also tested all cards using 3DMark's highly respected DX11 Fire Strike and Fire Strike Ultra synthetic benchmarks, as well as 3DMark's Time Spy benchmark, which measures DirectX 12 performance at 2560×1440 resolution.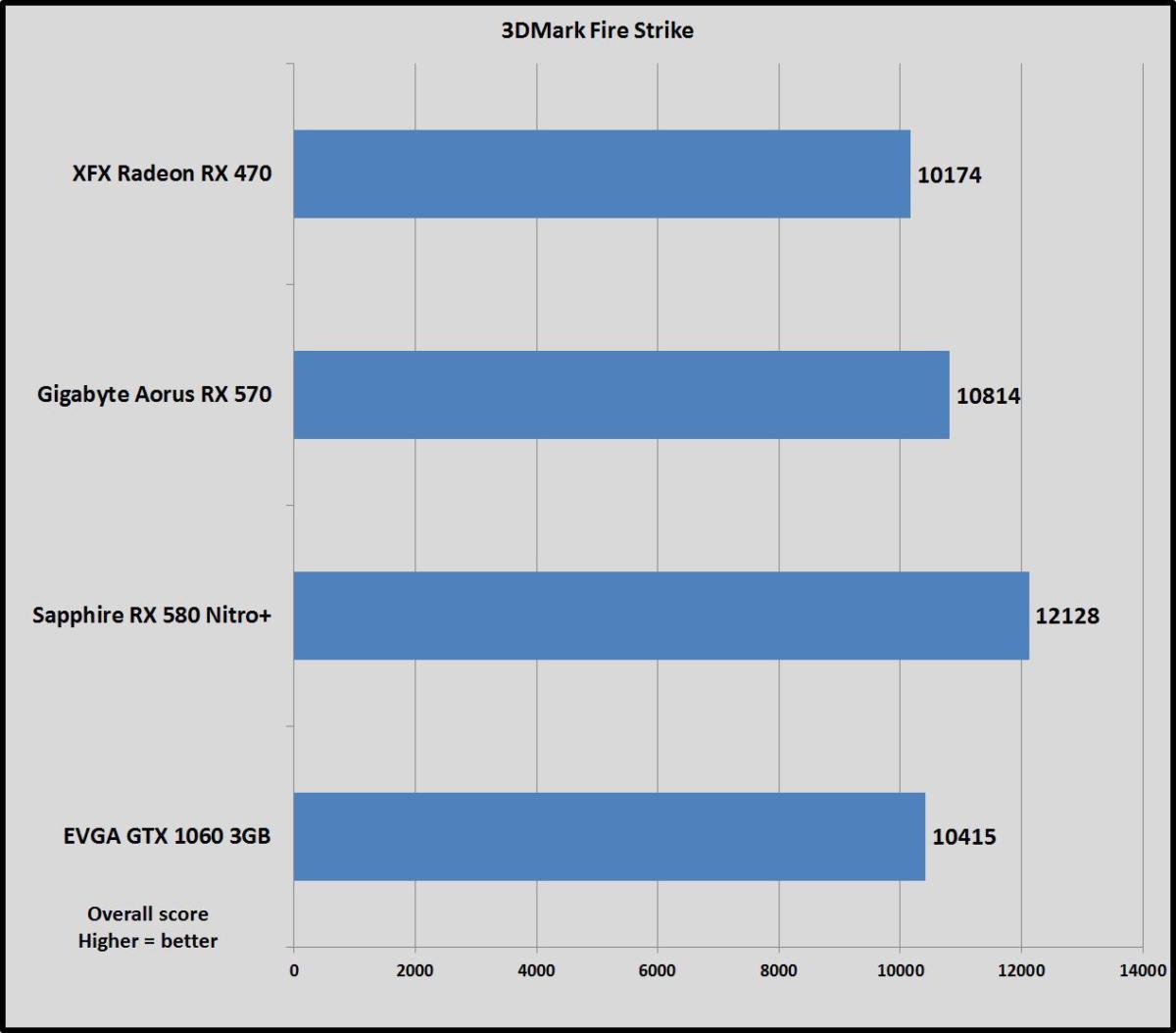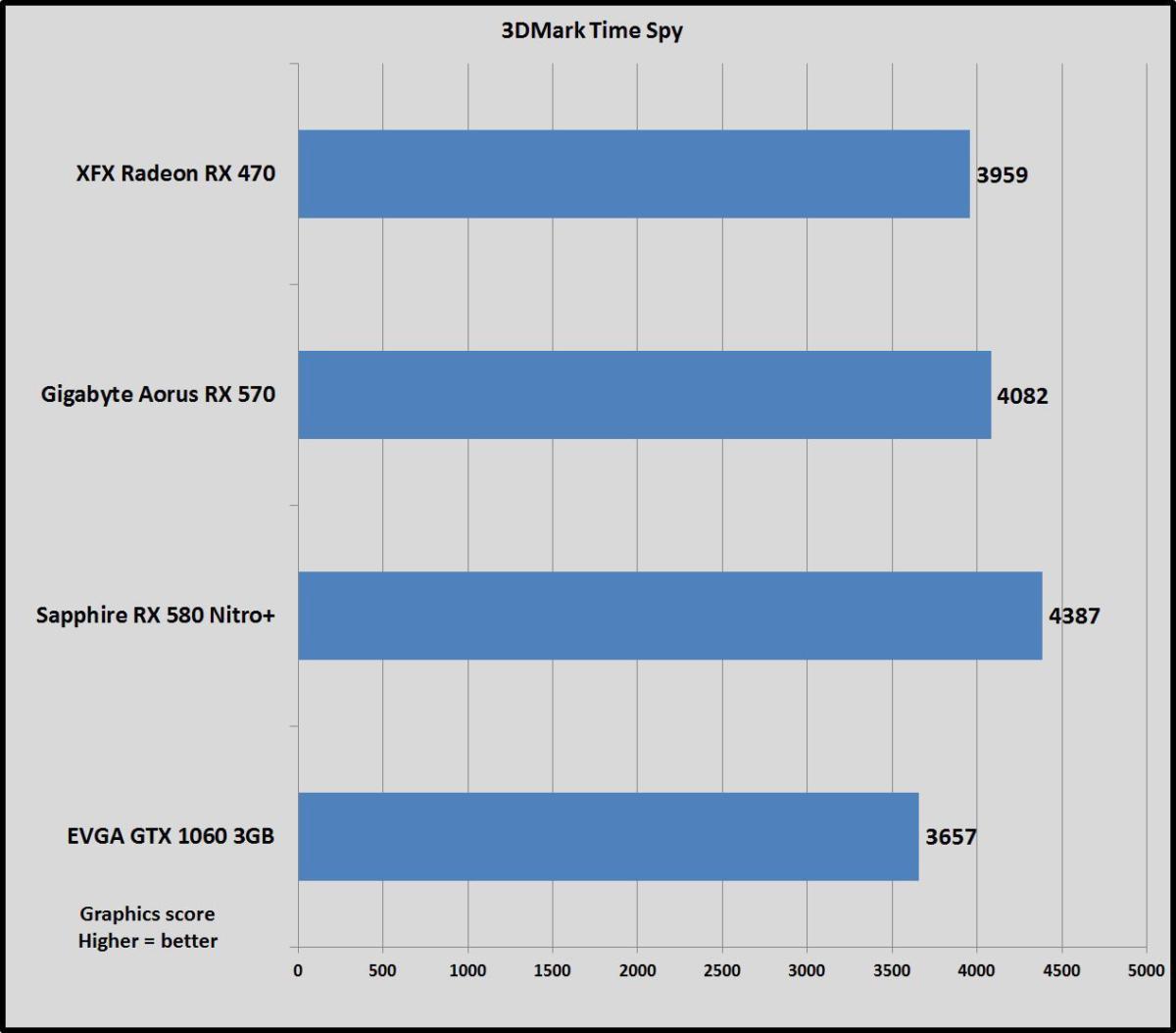 The Radeon cards beat out the GeForce card here, even though real-world results show a much closer race. That's why you shouldn't benchmark graphics cards using synthetic benchmarks alone.
SteamVR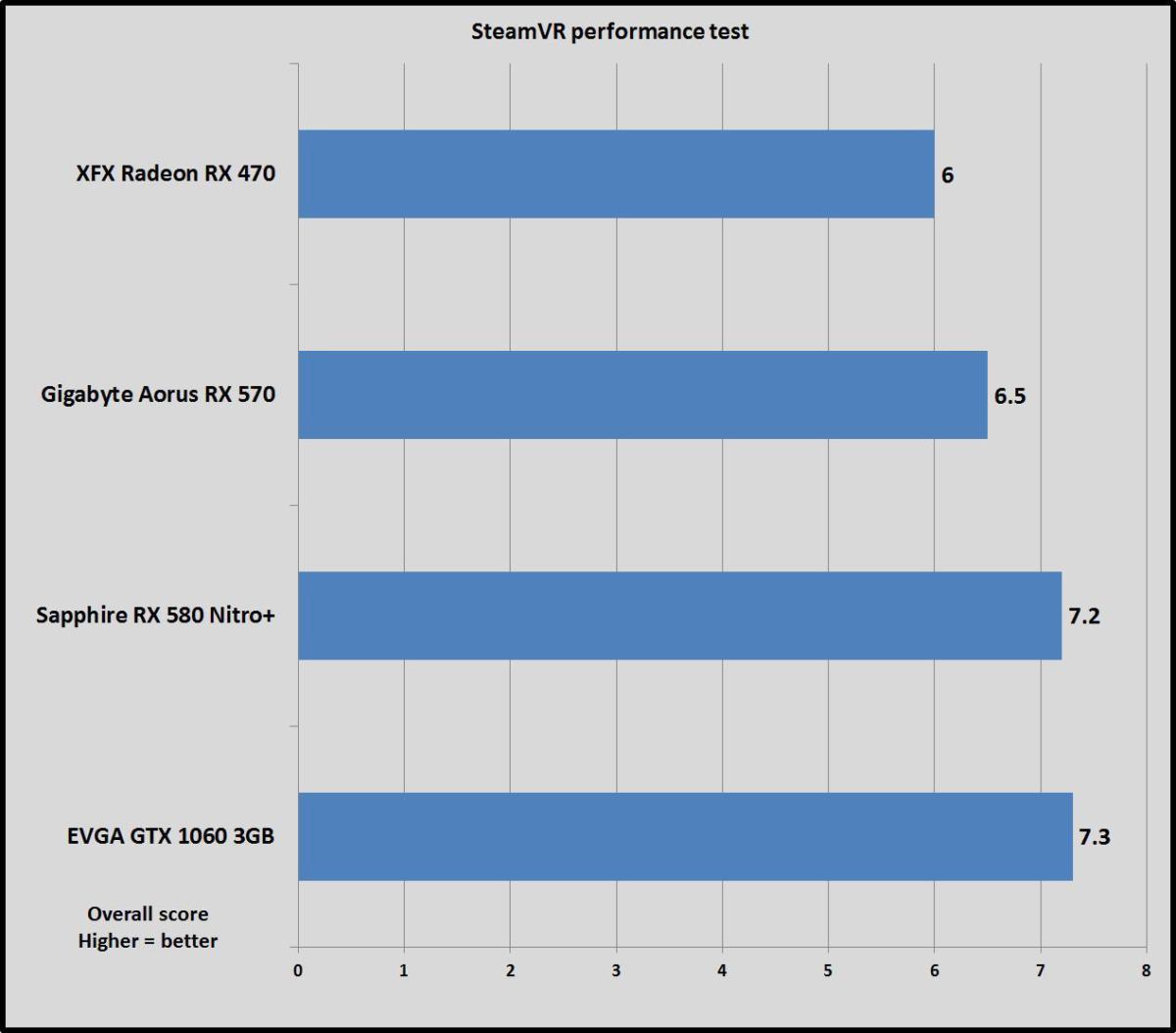 Valve's SteamVR performance test considers all competitors ready for use with the HTC Vive. I'd be nervous about the GTX 1060's minuscule 3GB buffer for virtual reality, though, despite its ostensibly higher score. These cards should do just fine with the Oculus Rift as well, thanks in part to Oculus' amazing Asynchronous Spacewarp technology.
Power
We test power under load by plugging the entire system into a Watts Up meter, running the intensive Division benchmark at 4K resolution, and noting the peak power draw. Idle power is measured after sitting on the Windows desktop for three minutes with no extra programs or processes running.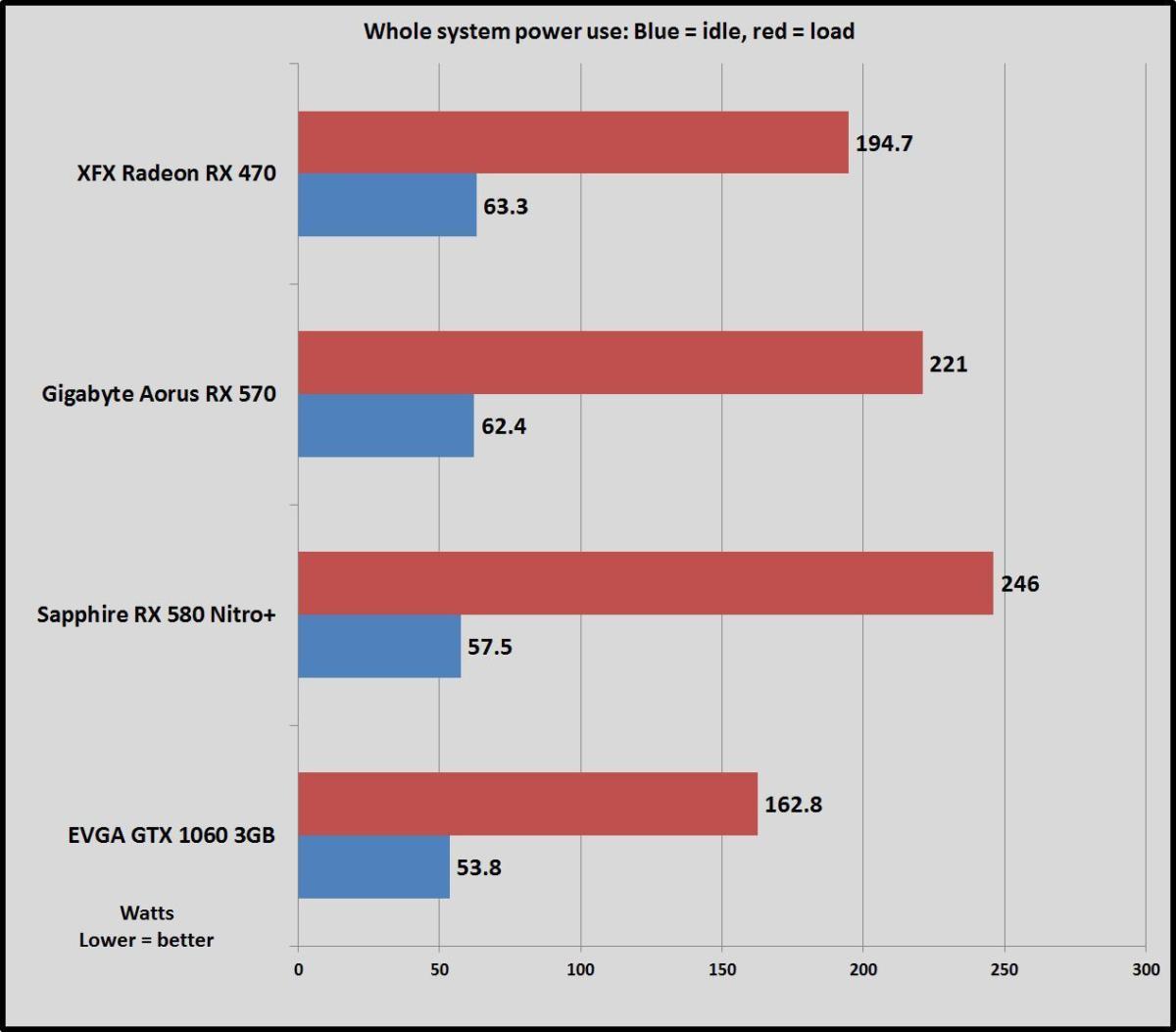 Once more, there's no surprises here. The 3GB GTX 1060 still consumes significantly less power than the RX 470, while the cranked clock speeds of the RX 570 consume more power than its predecessor. AMD said the new cards have better power efficiency at idle and it shows here: The Aorus RX 570 displays slightly lower idle temps than the XFX RX 470 despite its significantly higher clock speeds.
Radeon Chill can drastically drop the temperature and power use of AMD's graphics cards, but only in the 19 games that support it. On the plus side, those 19 games are among the most-played games in the world.
Heat
We test heat during the same intensive Division benchmark, by running SpeedFan in the background and noting the maximum GPU temperature once the run is over.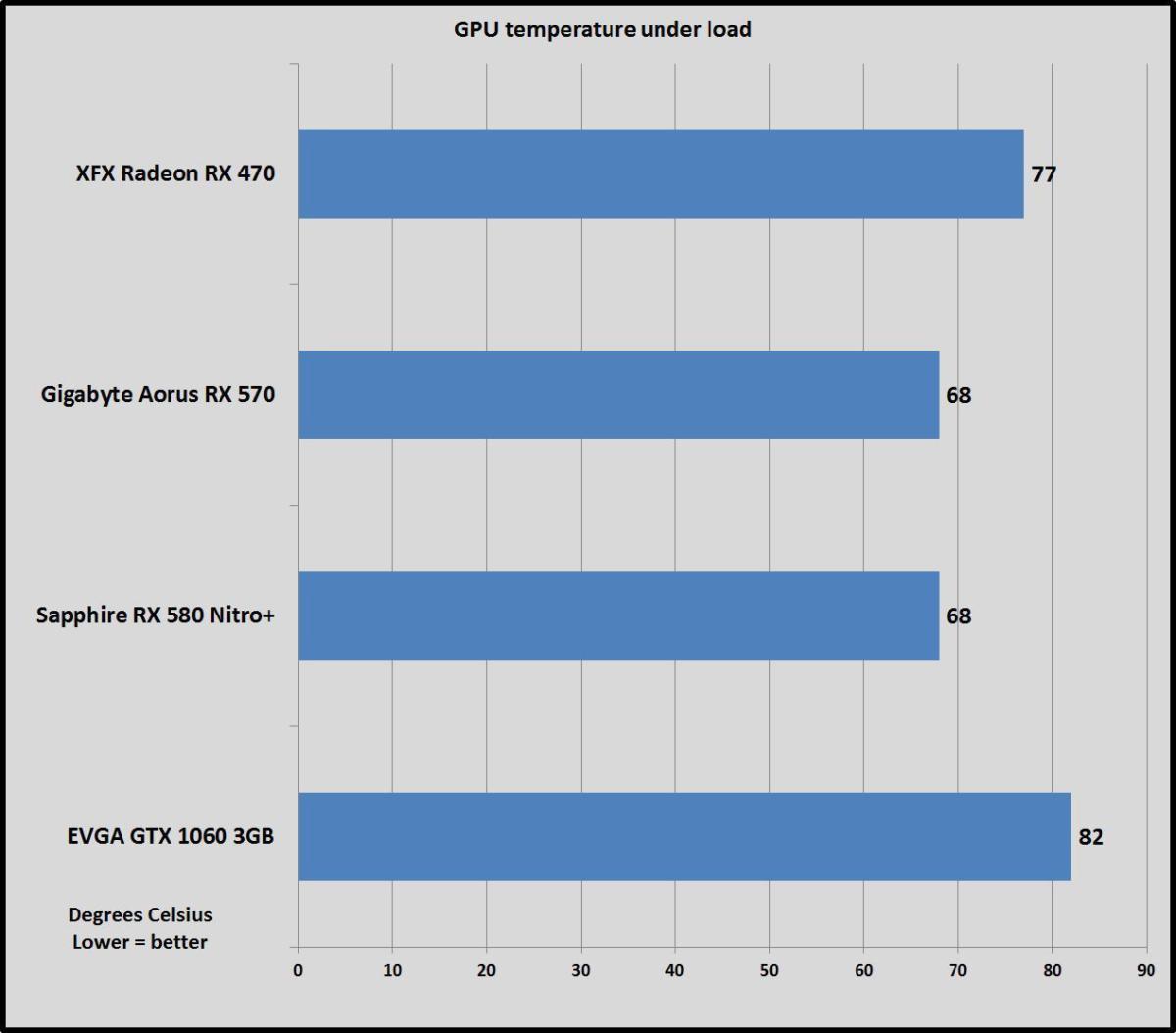 The Aorus RX 570's cooler is beefier than you typically find on sub-$200 graphics cards, and it offers the most impressive temperatures, staying under 70 degrees Celsius at all times. While Nvidia's GPU doesn't need anywhere as much power as the Radeon GPUs, the single-fan cooling solution means the EVGA GTX 1060 runs toastier than its rivals—though still far from dangerously so.
Bottom line
So there you have it: Even with a factory overclock and an impressive custom cooler, the Aorus Radeon RX 570 is still only slightly faster than an overclocked Radeon RX 470, and trades blows with the 3GB GTX 1060.
It's a performance wash—but I'd universally recommend the Radeon RX 570 over the 3GB GTX 1060 (and the much weaker GTX 1050 Ti). Sure, the GeForce card offers much greater power efficiency, but a mere 3GB of memory capacity just doesn't cut it for high-quality gaming these days. Some games already blow past that even at 1080p resolution, and having under 4GB of RAM can cause stuttering issues in some DirectX 12 games. The lower-cost Radeon RX 570 and its 4GB buffer is the better option, full stop.
Mentioned in this article
Acer XF240H 24-inch 1920×1080 FreeSync display, 144Hz
Price When Reviewed:
$249.99
It's a solid option for 60-fps, 1080p gaming with few compromises, and the Aorus RX 580 can even handle some 1440p games if you don't mind dialing back graphics details and tolerating frame rates that fall closer to 45 fps. An affordable FreeSync variable refresh rate monitor—a compelling part of Radeon's value in non-high-end PC builds—would be a great accompaniment for this particular card, smoothing out gameplay when performance does dip below 60 fps.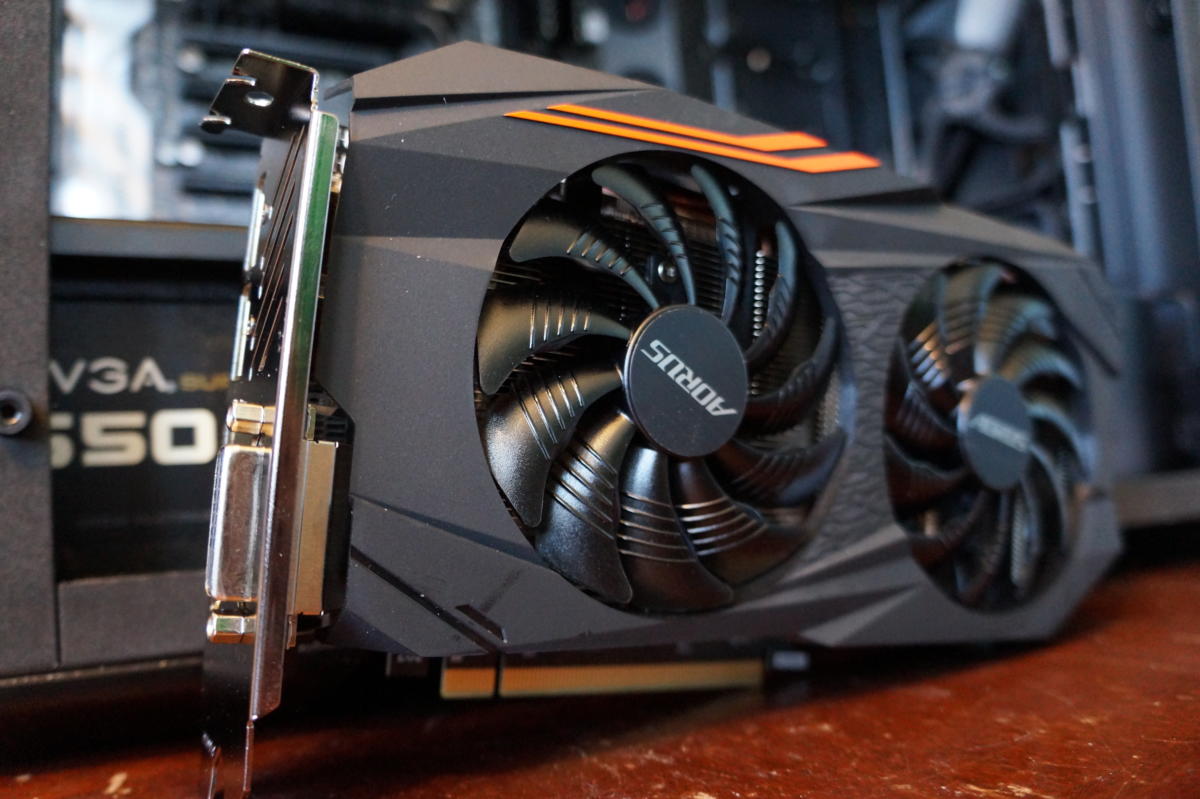 The $180 customized Aorus model is a particularly nice graphics card for this price segment, especially since it carries only a $10 premium over AMD's suggested pricing despite its overclock and custom cooler. The $10 AMD dropped from the RX 570's suggested price gives the GPU a much better value proposition with this generation, too. At $180, the older RX 470 wasn't worthwhile when a 4GB RX 480 was only $20 more.
What a bummer of a refresh, though.
When AMD replaced the Radeon R200 series with the R300-series, those refreshed graphics cards boosted memory speeds and offered more memory capacity. The Radeon RX 500-series essentially only boosts the GPU card speeds, and it's not enough to achieve any sort of meaningful performance gain in gaming scenarios. Yawn.
Like I said, it makes a lot of strategic sense for AMD to roll out this rebrand. It sets the stage for Radeon Vega's eventual second-quarter launch, for one thing. But lots of folks are building new Ryzen PCs right now. Those people will have shiny "new" Radeon RX 500-series graphics cards to pair with their shiny new Ryzen 5 processors—and the Radeon RX 570 definitely outshines its GeForce competition, ironically due to that untouched 4GB memory capacity. It'd be a massive step-up over an older Radeon R7 370 or GeForce GTX 960.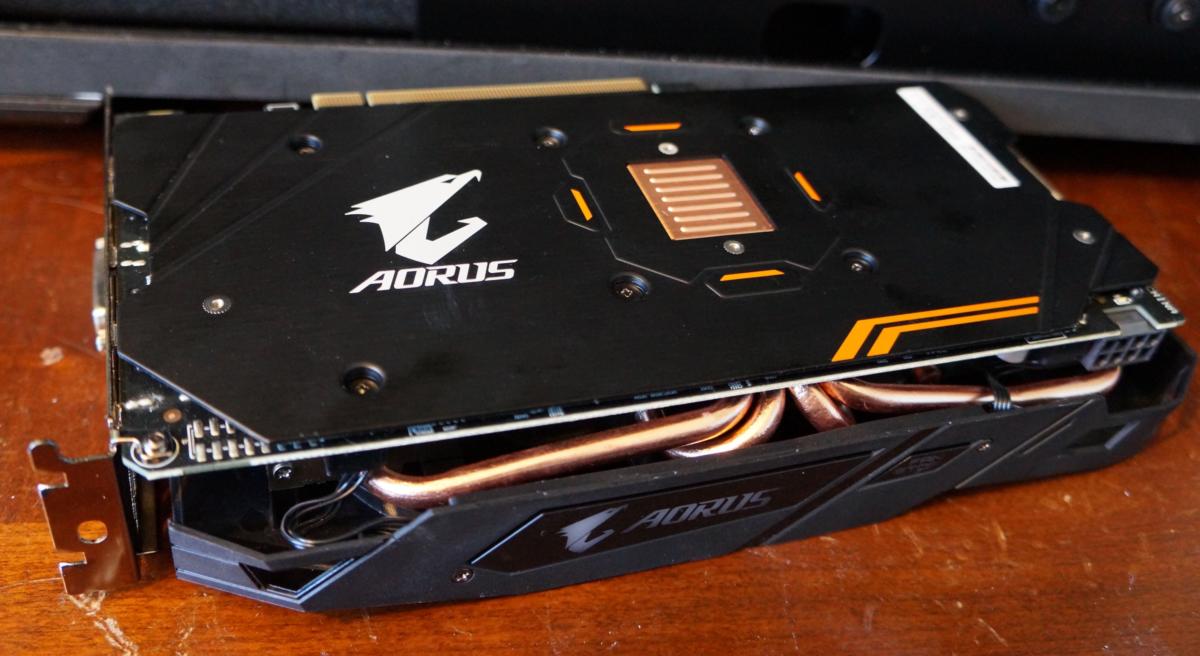 But the Radeon RX 570 is a virtually imperceptible upgrade over the Radeon RX 470. A few frames per second and better power efficiency in some use cases isn't compelling whatsoever for current owners of Polaris-based GPUs.
In fact, Radeon RX 470s have been selling for incredibly cheap prices in the ramp-up to this release. If you can find one of those on sale, pick it up instead and pocket the extra cash. You won't notice the performance difference. And if you're really lucky, you might even be able to find an RX 480 for roughly the same price (or less!) as a custom RX 570. Take that deal all day long.
Best Prices Today: Aorus Radeon RX 570