At a Glance
Expert's Rating
Pros
Huge e-sports performance leap over integrated graphics
Cool and quiet
Offers modern ecosystem and media features
Cons
No small form factor versions at launch
Priced too high
Our Verdict
The Radeon RX 550 delivers tremendous value to e-sports gamers and home theater PC owners, but high pricing compared to the RX 560 renders it borderline irrelevant.
Best Prices Today: Radeon RX 550
The most popular games in the world don't need a beefy graphics card.
Yes, I'm talking about e-sports. The likes of League of Legends, Dota 2, and Counter-Strike: Global Offensive dominate Twitch and Steam charts alike. There are a lot of reasons for their success, but the fact that they run on virtually any PC doesn't hurt. Heck, you can even run e-sports games—including Overwatch—on an AMD APU's integrated graphics if you're okay with modest frame rates at lower resolutions.
AMD's affordable new Radeon RX 550 is designed for folks who want more e-sports eye candy without breaking the bank, at $80 on Newegg.
Higher frame rates and resolutions mean you can see more, faster, and that extra performance can spell the difference between winning and losing in the world of competitive gaming. AMD's latest Radeon lets you crank those graphics settings, and it includes all the helpful ecosystem conveniences found in the rest of the Radeon RX 500-series, such as native broadcasting support with Radeon Crimson ReLive, FreeSync monitor compatibility, and modern media technologies that could make the Radeon RX 550 a hit with home theater PC enthusiasts.
We haven't seen a graphics card serve the ultra-budget market in years. But is a graphics card this cut-down worthwhile? Yes…and no.
Let's dig in.
Meet the Radeon RX 550
You'll find all the hardcore technical specs for the Radeon RX 550 in the chart below, but in sum they're half that of the already modest $100 RX 560, which is launching in early May as the final release in AMD's new Radeon RX 500 series. It's one-quarter the GPU inside the $170 Radeon RX 570.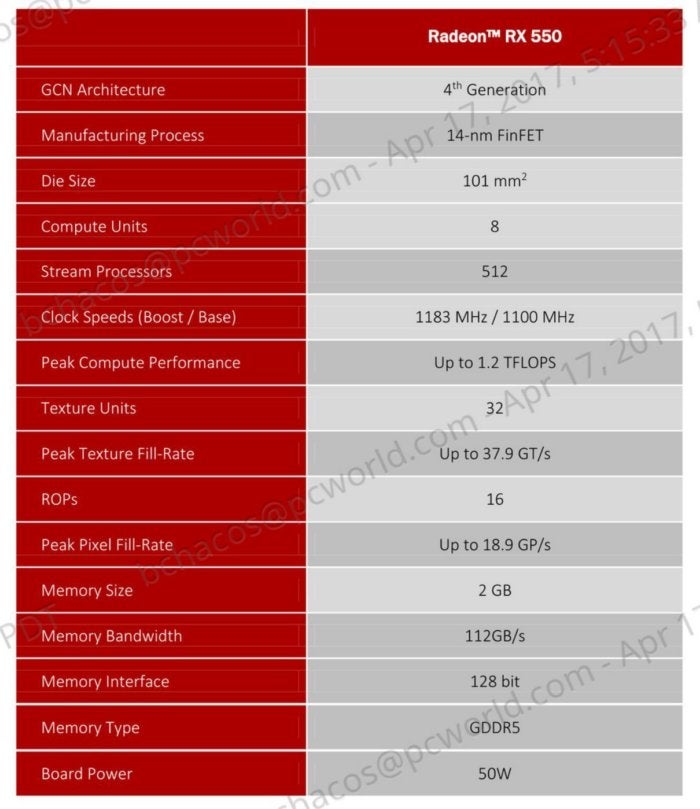 The Radeon RX 550's Polaris GPU packs a mere 8 compute units and 512 stream processors, but you don't need much horsepower to drive e-sports or home theater PCs. It hums along at a 1,100MHz base/1,183MHz boost clock, married to 2GB of GDDR5 memory with a 128-bit bus. (4GB models will also be available in limited numbers.) Those modest internals demand only modest amounts of power, however. The Radeon RX 550 is powered completely via your motherboard's PCIe slot, with no extra power cables required. That's a big deal for folks wanting more oomph from an existing PCs—likely a sizable portion of this card's target audience.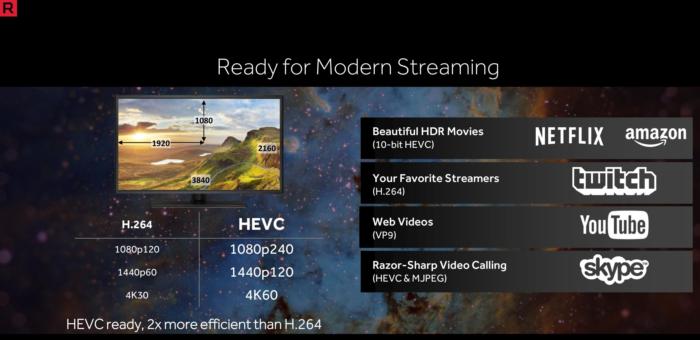 Besides e-sports gaming capabilities, which are bolstered by compatibility with affordable FreeSync variable refresh rate displays, the Radeon RX 550 offers support for modern media technologies. The HDMI 2.0b and DisplayPort 1.4 connections can handle 4K resolution and high-dynamic-range video, while the GPU's capable of HEVC encoding and decoding. That makes this tiny graphics card an intriguing option for a home theater PC.
AMD says to expect low-profile versions of the Radeon RX 550 "shortly after" launch, which would certainly suit itty-bitty HTPCs.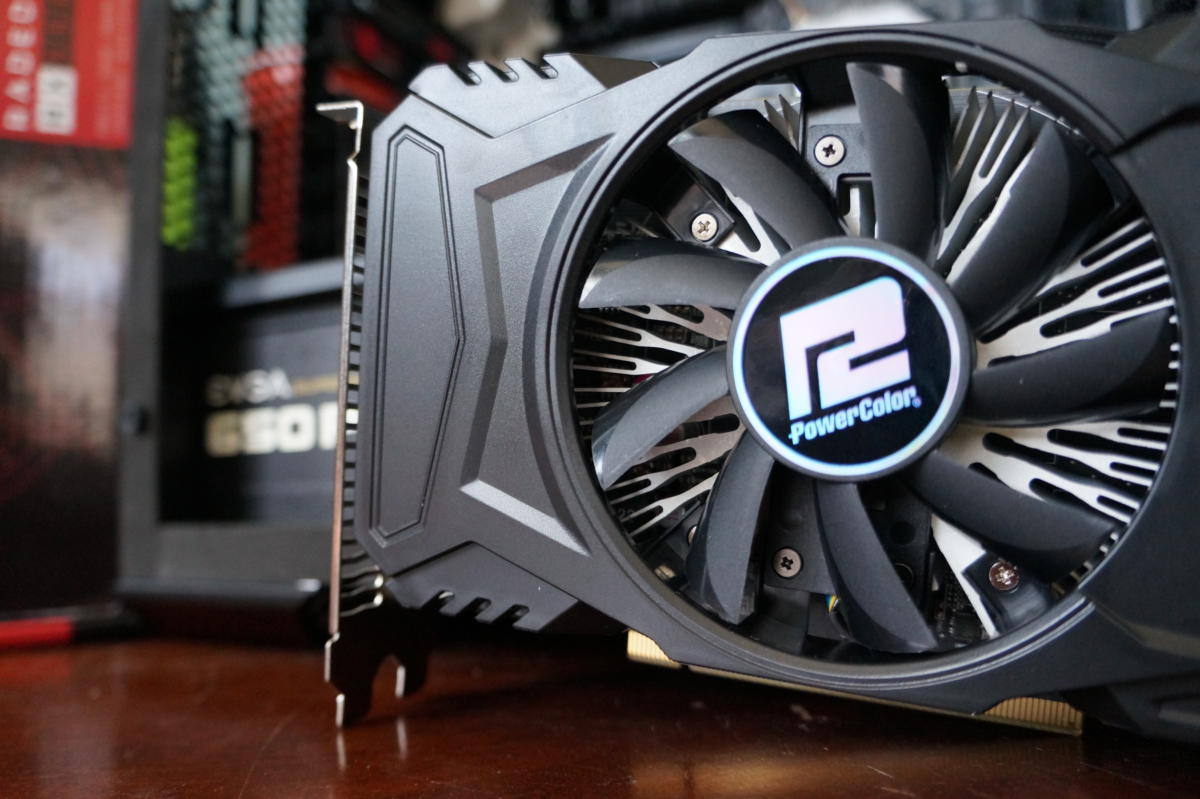 The version we're testing today isn't low-profile. Heck, it isn't even as small as most 3GB GeForce GTX 1060 cards. Instead the PowerColor Red Devil Radeon RX 550 uses the same basic cooling solution as PowerColor's RX 460, with a single fan and a plastic shroud over a small heatsink reminiscent of a stock CPU cooler. That's not surprising. AMD didn't create a reference version for any of the Radeon RX 500 series, and with the Radeon RX 550 being so cheap, we'd expect to see a lot of cooler reuse from manufacturers, especially in the first wave of products.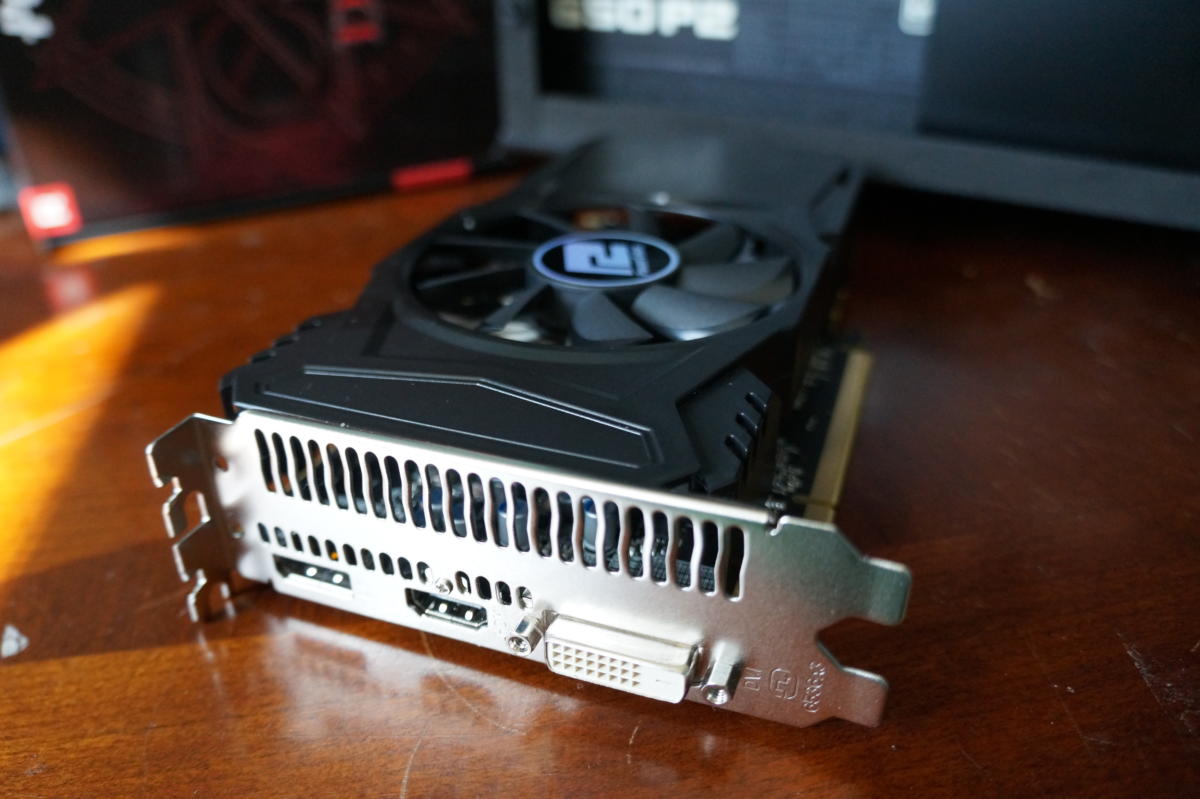 You'll find single connections for the aforementioned HDMI and DisplayPorts, as well as DVI-D, which is officially eradicated from AMD's reference lineup but damned handy for older and entry-level monitors serving this price range.
Got it? Good. Let's see how this puppy handles.
Our test system
Even though the PowerColor RX 550 is the most entry-level of entry-level video cards released in a long while, we're still testing it on PCWorld's dedicated GPU benchmarking PC, which is brimming with high-level hardware to eradicate bottlenecks and show unfettered graphics performance.
This review's going to be a bit unusual, as the stripped-down Radeon RX 550 simply isn't intended to play AAA games at a decent clip like most graphics cards. It's designed as a step-up from CPU integrated graphics, and heck, it doesn't even have any direct competition in dedicated graphics. No Nvidia GeForce cards have targeted this segment since 2014's GT 740, and AMD hasn't offered a comparable Radeon in the U.S. since the Radeon R7 250 launch in 2013.
So instead of our usual benchmarking suite, I turned to some of the top e-sports games to test the Radeon RX 550, taking advantage of the replay feature in Dota 2 and League of Legends. For each, the charts show the last 10 minutes of a professional match, with all players leveled up and action coming fast and furious. Here are the options I used for Dota 2, which resulted in an attractive overall image:
Meanwhile, I tested Counter-Strike: Global Offensive using the FPS Benchmark mod from the Steam Workshop. All e-sports performance results were captured using FRAPS.
Radeon RX 550 benchmarks
Unfortunately, I don't have a PC with integrated graphics on hand to compare the Radeon RX 550 against. But I tested an AMD A10-7860K APU-powered machine with relatively strong integrated graphics last year, and while it was definitely capable of playing e-sports games, it required some severe compromises. You can see below how that PC held up in the games we're testing today. Take particular note of the resolution and graphics settings listed next to each game, which were the combination required to get the games running close to the hallowed 60 frames per second standard.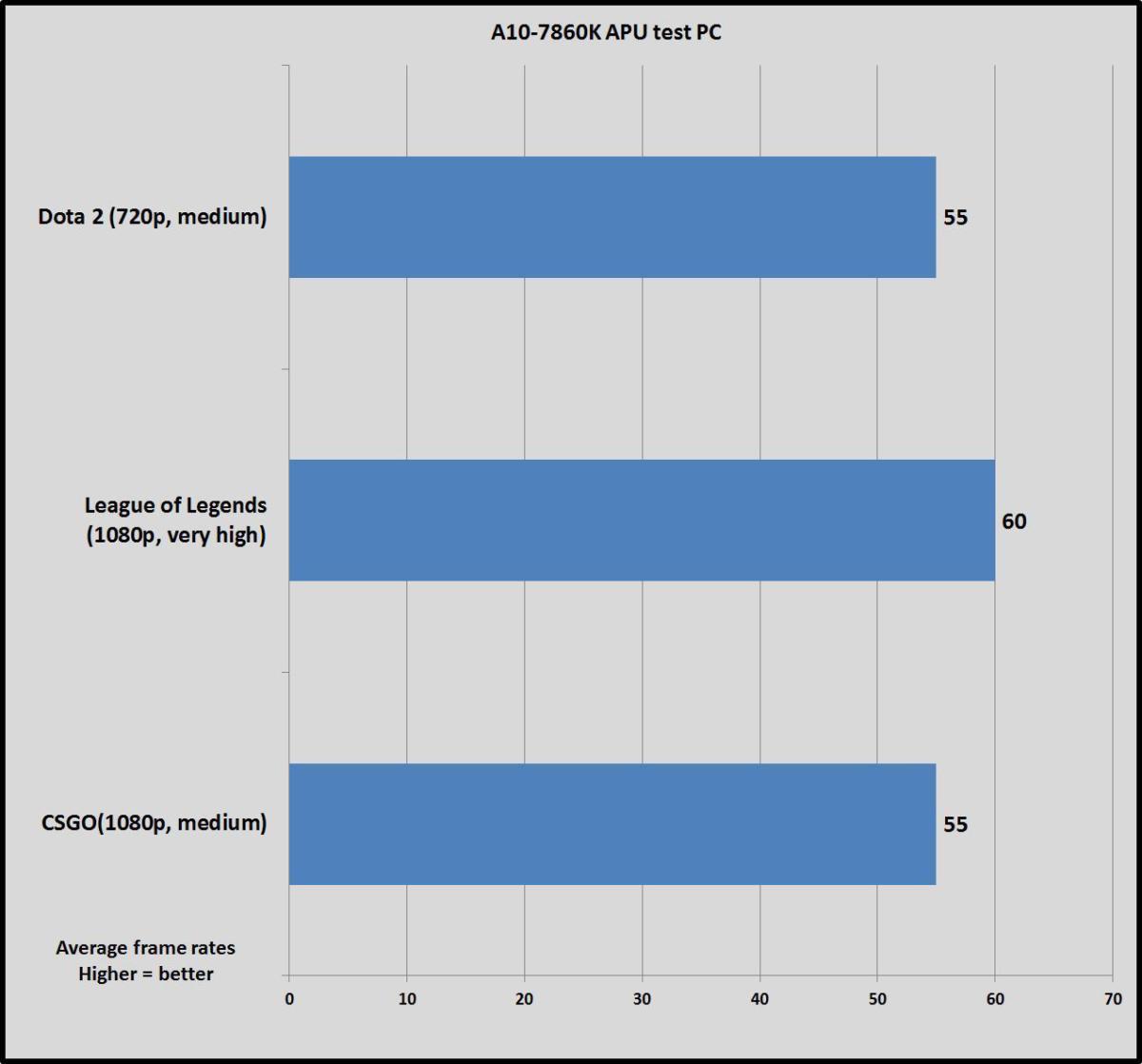 By comparison, here's how the PowerColor Radeon RX 550 fared in those same games. All games were tested at 1900×1200 resolution and High graphics settings. We also tested a pair of traditional AAA games at Low graphics settings to see how the card rolls outside of e-sports.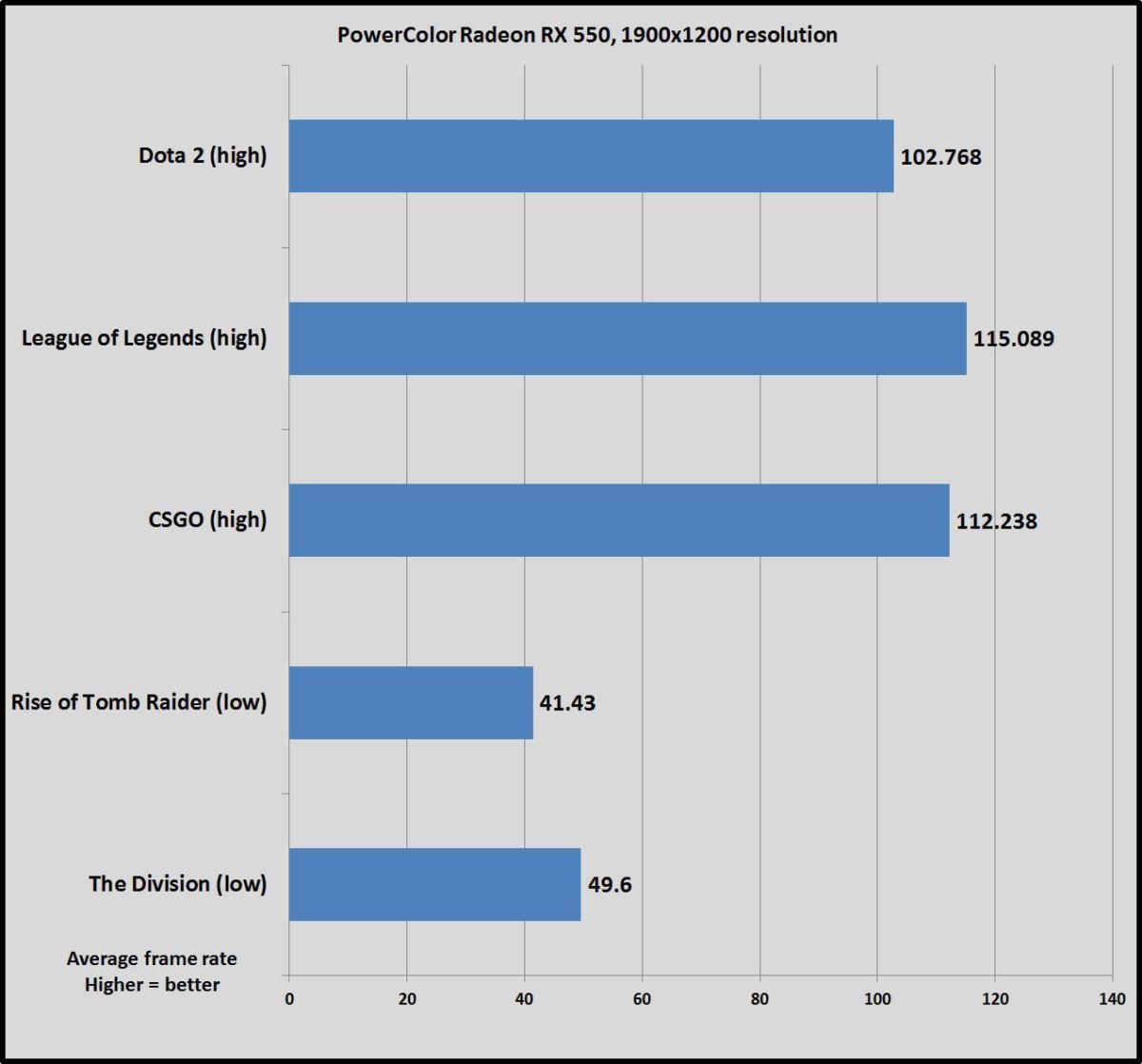 As you can see, the RX 550 delivers a vastly superior experience to even the Radeon integrated graphics in a pricier AMD APU, surpassing 100fps at far higher resolutions and graphics settings in the tested games. Not too shabby! Also not too shabby: the Radeon RX 550's ability to handle The Division and Rise of the Tomb Raider, two of the most gorgeous games in recent memory, albeit at low settings. You're definitely going to want a more potent graphics card if you plan on playing anything but e-sports regularly. But the Radeon RX 550 can do in a low-quality pinch.
Even better, this modest card uses modest amounts of power and generates modest amounts of heat. (Clarification update: Power measurements represent whole system power, not the GPU alone.)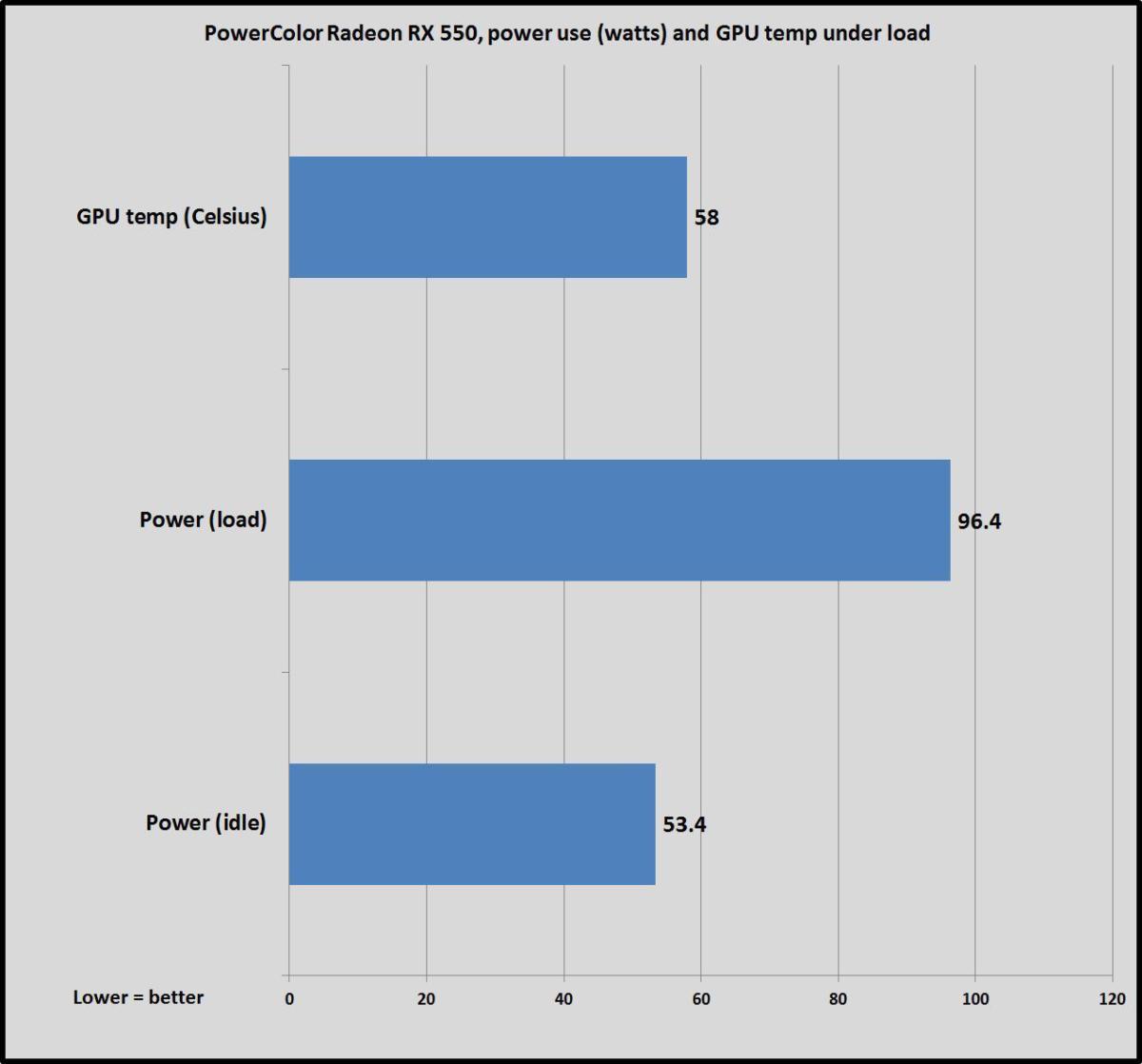 Bottom line
So is a card this cut-down worthwhile? The benchmarks say yes, unequivocally, if your usage falls into its purview.
If you're using a PC with integrated graphics and want to supercharge your e-sports experience (and dabble in other games) without topping $100, the Radeon RX 550 definitely delivers. The difference in performance is night and day, and with Polaris's deep encoding support, you'll be able to stream your adventures to Twitch with no problem—and streaming functionality's built right into AMD's Radeon Software Crimson. It's like this card was made for e-sports or something.
Mentioned in this article
ViewSonic VX2457-MHD 24″ 1080p FreeSync Monitor
There's no reason to opt for a pricier 4GB version of the Radeon RX 550 once those become available, as none of the gaming this card is meant for would push the memory that hard. But if you wind up upgrading your monitor at some point down the line, a high refresh-rate FreeSync display like ViewSonic's 24-inch, 75Hz VX2457-mhd ($140 on Amazon) would be a splendid, buttery-smooth companion.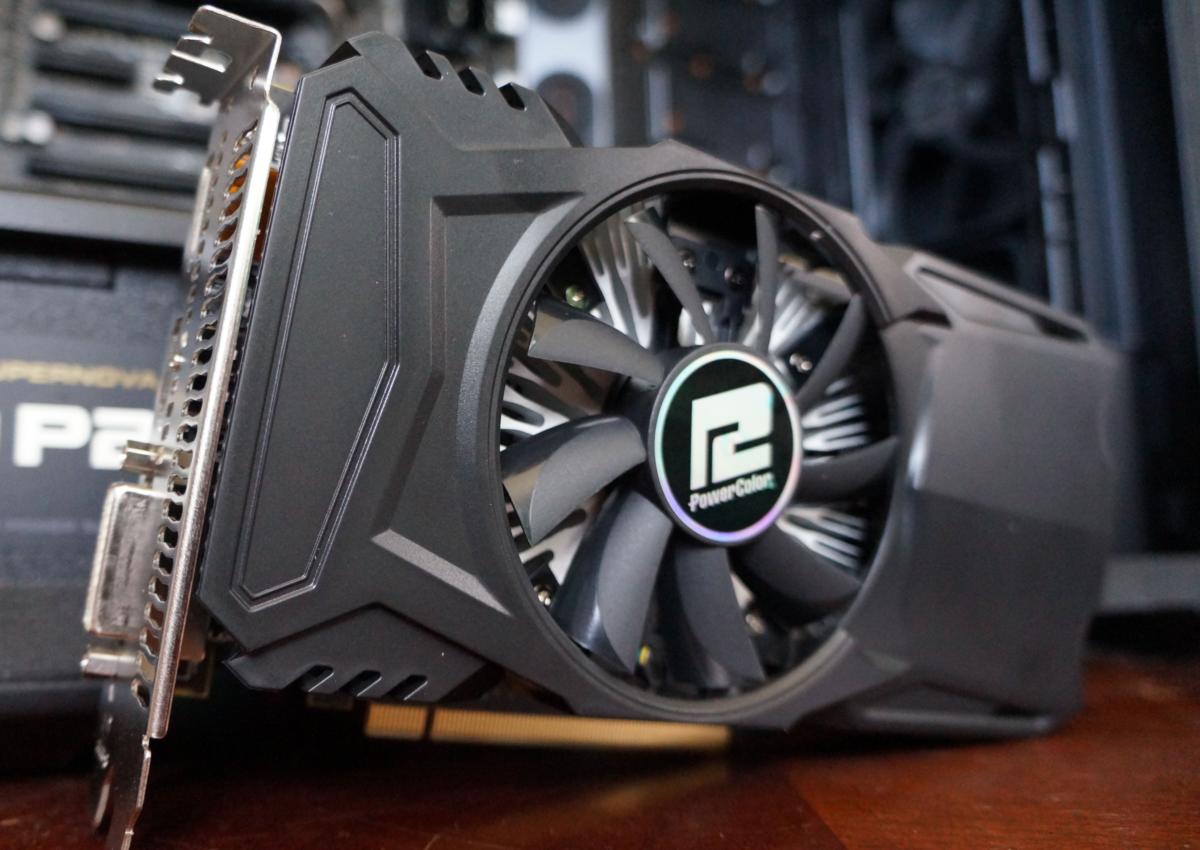 On the other hand, the Radeon RX 550's modern media features indeed make it an intriguing option for home theater PCs. Of course, many are built to be smaller rigs, something less obtrusive for the living room.
If your needs are compatible with the first wave of full-height cards, swell! If not, here's hoping the Radeon RX 550 indeed starts rolling out in low-profile and (maybe, please?) single-slot variants. It's a natural fit for that form factor—and quiet as hell.
The only fly in the ointment? Price.
At $80, the Radeon RX 550 certainly isn't expensive, and it's more affordable than Nvidia's ancient $100 GT 740 was—but it's only $20 cheaper than the $100 Radeon RX 560 cards coming in early May. And if you remember back to the beginning of this review, a Radeon RX 550 is half a RX 560 under the hood. A 20 percent discount for 50 percent less performance (roughly) doesn't sit right, especially since the extra oomph provided by the Radeon RX 460 (and soon the RX 560) enables solid near console-quality gaming at 1080p resolution.
Sure, if you know you're only going to use the Radeon RX 550 for e-sports or watching 4K videos, the card lets you save $20 off the price of the RX 460 or RX 560. Most people should just buy the $100 card though. Which is why I'm so disappointed here.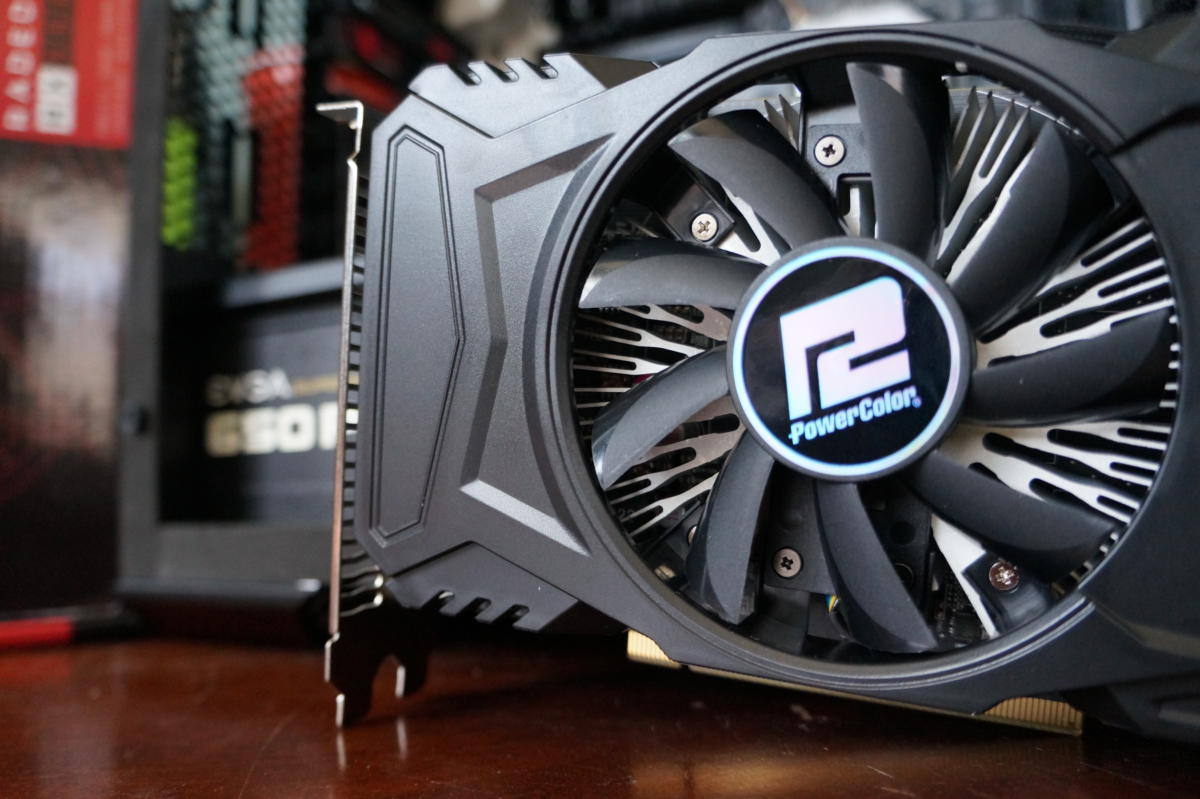 The Radeon RX 550 is nowhere near as versatile as the RX 460. I actually consider that a great thing. Competitive gaming is only getting more popular, and extremely budget-focused graphics card buyers have been woefully underserved by AMD and Nvidia for years. The stellar e-sports performance of this GPU excited me during benchmarking—when I assumed it would cost somewhere between $60 and $70. Itches that have been lingering for years would finally be scratched! Instead, at $80, there's little reason to buy it over an RX 460. We're back at square one.
I still really, really like the Radeon RX 550 and its laser-focus on HTPCs and competitive gaming. It could've been something special if it was just a bit cheaper. But as it stands there's little reason to buy it unless prices shift downward by $10 or $20. Cost is very important in the sub-$100 market, even if it's been largely underserved until now.
Best Prices TodayRadeon RX 550