At a Glance
Expert's Rating
Pros
Almost as small as a cell phone charger
Can put out 60 watts of power
Cons
Expensive charger
Doesn't work with Google Chromebook Pixel, and HP Spectre x360 has issues
Best Prices Today: FINsix Dart-C
If you accidentally left your USB-C laptop charger during a layover at Batman Airport (yes, it's real), consider yourself lucky, because you now have an excuse to upgrade to a much sexier, much lighter power brick, like the Finsix Dart-C (available for preorder for $99.99).
I can't confirm Finsix's claim that this is "The World's Smallest Laptop Charger," but damn, is it small (approximately 2.5 x 1 x 1 inches) and it punches well above its weight.
As its name implies, the Dart-C is a USB-C Power Delivery (PD) charger, so it's compatible with most devices that use the reversible USB-C port. A second USB Type A charging port is integrated into the cable. The placement of the second port looks clumsy but fortunately doesn't add much to the overall weight. There's also a small LED that glows when the brick is powered up so you know you didn't forget to plug it in.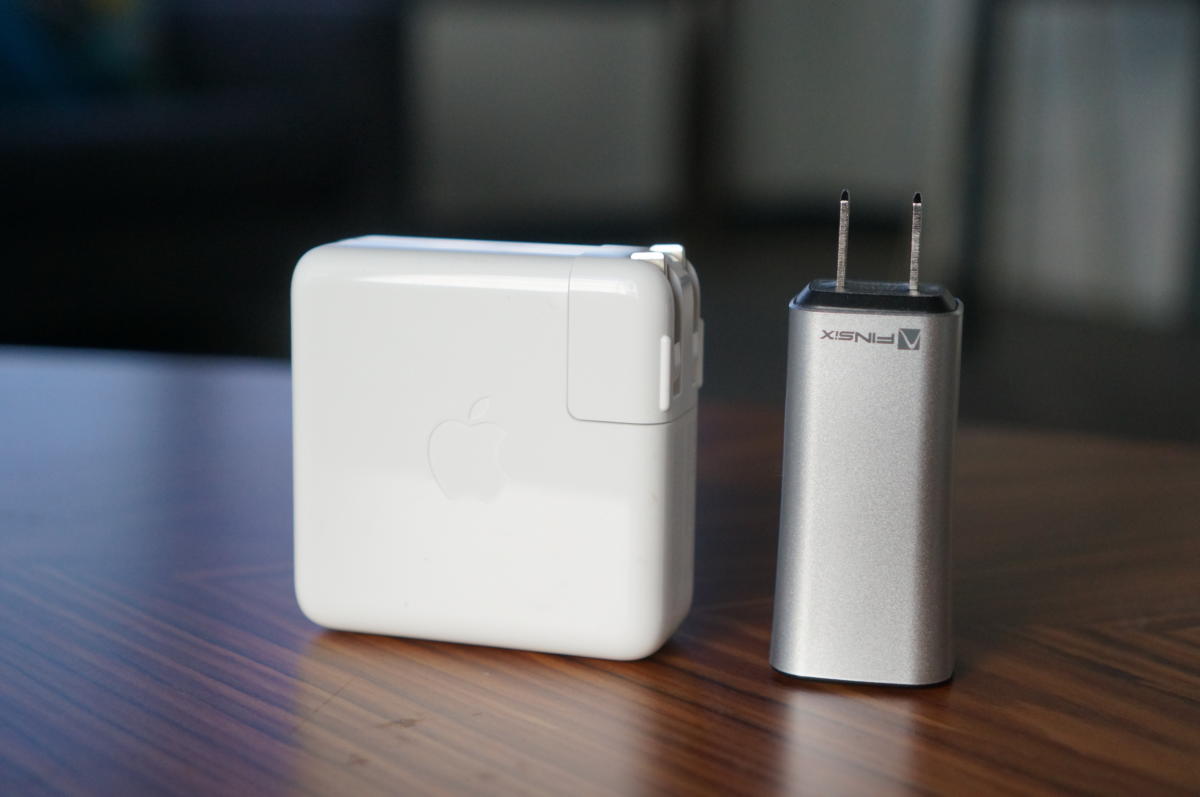 Tiny, sexy, and powerful
Despite it being really not much larger than a cell phone charger, the Dart-C is rated at 65 watts of output, which can power most 13-inch, and smaller, laptops (and even some 15-inch laptops).
Finsix says a very high-frequency power technology helps make the Dart-C so small. That comes with a cost, though: With a retail price of $100, it's even pricier than Apple's power bricks, which themselves carry a premium.
Finsix says the higher cost is offset by the fact that Apple's power brick is bigger and heavier by comparison and doesn't actually come with a USB-C cable. That means you have to pay $69 for the 61-watt brick and then another $19 for the USB-C cable. PC chargers are generally cheaper than that, but not always by much. The best price I could find for a replacement Asus Zenbook 3 charger was $70. HP and Dell's chargers push $60, if you can even find them in stock.
While some PC chargers come close to the weight of the Dart-C, the typical wall wart puts out a lot less power and is much bulkier.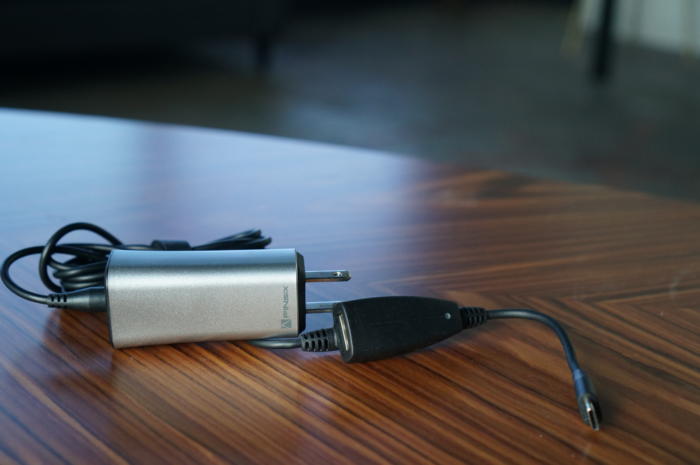 How we tested
Because USB-C Power Delivery hasn't exactly had a smooth launch, I wanted to see just how many laptops the Dart-C would actually work with. I gathered up seven different laptops (the same ones used in my previous USB-C charging showdown) from Apple, Google, Lenovo, Acer, HP, Asus, and Dell—companies that represent 80 percent of the notebook market. I added a couple of USB-C phones: the Huawei-made Nexus 6P and Google Pixel XL. I used a Satechi USB-C power meter to measure the charge rates on each device.
Compatibility problems
While I had no issues with most of the laptops I tested, two coughed up furballs. The first was the HP Spectre x360 13t. HP plays it super-safe, issuing a risk warning when a non-HP charger is being used, but it doesn't prevent the Dart-C from doing its job. I also discovered that when the Dart-C was plugged into the laptop but not the wall, HP's laptop would slow to a crawl. A BIOS update did not change the behavior, which I also duplicated multiple times on a second Spectre laptop. But when the Dart-C was tethered to a power outlet, the laptop charged up as normal. Is this a deal-breaker? Probably not. It's quite evident when the performance slows down, and simply plugging the cord into an outlet or unplugging the Dart-C from the laptop returns the Spectre's performance to normal.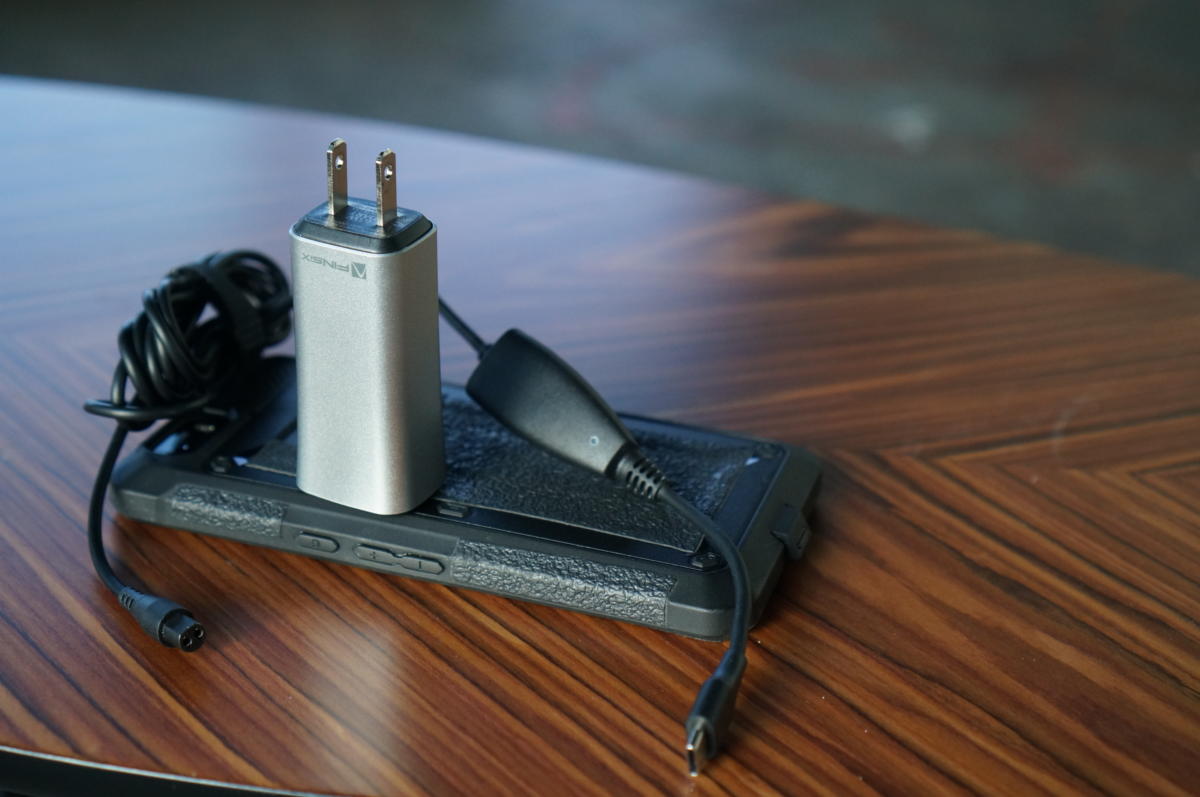 Chromebook Pixel owners: Don't buy this charger
We encountered more severe problems with Google's Chromebook Pixel.
The Dart-C simply would not charge the Pixel if I plugged the charger in when the Chromebook was booted into the OS. Even worse, the Dart-C subsequently failed to work with any of the other laptops it had previously worked with. Initially I thought the charger had died.
It wasn't until I unplugged the cable from the charger's body and then plugged it back in that the charger was revived. I could reproduce the "dying" repeatedly, and a second review unit from Finsix exhibited the same issue.
Even more confusing, I found that plugging the Dart-C into the Google Chromebook Pixel while it was sleeping and then waking it would work, but unplugging it and plugging it back into the Pixel while active would "brick" the unit.
FINsix told PCWorld that the problem seems to be rooted in how the Pixel handles a particular USB Power Delivery function: "We have found that the system will charge normally if the charger is connected while the device is sleeping (and continues normally when it's awakened so long as the charger is not disconnected). This is related to detailed signal timing of a particular function supported by USB-PD, called try.SRC. When the Pixel is under sleep mode, it does not initiate try.SRC, therefore no timing issues arise and the Dart-C and Pixel are able to negotiate and charge without any issues. The Pixel phone, Pixel XL, and Pixel C tablet do not implement try.SRC, and the Dart-C is compatible with them as a result."
Because the Chromebook Pixel has been discontinued, Finsix says it won't sweat it. Chromebook Pixel owners, be warned.
After our review ran, FINsix said it had been in communication with Google about the problem and had decided to address the try.SRC issue in an updated cable that will ship with all Dart-C chargers going forward. We've asked for the new cable to retest the Pixel chromebook's support and will post any updates.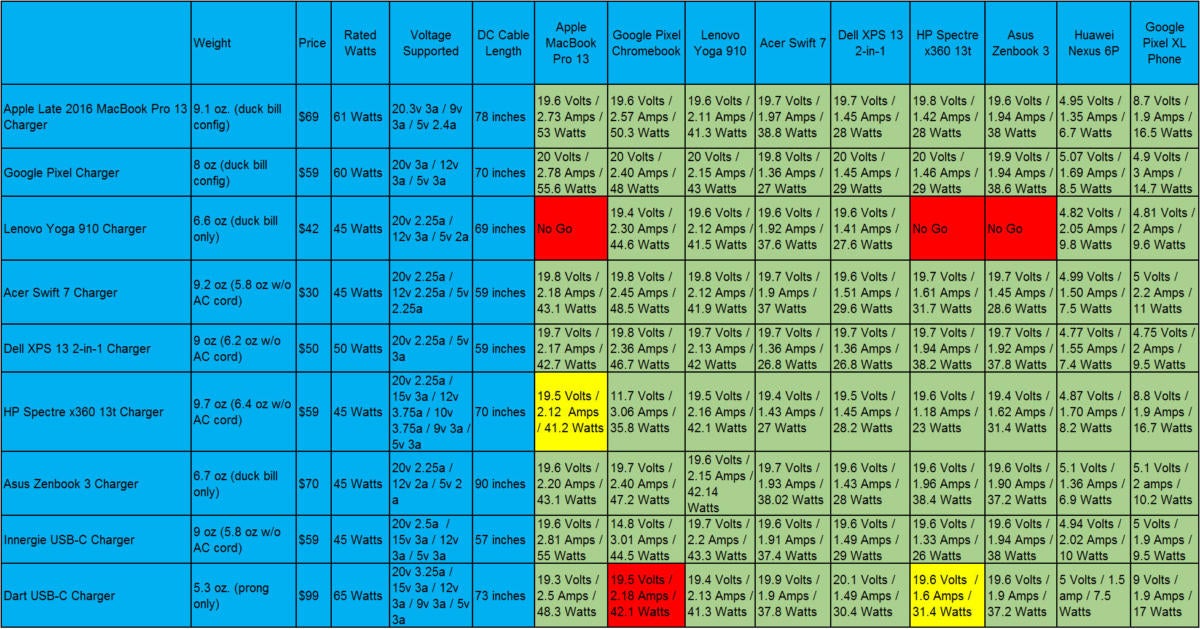 USB Power Delivery keeps changing the rules
The good news is that my issues with the Spectre and Pixel didn't surface anywhere else. In the chart above you'll see that, for the most part, charge rates were as expected. Despite the two hiccups (with the HP's being fairly minor), the Dart excelled in voltage support.
USB Power Delivery, or USB-PD, has been a TMZ-worthy messy affair, with ever-shifting "profiles," and now "rules," changing every few months. As we understand it, the new rules require that USB-PD chargers support 20 volts, 15 volts, 9 volts, and 5 volts. Any lower voltage "rails" below the high one must support a minimum of 3 amps. Additional voltage rails, such as 12 volts, are now optional.
In the Voltage Supported column in the chart above, you can see that few of the OEM chargers support the latest rules. To get a "better" charger, you basically want one that supports more varied voltage rails with a minimum of 3 amps. The vast majority of them simply don't support all the needed rails nor put out enough power to charge higher-demand devices such as phones or tablets properly.
For example, Google's Pixel XL, which can fast-charge at up to 18 watts, would be underserved by the chargers here that fall below 11 watts. Those laptop chargers, which can reach 45 watts or higher on a laptop, would charge the Pixel XL at a far slower rate than the wall wart that comes with it would. The Dart-C? It had no problems charging the Pixel XL at just about its maximum of 17 watts. In fact, of all of the chargers in the chart, only the HP and Dart-C seem to support the current USB-PD Rules.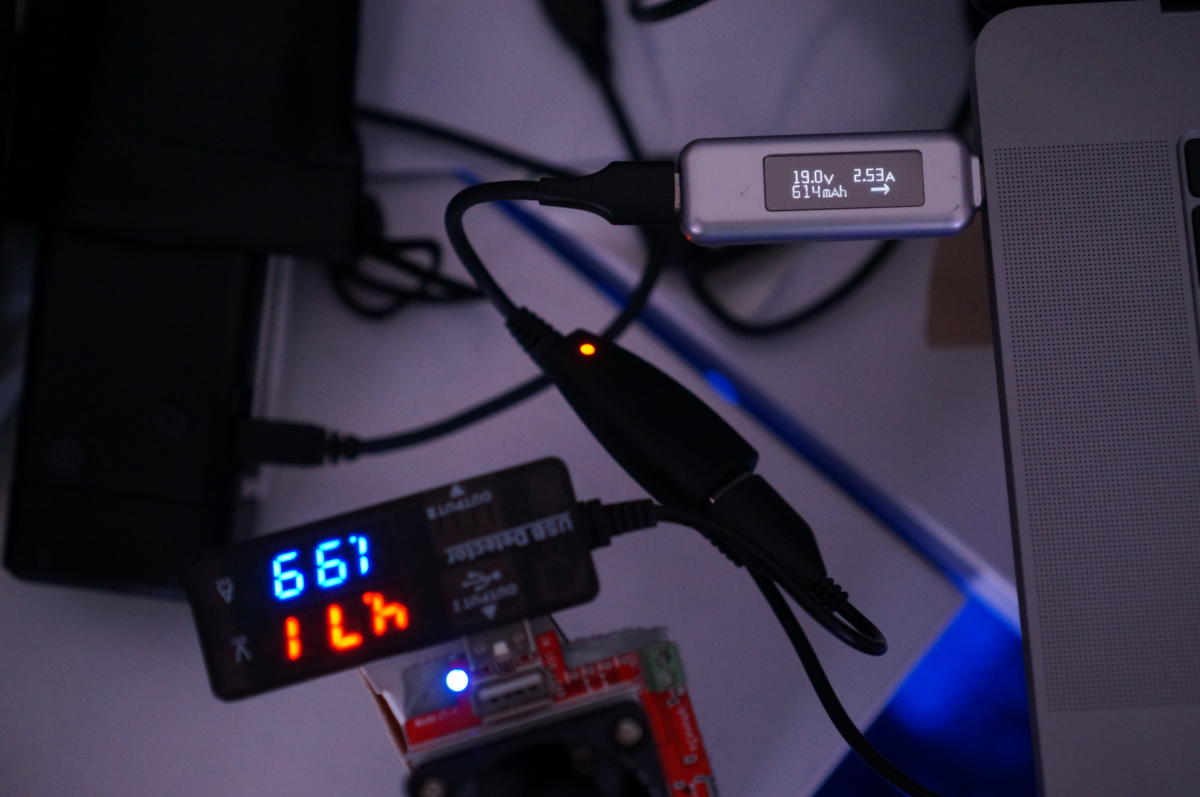 It does get hot
One concern people have about tiny power bricks is the heat they generate. To test that with a worst-case scenario, I plugged the Dart-C into a MacBook Pro 15, set the screen to its maximum brightness, and then cranked up a game on the GPU to consume even more power. To make things even more challenging, I added a controlled 2-amp load to the USB Type A port on the Dart-C.
First, if you're wondering how you can safely run a quad-core MacBook Pro 15 laptop that comes with an 87-watt charger on a 65-watt charger, you can. Most USB Type C PD laptops we've tested will run just fine on undersized power bricks. The only negative would be slower charge rates, or possibly a failure to charge at all if the brick puts out less power than you are simultaneously consuming with the laptop. (Note to MBP 15 owners, this doesn't work in all cases, as the laptop won't charge from, say, an HP charger.)
Running the Dart-C at 75 watts (which is above its stated 65 watt rating) for an hour, I measured parts of the brick hitting 159 degrees Fahrenheit. That's pretty toasty, but not enough to hurt you. Plenty of power bricks I've used before get nearly as hot. Under a more normal load of about 38 watts, the body was warm but a far more tolerable 122 degrees Fahrenheit. The good news is I didn't note any power drop-off, even while heated up.
Conclusion
Clearly the functionality is there. The question is—is it worth it? As a replacement for a lost OEM charger, or even a secondary unit, the answer is yes. The minimal weight and bulk of the Dart-C is truly liberating. It's so light, I'd slip it into my bag just to charge my Nexus 6P. And if I needed to carry a laptop around, such as the HP Spectre x360 13t, I'd know I already had a charger with me.
Carrying the Dart-C is just so easy, while just about every OEM laptop brick is a burden. That it can also put out 65 watts and support a wide range of voltages is just icing. (Note: For those who own the previous universal version of the Dart, FINsix offers a USB Type C cable for $35.99 that lets you convert your older Dart for USB-C use.)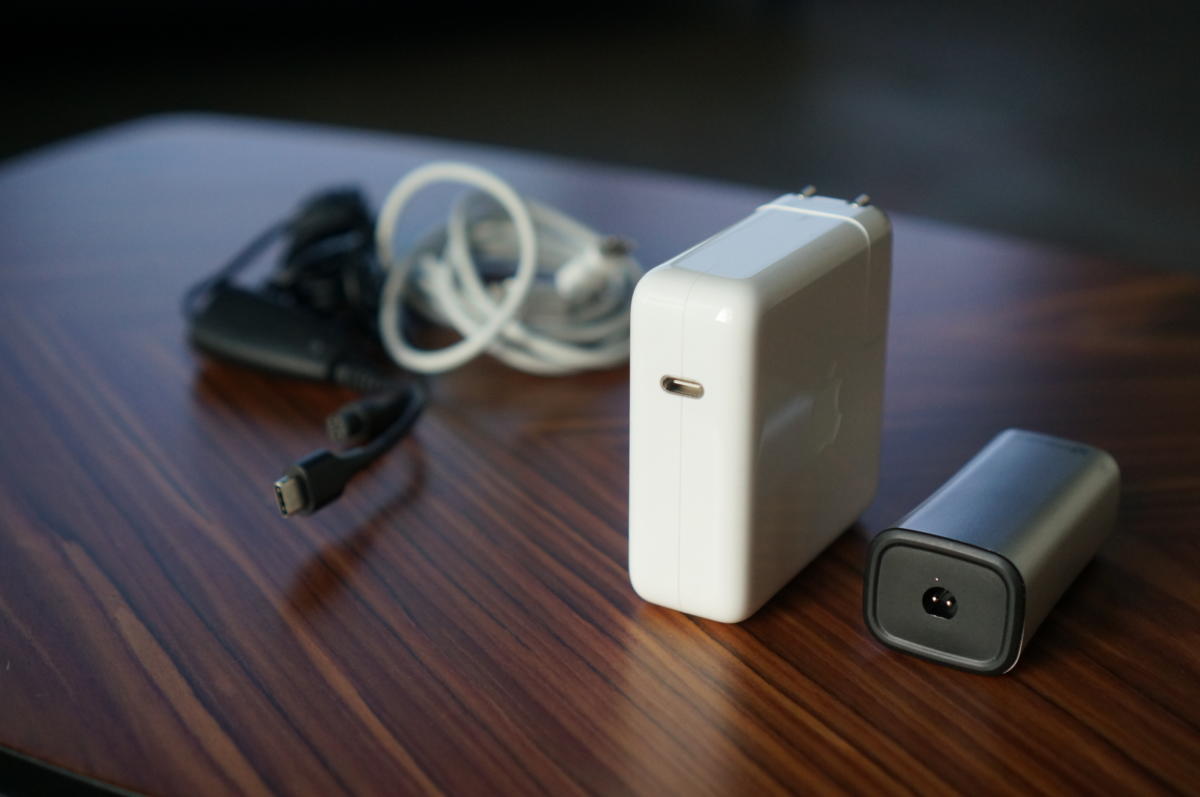 Best Prices Today: FINsix Dart-C