At a Glance
Expert's Rating
Pros
Seems to be relatively bug-free
Edge ereading works well, sync issues aside
Consistency with desktop OS
Cons
Is this the last gasp of Microsoft's mobile OS?
Some obvious mobile features, such as "night light," omitted
An overall lack of enthusiasm
Our Verdict
Microsoft's Windows 10 Mobile Creators Update is a minor upgrade to an operating system that no one is quite sure whether it's alive or dead.
Microsoft's Windows 10 Mobile Creators Update rides the coattails of the desktop OS, heavily leaning on improvements in Cortana and Edge to nudge Microsoft's nearly comatose mobile platform further ahead.
As the free upgrade rolls out Tuesday, our review of the Creators Update can't help but conclude that it's even less of an improvement than the Windows 10 Mobile Anniversary Update. We can tell you that Windows' new ability to buy and read ebooks within Edge represents its most potent addition. You can turn off a screen while using Continuum, a tweak that better approximates the PC experience. Cortana's slightly smarter, as she is on the desktop. You can also pause updates, view the Glance screen while charging and enjoy a limited but refreshingly simple 3D content creation app, 3D Builder.
In the end, though, you have to wonder whether it matters. Windows 10 Mobile is in limbo, struggling for relevance even within the most devoted Windows communities. Microsoft's most recent mobile hardware announcement involved an Android phone, of all things. Recent Insider builds have been moved off of the development track used by the PC, into their own "feature2" track. Microsoft still says it's committed to Windows Mobile. But without any evidence to justify the claim, most users basically wrote off Windows 10 Mobile long ago.
Setup, Settings take their cue from the PC
In total, thirteen phones are eligible for the Windows 10 Mobile Creators Update: a handful of Lumias (the 550, 640/640XL, 650, and 950/950XL), two Alcatel phones (the IDOL 4S and OneTouch Fierce XL), the HP Elite x3, and a few others. That leaves many legacy Lumias out in the cold, along with Acer's Liquid Jade Primo from 2016. Microsoft said these phones can be enrolled within the Release Preview ring of the Windows Insider program to remain somewhat current.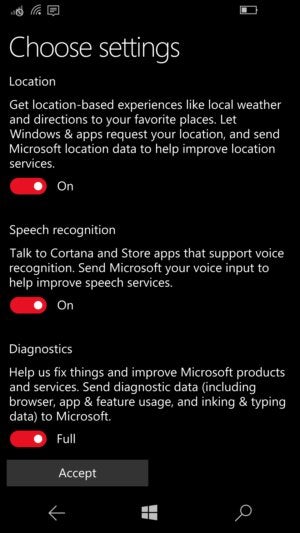 I have a number of phones running Windows 10 Mobile, but I primarily used a Lumia 950 and a lower-end Lumia 640 to test, using the Windows Insider program in advance of the formal rollout.
Installing the Creators Update on a new PC involves going through a rather nifty voice-driven "out of the box experience" using Cortana. Updating to the Creators Update on Mobile, however, involves just the normal process of downloading the update and letting Windows do its thing.
Cortana may not be part of Windows 10 Mobile's setup process, but four of the privacy toggles available on the desktop now appear before the Creators Update finishes installing. They allow you to choose whether Windows will track your location, recognize your voice, send back diagnostic data to Microsoft, and supply targeted ads.
The Settings menu also provides the detailed, granular privacy settings the PC does, in case you want to adjust them later. In fact, that holds true for most of the Settings: The nicely redone Bluetooth menu takes its cues from the PC, as does the general Devices page, for example.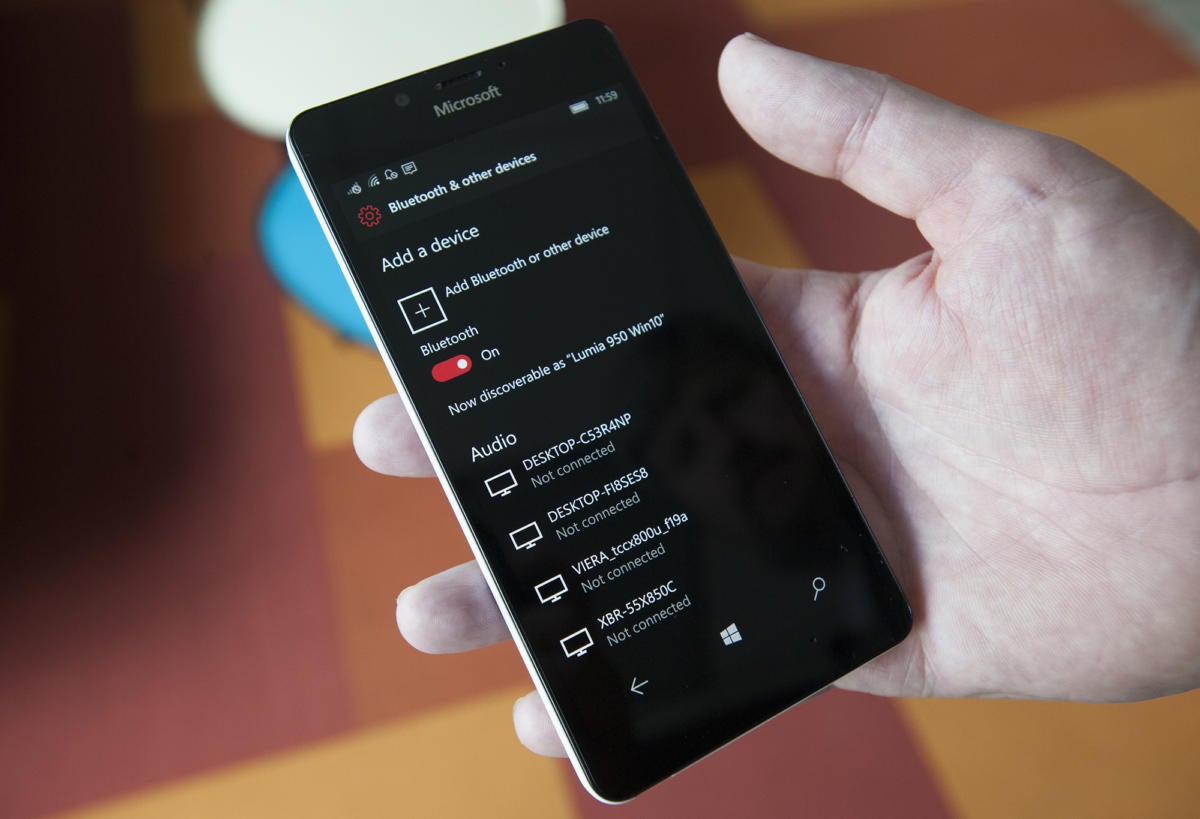 If you don't want to be surprised by future updates, you can toggle on a notification that will alert you. (Why this is off by default, I'm not sure.) Updates can also be postponed, just as on the desktop, for 35 days.
Edge's ebook experience is still somewhat lacking
As a commuter on the Bay Area's BART system, I spend a lot of my morning and evening staring at my phone. Edge's mobile ebook experience was seemingly made for straphangers and flyers who don't have ready access to a tablet or the Internet for distraction.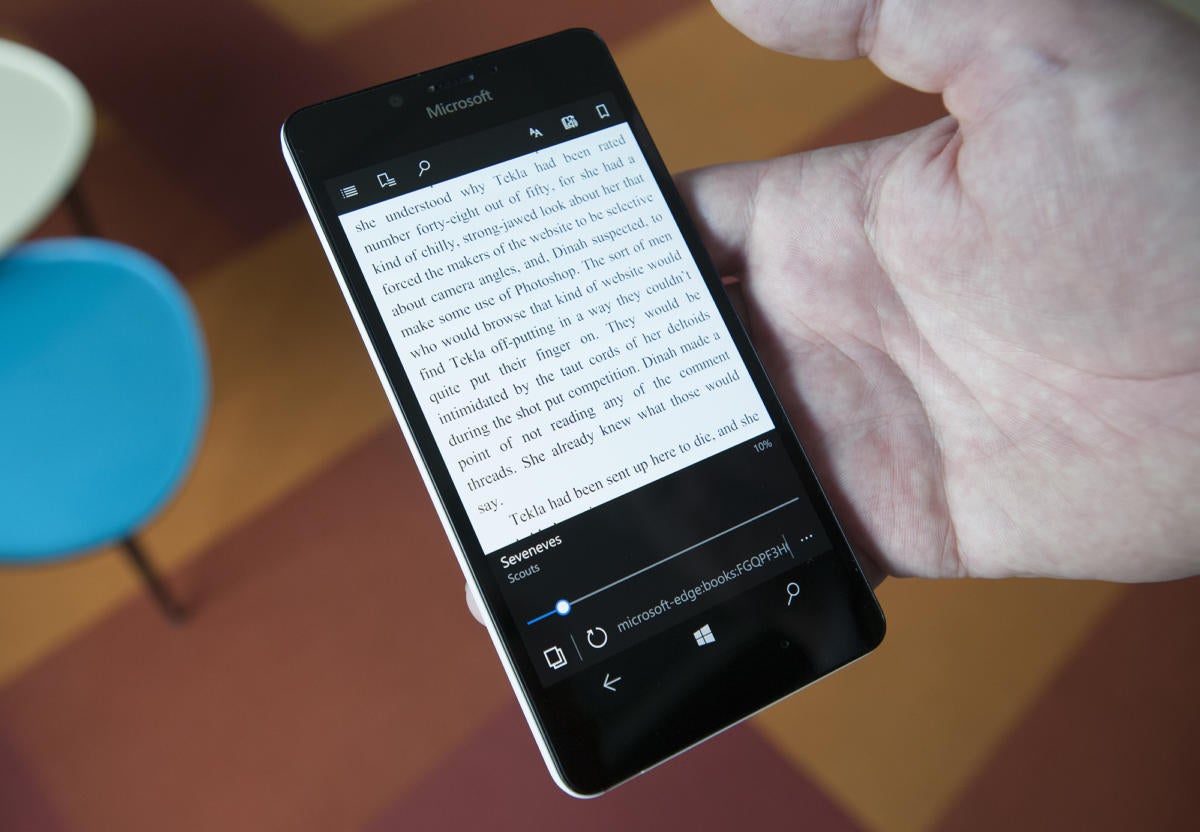 As on the desktop, Windows 10 Mobile leverages the Store app and Edge to facilitate book-buying, specifically titles in the EPUB format that are downloaded and cached on your phone. Microsoft now offers heavily discounted books—Neal Stephenson's Anathem was $1.99 as I wrote this—to compete with Amazon and other sites.
Downloads were somewhat slow. The ebook I purchased began with a blank page, leaving me puzzled for a moment as to whether it had completed.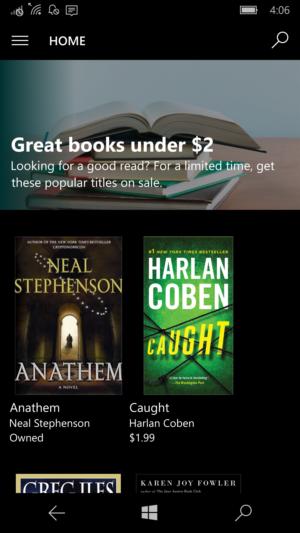 Microsoft doesn't really tell you anything about these new capabilities, or what to do. You'll need to know that Edge hides its ebooks within the ellipsis menu to the lower right, and that the convenient text formatting, spacing, and background options that are available via the desktop version are revealed with a long press on the text. Edge will also read an ebook text aloud via text-to-speech.
A key flaw, however, is in the lack of syncing. You can leave a bookmark on a page as a placeholder, but your progress isn't saved between platforms. (Windows will save your place on the phone, however, even after a reboot.) Syncing is a feature Amazon has offered for years.
Edge also allows you to save a Web page as a Cortana reminder, but doesn't yet offer the "save for later" feature that the desktop browser does, where tabs can be tucked away into the left rail.
It might also be nice if there were a quick way to trigger the text-to-speech option within a normal webpage. But you can now pinch to zoom into text, which may help if your eyesight suffers.
Continuum becomes more convenient, to a point
That a screen timeout tweak could be one of the major "features" of the Windows 10 Creators Update indicates how relatively minor the update is. Previously, the Continuum experience—connecting your phone to a display dock, then using Microsoft's UWP apps on your connected display—was controlled by the phone. Locking the phone could disconnect Continuum, but keeping the phone awake extensively created another consequence: Certain icons like the time and battery gauge burned into the phone's screen.
Now, a new Setting (Personalization > Lock screen) allows you to turn your phone's screen off (or to let it time out) while your connected, external monitor remains active. (The external monitor can be set to time out, too.) With my phone connected to Microsoft's Display Dock, I set the phone display to time out after 30 seconds, then tapped away on a Word document for about 20 minutes to check to make sure that Continuum wouldn't disconnect unexpectedly. It didn't.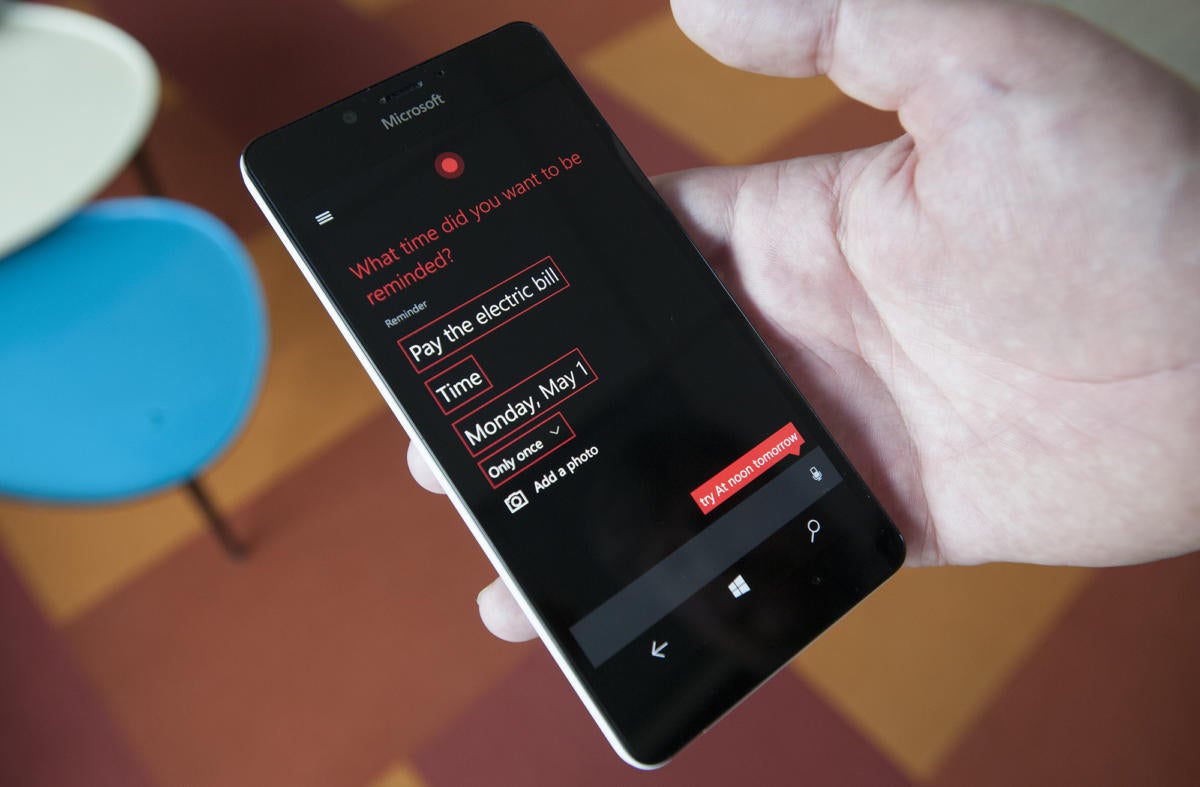 A few days ago, I would have said this small adjustment should make habitual Continuum users happier, and better align Continuum with Microsoft's vision of your phone acting as your PC. And yes, it does. But Continuum still doesn't snap apps like the desktop version of Windows. Continuum is also chasing Samsung's DeX, which now supports true windowed apps, an embarrassing omission for a Windows phone.
Disappointingly, Cortana on Windows 10 Mobile seems less capable than the version built into desktop PCs. The "pick up where I left off" feature was unfortunately left out. So too, were the oral audio controls: tell Cortana to "turn it up," and your PC will increase the volume of a song playing on Groove. On Mobile, Cortana will simply say "I can't do this right now," and encourage you to wait for future updates. She can, however, be told to identify a song—something that you could do before, frankly, but only by tapping an icon.
Cortana also includes Windows' new, handy recurring reminders feature—again, as on the desktop—which can remind you to, say, pay a bill at the same time every week or month.
Surprise! 3D Builder and View 3D aren't that bad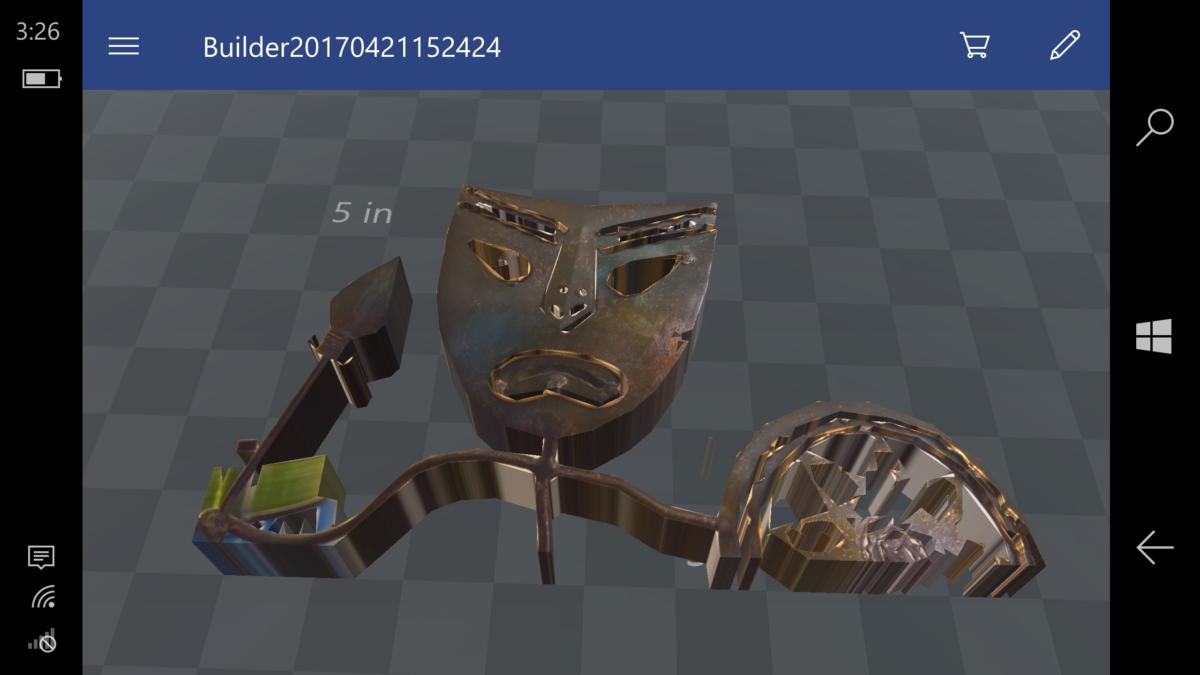 Within the Creators Update, 3D content creation plays a prominent role, with apps like Paint 3D, View 3D, 3D Builder, and 3D Scan serving as some of the highlights of the desktop version. Not all of them make the transition to Microsoft's mobile OS, however.
One of the most enjoyable features of the desktop version of the Creators Update, Paint 3D, was not ported over to the mobile platform. In a way, that makes sense—manipulating objects on a tiny phone screen sounds like a pain. But I was actually surprised by how effectively another app, 3D Builder, behaved. (It should be noted that while Microsoft pushes View 3D to you as part of the Creators Update, 3D Builder must be manually downloaded from the Windows Store.)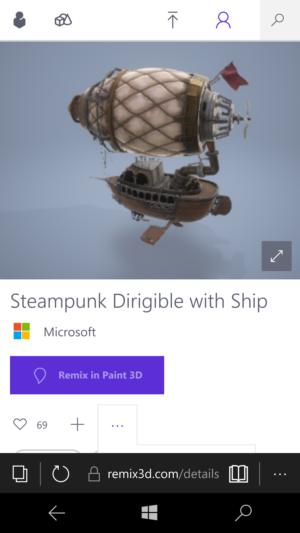 3D Builder and Paint 3D strike me as two sides of the same coin. Paint 3D encourages you to create 3D objects from scratch, emphasizing fun. 3D Builder is a bit more technical, helping you actually create a 3D object that you'll eventually print. On the desktop, content creation within 3D Builder is a miserable experience, especially when trying to use the Kinect for Windows adapter.
Shockingly, creating content within the 3D Builder app for Windows 10 Mobile was both simple and pleasant. The secret lies within the Open directory. While you can load a 3D scene from OneDrive to manipulate within 3D Builder, there's also a camera icon. Take a picture and 3D Builder goes to work. While you can't pan around an object to truly create a 3D object, 3D Builder at least does a rather nice job of taking a 2D image, stripping away its background, and extruding it into 3D. And yes, you can print it, using the handy integration to the i.materialise 3D printing service. Maybe that elusive, magical Capture 3D app isn't too far off after all.
View 3D, on the other hand, is a somewhat useless app on Windows Mobile. You can import 3D scenes created from Paint3D and saved to OneDrive, but View3D should probably thought of as a viewer for the Remix 3D community content portal and not much more.
Bits, pieces, leftovers, and forgotten features
A number of smaller tweaks also appear in the Creators Update. Microsoft claims that Windows Hello recognition is faster, which I couldn't really confirm or deny. Devices like the HP Elite x3 have tended to recognize me quickly, while the Lumia 950 has always been somewhat touch and go.
Microsoft's Glance screen also returns, allowing you to see relevant info like your next appointment even when the display isn't active. Under System > Notifications > Settings, you also have the option to toggle app notifications on and off, which could be handy if an app is being particularly clingy.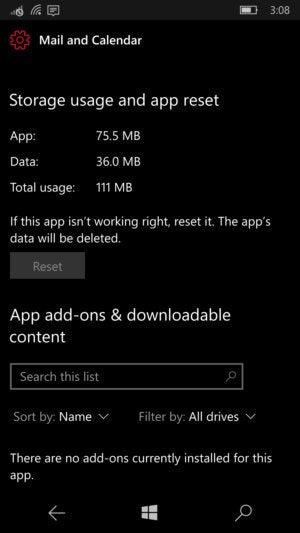 Some features were a little off, or absent altogether. If an app is running slowly, you now have the option to reset the app. Microsoft showed me that option on third-party apps, however, and did not respond to a query about whether this would work with its own apps. The "stoplight" traffic check feature within Maps showed up when Maps was projected using Continuum, but didn't appear by itself on the phone. Windows can now encrypt SD cards to placate enterprise admins, though the flagship Windows business phone, the HP Elite x3, has suffered persistent SD card problems. Others, like the "night light" mode that red-shifts your PC's display tint to help with insomnia, simply weren't ported over to Windows 10 Mobile.
To be fair, other apps graduated from Insider status into the stable build: Camera now has a slightly redesigned interface with a more navigable slider bar, and Maps plots multi-stop journeys. Skype now can do dual duty as a messaging app as well as texting friends via SMS. Upon launching the app, you now have the option to let Skype essentially replace the Windows Mobile messaging app.
Microsoft tried so hard, and got so far
In other ecosystems, flagship phones like Samsung's new Galaxy S8+ sail confidently into stores, riding Android's overwhelming dominance. Only a catastrophe could doom the Galaxy S8's success. But even if every review praised Windows 10 Mobile to the skies—and they won't—its odds of success would be long.
It's possible that Windows Mobile is indeed dead, but that Microsoft plans to replace it with a true "common core" of Windows running across all devices. Microsoft chief executive Satya Nadella recently reiterated his vision that Windows isn't just an OS of a single device, but a "fabric of devices" surrounding you. That sounds revolutionary, but it's also a phrase he used several years ago, in 2014.
With a market share down in the low single digits, and with a reduced stock of devices to run on, Windows Mobile is the proverbial Schrodinger's cat: either alive or dead, and no one seems to know for sure. Unfortunately, the anemic Windows 10 Mobile Creators Update doesn't convince me that Microsoft believes in its future.